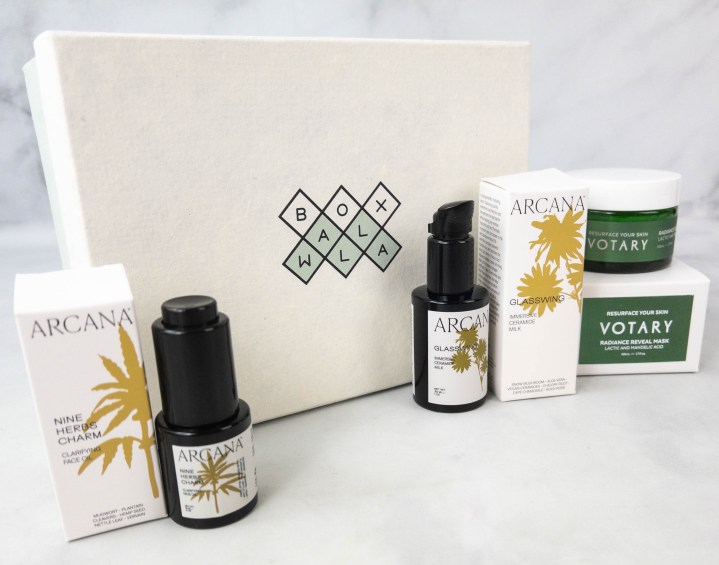 Coming back this month with two featured clean beauty brands, Boxwalla Beauty Box introduced us to amazing products that give the skin a beautiful glow! Themed The Radiant Charm of a Glasswing Butterfly, the April 2022 box included items with transparent ingredient listings from Arcana and Votary. Both brands harness the power of plant-based ingredients to add radiance to your beauty routine!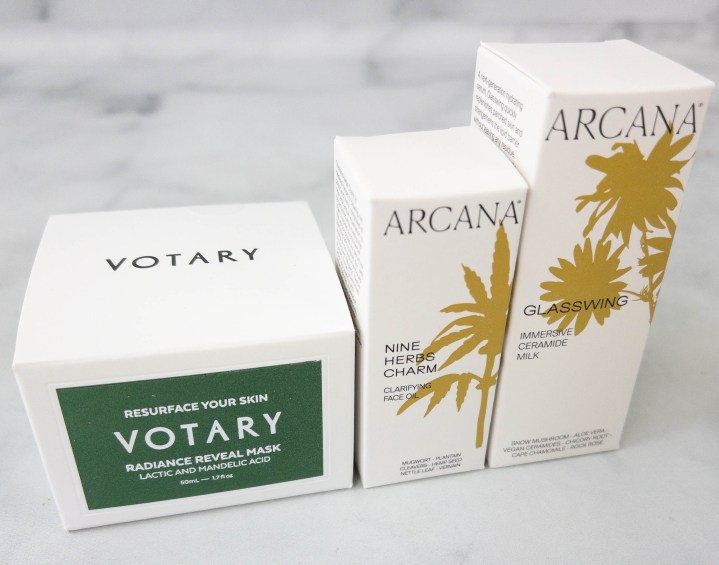 There were three green beauty products in the box – one from Votary and two from Arcana. I've tried both brands before, and I'm pretty impressed with what they can do for the skin!
The box is off to a great start with Votary's Radiance Reveal Mask ($78). Formulated with AHA acids such as mandelic and lactic acid, it helps reveal your skin's natural and youthful glow. It increases cell turnover and exfoliates the skin, which helps improve texture, even out pigmentation, reduce fine lines, and prevent breakouts as well. The mask has a subtle scent and contains borage seed oil and avocado oil that calm and nourish the skin. It comes in a full-size jar and has a creamy consistency that is easy to apply. Absorbed quickly by the skin, it leaves no sticky residue!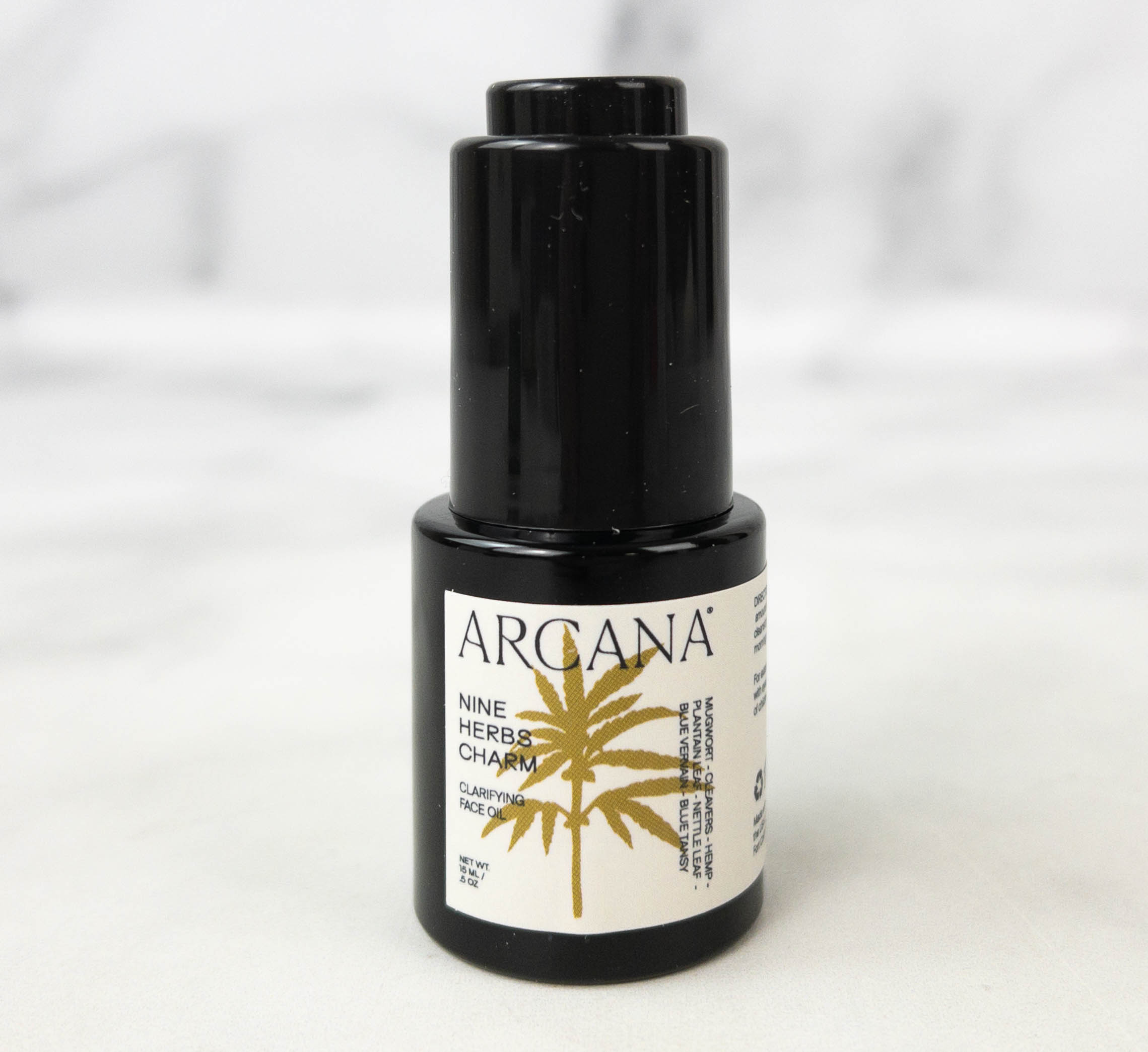 For detoxifying the skin, Boxwalla also sent Arcana's Nine Herbs Charm ($40), a light and silky serum made with a blend of high linoleic acid plant oils with herbs like healing plantain leaf, anti-inflammatory blue vervain and mugwort, soothing chamomile, nourishing hemp seed, and more. It helps clarify the skin, calm skin irritations, soften scars, and remove pore-clogging sebum. Also, this formula is best used for skins prone to blemishes, redness, and excess oil.
Best paired with the Nine Herbs Charm, this Arcana's Glasswing Ceramide Serum ($82) is inspired by the delicate wings of the Glasswing butterfly. It has a light, translucent, milky color and contains 5% vegan Ceramide Complex, which prevents moisture loss and repairs the skin's lipid barrier. The formulation also includes anti-inflammatory chicory root and anti-irritation cape chamomile that brings calming effects on the skin, plus hyaluronic acid and tremella mushroom jelly that binds water to the skin's surface, keeping it hydrated and moisturized! It's lightweight and feels great when applied.
Everything in my April box is lovely! From Votary's Radiance Reveal Mask to Arcana's Glasswing Ceramide Serum, it helped rejuvenate and renew my skin while strengthening the skin barrier. All these products combine botanical ingredients with well-researched actives that are gentle on the skin, leaving a radiant and healthy glow! With this subscription, it's always fun to discover clean beauty products without shelling out big bucks. This month, I received three fantastic products with a total retail value of $200!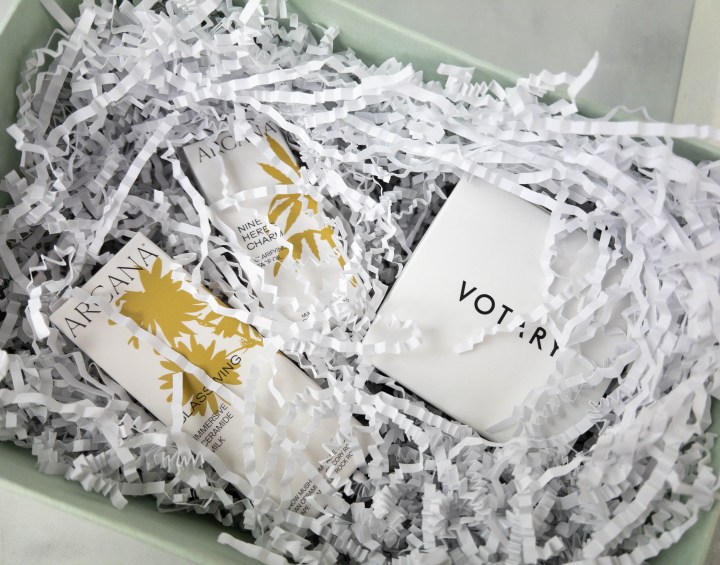 Boxwalla Beauty Box is a bi-monthly beauty subscription box that contains non-toxic and cruelty-free luxury plant-based skincare and beauty products. The box is curated that so over a year's subscription you will experience products across different categories that complement each other, empowering you to build an effective skincare routine.
Boxwalla is a subscription box company that offers three themes – natural beauty, international film, or books! With Boxwalla, you'll be able to discover great artisans and artists from across the globe.
What did you think of this month's Boxwalla Beauty box?