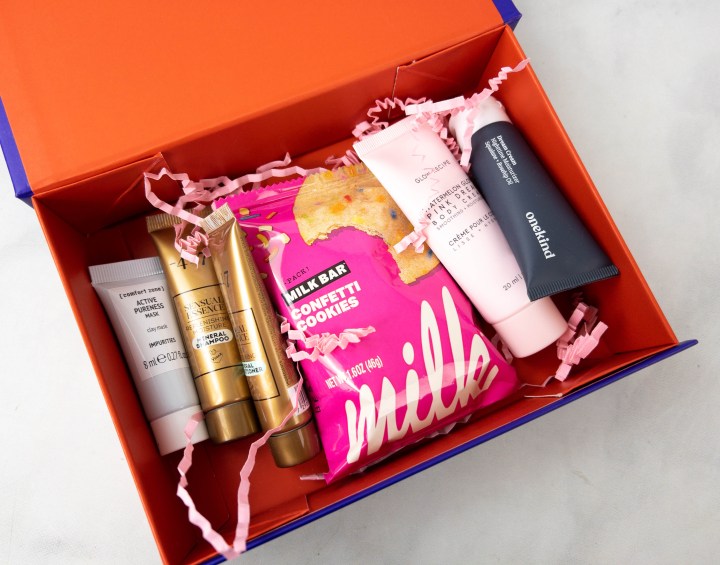 While every day is a chance to celebrate women, March is a special month dedicated to us! In line with this, Birchbox's March 2022 box encouraged us to be our own kind of woman with beauty products to help you flaunt your confidence! While there were other options, I picked a curated box with Birchbox Luxe Faves to review.
For this month, subscribers were able to pick a curated box, pick a guaranteed sample, let Birchbox pick a box, or swap the monthly box for points! After having basically nothing available for the previous months, they're giving subscribers options again and that's good.
DEAL: Use one of these offers for a luxe freebie with your subscription – just visit Birchbox and use the code!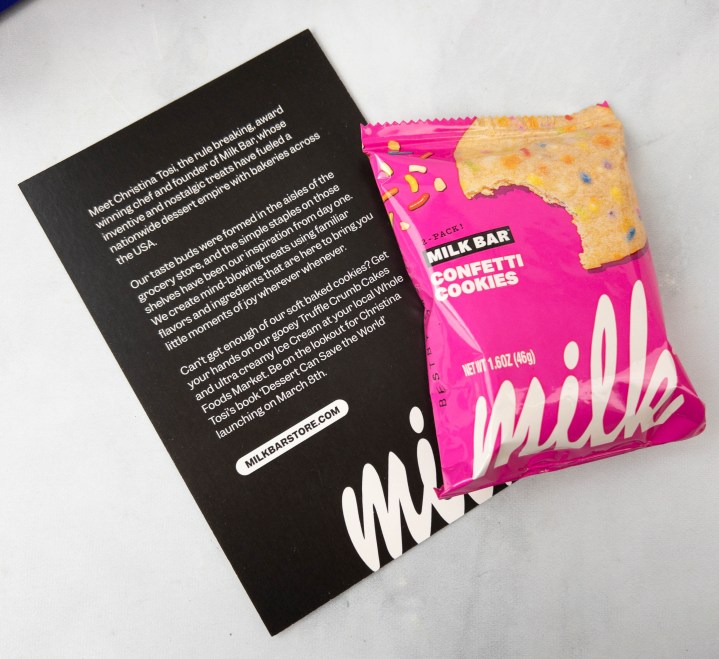 There's a bonus item in this box that comes from a woman-founded brand! Milk Bar Confetti Cookies ($1.41) are a soft and delectable treat with a milky, buttery, vanilla taste. They're mixed with some sprinkles to add a pop of color and a touch of sweetness!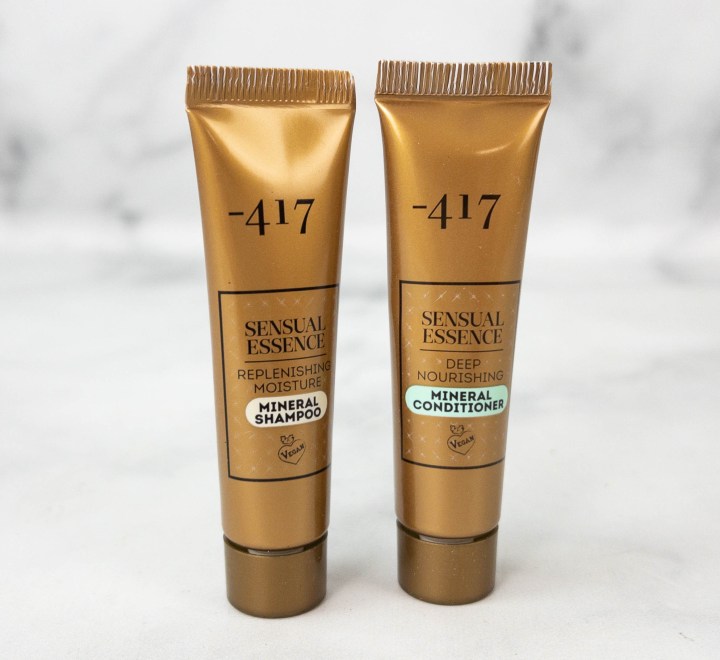 Included in the box as Birchbox Luxe Favorites are a pair of shampoo and conditioner from Minus417. It's also worth noting that these products are vegan!
-417 Sensual Essence Mineral Shampoo ($22) is perfect for adding and sealing moisture to the hair. This hair care product also draws out scalp impurities without stripping away natural oils. It contains Dead Sea mineral complex which helps with optimal hydration, aloe vera that encourages skin repair, plant oils like sweet almond and grapeseed, and plant extracts from papaya and chamomile. This shampoo also has a comforting papaya vanilla scent.
To pair with the shampoo is -417 Sensual Essence Mineral Conditioner ($22). Still formulated with the Dead Sea mineral complex, this conditioner helps maintain the hair's moisture. It doesn't weigh the hair down and instead gives it a silky smooth finish, making it easy to style. This product also contains avocado oil, which prevents hair breakage and restores moisture, plus algae extract that protects the hair. It smells nice, and I love how soft my hair is after using it!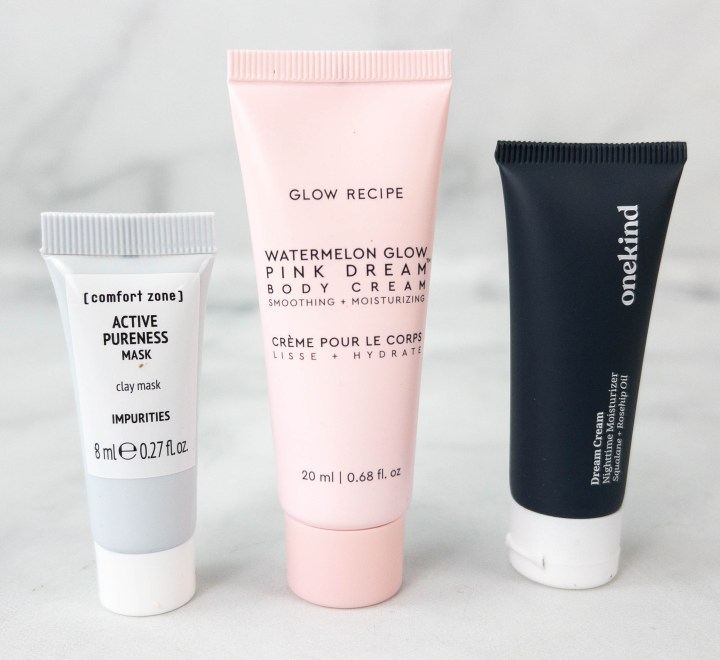 For added radiance on the skin, there's Comfort Zone Active Pureness Mask ($5.73)! It's best used for oily skin as it absorbs excess sebum, minimizes the appearance of pores, and leaves a matte effect. It has kaolin and green clay that gently washes away dead skin, leaving it soft, supple, and plump. The consistency of this mask is creamy, and it has a fresh scent as well!
It's easy to keep the skin hydratyed with Glow Recipe Watermelon Glow Pink Dream Body Cream ($2.27). It has a whipped, creamy consistency and a formula that's suitable for all skin types. This cream contains watermelon extract that brightens and improves the skin tone, plus hibiscus AHA that smoothens the skin. To give the skin deep moisture, it also contains hyaluronic acid. I like how it absorbs quickly into the skin and never leaves a greasy residue.
Onekind Dream Cream Nighttime Moisturizer ($7.37) is the perfect addition to a nighttime routine. I had the same one back in my September 2021 box, so it's not a new discovery, but it's both a cult and personal fave. It energizes the skin. helps diminish the appearance of fine lines, soothes irritation, and locks moisture in the skin – thanks to squalene, rosehip oil, and chamomile! This creamy moisturizer is also fast-absorbing.
The box is said to be Birchbox luxe favorites, and I have no questions about why! All of the beauty picks in the box were great for giving the skin hydration and proper moisture, leaving it looking healthy and feeling soft. I've actually tried most of the brands here, and I'm happy with the choices. There's even a bonus treat to satisfy my cravings. The total retail value of the box is $60.78, which is a great deal! It seems like Birchbox is stepping up their game again.
Boxes also include a card with brief descriptions of each product. Look here: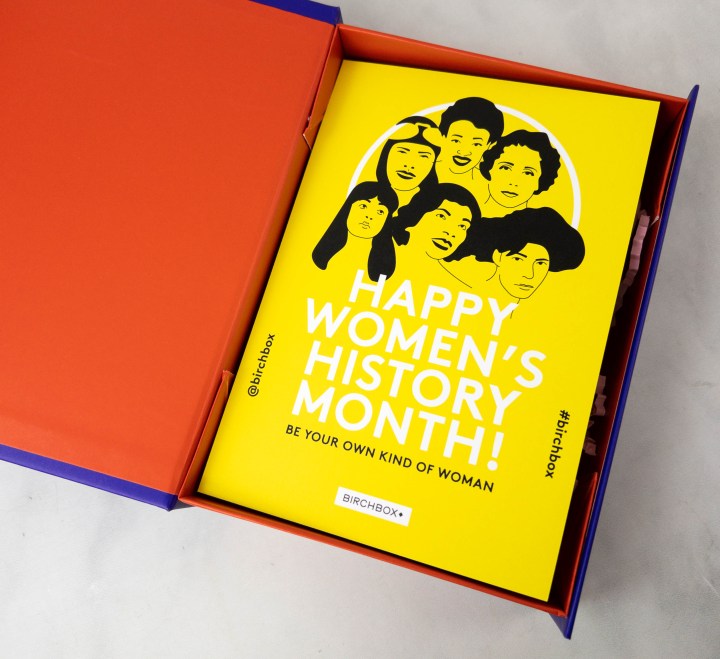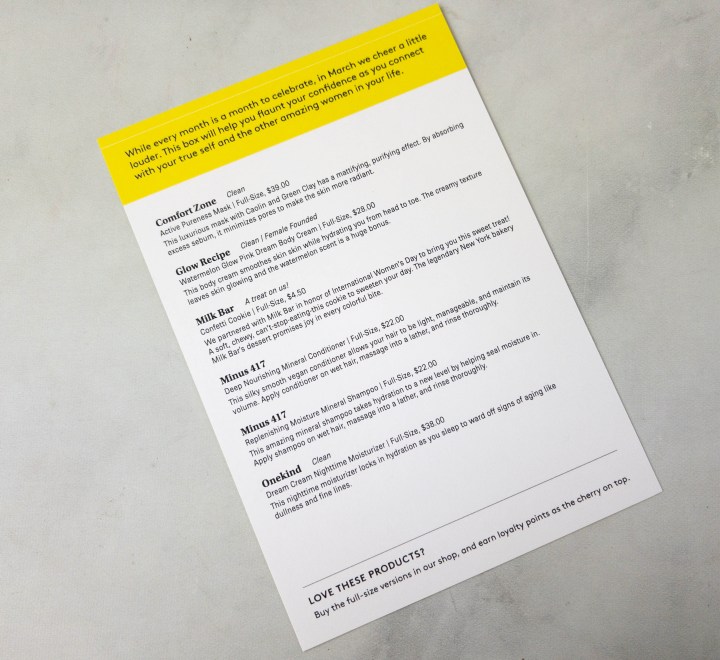 Birchbox is a beauty sampling subscription service that sends 5 new items each month so you can try before you buy. Birchbox is $15 a month and you can choose a monthly sample during selection time, let Birchbox decide, or pick a pre-curated box. Birchbox's beauty subscription made the list in our 2022 readers' choices for the best beauty boxes!
What do you think of this month's Birchbox? What was your favorite item from your box?