Beauty Heroes April 2022 focused on harnessing the elements of nature with its clean and green product offerings. Plant-based and botanical ingredients are interwoven in NATUREOFTHINGS' bath and body products! Here's a good beauty call from nature, harmonizing fire, air, water, and raw earth! Read on to know more about the featured brand for this month.
DEAL: Get 10% off your first Beauty Heroes subscription of any term! Use this link to subscribe and use the coupon code HELLOBH10 at checkout. Valid for new subscribers only.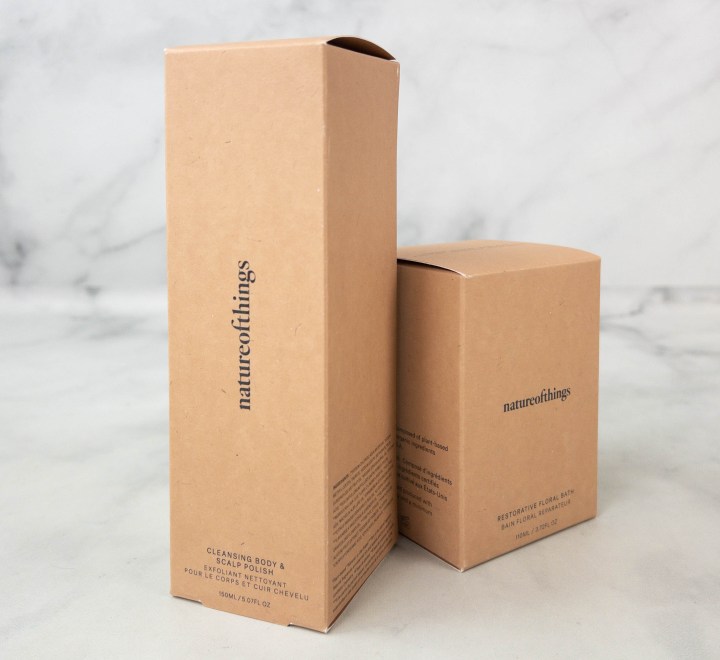 Included in the box is a full-size Hero product to cleanse the body and nourish the scalp, plus a Sidekick product to soak the stress away! Each product came in its own box made using recycled hemp boards that are easy to compost and recycle, plus eco-friendly soy-based ink for labeling.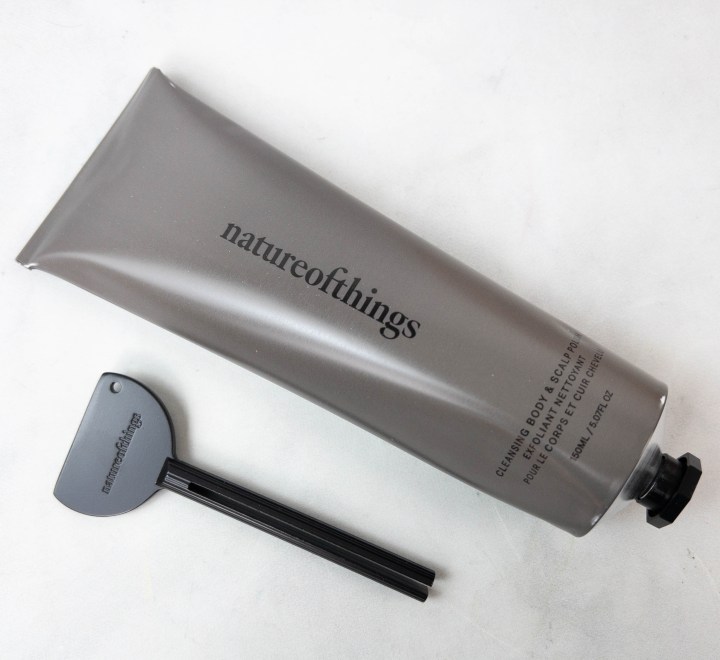 Cleansing Body & Scalp Polish ($55) is the Hero item this month, formulated to detoxify both the scalp and the body! Recalibrate your beauty routine with this textured, deep yet gentle exfoliator. It contains superpower ingredients, such as forged-by-fire Moroccan Rhassoul lava clay, mineral-rich Himalayan salt, and exfoliating Jeju volcanic ash. This bath and body product has a thick, creamy consistency, plus a warm and relaxing aroma (like a blend of spices!) with scent notes of cinnamon and lavender.
Ingredients also include fuller's earth clay that draws out impurities and absorbs oil, giving the skin a healthy glow and leaving the scalp clean and fresh. It's even infused with a heap of deep-conditioning herbs, along with argan and olive oils that soften the skin. I love that it's full size, which means I have enough amount to last a month! This cleansing body and scalp polish came with a metal tube key to help you squeeze out every last bit of it.
I used this on both my hair and body, and I honestly liked it for both. The moisturizing really lasts for a long time out of the shower – over a day and until my next shower. I was absolutely impressed. If you choose to use this on your skin before showering, there's more of an exfoliating effect.
This Restorative Floral Bath ($85) is the sidekick product in this month's box! Whether full-body bathing or foot soaking, this natural beauty product helps relieve stress, providing relaxation not just to the body but to the mind as well. It has a floral aroma with scent notes of plumeria, jasmine, vetiver, and cedarwood that is simply luxurious! The gem-rich formula contains shea butter and green tea seed oil, plus malachite extract and quartz extract that detoxifies, replenishes, and nourishes the skin.
It also includes mineral-charged seawater, broad-spectrum hemp seed oil, and capsicum pepper that ease muscle tensions and reduce skin inflammation. I love how my skin feels and smells after bathing! The milky/soapy product is even packaged in a lovely stone-like glass vessel with minimal branding, allowing it to be reused and repurposed easily. They also recommend adding Fortifying Magnesium Soak to double down its benefit of reducing ache and inflammation. The box included a tip on using for shower (just a teeny dab all over while you're still wet).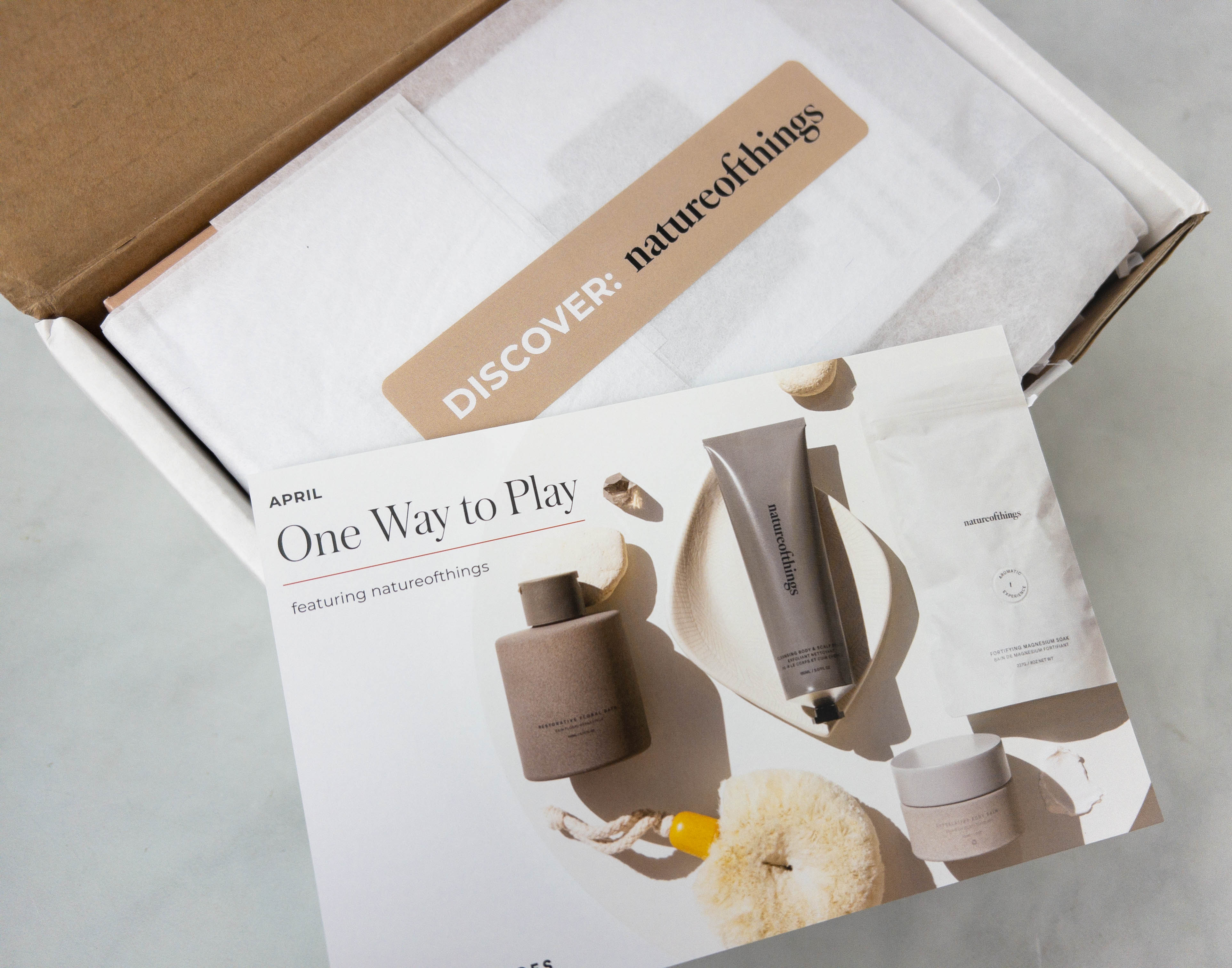 This month's Beauty Heroes box led us to another great beauty brand! Natureofthings is mainly focused on the best ingredients that nature has to offer. The box included two bath and body products that upgraded my usual bath routine and both harness the powers of natural ingredients! I was a bit surprised, because this was one of my favorite boxes from Beauty Heroes – it was really nice, but I didn't expect to be so wowed by the products. They're really top quality.
With sustainability in mind, the packaging of these products is made to be recycled and repurposed to avoid contributing to land waste. The brand also has The Never List, which includes ingredients like parabens, phthalates, and silicones that they promise to never use in any of their products. All in all, if you want to switch to clean beauty, this subscription is a great starting point!
Beauty Heroes is a healthy beauty discovery service featuring one clean beauty brand each month. They send a full-size Hero product in every box, plus a deluxe size Sidekick. Sometimes, they send more than one Hero or Sidekick, depending on the featured brand. Boxes are always $100+ in total value. Beauty Heroes members also receive a 15% discount in the Beauty Heroes Beauty Store, insider exclusives, and early access to new product launches. They currently offer 1-, 3-, 6-, and 12-month membership subscriptions. Here are the prices: 1-month – $58.95 ($58.95/month), 3-months – $137.85 ($45.95/month), 6-months – $251.70 ($41.95/month), 12-months – $479.40 ($39.95/month).
What do you think of this month's Beauty Heroes box?