A new season means new beach-inspired beauty products from Beachly Beauty Box! Each quarterly curation gives us fun, fresh ways to upgrade our beauty regimen, and for Spring 2022, there are four amazing beauty items that give the skin a healthy splash of vitamin sea and a dose of golden sunshine.
DEAL: Visit Beachly and get 50% off your first beauty box when you use the coupon code HELLO50. Your first box will be a starter box.
To keep the hair beautiful and shiny, here's a Captain Blankenship Golden Waves Sea Salt Shimmer Spray ($28). I was super excited to see this brand (and item in particular!) – I love it! This hair product is made with organic and wild-harvested ingredients, like aloe vera and sea kelp extract which nourish the hair and scalp, add a healthy sheen, and help reduce frizz. There are two variations available: Rose Gold or Golden Waves. I received the latter.
Looking at it from the transparent spray bottle, it has a rich golden color that leaves a light metallic shimmer onto the hair when sprayed. It doesn't weigh the hair down and doesn't leave a sticky residue either. This hair item also has a natural scent of rose. To use, spray onto damp hair and tousle to add a dash of shine and a healthy glow to your hair even when strolling under the sun!
Spending long hours under the sun? Vacation Super Spritzer Hydrating Face Mist ($12) is the perfect choice to keep your skin refreshed wherever you go. This product contains natural ingredients, such as aloe vera, cucumber extract, and coconut water, plus hyaluronic acid that hydrates, nourishes, and instantly refreshes the skin.
It's the perfect size to throw in my pouch and take with me outdoors! This spray mist has a chamomile and vanilla aroma that smells warm and comforting. Spray at least 3-4 pumps on the face for instant skin refreshment. Love it, I am a face mist addict.
It's not just the hair and skin that needs nourishment for springtime but the lips too! French Girl Rose Lip Polish ($20) is formulated with organic sugar, cocoa, shea butter, and coconut oils that exfoliate, deeply moisturize, and soothe dry lips. It flocks away dry skin, leaving the lips soft, supple, and luscious looking. It also has mint and rose geranium, which creates a refreshing, plumping effect on the lips. This sugar scrub smells nice (more on the minty side). To give the lips a lovely pink hue, this product also contains beet juice powder for natural color!
Another way to keep your skin dewy and beach-ready is by applying the Buzios Dewy Skin Brazilian Beauty Elixir ($64). It's made with all-natural ingredients including cupuaçu and coconut which boosts skin hydration, plus acai, vanilla, pumpkin, and carrot which help fight off free radical damage. Another key ingredient is Guarana, which helps minimize dark circles and puffiness, leaving you with only plump, youthful-looking skin.
This beauty elixir replaces several steps from my skin routine, which is nice for abbreviated sunny time skincare. The formula even works as a primer and a highlighter. To use, apply 4-6 drops and massage in a circular motion for the skin to easily absorb the product.
The Spring 2022 box has a total retail value of $124! Some of the products provide hydration to the skin, and there are also a couple of items that leave a shimmery effect, which are great to use especially when you're out in the sun. Everything in the box is perfect to bring on a beach vacation! It would have been perfect if there's a sunscreen or anything with SPF, but overall, it's still a nice mix of products. The best thing is that all products are clean beauty – never tested on animals!
Seasonal boxes include info cards with a brief description of each item. See it here: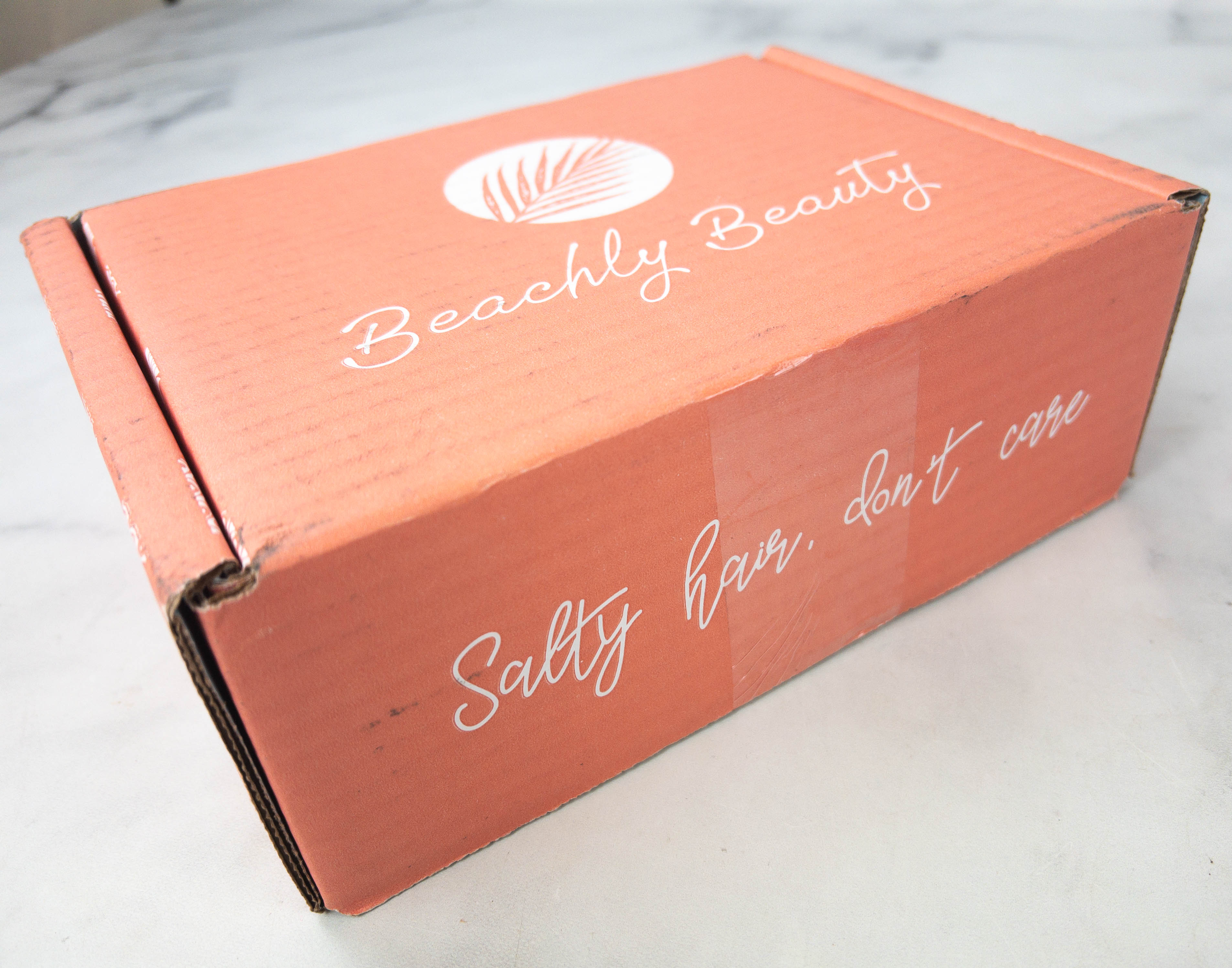 Beachly Beauty Box is a beach-inspired beauty subscription that focuses on cruelty-free and clean beauty products. Each box includes 4-6 beauty products, which may include lip balms, fragrances, cleansers, moisturizers, nail polish, and hair masks. It's $29 per box, with free shipping for the first box and $2.99 shipping for the recurring boxes. They promise at least $75+ retail value in each box. Beachly offers two other subscriptions – the Men's and Women's coastal lifestyle subscription boxes! Each quarterly box includes beach-inspired apparel and accessories worth $250+. Beachly also has recently launched Beachly Starter Box, a great way to try the box before you get a seasonal subscription!
What do you think of the Beachly Beauty Box?