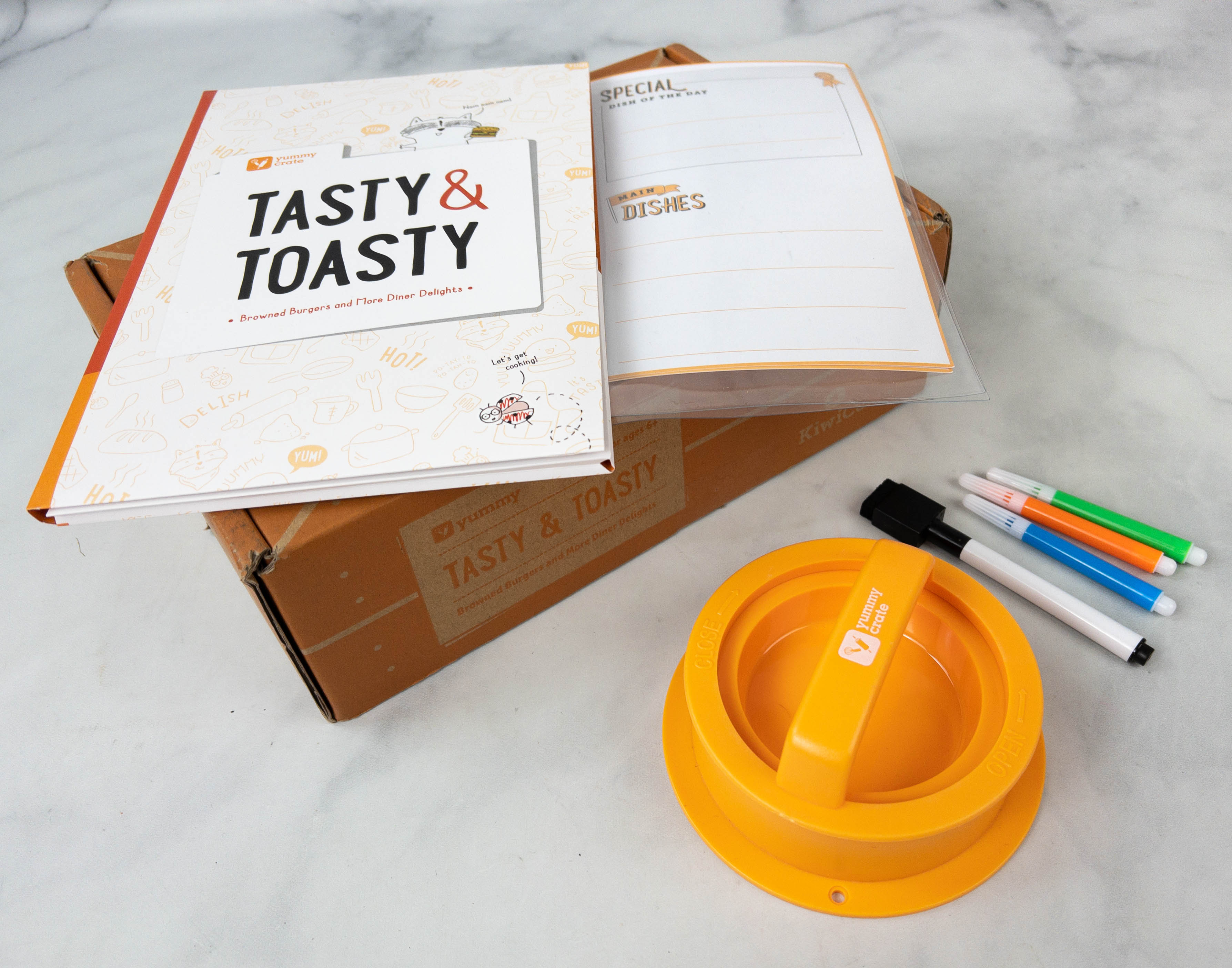 KiwiCo, one of the most-loved activity subscriptions for kids, recently introduced a new STEAM-based cooking crate for kids! Named Yummy Crate, it focuses on blending the pleasure of cooking with the science that underpins it. The box is ideal for children ages 6 to 14, especially those who love participating in the kitchen. The first box is TASTY & TOASTY themed, and it focuses on Maillard Reaction or browning reaction, like in browning bread and when making toast.
DEAL: Save 30% on your first month with this link on any KiwiCo line, no coupon code required!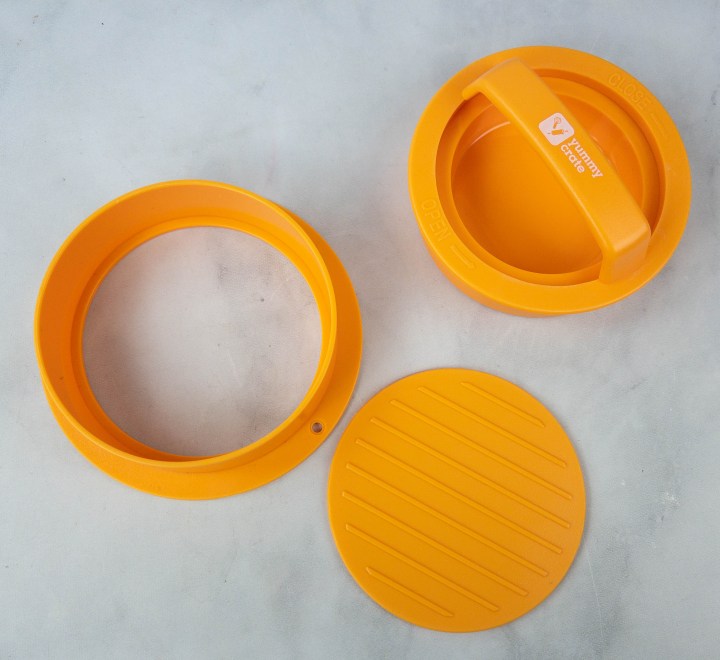 Each Yummy Crate will include a new kid-friendly cooking tool, which kids can use for the current month's recipes. For the Tasty & Toasty-themed box, my kids received a high-quality Burger Press. Using this tool makes shaping burger patties easier and faster!
There's also a folder that contains all the things kids and parents need to know about this month's box. It carries the experiment cards, recipe cards, Yummy Zine, the ingredient list for the three recipes, and suggested ingredient substitutions if a member of your family has dietary preferences.
These are the pamphlets for the Design Your Own Diner Menu activity and the Browning Dough experiment. The instructions are complete with illustrations, so kids can easily follow them! The diner menu activity pamphlet contains trivia about restaurant menus, while the experiment pamphlet explains what turns bread browns as it bakes.
The menu pages were provided, plus a writable plastic cover. To fill out and customize the entire menu, my kids received three markers in colors green, blue, and orange, as well as a dry-erase marker. In case kids change their mind, or if they want to use the menu for another occasion, they can easily do so!
As excited as they can be, my kids came up with their own menu right away. They chose their own diner name and logo, and since the crate included a recipe for smashed-baked potatoes and burgers, they wrote it in as the special dish and main dish of the day. My 7 year old has filled this out nearly every day for months now.
Of course, my kids also tried the browning experiment! They needed to find out which rolls will turn brown the fastest: the rolls brushed with water, the rolls brushed with lemon juice, or the rolls brushed with water and baking soda. With my supervision, they put the rolls in the oven for 12-15 minutes. The first ones to turn brown are the rolls with baking soda, this is because the Maillard reaction works faster with a pH higher than 7 and baking soda has 8.
Browning is one of the many small changes that happen when proteins and sugars meet heat. But a lot of other things can affect how dark the color gets and how quickly it changes. One of those things is in the pH — the measurement scientists use to find out how acidic or basic a liquid is.
All KiwiCo crates include a Zine, and the Yummy Crate is no exception. The Yummy Zine has loads of info about the scientific process of food browning known as the Maillard Reaction. There's even a story to keep learners interested, as well as trivia, fascinating facts, and burger history to make learning more enjoyable!
All three recipes – Browned Burgers, Smashed Potatoes, and Chicken Tenders – involve the Maillard Reaction. Each recipe pamphlet comes with a checklist of the tools and ingredients needed, making it easy to tick off every step once completed!
My junior chefs were ecstatic to make the first dish: Browned Burgers! This Yummy Crate recipe is enough to make 4-6 servings. Prep time takes 30 minutes, while cooking time is only 15 minutes. Aside from learning how to use the burger press, this is also a great practice for their stovetop skills and knife handling skills.
From beating the eggs to mixing the patty ingredients to shaping each one using the provided tool, my kids found each step fun and easy! I'm proud with how those little hands managed to make six burgers in a row. As we fried the patties, we discussed the concept of the Maillard Reaction, with the help of the Yummy Zine.
It turns out there's science behind cooking the perfect burger patty – the meat's amino acids and carbohydrates combine during the Maillard reaction which gives the meat a browned color and creates a mouthwatering scent.
There are many ways to customize the tasty burgers! We used cucumber, shredded lettuce, onions, and cheese for our burgers and they turned out really delicious. Yummy Crate also suggested using avocado, crispy bacon, barbecue sauce, or pickles, depending on the kids' taste.
To complete the menu, we also prepared criss-cut fries to go along with our burger and orange juice for the drinks.
Another easy to cook dish that involves browning or the Maillard reaction is Chicken Tenders. This requires the use of both the stovetop and the oven. Prep time is 40 minutes while cooking time is only 20 minutes.
This recipe involves stirring the breadcrumbs on the stovetop to let the heat give them a toasty appearance and crispy texture. After browning the breadcrumbs with my supervision, my kids coated the chicken tenders with toasted breadcrumbs and baked them until they were golden brown!
The last recipe in this month's box is Smashed Potatoes, which also involves the use of burger press. The estimated prep time is 30 minutes, while cooking can take up 25 minutes up to 40 minutes.
In this recipe, the potatoes are cooked twice! First, they are boiled to turn soft and then when they are soft, they need to be smashed before baking. The result is a crisp potato snack that is just as tasty and enjoyable to eat as French fries. Why do they need to be smashed? According to Yummy Crate, it's because the more surface area it has, the more Maillard reaction the food will get.
Yummy Crate is on another level! This new subscription from KiwiCo gives kids the freedom to work in the kitchen while learning something new with each cooking process. No doubt, my children enjoyed the very first box we received from Yummy Crate, and they're already excited for the next one. They cooked, learned science concepts and kitchen skills, and them enjoyed a delicious meal after! There are even extra experiments and activities for them to work and enjoy! So far, I can say it's an ideal subscription to give to aspiring chef-slash-scientist with STEAM-inspired recipes. Ingredients are not included in the box, but shopping is easy with the provided ingredients list.
Yummy Crate was designed to foster a love for science and cooking in kids ages 6 to 14, with recipes and activities that explore hands-on experimentation in and out of the kitchen. Your monthly crate includes delicious family-friendly recipes that teach kitchen skills and explore the science of cooking.
Yummy Crate explores STEAM (Science, Technology, Engineering, Art, Math) topics through engaging, hands-on recipes and projects that aim to inspire, celebrate, and build kids' natural creativity and confidence — in the kitchen! Each crate explores three delicious family-friendly recipes and two fun projects while providing hands-on experimentation and demonstration of scientific, culinary, and creative concepts.
Are you getting Yummy Crate by KiwiCo?