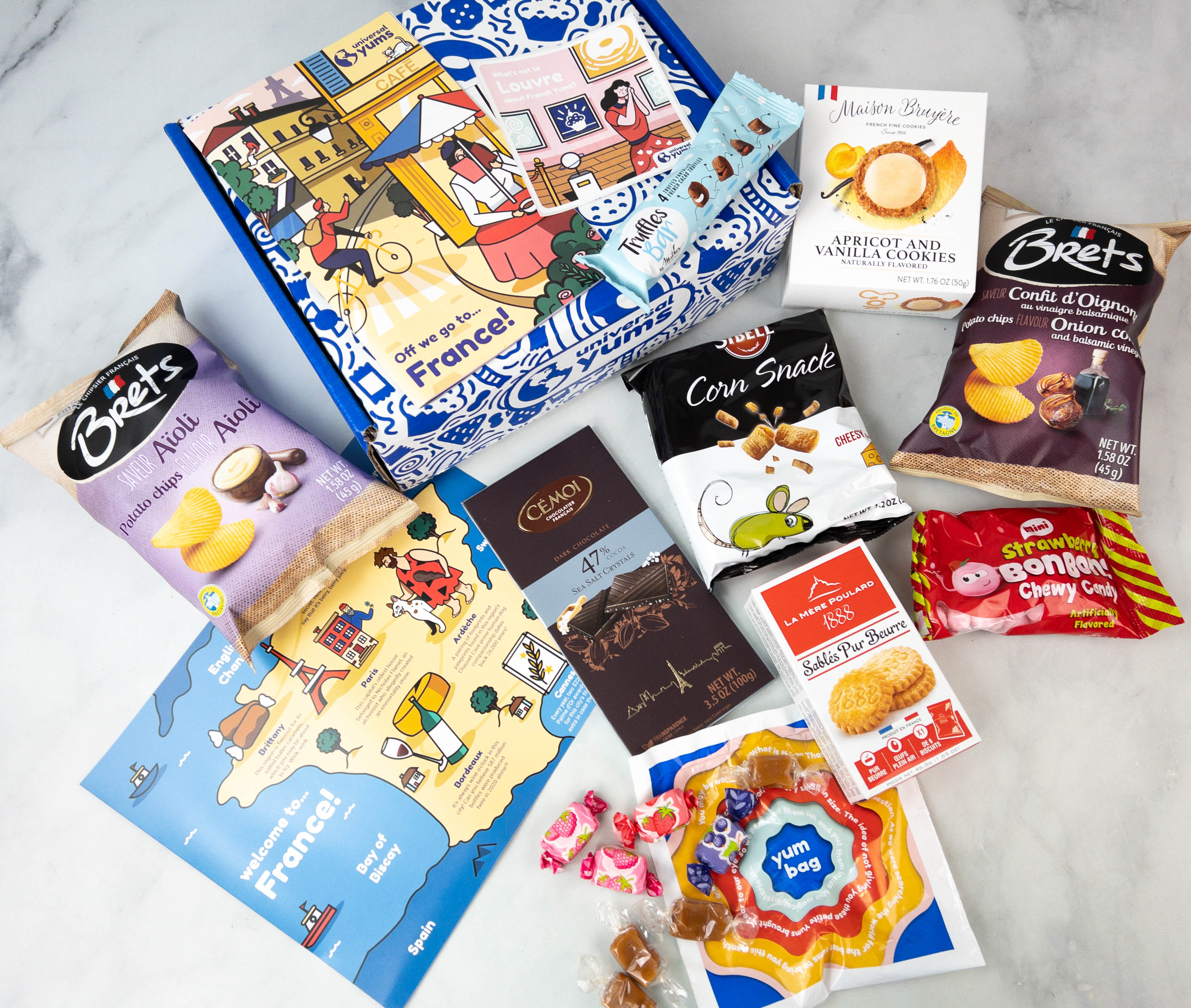 Universal Yums took us on another snacking adventure, and this time, we tasted some of the best treats from France! As always, the box is packed with sweet and savory snacks, all with France's distinct flavors and spices. The box also comes with an interactive guidebook filled with trivia and cultural features to help you learn all about the featured country. I have the Yum Yum box, which includes 10-12 snacks and other bonus content.
DEAL: Save 10% on a 6+months Universal Yums subscription!! No coupon code needed, just use this link to sign up!
Let's take a look at the Yum Bag, which is always packed with candies from the featured country! It may include flavors that you'll easily love and some that you may find weird and unusual. This month, it includes Salted Butter Caramels and Assorted French Fruit Chews!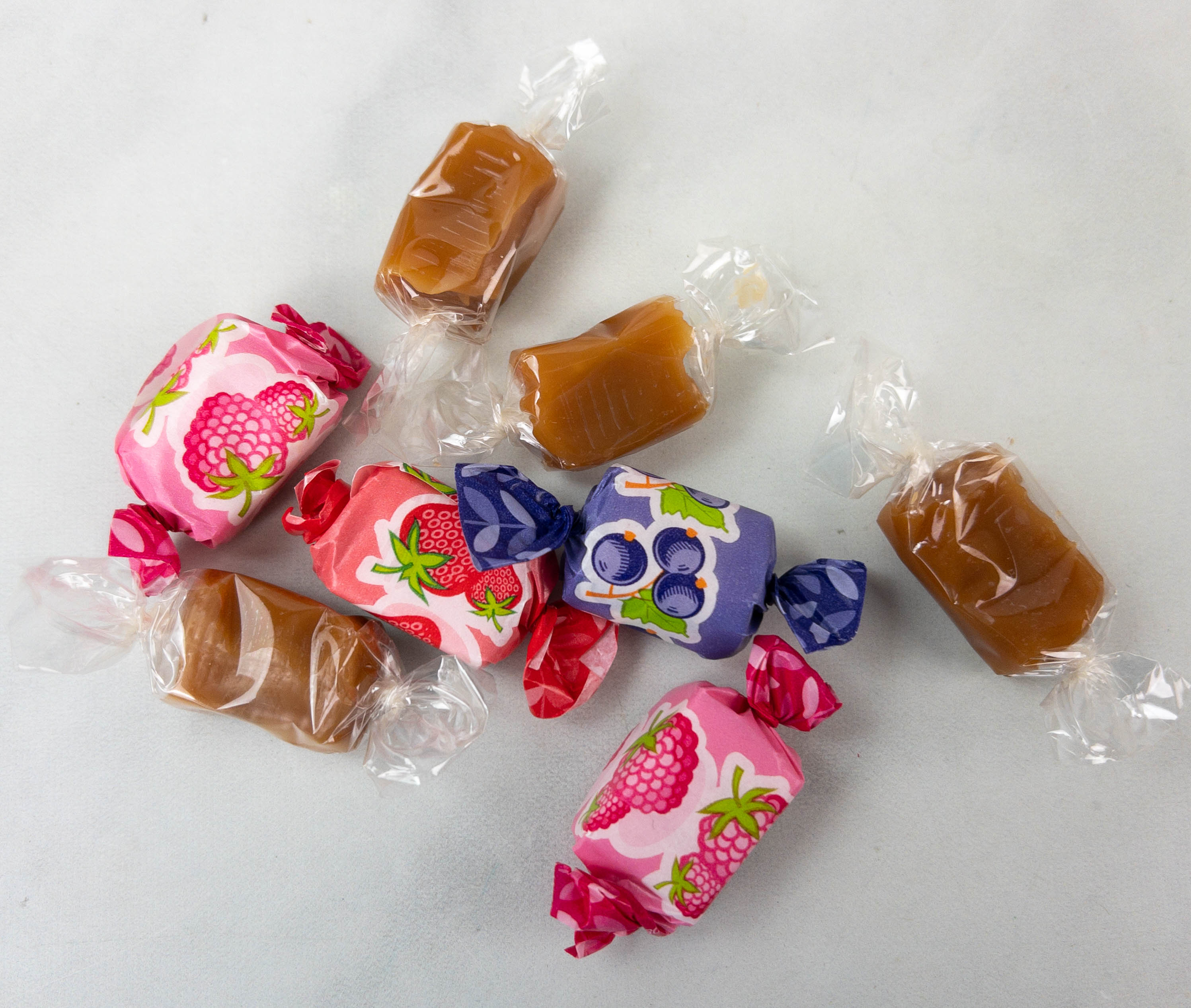 The salted butter caramels are delicious and buttery, with just the right amount of saltiness to balance out the sweetness. Meanwhile, the fruit chews are a fun mix of tart and sweet flavors, with different textures depending on the flavor. I loved the raspberry chews for their zesty tanginess and the blueberries for their smooth and juicy texture.
Next up are the savory French snacks! Onion Confit & Balsamic Vinegar Potato Chips are thin and crispy, with a delicious onion flavor that's balanced out by the tangy vinegar. I really enjoyed these! I also received Garlic Aioli Potato Chips with a subtle garlic flavor but still delicious and wasn't too strong or overpowering. Personally, I preferred the onion chips, but these were still very good.
47% Dark Chocolate with Sea Salt is a bar of bittersweet chocolate with bits of crunchy French sea salt, which gives it an excellent depth of flavor. If you are a dark chocolate lover, this is a must-try. The chocolate was rich and creamy, and it was hard to get enough of it!
French biscuits and cookies are simply the best. They included Pure Butter Sables in the box, which are butter biscuits from La Mere Poulard. These classic French treats are light and fluffy with a delicious buttery flavor. This is ideal for those who want a quick and easy snack that's still satisfying.
Next is Apricot & Vanilla Macaron Cookies is one is France's most famous cookies and it's easy to see why. The apricot filling adds a nice fruity flavor, and the vanilla is just sweet enough without being too overpowering. These cookies are so addicting and so delicious!
Streaming your favorite French films is more fun when you have delicious snacks to munch on like these French Cheese Tubes. It's a fun take on traditional French cheese! Each piece was are crispy and crunchy, with a delicious cheesy flavor that's not too strong or overpowering. The tubes are also coated with a layer of salt, ideal for those who like salty snacks.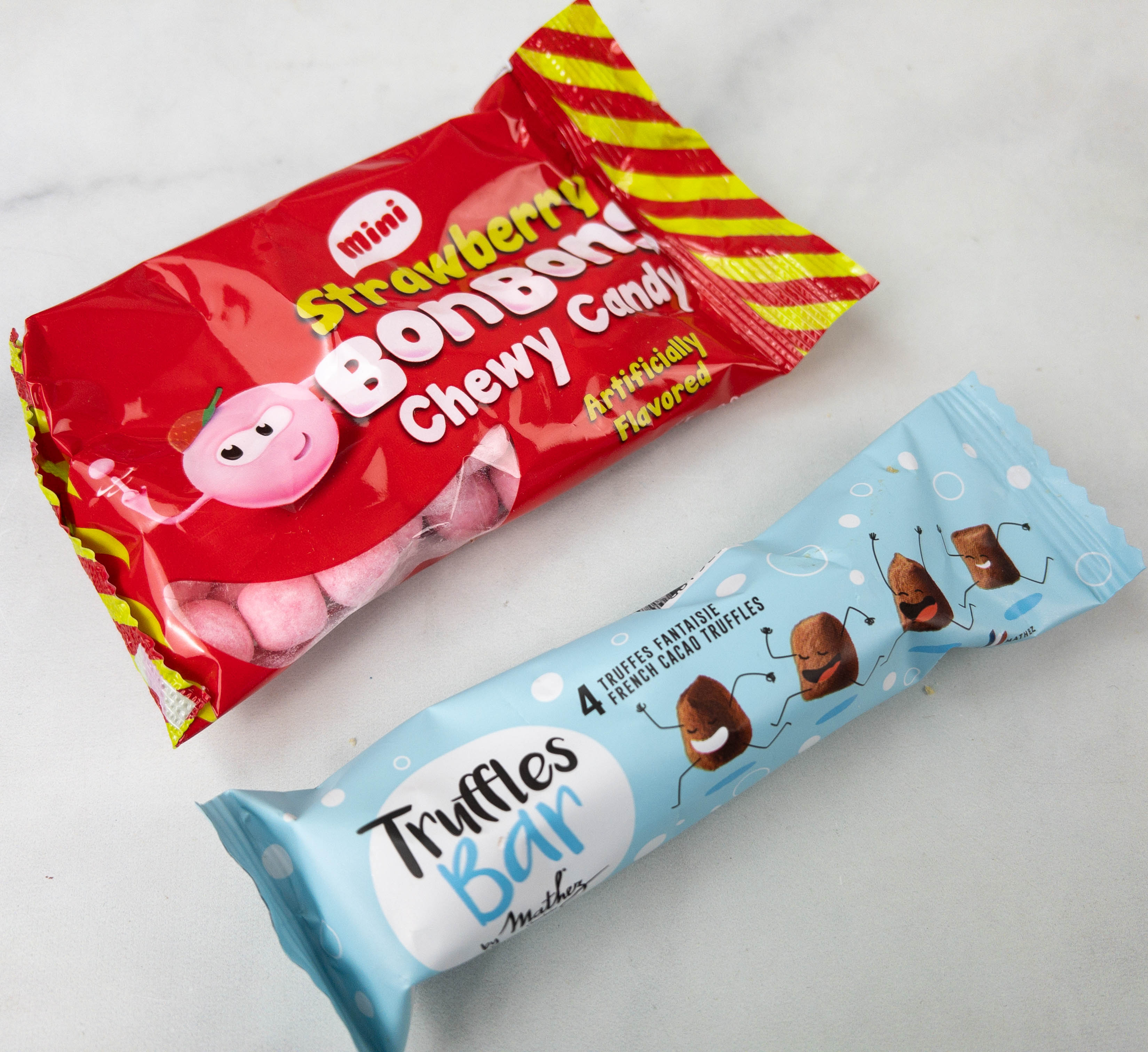 For a sweet and tart snack that will remind you of summertime, here are French Strawberry Chews! They are fresh and juicy, with the perfect amount of tartness to balance out the sweetness of the chewy candy. My kids absolutely loved these.
Here's another treat for chocolate lovers, Cocoa Dusted Chocolate Truffle Bar. It's my favorite item in the entire box as the truffle bar is luxurious, chocolatey, and has delicious cocoa dusting on top. It's also very decadent, and the truffle itself is smooth and creamy.
Overall, I was really impressed with this month's Universal Yums France-themed snack box! It had a great variety of snacks, from candies to cookies and everything in between. Everything was also delicious and authentically French. My family loved trying the different snacks, and we can't wait to see what country is featured next! If you are also interested in trying international snacks, this box might just be your new favorite.
Every Universal Yums box includes a booklet with fun trivia about France, as well as information about each of the snacks in the box, games, and recipes. Here's a look:
Universal Yums is an international snack subscription! Featuring a new country each month, the box contains unique and delicious snacks that are either difficult or impossible to find in US stores. They promise to always include a variety of sweet and savory snacks, all with the featured country's distinct flavors and spices. Each box also comes with an interactive guidebook containing an explanation of why they chose each snack, as well as trivia, games, recipes, and other cultural features! This monthly snack subscription is a reader favorite – it's taken top honors 3 years in a row in our reader's selections for best snack subscription box!
There are three available box sizes:
Yum Box – 5-7 snacks plus a 12-page booklet for $17 a month
Yum Yum – 10-12 snacks plus a 16-page booklet and other bonus content for $29 a month
Super Yum Box – 18-20 snacks plus a 16-page booklet and other bonus content for $45 a month
Have you tried Universal Yums? What do you think?