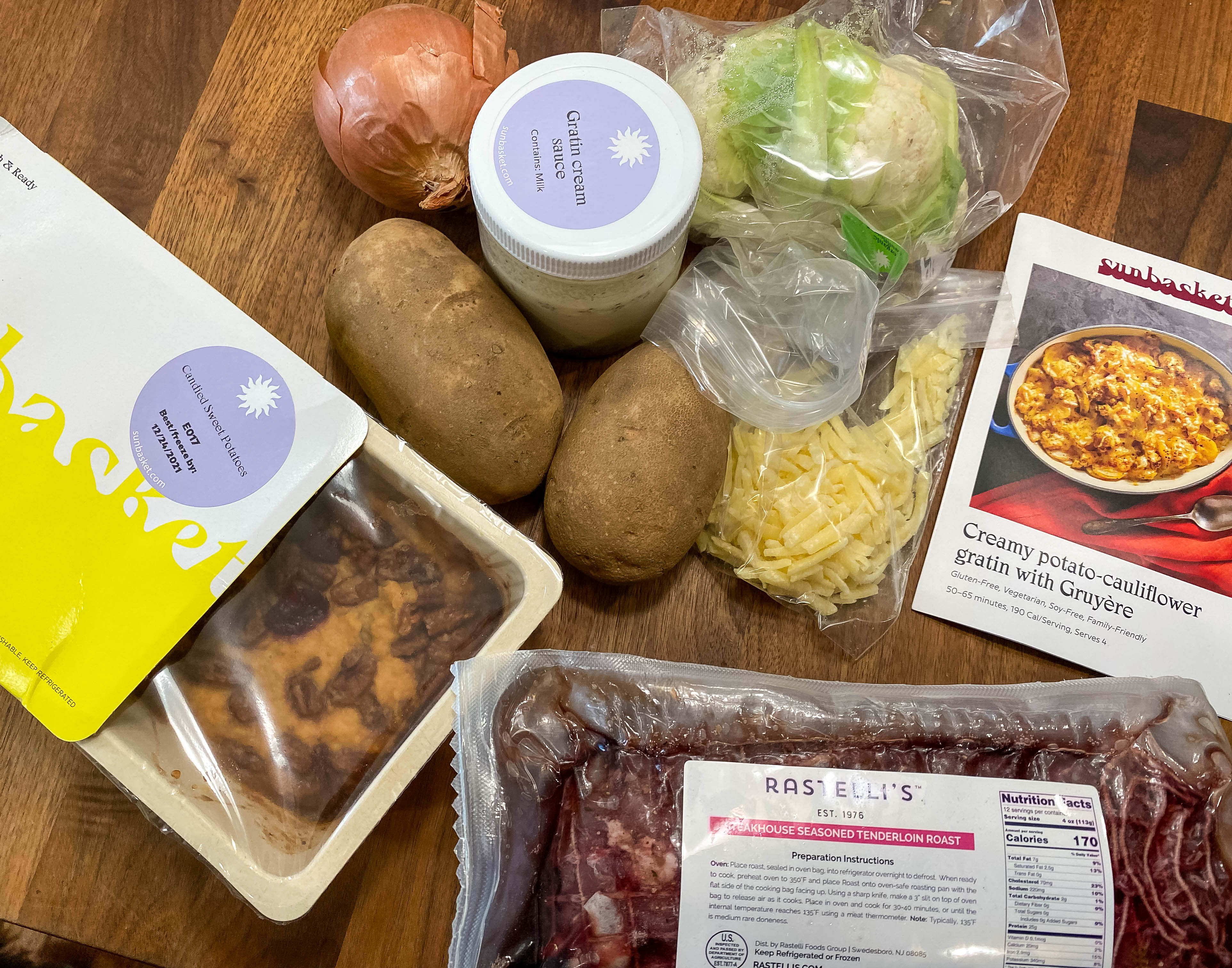 There's nothing more delicious than a home-cooked feast for a special occasion! Sunbasket sends high-quality ingredients along with the recipe to help you prepare a hearty meal you can serve to your loved ones in no time. FYI, Sunbasket uses Rastelli's meats, which are antibiotic, steroid, and hormone-free!
DEAL: Get $90 off on your first FOUR orders – that's $50 off on your first order ($40.01 off meals + FREE shipping worth $9.99) + FREE Food Gift, $15 off on your second and third boxes, and $10 off on your fourth box! Use this link to try out Sunbasket and activate the deal! Must meet $65 minimum order per box.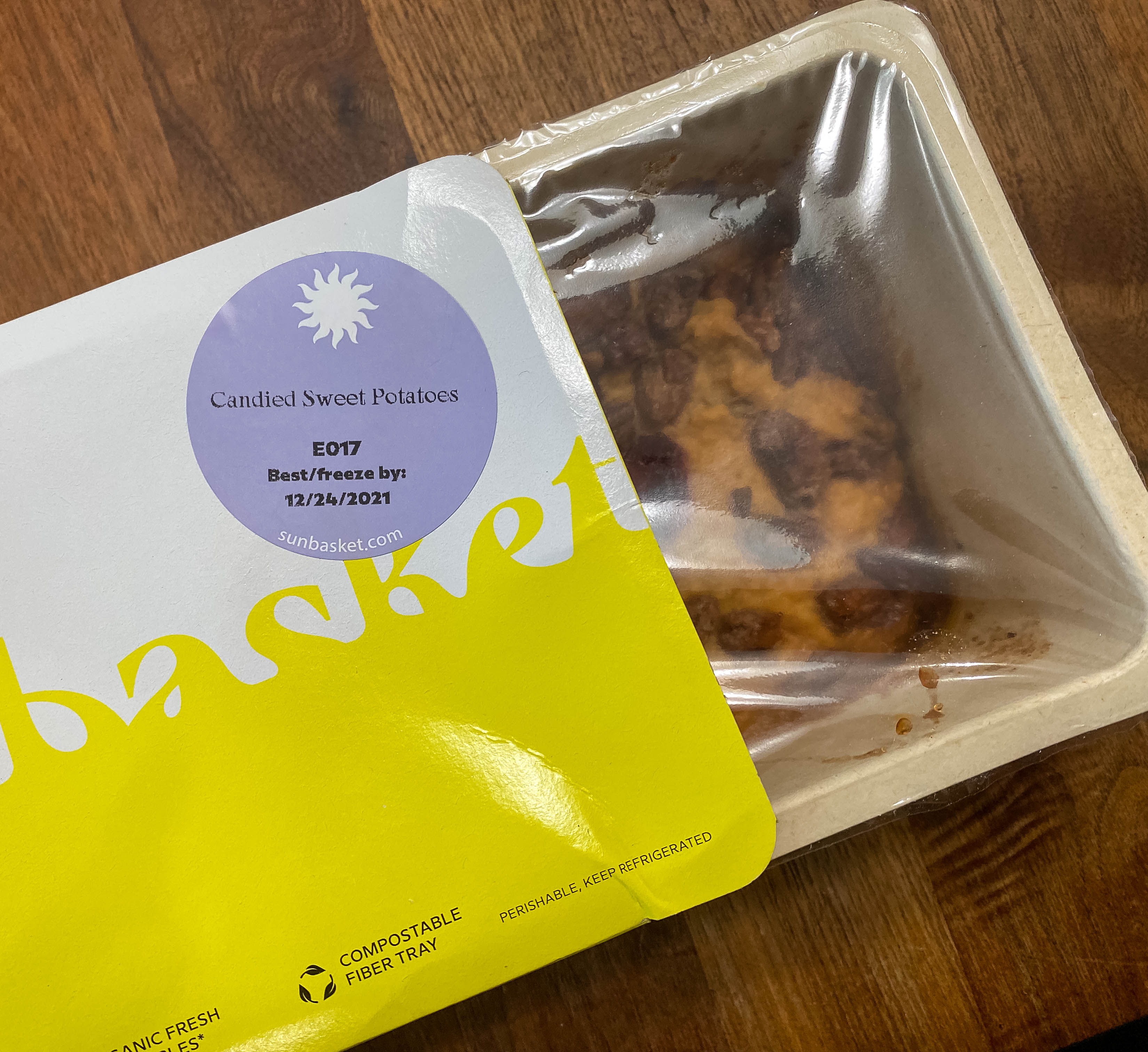 Let's start with the perfect side dish, Candied Sweet Potatoes! Sunbasket's version is made with organic, fresh ingredients. For added taste and crunch, it's even topped with maple-glazed pecans and cranberries.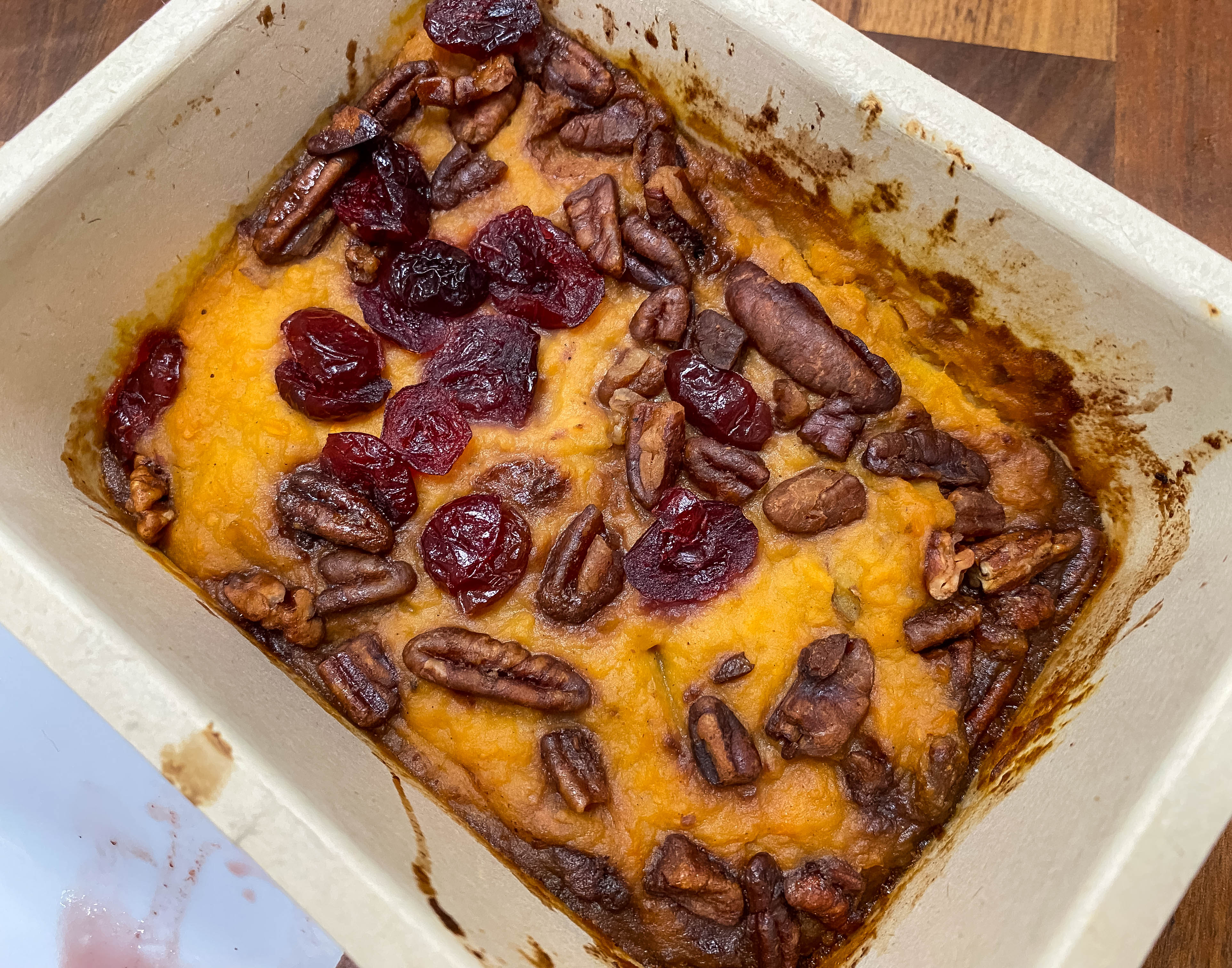 It's placed in a compostable fiber tray that can withstand temperatures of up to 400°F. You can just pop it in the microwave or oven to reheat.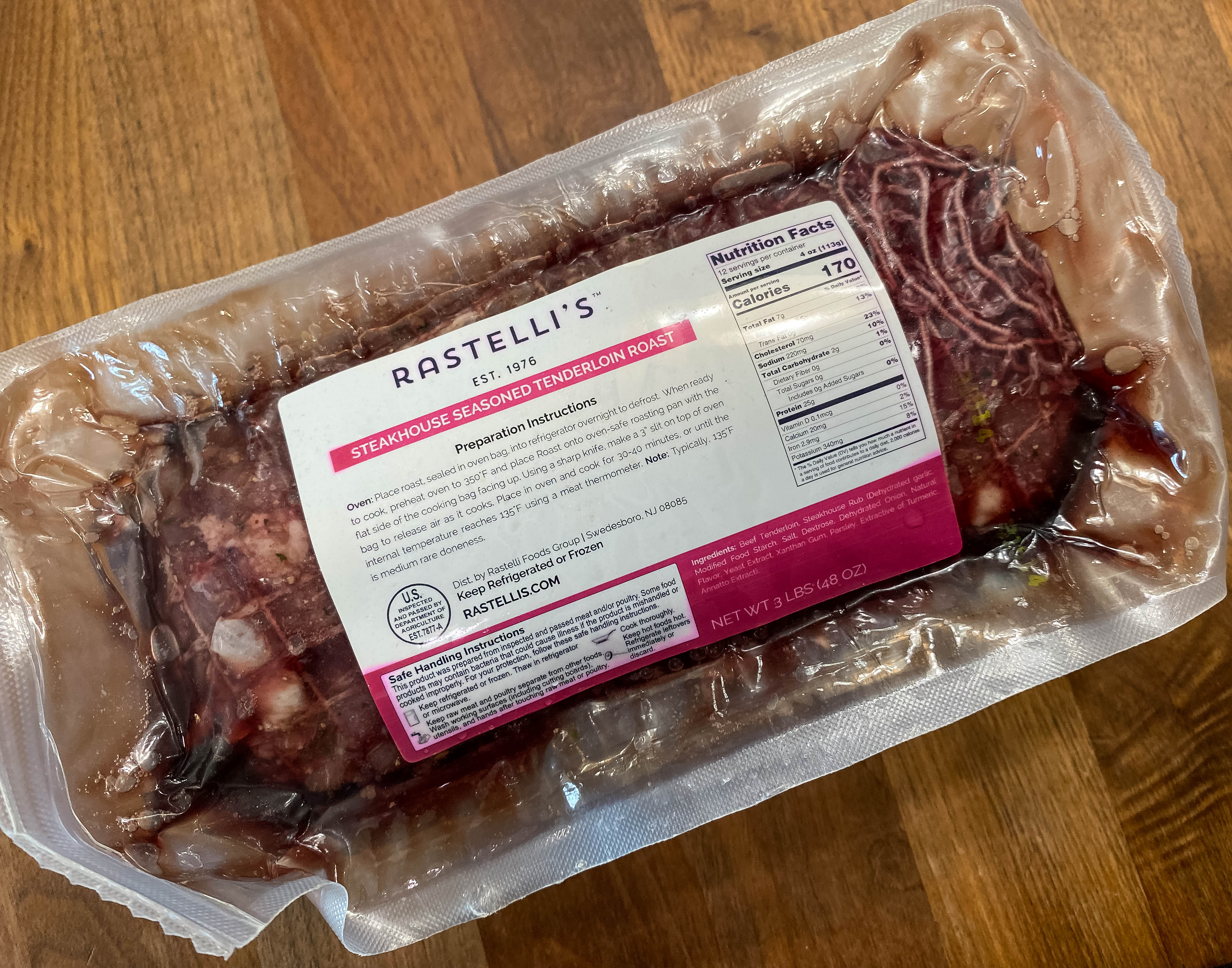 For some protein boost on your menu, here's a Steakhouse Seasoned Tenderloin Roast from Rastelli's. We have 3lbs of meat that is already seasoned, so there's one less work to do!
For preparing this seasoned tenderloin, all you have to do is place it onto an oven-safe roasting pan and make a slit on the bag to release air as it cooks. Slide it in a preheated oven, and savor the smell of it roasting!
You can cook this in the oven depending on your preferred doneness. I like mine medium-rare, so I just followed the instructions on the label. Look at the juice dripping! The meat tastes great, and it's also tender!
Another perfect pairing for meat is a cheesy gratin! Sunbasket has Creamy Potato-Cauliflower Gratin With Gruyere which is pretty easy to make. They provide the organic cauliflower, organic russet/white potatoes, organic onion, gratin sauce base, and shredded gruyere. It only requires a few ingredients from your own pantry, like Kosher salt, black pepper, and olive oil.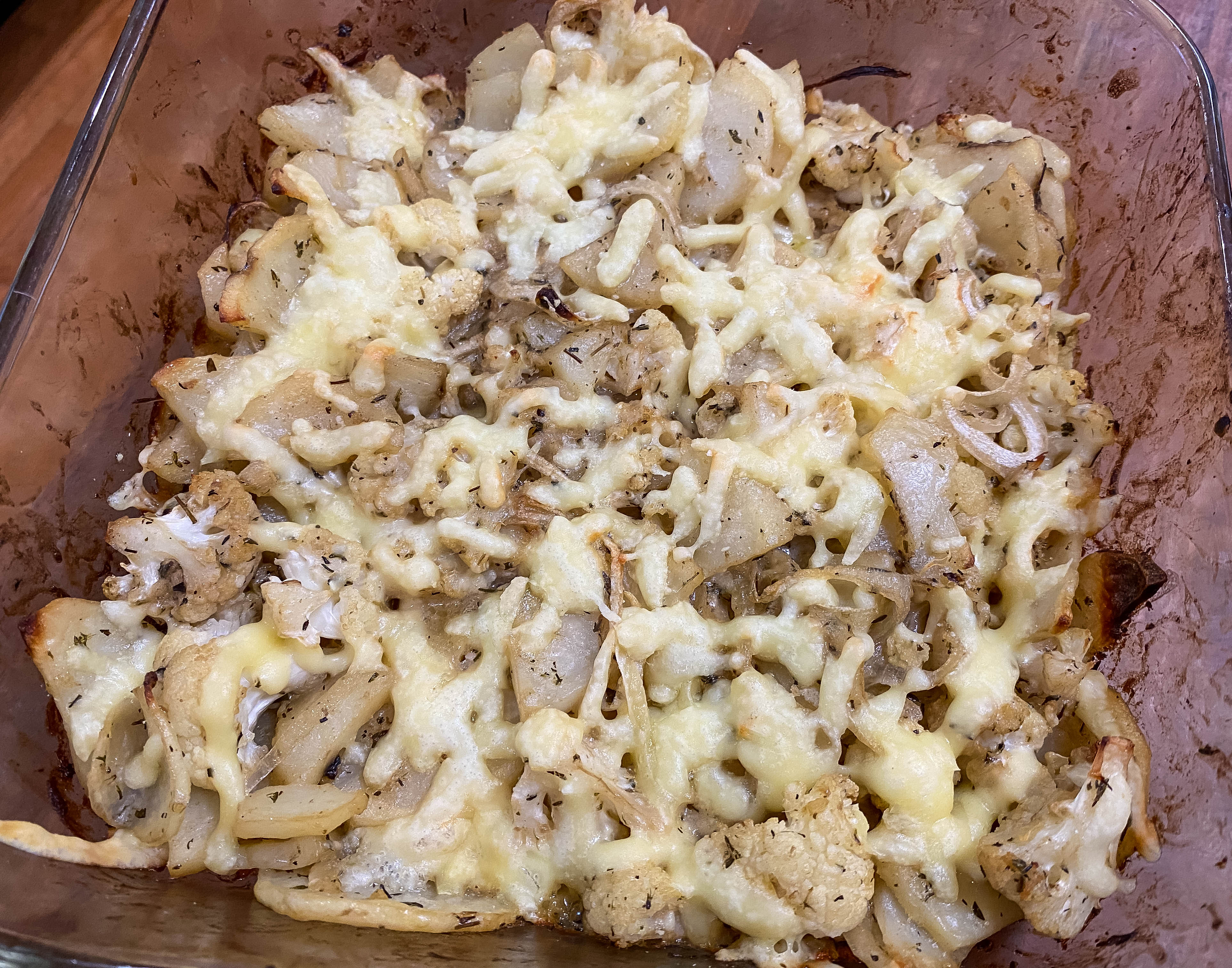 Preparing and chopping the ingredients only takes a few minutes. When everything was ready, I brought the gratin sauce base to a boil then mixed everything in a baking dish and made sure everything was well-coated with the sauce. You can season it with salt and pepper or adjust it to your taste. Cover it, then bake in the oven for 25 to 30 minutes! It's that easy!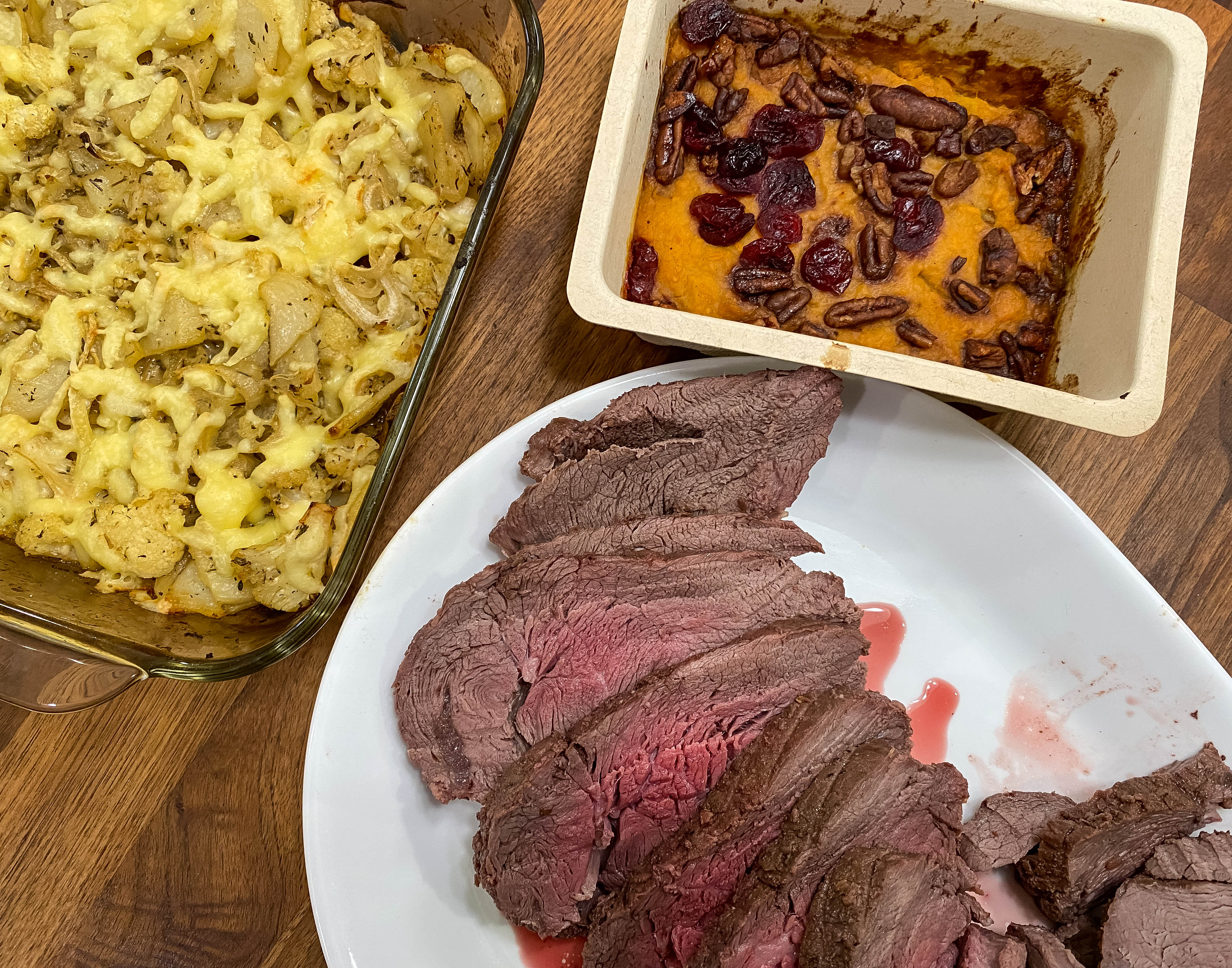 With the roasted tenderloin, creamy potato-cauliflower gratin, and candied sweet potato, it's a complete holiday feast at home!
Sunbasket is great for everyday meal planning, but they also have offerings that make holiday food preps easier. The roast, gratin, and candied sweet potato in this box are great examples, as I was able to prepare them with little effort and they came out really tasty and filling. Also, the servings were enough for the whole family! I'm quite impressed that Sunbasket uses meat from Rastelli's. The tenderloin steak was so juicy! If anyone in your family has dietary restrictions, no worries because they accommodate a wide range of diets!
Sunbasket is a healthy meal subscription service that offers both easy-to-cook recipes and ready-made meals! Subscribers can choose whether they want Classic Meal Kits and Fresh & Ready Meals. The meal kits can also be customized depending on the subscriber's preference or diet, including Chef's Choice, Paleo, Gluten-Free, Lean & Clean, Vegetarian, Pescatarian, Mediterranean, Diabetes-Friendly, and Carb-Conscious. You can choose at least 2 recipes per week, for 2 or 4 people. Meals start at $8.99 per serving, and delivery is free on your first order. Aside from the regular meals, you can also grab add-ons such as Breakfast, Lunch, Pasta & Sauce, Proteins, and Snacks from their Market!
Are you getting Sunbasket?