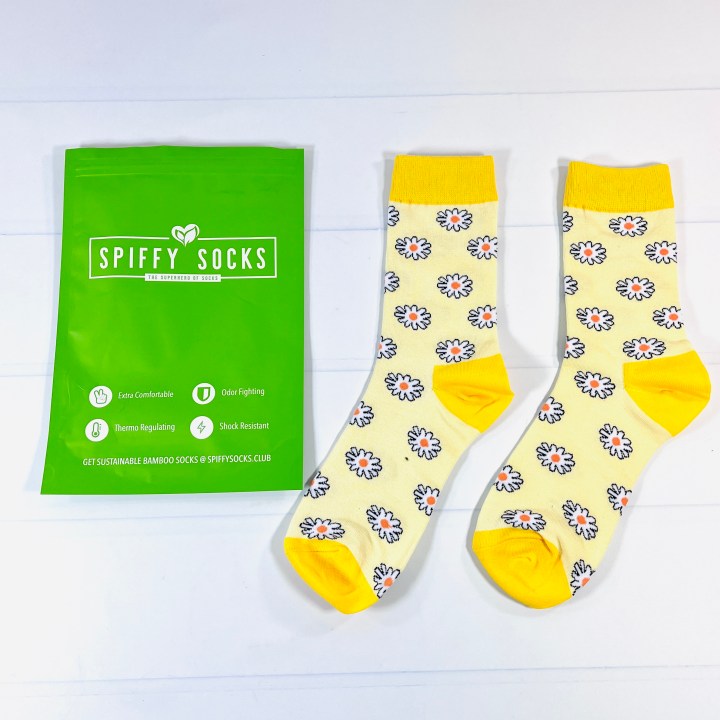 Spiffy Socks sent a bright, uplifting pair of socks for March that reminds me spring is just around the corner! Spiffy Socks are super comfortable, read below for more on this fun subscription!
DEAL: Get 10% off for the life of your subscription! Use coupon code HELLOSUBSCRIPTION.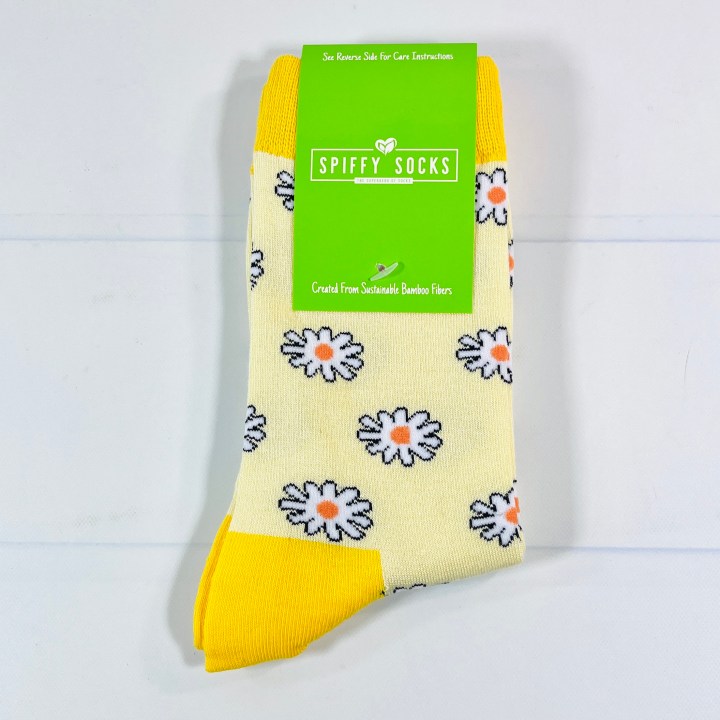 Spiffy Socks in Suzy's Daisies Print ($20) You can purchase socks a la carte at the Spiffy Socks website for $20 each so there is a good amount of savings by getting a subscription, it's almost half the price! You can browse their website to see what kind of designs you might receive. Most have bold or bright colors and always have some kind of pattern, such as stripes, dots, food stuff, hearts, and more.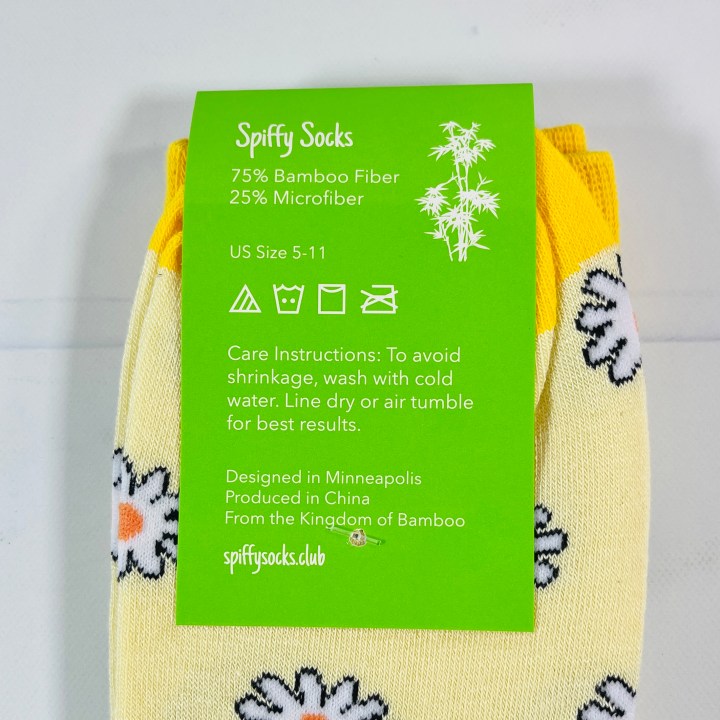 The socks are made of a bamboo-based polyester plus microfiber. The washing instructions are on the hang tag but I throw them in my regular wash and dry cycles with no problems.
These socks have a lemon yellow background with white daisies outlined in black with an orange center. The cuffs, heels, and toes are all a deeper yellow shade for contrast. My daughter has already claimed these adorable socks for herself!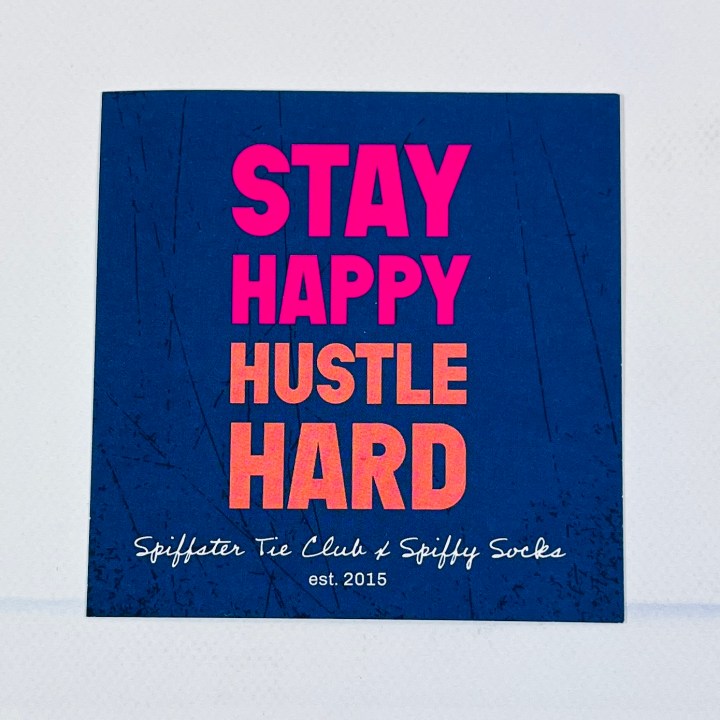 I also received a vinyl sticker!
Spiffy Socks are so comfortable and they send such cool patterns, sometimes sweet, sometimes a little kooky, but always cute. My daughter and I share this subscription and she has already asked for this pair because it is girly without being pink. I reach for my Spiffy Socks all the time because they fit well and don't cut off my circulation, plus, they look good!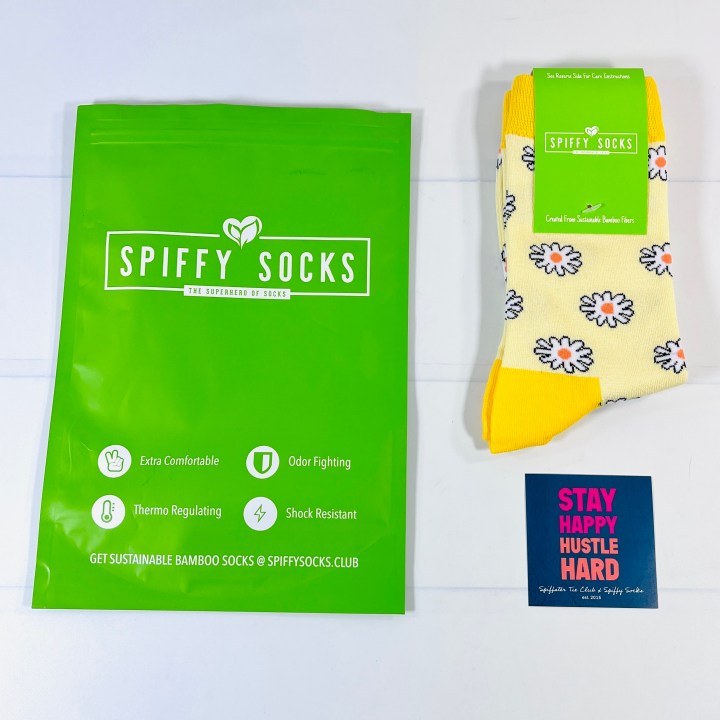 Spiffy Socks is a monthly subscription that sends snazzy socks made with bamboo fiber. They offer subscriptions for both men (sizes 6-12.5) and women (sizes 5-10) and subscriptions are $11 per month and even lower for longer terms. It automatically renews, but you can cancel anytime. Shipping is free to the U.S.
Spiffy's sock subscription made the list in our 2022 readers' choice best sock subscription list!
Note: Order by the 31st to get the current month's box! Also, email them to make absolutely sure you get the sock of the month!
Have you tried Spiffy Socks? Let me know what you thought by leaving a comment!