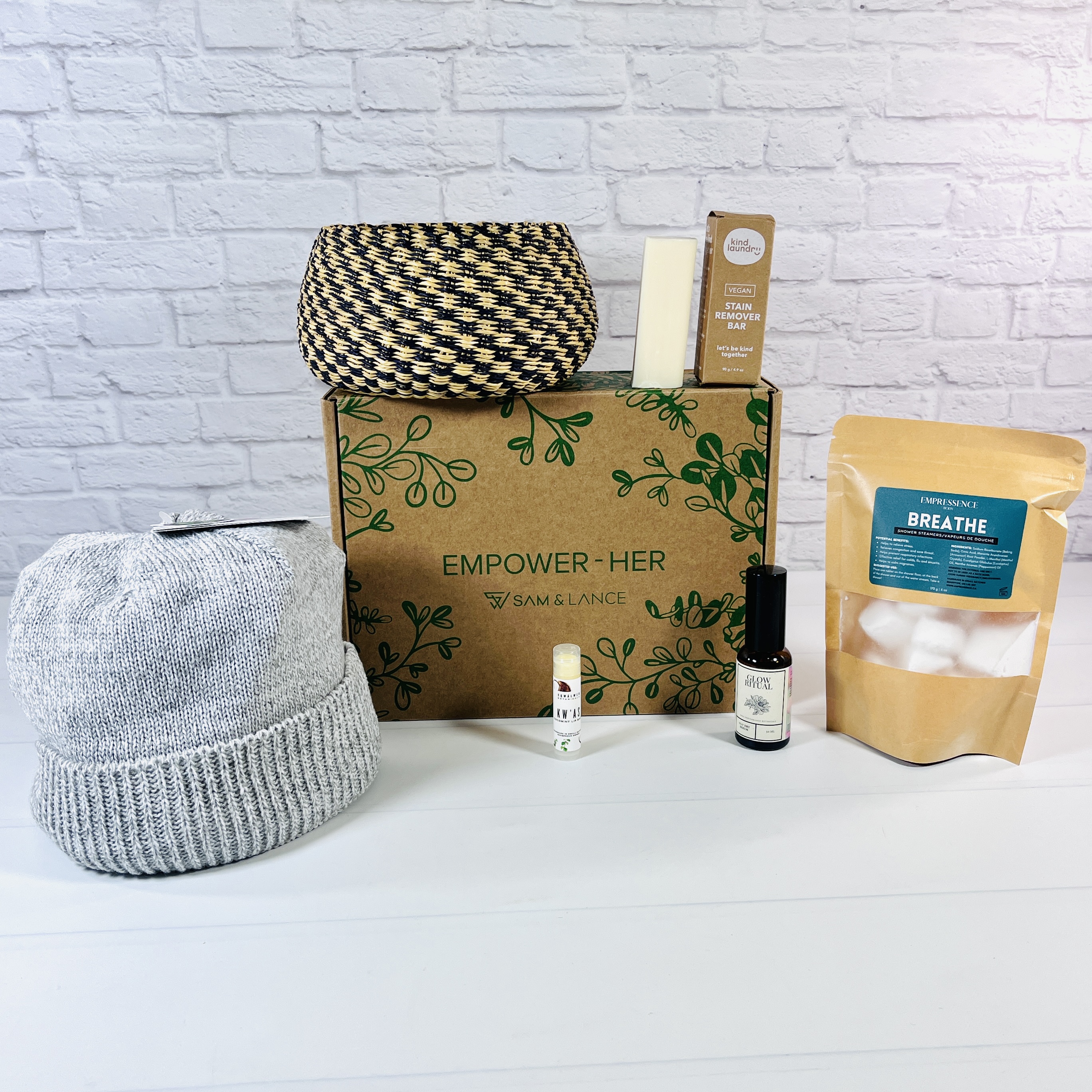 Sam & Lance EMPOWER-HER Winter 2022 box is here and it was filled with items from women-owned businesses, several of them based in Canada (just like Sam & Lance!). There was only one winter-specific item, the beanie cap, but the rest of the items are perfect for year-round use. See what I received in this vegan and cruelty-free box!
Mamaa Trade Basket (Find similar larger item for $27.83 USD) I'm always looking for baskets to store stuff around the house to control clutter and this one is hand made by women in Africa from what I read on the information card. It's about 4″ tall and the opening across the top is about 6″ wide. I like the natural and black colors of the grass and think this will work perfectly for my needs!
Kootenay Knit Beanie ($19) I'm not a beanie type of person, and there's not much need for them here in Austin, but when I'm taking a walk outside during the colder months then I want this on my head (and it will need to wait until next year, it's already tornado season here). This cap was made in Canada of 50% recycled acrylic polyester and 50% acrylic yarn and it is lined with the softest Primaloft fleece band on the inside. It's sold out, again probably because it's too late in the season, but it is unisex and is a light grey shade that goes well with my coat.
Empressence Breathe Shower Steamers ($18 CAD, around $14.30 USD) One sure way to my heart is to give me anything peppermint — whether in snacks or beauty, I absolutely love peppermint! These shower steamers have menthol crystals, which come from peppermint, and they help open the sinuses and put some much needed pep in my morning shower. I placed some on my shower floor and sadly they were just about gone by the time the water had heated up, but the second time around I placed them on the shower ledge and they were wonderful, and that much closer to my nose! Please note that these have a higher concentration of essential oils than bath bombs and shouldn't be used in the bathtub for soaking, although you might get away with dissolving one in a bowl and draping a towel around to breathe in the scent if congested.
Glow Ritual Glo' Dry Serum ($65) Sometimes I get ahead of myself and I was about to use this serum on my face but it turns out it's meant for hair! In my defense the bottle says nothing about how or where to use this product, but the brand's website (and the product information card provided by Sam & Lance) says to apply to towel dried hair and then style or let air dry. It's made with rice, safflower, sweet almond, and grapeseed oils plus a blend of botanical extracts for scent. My hair really can't take this type of product (it's too thin and weighs down easily) but I rubbed it on my hands and I think dry serum is an apt term, it wasn't super greasy on my hands. There really wasn't much scent either, I can't really pick out which extracts may have been used for scent.
Skwalwen Kw'as Cocomint Lip Balm ($6.35 USD) Did I already mention that I love peppermint? Here it is featured again in this cooling lip balm. It is made with coconut oil, cocoa butter, sweet almond oil, beeswax, and peppermint oil. It goes on super smoothly and left my lips tingling with a refreshing feeling, I love when that happens!
Kind Laundry Stain Remover Bar ($6) I haven't had a chance to try this out yet, mainly because I haven't had any food spills lately, so I will keep this on top of my washer until it is needed. It's a vegan product that you dampen with water, rub on the stain for about 20 seconds, and then launder as usual. It's made with just five ingredients (sodium cocoate, sodium palmate, sodium palm kernelate, palm kernel acid, and glycerin) and this bar should last for a long time.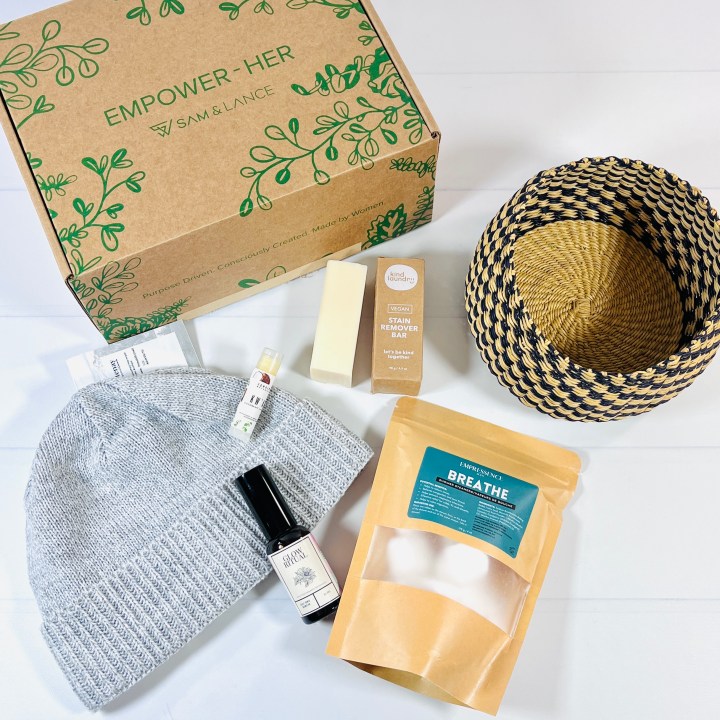 What a wonderful assortment of items, and they either smelled, felt, or looked good, and some of them did all of the above! My favorites were the lip balm (so soothing) and the shower steamers (so uplifting) because they both smelled like mint, one of my favorite things in the world. I haven't used the laundry stick yet, and the beanie will need to wait until next year, but I am especially looking forward to wearing it because of that super soft fleece lining! The hair oil isn't really my kind of thing due to my hair type but I bet it would work fine as a body oil and the basket is perfect for storing stuff while not making me look like a hoarder. I liked the brands and look forward to finding them in future boxes.
Below is the product info card and some box opening pictures!
Sam & Lance EMPOWER-HER is a quarterly subscription box that contains 5-7 vegan and cruelty-free products that are from women-owned brands, including at least half that are from BIPOC-owned companies. The box is shipped to the US and Canada but you can contact them to see if they deliver to other countries. EMPOWER-HER is $49 USD per quarter.
What do you think of the Sam & Lance Empower-Her Box?