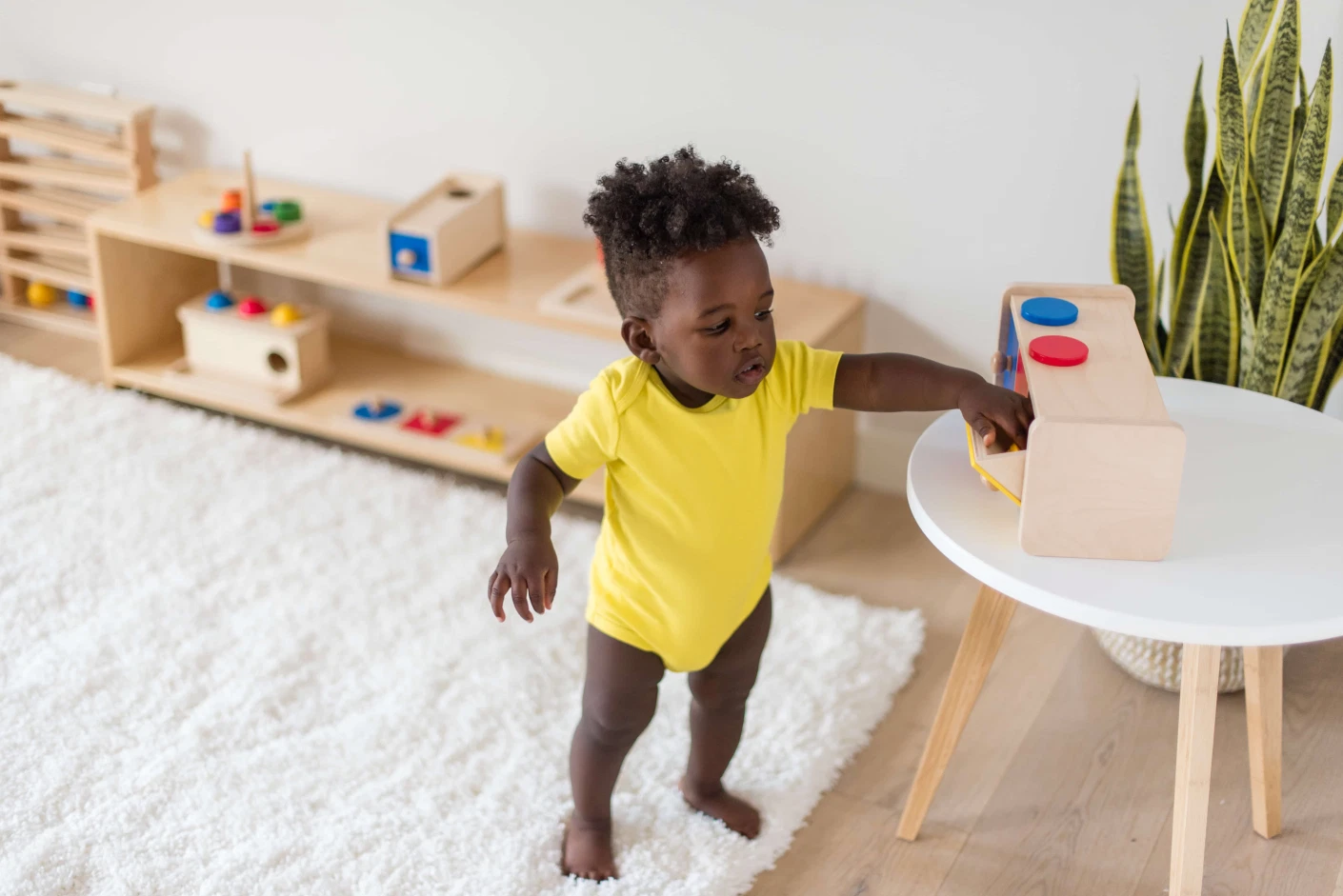 Created by Montessori educators, Monti Kids subscription offers Montessori developmental toys and guidance for kids 0 to 3 year old! If you're not ready for a subscription, they have Montessori kits like the Newborn Kit or Toilet Learning Kit that are great gifts for babies and toddlers – perfect present for baby showers too!
Whether you have a brand-new baby or a toddler ready to take on the world, Monti Kids Kits deliver everything you need to make the most of your time together.

Each kit is designed by Montessori-certified educators and comes complete with high quality materials, a parent guide, and access to our online Learning Center
Here are the Montessori Kits available:
Montessori Newborn Kit ($75)
Become your child's first teacher with this beautiful collection of Montessori infant toys and parent support materials designed by child development experts. Together these toys promote concentration, visual tracking, core development, grasp development, an early love of reading, and pre-crawling movements.

This kit offers the perfect start for your own baby and makes a thoughtful baby shower gift. Each educator-designed toy is safety-certified and made with sustainably sourced wood, non-toxic ink, and food-grade silicone.
What's included
A wooden book featuring black and white baby animals to help build an early love of reading
A wooden, child-safe mirror and card stand with five double-sided black and white cards to promote visual tracking and tummy time
A wooden rattle, silicone teether, and cotton crochet ball to strengthen baby's grasp, hand-eye coordination, and body control
A beautiful cotton rope basket to hold rattles, balls, teethers, and more
Montessori Toilet Learning Kit ($75)
Designed by child development experts to avoid the stress of traditional "potty training" methods, this kit will support your child's transition from diapers to toilet independence using a thoughtful Montessori approach.

We've included everything you need to support your child's bathroom independence, from a floor potty to a unique spout extender for easier hand-washing. Routine cards and a special board book will inspire your little one to get started.

Online parent support materials include videos and an interactive assessment to help you create your own customized toilet learning plan.
What's included
A low potty that is just the right size for your toddler to get on and off by themselves
A book created by Montessori toilet learning experts that helps your child learn about the process and keep them engaged, on and off the potty
A faucet extender that allows children to independently wash their hands (our patent-pending design works on many different types of faucets)
A set of eight beautifully illustrated cards that help your child remember daily routines like brushing their teeth, bathing, and more
A cotton rope basket to hold books, wipes, a fresh pair of underwear, or anything else your child needs close by
Montessori Cooking Together Kit ($100)
Enjoy cooking together safely with this educator-designed kitchen set for children as young as 18 months.

A complete set of food-safe, developmentally appropriate kitchen tools support cooking experiences that will help your child build a positive relationship with food. Ten beautifully illustrated recipe cards help parents and children create child-friendly meals together. Food preparation activities help build executive function and self-confidence.

A printed parent guide and online parent articles and videos empower you to support your child in the kitchen while enjoying time together.
What's included
Ten innovative recipe cards offer parent guidance on how to prepare tools and ingredients in advance on one side and child-friendly, visual recipe instructions on the other side.
A beautiful wooden stand holds the recipe cards for hands-free visibility.
A child-sized stainless steel pitcher, three stainless bowls, and a food-grade silicone cutting board help young chefs practice pouring and transferring.
Wood and stainless steel mixing spoon, whisk, and masher allow your little one to stir and mash ingredients.
A child-friendly melon baller, spreading knife, and tongs build fine motor control.
The egg slicer allows your child to transform soft ingredients.
The unique wooden crinkle cutter allows your child to safely chop fruits, steamed vegetables, and sandwiches.
 What do you think of Monti Kids?