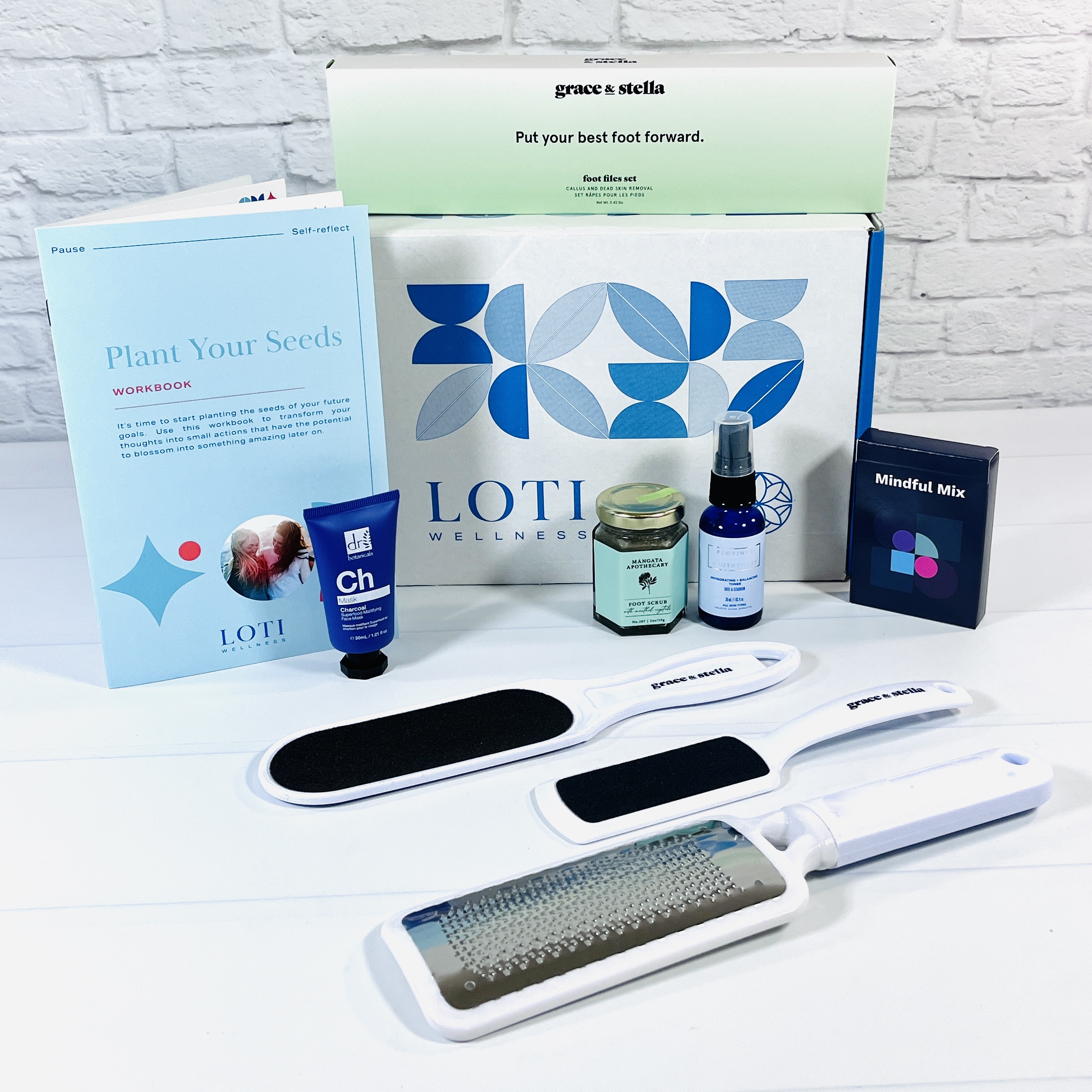 I am super excited about my Loti Wellness box for this month! This month's theme is Plant Your Seeds and I was positively thrilled to see some foot care items in there, as we generally have a week or two of spring before launching into summer her in Central Texas and my feet need some help. Read on to see the full review of the March Loti Wellness box plus grab a coupon!
DEAL: Save 10% on your first box! Just use this link and coupon code SUBSCRIBE10.
Workbook Loti always includes a workbook and this month it's all about taking actions now to prepare for your future, whether that means working on your relationships, career, or health, for just a few examples. There is a tracker to fill in to help break down your goals into workable parts. There are 14 pages in all.
Grace & Stella Foot Files Set ($18) Oh my gosh, when the nail technician at the salon wields one of those giant rasps then I know my feet are going to look good soon. Now, I get to do the work myself in between visits. The rasp looks kind of like a giant cheese grater and, well, the results kind of also look cheesy so maybe use it while standing in the shower or tub. The other two files are to help smooth the skin afterwards or to file off dry skin that may not need the full callus remover effect.
Mangata Apotheracy Foot Scrub ($28) I love minty things and this foot scrub has menthol crystals for that cooling effect, but there's also betonite clay, salt, coconut oil, and essential oils. I must say it smelled awful when I opened the lid, I got a whiff of something metallic and harsh, but I went ahead and used it on my feet. By the way, only a little is needed and this jar is supposed to have enough for about 15 treatments. The awful smell went away after using and of course menthol feels refreshing so my feet will be better in no time, right?
Dr. Botanicals Charcoal Superfood Mattifying Face Mask ($9.99) This product is for dry and combination skin to draw out oil and other impurities and to leave the skin with a matte finish if such a thing is possible. I have dry skin and need all the oil I can get so I will pass this along but I did squirt some on my hand and it is dark grey and smells like cucumbers, or more like cucumber perfume although supposedly the scent is natural.
Province Apotheracy Invigorating + Balancing Toner ($18) This toner is supposed to gently exfoliate skin with gluconic acid, an AHA that may reduce the appearance of fine lines and wrinkles. It is also alcohol free so no worries about stinging my skin or leaving it parched. This smells lightly of roses and geranium thanks to those ingredients and there's lavender water and frankincense oil too. You can spray it directly onto skin after cleansing, let dry, and then follow with a serum, oil, or moisturizer. The product felt cool on my face and wasn't oily, it evaporated and I could no longer tell it was there. Make sure to close your eyes and hold your breath when you spray it on, or spritz first onto a cotton pad and wipe it on to remove any traces of makeup after cleansing.
Mindful Mix: Breathing, Meditation and Stretching Cards ($20.42) Inside this box was a set of 72 cards broken down into three groups of 24 cards each in the following categories: Breathing, Meditation, and Stretching. The idea is to keep the cards out in the open on your desk and then you reach for one when you need a break and do what it instructs, like making circles in the air with your feet, or alternate nostril breathing, or sitting still with eyes closed for 90 seconds. These all seem really doable and don't take a huge time commitment to make a big difference.
Any time I receive products to be used on my feet then I am pretty thrilled, and with three foot files and a foot scrub I am practically over the moon! The face spritz is another one of my favorite products from this Loti box, it feels so refreshing when I spray it on midday. The mask will be gifted but I'm sure the deck of mindfulness cards will come in handy. Ok, that's it, I've got to go give myself a pedicure as it's currently 89 degrees outside and I want to wear sandals so thanks for hooking me up Loti!
Below you will find the product info card, some more box opening pictures, and a shot of my cat Sunny with the box because she really loves boxes.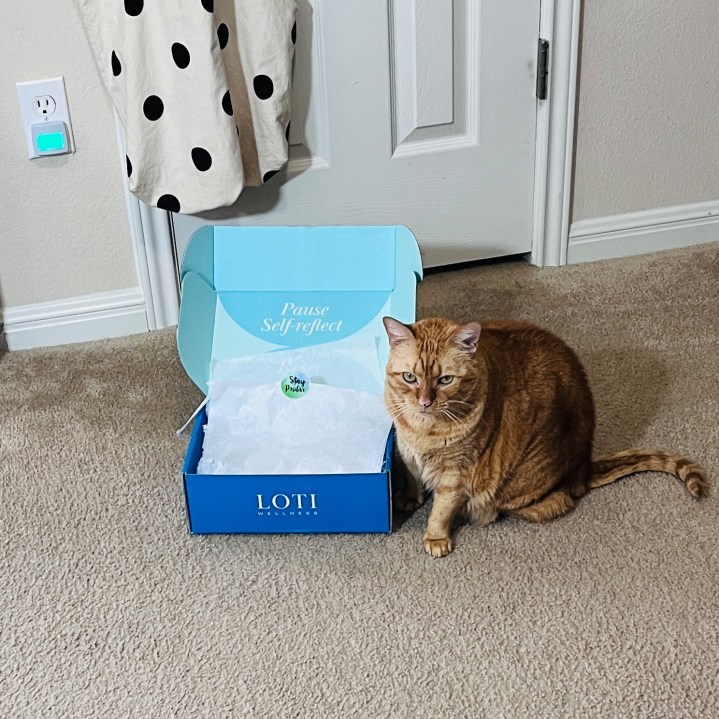 DEAL: Save 10% on your first box! Just use this link and coupon code SUBSCRIBE10.
Loti Wellness is a subscription box with a focus on self-care. The box has a monthly theme curated by therapists to focus on items and rituals to promote positivity and improving one's self. Loti Wellness works with local brands and small businesses whenever they can, and choose cruelty-free and natural products. The box will have 5-7 products for self-care and wellness. The box is $45.95 USD with lower prices on multi-month subscriptions, and drops to as low as $37.95 USD when you sign up for 12 months. Shipping is $10.95 USD.
What do you think of this self-care subscription?