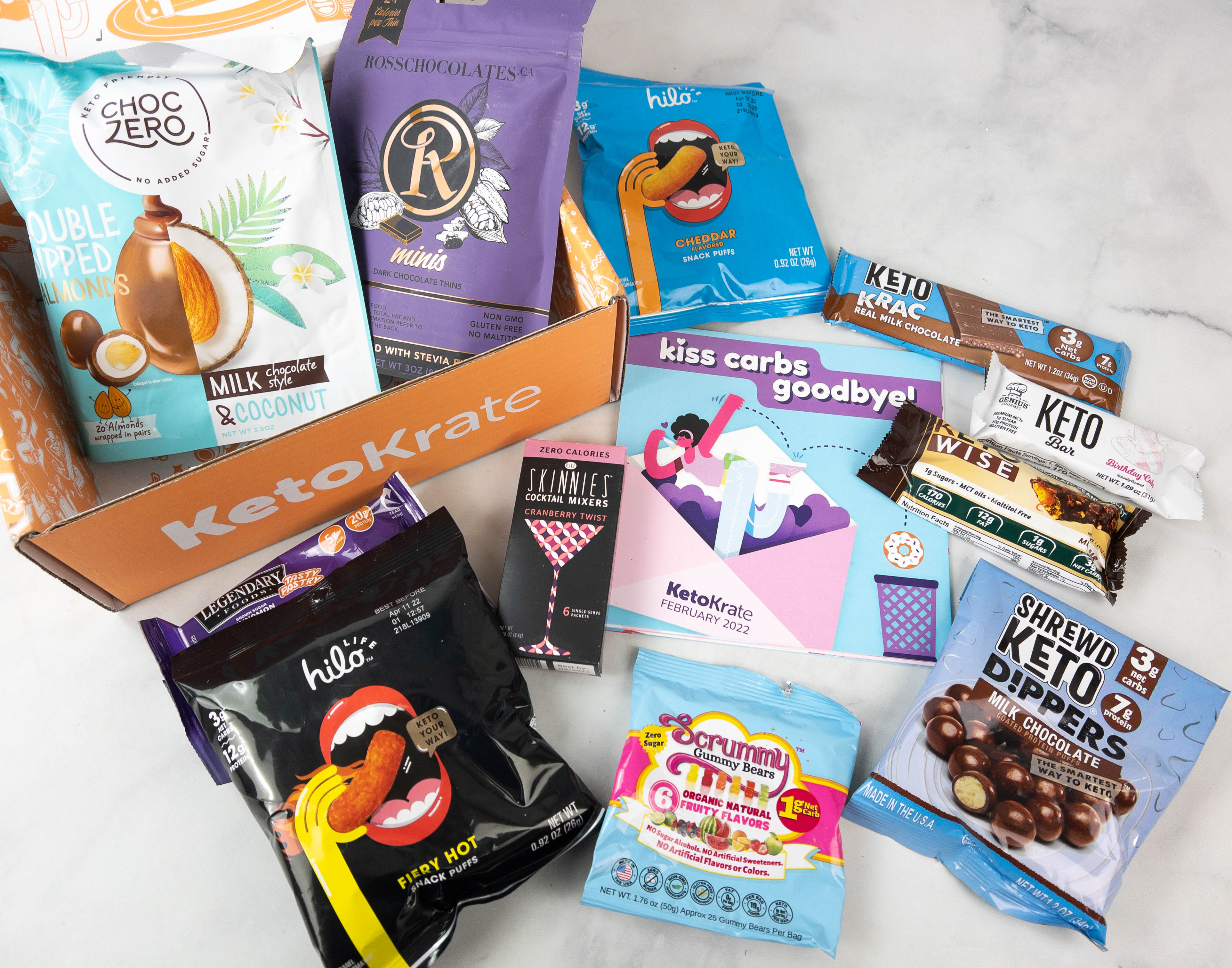 What better way to celebrate the love month than with these keto snacks and goodies that are perfect for your heart and your tastebuds! The February 2022 Keto Krate contained a total of eleven delicious and high-quality keto snacks. Whether you're on a low-carb diet or you simply want to grab healthy snacks, this subscription box is one to keep on your radar!
DEAL: Get a FREE Bonus Krate when you subscribe to KetoKrate! That's 2 crates for $39.99! Plus, get FREE Digital Download of KetoKrate's Keto Meal Plan and Recipe eBook. Just use this link and use the coupon code HELLOSUBNYBOGO at checkout. Valid while supplies last.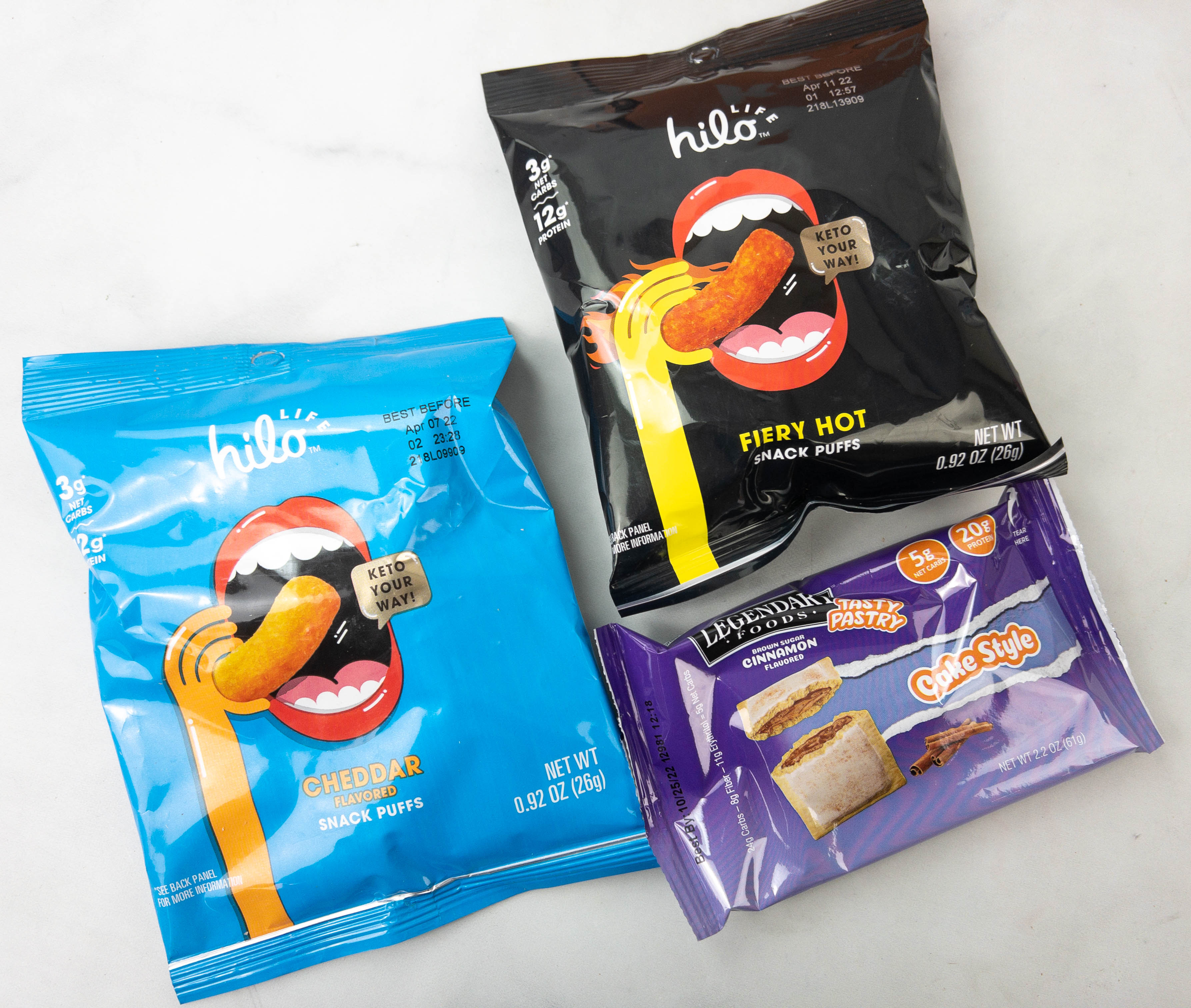 The first step in kissing carbs goodbye is to find low-carb snack alternatives! In this box, I received Hilo Life Cheddar Snack Puffs ($1.08), which are crunchy and cheesy but guilt-free. Cheddar is generously dusted on the puffs, so you know they are full of flavor. The spicy version is Hilo Life Fiery Hot Snack Puffs ($1.83)! They aren't for everyone, but this spicy-loving ketoer couldn't get enough of it. The heat is an excellent combination with the crunchiness and the cheesy flavor.
How about a filling keto snack to pair with your favorite keto drink? Legendary Foods Brown Sugar Tasty Pastry ($3.12) is fluffy and delicious, perfect for breakfast or as a treat in the afternoon. The cinnamon flavor is perfect, not too overpowering which is what you would come to expect with anything cinnamon-flavored.
Keto Krate keeps my pantry stocked with keto-friendly chocolates and snack bars, like Genius Gourmet Birthday Cake Keto Bar ($2.50) which is packed with whey protein, MCTs, and almond butter that will leave you feeling full and satisfied after eating it. There's also Ketowise Chocolate Peanut Blast Meal Bar ($1.69) that boasts a chewy protein center, with caramel, peanuts, and a rich chocolate coating, and Shrewd Food Keto Krac ($2.50) with crispy poppers infused in the bar that make it such a delight to eat. These bars are great snacks to have when you're in a hurry or need something to keep you fueled on the go!
This month, I even received a keto cocktail mixer! Rsvp Skinnies Cranberry Twist Cocktail Mixers ($5) is great to have on hand for parties or for casual days when you just want to enjoy a drink without feeling guilty. It's made with plant-derived ingredients including sodium citrate, citric acid, malic acid, cranberry, and lime flavors. The mixer is also sweetened using erythritol and stevia leaf extract. I like it because the flavor is refreshing!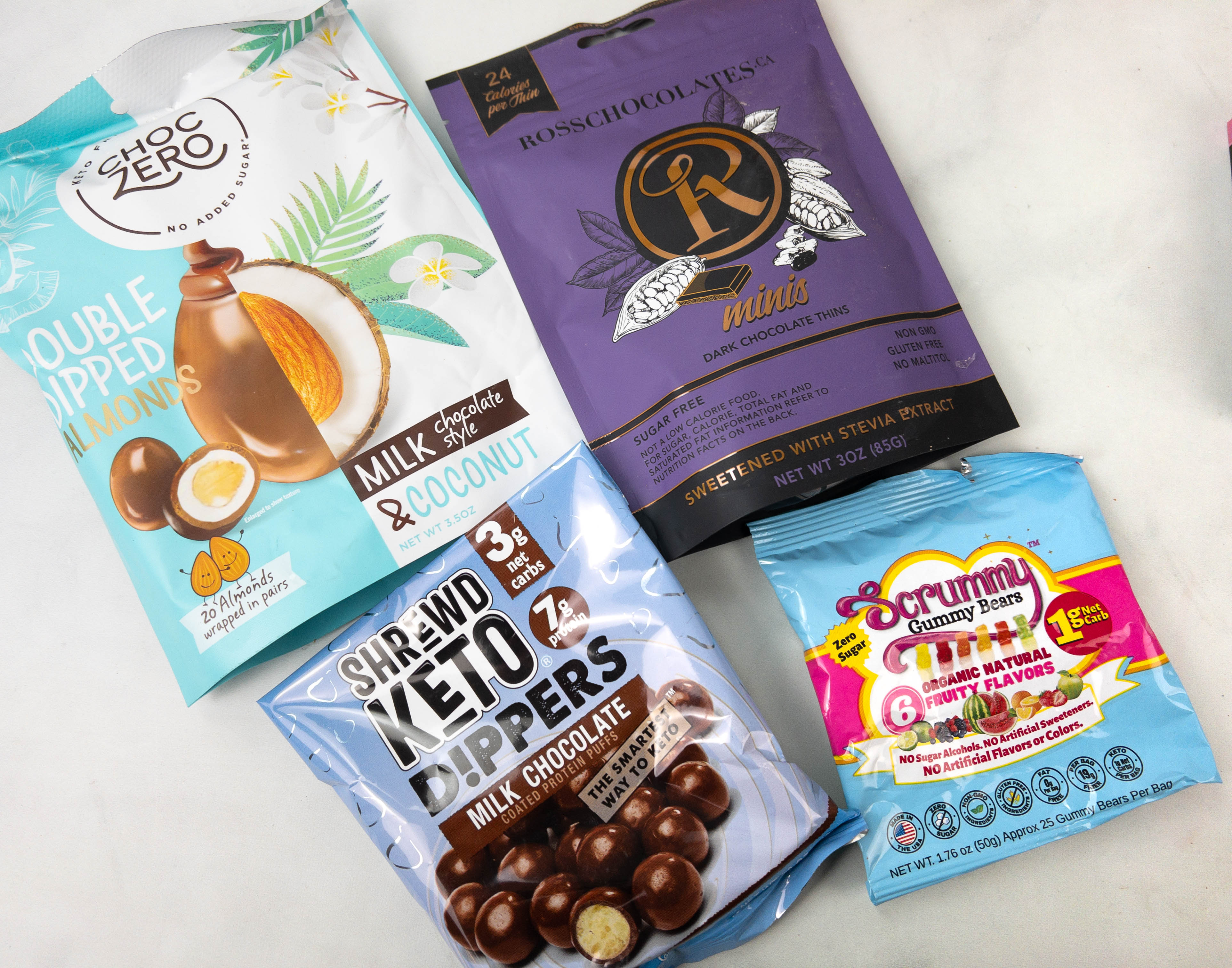 Here are more keto snacks that can also pass as a guilt-free dessert! Choczero Fat Double Dipped Coconut Almonds ($5.99) has no added sugar but has coconut that adds an extra bit of flavor and keeps the crunchy consistency from becoming too dry. Meanwhile, Ross Chocolates Dark Chocolate Mini'S ($5) is bitter-sweet chocolate with a decadent, creamy finish. It's gluten-free and sweetened with Stevia as well. I also liked Shrewd Food Milk Chocolate Keto Dippers ($2.50), which are protein puffs with a milk chocolate coating that takes it to the next level.
Keto-friendly gummy bears do exist and I'm happy! The Scrummy Sweets Co. Gummy Bears ($3.25) are sugar-free and made with natural flavors and colors so you still get the sweetness you crave without all the extra junk! These little bears were a great way to end this box of delights!
Switching to a keto diet is easier when you have a box full of delicious keto snacks delivered to your door monthly. For February 2022, I received a bunch of keto-friendly chocolates and snack bars, as well as low-carb alternatives for popular snacks. Another interesting addition to this box is the cocktail mixer with a refreshing cranberry flavor! Whether you're new to keto dieting or not, this subscription is a great way to discover low-carb snacks, especially those that are not usually found in groceries. Repurchasing any keto snack you love is also easier with their subscriber-only Keto Shop!
Every Keto Krate includes a booklet for more information about the keto snacks, as well as inspiration and tips. Here's a peek: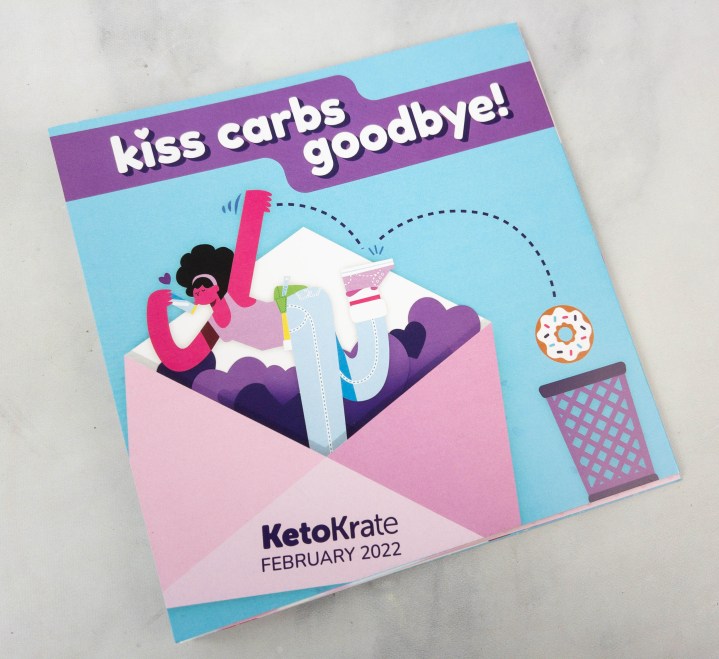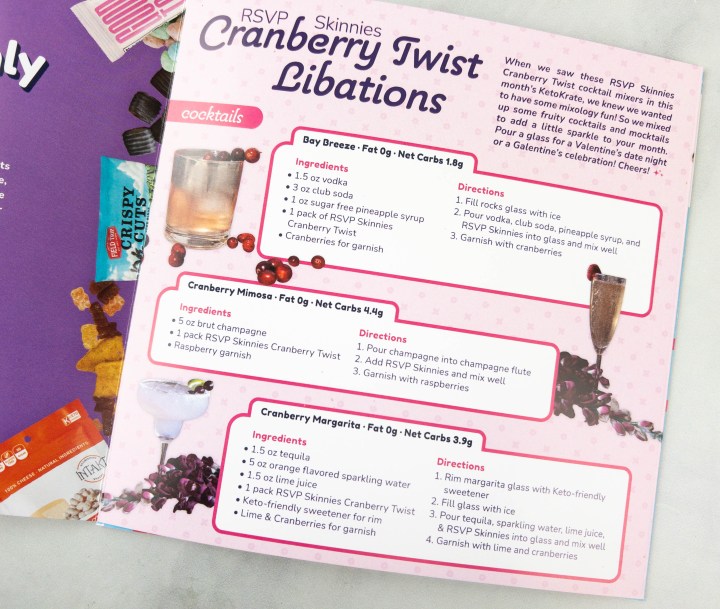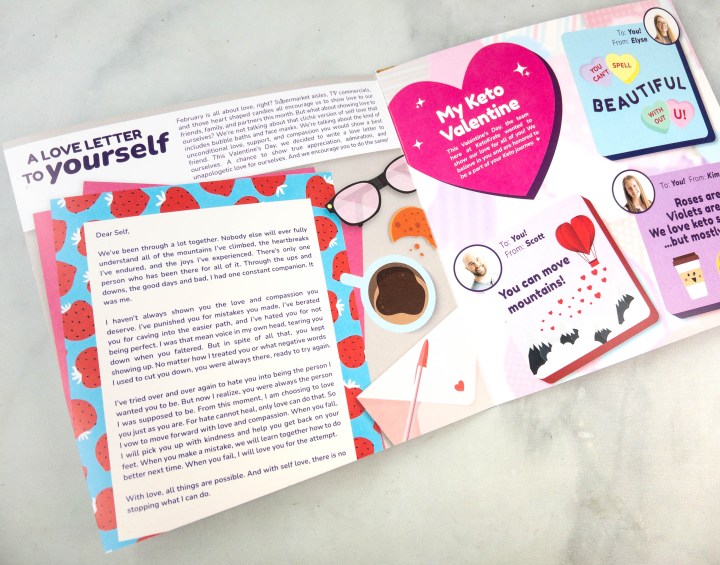 Keto Krate offers a keto subscription box for those who love keto snacks! Every month, members receive 10+ full-sized keto snacks with less than 5g net carbs per serving, as well as printed insert including keto tips, keto recipes, keto advice, member case studies, and other information to keep you inspired with your keto journey. Members also get VIP access to the members-only KetoShop and Krate.Club. KetoShop is where you can discover and purchase more keto-friendly goodies including past Krates and one-off items. Krate.Club is where you'll find more useful information, discounts, recipes, and more for the current month's KetoKrate! The subscription costs $39.99 a month, plus free shipping.
Keto Krate's keto snack and food subscription made the list in our 2021 readers' choice best health and wellness subscription box list!
What do you think of the KetoKrate box?