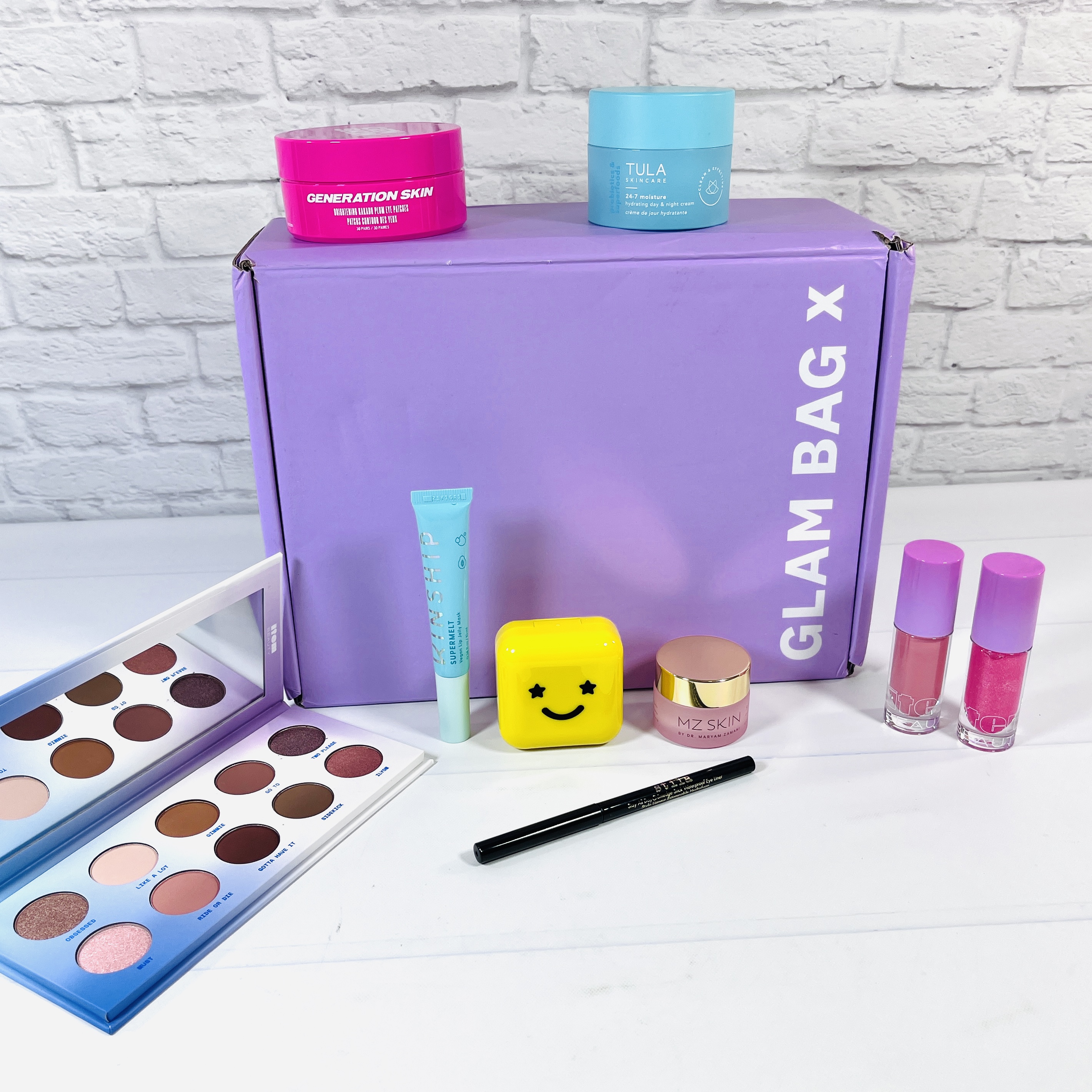 The Ipsy Glam Bag X February 2022 was curated by Addison Rae (more on her later) with a nod to '90's beauty trends. I received 8 items – 5 chosen by Ipsy, 3 chosen by me according to an assortment of products Ipsy presented in three different sections. Keep in mind that Ipsy has three different subscription options, and Glam Bag X is a quarterly upgrade to the monthly $13 bag – it's an additional $42, meaning the box reviewed here was $55, and replaces my basic Ipsy bag for the month. Read on to see what I chose, what Ipsy chose for me, and a little more about the curator.
Generation Skin Brightening Kakadu Plum Eye Patches ($49, Ipsy picked) I like to apply undereye patches, they tend to feel soothing and gentle to my skin. These don't smell like much and they stayed in place once applied. I didn't have much residue left behind afterward and it's hard to tell if they actually depuffed but they felt cooling to the area. These have glycerin and hyaluronic acid to draw water to the skin and kakadu plum extract is supposed to stimulate collagen production. There are 30 pairs in the jar and there is an included "spoon" to help scoop them out. One tore slightly so get those babies in place and leave them be for about 15 minutes.
Item Beauty On The Daily Eyeshadow Palette ($24, my choice) Item Beauty is Addison Rae's brand and is made by MADEBY Collective, which falls under the umbrella of Beauty For All, which also owns Ipsy, BOXYCHARM, and Refreshments. Now onto the product. I chose this palette because I liked the colors, they looked warm neutral without having too much red, yellow, or orange tones, which I can't/won't wear. The six shades in the middle are matte while the four corners have some shimmer. These were well pigmented and they were easy to blend but the shimmer was subtle, I had to apply a few times and finally wiped it on with my finger and it was still subdued. It's great for a natural eye look, and I was pretty happy with the palette.
Here are finger swatches of the palette, with the top row on the left, the bottom row on the right.
Item Beauty Ruled By Lip Gloss ($16 each, my choice) Sometimes I choose items for my daughters, and that was my thinking when I picked this gloss duo. The containers are chunky and the applicators are poufy and the glosses are non-sticky. I tried them both on bare lips but Ipsy shows them being applied over lip liner, which is a good call because these don't have much color. They have a scent that reminds me of cupcakes. I preferred "Moon" because the sparkles in "Sun" could be felt on my lips, and I didn't like the sensation when I rubbed my lips together, I could feel the glitter.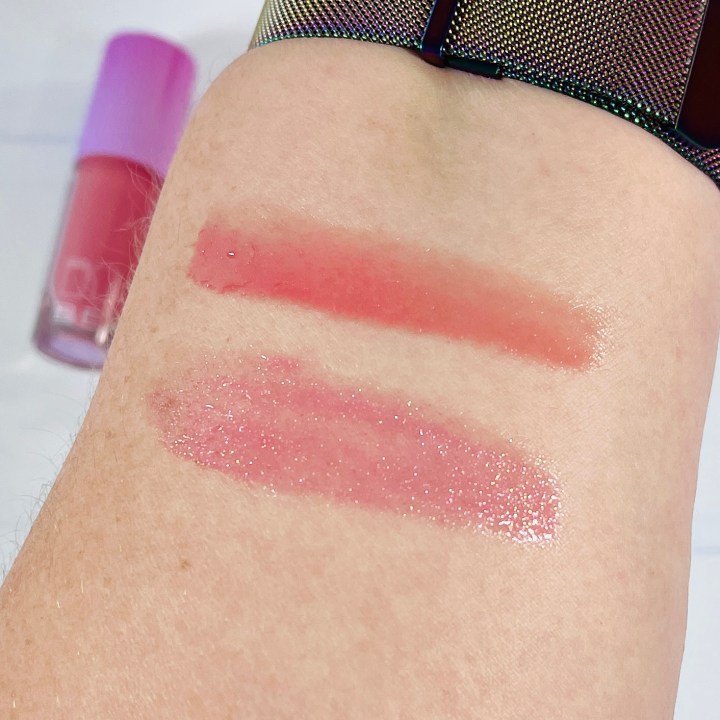 Swatched on top is Moon with Sun underneath.
Stila Stay All Day Smudge Waterproof Eye Liner in Stingray ($22, Ipsy picked) I am pretty happy with this liner; sure it's black but at least it's in pencil form so I'm not complaining. Mine had a wonky tip that broke off as soon as I tried to swatch it, but then again it doesn't pull at my eyes as I line them. It is kind of smudgy, as the name states, so have an angled brush (or a steady finger) ready to go to smoke it out after applying. It is supposed to stay in place for 12 hours but after a couple of hours I could see smudges at the corners but at least they wiped away easily and overall it still looked good at the end of the day.
I didn't have a way to sharpen it after the tip broke off, and when I twisted it up, I noticed it wouldn't twist back down. This pencil had such highs and lows that I'm not sure I would purchase it again.
Kinship Supermelt Vegan Lip Jelly Mask ($18, Ipsy picked) This product was similar in feel to the non-sparkly lip gloss shown earlier in this review. It was kind of hard to squeeze it out of the tube at first but it melts as soon as it touches the lips. It had a soft fruity sweet flavor and left my lips glossy without feeling sticky. The brand was new to me but it looks like this is a skincare line marketed towards the tween to young college-age people and I was happy to see that this product was made in the USA.
Starface Hydrocolloid Pimple Patches ($14.99, my choice) I hope I didn't mess up my Ipsy algorithm but I chose these hydrocolloid patches because I thought my younger daughter might like them! She loves this type of product, and these were too cute to pass up. You place them on a pimple and overnight the hydrocolloid absorbs the contents so that hopefully when you wake up the spot should be less noticeable. The inside of the adorable compact has a mirror so it's travel friendly. There are 32 stars in the refillable compact.
Tula Skincare 24-7 Moisture Hydrating Day & Night Cream ($52, Ipsy picked) I was kind of disappointed to see this brand in my box. I have tried one of their products before and it was highly fragranced — would this smell strongly of perfume? I am sad to say that it does, and it's too strong for my nose, and potentially irritating to my sensitive skin. It's non-greasy and left a coating on the back of my hand similar to a primer. It's promoted as a day and night product but make sure to apply sunscreen in the morning afterward. It's supposed to "calm the look of irritation" with probiotics while prebiotics is supposed to maintain skin balance.
MZ Skin Soothe & Smooth Hyaluronic Brightening Eye Complex ($143, Ipsy picked) Well, isn't this a pricey item? As I mentioned above, I'm not a fan of scented face products, and that goes double for the eye area. Sadly, this item was scented, and I'm always mystified when a doctor's beauty line is full of potentially irritating scents. It is creamy and contains glycerin, shea butter, raspberry seed oil, and hyaluronic acid. It glides on easily and left the area moist, but I wish it was fragrance-free.
My Ipsy Glam Bag X for February had a few similar items (like 3 lip glosses and two undereye treatments) but that was because I chose two items, and I knew before I made the choices that I would have liked the items. I knew nothing about the curator, which kind of makes it hard to get excited about the line, but Addison Rae's items were fine, I especially liked the shadow palette. I gifted the acne patches to my daughter and she seemed happy with them. The liner will get used but I'm less excited about the floral-scented skincare items, but that's the chance I take since I know Ipsy sends traditional beauty products and doesn't have a spot to note allergies or non-scented preferences. The value for my box was around $355, although about 1/3 of that value was from the eye cream.
This month the box was curated by Addison Rae, a 21-year old social media celebrity turned actress. I had never heard of her so I asked my daughters, who are 23 and 18, if she was relevant to them. The oldest said she's a cringe Tik Tok/influencer and to ask her sister. My younger daughter said she has a huge Tik Tok following made up of mainly teen to grown men and younger girls. Apparently, it is called "pick-me", where people create content to cater to the opposite sex. As for cringe videos, from what I can tell, it's super embarrassing to watch but you do anyway. I concluded my research by deciding it is her actual job to Keep Up With the Kardashians. Also, she has a lot more money than me so maybe I need to rethink my life. Plus, she has great brows.
Ipsy is a monthly beauty subscription. You get five makeup, beauty, skincare, and/or hair care items in a cute bag for $13 a month! It's the most popular subscription box and a great way to sample new colors and beauty brands that you may have never heard of, as well as some of the bigger names. Ipsy also offers a Glam Bag Plus for $28 a month, there's a subscription for basics called Refreshments, and there is the opportunity to upgrade to the quarterly Glam Bag X.
There are many bag variations every month for Ipsy – log in to your account to check out how-to videos and tips for your products.
Don't forget that you can rate your items and you earn bonus points when you do that, so you can get additional products in your bag. All subscribers now have the chance to pick a product for their next bag – just log in on choice day and pick one!
What do you think of this month's Ipsy Glam Bag X?