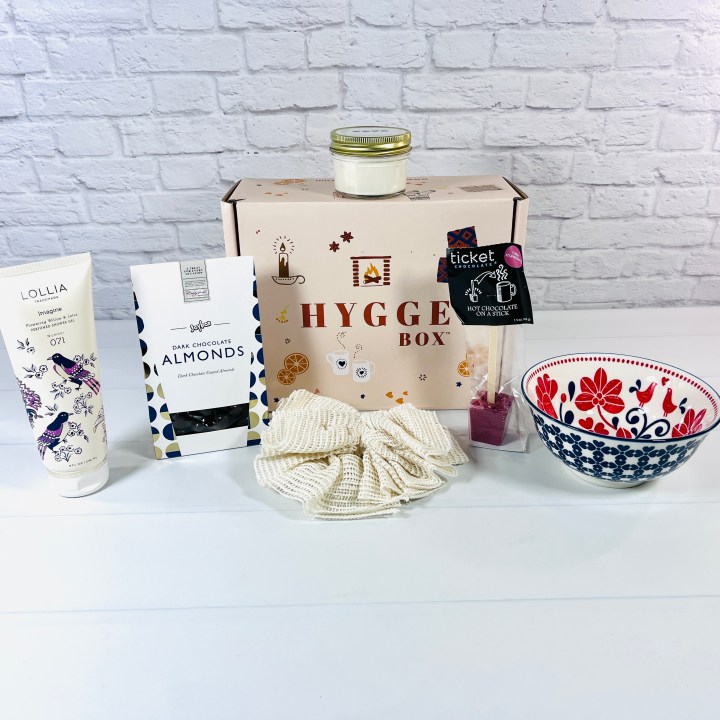 Hygge Box is all about enjoying the simple things in life that contribute to a sense of contentment and just overall coziness. The February 2022 theme was Soothe and was full of things that smelled good, tasted good, and looked good! This is one of my favorite boxes, I always look forward to seeing it in my mailbox!
Lollia Imagine Perfumed Shower Gel ($23) I love products from Margot Elena, like her Tokyomilk perfumes and The Cottage Greenhouse body products, and she even has her own quarterly subscription box. The Lollia line "is a world created of boudoir luxuries filled with lovely details, blushing fragrances and flirtatious touches". The packaging of these products is always beautiful and feminine. The fragrance is described as flowering willow and lotus but what I smelled as I showered with this luxurious gel is what I would call lime in the coconut.
Hyggehaus Forelsket Soy Candle ($12 for similar item found here) Forelsket is a Norwegian word similar to infatuation, or the state of being in love. It has notes of citrus, white tea, and jasmine and has a bright, clean, spa-like scent. The candle base is soy wax. This has good cold throw and great hot throw, plus I could smell it from the next room! It packs a punch scent-wise.
Ticket Chocolate Ruby Strawberry Hot Chocolate on a Stick ($4.50) A steaming cup of something is perfect on a cold day, and in this case, it's an easy-to-make hot chocolate – just stir the candy into hot milk and there you have it! This flavor is made with ruby chocolate, a naturally pink version, although this also has freeze-dried strawberries for flavor.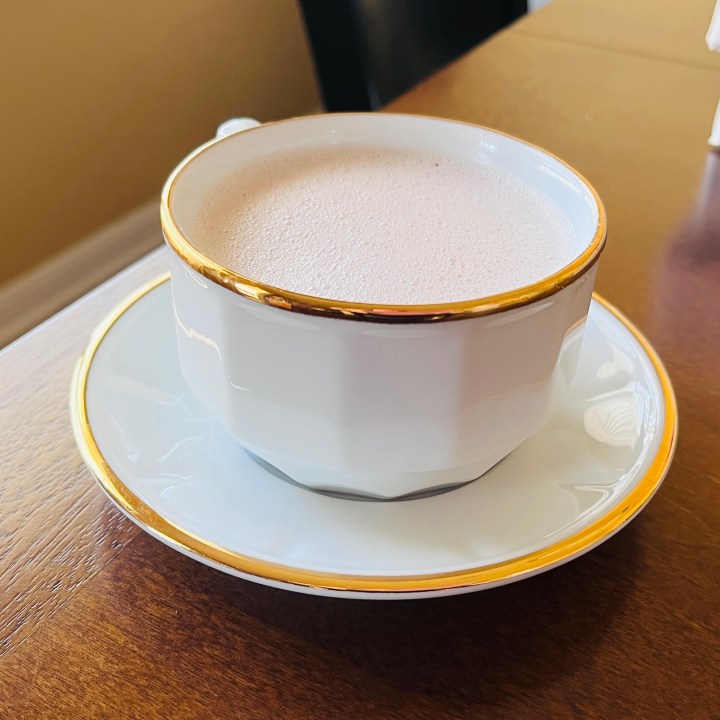 I ended up using a handheld frother to get all of the chocolate blended. The color was pale pink and it tasted of strawberries instead of chocolate. Yum!
Joybox Dark Chocolate Almonds (4.99 British Pound Sterling, around $6.69 USD) I was delighted to see this candy came from England, but then Hygge Box often sends international treats. The almonds are unsalted, and I think they are unroasted, which is different from the way I usually find them here in the U.S. They are covered with 67% dark chocolate that wasn't super bitter, just right.
Please note that the next two items are the additional items found only in the Deluxe Box.
Now Designs 6″ Bowl in Red Navy Bird ($9.99, or buy a set of 6 for $53.99 on Amazon) Oh my goodness, how adorable is this bowl? It's so sweet and holds 22 ounces so it's good for soup, cereal, or a big ol' bowl of ice cream. It's dishwasher and microwave safe and makes that morning oatmeal look like a special treat.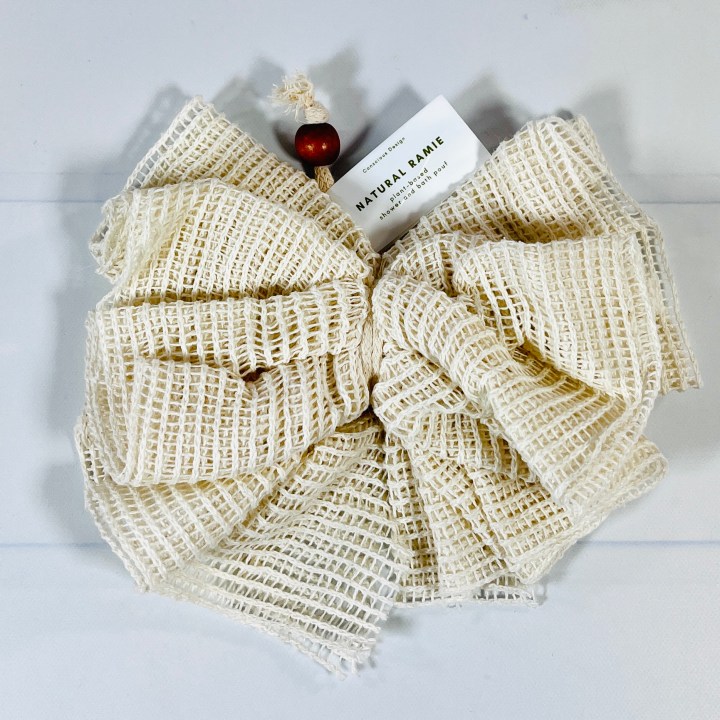 Natural Ramie Shower and Bath Pouf ($10.50) I thought this was a great substitute for those plastic shower poufs, and you can even wash it in the washing machine! It's made out of ramie, which comes from a plant so it's a more natural choice. It can be used as is but I removed the tie from around the middle (which is looped over a wooden ball) and found it is a large rectangle and it was easier for me to use and I feel better about not putting the wooden ball in the washer. It worked well with the shower gel!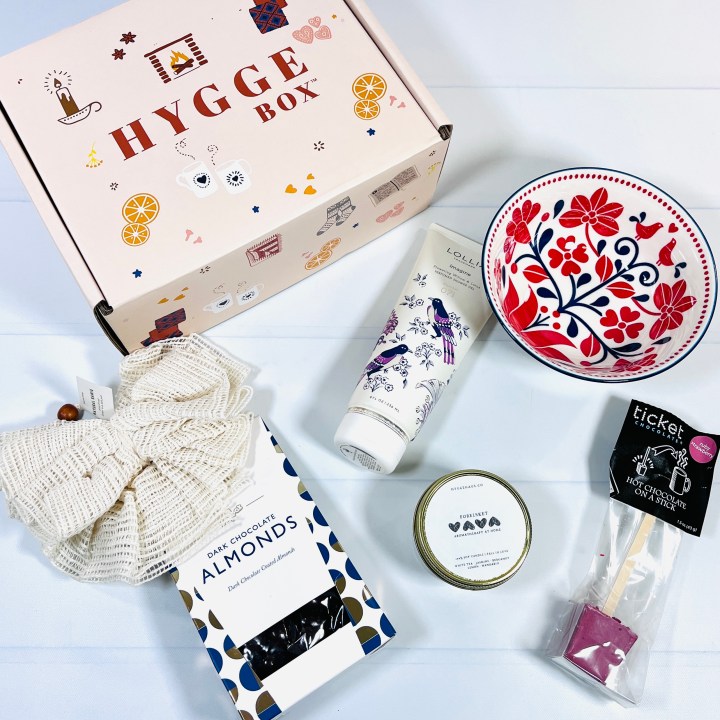 As always, I really enjoyed my latest Hygge Box! This is one of my favorite boxes to receive each month, it never fails to surprise and delight me with the items inside. It really does help me relax and gives me cozy vibes when I burn the candle, eat or drink the sweet treats, and wash up with the shower products. The bowl is adorable and I've used it for soup and chili so far. This box introduces me to products I wouldn't have found on my own and they are always such great quality too.
Below are some additional box opening pictures plus the information card.
Hygge Box is a monthly subscription box for those who want to surround themselves with comforting objects that contribute to a sense of coziness and general well-being. You can choose from the Deluxe Hygge Box ($40 for 5-7 items) or the Standard Hygge Box ($29 for 4-5 items) and shipping is extra. Items sent may include candles, drink mixes, edibles, home decor, or wellness products.
What do you think of the Hygge Box?