When it comes to home decor, Decocrated doesn't disappoint. This season, they offered an Easter Add-on box exclusively to subscribers, which was filled with popular Easter icons such as bunnies and Easter eggs! There were four decorative pieces in the box and I'm happy to know that I can use them for many years to come because the designs are timeless! The Easter box is $49.99 and includes shipping.
DEAL: Get $15 off on quarterly or annual subscriptions! Use coupon code HELLOSUB15 at checkout.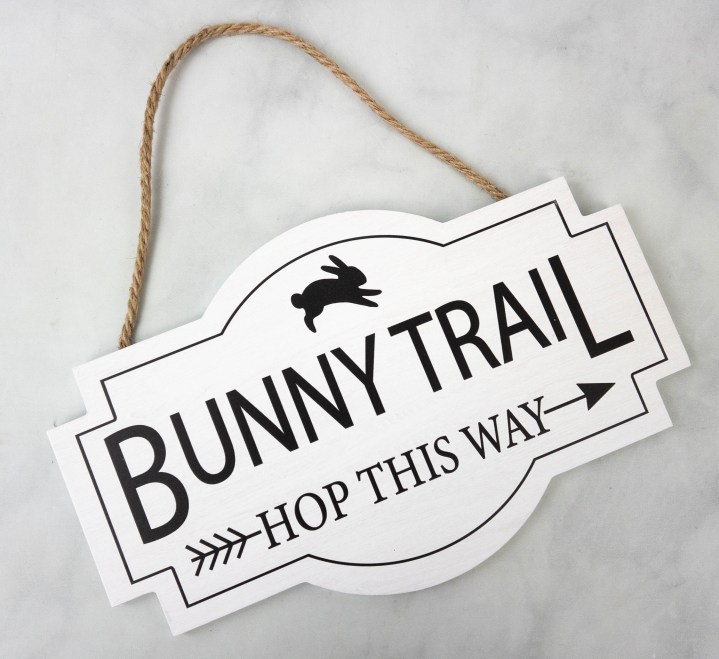 Let's start decorating with this wooden wall plaque featuring a beautiful bunny design on it. It's a charming piece with a rustic look. This will be perfect to hang up on our door or wall for Easter. I love that this is made out of faux whitewash real wood so it will last a long time. It's perfect if you want something more timeless than just another bunny decal sticker.
To match the mostly white decor in this box, they also included a white pillowcase with a dotted design on it. The design is not too cutesy or over-the-top, which I appreciate because it would be great to use not just for Easter but all year round. It's just the right size for an accent pillow!
This is one of my favorite items in the box, a whitewashed wooden Easter egg with beautiful flower illustrations on it. How pretty! Aside from Easter, this lovely decor fits springtime as well. It can be displayed on any tabletop, or even on a shelf with bunny figurines.
Speaking of bunny figurines, here's a ceramic bunny with a beautiful modern look! It has big ears and a pink pastel easter egg wrapped around its hand. The design is so adorable that I don't want to put it away after Easter!
The final item in the box is a wooden tray that you can use to display all of your Easter-themed home decor items or for other decorative items in your house, like candles and flowers. I love that it has handles because it makes carrying things from one corner of the home to another so much easier! I also think this would be great for small spaces since it doesn't take up a lot of room.
Decocrated's add-on boxes are worth grabbing because they include holiday-specific decor. In the Easter add-on box, the items have classic look and neutral colors which are easy to incorporate into any existing home design. These are also ideal for those who like their home decor subtle yet beautiful. Whether for the tabletop or for the wall, there's a decor in this box to remind us of the beauty of the holiday!
The Easter-themed packaging is gorgeous and definitely fits the season with its pastel pink and white colors. I love how everything in the box ties together perfectly with a cohesive design. I do get excited to open it when I read the OPEN IT OPEN IT prompt. It's really so fun!
Decocrated is a quarterly subscription that sends beautiful home decor! Shipping every 3 months, each box will include a handpicked selection of home decor based on the season to keep your place feeling fresh, as well as items that work with the pieces you already own and love. The idea is that at the end of a year's subscription you will have a whole-home collection that works together to help you look like a seasoned decorator. Each Decocrated box is $79 and you can save 10% by signing up for a whole year of subscription. It's a reader fave, taking home the top spot in the best home and decor subscription boxes for 2021, as voted by our readers.
What do you think of this Decocrated add-on box?