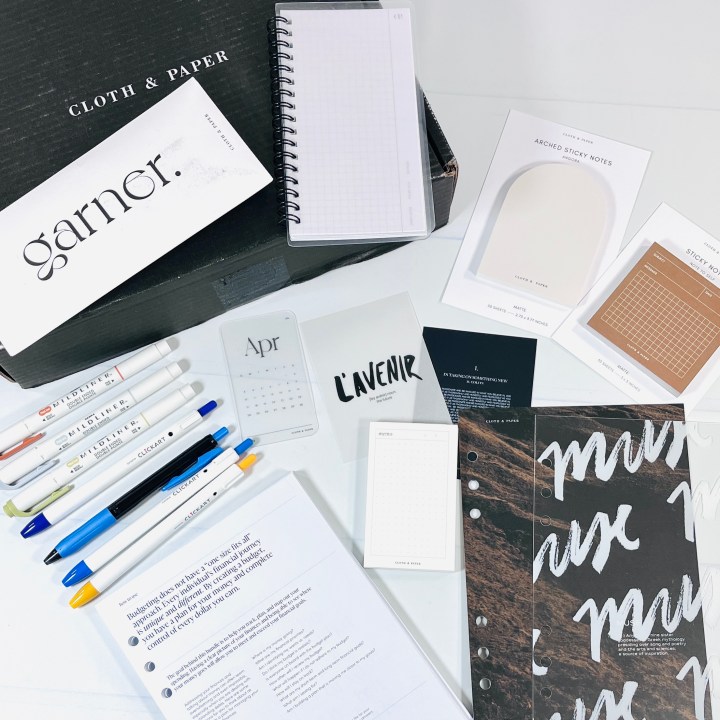 Cloth & Paper sent some cool new sticky notes, a budgeting insert, and spiral graph notebook as well as super stylish pens. If you are new to this box then know that they have a few different subscription options, and you can choose planner sizes based on the planner you use at home or work. This is a review of their Penspiration AND Planning + Stationery combo, which is $54.99 a month and drops to as low as $49.99 a month when you choose the 6-month term. This is the February box, they send calendar cards etc. two months in advance, so you're never behind or have to worry about getting those supplies late.
DEAL: Get 10% off your first box! Use the coupon code HELLOSUB10 at checkout!
The following items are in the Planning + Stationery Box
Everything comes wrapped in plastic and if you get the Penspiration subscription too it will ship in the same box.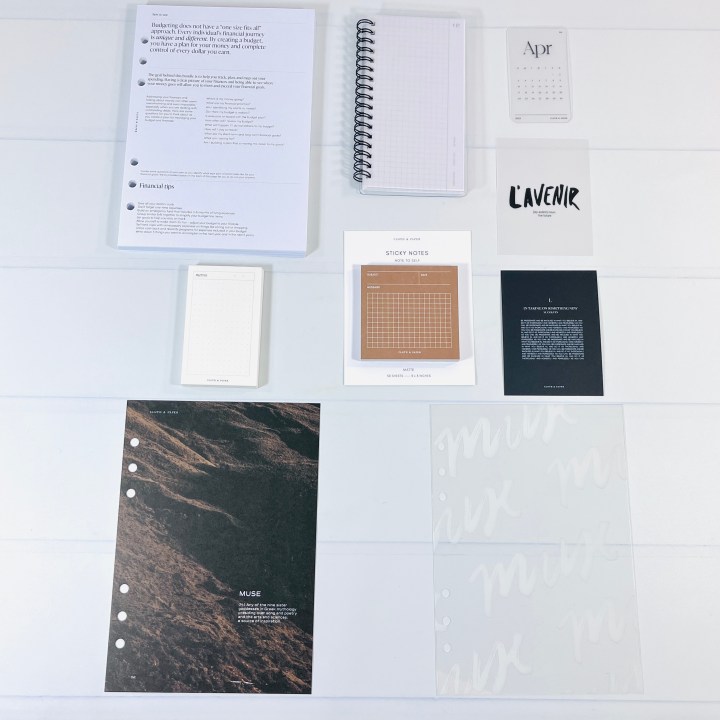 This is everything laid out so you can get an idea of the size of each item.
Financial Bundle Insert This is a hefty insert, 106 pages in all, and pretty near filled up my A5 planner! It has so many different sections and after watching an unboxing video on the C & P YouTube channel I have a better idea on how to use it, and I appreciated seeing how they made personalized tabs to easily find sections fast. Some of the sections included are Monthly Budget, Recurring Payments, Expense Log, Nonessential Spending, Savings Challenge, Savings Tracker, and more, it keeps on going! You get to indicate what size planner you have and if you choose "no planner" then I think they will send this in a notebook format.
There were two Quote Cards and an April Calendar Card. You can either clip them to the inside of the planner or buy a special insert to display them.
Note To Self Sticky Notes and Mini Memo Notepad These mini pads (with 50 pages each) are kind of open ended in how you wish to use them. You can print, or doodle, or use as page markers (although only the sticky notes are sticky).
Spiral Graph Notebook This 100 page notebook can be used for all kinds of reasons, and some of the suggestions are to write down recipes, draw sketches, or use as a dream journal.
Muse and Script Dashboards Dashboards serve as a kind of chapter plate for the planner, maybe to separate different months or sections. We receive two a month and they are usually meant to be layered. You can see Script layered over Muse in my A5 planner if you toggle to the next picture above.
The following items are in the Penspiration Box
Cloth & Paper has started adding a stationery item to their Penspiration boxes and this month we received Arched Sticky Notes, and there are 50 sheets on this pad. We also received a February Writing Prompt Card and Undated Calendar Card.
There were seven pens this month, and some of them are double sided so it's like getting 10 different pens in all! The names and nib sizes etc. can be found on the C & P subscription unboxing section of their website. I have a lovely assortment of pens now from Cloth & Paper and I am constantly reaching for them to write lists, notes, etc.
Cloth & Paper is the perfect box for those who like their stationery and planner supplies sleek and neutral, although there are pops of color here and there. I find the monthly inserts to be helpful in keeping me on track and they usually have some sort of inventory sheet, whether it has to do with items or in the case of this month's insert, money. The pens are some of the best I've ever used and my planner looks so cool with the layered dashboards in between sections.
Cloth & Paper offers a monthly subscription box of their planner supplies, inserts, and writing instruments. The items look sleek and Cloth & Paper believes "there is luxury in simplicity". The Planning + Stationery box is $39.99 a month but drops to as low as $36.99 a month when you sign up for a 6-month term. The Penspiration box is $21.99 a month but drops to $19.99 a month for the 3-month plan. The Penspiration AND Planning + Stationery combo is $54.99 a month and drops to as low as $49.99 a month when you choose the 6-month term. Our readers love this subscription – Cloth & Paper was voted as the top pick for the best stationery subscription this year!
DEAL: Get 10% off your first box! Use the coupon code HELLOSUB10 at checkout!