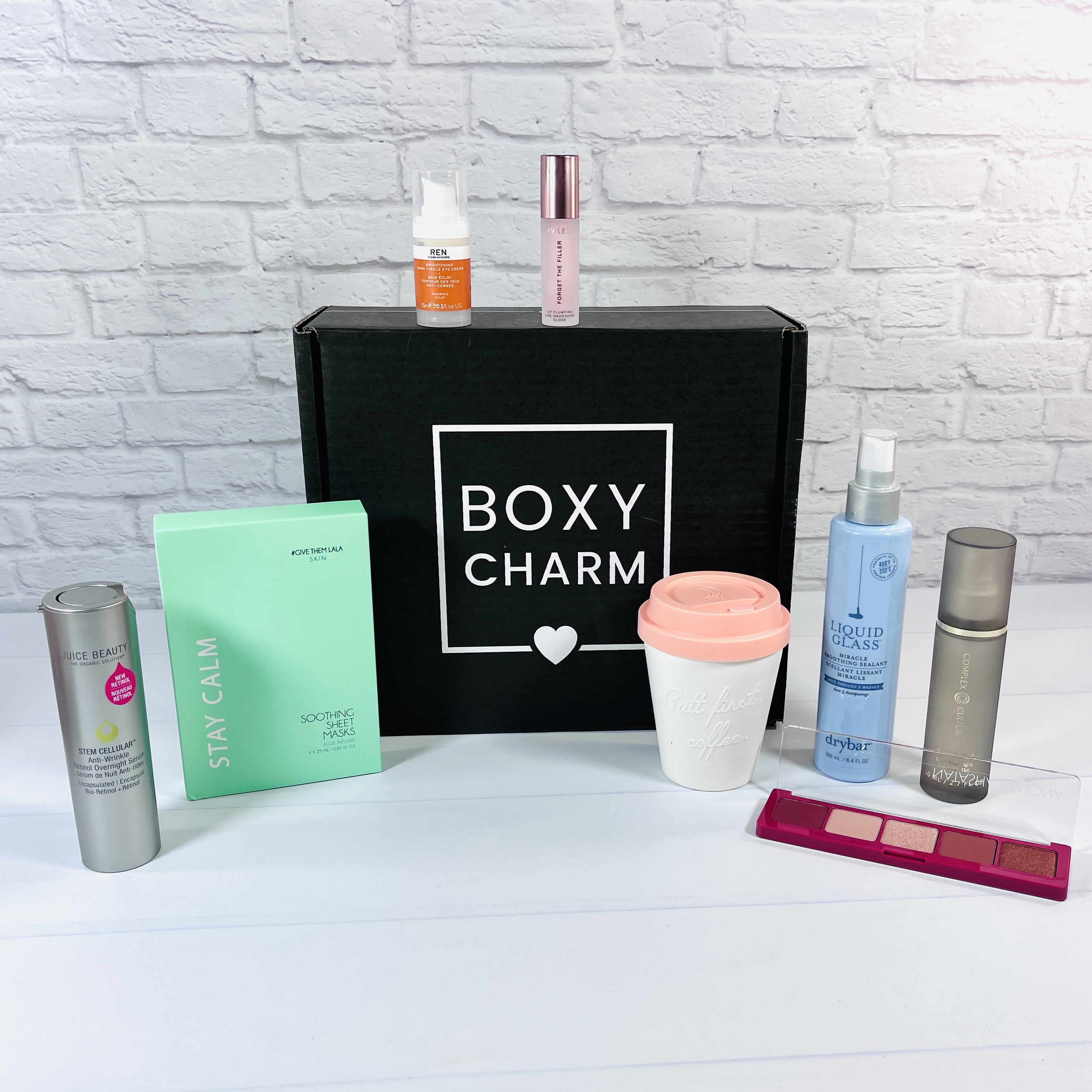 BOXYCHARM's Luxe box is a quarterly upgrade to BOXYCHARM that has 8 full-sized products to keep you going between shipments. This quarter I received a lot of skincare (and the same thing happened with my base and Premium boxes too!). I found a creamy booty/body lotion, an eyeshadow palette, a hair treatment, and more – read on to see what I received!
BOXYCHARM also has the BOXYCHARM Premium subscription, which is different than this – check out all you need to know about BOXYCHARM Premium here!
You can see the full spoilers for the different variations of the March 2022 BoxyLuxe boxes here.
Once again, this is a BoxyLuxe review.
#Give Them LaLa Skin Stay Calm Soothing Sheet Masks ($30) If you like sheet masks, then you are in luck – there were 4 of them in this box! Sitting around with a face mask on and maybe with the feet propped up can be relaxing, but this mask does double duty with ingredients that are supposed to calm the skin. Some of the ingredients are aloe, glycerin, cica, algae, green tea extract, and chamomile. You can gently pat any leftover serum into the skin after letting it sit on a clean face for around 10-20 minutes. Maybe catch up on the latest episode of Ghosts while waiting.
JUICE BEAUTY Stem Cellular Anti-Wrinkle Retinol Overnight Serum ($72) I wasn't expecting this serum to come out looking like a cream but it did and it smelled like lemon cookies! It took a lot more rubbing than expected to get it to sink into my skin but eventually it did. It's supposed to smooth the skin while reducing the appearance of fine lines. Vitamin A is encapsulated in evening primrose and this is supposed to keep it stable while it sits in the jar. It also contains aloe, glycerin, jojoba oil, and shea butter plus lemon leaf extract so make sure to wear this at night and be sure to wear sunscreen during daylight hours. They suggest using this once a week to start, then gradually switch to every other night and at some point every night if your skin can tolerate it well.
Complex Culture Filter Out Daily Blue Light Defense Mist ($27.20) Complex Culture is made by a brand that also owns Ipsy and BOXYCHARM, so you can probably expect to see it pop up sometimes, and I must say their makeup brushes are really nice quality. As for blue light protecting sprays, there is some controversy over whether they actually do anything and even whether or not blue light is a problem, and if one is wearing SPF they should be good to go anyways. As for this spray, it's not an SPF but supposedly has "a botanical powerhouse clinically proven to protect skin from the harmful effects of HEV blue light rays", although no studies were linked and the specific ingredient wasn't mentioned. Some of the ingredients are castor oil, niacinamide, lingonberry extract, and essential oils. This product is also supposed to moisturize skin and set makeup. It comes out in a fine mist and has an herbal scent that fades quickly.
Frank Body Perky Sculpting Body Hydrator ($19.95) Oh my goodness, what a cheeky product we have here! It's a rich but not greasy body butter that may help you firm up your booty or other body parts, although I think not much will actually do that other than diet and exercise and the surgeon's scalpel. I will admit that I loved the light vanilla latte fragrance and soothing consistency, my skin soaked it up quickly. There is another Brazilian bum cream out there that has an overwhelmingly strong scent that lasts forever and gives me a headache but this one was pleasant and wore off quickly so I could follow with my perfume of choice. Some of the ingredients are safflower oil, shea butter, cocoa butter, caffeine, and acai. Plus, the cup is reusable once the cream has been used up!
REN Clean Skincare Brightening Dark Circle Eye Cream ($51) Hello darkness my old friend, you seem to have taken up permanent residence under my eyes thanks to genes, lack of sleep, and general agedness. Here we have a brightener for the area that is supposed to be good for even sensitive types to help hydrate and lift the area. It contains glycerin, oat kernel oil, sodium hyaluronate, and elderberry flower extract. It went on creamy and didn't have much scent and I hope it helps me look like I've had a good night's sleep after using it for a while.
LAWLESS BEAUTY Forget the Filler Lip Plumping Line Smoothing Gloss ($25) I placed this next to my computer and now every time I sit down I swipe it across my lips, it feels comfortable there. They felt a little tingly at first but not in a painful way, more like a refreshing cooling sensation. It's supposed to work not only immediately to plump up lips while keeping them hydrated but it's also supposed to work long term by increasing collagen production. I don't know if any of that is true but it sure feels good, is non-sticky, and leaves my lips looking shiny. The applicator is extra plush and there's not really any flavor or scent and the shade Rosy Outlook is a sheer pink with no color output, while some of their other shades may have a bit of tint.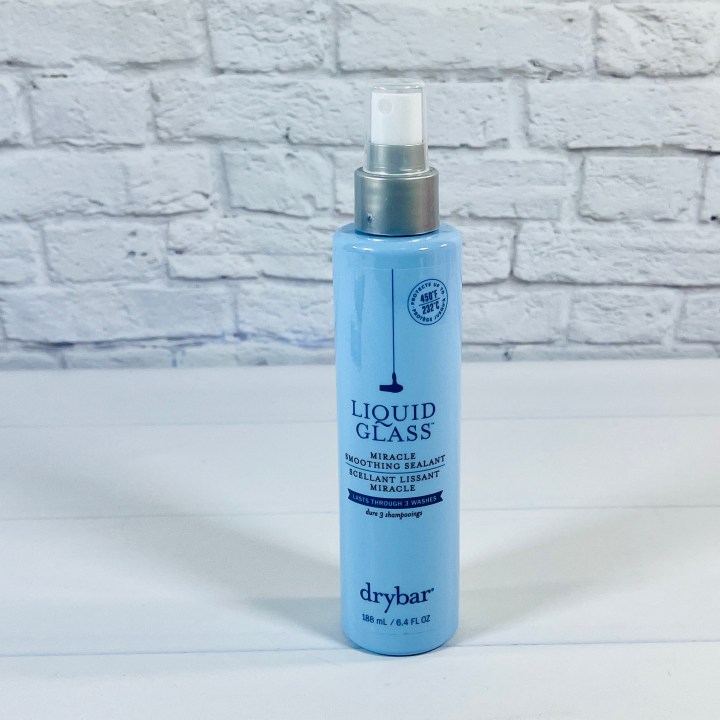 DRYBAR Liquid Glass Miracle Smoothing Sealant ($34) Sometimes I get products that are not meant for my hair or skin type, like this heat protectant that is supposed to seal strands for glossy locks. My fine hair is already straight and flat, no help needed but I tried it anyway. I spritzed it into my hands to distribute through the ends of my hair (to avoid getting it on my sensitive scalp) and then used a blow dryer and round brush. I liked the scent, it smelled like a salon-worthy product. I didn't see any difference in my hair that I could tell but I have two daughters who will probably both want a chance at this though so it won't go to waste!
NATASHA DENONA Cupid Eyeshadow Palette ($48 listed value, Boxy exclusive) Boxy says this palette is $48 although similar palettes from this brand are $25 at Sephora, unless they are different in size (I couldn't tell from looking online). I also had trouble getting the ND website to work, hopefully it's working now. At first glance, I thought this palette had too much red in it, but with the exception of the first shade, the others fell into the warm brown spectrum. Of course, I think this palette is more appropriate for a box that ships in October, November, or December but here we have it. I used a primer and found that the shadows blended well and there wasn't too much fallout. My eyes still looked good at the end of the day. This palette has three matte shades and two metallics for a hint of shimmer.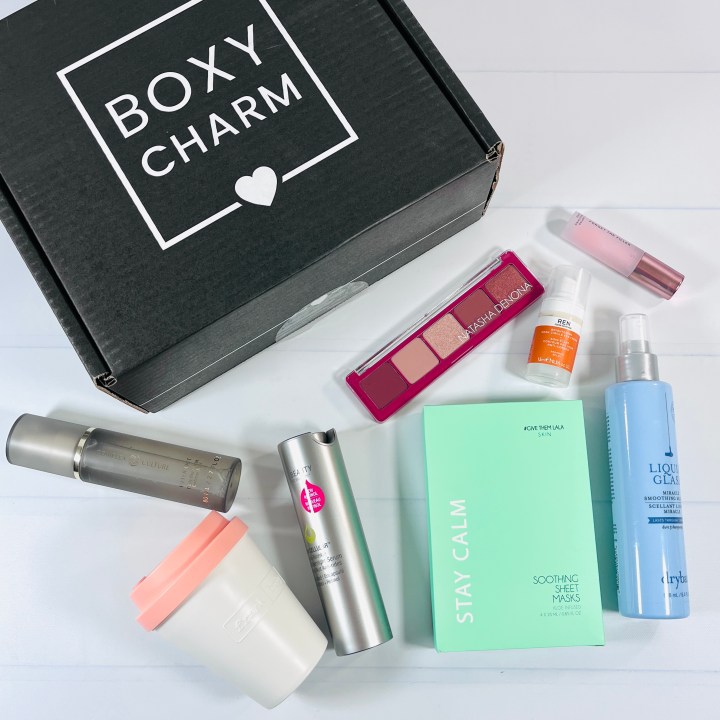 What a lot of fun products in this season's BOXYCHARM Luxe! My favorite products were the body cream, it smelled so good and felt good too, and the lip gloss was another winner, my lips felt pampered after I applied it. I can also use all the eye creams boxes want to send, I need help in that area for sure. The shadow palette was pretty but more suited for fall and the hair product doesn't suit my hair type, and I'm not sure that I need a blue light specific product since I wear SPF every.single.day. That leaves a skin serum and face masks, both worthy additions to the box. My assortment had a value of around $307!
Below you will find a few more box opening photos plus the product info card.
BOXYCHARM's Luxe box is a quarterly upgrade to BOXYCHARM. For an additional $32 to the base box price ($27.99 for the monthly base box, for a total of $59.99), you will get 8 full-sized products from luxury brands and you will be able to purchase add-ons at a discounted members' price. Another perk for active members is the access to BOXYCHARM PopUp, with hundreds of brands and products at up to 80% off. If it's not a Luxe signup period, your first box will be a BOXYCHARM Luxe Starter Box.
BOXYCHARM Luxe Box was chosen by our readers as one of the best subscriptions in makeup, beauty, and skincare for 2022!
What's your favorite item in this month's BOXYCHARM Luxe Box?