Self-love starts with taking care of your own self! Birchbox encouraged us to do just that through the February is for (Self) – Lovers themed box. I picked a Curated Box that contains hair care items to give my hair a boost after the drying winter months.
For this month, subscribers were able to pick a curated box, pick a guaranteed sample, let Birchbox pick a box, or swap the monthly box for points! After having basically nothing available for the previous months, they're giving subscribers options again and that's good.
DEAL: Use one of these offers for a luxe freebie with your subscription – just visit Birchbox and use the code!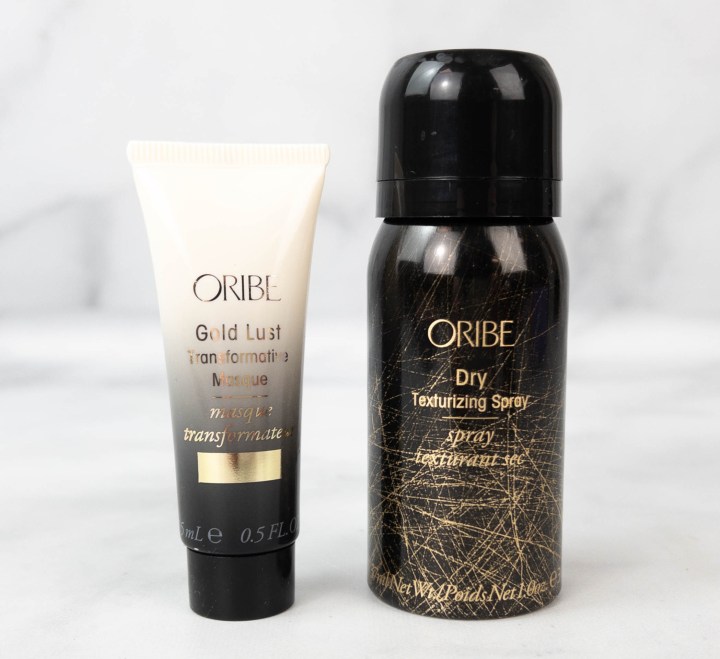 Birchbox has been consistent in including Oribe products in their boxes post-buyout, and this month, my box includes two of them.
First up is Oribe Gold Lust Transformative Masque ($6.60), the same product in my January 2022 box. I love its scent so I don't mind that it's a repeat. This hair product helps revitalize hair strands by reviving softness. The formula also contains healing botanical extracts that take care of damage and tresses. To use, just massage it on your scalp, comb through the strands from root to tip, then allow it to sit for as long as needed before rinsing.
Another Oribe product in the box is the Dry Texturizing Spray ($10.90). It works as a dry shampoo that gives hair texture and an instant refresh! I was impressed with how my hair looked after using it. It absorbed the oil and added body and volume, plus it lasted all day with no white cast! Using it is also pretty easy. Just shake it, hold it 4-5 inches away from the roots of your hair, spray generously, and give your hair a quick tousle, then you're good to go! The last time this item was included in the box was in June 2020.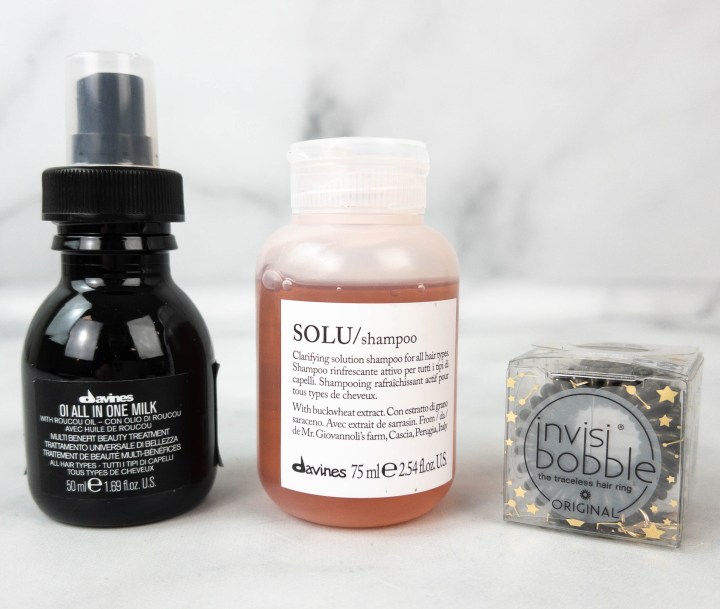 Next up are the hair products from Davines! Davines 01 All In One Milk ($13.34) acts as a rinse-free conditioner that nourishes the hair and controls frizz throughout the day. The formula also contains roucou oil that strengthens hair and protects it from environmental damage. It worked well for my fine hair and it helped with detangling as well. Plus, this conditioner is easy to use. Apply 10-15 sprays to washed, towel-dried hair, and that's it!
Ideal for all hair types, Davines Solu Shampoo ($9) is made with eco-friendly ingredients, including buckwheat extract that deeply cleanses the hair without stripping moisture. I don't use a clarifying shampoo often, but this shampoo suds well and helps me get rid of my oily hair, leaving my scalp feeling refreshed. Use it like a regular shampoo, followed by your favorite conditioner! This item was also included in the July 2021 Birchbox.
Lastly, Invisibobble The Traceless Hair Ring ($8). When compared to typical hair ties, we like how these ring ties do not crease hair. There are three in the pack, but I'm not sure if I can use them since I have short hair. I gave all three to my daughter because she'll use them more than I do.
This month's product selection is great for giving the hair some love. The hair-care items are mostly for restoring and protecting the hair, and there's one styling item that doesn't cause hair damage. The total retail value is $47.84, and it's a steal considering that the monthly fee is only $15. However, there are still repeat items from the previous boxes. It would have been more exciting if the repeats had stopped but overall, I'd still give the curated box a thumbs up.
Boxes also include a card with brief descriptions of each product. Look here:
Birchbox is a beauty sampling subscription service that sends 5 new items each month so you can try before you buy. Birchbox is $15 a month and you can choose a monthly sample during selection time, let Birchbox decide, or pick a pre-curated box. Birchbox's beauty subscription made the list in our 2022 readers' choices for the best beauty boxes!
What do you think of the February 2022 Birchbox? What was your favorite item from your box?