It's a new season and also a new chance for beach babes to spoil themselves with high-quality goodies! The Beachly Spring 2022 box came loaded with beach-themed items with a splash of spring vibes, including apparel and travel must-haves.
If you're not yet ready to commit to a subscription, no worries – Beachly has recently launched a Beachly Starter Box! For $29, you will receive $140+ worth of premium beach-inspired apparel and accessories, plus member benefits for 45 days before transitioning to a normal seasonal subscription. Cancellation is easy in case you decide not to proceed with the recurring box.
DEAL: Save $30 on your first box when you use the coupon code SAVE30 OR Get a FREE BONUS BOX with your first box when you use the coupon code BONUSBOX!
If you're traveling this spring, these Beachly Tropical Travel Pouches ($12 for a 3-pack) are the perfect way to bring your favorite beauty products on the go. Compact and lightweight, each of them can hold 3 fl oz of product, whether sunscreen, lotion, body wash, shampoo, or conditioner. The pouches feature cute floral prints and a screw-off lid with a pop-up cap, as well as a space for you to write down what's inside each pouch. They also eliminate the need to bring bulky bottles, which means more space for other beach essentials in my bag!
For a dainty accessory to wear on the beach, here's a Lotus And Luna Beachcomber Convertible Bracelet/Anklet ($12). This cute beach accessory is handmade by talented artisans in Thailand. It features tiny opalescent blue beads suspended on an adjustable cotton cord.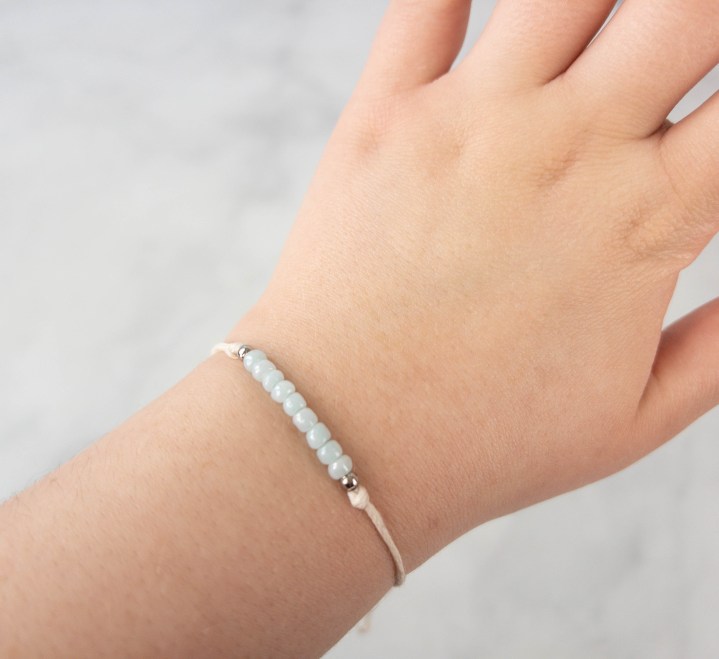 This item can be worn as a bracelet or an anklet, depending on your preference. It already looks cute on its own, but you can also stack it with other accessories you already have. It definitely has a beachy feel to it!
I always love beach-inspired scents like Skylar Salt Air ($29)! Fresh, light, and cozy, the perfume has top scent notes of seaweed and sea salt, mid notes of water lily and cotton on a driftwood and musk base, all combined to tingle your senses with beach vibes. It's portable, and the rollerball makes it easy to target pulse points. I also love that this brand makes non-toxic, hypoallergenic, eco-friendly, cruelty-free, and vegan perfumes!
Rays For Days Shorebreak Weekender Tote ($120) adds a nice beach-inspired touch to your spring style! Its size is enough to store daily essentials or beach items. Plus, it has a zipper closure and an inner pocket for keeping knick-knacks or trinkets. The striped design in front looks laidback yet stylish. It has faux leather straps for carrying over the shoulder, while the bottom and back are plain canvas. This tote is great to use for weekend trips!
Lost + Wander Seascape Cover-Up Dress ($118) is a versatile piece and another item to love in this spring box! It's light and flowy, perfect for walking through the coastline or on a brunch date. There are two design choices available: Bloom (soft pink with white flowers) and Laua (green tropical print). I received Bloom, and it looks so cute!
My daughter tried it on, and it looks so good on her! It can also be worn all buttoned up as a dress or open as a cover-up to your swimwear. I love the soft, crinkly texture of the fabric and the addition of front chest pockets! This cover-up dress looks so sweet and feminine with a white floral pattern over a soft pink base. You can wear it as it is for a casual spring day look or style it the way you want it. Add contrast to it by wearing a rope belt as my daughter did! It's lovely! I picked her up this set of belts from Amazon so she can experiment some more.
To easily organize clothing and other essentials, the box also included Cleobella Fun In The Sun Packing Cubes ($75). There are two packing cubes, one large and one small, and both of them feature breathable mesh fabric. They also have faux leather zip pull tabs with branding on them. Of course, the prints are also beach-inspired!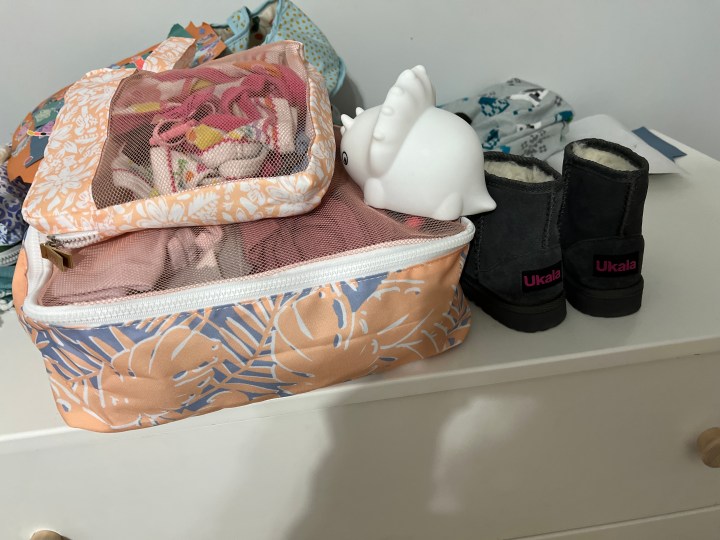 The large cube has palm prints, while the small cube has a peach/white floral pattern. When not in use, the cubes can be easily folded so they don't take up too much space. And they work great! I just used them this past weekend on a quick jaunt up north, and gazed longingly at them while stuck for an extra day in the snow.
This beach-inspired box is such a great way to welcome spring and to prepare us for new beach adventures. For a beach-ready look, they included a cover-up dress and an accessory plus a tote bag where you can put your wallet, phone, sunglasses, sunscreen, or maybe even a beach read. I also appreciate the inclusion of travel-friendly pouches and packing cubes, so I can easily get my things organized before hitting the road. If you also love the beach and the beach lifestyle, Beachly would make a great quarterly treat for yourself. They send beach vibes in every box regardless of the season, and I love it!
Here's a peek at the beautiful Beachly box packaging: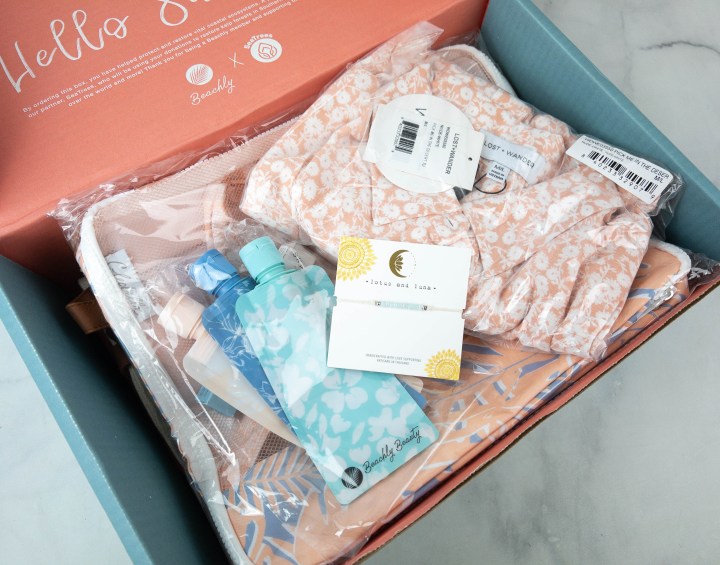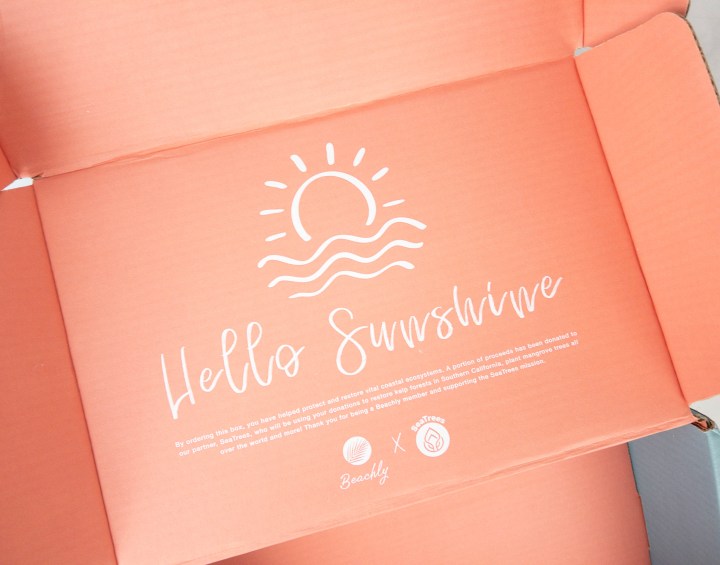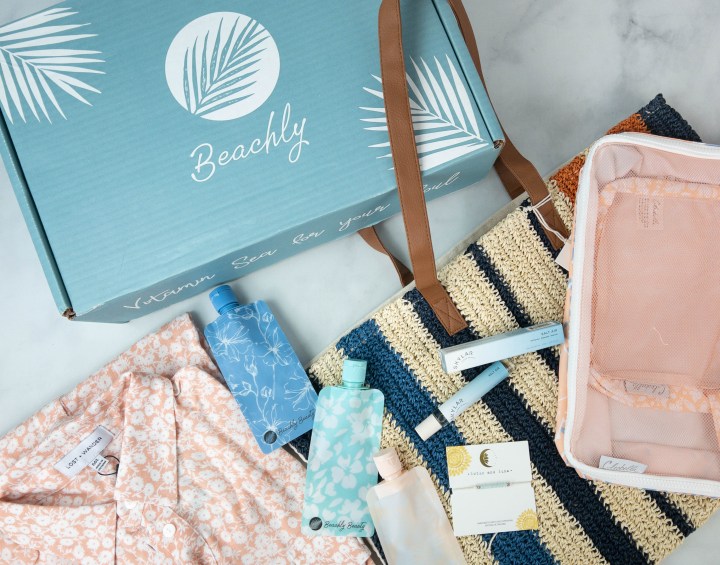 Beachly, formerly Coastal Co., is a quarterly subscription that gives you a dose of the beach lifestyle no matter what season through apparel, accessories, and more. With 6-8 premium items, each box costs $99 and promises a $200+ retail value. Some of the brands they've partnered with include Puravida Bracelets, Aloha, Billabong, DIFF Charitable Eyewear, Havaianas, and more. Proceeds from every box sold fund monthly beach cleanups hosted by Heal The Bay. Beachly is a readers' favorite – it's voted as one of the 2022 best subscription boxes for women!
What do you think of this quarter's Beachly?