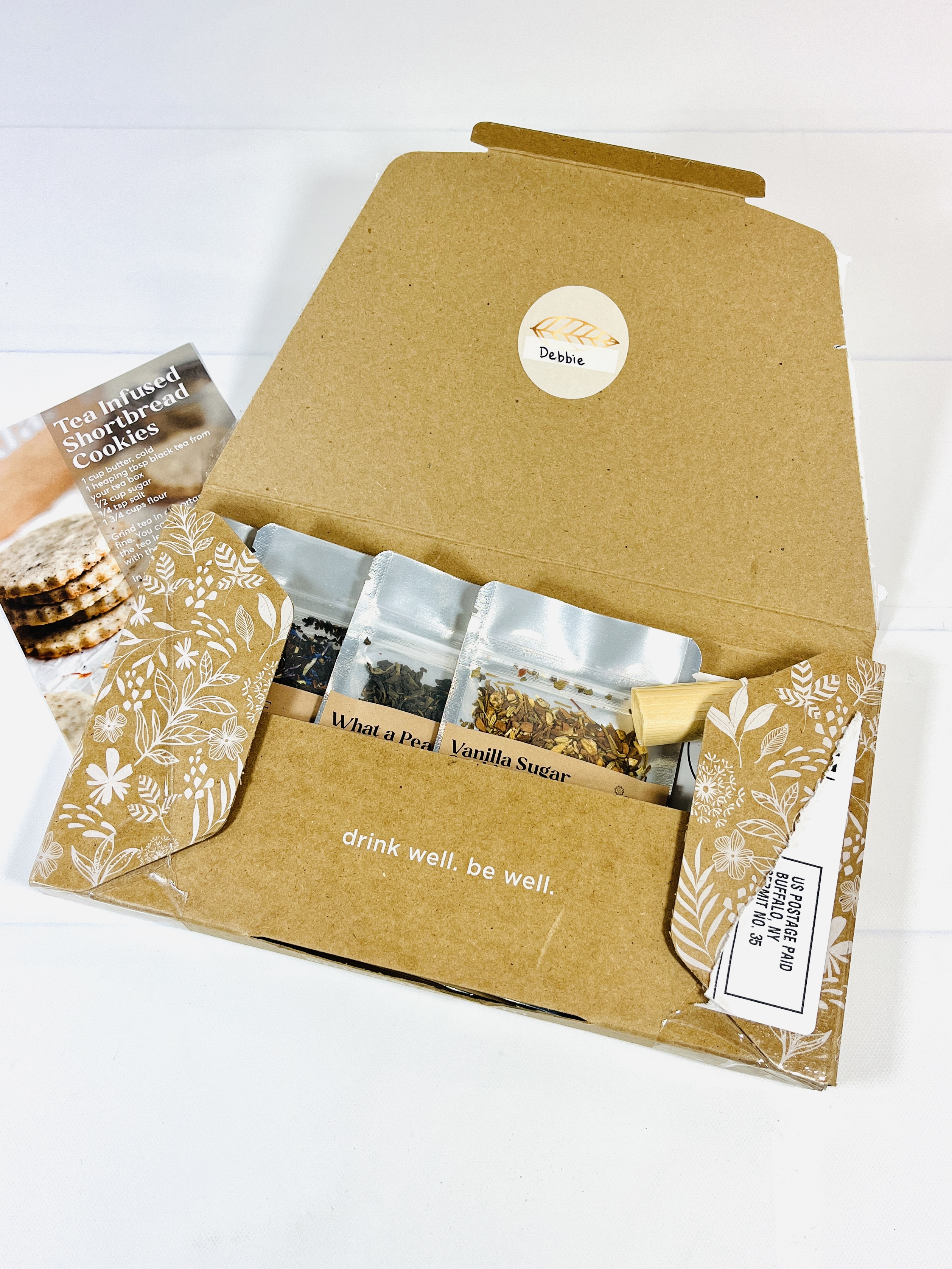 Amoda sends four loose leaf teas in samples big enough for at least 3 cups each from different tea makers so you can discover brands and flavors that you might want to order again and again. Choose from the Original Box or Low Caff and prepare to be amazed because they send flavors curated to the season! This month was all about trying new tea flavors to get you out of your comfort zone and I am all in! This is a review of the Original box.
DEAL: Get 40% off of your first month! Use coupon code HELLO40.
As always I received some disposable tea bags. Amoda sends loose leaf tea so make sure you have a tea maker, strainer, or just fill up these bags and make sure to compost afterwards if you can.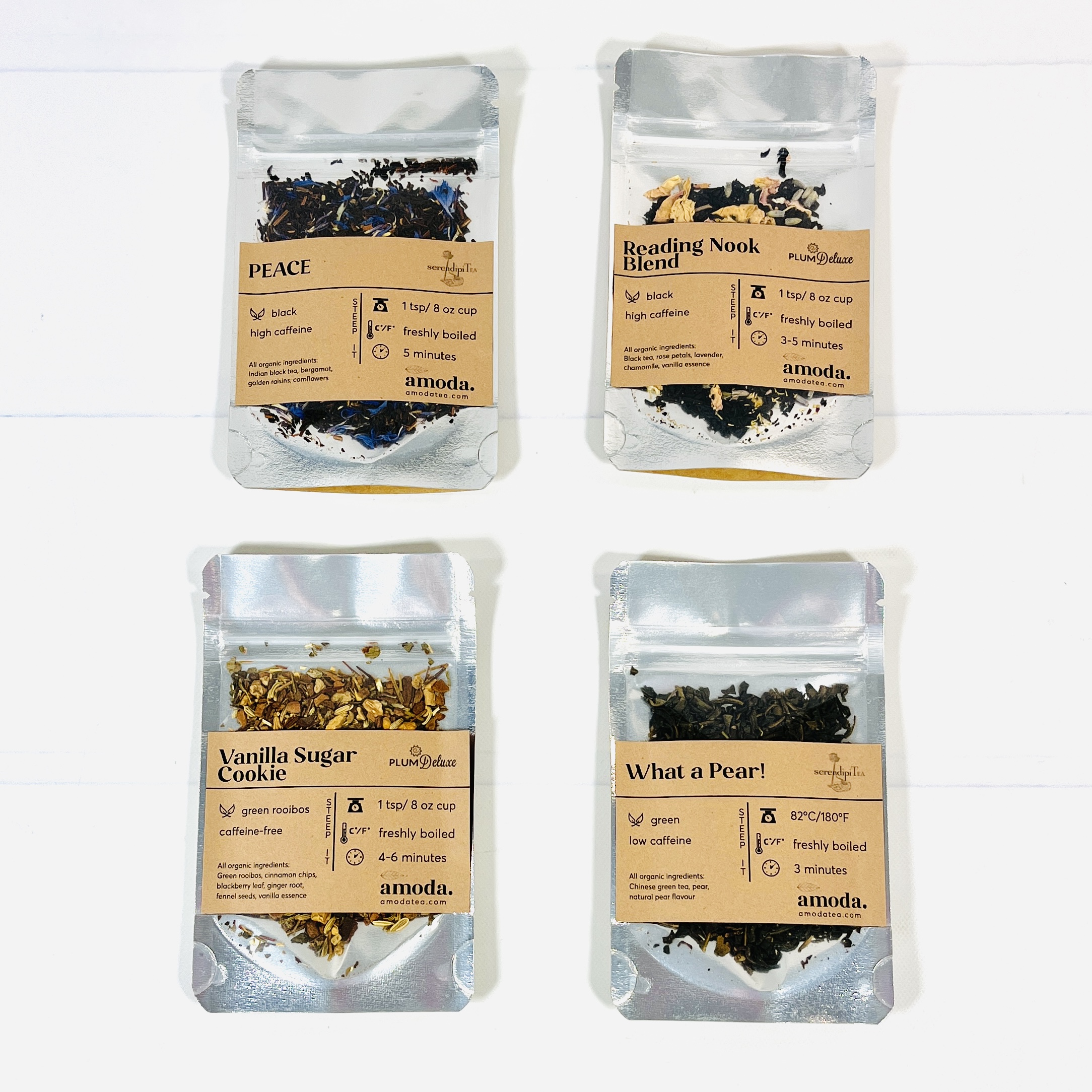 Here are the four flavors for January! Most months I receive a black tea, green tea, herbal (in this case with a rooibos base), and wild card, which for this month was another black tea, which happens to be my favorite type of tea so yay for me!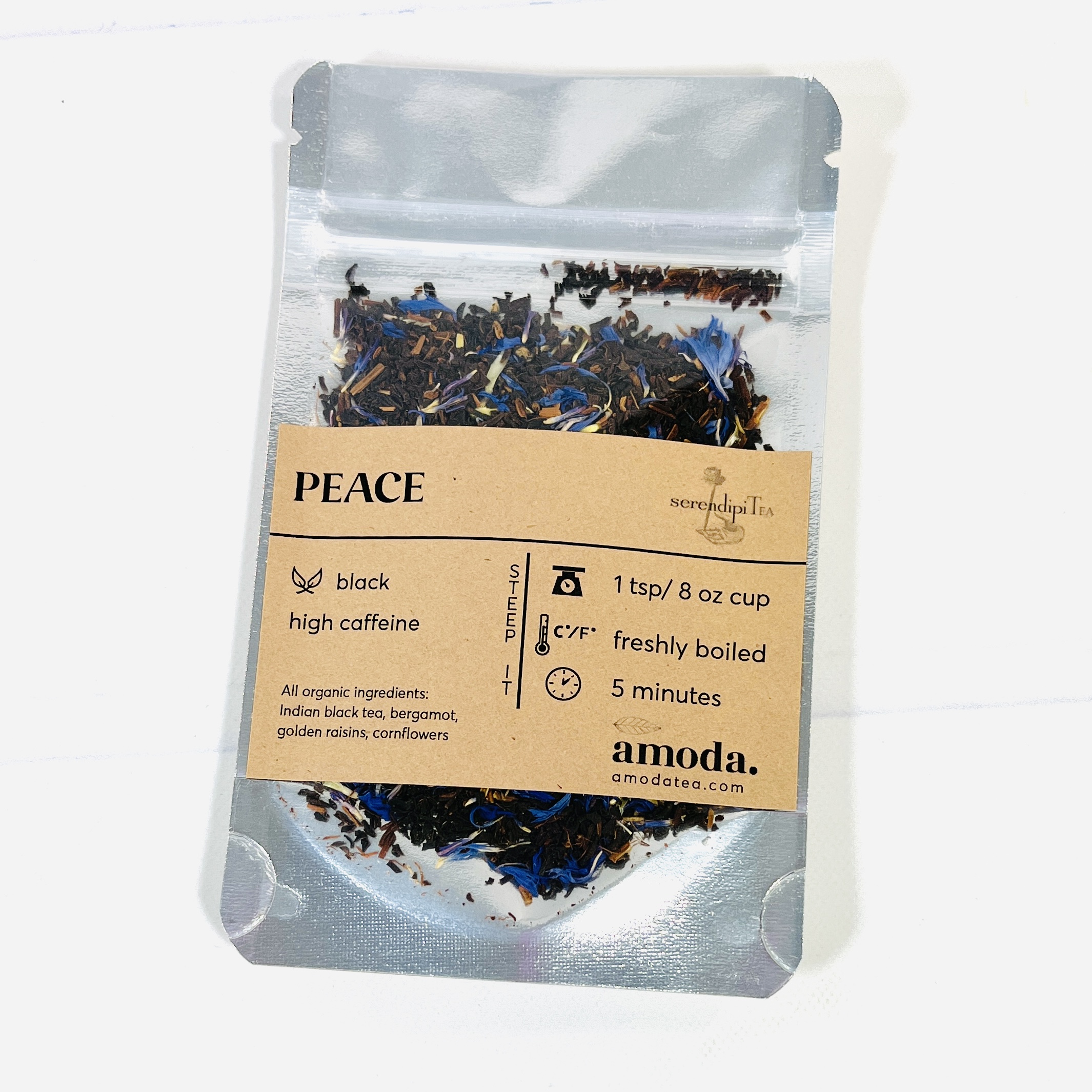 serendipiTea Peace Black Tea I have tried lots of teas before and black tea tends to be my very favorite. This is a lovely take on Earl Grey and I must say it is one of the best teas I have ever tried before in my entire life! Note that the ingredients and steeping instructions are on every bag so you don't have to guess and can steep the perfect cup every time. This tea has 5 ingredients (including black tea from 2 different countries) but wait — the tea was created to commemorate the anniversary of the Peace Corps and each ingredient comes from a country served by volunteers of that organization. The black tea base was strong and the flavor from the combo of bergamot, cornflowers, and raisins is extraordinary.
Plum Deluxe Reading Nook Blend This blend reminded me of some London Fog-type teas, except without the bergamot. The lavender is really strong as is the black tea base while the rose petals and chamomile make it look pretty too.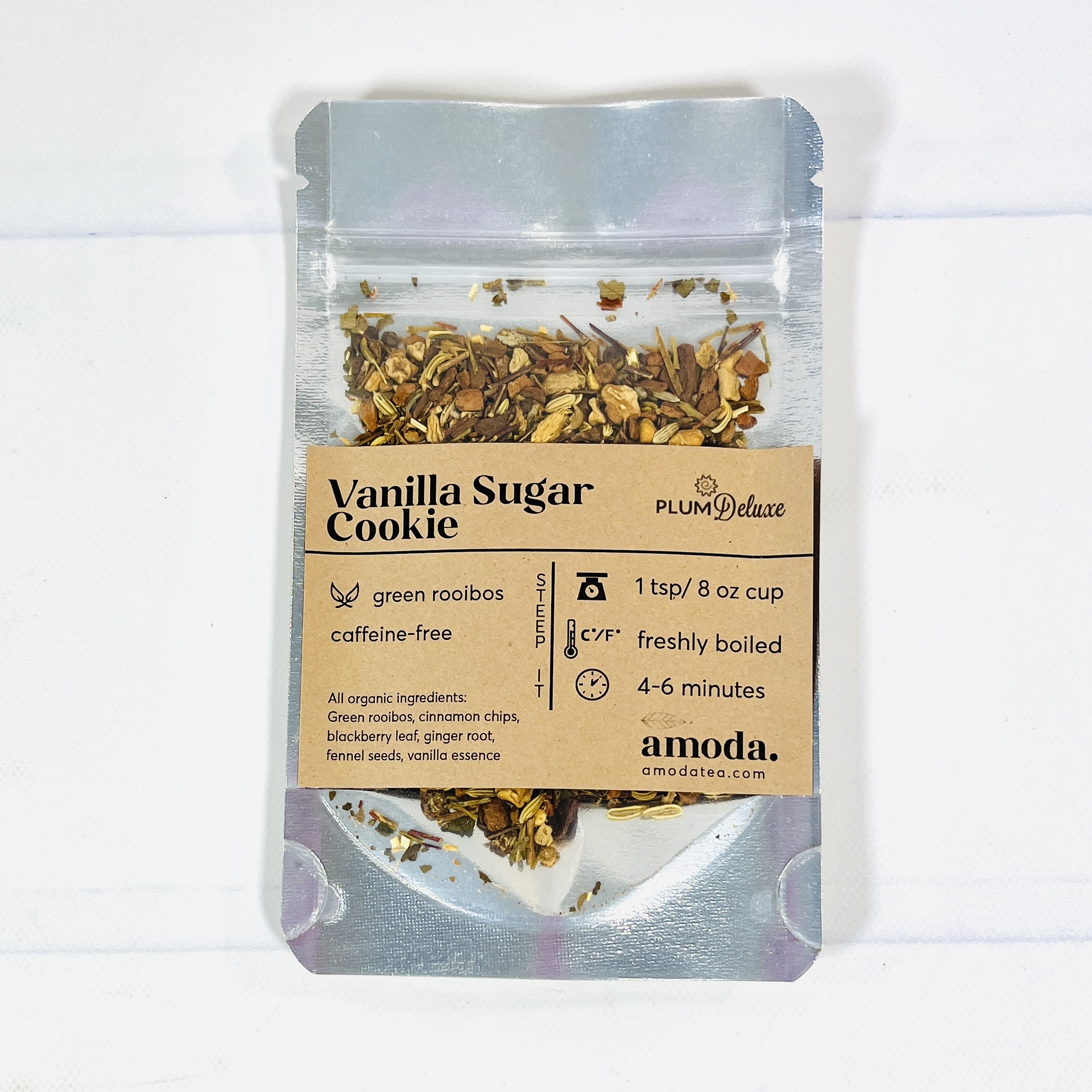 Plum Deluxe Vanilla Sugar Cookie If you are looking for a tea to replace an evening sweet treat then this might keep you from craving snickerdoodles. It has a base of green rooibos, which is supposed to be milder in flavor than red rooibos, and of course, has no caffeine because it isn't made of tea leaves but from a bush that grows in South Africa. This also has cinnamon, fennel, and vanilla and was delicious, no need for sugar so truly a guilt-free after-dinner treat, and fennel may help aid digestion.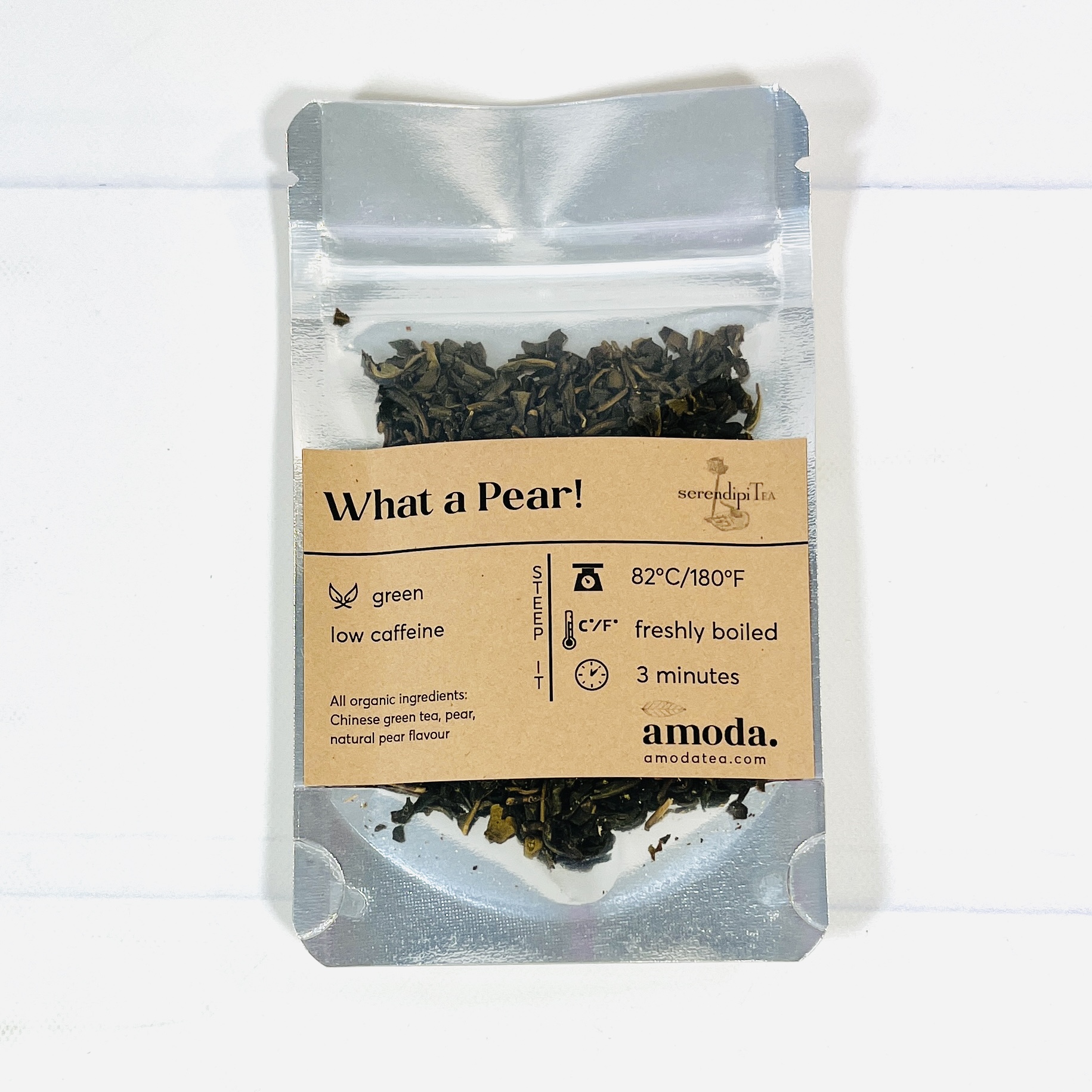 serendipiTea What a Pear! I prefer green tea that is light in flavor and body and this one fits the bill. I made sure to keep the water below the boil and steeped for 3 minutes to keep it from turning bitter and it worked, and the fruity nuances from the pear meant I could skip adding sugar.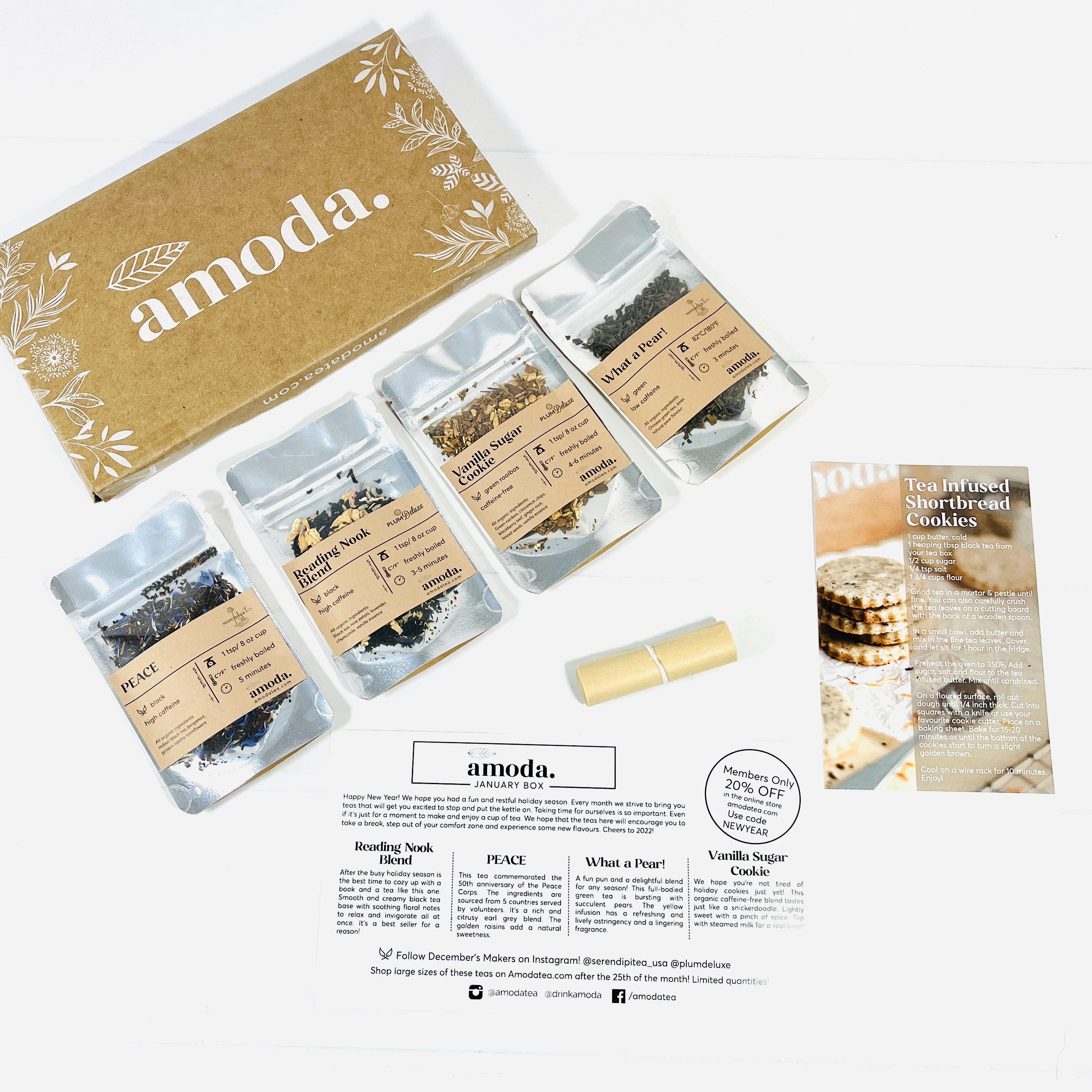 As always I had a blast discovering new-to-me teas with Amoda! I was especially enthralled with Peace by serendipiTea, it's right up there with my top favorite tea ever! The other flavors were perfect for the season, and as always I enjoyed them curled up with a book in the afternoon, one of my happiest rituals of the day. Both vendors made high-quality teas (high qualiTEA?). I look forward to discovering new blends next month but I need to stock up on some of my favorites first, and luckily there is a 20% off code below so I can do that at the online shop!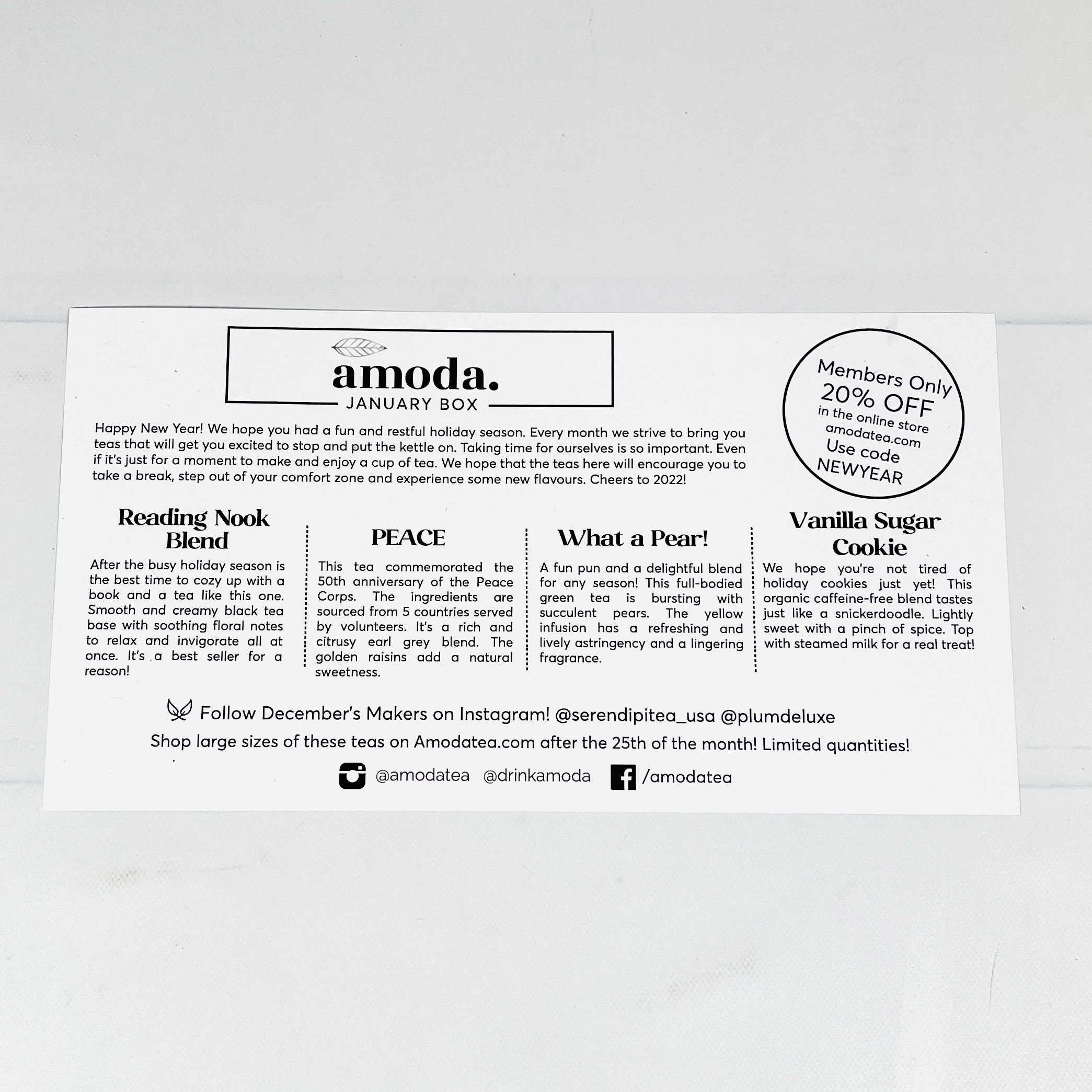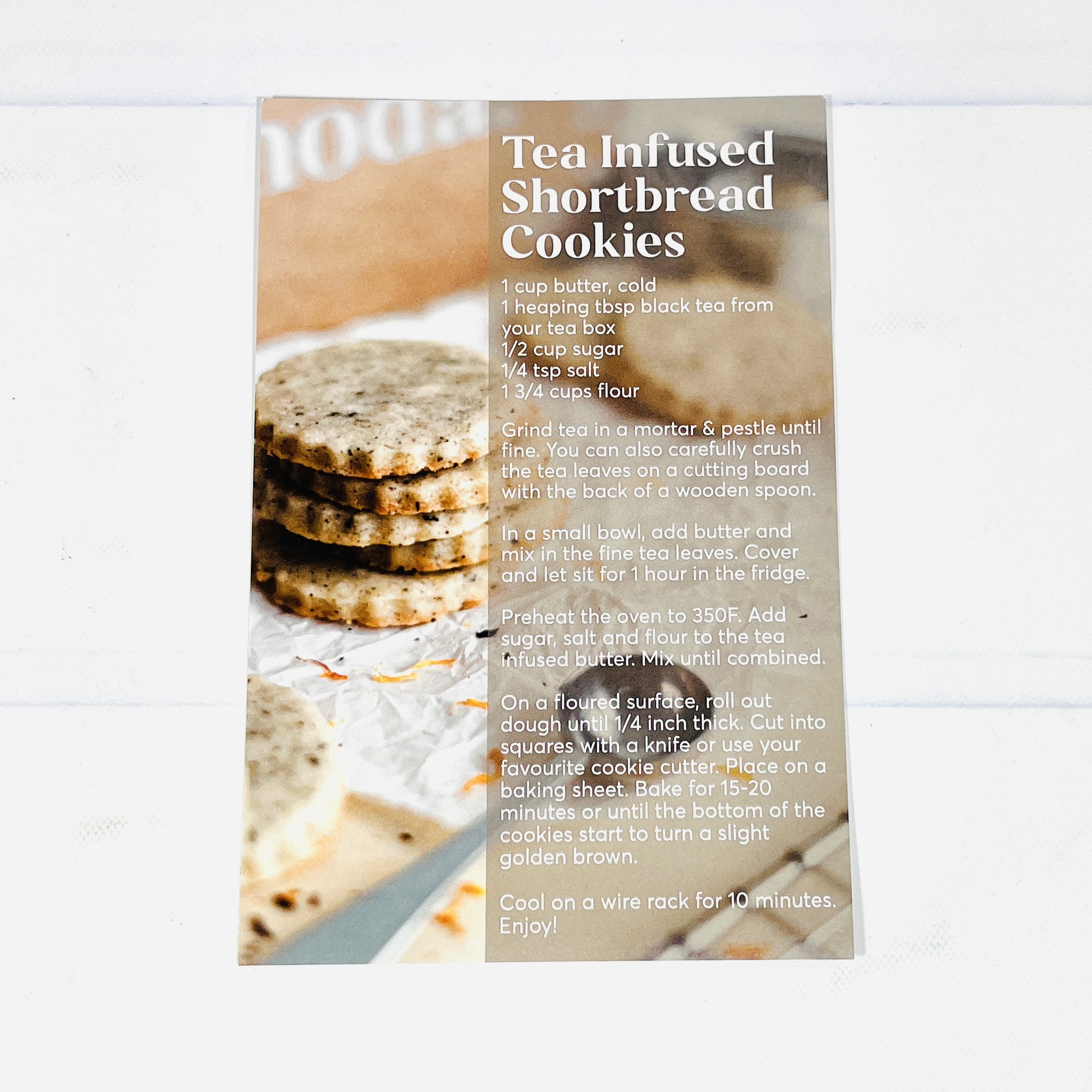 Amoda Tea is a premium tea subscription that sends hand-selected teas sourced from small, independent tea companies. There are two choices of box available — the Original Monthly Tea Box and The Low Caff. Both cost $20, have free shipping to Canada/US (no international shipping yet), and you can also add on some extra bonuses like a perfect teaspoon or extra tea bags. They also have a tasty tea guarantee – if you don't like a tea in your box, they'll replace it in your next box!
Which tea was your favorite? Let me know in the comments!