Amoda sends four loose leaf teas in samples big enough for at least 3 cups each from different tea makers so you can discover brands and flavors that you might want to order again and again. Choose from the Original Box or Low Caff and prepare to be amazed because they send flavors curated to the season! This month they introduced a new tea partner and sent three black teas and a green to keep us caffeinated through the latter part of winter! This is a review of the Original box.
DEAL: Get 40% off of your first month! Use coupon code HELLO40.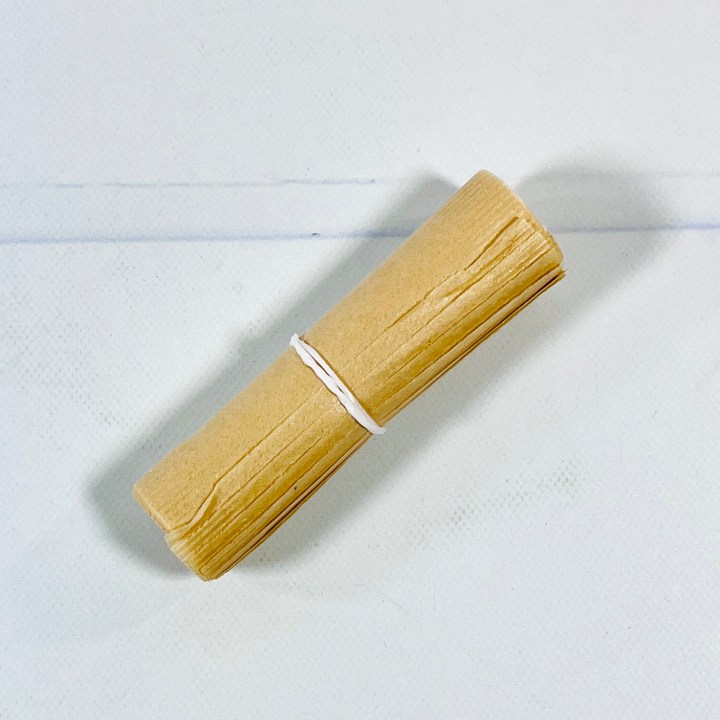 I always receive several compostable Tea Bags. Fill them with the loose leaf tea, place in a mug or cup, and pour that water over top. You could also use a strainer or tea making system, and a French press does the job too.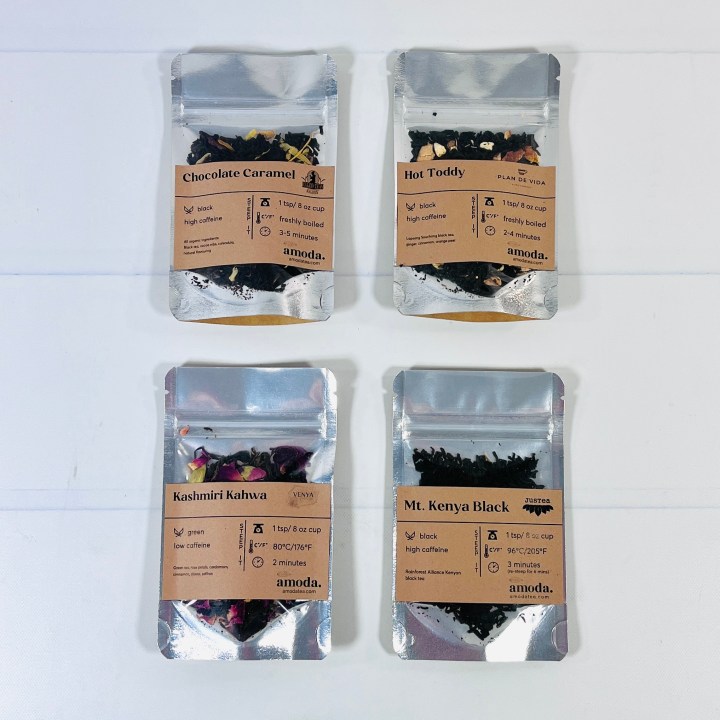 I received one single black tea, two black tea blends, and a green tea blend. Usually I receive an herbal but this month I am glad for the extra caffeine. All the info you need to steep your cup (water temp, time, ingredients, etc.) is shown on the front of each bag.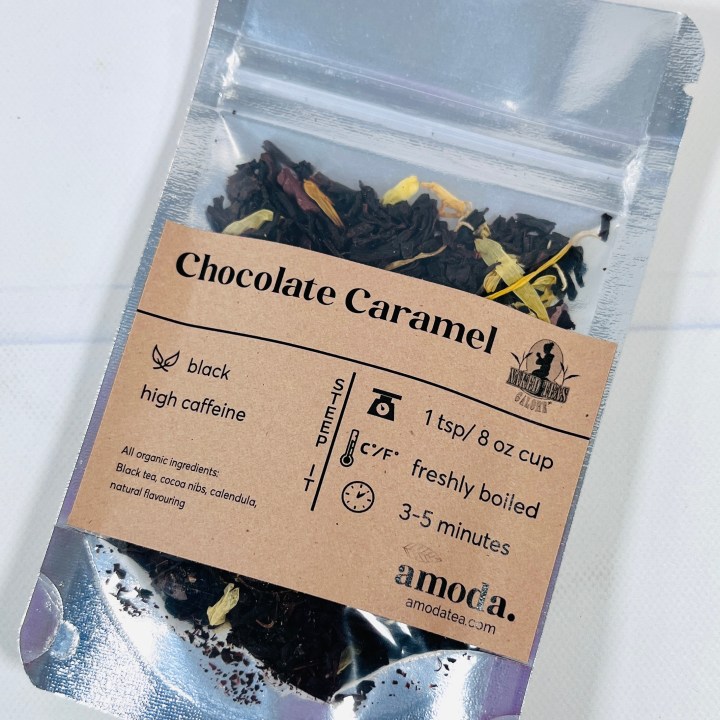 Naked Teas Galore Chocolate Caramel has a base of black Ceylon tea enhanced with calendula petals, cacao nibs, and natural flavoring. The body is medium and I didn't think the tea was too strong or bitter, but I added a bit of sugar to enhance the sweet treat flavors. Milk would practically turn it into dessert!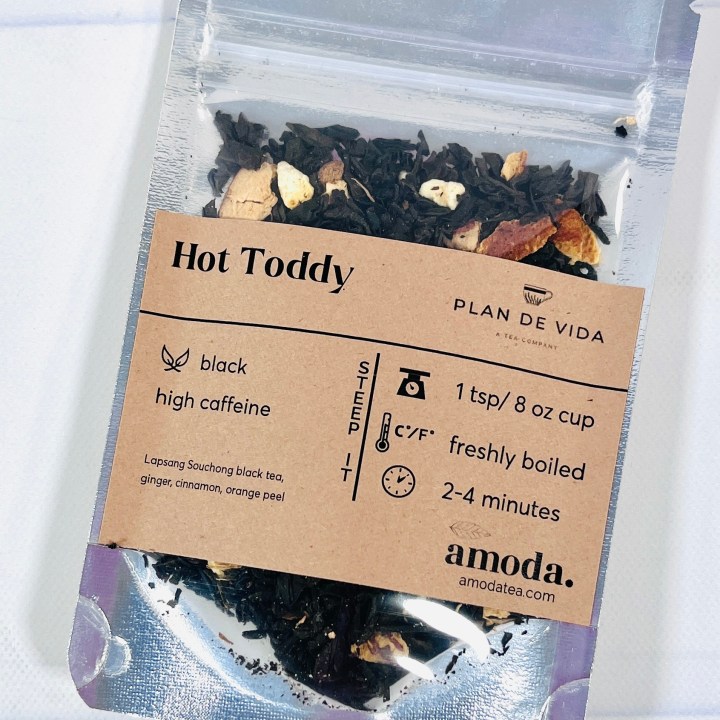 Plan de Vida Hot Toddy This was an interesting tea and is a take on a warm drink made with alcohol. It has a base of lapsang souchong, which is a smoked tea and surely I've tried this type of tea in the past, but the smokiness here is very strong, like drinking a campfire or licking a barbecued beef brisket. It reminds me of how my clothes smell after sitting by a fire or going to a BBQ restaurant, but in drinkable form. I couldn't pick out the ginger, cinnamon, or orange peel notes, just smoke. It actually might be good if I add it to some plain black tea, but I think a little of this goes a long way but it's not bitter so sugar and milk aren't needed.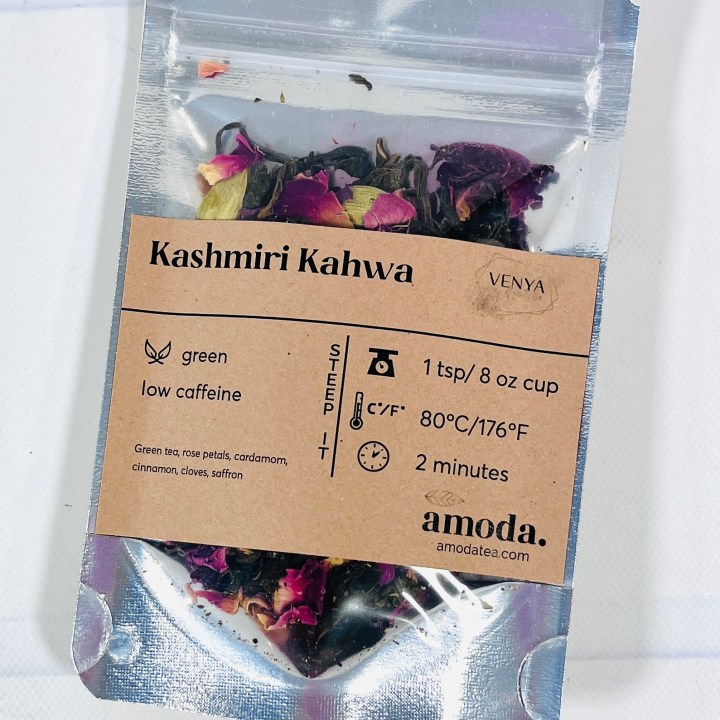 Venya Kashmiri Kahwa Hmm, does anyone else think that tea with rose petals smells like potpourri or is it just me? I'm not a fan of rose-scented anything other than actual live roses. This tea has a light green tea base with a hint of cardamom (and cinnamon and saffron but I can't taste or smell those). No sugar was needed and it was light in body and flavor. I walked away from it for a couple of hours and came back to cold tea and it was actually quite refreshing that way.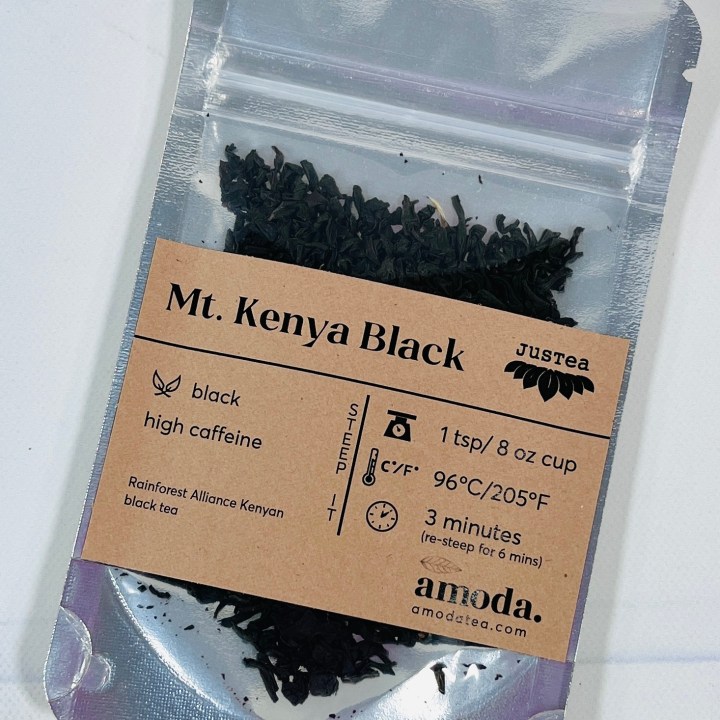 JUSTEA Mt. Kenya Black My favorite tea is good old plain black tea, something to start my day or to help me power through the afternoon. This tea was cut smaller than some loose leaf teas so I used 1 teaspoon (I usually use a perfect spoon's worth, or 1.5 tsps) and the color in my cup was a lovely amber shade. It turned out to have a strong flavor with hints of fruit, very pleasing cuppa.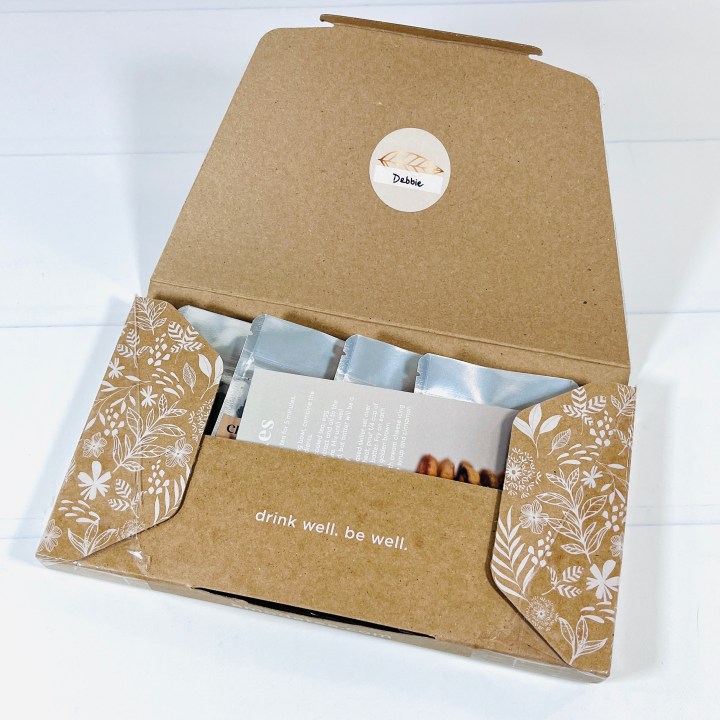 Amoda sent some unusual flavors for February, what a great way to beat the winter boredom that sets in around this time, because I love a hot cup of tea in my hands when the days are cold and dreary. My favorite for the month was Mt. Kenya Black, it was such a classic black tea with no extra frills yet it was splendid.
Below is an information card, and a tea postcard, with a recipe for some tasty pancakes made with, what else, tea!
Amoda Tea is a premium tea subscription that sends hand-selected teas sourced from small, independent tea companies. There are two choices of box available – the Original Monthly Tea Box and The Low Caff. Both cost $20, have free shipping to Canada/US (no international shipping yet), and you can also add on some extra bonuses like a perfect teaspoon or extra tea bags. They also have a tasty tea guarantee – if you don't like a tea in your box, they'll replace it in your next box!
Which tea was your favorite? Let me know in the comments!