Allure Beauty Box March 2022 was curated to help us start the day right. It included seven beauty products to incorporate into our daily morning ritual, from invigorating scalp treatment to caffeine-infused eye cream!
LIMITED TIME DEAL: Sign up for Allure Beauty Box and save $5 off your first box when you check out with coupon code LOVEBEAUTY. This deal is even sweeter because new members will also get a FREE MAC MACSTACK Mascara and Lilysilk Ideal Silk Sleep Eye Mask! Or, gift an annual Allure Beauty Box subscription and save $20 when you check out with coupon code LOVE20.
FYI – you can see the full spoilers for the March 2022 Allure Beauty Box, in case you want to know all the variations.
To give the undereye area a boost of radiance, BeYou Caffeine Eye Cream ($25) contains hyaluronic acid and caffeine that deeply hydrates and illuminates the skin while reducing fine lines. I received it in full size! It works great for depuffing the delicate eye area. The formula is also fast-absorbing and feels lightweight when applied. This is exactly what I need to revive my undereyes.
Another full-sized item, TULA SKINCARE Signature Glow Refreshing & Brightening Face Mist ($34) promises to refresh and brighten the face, ideally used before or after makeup as a setting spray. It contains hydrating and brightening ingredients like hyaluronic acid and strawberry and kiwi fruit water, plus probiotic extracts that soothe irritation. However, the spray is shimmery and it doesn't make sense because glitter only clogs the pores and defeats the purpose of having an anti-bacterial ingredient. The bottle has a metal ball in it for shaking. Residue builds up at the bottom of the bottle and once you shake it, the residue disperses. You have to shake it really well though, or else it will stay the same.
Whether you're dealing with fine lines or hyperpigmentation, Shani Darden Retinol Reform ($30) is worth considering for your skincare regimen. The vegan formulation includes encapsulated retinol and AHA, which serve to improve texture, elasticity, and uneven skin tone. It also contains apple fruit extract to reduce signs of aging, plus aloe vera and rosemary leaf extract to soothe and hydrate the skin. I like that this product is fragrance-free!
Origins GinZing Oil-Free Energy-Boosting Gel Moisturizer ($3.33) wakes up the skin like magic. This gel moisturizer gives the skin an instant boost, with natural active ingredients like caffeine and Panax ginseng for a refreshing and recharging effect. It's recommended for dry, normal, and oily skin types. The citrusy scent is fresh and uplifting, and it feels light on the skin as well.
I also received a Cetaphil Gentle Skin Cleanser ($0.85)! Cetaphil products are non-irritating, and this non-foaming cleanser is no different. The formula has a creamy consistency, and since it's formulated with micellar technology, there's no question that it effectively removes dirt and impurities. It left my skin feeling clean and refreshed without dryness and redness afterward.
Briogeo Scalp Revival Charcoal+ Coconut Oil Micro-Exfoliating Shampoo ($5.25) is gentle to the scalp and hair. It works best for straight, wavy, curly, and coily hair types. What I liked about this haircare product is the cooling sensation and the refreshing peppermint and spearmint scent it left behind. It contains coconut oil that provides moisture and reduces scalp irritation, plus the Binchotan charcoal that detoxifies the scalp and removes product build-up on the hair. Massaging this onto my scalp felt so relaxing!
If you're in the mood for long lashes, Blinc UltraVolume Tubing Mascara ($26) is the answer. This jet-black formula is buildable and long-wearing, giving me a false lash effect every time. It contains carnauba wax, which is responsible for its smooth, semi-matte finish. Plus, it's flake-free and smudge-free, great for all-day wear! I received the mascara in full-size as well.
The product selection for this month helped to get me ready for the day! Some items are even infused with caffeine, which is known to give the skin an energy boost. I feel pampered and energized to start my day, thanks to the eye cream that removed puffiness from my undereye area and the face mist that gave me a refreshing glow. All other inclusions, such as retinol repair, skin cleanser, and shampoo, are all good additions to a morning beauty routine. There's even a mascara to give the lashes extra volume! The total retail value of the box reached $124.23. It's really worth having this subscription around, especially with three full-sized items included in every box.
Just an FYI – despite Allure advertising that everyone who subscribes in March receive the released spoiler item for April, a few days later they determined that only those that subscribed by 3/18 would receive it.
Monthly boxes also include a booklet with brief descriptions of the items. Here's a closer look: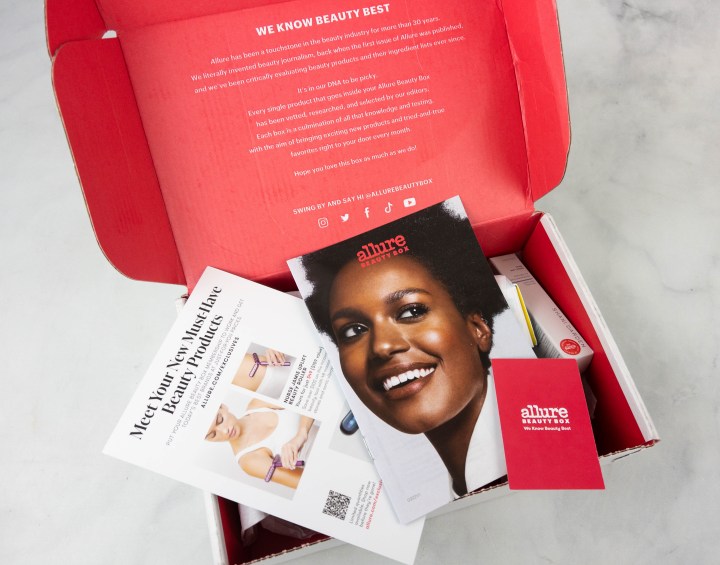 Allure Beauty Box is a monthly beauty subscription service that sends 6 or more beauty products (at least 3 of those will be full-sized) with a value of at least $100+ and is curated by the editors of Allure Magazine, who choose and test the products themselves. Allure Beauty Box is $23 a month or sign-up for a year and the price is closer to $21 a month. There are sometimes sponsored products in the box, plus you'll be eligible for special discounts on Allure editors' favorite luxury products and limited-edition boxes. Allure's beauty subscription box took home first place in our 2021 readers' choice list of best skincare subscription boxes!
If you are a new member then your products may be slightly different, but continuing subscribers should not receive the same product twice.
Have you tried Allure Beauty Box yet? What did you think of this month's box? Let me know in the comments!