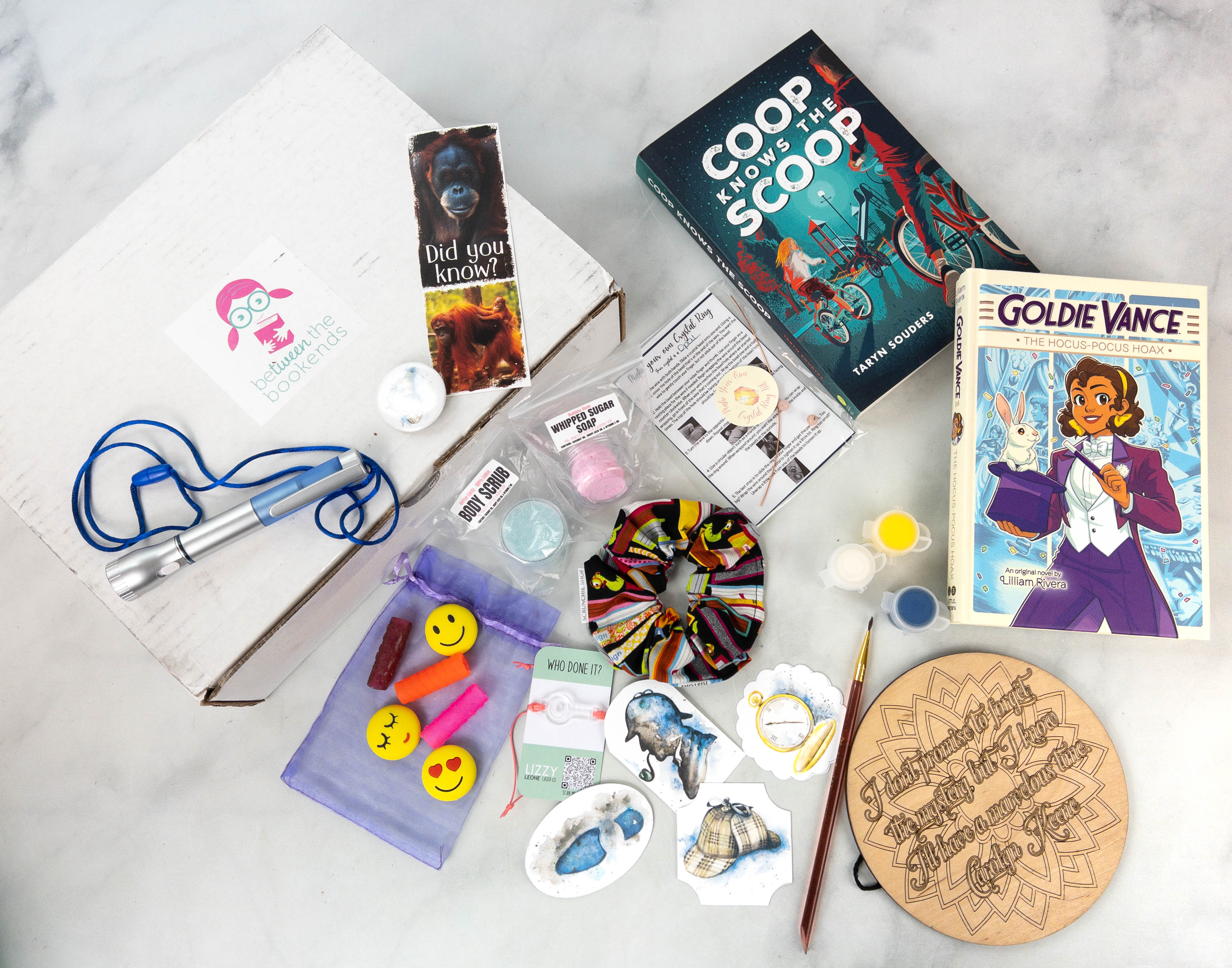 For imaginative tweens who love detective stories and mystery books, beTWEEN the Bookends March 2022 was themed WHO DONE IT! The box included two mystery titles plus nine lifestyle items for tweens to enjoy.
DEAL: Get 15% off on your first month on any subscription plans! Use coupon code HELLO15.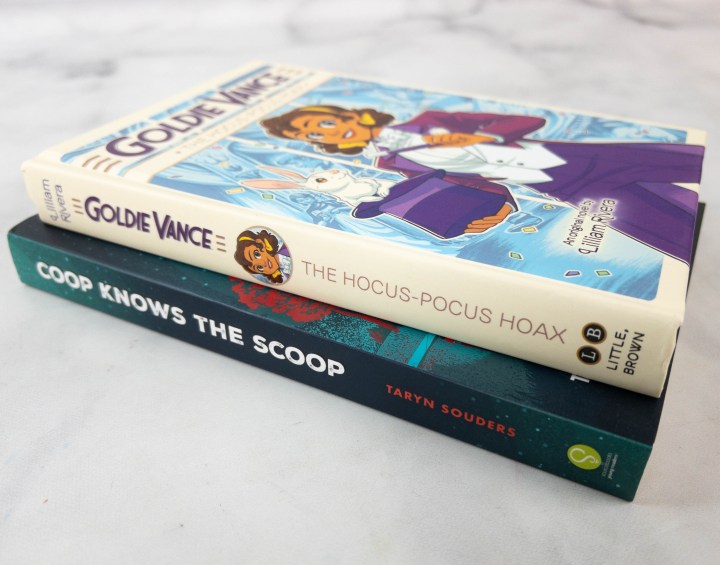 This month's featured detective-centered stories are The Hocus-Pocus Hoax by Goldie Vance and Coop Knows The Scoop by Taryn Souders.
Goldie Vance The Hocus-Pocus Hoax by Lilliam Rivera ($12.99) combines magic, mystery, and LGBT themes in one book! It tells the story of Goldie, who sleuths her way through the mystery of missing props at the League of Magical Arts convention. The book has a neat and straightforward storyline. It's fast-paced, and my kids also enjoyed the diverse cast of characters. There is a colorful eight-page comic at the end of the book!
Coop Knows The Scoop by Taryn Souders ($7.99) is a novel that fans of the Stranger Things and the Masterminds series would enjoy. It revolves around the mystery of what lies beneath the town's playground. It contains a terrific whodunit plot that will keep readers engaged until the very last page, as well as bits of humor that will make you laugh. From the characters to the clues, every bit of this story is exciting and intriguing at the same time.
Now, we're headed to the lifestyle items included in the box:
To show how deeply you're invested in mysteries, here's a Slight Edge Creations Monthly Button to pin on your clothes, bags, or pouch. It has a vintage look, with just a classic deerstalker hat illustration over a plain white base. Along with it is an educational bookmark featuring orangutans. The flip side contains fun facts about them.
The erasers and pencil grips arrived in a purple organza bag! Tweens can put these emoji erasers and glittery grips on their pencils for added cuteness and of course, to help them write notes with ease!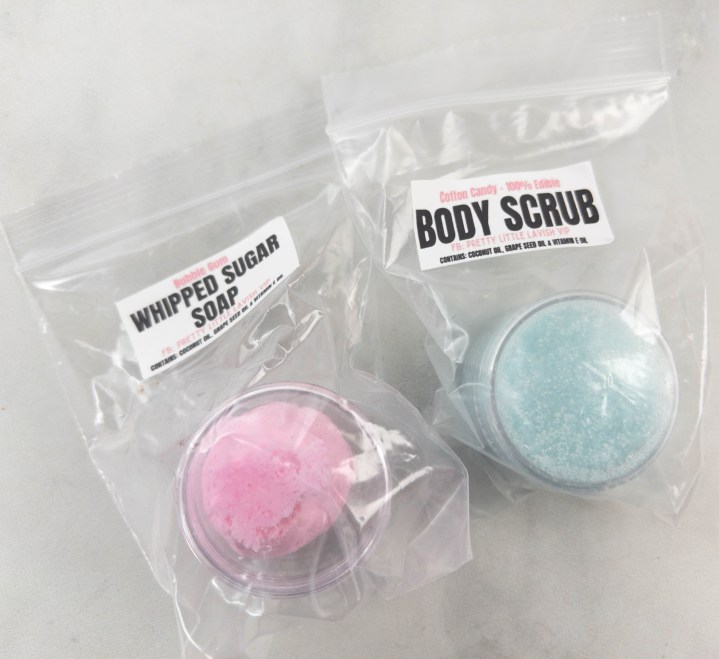 The box includes two Pretty Little Lavish bath products: the whipped sugar soap in bubble gum scent and body scrub in cotton candy scent. The whipped sugar soap is rich and thick, while the body scrub gently exfoliates the skin. Both products contain coconut oil, grape seed oil, and vitamin E oil, which have skin-nourishing benefits.
This two-way flashlight pen is a useful tool for detectives! It functions as both an extra bright white LED light and a light-up pen, allowing you to write even in the dark. Just slide the switch to choose the setting. It also has a breakaway neck cord so you can wear it and not worry about losing the unique pen.
Another cute addition to the box is this bookish scrunchie from The Scrunchie Shop! It arrived neatly packaged in a pink organza bag. It's fabric-covered, so it's gentle on the hair. The colorful book prints standout from the black base color.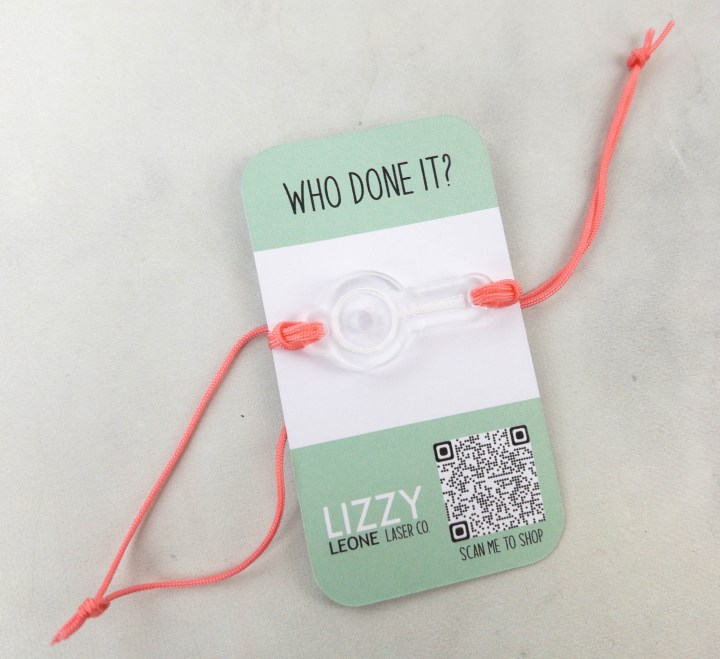 This Lizzy Leone Nylon Bracelet has a 90's vibe to it! It looks simple but cool, making it ideal to pair with any casual outfit. The charm looks like a magnifying glass, which also fits this month's theme well.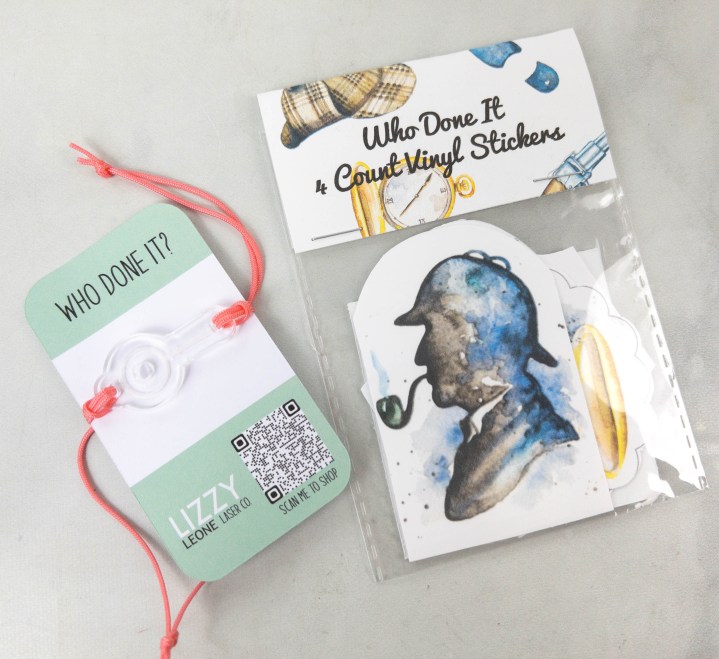 One thing that won't go missing in this subscription is a pack of stickers!
Looking like clues from a scene, we have Salem's Bows and More Monthly Sticker Pack that contains four watercolor stickers featuring a classic illustration. There's a silhouette of a detective smoking pipe, a pocket clock, a footprint, and a deerstalker hat (the same one on the pin).
For a creative exercise, the box included The Works Custom Gifts DIY Wall Hanging Kit. It comes with three paint pots (white, blue, and yellow), a paintbrush, and wooden art to paint. You can mix the paints, depending on what color you want. When completed, it makes a cute display! There's a text over the mandala design that reads: "I don't promise to forget the mystery, but I know I'll have a marvelous time."
Aside from the painting kit, there's also a WestWood Gems DIY Ring Kit. It includes all the needed supplies, including an opal crystal to design it with, plus complete photographed instructions to finish it hassle-free!
beTWEEN the Bookends always comes up with fun new themes and for this month, the box is all about detectives and mysteries! My daughter loved the mystery book picks, as well as the bookish items in the box. There are even relaxing bath products and a couple of DIY kits. Overall, it's a fun and age-appropriate subscription box and everything in it is well-thought-out. This is also a great way to encourage tweens to read more!
Monthly boxes also include a card with the theme in it. Here's a look: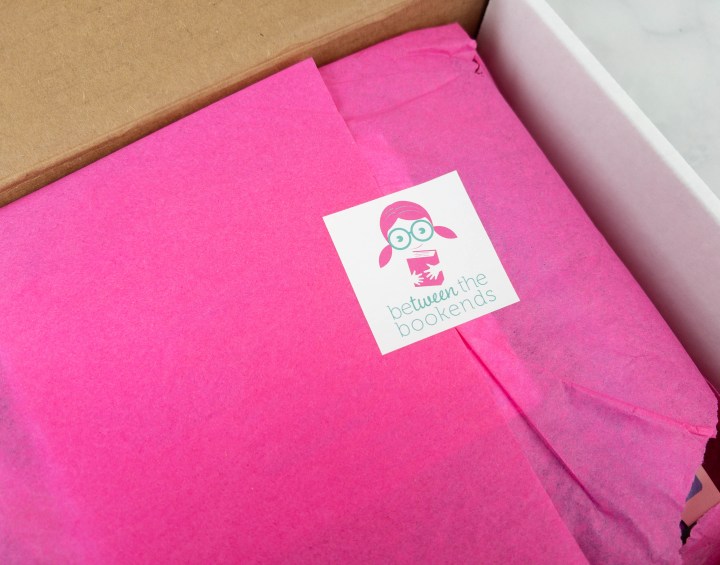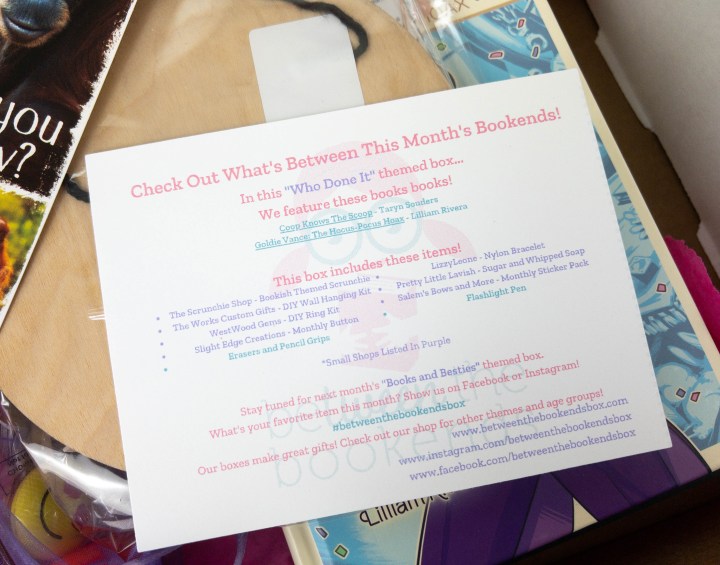 beTWEEN the Bookends is a monthly book and lifestyle box for tweens. There are 6 subscriptions available – the Tween Box for kids age 9-13 ($45) that includes 2-3 books plus 6-8 age-appropriate beauty and lifestyle items, the Mini Box ($30) that includes 1 book and 3-4 beauty and lifestyle items, the Early Readers Box for kids age 6-8 ($45) that comes with 2-3 books plus 6-8 age-appropriate beauty and lifestyle items, the Read to Me Box that comes with 2-3 picture + activity books plus 6-8 lifestyle items, the Just the Books Box ($20), and the Just the Stuff Box ($30). Shipping is FREE to the US, and $15 to Canada. This subscription box is curated by Jillian, who came up with the idea of a book subscription for tweens when she was 12. She created the box in hopes to keep girls reading for fun!
They also now offer Gender Neutral Boxes for each age group. These boxes are $37.50 each, and they will include all books from the full-size boxes, along with 3-5 of the same items (but no jewelry or beauty items). Boxes will be wrapped in green tissue paper and sealed with the alternate logo.
What do you think of the beTWEEN the Bookends box?