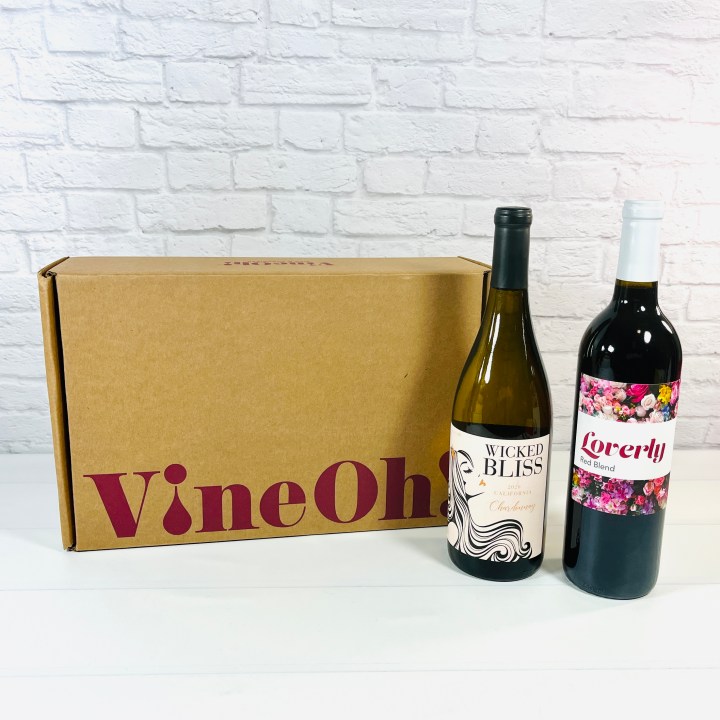 Vine Oh is a quarterly wine and lifestyle box and this is my first time reviewing this box! The theme for this shipment was Oh! La La! and it had some very drinkable wines plus a space saving backpack, rich caramels, and more!
DEAL: Save $10 off + FREE extra bottle of wine + FREE shipping on your first box with coupon code HELLOWINE. For a limited time, use this same code to get an extra free bottle FOR LIFE!
2018 Loverly California Red Blend ($24) I asked my husband what he thought about this wine since red is his favorite type. He said it was full-bodied and easy on the palate (I thought it was medium-bodied). It is dry and the tannins are somewhere in between soft and firm, there was some bite but I didn't feel like I'd licked a grapefruit, it was smooth going down. Overall it was a good table wine and if we have any left I will add it to my spaghetti sauce or beef stew. I'm not sure which grape varieties went into this wine but California is known for its Cabernet Sauvignons and Merlots.
Wicked Bliss 2020 California Chardonnay ($24) I tend to prefer white wines and although this Chardonnay wasn't sweet, it also wasn't highly acidic. It is light in body and refreshing with hints of lemon and, hmm, maybe peach? I don't think anyone would call this buttery, maybe it's unoaked? It's pretty fresh.
Willow Collective Tumbler ($20 listed value) I couldn't find this product at the brand's website, but the booklet says it holds 16 ounces of a hot or cold beverage and the bottom says hand wash only, do not microwave. It's made of plastic and you can slide out the tab on the lid to sip your drink of choice.
Mouth Party Caramel ($4) Mouth Party makes caramels using a simple formula that is mostly cream, sugar, corn syrup, butter, and salt, although they may also add vanilla, Old Bay seasoning, and chocolate. They offer 5 different flavors and this box has one of each inside. It is soft and chewy and I tried Sea Salt flavor, which was absolutely divine, but I am looking forward to trying OMG! (who wouldn't?) and Chesapeake (because Old Bay and caramel sounds just crazy enough to work). UPDATE: I ate each of the caramels over a week's time and they were all amazing!
Gemma Simone Tori Stackable Bracelet Set ($35) Can a person have too many bracelets? If you said "no", then here, we have 5 new pieces to add to our collection! I'm sorry I didn't model them for you but they are awfully tight on my wrists, despite being elastic. They are in shades of gold tone, white, and black. The white and black beads felt kind of rubbery (but don't smell like rubber) so I'm thinking they may be made out of polymer clay?
Julep Beauty Facial Wipes ($20) Wow, I remember when Julep had an amazing nail polish subscription, I wish that box was still around. Here we have a huge pack of makeup removing wipes that are supposed to tone pores with witch hazel. According to the instructions these can be used to remove even waterproof mascara! They have a light floral scent and are a good first step for removing makeup.
Willow Collective Foldable Backpack ($36) What a cool idea – this bag transforms into a backpack when unfolded, so you can open it up when needed but otherwise tote it easily until then.
The bag has a leopard print and is made of nylon and mesh. It has a front zippered section and two mesh side pockets. The straps are adjustable. I even managed to somehow get it folded back up into a neat little square! I really like this backpack.
This was my first ever box from Vine Oh! and I enjoyed the items and the wines. I thought the wines were perfect for every day kind of drinking, the kind I can sip while sitting on the porch or while watching TV in the evening. The caramels were divine and the backpack was another keeper, I needed something to replace the backpack I bought at The Children's Place and that I've been using on vacations and outings since 2006. The product info booklet (shown below) had discount codes for each of the featured brands so there's another bonus. I also want to let you know that Vine Oh! now has a monthly wine shipment available, and you can have either 4 or 6 bottles sent to your home each month and just like this subscription, you can choose reds, whites, mixed, or sweet!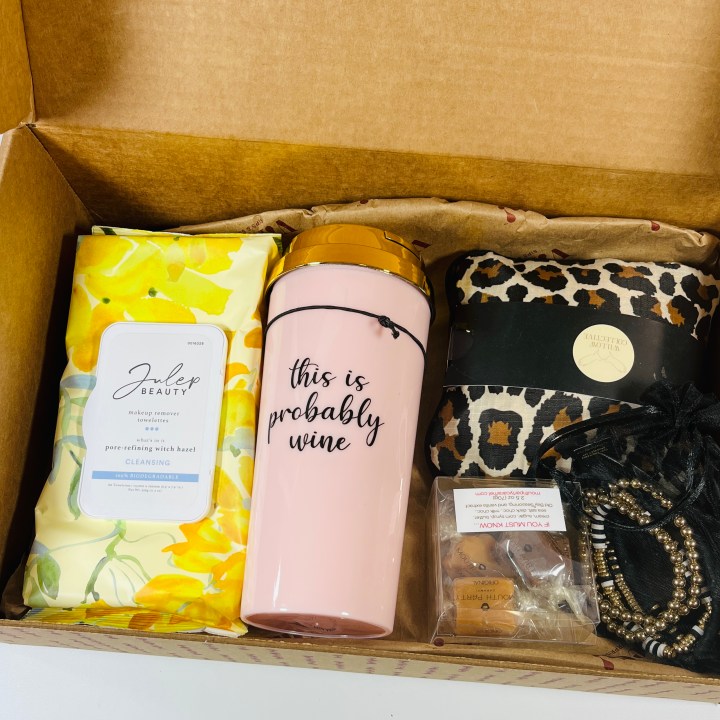 Vine Oh! is a quarterly subscription box and one of the first wine subscription boxes to include lifestyle items for women. Each seasonal box will include 2 bottles of premium wine, plus 5-6 full-size items that are fun, rejuvenating, and delicious. Subscribers can choose their wine type preference: white wine, red wine, red & white wine, or sweet wine. Every box will have a retail value of $120 or more!
What did you think of Vine Oh?