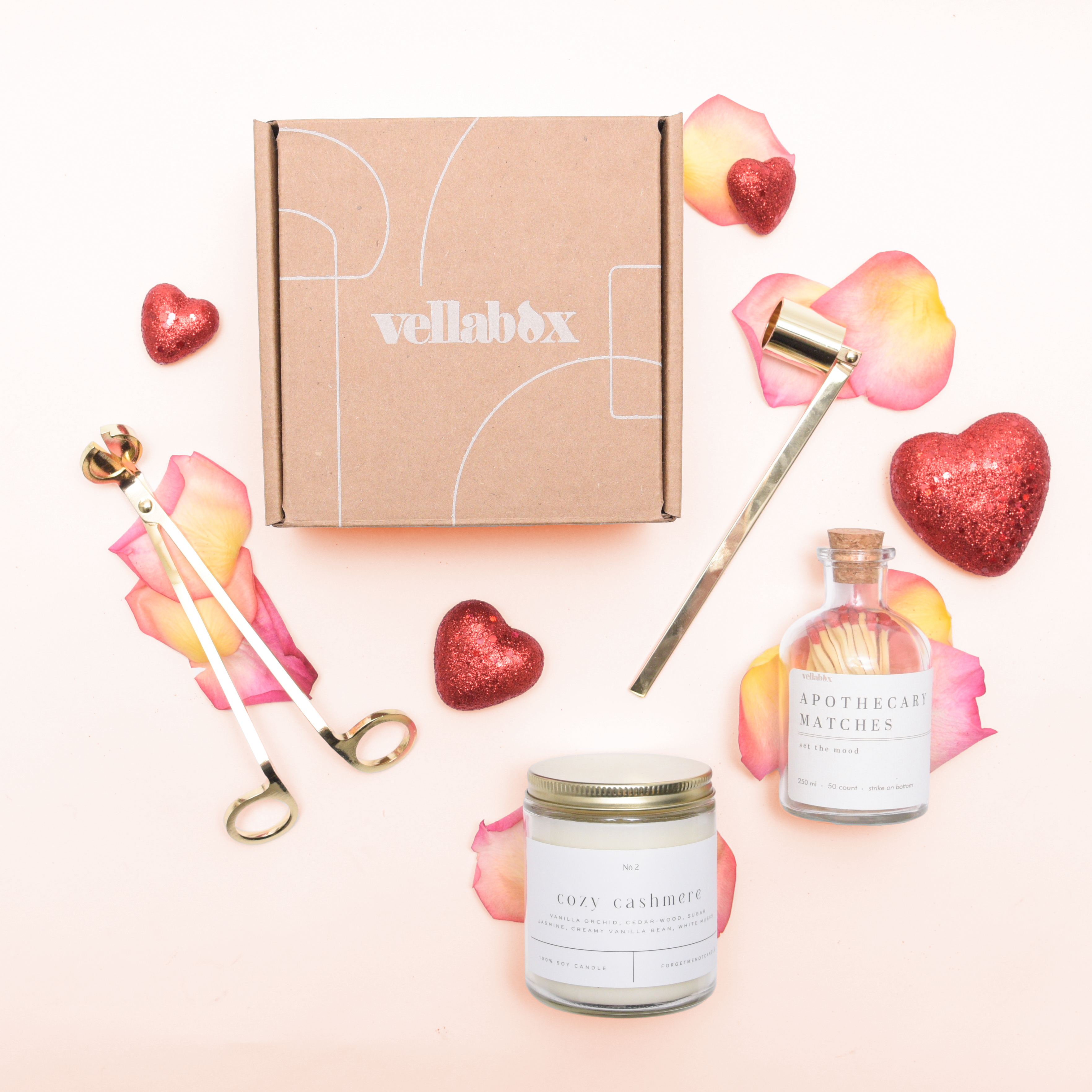 Vellabox has a great deal for new subscribers who will join their artisan-made and natural candle subscription this Valentine's Day. Grab romantic scents and curated artisan gifts this February. Your home will always smell in-season!
For a limited time only, get a FREE candle essentials kit (apothecary matches, wick trimmer, and candle snuffer) with 6 or 12 month subscriptions! Just use this link and use the coupon code CANDLELOVE!
Breathe easy with clean burning candles, made from natural ingredients to set the mood this Valentine's Day – here's the featured scents this February! Subscribers will receive one based on their scent preferences:
Je T'aime– notes of jasmine, berry, tonka, bergamot, amber (for fans of floral) Based in love and topped with romance, this flame burns strong. Set the mood just right and bask in this gorgeous fragrance that is both soft & sultry.
Cozy Cashmere– notes of vanilla, cedar, sugar, white musk (for fans of sweet & spice) It's like a warm, soft hug. An embrace so comforting, you'll never want to let go.
Winter Lodge– notes of fir, smoked woods, clove, peppercorn, herbs (for fans of woodsy) There's nothing but pure hygge inside the Winter Lodge. Crackling fire, plush interiors, scenic views, and beautiful memories with loved ones. This scent will invite you right in.
The February surprise item is Essence One's Aromatherapy Shower Mist ($12 value):  Start your day off right with "Morning Calm", a blend of spearmint, bergamot, mint, and patchouli essential oils.
Vellabox curates a seasonal selection of all-natural candles and sends them to your door every month. They work with different brands, but choose only the candles that are non-toxic, lead-free and hand-poured. No beeswax in order to stay as vegan as possible. Most of what you'll find in the box are soy, coconut, and vegetable based waxes. A surprise gift is also included in every package. Check our Vellabox reviews to find out more about this subscription!
Vellabox has 3 subscriptions – you can choose from The Lucerna Box ($18) which includes a 4 oz candle monthly, The Ignis Box ($28) with an 8 oz candle monthly, and The Vivere Box ($38) with a 16 oz candle monthly. Each level receives the bonus lifestyle gift and includes free shipping. All subscribers will have the opportunity to customize their box to their scent preferences.