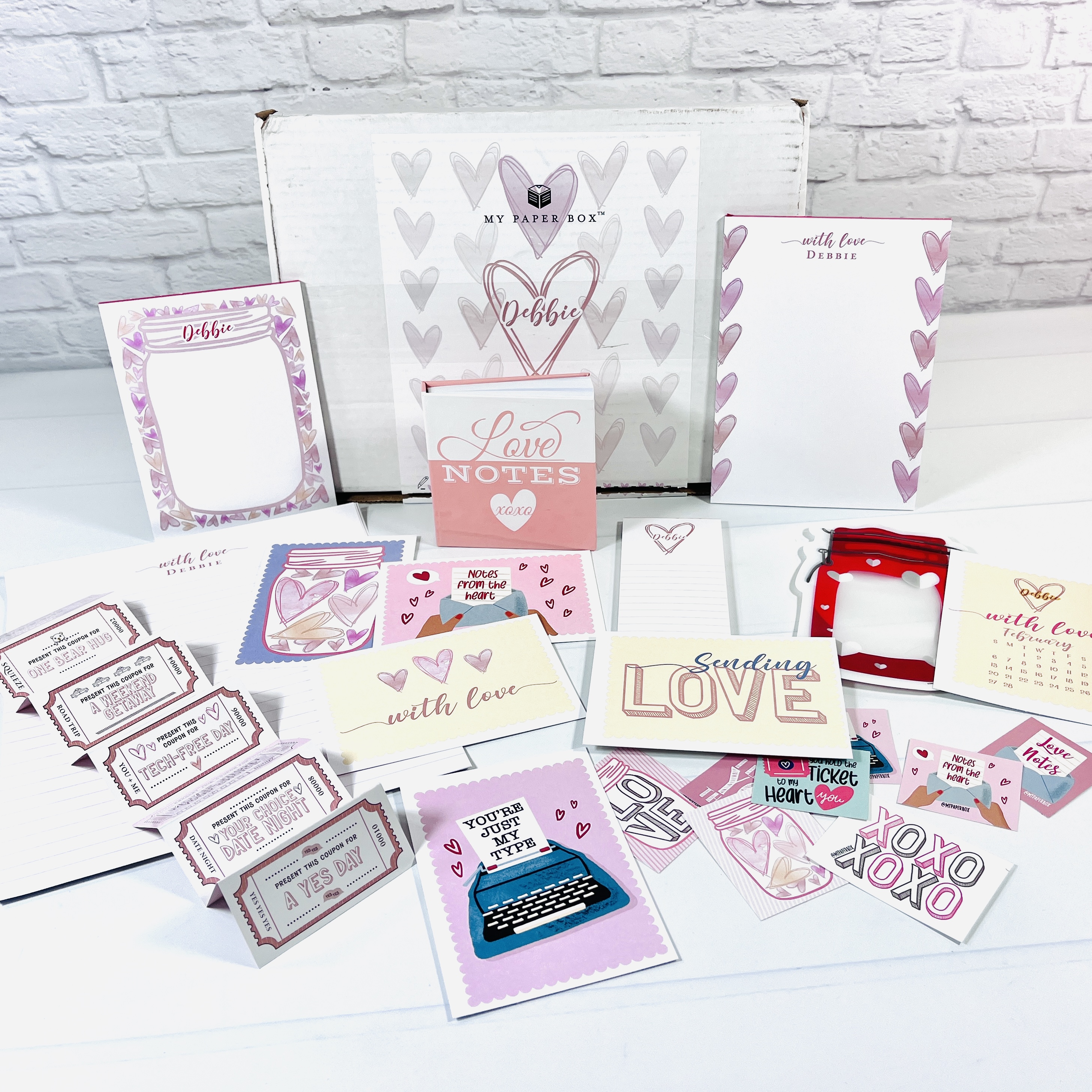 The items in the February 2022 My Paper Box are perfect for sending notes to loved ones near and far! Not only did they include personalized stationery items, they also sent the best notepads! They have a couple of different subscription options, including a brand new greeting card option, but this is a review of The Grand Subscription, which is $32 a month.
DEAL: Get $5 off your first box. Use the coupon code 5OFFMYBOX.
Monthly Calendar Your first box comes with a card holder and subsequent boxes will occasionally have a seasonal holder included. Keep that holder handy and place your monthly calendar card in there and stick it somewhere prominent and you will see not only the month at a glance but the back has all of those special holidays that may not make it onto a traditional calendar (like Chocolate Mint Day on February 19, that sounds like a holiday I can get behind!).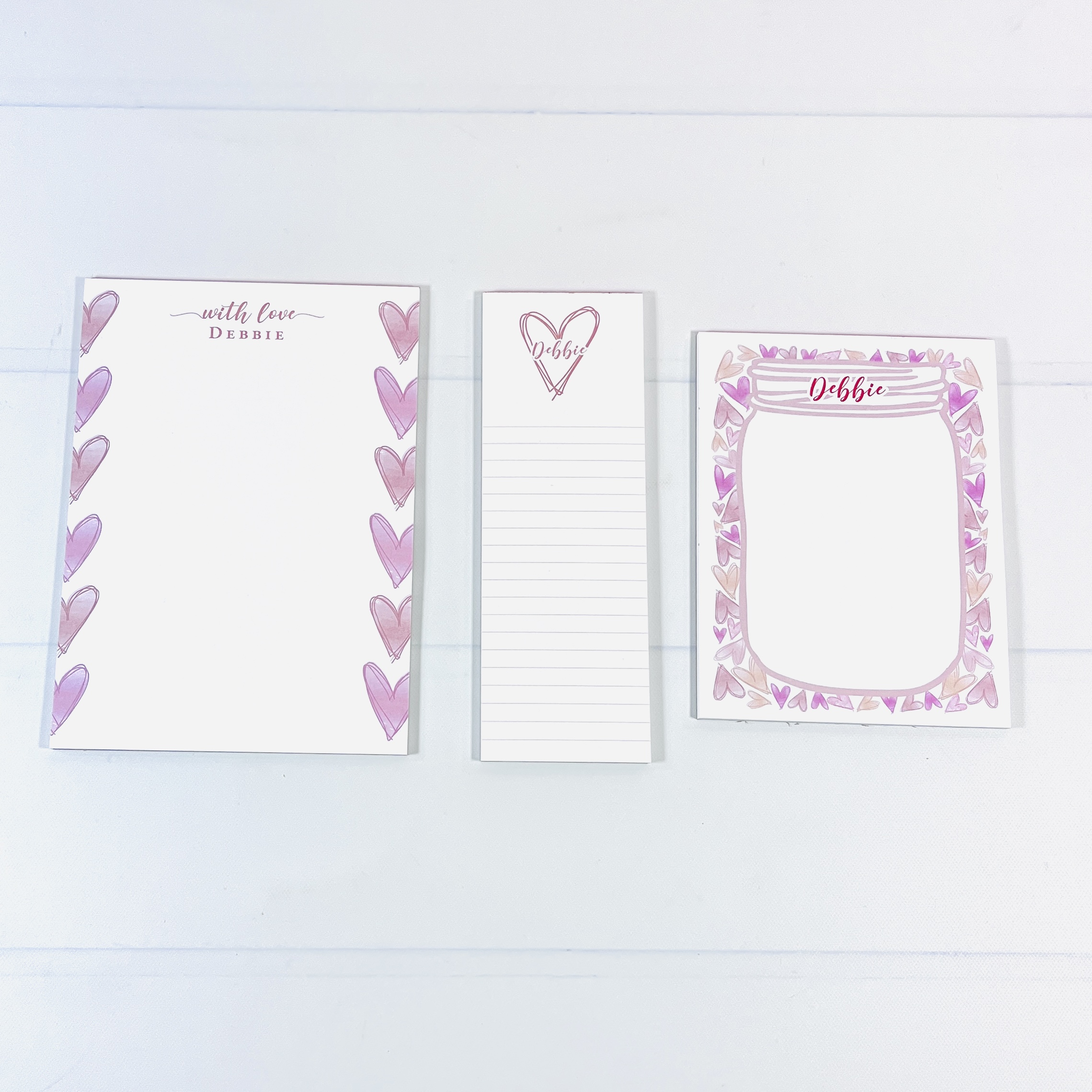 Here are the three notepads, which is a subscription option all by themselves, they are that good! The Larger Pad is 5″ x 7″ and has hearts along the sides. The Lined Pad is 2.5″ x 7″ and is perfect for making lists. The Mason Jar Pad is 4.5″ x 5.75″ and the jar is outlined in more hearts. All three have my name at the top, but you can personalize your box with your first and last name if you prefer.
Letterhead Sheets The shipment came in a bigger box this month in order to accommodate some full-sized 8″ x 10″ letterhead sheets! One side says "with love" and has my name, while the back is covered in a beautiful heart print. There are 10 sheets total.
The Postcards Next up is a set of 5 postcards. These measure 3.5″ x 5″ and they are printed on sturdy cardstock. The backs are each different too.
Love Notes Hardcover Book This is a mini journal or a book of blank notes, whatever works best for you. It measures 4″ x 4″ and the pages are blank and unlined. It has a lot of pages inside, maybe 100 or so?
Love Tickets These are just what they sound like — tickets for small acts of love that the recipient can redeem when desired. Some of the activities include a home cooked meal, breakfast in bed, and a weekend getaway.
Mason Jar Reusable Bag + Stickers This is the cutest little zipper bag, it looks like a mason jar! Inside I found 8 stickers that can be used on water bottles, snail mail, or wherever you like to use stickers!
The MPB Monthly Magazine lists all of the items found in the box as well as all of those little known holidays along with ideas on how to celebrate them. There's a monthly calendar spread, a recipe, and even ideas on what to write in a note to a friend, just in case you are stuck.
The February My Paper Box had such cute items, but the notepads are my absolute favorite, even my husband uses them. The items always coordinate well with each other, with mason jars and hearts represented on several items this month. Having the items handy and knowing they will arrive on a regular basis makes it easy for me to keep in touch with others through good old fashioned snail mail.
My Paper Box is a monthly subscription box filled with personalized stationery! Each box will be curated to a theme and you can choose from three different levels and price points. The Mini Subscription is a collection of 3 personalized notepads and is $18 a month; The Grand Subscription comes with a Personalized Paper Box and a selection of items such as personalized notepads, cards, planners, and more and is $32 a month; The Greeting Card Subscription comes with 4 cards, envelopes, and USPS Forever stamps and is $15 a month. Each month there will be a new theme and you receive the order for the month before so you will have everything ready to go when the calendar changes. My Paper Box made it to the list of our readers' favorite stationery subscriptions!
What do you think of this month's box?