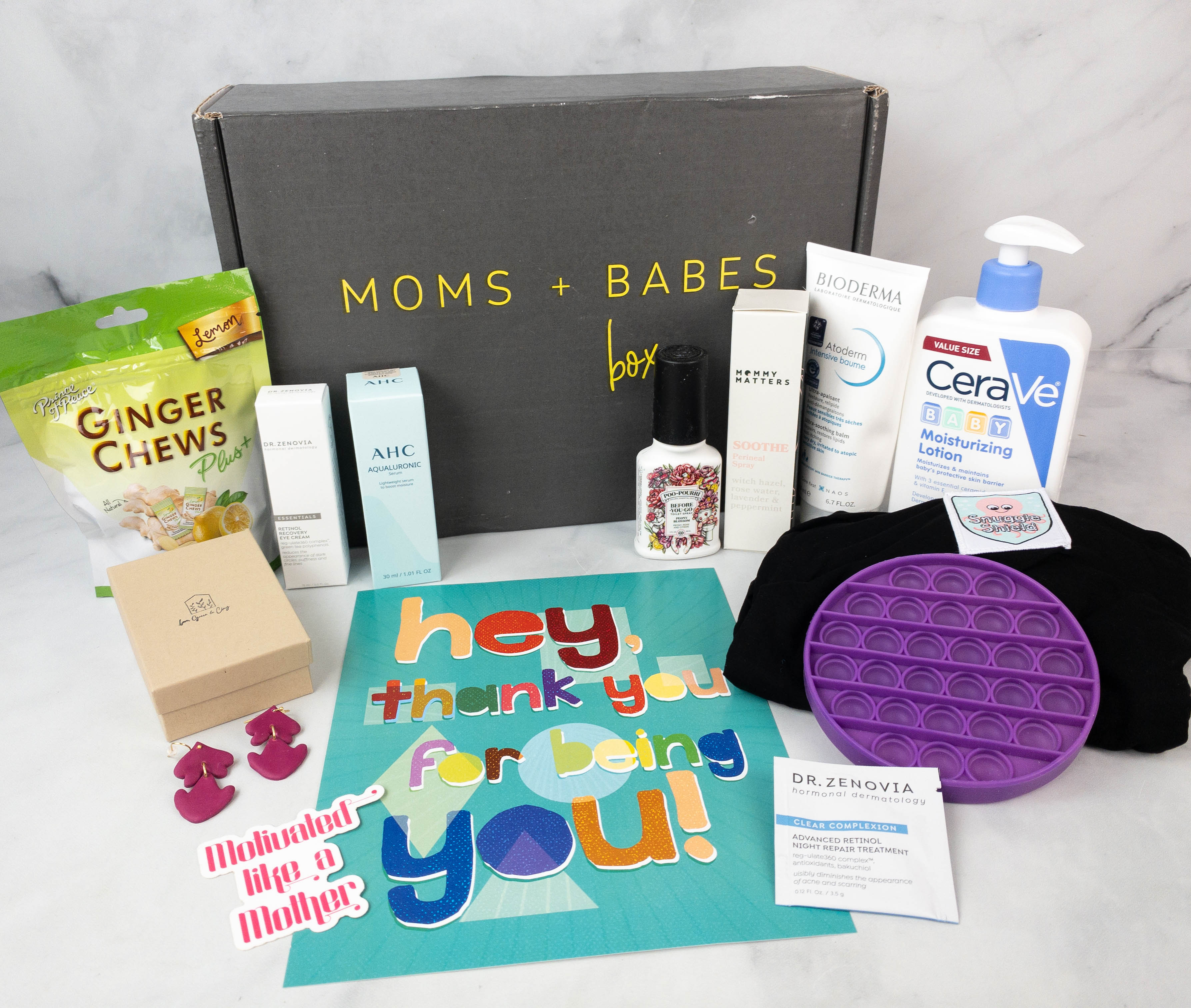 Moms + Babes ships seasonal boxes full of premium products for both moms and kids. For Winter 2022, they wanted to focus a little more on self-care, knowing how hard the past year has been for most people! There are skincare items and items to help you postpartum, as well as other fun things to reward yourself with. The items for kids include a toy and a gentle lotion!
DEAL: Get $25 off your first box! Use the coupon code HELLO25 at checkout.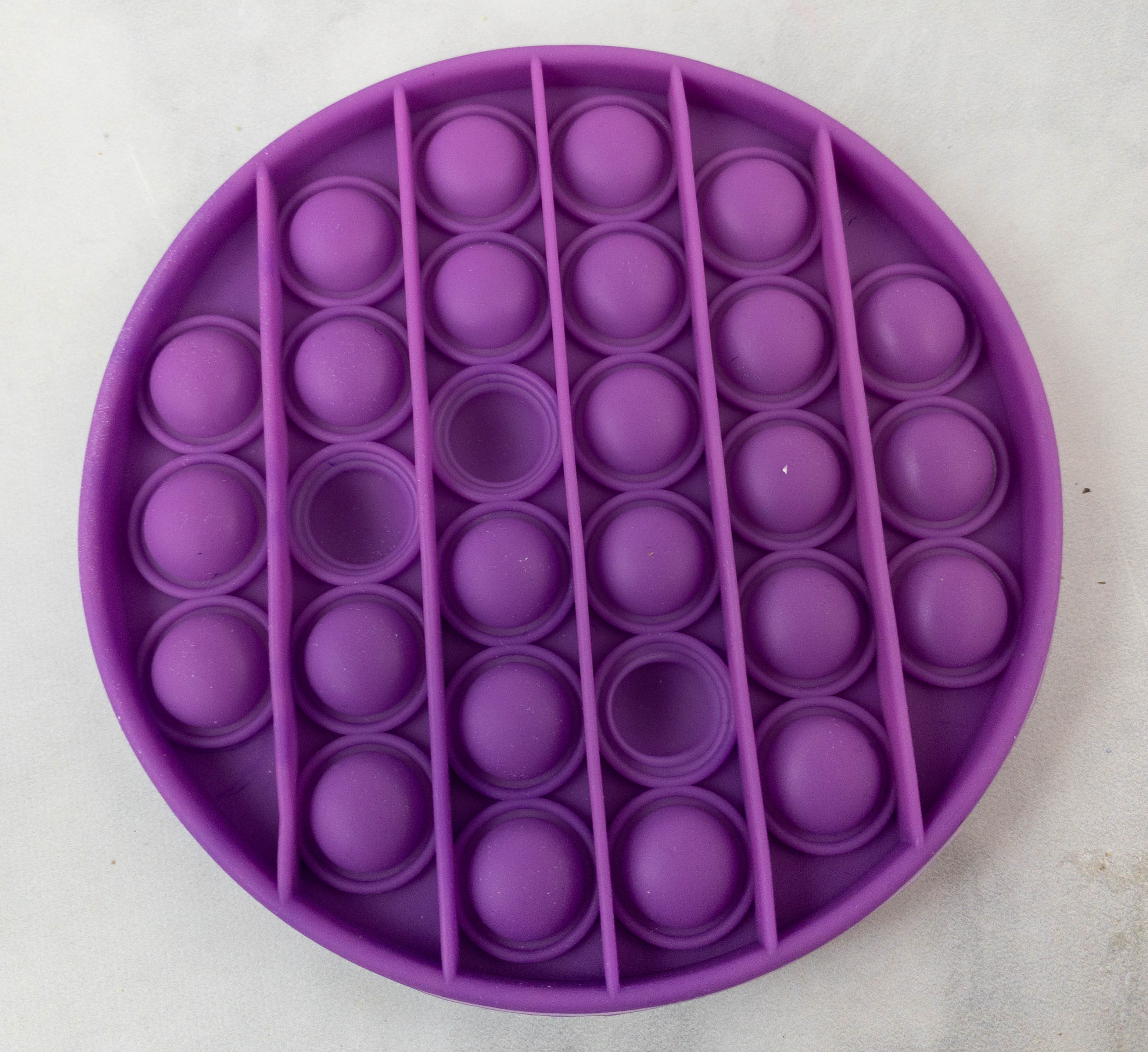 Let's start with the Pop It Fidget Toy. Have you seen how kids (even adults) love to pop bubble wrap every time they see one? Well, this fidget toy replicates that experience. This sensory bubble-popping toy is a favorite among kids. It's washable, durable, and it can be pressed repeatedly for a long time.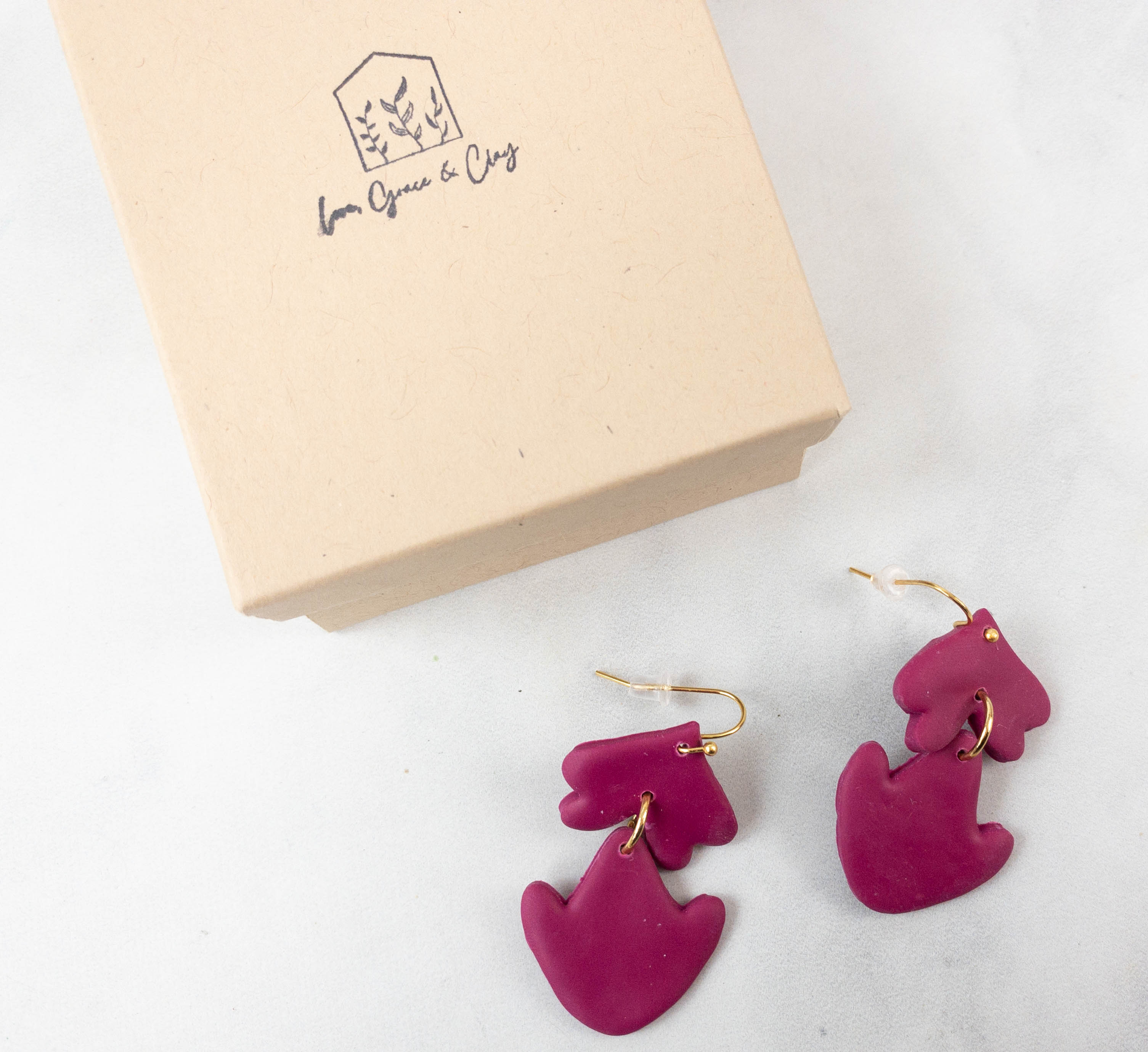 The next item is for moms, a lovely pair of Love Grace and Clay Handmade Clay Earrings. It's handcrafted, lightweight, and intricately polished to accentuate your everyday look. This pair of clay earrings will surely spark your love for statement pieces. Whenever you're on the go, you will look stunning in this beautiful piece.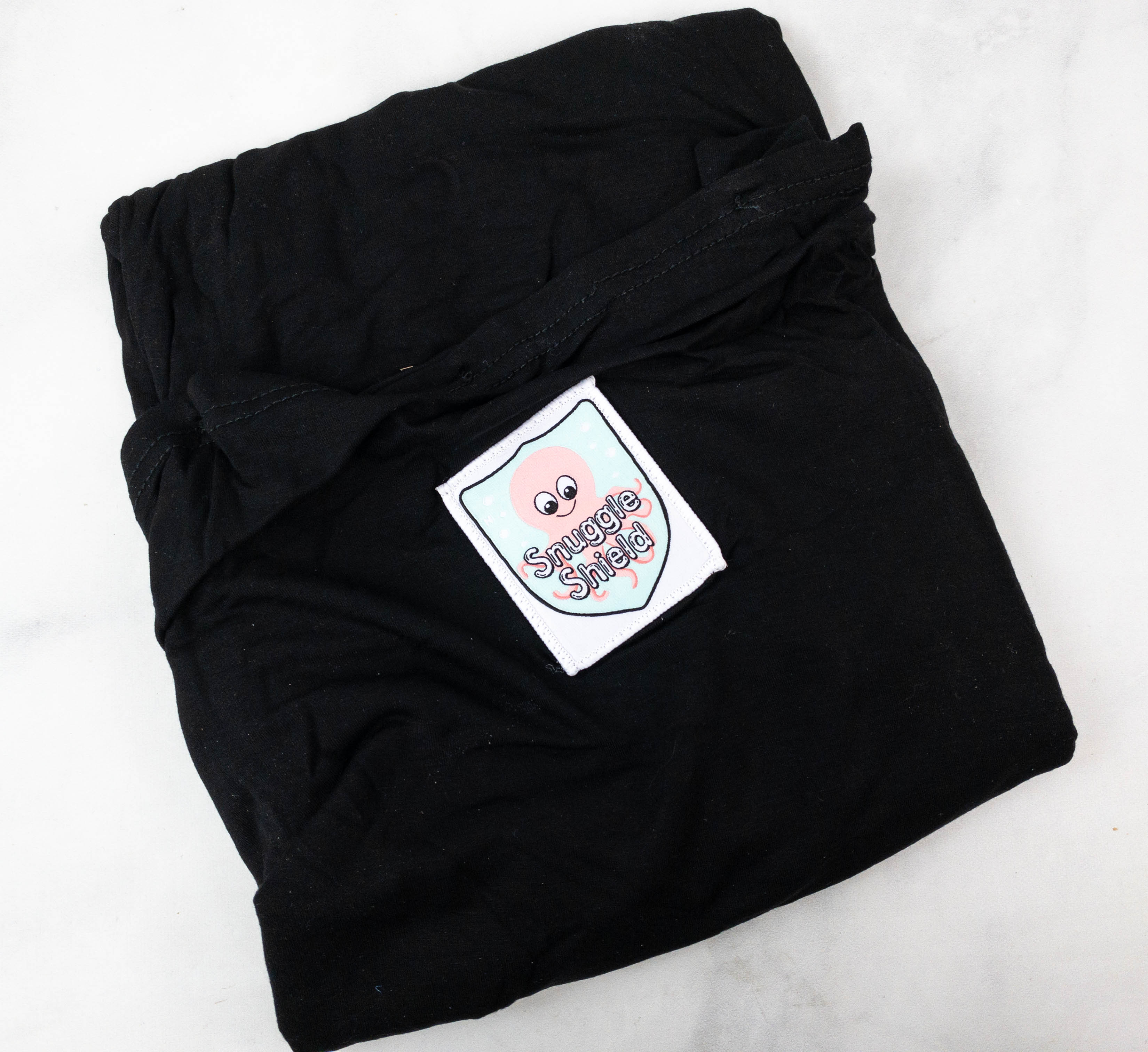 Looking for an amazingly comfy infant seat cover? If you always travel with your little one, this Snuggle Shield Air Filtering Infant Cover ($59.99) is a must-have as it offers functional versatility for both you and your baby.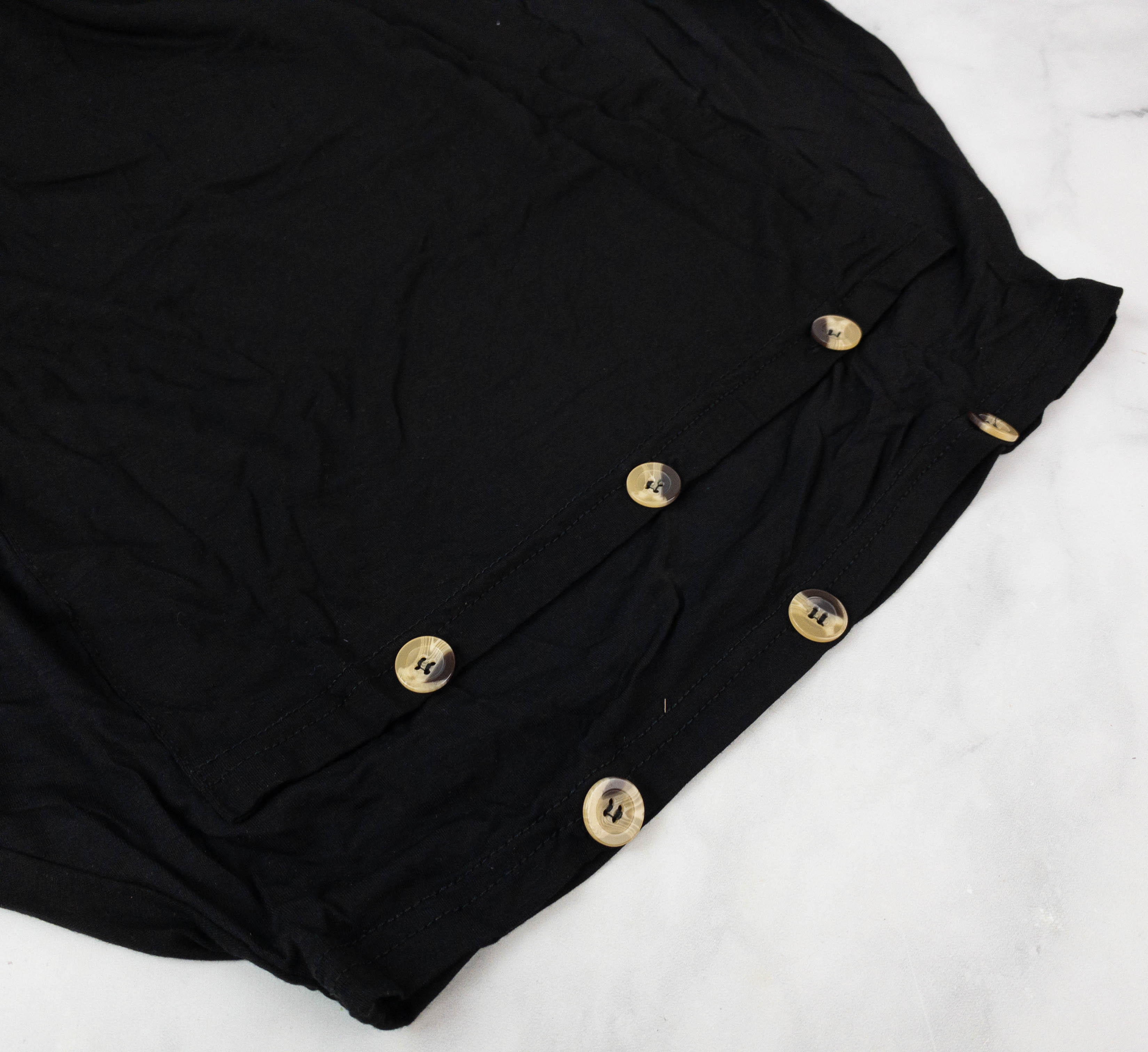 As an all-in-one car seat cover, it can be used as a nursing cover and air filtering infant shield. It also comes with 2 custom high-quality medical-grade air filters.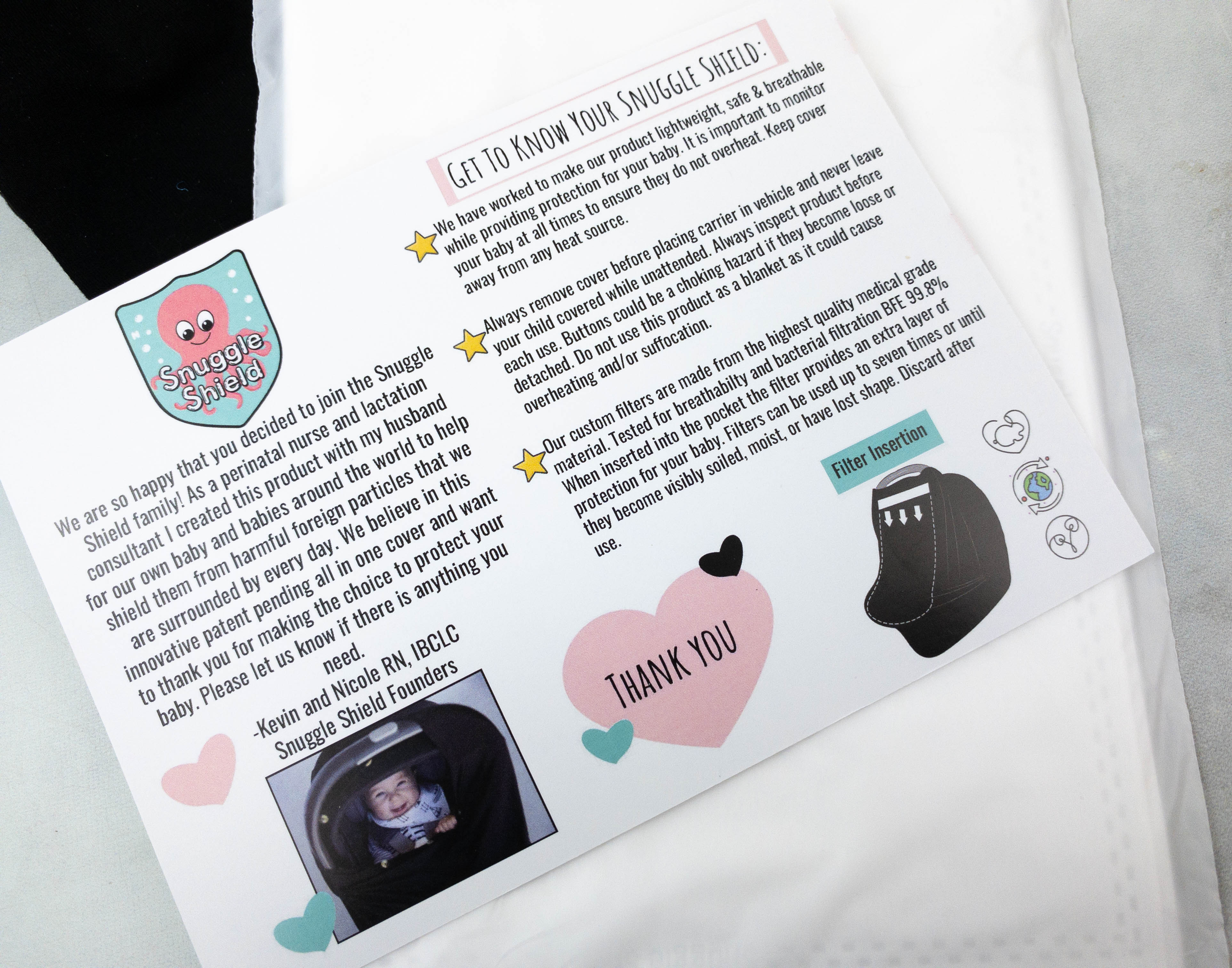 It comes with an easy-to-follow instructional guide to help you in setting it up properly and to also remind you of important safety precautions.
The Winter 2022 box also includes top skincare products to remind you that your skin deserves to be pampered as well. Even if you get extra busy with taking care of your kids, this doesn't mean that you should forget to take care of yourself too. To keep your skin smooth and glowing, they included BioDerma Atoderm Intensive Body Balm ($17.99) in the box, an ultra-nourishing, moisture replenishing body balm that provides dry skin with instant comfort.
Another self-care routine to practice is to keep your eyes well-rested. But it's not enough to just sleep, your eyes also deserve to be treated well.  The gentle formula of Dr. Zenovia's Retinol Recovery Eye Cream ($64) helps address under-eye puffiness, soften the appearance of fine lines and wrinkles, and also brightens dark circles. With each application, the skin feels smoother and more hydrated.
From the same brand as the recovery eye cream is this night repair treatment. Dr. Zenovia Clear Complexion Advanced Retinol Night Repair Treatment ($5.76) works overnight to support the skin's natural cellular repair process and help reduce the appearance of acne and acne scarring. If you feel like your blemishes are way out of control, this breakthrough skin repair treatment might be of help.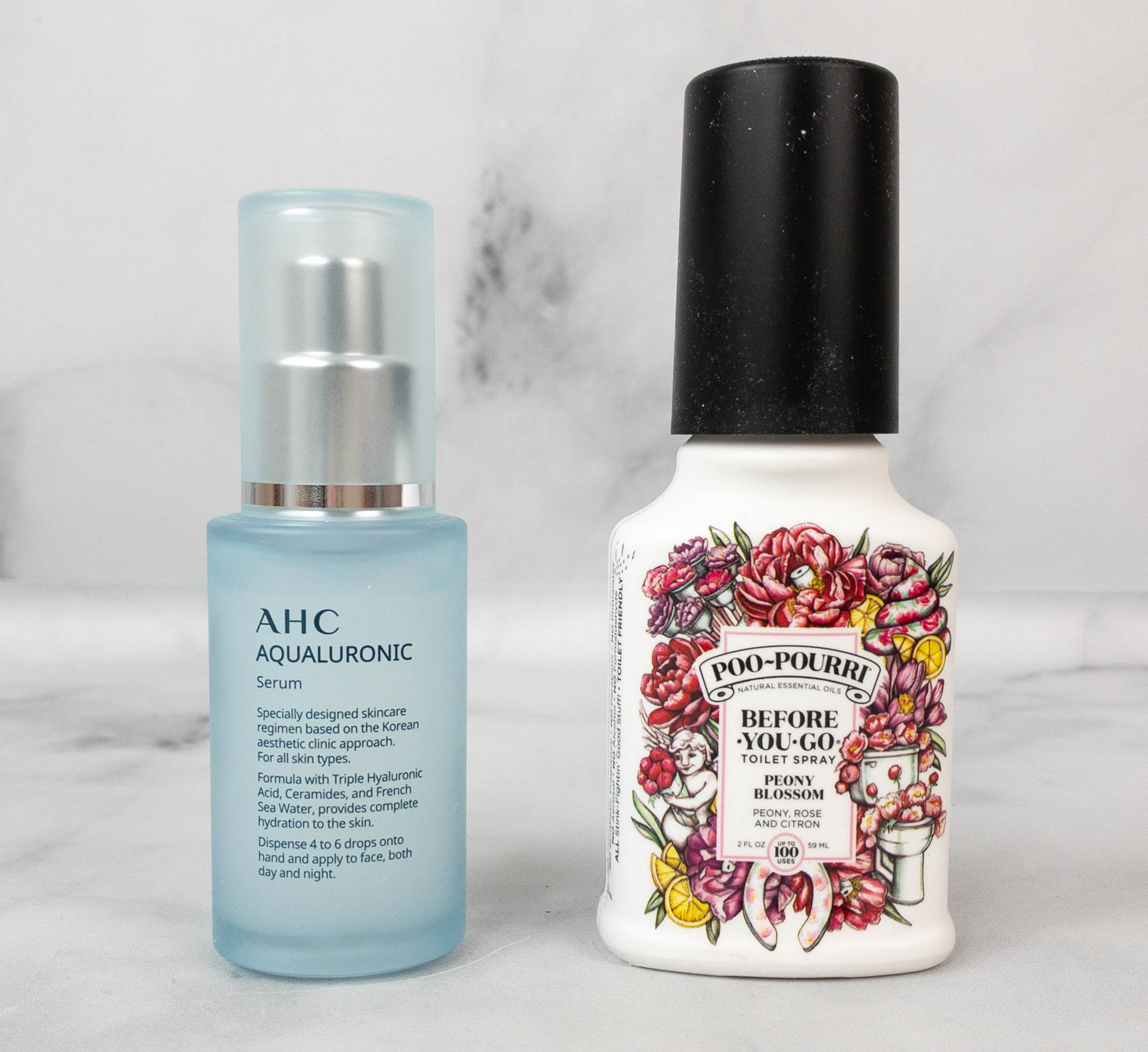 Born from Korean aesthetic clinics, AHC Aqualuronic Serum ($28.88 Full Size 1.01 oz) is a moisture-boosting, hydrating serum that replenishes and brightens dehydrated skin. This concentrated facial serum with a refreshing gel texture spreads and absorbs instantly into the skin, leaving it feeling smooth and hydrated. This hydrating serum is suitable for all skin types. 
Another interesting item in the box is a toilet spray! Poo-Pourri Before You Go Toilet Spray helps eliminate bathroom odor and other foul smells which ordinary scent sprays can't simply do. I received it in Peony Blossom and it's formulated with natural essential oils. It doesn't contain synthetic fragrances, parabens, phthalates, aerosols, or alcohol.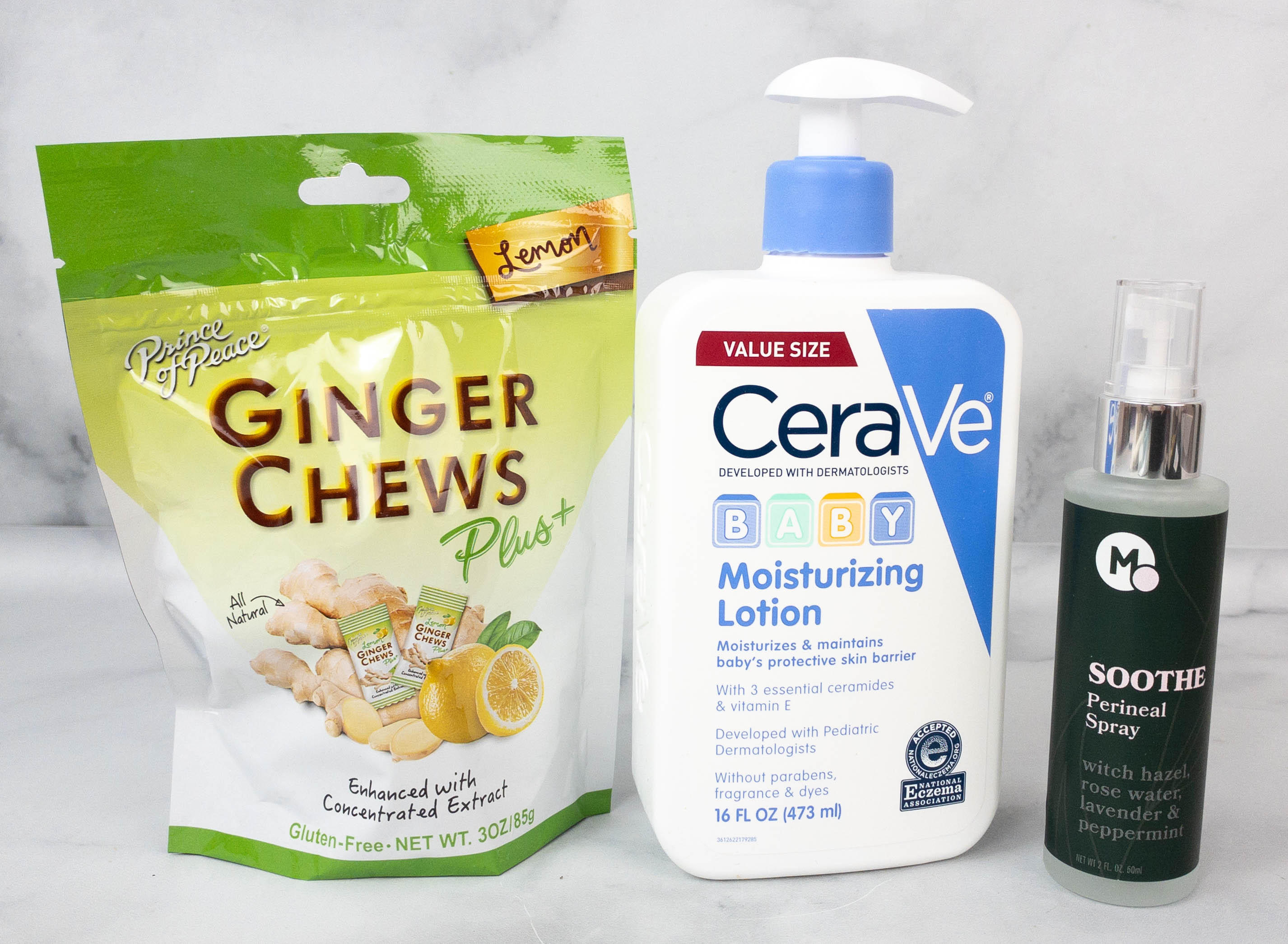 Prince of Peace Ginger Ginger Chews + Lemon ($12.81) is a deliciously popular candy with numerous health benefits. They are individually wrapped, plus they are not too sugary and they have a chewy consistency. They really are tasty, especially if you enjoy the flavor of ginger and lemon. 
Of course, they also included an item to take care of a baby's delicate skin! CeraVe Baby Moisturizing Lotion delivers soothing and moisturizing benefits, with the help of ceramides, niacinamide, and vitamin E. It's perfect to use after bath time or even before bedtime.
Postpartum recovery is indeed a challenging episode of any motherhood journey. Mommy Matters SOOTHE Perineal Spray ($20) is made with an all-natural blend of witch hazel, rosewater, and peppermint that helps provide relief from stitches and swelling. Just spray and rinse and gently pat or air dry, or you can just gently press a damp towel to remove any excess.
Also included in the box is a mini wall art from The Raise Collection, which shares 10% of its profit to support educational enrichment for PreK to 12th grade in the US.
Moms + Babes boxes are always packed with useful items, and the winter curation certainly wasn't a letdown! This quarter's mom items focused on pampering and self-care, including a bunch of skincare for an easy routine moms can do despite their busy schedules. As for the baby items, there's a toy, a gentle lotion, and an infant cover. The infant cover is such a great item to have, especially when traveling with a baby. Plus, its retail price already covers the price of the whole box. What a steal! This is a feel-good box overall and it makes a great seasonal treat for both moms and babies!
The goodies arrive in a sturdy box, along with a product information card. Check them out here: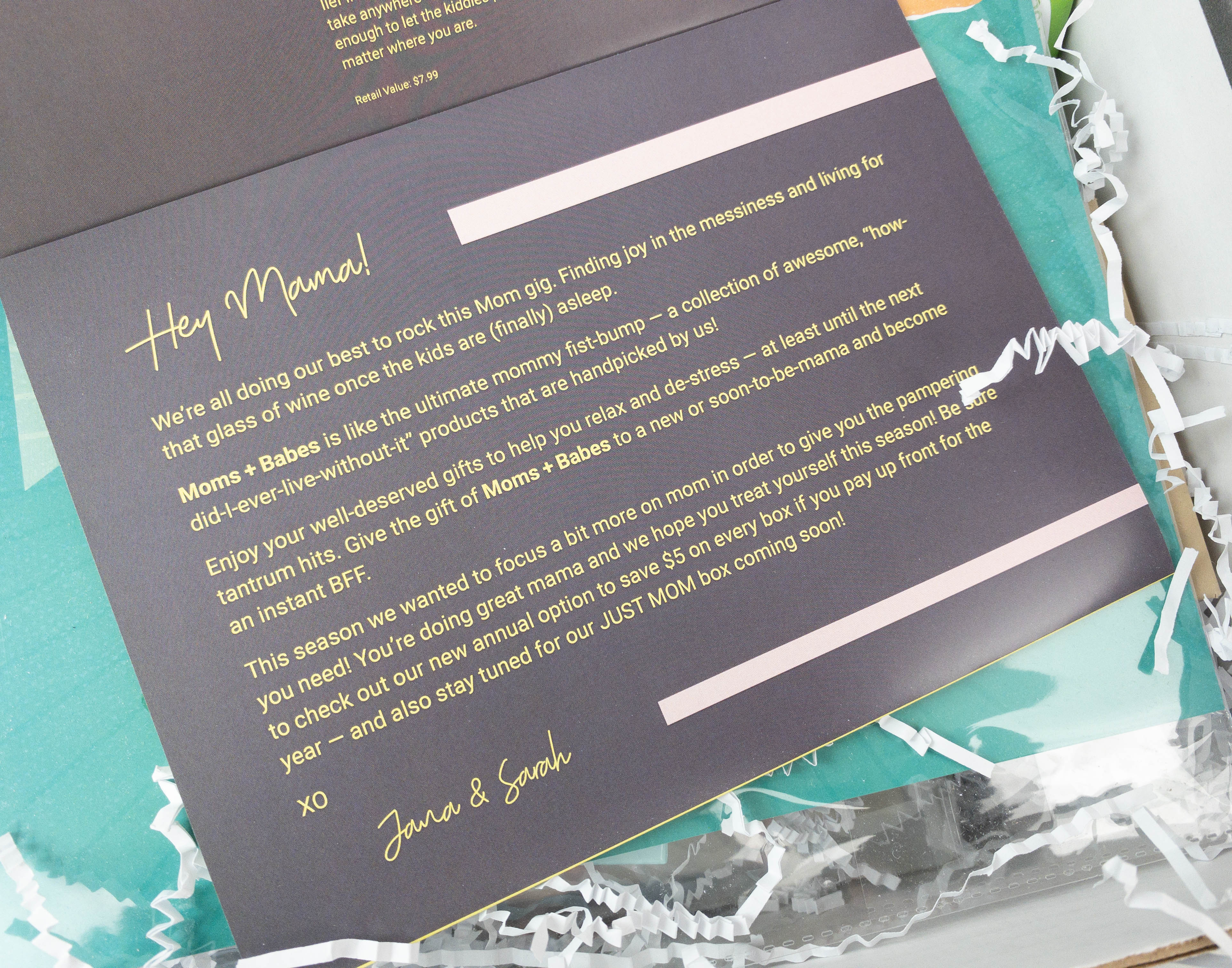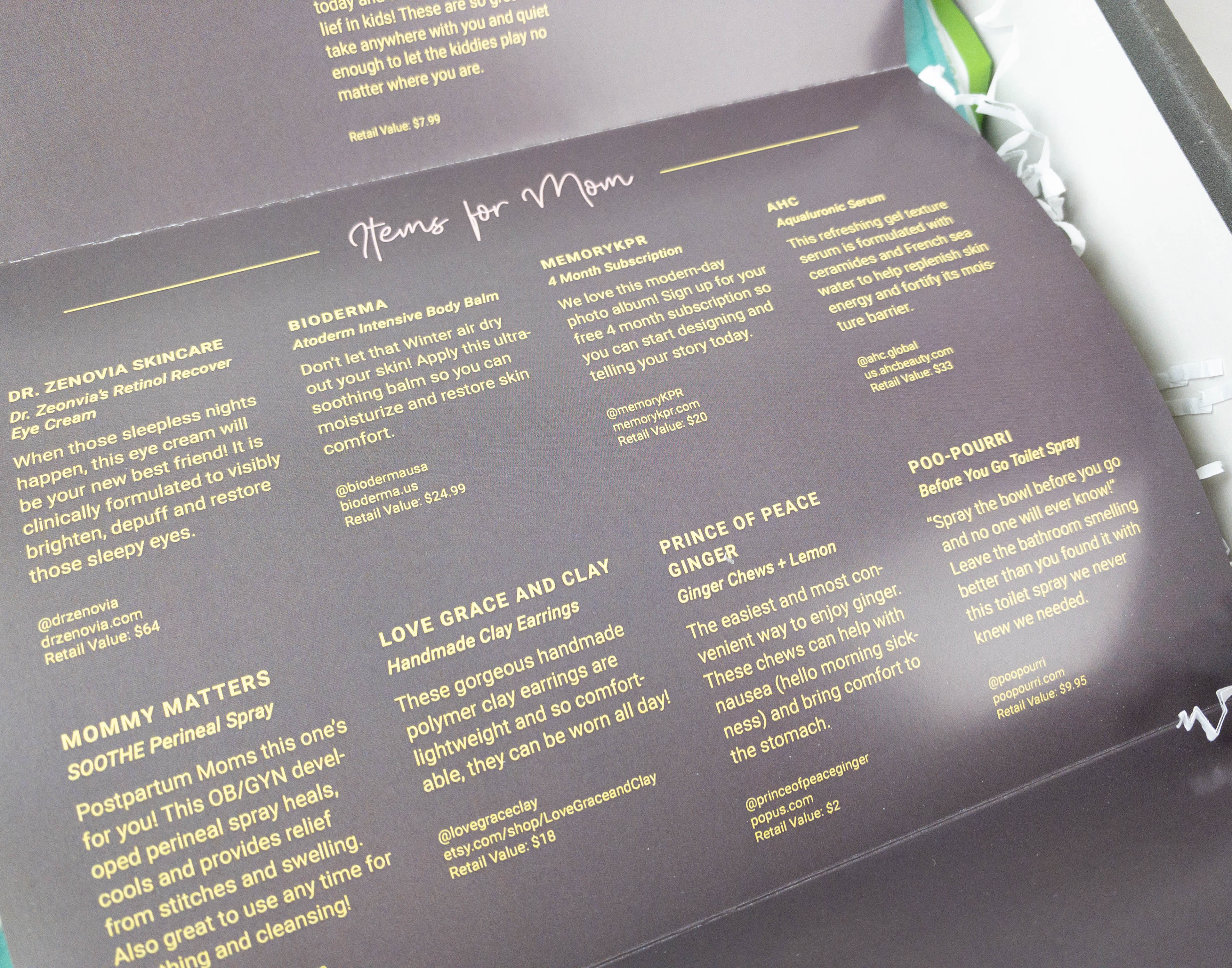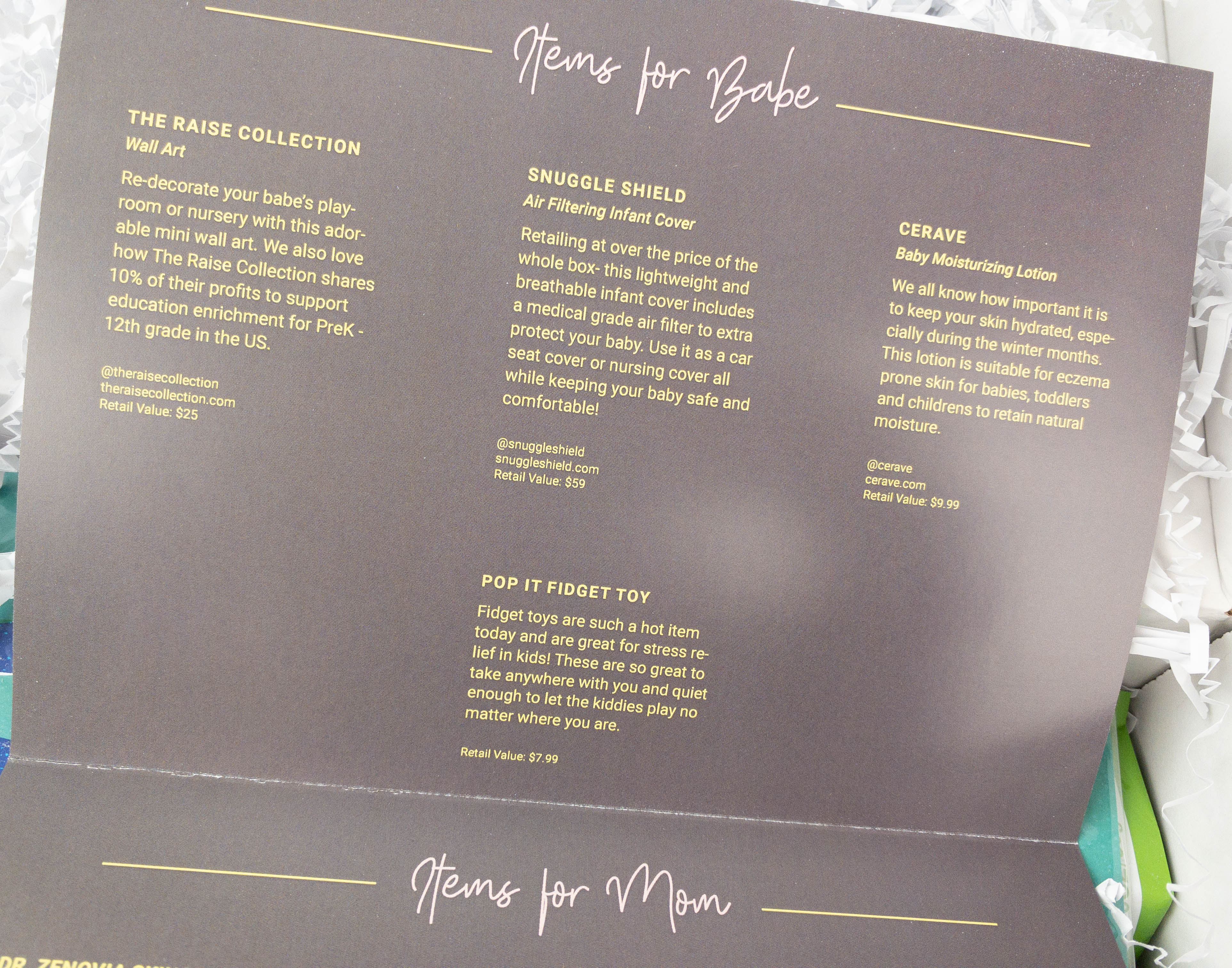 Moms + Babes is a quarterly curated collection of at least 10 full-size, premium products. It's packed with great items that both moms and babies can enjoy every season! Baby item inclusions are for learning, playing, and growing, and they are also mostly gender-neutral. There are also wellness, skincare, and other beauty items for moms. Each quarterly box is $59, and it's promised to have a retail value of $150+.
This subscription is included in our list of the best babies & parents subscription boxes!
What do you think of this month's Mom + Babes box?