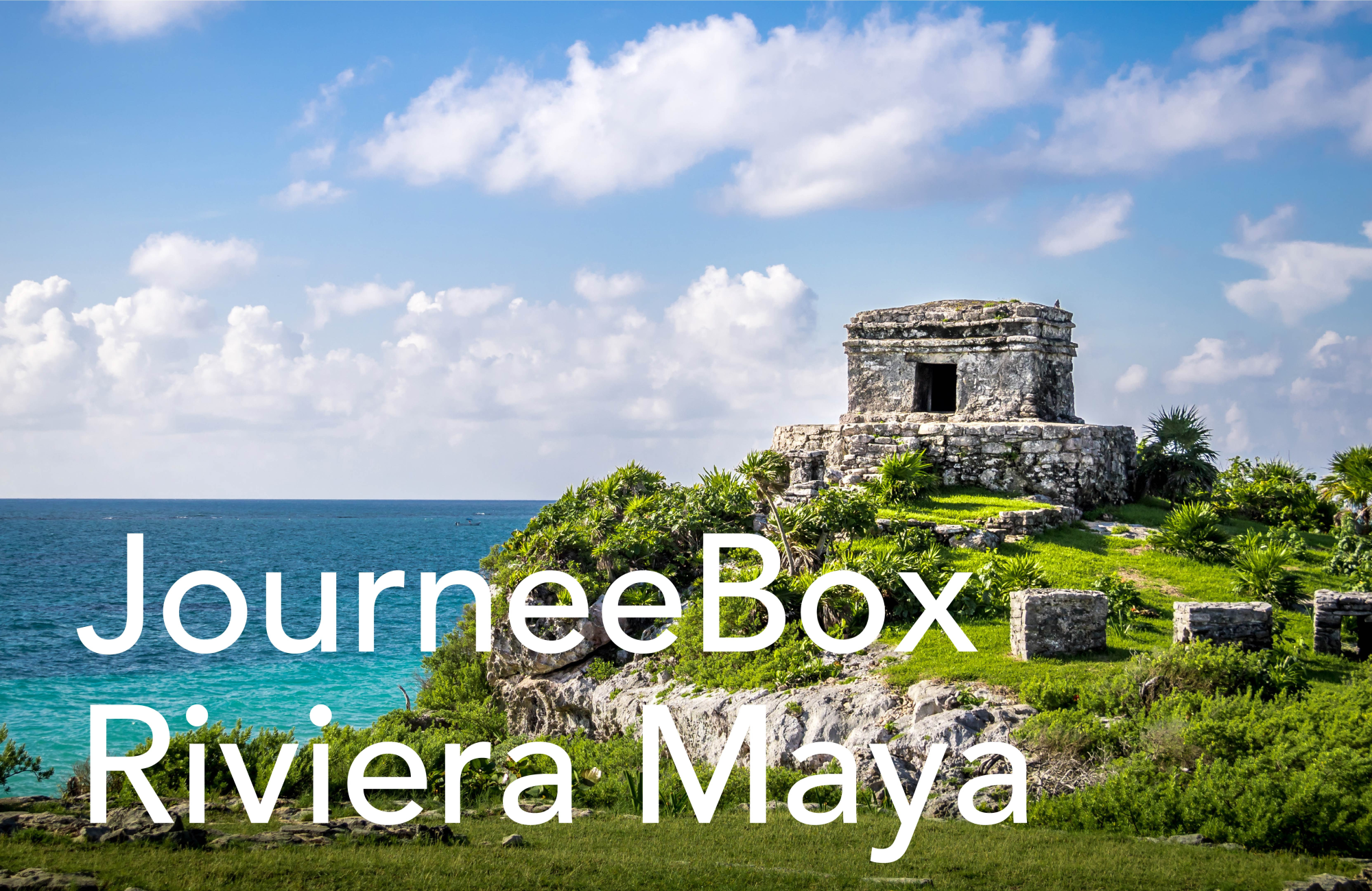 We have six spoilers for the Riviera Maya JourneeBox! FYI: The current schedule for shipping this box will be late January/early February. Customization opens 2/18.
Sabana Maya Blanket
Sabana blankets have a wide variety of applications. Recently, it has become popular to use them during yoga practice for sitting or standing postures or rolled up for support because of their substantial strength, softness and thickness. They are excellent for a picnic, at an outdoor concert, at the beach, or when camping. The beautiful patterns and designs make them a wonderful decorative item in your home as well. This Sabana Maya Blanket makes a wonderful rug in your kitchen or living room, a durable table covering or lovely art piece when displayed on a wall. Of course, this blanket is also very comfy to warm up with on a cool night.
The Sabana Maya Blanket is made of 100% cotton including 40% reclaimed material. Initial pilling of the material can be expected. Dimensions: 46" x 70"
Select from Colors: Indigo, Mocha or Merlot
Boxes will include a Riviera Tote Bag!
Inspired by traditional Mexican patterns and vibrant colors, the Riviera Tote Bag is perfect for a trip to the farmers market or grocery store, an afternoon at the beach, or for dashing off to meet friends. The Riviera Tote Bag can hold a beach blanket, a bottle of your favorite beverage and delicious snacks, a loaf of fresh bread and oranges, or a beach towel and a juicy page-turner.

The Riviera Tote Bag's knit fabric is soft, durable, and machine washable. Tote dimensions: 13.5" x 14" Handle drop length: 10" Colors: Indigo or Cream MSRP: $55
Mexican Embroidered Face Mask
The Mexican Embroidered Face Mask is a vibrant mask featuring a traditional embroidery motif, which is characterized by large flowers in many hues. Colorful textiles have a long history in Mexico, dating back to pre-Hispanic times when cloth was dyed using local plants and embroidered by using the tip of the agave plant as a needle. With the arrival of the Spanish in the 16th century, wool and silk were introduced into indigenous embroidery.

This embroidery typically depicts the flowers, birds and animals that were local to that area. Traditional patterns varied by region, designs passed down from mother to daughter. These designs are also a reflection of the people who embroider them: they reflect the joy, beauty and struggles that occur in each community, while expressing the creativity of each artisan. In modern day Mexico, learning embroidery is considered a way to share a bond with ancestors. Your Journeebox will contain one mask, the color of which the Kevia team will select based on colors you select for the other four customizable products.

The Mexican Embroidered Face Mask* measures 2.5 inches x 10 inches and is 100% cotton with silk embroidery. MSRP $24
Molinillo, a traditional whisk!
Spoiler #3 features a molinillo, a traditional wooden whisk that can be found in Mexico, turning many a hot chocolate into a foamy treat. The molinillo can be used to make traditional Mexican drinking chocolate (or any chocolate bar that can be shaved then melted) into delicious foamy, whipped hot chocolate – yes, including the Ah Cacao chocolate we dropped in Spoiler #1. To use, simply place the handle between palms and rotate the molinillo back and forth.
The box will include an item from the Riviera Maya Jewelry Collection
Mayan Sundial Necklace
The sundial necklace is inspired by the ancient civilization of the Mayans. The sun played an important part in ancient Mayan culture, which included the worship of the sun god, Kinich Ahau. The Mayans were able to keep time using sundials which were incredibly accurate. Select between a brushed 18k gold or sterling silver finish, $55 MSRP.
Annual Subscriber Bonus Item: Tulum Earrings [You will not get this item if you are not an annual subscriber]
Our Journee to Riviera Maya continues with an iconic earring set inspired by architecture from the Mexican city of Tulum. Tulum is home to the ruins of a pre-Columbian Mayan city, which was walled and set on tall cliffs overlooking the Caribbean Sea. Like these earrings, the architecture of Tulum features interlocking patterns using vertical and horizontal blocks. Select between an antiqued 18k gold or sterling silver finish, $65 MSRP.
Subscribers will have their choice between two amazingly tasty chocolate bars from Ah Cacao: either milk chocolate or Mayan dark chocolate.
Our Journee to Riviera Maya, Mexico begins with an ancient, adored delicatessen: chocolate. Made from the seeds of the Theobroma Cacao cacao tree, the Olmec civilization was one of the earliest civilizations in Latin America and credited as the first to cultivate the cacao plant into chocolate well over 3,000 years ago.
High quality, sustainably produced cacao is a labor of love from our Riviera Maya JourneeBox partner – Ah Cacao in Mexico. In 2013, Ah Cacao was recognized by theMexican Center for Philanthropy as a socially responsible company for their nature conservation efforts and their work directly with farms that harvest cacao seeds used for chocolate production in their zero emissions, rooftop solar powered facility.
JourneeBox is a lifestyle subscription box that delivers travel and nature inspired goods for just $54.99 per quarter. See all our JourneeBox reviews to find out more!
Each JourneeBox contains specially designed travel and nature-inspired accessories, home, beauty and apparel goods; delivered to you four times a year. The box is made up of $250+ worth of ethically-made, sustainable designer goods for only $219.99 a  year ($54.99 per box).
What do you think of the JourneeBox spoiler?