Ipsy celebrated the love month with the theme FULL HEARTS! For February 2022, the beauty items arrived in a zippered red pouch with pink hearts all over it. This curation aimed to keep me glowing and picture-ready, whether for a date night or for a girls' night out, and it made my heart happy!
Here's a closer look at the February Glambag. The bag fits this month's theme well! Plus, the quality is amazing (unlike my photo!). It even has a gold heart zipper pull with Ipsy imprinted on it.
To give the eyes a more defined look, included in the bag is a Complex Culture Double Dimension Dual Ended Eyeliner Pencil ($18). The shade I received is matte deep plum/metallic pearl. I like that there are two colors, so I can choose which to use depending on what look I am aiming for. Both slides smoothly and effortlessly, which is quite impressive!
I love moisturizers, that's why I was excited to try Tatcha Luminous Dewy Skin Mist ($8.33). The ingredient list included hyaluronic acid, which is responsible for hydrating the skin. I spritzed just one, and it instantly added moisture to my skin . The sprayer covers a wide area, so it only took me three spritzes for my face. The floral scent is light and not overpowering. It's fast-absorbing and can be used under or over makeup as well.
Refreshments Breezy Deodorant in Pacific Fizz ($12) is from Ipsy's line of personal care products. It is said to be aluminum-free and baking-soda-free. The formulation contains ingredients like bergamot extract that controls odor, glycerin for maintaining softness, and aloe vera for moisture. It offers whole-day protection and won't clog pores. I like the refreshing scent of it as well! I know some people got this and weren't happy with it, but it was my pick – my 13 year old daughter needed some fresh deo!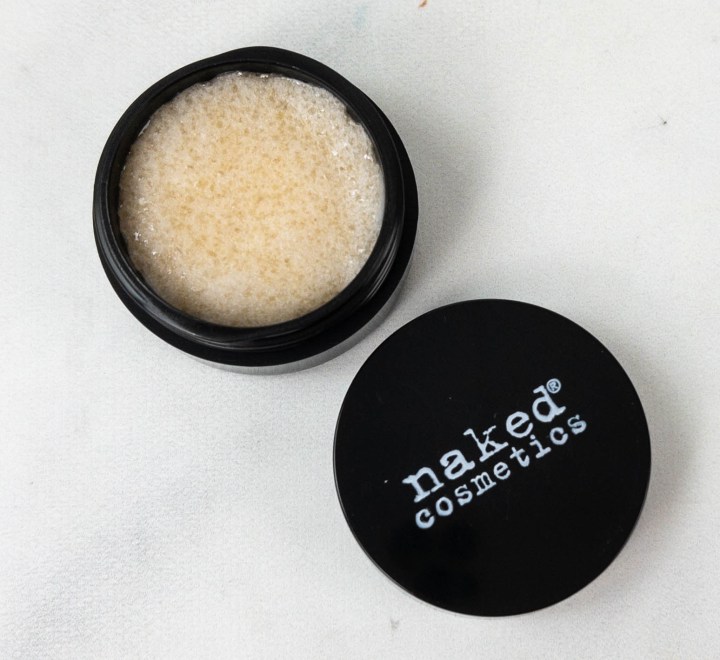 Next up is Naked Cosmetics Peppermint Lip Scrub ($6.99), which has moisturizing oils and Vitamin E that softens the lips and removes dead skin cells for a smooth lipstick application. It also leaves the lips hydrated, plump, and supple! Peppermint is also a plus factor because of its cooling effect. This lip scrub is a perfect addition to your beauty routine, prepping your lips for day-to-day!
For adding shine and glow to the face, they also included a Hipdot Single Highlighter in Cosmic in this month's glam bag. It has a gold/bronzey color. Although blendable, I honestly think that the shade is too dark for me. Even so, it does the job of giving shine and shimmer on the face. It's also vegan and cruelty-free, which gives a strong nod to fans of clean beauty. This is, however, a great shadow color!
From prepping to finishing touches, the Ipsy February glam bag has promising items that I'm happy to add to my beauty routine. For prepping the face before makeup application, they've included a mist that became my instant fave. It feels great on the skin and is fast-absorbing, which I really appreciate. I also like the lip scrub and the eyeliner pencil. All in all, I am pleased with all the samples I received. If you're looking for ways to test out new beauty products, this subscription fits the bill!
I do like that Ipsy is supporting Black businesses, but telling me in my February bag that bundles are available on the second of the month isn't the timeliest of notices!
Ipsy is a monthly beauty subscription. You get five makeup, beauty, skincare, and/or hair care items in a cute bag for $13 a month! It's the most popular subscription box and a great way to sample new colors and beauty brands that you may have never heard of, as well as some of the bigger names. Ipsy also offers a Glam Bag Plus for $28 a month, there's a subscription for basics called Refreshments, and there is the opportunity to upgrade to the quarterly Glam Bag X.
There are many bag variations every month for Ipsy – log in to your account to check out how-to videos and tips for your products.
Don't forget that you can rate your items and you earn bonus points when you do that, so you can get additional products in your bag. All subscribers now have the chance to pick a product for their next bag – just log in on choice day and pick one!
What did you get in your Ipsy this month? Let me know!