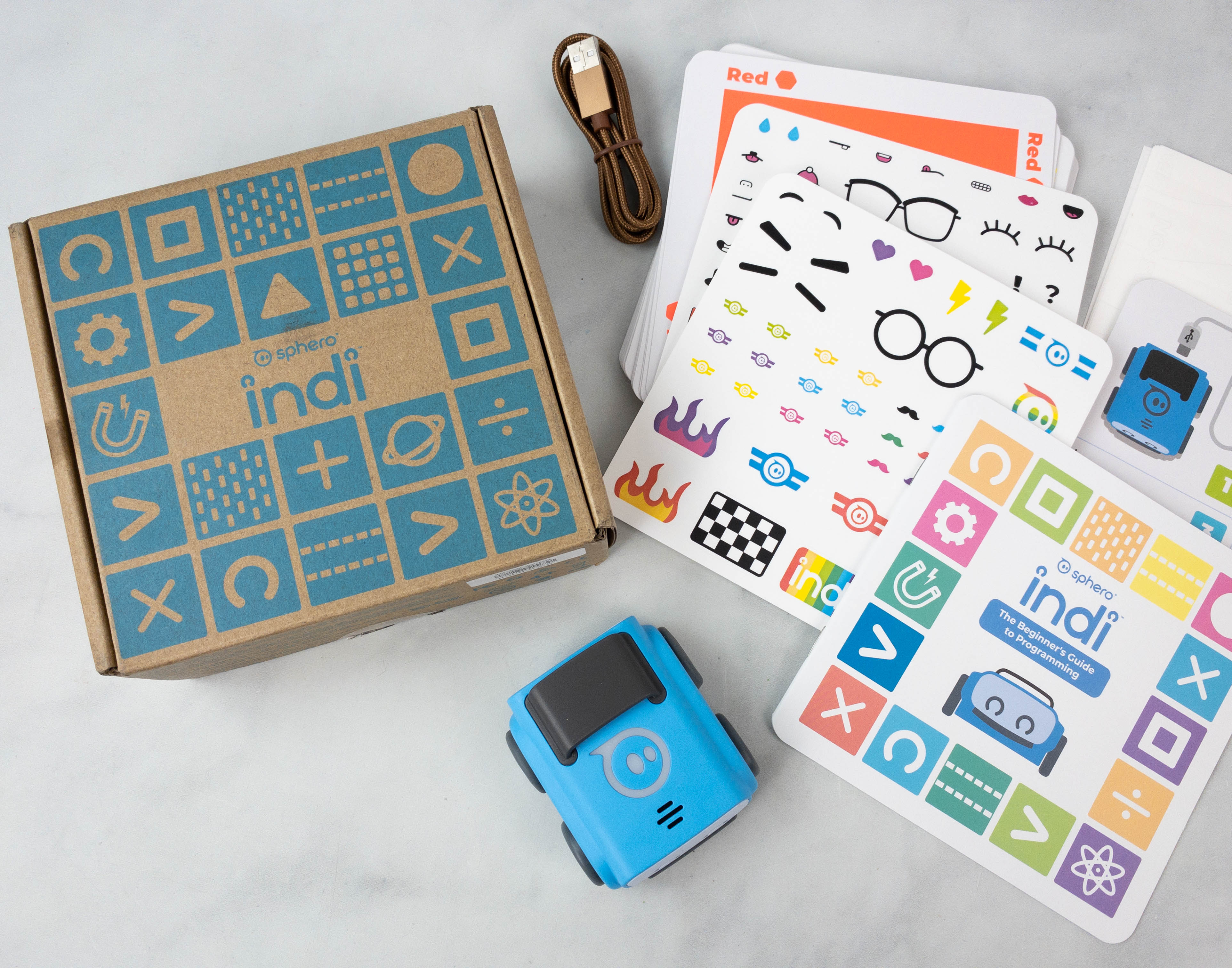 Coding is an essential skill for the future, and Indi Robot by Sphero is a great way to introduce early learners to the basics of coding. Indi offers a fun programming experience where kids can use the onboard color sensor to program their robot without any screen required (at least in the first stage). There's no subscription for this robot – it's one and done!
What is Indi Robot?
Indi is a learning robot designed for ages 4 and up that encourages open-ended, imaginative play-based learning. This is perfect for early learners as it encourages creative play and is a great way to introduce children to the fundamentals of computational thinking and computer science principles.
You can get this robot with the Sphero Indi At-Home Learning Kit ($100, also on Amazon)! it's a blue car-shaped robot that features a colorful light-up face and sturdy wheels and tires. It also comes with a charging cable which you can use to recharge once the robot's battery runs low. Our four year old has no problem charging it by herself.
TIP: If you're looking for a discount on the Indi Robot, there aren't any coupon codes. However, if you purchase it on Amazon with your Amazon Prime Visa, you'll get 5% back in rewards.
Sphero as a company is really experienced in creating coding robots – they also make the BOLT and RVR for older kids (which we purchased several years ago on Kickstarter). My daughter was really interested in these, so when Sphero reached out to us for a review, this was a no brainer. We're already fans and our kids love programming robots!
What comes with Indi Robot?
Color cards are used to control Indi, with each color corresponding to a different action. For example, yellow cards make the robot slow down, while green cards make the robot start or go faster. There are also other actions that can be performed using different colors, such as turning left or right or stopping.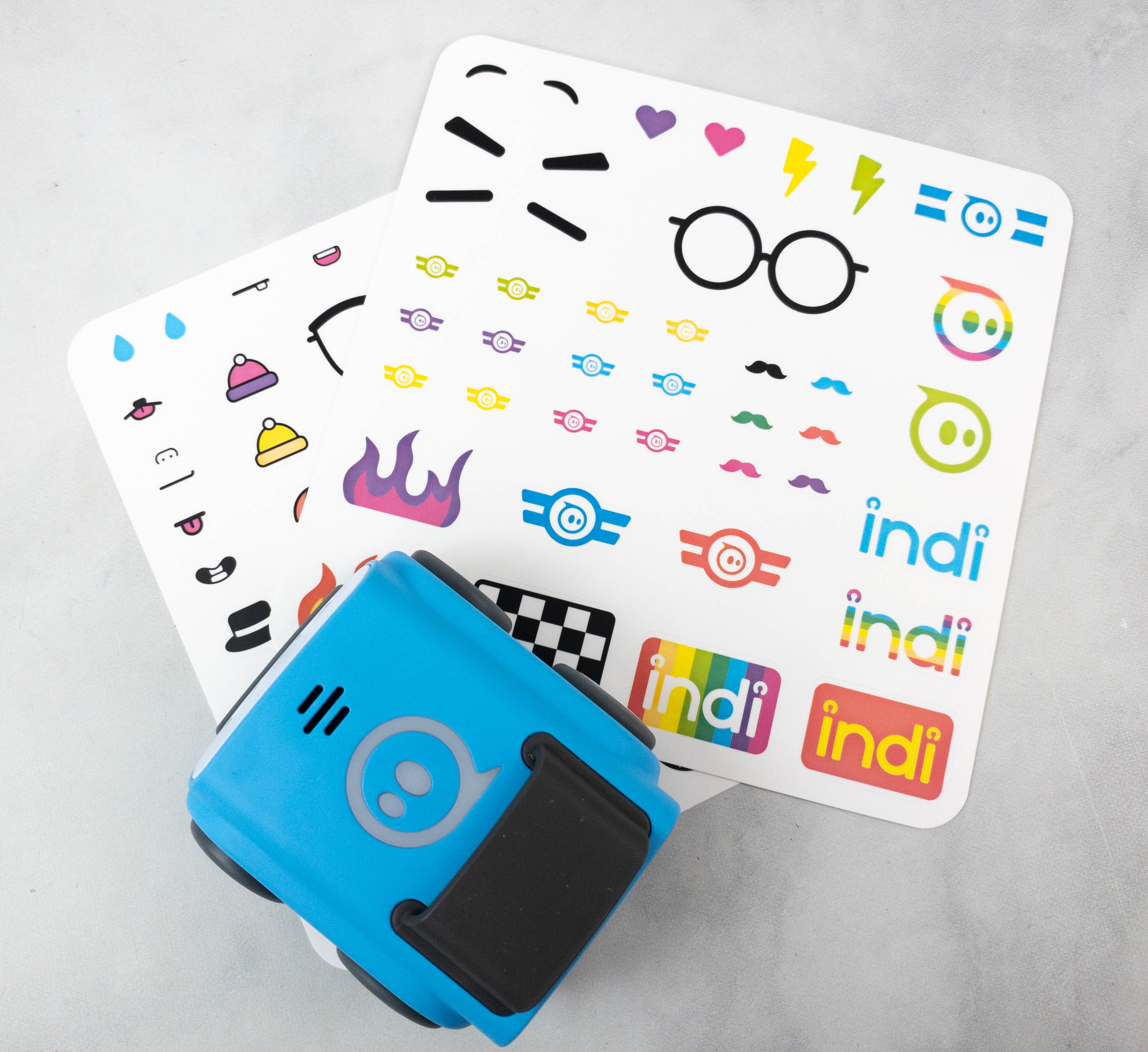 Sticker packs are also included in the Indi Learning Kit to add personality and fun to the robot. There are flat white tapes to hold the cards down, but we didn't find we used these, even on a hard floor. Too much rearranging to do!
The beginners' instruction manual was easy to follow, and my kids got started right away. Aside from the instructions, there are also fun visuals, tips, and tricks on how to get the most out of the Indi robot. Adhesive tapes are also provided to put the color cards in place.
Learning STEAM with Indi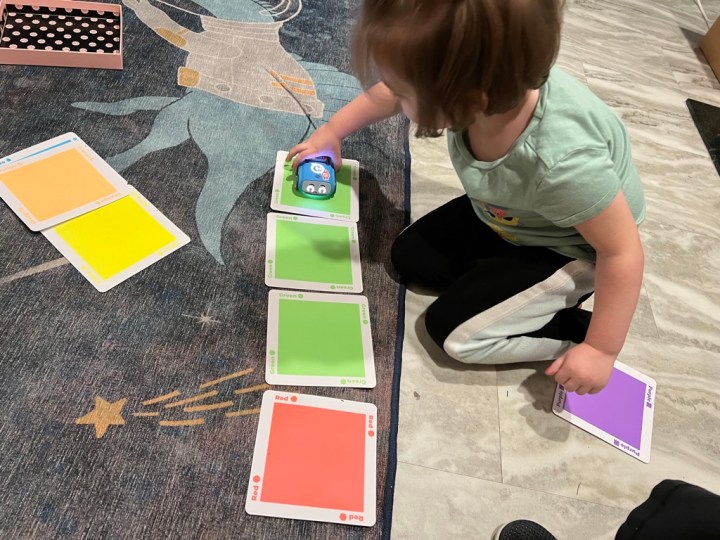 After we finished setting up the robot, my daughter was ready to play. She had so much fun programming the robot so it can perform various actions. She also enjoyed creating mazes for the Indi robot using colored cards. Using all of the tools in tandem was a great way to encourage creative play while simultaneously teaching coding principles such as sequencing, timing, and logic. Her favorite is the purple celebration card – the robot spins and plays a little song! As my daughter played, she kept experimenting with different ways to set up the cards. If she forgot the directions for a card, she conducted an experiment to determine what happened. I found this even better than the logical learning of coding – experimental learning is so exciting!
When the kids become familiar with screenless programming, it's time to move use the Sphero Edu Jr app. In this kid-friendly app, they will be introduced to basic block coding concepts and they will also learn how to reconfigure how Indi reacts to the colors. The app features a highly-visual interface that makes it easy for young children to use even without adult assistance. It's available on both Android and iOS.
Overall, I was really impressed with the Indi robot and what it has to offer for early learners. It's a great way to teach coding basics, computational thinking, and problem-solving skills in an engaging and creative way. It really encouraged my daughter to engage in a screenless activity, which is always a bonus in my book. It was also a great way to spark kids' interest in computer science at an early age as Indi introduces them to STEAM concepts through playful learning. At $100, the Sphero Indi at-home learning kit might be pricier than other educational toys, but it's well worth the investment, and she's returned to it often in the 2 months that we've had it so far. I feel that it's an excellent value for the money and can be used to teach a variety of skills in a fun and engaging way.
You can find Indi at Sphero or on Amazon, for a quick and easy gift!