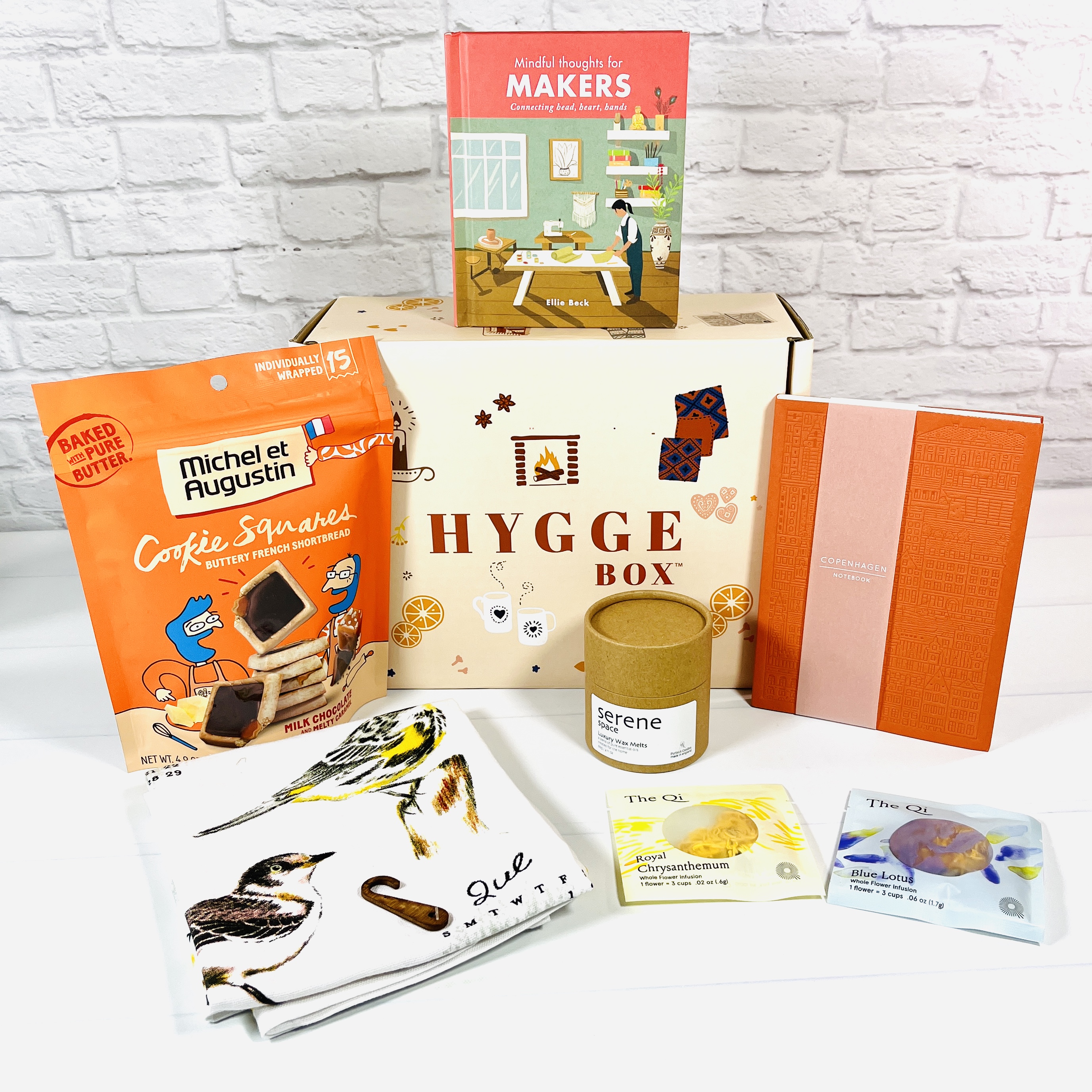 Hygge Box is all about enjoying the simple things in life that contribute to a sense of contentment and just overall coziness. The January 2022 theme was Slow Down to Live Well and had a wonderful assortment of items to start the new year. I found herbal teas, yummy cookies, wax melts, and more!
Mindful Thoughts for Makers: Connecting Head, Heart, Hands by Ellie Beck ($9.99) I believe the idea behind this book is to practice mindfulness while in the creative process, whether that means needlework, candle making, cooking, or anything that has a product when complete.
Mindful Thoughts for Makers explores how the making process can be used as a tool for meditation, and not just a means to an end.

Making can be much more than a business or hobby, it can be a spiritually enriching activity, slowing us down, and connecting our hands to our heart. Textile artist Ellie Beck reveals, through 25 focused reflections, why creating with our hands is uplifting, rewarding, and soothing for the mind, body, and soul. This book offers meaningful insights to all makers from artists and bakers to tailors and woodworkers—the list is endless.
Michel et Augustin Cookie Sqaures Buttery French Shortbread ($5.56) Yum, chocolate, cookies, and caramel are all found in these individually wrapped packs. There are 15 mini cookies in the bag and they have a shortbread base with caramel in the middle and milk chocolate on top. These were baked in France! The single serving bags means that they can be placed in a lunch bag for a special treat and also they help with portion control!
Purbeck Candles Serene Space Luxury Wax Melts (7.50 BPS, around $10.15) These wax melts come from England, and with a name like Serene Space they just ooze comfort! It is made of soy wax and is scented with essential oils such as bergamot, geranium, cardamom, styrax, and cedar. It smells like an upscale boutique, a cozy little shop where you are sure to find exotic teas, warm throws, and luxurious bath items.
Now Designs Tea Towel ($18.95) What an adorable kitchen towel! It has the 2022 calendar on it but also has an assortment of birds. I think it adds a homey touch to the kitchen and I especially think cardinals are beautiful, I love the bright pop of red!
The Qi Blue Lotus ($4) and The Qi Royal Chrysanthemum ($4) Both of these flower teas are supposed to provide relaxing benefits so maybe try them in the evening before bed if you are hoping for a good night's sleep. They need to be submerged while steeping so if you have a pair of chopsticks you can use them to hold the flower under the water once you place the flower in a cup. You can re-steep two more times if you like, however, that much water might have the opposite effect on your sleep, as you may have to make several trips to empty the bladder.
NOTE: The following item is in the Deluxe Box only.
The City Works Copenhagen Notebook (14.13 Euros, around $16.18) The cover of this notebook has a hand-pressed imprint of the capital of Denmark (hygge is a Danish word after all). The pages inside are creamy-white and unlined, however, there were two double-sided papers in the back that are line guides. You can toggle through the pictures above and see how they go under the plain sheet, and you can use a pen or pencil overtop to make your own bullet journal or regular journal, the choice is yours.
I enjoyed the calm and cozy items in my latest Hygge Box! I love to sit and read and drink tea and burn candles and all of those things associated with a relaxed lifestyle in between the busier and more hectic parts of the day/week/month. Hygge Box reminds me to relax and take care of myself, maybe by writing in a journal or having a sweet treat during an afternoon moment of fika (a Swedish coffee break). I thought the items were pretty sweet and always enjoy finding this box in the mail!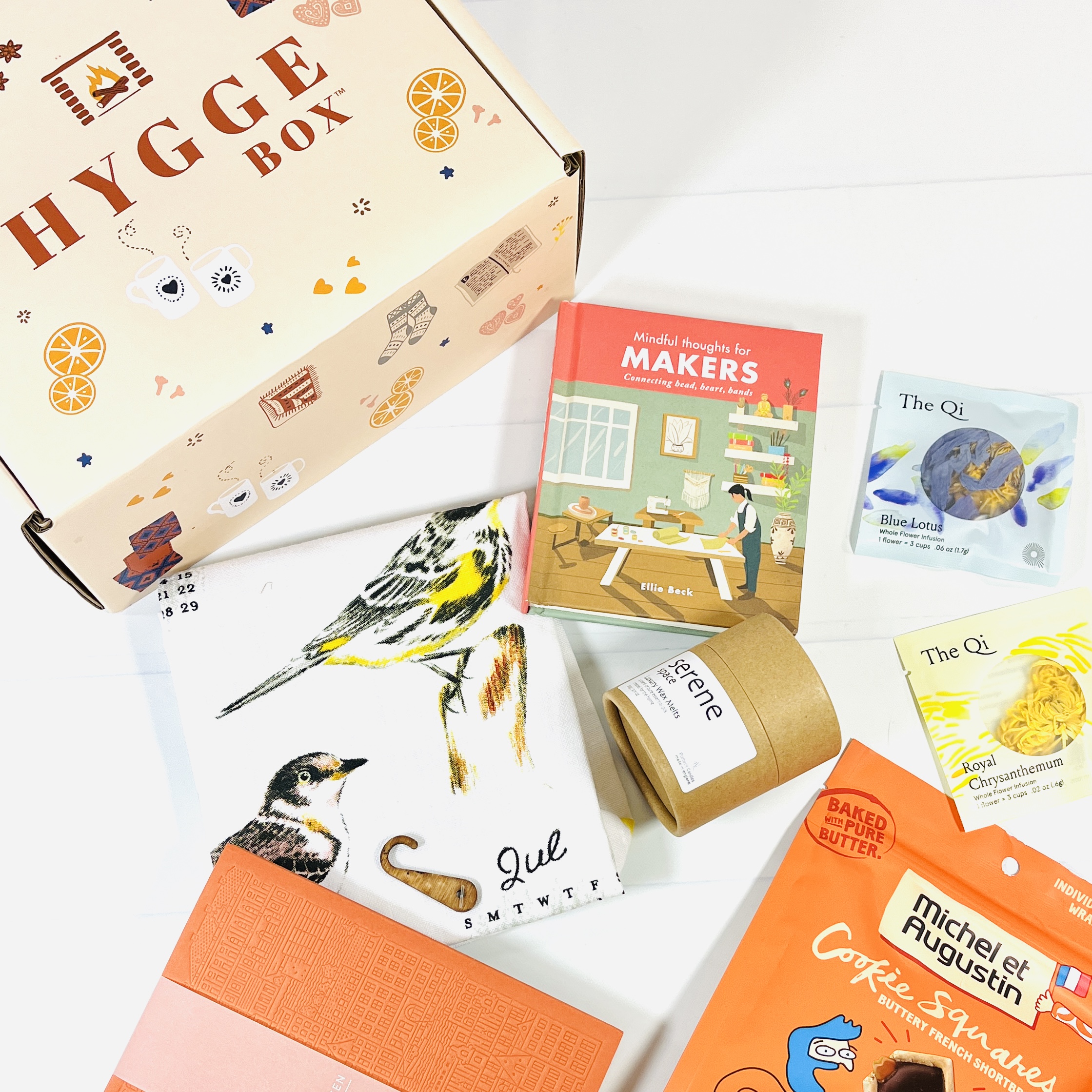 What do you think of the Hygge Box?
Hygge Box is a monthly subscription box for those who want to surround themselves with comforting objects that contribute to a sense of coziness and general well-being. You can choose from the Deluxe Hygge Box ($40 for 5-7 items) or the Standard Hygge Box ($29 for 4-5 items) and shipping is extra. Items sent may include candles, drink mixes, edibles, home decor, or wellness products.
Hygge is about preserving happiness everyday. It is slowing down, being humble, expressing gratitude, feeling safe and connecting with loved ones. Each curated box includes handpicked items like below from around the world to inspire and evoke hyggelig moments.