Howdy Baby Box January 2022 was themed TO THE MOON AND BACK, and it was jam-packed with celestial-themed goodies!
DEAL: Get 10% off your first month! Use coupon code HELLOSUB10.
This is the review of the Howdy Baby Box. They also offer a Howdy Kids Box, check out the baby version of this month's box here!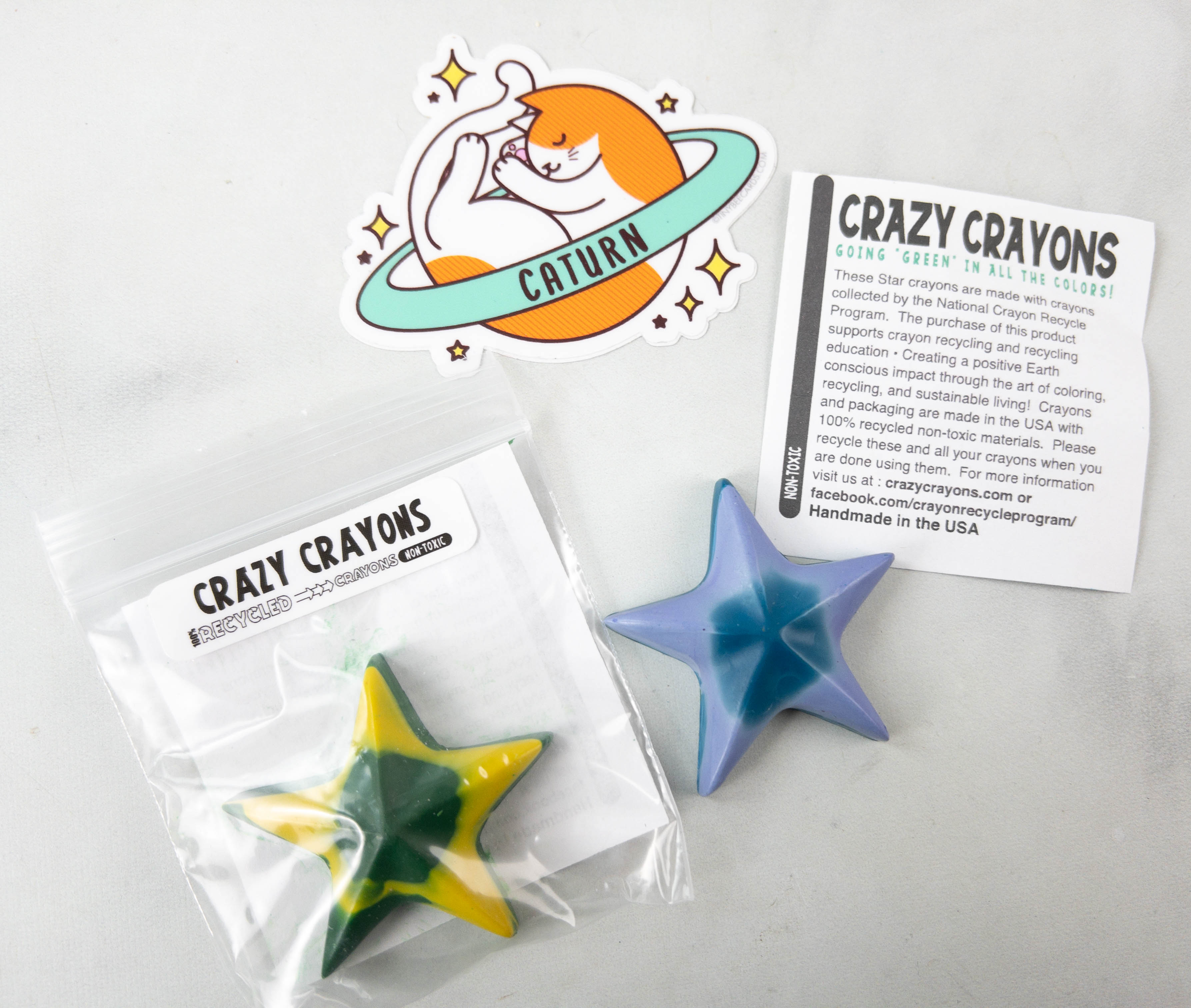 Ideal to stick to any surface, including tablets and water bottles, this Tiny Bee Cards "Caturn" Planetary Cat Sticker ($3.50) features a cute orange/white cat in a curled-up position. It's also bound by stars and enveloped by a ring with the cat pun "caturn"! How cute!
Inspired by the stars up the sky, Crazy Crayons Swirled Star Crayons will make coloring activity more fun and exciting for kids. They are made from 100% recycled crayons, then hand-poured into beautiful shapes. We received two in the box, and my daughter liked them! She says they look like starfishes. These cute crayons are non-toxic, and they make going green effortless.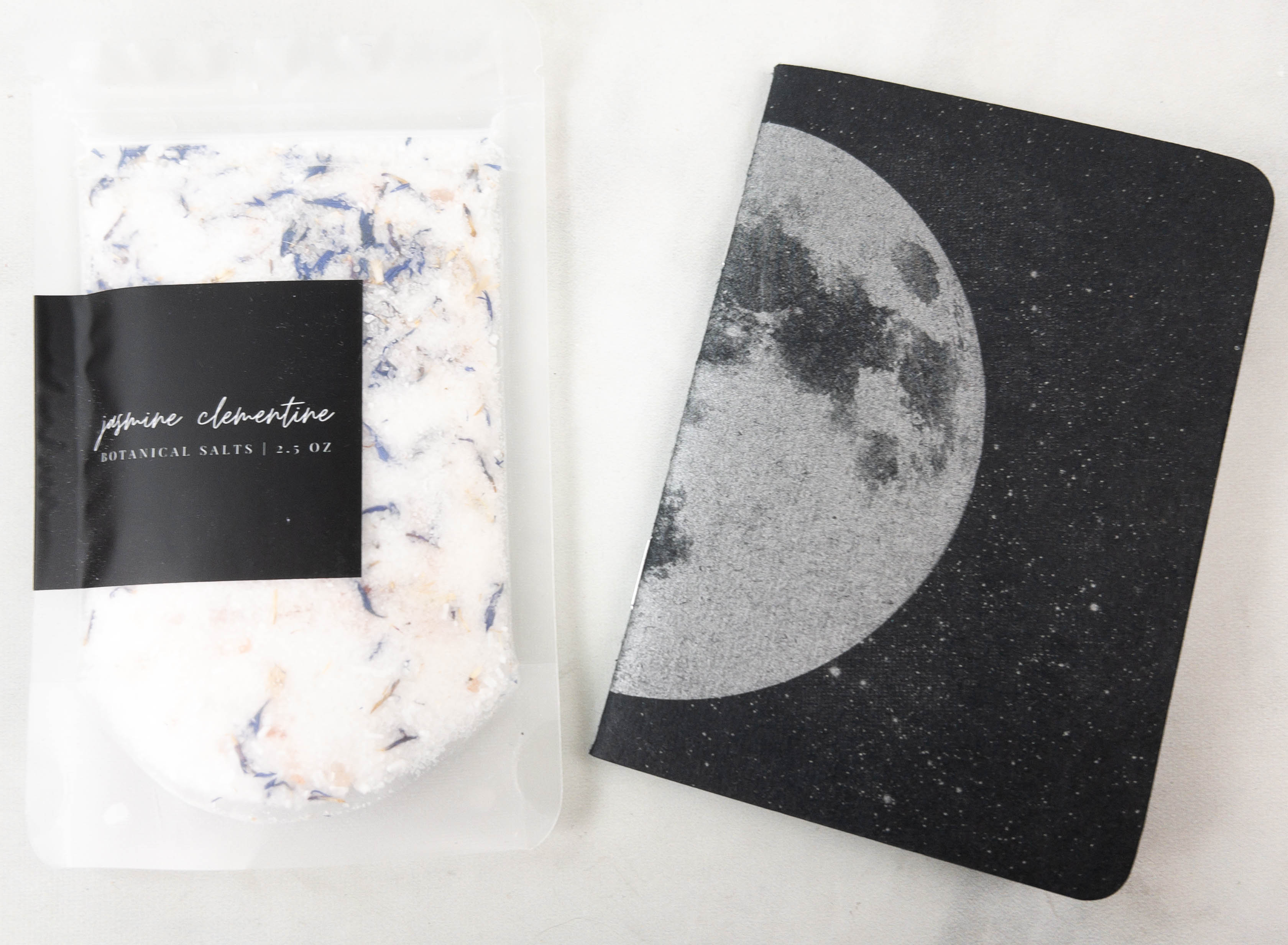 For replenishing energy and tired souls, included in the box is Benjamin Soap Co. Jasmine Clementine Bath Salt for moms. It's made with Epsom salts and pink Himalayan salts, which help soften rough and dry skin! Hand-packed in recyclable packaging, it contains 2.5 ounces of relaxing botanical bath salt. It's perfect for giving moms the relaxing aromatherapy bath they deserve. Scent possibilities include geranium rose, jasmine clementine, lavender, and rosemary mint.
Another item for moms is The Galek Sea Moon Pocket Notebook. The cover looks enchanting with the vintage image of the Earth's moon. It has 36 quality blank pages, perfect for jotting down notes, listing to-do's, creating schedules, or making grocery lists!
Of course, there is a fun activity for kids to get busy. Barefoot Books Build-a-Story Cards Space Quest ($12.94) comes with 36 storytelling cards, which helps spark kids' imagination. There are cards of spaceships, aliens, and more that kids can use to create their own adventure story set in outer space! Best for kids ages 3-10, this set will develop kids' storytelling and creative skills.
This Baby Space Bapron ($22.99) helps keep kids' clothing from being stained! It's a bib-apron that comfortably fits children 3 to 5 years old. It makes cooking activities, mealtime or snack time, arts and crafts, and sensory play enjoyable and mess-free. I love the design on it as it features planets, constellations, and other cosmic things over a galactic blue background. Made of baby-safe, eco-friendly, breathable, and waterproof fabric, it's also easy to clean!
Another fun activity for the creative kids is the CiderRose DIY Space Magnet Kit. It includes a blank canvas to paint on, pottery plaster magnets, paint pots, and a brush. Also included in the kit is a color mixing chart to guide kids in mixing any two colors. Plus, the magnets are shaped like an astronaut, the earth, and a comet, It's a great art kit to allow children's imagination to flow freely!
Next up is Abrams Noterie Our Family Book of Traditions ($16.99). This special keepsake book can be filled with the memories and traditions of your family, and I think it's a great way of preserving family stories and passing them from one generation to another. There are prompts on the pages, and all you or your family have to do is to answer them. The cover looks simply elegant with its pink and blue color, as well as the gold foil accent.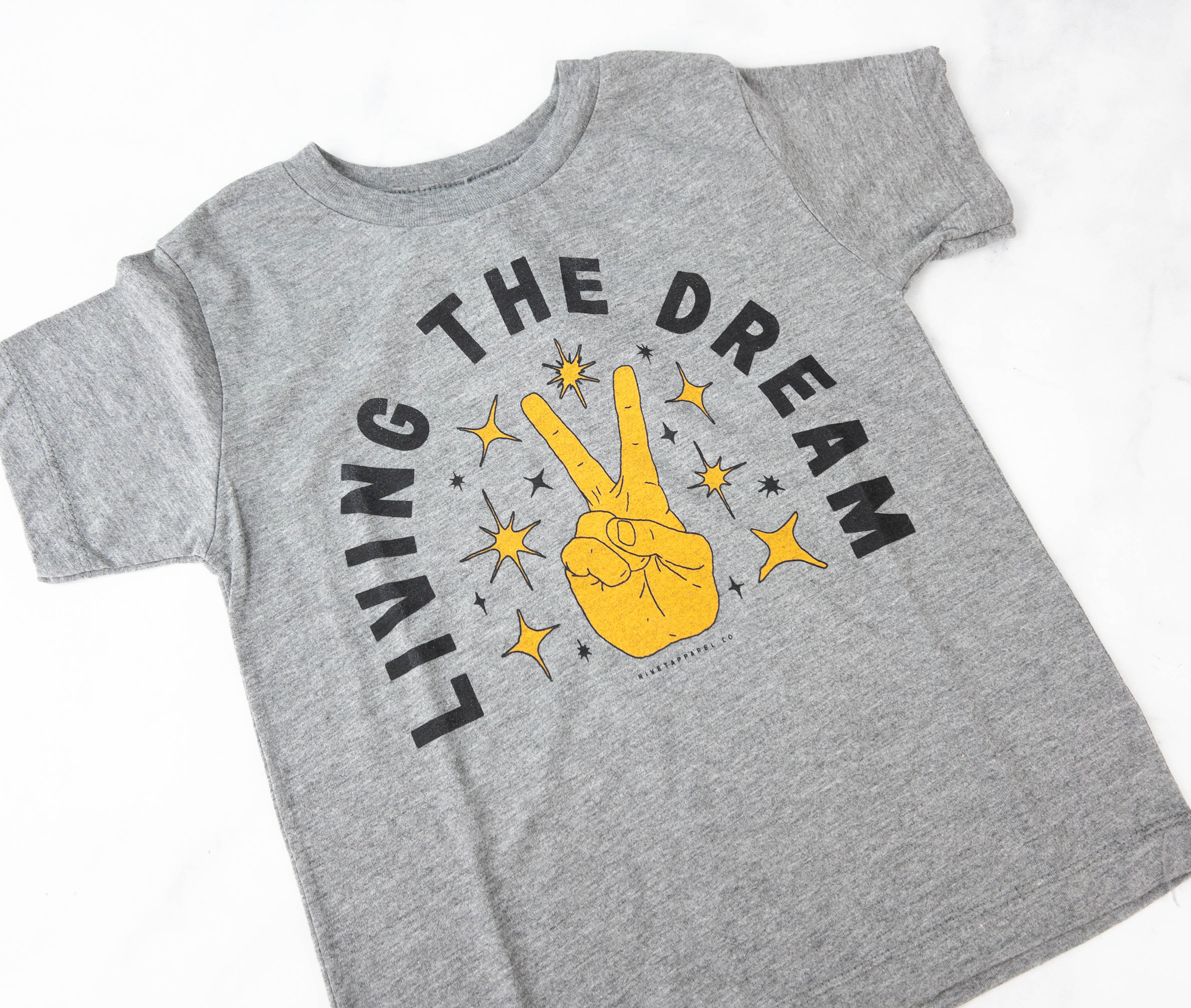 There's a wearable for kids in this month's box from Rivet Apparel Co. Living The Dream Tee ($22)! The tee fits my daughter well and it looks simple but cool with Living The Dream text and a peace-out hand sign on the middle. I'm delighted to know that the handprinted design used high-quality, non-toxic inks, plus the tee itself is made with soft and light fabric. My daughter seemed to be pleased with her new tee!
Wishing for the stars is made more exciting with Flying Wish Paper Kit. It contains 15 sheets of special flying paper and 5 wish platforms, along with a pencil and instructions. Kids can write their wishes on paper and roll them into a tube. With an adult's help, they can light the top edge. They will be amazed to watch it burn down into a beautiful flame and fly away!
It's another well-curated box from Howdy Kids! Most of the kids' items are inspired by outer space, and my daughter enjoyed them all! She had a lot of fun making wishes using her flying wish paper kit, as well as painting the magnets. I also listened to her make-up stories using the build-a-story cards space quest. As for the mom items, I appreciate the inclusion of bath salts for an at-home spa experience. The family book of traditions is another unique item and we're excited to fill it out. If you're looking for a subscription box for moms and kids that feature small businesses, Howdy Kids fits the bill!
Howdy Baby Boxes also included information cards in the box. Here's a closer look:
The Howdy Baby Box is a monthly subscription box for babies, toddlers, and big kids that promises to send ethically-made children's products from independent brands & makers in the USA. For $60 per box, you can choose between monthly, bi-monthly, and quarterly subscriptions, and get full-sized premium products for you and your little one to explore together every month. Our boxes feature unique mom-tested products such as clothing, accessories, care products, toys, and activity items specifically tailored to your child's age and developmental stage.
Are you getting Howdy Baby Box?