Cooking Panda sends big boxes of food items quarterly and for Winter 2021, it's once again packed with healthy and delicious snacks as well as cooking ingredients. Whether you're a foodie, a home cook, or someone who simply loves trying out new goodies, this seasonal box might be your new favorite.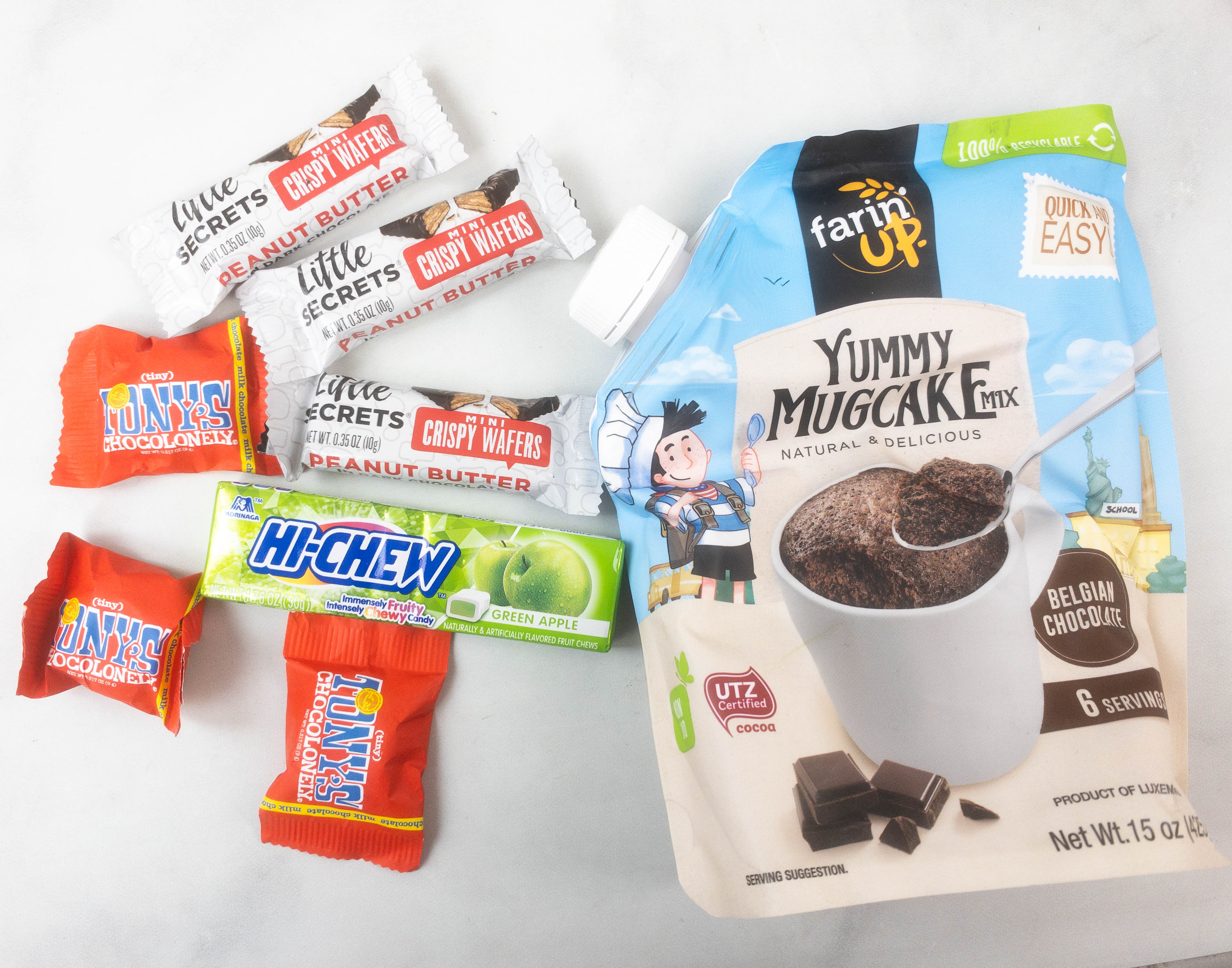 Little Secrets Mini Crispy Wafers Peanut Butter ($1.90) First up, we have delicious peanut butter wafers from Little Secrets. This was one of my favorite snacks from the box. The wafers are crispy and peanut buttery, and they're perfect for on-the-go snacking. Plus, I loved this because they are fair-trade and free from artificial ingredients!
Tiny Tony's Chocolonely Milk Chocolate. These chocolate bars pack a lot of flavors. The milk chocolate is smooth and creamy, with just the right amount of sweetness. It's definitely one of my new favorite chocolates.
Hi-Chew Green Apple Fruit Chews ($2.06) Fruit chews are always a hit with me, and these Hi-Chews did not disappoint. They're tart and juicy, with a perfect balance of sweet and sour. I could easily eat an entire bag in one sitting. This is a sweet snack that's perfect for satisfying a sweet tooth.
Farin Up Yummy Mug Cake Mix ($4.99) One of my favorite things to do is make mug cakes, so I was excited to try this. The mix is made from Belgian chocolate, so it's really delicious. The instructions are simple: add milk, mix, and microwave for a quick and easy cake. I tried the mix with both almond milk and cow's milk, and both versions were delicious. This mug cake is perfect for a quick snack or dessert.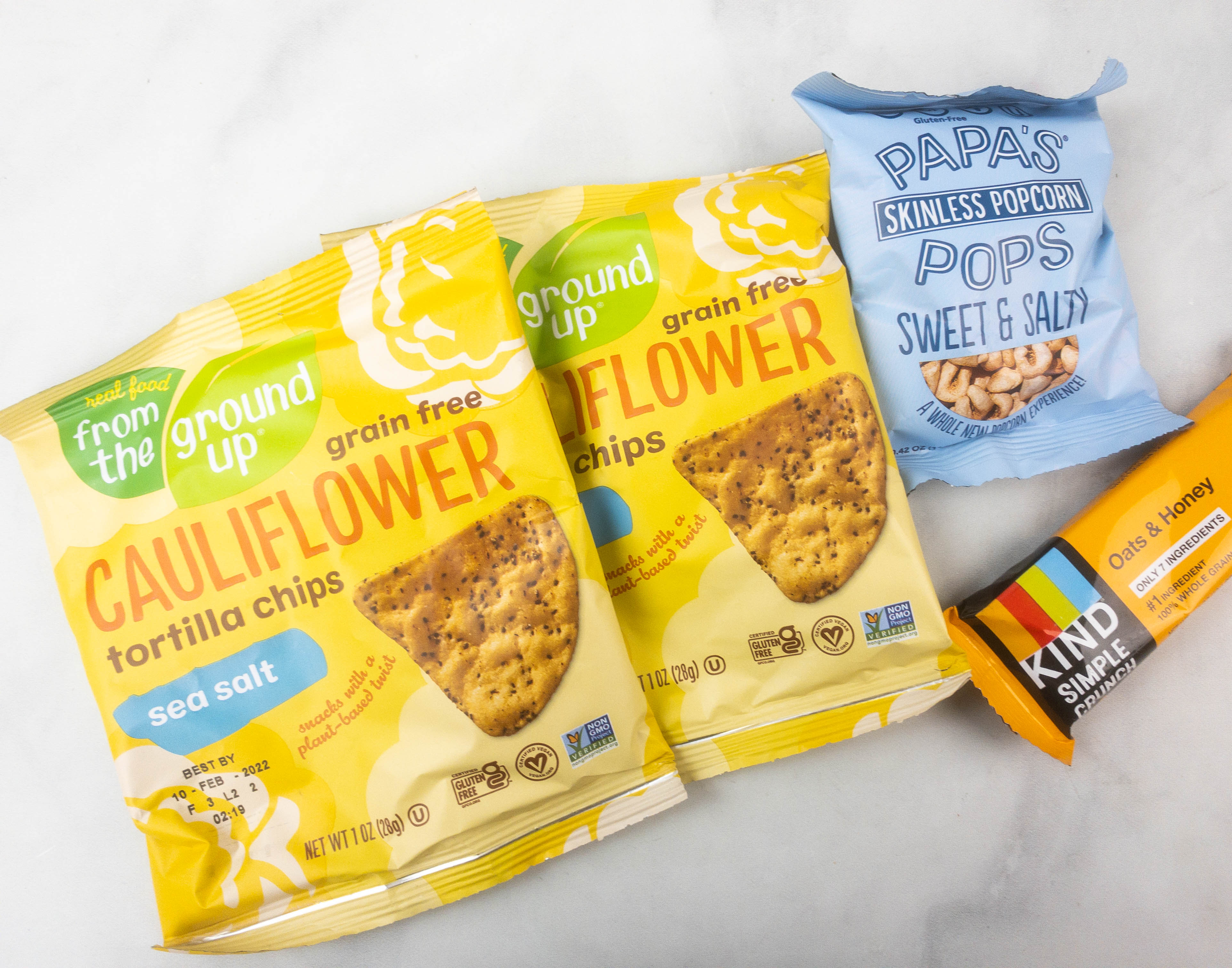 Real Food From The Ground Up Cauliflower Tortilla Chips Sea Salt ($1.77) The cauliflower chips are made from real cauliflower, so they're a great alternative to regular tortilla chips. They have a slightly nutty flavor, and the sea salt seasoning is perfect. If you want a healthy pick-me-up snack, then this one's for you! However, they were totally flattened!
Papa's Skinless Popcorn Sweet & Salty ($3.75 – Full Size 5 oz) This bag of popcorn has a delicious salty-sweet flavor. It's GMO-free, gluten-free, and kosher, so you can feel good about indulging. Because there's no butter or artificial flavors added, this popcorn is perfect for those with diet restrictions.
Kind Simple Crunch Oats & Honey ($0.61) The box also includes a healthy snack bar for on-the-go snacking. It's made with only seven simple ingredients, and it's gluten-free and vegan! The bar is soft but has a nice crunch, and the honey flavor is really delicious. I love that this bar is both healthy and tasty.
Royal Garlic & Ghee Seasoned Basmati Rice ($17.09) This basmati rice is a royal treatment for your taste buds! The rice is cooked with garlic and ghee, and you can choose to season it with salt, cumin, and coriander. The garlic and ghee give the rice a delicious flavor that your taste buds will love.
Lee Kum Kee Chinese Style Dan Dan Noodles ($3.76) A quick, easy and delicious meal that can be made in minutes, these Chinese-style noodles have the perfect balance of flavors and textures. There's also a good amount of heat from the chili pepper.
Safe Catch Wild Pacific Pink Salmon Citrus Dill ($3) Perfect for a light and healthy lunch! The salmon is cooked just right, and the dill flavor is subtle but delicious. I highly recommend this product for a quick and healthy meal! It's also perfect on the go since the packaging comes in a pouch, so it's easy to pack and take with you anywhere.
Country Archer Death Reaper Beef Jerky ($5.99) If you're looking for beef jerky that will set your taste buds on fire, this one is a perfect choice. Made with the world's "Hottest Pepper," this jerky is insanely spicy – so be warned! If you can handle the heat, though, it's definitely worth trying.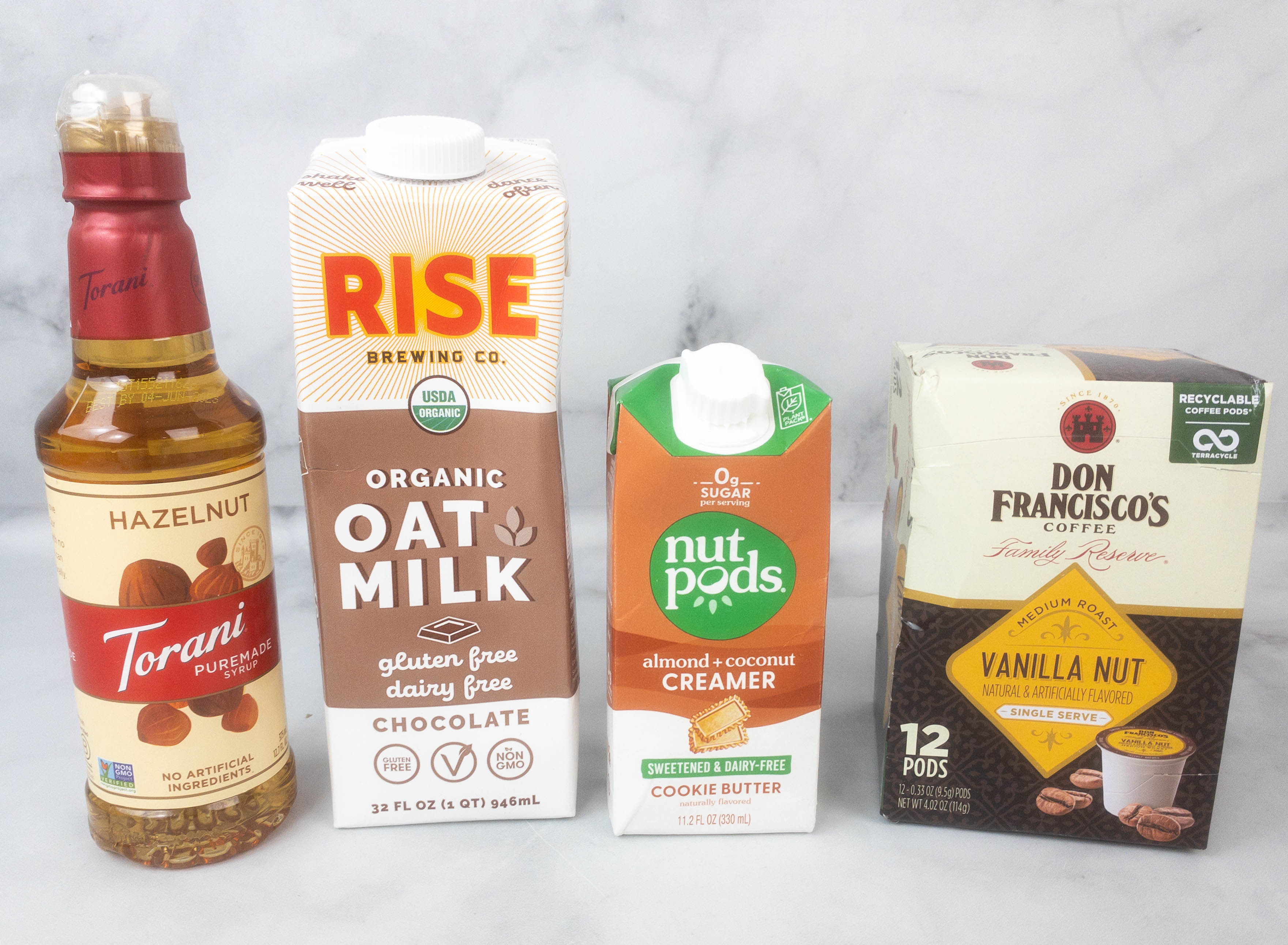 Torani Hazelnut Puremade Syrup ($9.59) This syrup is made with hazelnuts, pure cane sugar, and caramel. It has a rich and nutty flavor that pairs well with coffee, lattes, or even desserts. I love to add it to my morning oatmeal for a little added sweetness.
Rise Organic Oat Milk Chocolate ($25.99) Who doesn't love good chocolate milk? Made with high-quality, organic ingredients, this chocolate milk is perfect for an afternoon pick-me-up or a post-workout snack. It's perfect for anyone looking for a dairy-free alternative to traditional chocolate milk. It's also great for people with allergies or dietary restrictions, as it's gluten-free and non-GMO.
Nut Pods Almond + Coconut Creamer Cookie Butter. The cookie butter flavor of this creamer is spot on! It's a great dairy-free vegan alternative to traditional creamers. The almond + coconut flavor is delicious, and it's perfect for adding to coffee or tea. 
Don Francisco's Coffee Family Reserve Vanilla Nut Single Serve. Here's the perfect coffee for those who appreciate a rich, vanilla flavor with a nutty finish. This coffee is made from 100% Arabica beans and features a light body, medium acidity, and smooth taste.
Vegetable Umami Yondu All-Purpose Savory Seasoning. Just a touch of this seasoning gives any dish an intense savory flavor. Sprinkle it on pasta, vegetables, or soup for an instant umami boost. It's perfect for vegetarians and meat-eaters alike. Yondu is organic, non-GMO, and gluten-free, ideal for those on a special diet or who are looking for healthy, all-natural seasonings. Repeat item.
Dark Cocoa Salted Caramel Spread ($9.75) I love spreads, and I love caramel, so this was a no-brainer for me. I have to say that the dark cocoa really gives it an excellent depth of flavor. It's not too sweet, either, which I like. I've been using it on toast, and it's delicious!
Greenridge Farm Sweet & Hot Stone Ground Mustard ($3.75) This mustard is the perfect condiment to have on hand. The mustard is made with stone-ground mustard seeds, honey, and spices. The result is a delicious condiment that can be used in many ways – either for sandwiches or dipping sauces.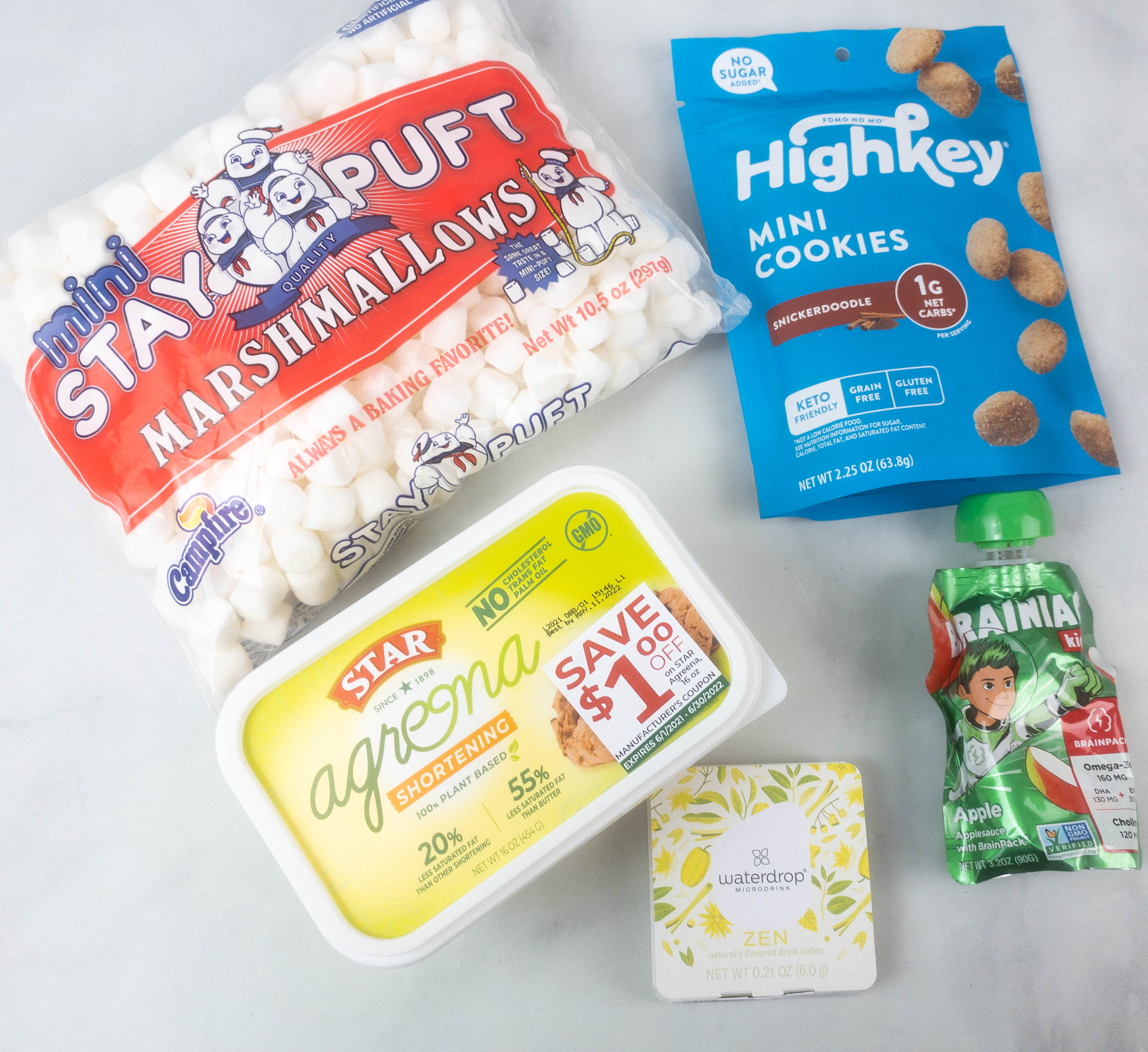 Campfire Mini Stay Puft Marshmallows. These delicious little marshmallows are perfect for roasting on a campfire! They're also great in s'mores and other recipes such as hot chocolate or milkshakes. You'll love their soft, fluffy texture!
Highkey Mini Cookies Snickerdoodle ($4.66) These are low-carb mini cookies, perfect for an afternoon snack or when you're on the go. They're low in sugar and carbs, making them a great choice if you're looking for something to help you stay on track with your diet. The taste is so heavenly; you would never know that they're good for you!
Star Agreena Shortening ($4.99) This shortening is made with plant-based solid oil, so it has less saturated fat than regular butter. This is best used for baking!
Brainiac Kids Applesauce. A healthy addition to kids' snacks, this applesauce is packed with brain-boosting nutrients like Omega‑3 DHA/EPA and choline. The applesauce is also bursting with flavor, plus it comes in a handy pack that they can bring on the go. It doesn't require refrigeration either!
Waterdrop Microdrink Zen ($11) For making flavor-infused water, they included this "microdrink" in the box. All you have to do is add water and enjoy. It's perfect for active people and it's also a great way to encourage yourself to stay hydrated.
This is what the flavor-infused cubes look like. Each one is infused with plant and fruit extracts!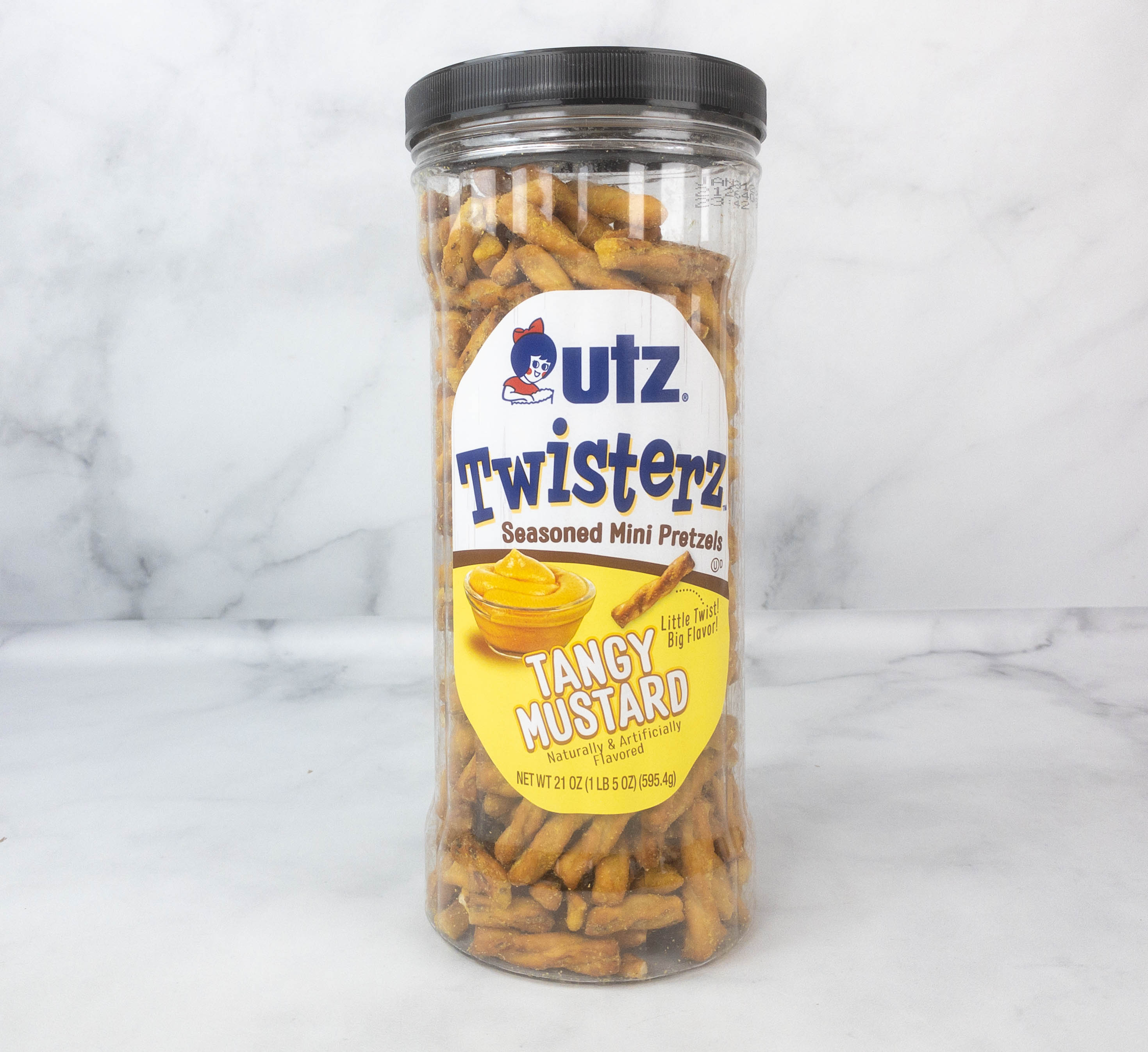 Utz Twisterz Tangy Mustard Seasoned Mini Pretzels ($9) These seasoned mini pretzels make a delicious, tangy snack. They're perfect for when you need something salty and crunchy to tide you over. Plus, the mustard flavor is really tasty and gives these pretzels a great flavor.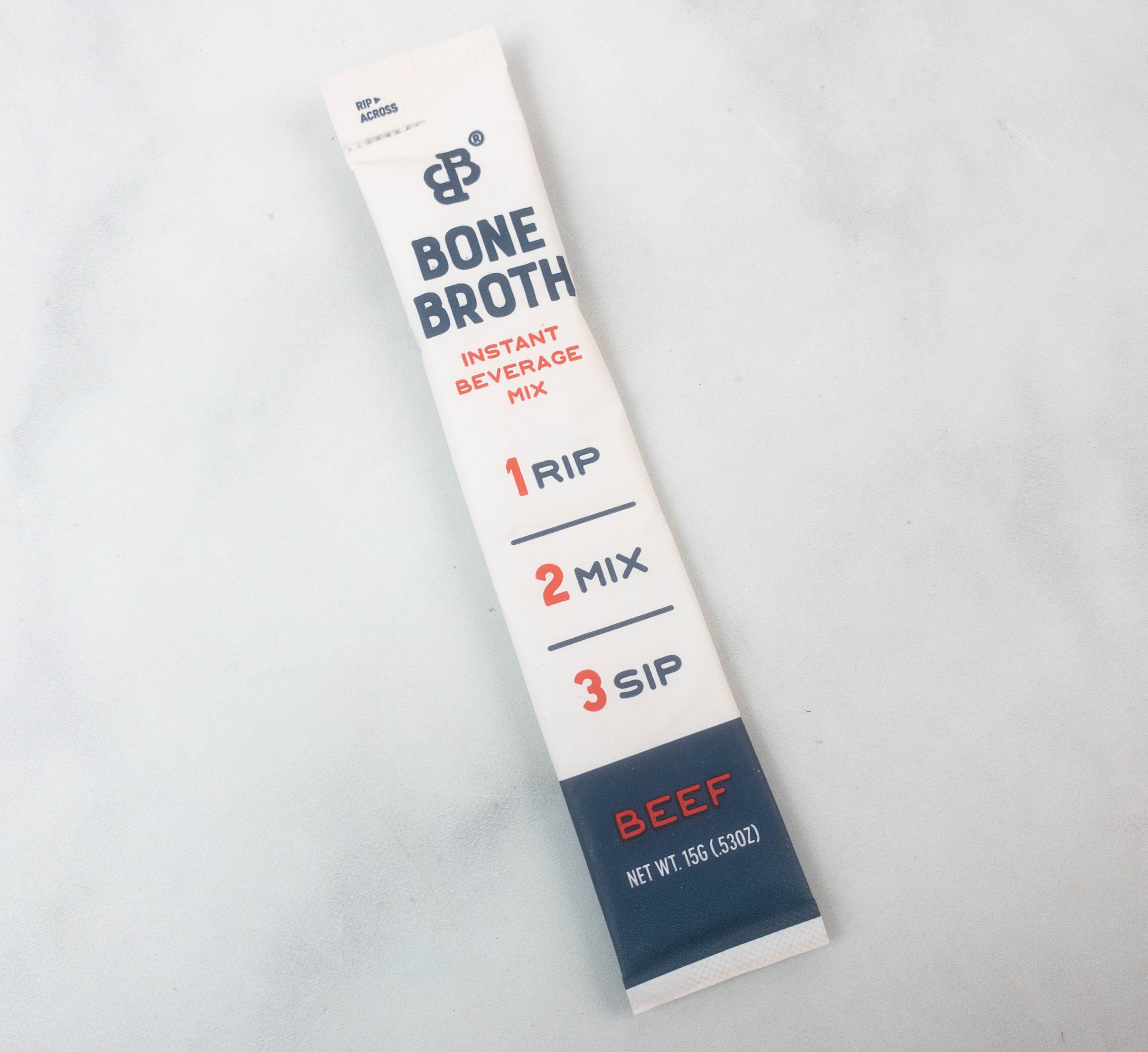 Bone Broth Instant Beverage Mix Beef ($1.56) This beef bone broth mix is perfect for a quick and healthy drink on the go. Just add water, and you'll have a delicious, nutrient-rich beverage that will help support your immune system. Try adding a little hot sauce or curry powder for a tasty variation.
I was impressed with the range of food products in Cooking Panda's Winter Box! Again, this is an excellent value compared to what you'd pay if you purchased these products separately. I love how they always include healthy, organic, and gluten-free options. I was super excited about Papa's Skinless Popcorn Sweet & Salty since I am a popcorn fanatic! All in all, this was a great box with delicious goodies and healthy options. From cauliflower tortilla chips to Vegetable Umami seasoning, Cooking Panda never fails to impress me with the healthy and tasty snacks that they send out every quarter!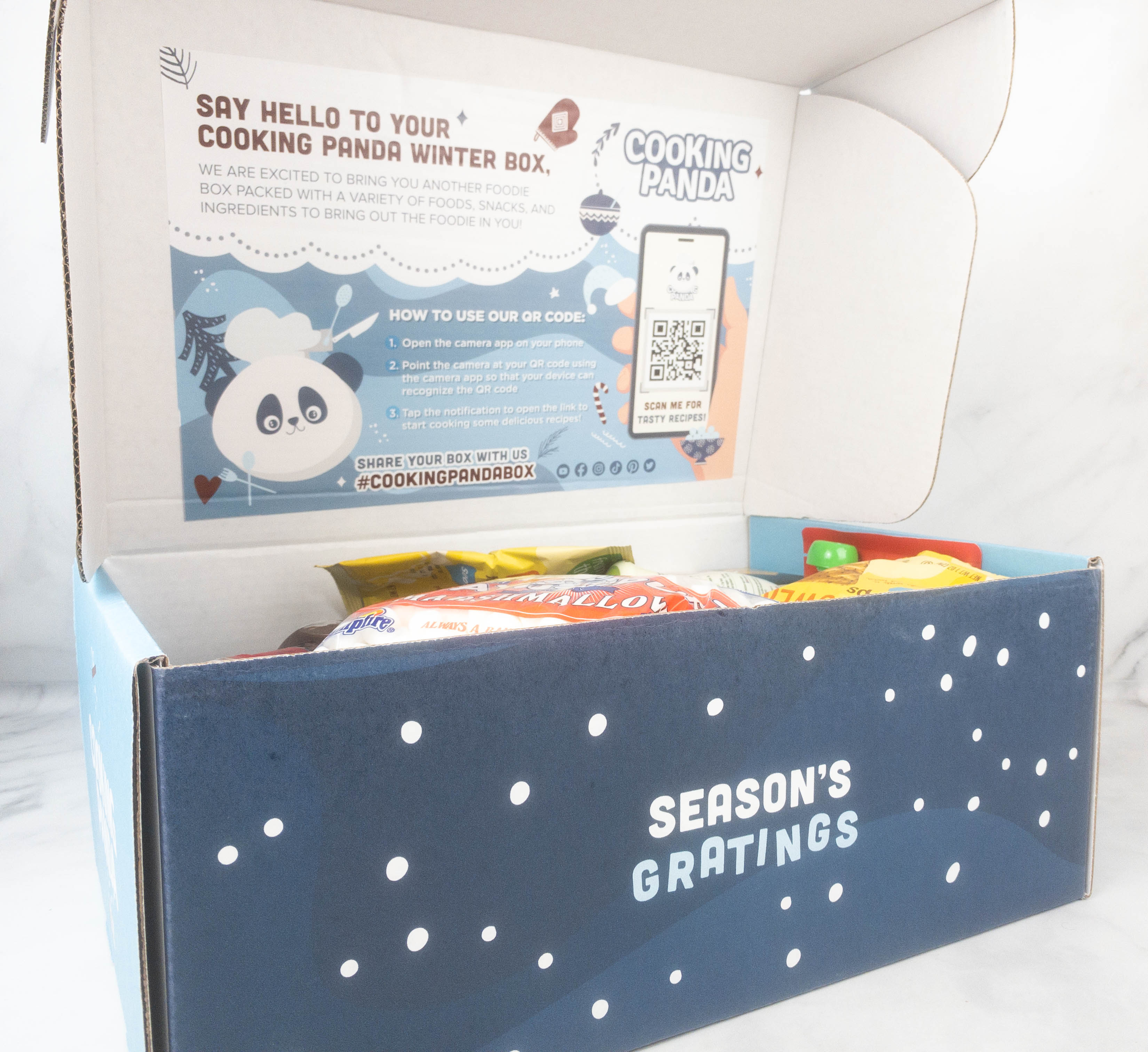 Cooking Panda Box is a quarterly subscription box for foodies, from the same people behind the Cooking Panda YouTube channel. The box will include 25+ food and beverage products from popular and trending brands. It may include everything from snacks and desserts to sauces and other cooking ingredients.
A Seasonal subscription (pay-per-box) is $44.99, while an Annual subscription (prepay for 4 boxes) is $159.99. Each box has a promised retail value of $150! It comes in a SERIOUSLY big box with an outer cardboard box.
What do you think of the Cooking Panda Box?