The Nick Box helps you relive the best moments from your favorite Nick TV shows. NOSTALGIA & CHILL was the theme for Winter 2021, and it gave us nothing but fun and nostalgic feelings this winter. It's brimming with merch that adds coziness to the cold season, featuring some great Nick shows, including The Wild Thornberrys, Rugrats, and Rocko's Modern Life.
Spunky Enamel Pin. Most of the time, boxes include enamel pins to collect. This time, we have Rocko's loyal pet dog Spunky in his usual humorous mood. The back paper where it is attached makes a cute scene between the two!
Orange Soda Patch. Next up is a patch from the TV show Kenan & Kel. It's inspired by the episode entitled Who Loves Orange Soda, where Kenan bets Kel that he can't give up on drinking soda for one week! You can attach this patch on pretty much anything: jeans, jackets, or even sneakers!
Nigel Tea Strainer. If you love drinking tea, this item is for you! It's a stainless steel tea infuser ball featuring Sir Nigel Archibald Thornberry from the animated show The Wild Thornberrys. Fill it up with your preferred loose leaf tea, steep, and enjoy the warm drink!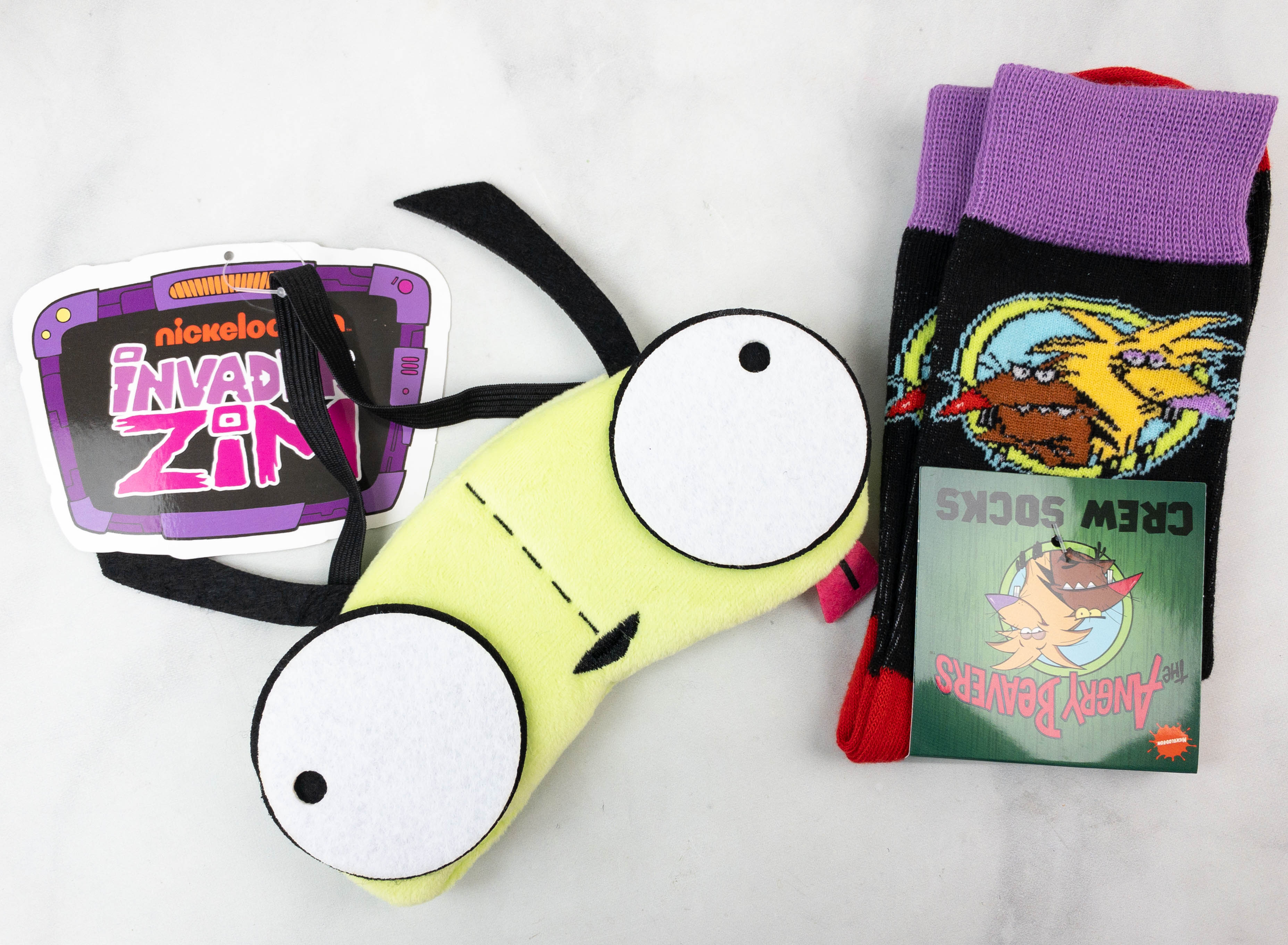 Gir Sleep Mask. To help us get a good night's sleep, here's a sleep mask inspired by Invader Zim's Gir, the robot who is usually disguised as a green dog. It's quite thick, which is enough to block out light. It's cute, and it's so soft as well! The attention to detail is superb. I mean, see that little tongue sticking out!
Angry Beavers Crew Socks. Another item to keep us cozy is this pair of fuzzy socks featuring Brothers Daggett and Norbert Beaver. With black base color and red toes and heels, the socks have a good fit.
Some of the items arrived in individual boxes!
Thornberrys Mug. Perfect for making hot beverages these winter months, included is a clear glass mug. It came in its own box and is shelled between two styrofoam for protection while en route. There is also a sticker at the bottom of the mug that states you can only hand wash it.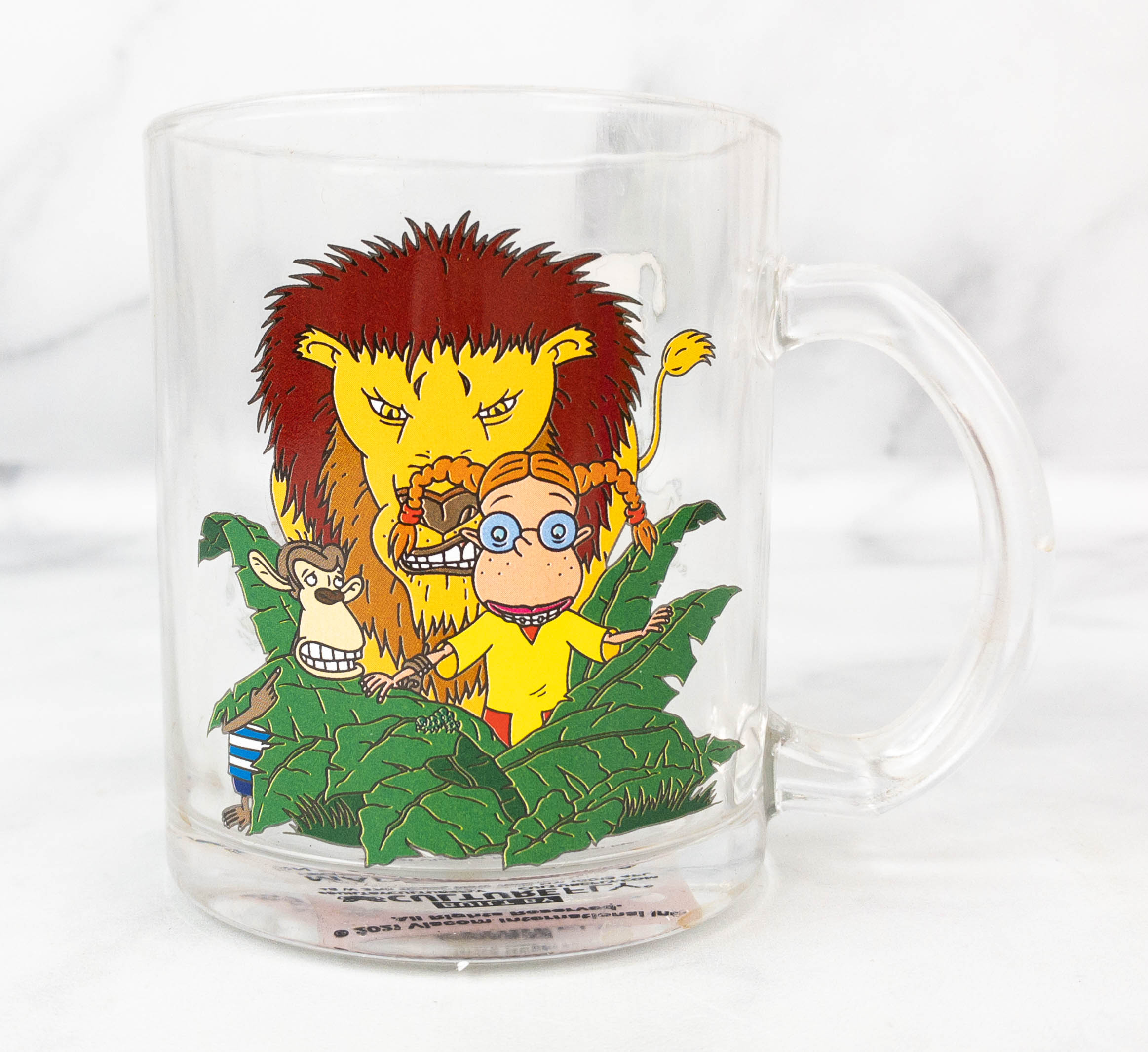 The details are fantastic! It shows Eliza, Debbie, Donny, and Thornberry's pet chimpanzee named Darwin on their wild adventure! The Nigel strainer and this mug match perfectly for making your own cup of tea.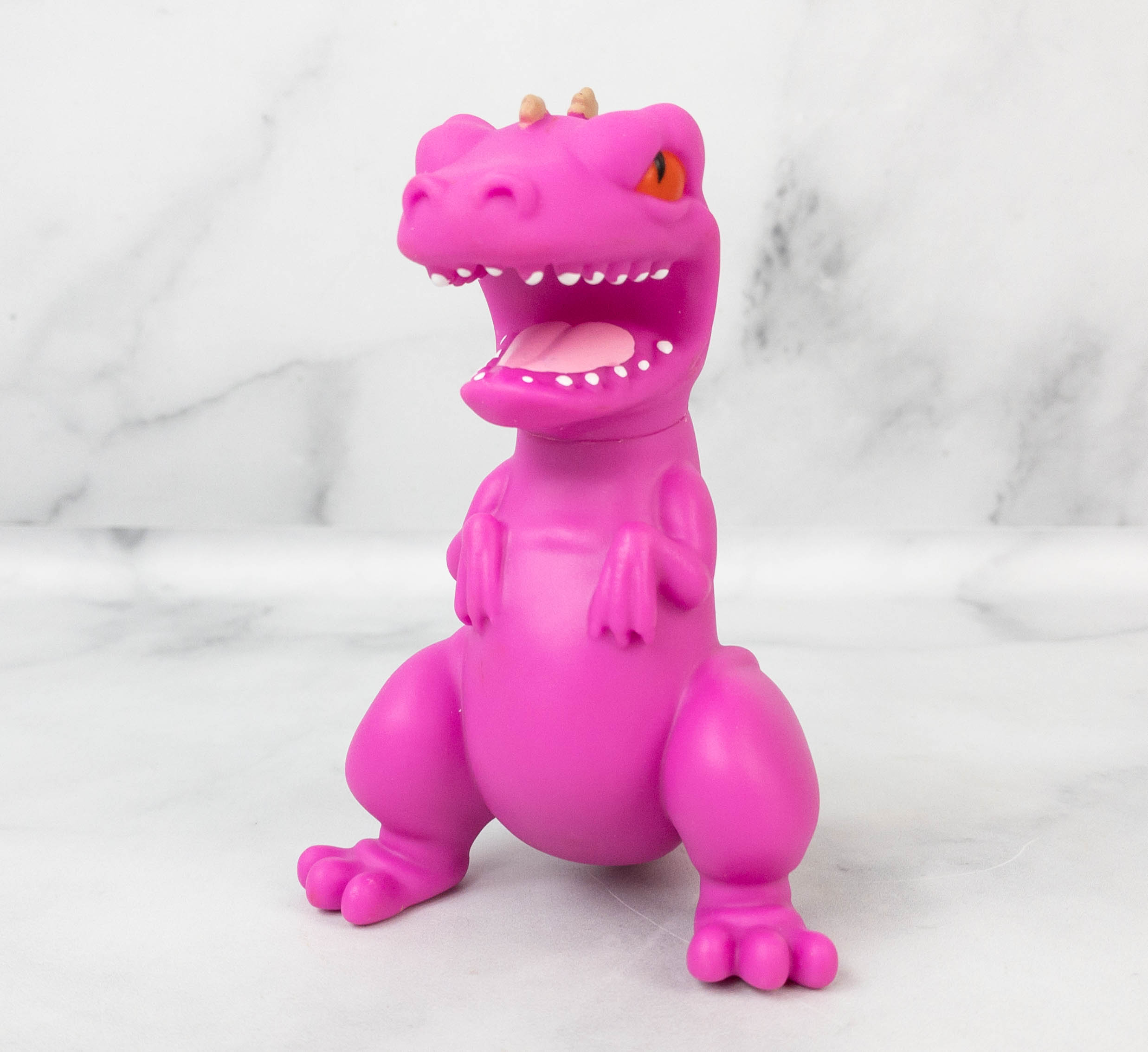 Reptar Variant Vinyl. This collectible vinyl figure is a Black Friday exclusive! Subscribers will only receive this Reptar figure if they made it in time of the sale.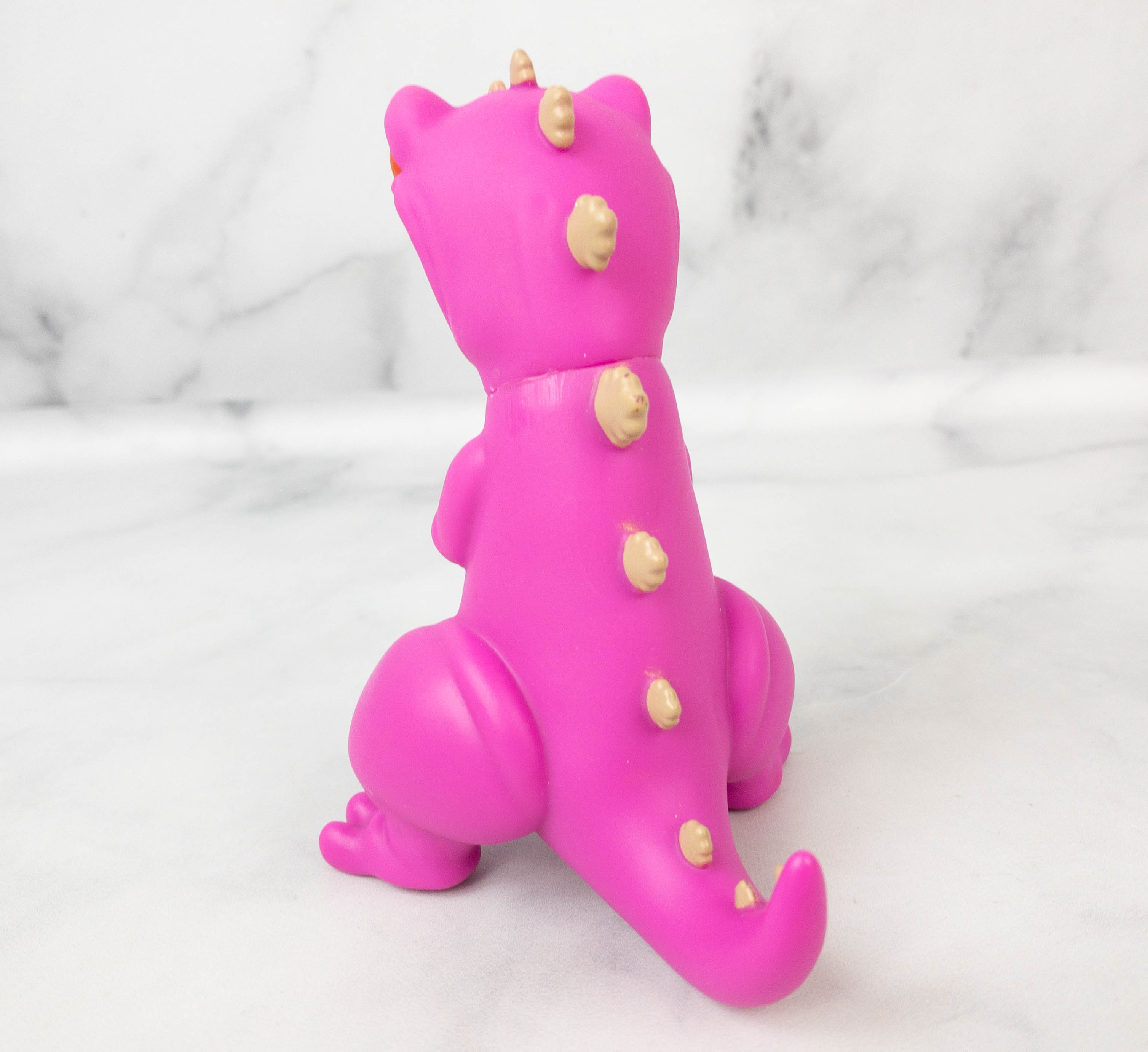 Instead of the usual green Reptar, the one we received is the red-violet Reptar variant. Even the back details look great with cream-colored spike-like appendages. It also came protected in its own packaging.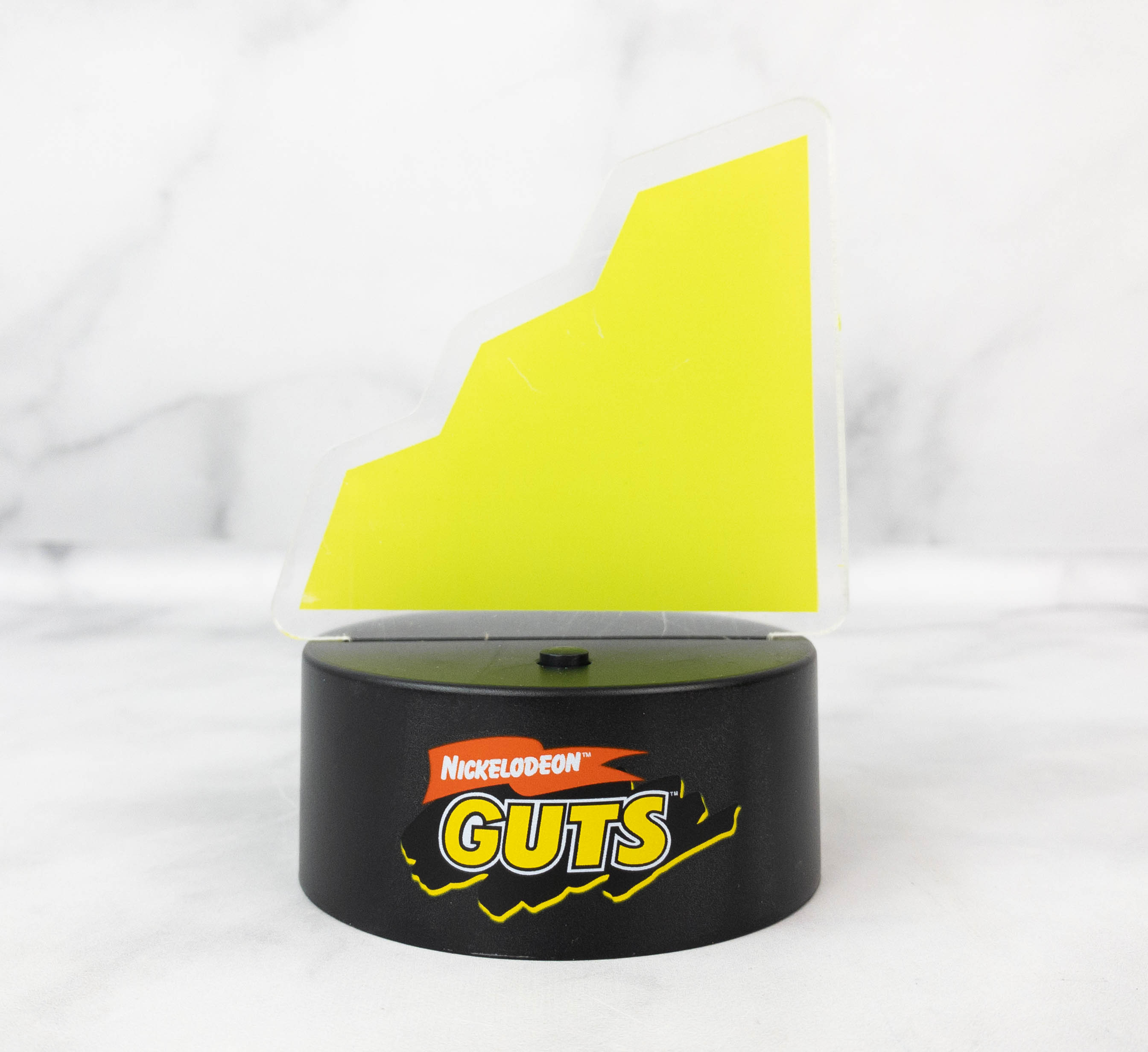 Aggro Crag Trophy LED Desk Lamp. The next item is a desk lamp that brings a slimy green glow at night. It also features Aggro Crag from the game show Guts!
The acrylic is designed to look just like the peak of the Aggro Crag. I can still remember the jingle of the show.
Do you have it? GUTS!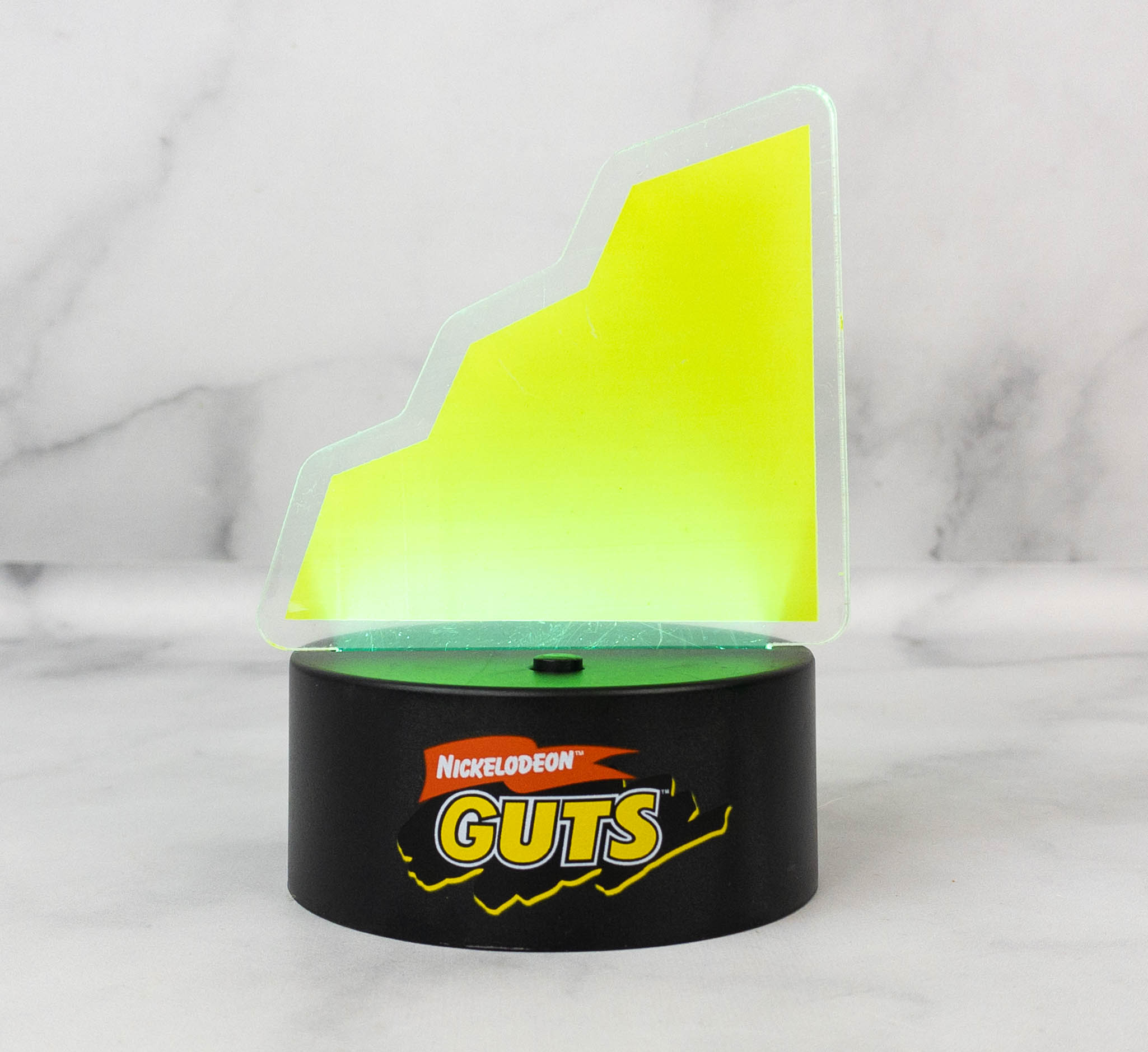 It is powered using three AA batteries. This would look cool on any desk or bedside table!
There are two vinyl figures included in the box. One is the Reptar variant, and the other is Reggie Rocket from the animated TV series, Rocket Power!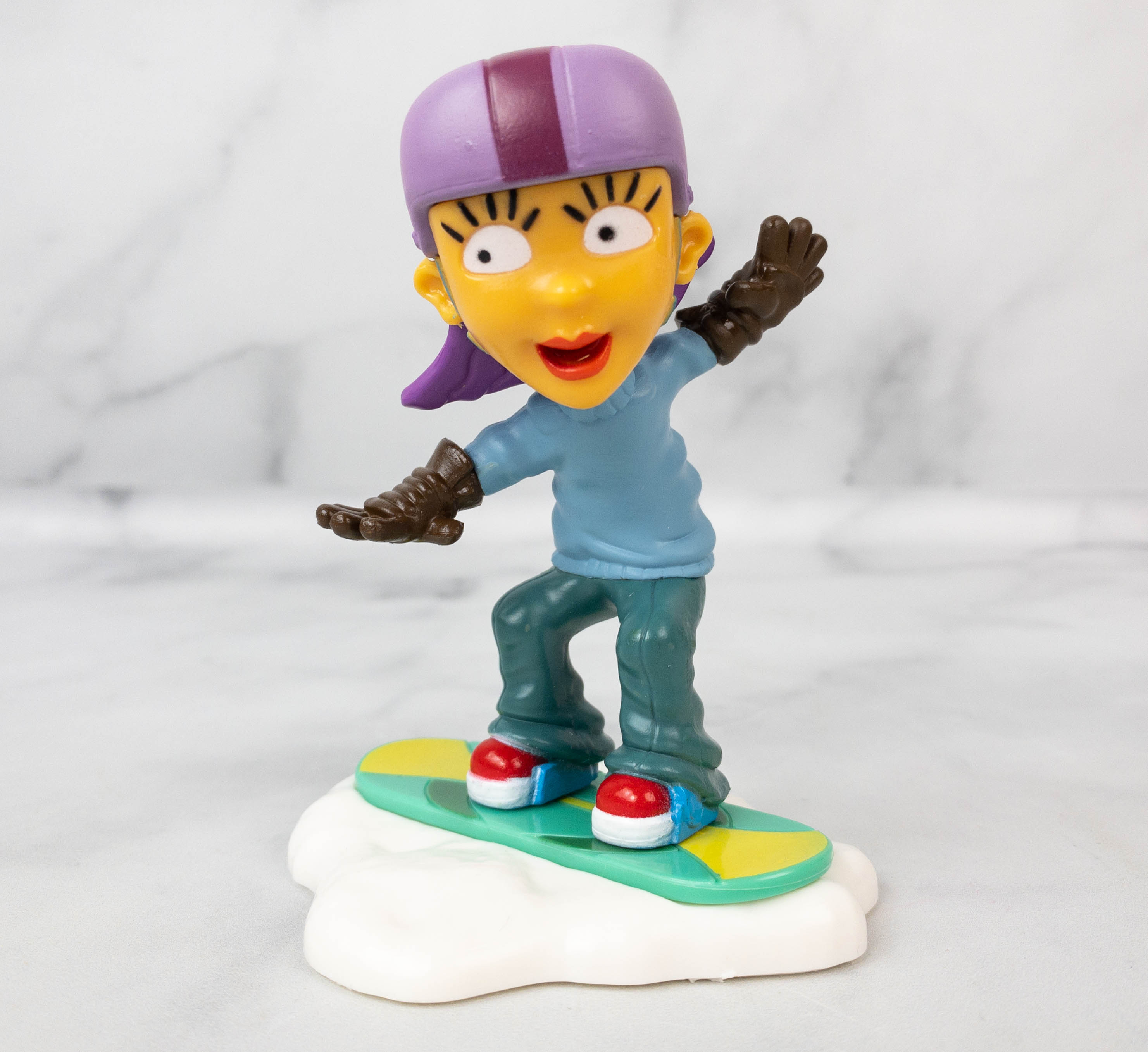 Reggie Vinyl. This collectible figure features Regina "Reggie" Power, still looking cool and chic while sporting her skateboard. The paint job looks great, and the details are spot on!
Rugrats Robe. The last item in this season's box is a big one. It is another wearable, and it is Rugrats-inspired!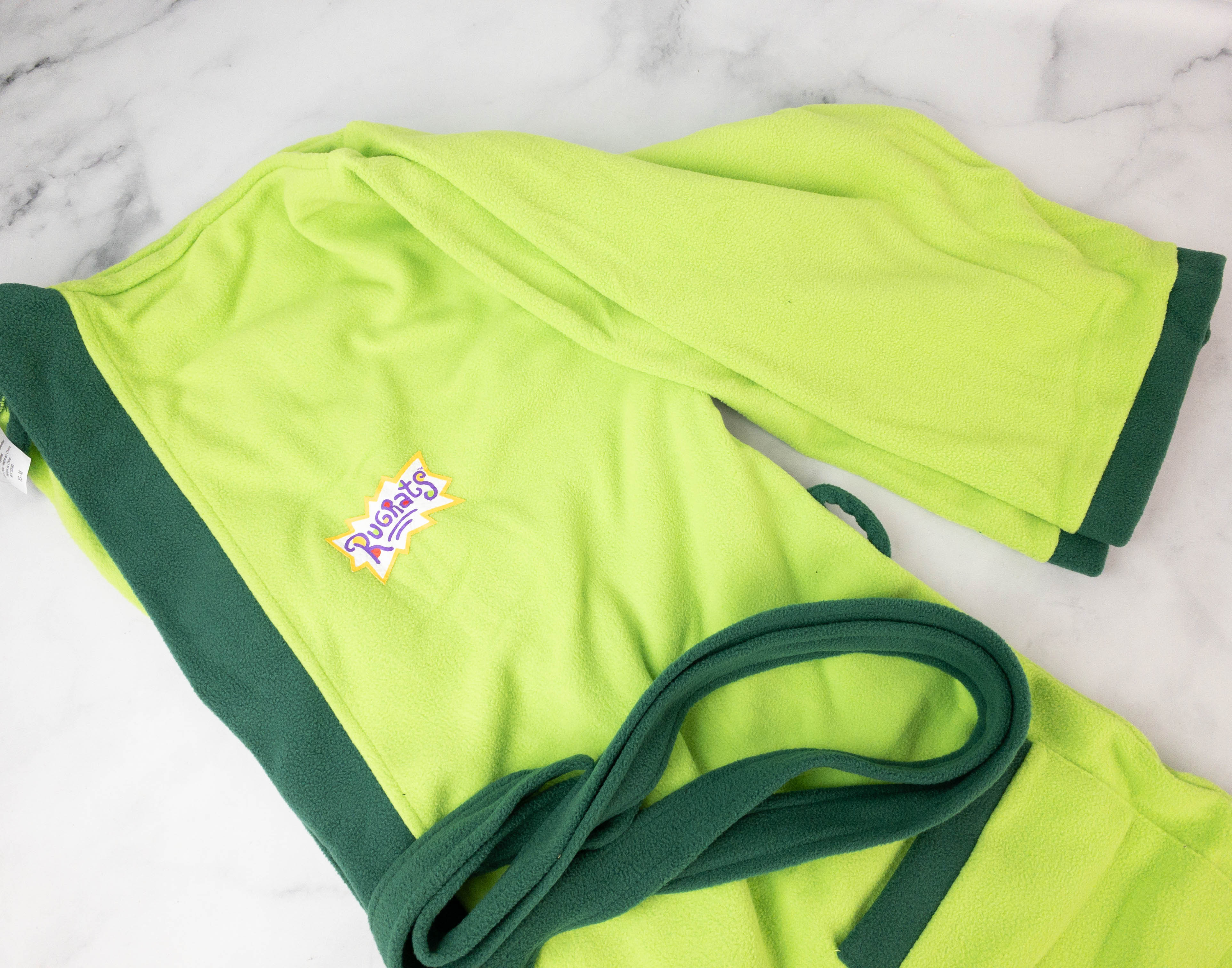 It's a robe in green, with the show branding printed on the left chest part. The colors remind me of an avocado! There's a band that you can use to close the dressing gown and pockets along the front part where you can tuck your hands in when you're feeling cold.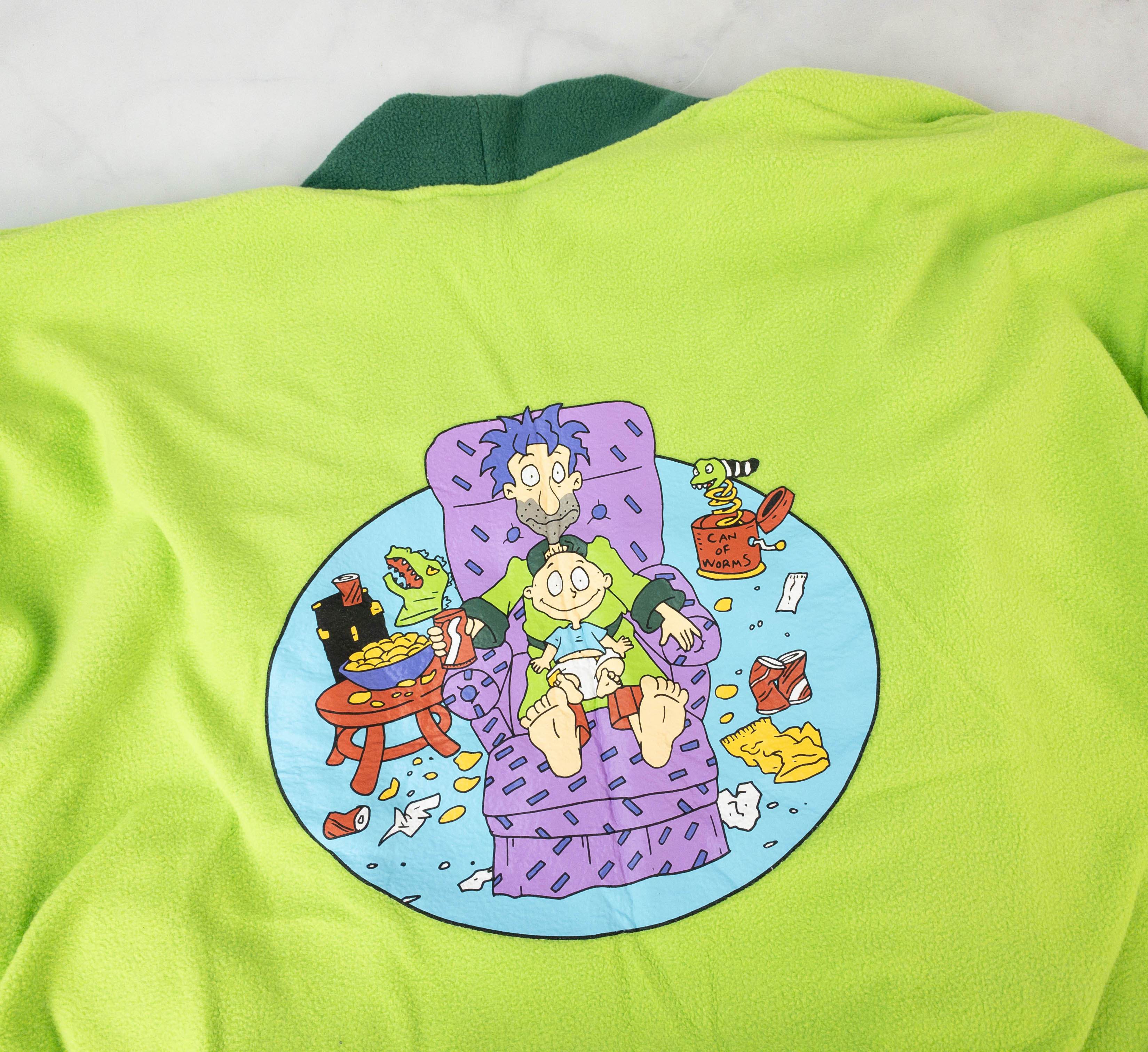 Printed on the back part is a scene from Rugrats Season 3, where Stu Pickles is at home, unshaved and in his bathrobe. He's sitting in a reclining armchair while watching TV with his son, Tommy Pickles, on his lap. The TV area looks a mess! The print is of high quality, and the robe feels so comfy and warm.
The Winter 2021 box was a hefty one! As promised, it was stuffed with winter-inspired items that deliver nostalgic vibes. The robe, socks, and eye mask make me want to sit back, relax, and take in the coziness of winter while enjoying a hot drink in my new glass mug. The enamel pin and the vinyl figures are perfect for display, as well as the LED lamp! This curation also reminded me of some of my favorite Nick shows, such as Guts and Angry Beavers. If you're also a Nick fan and you want to get your hands on exclusive merch, this subscription is one of your best options!
Also, the Winter 2021 box is designed to be an igloo! It shows Rocko, Heffer, and Spunky watching TV, while outside is Eliza and Darwin in their winter clothes. See them here: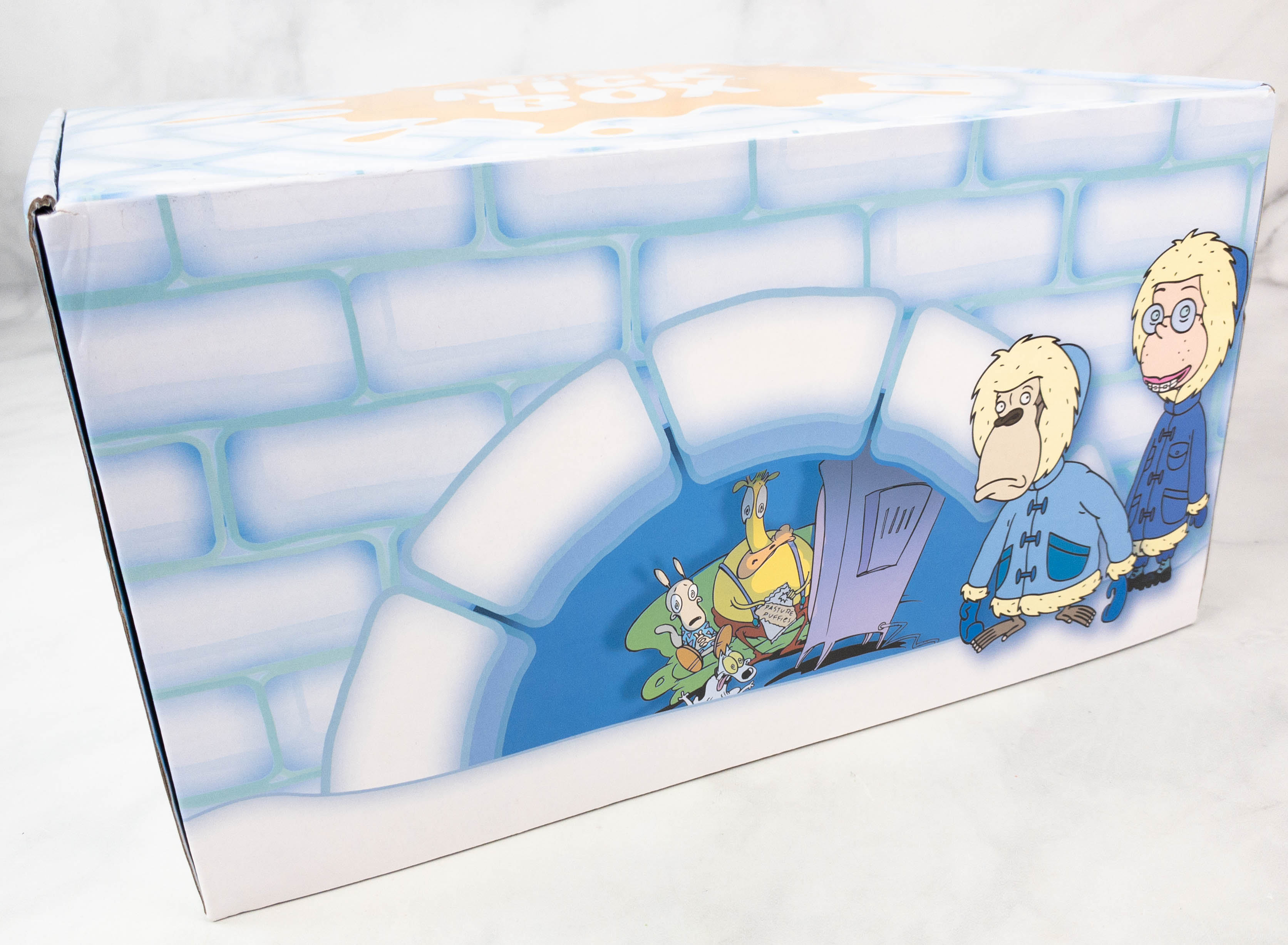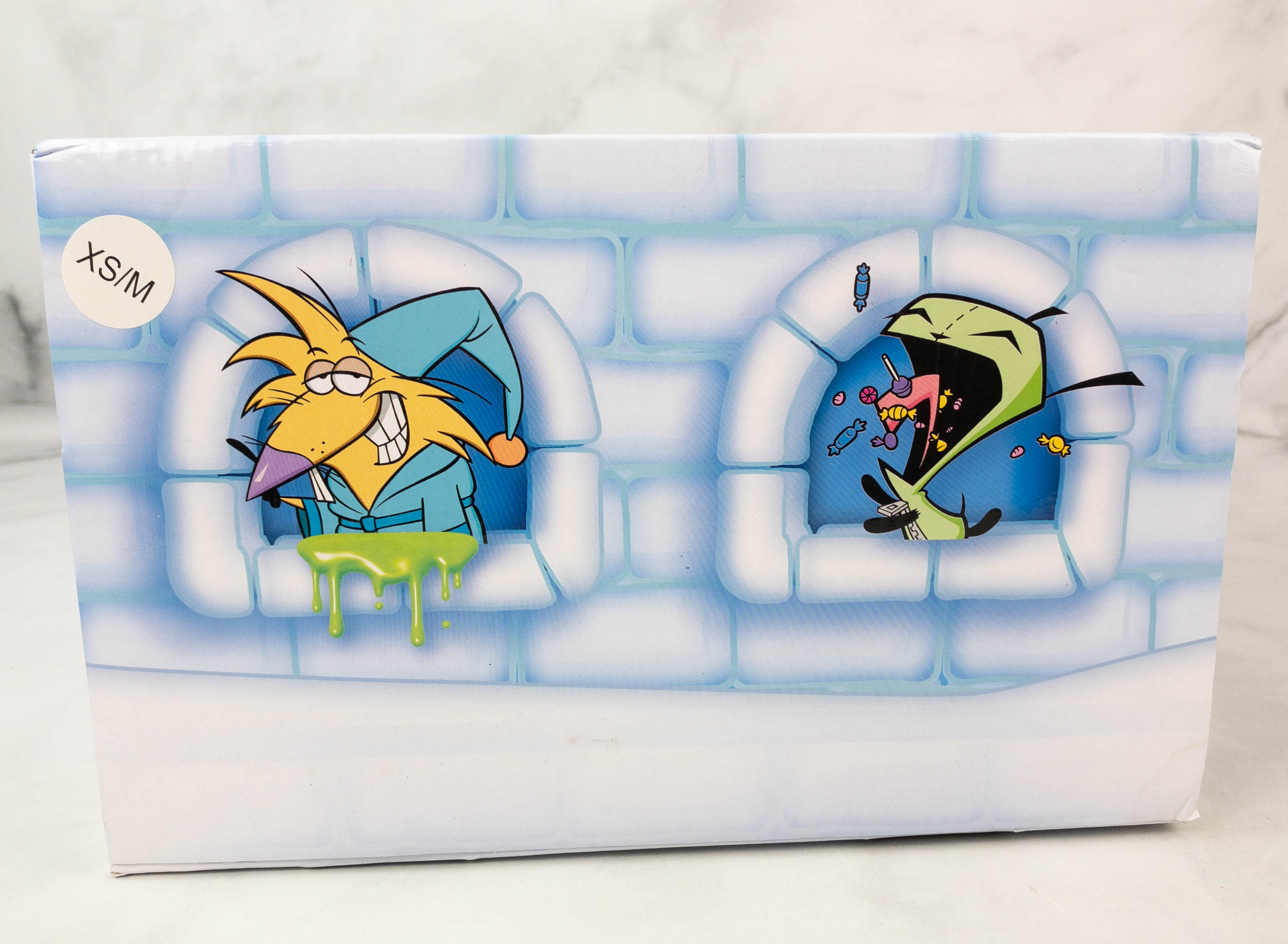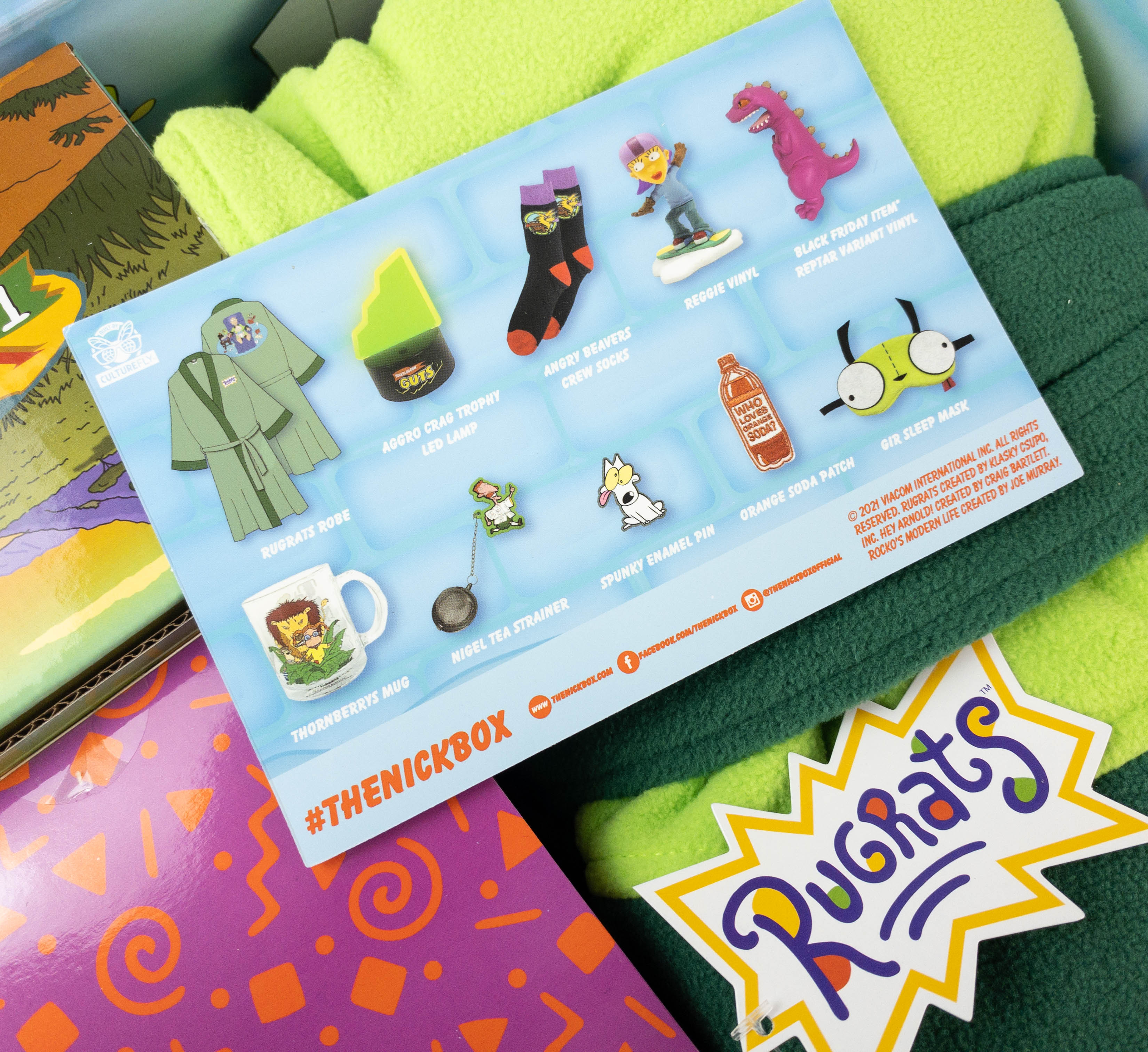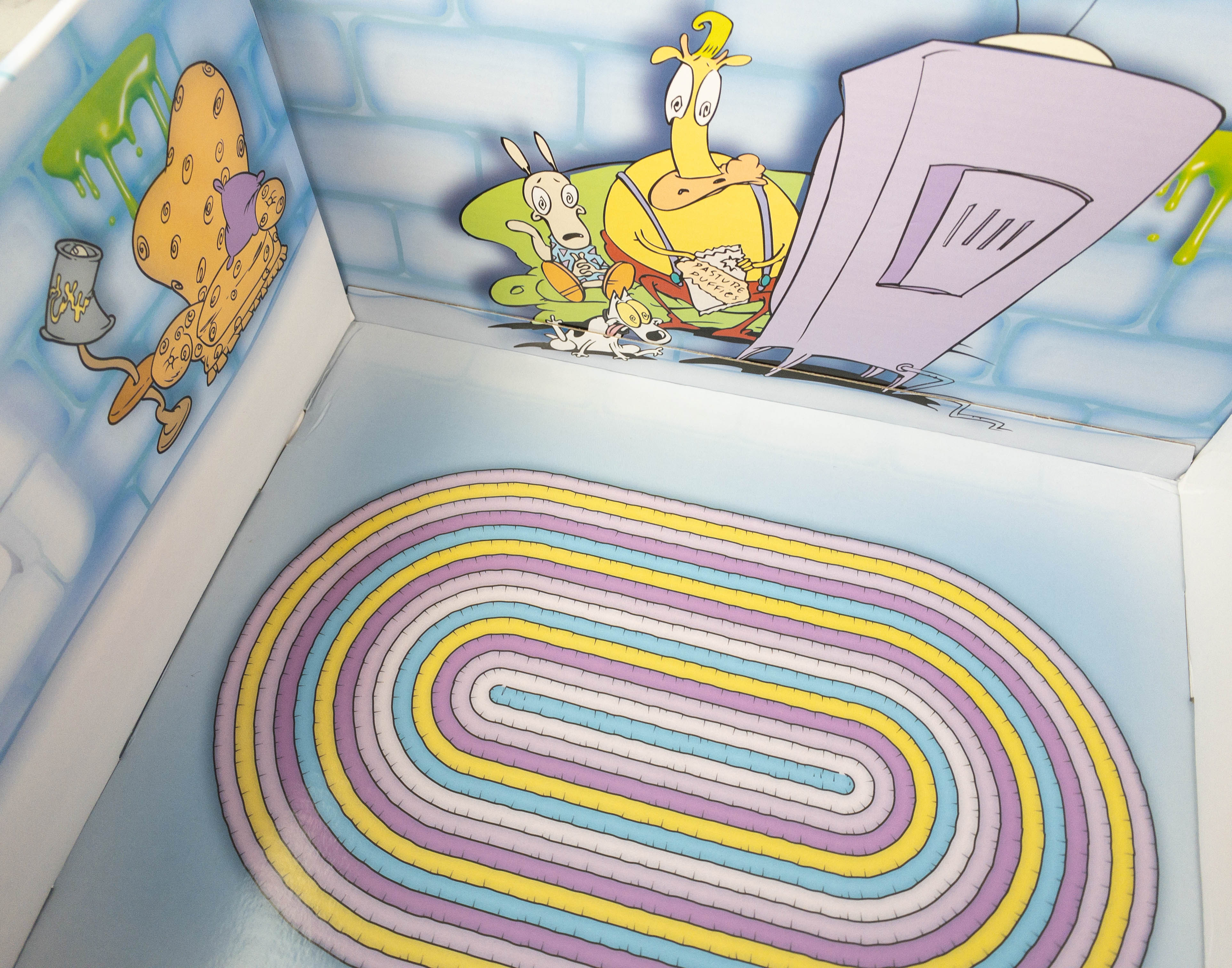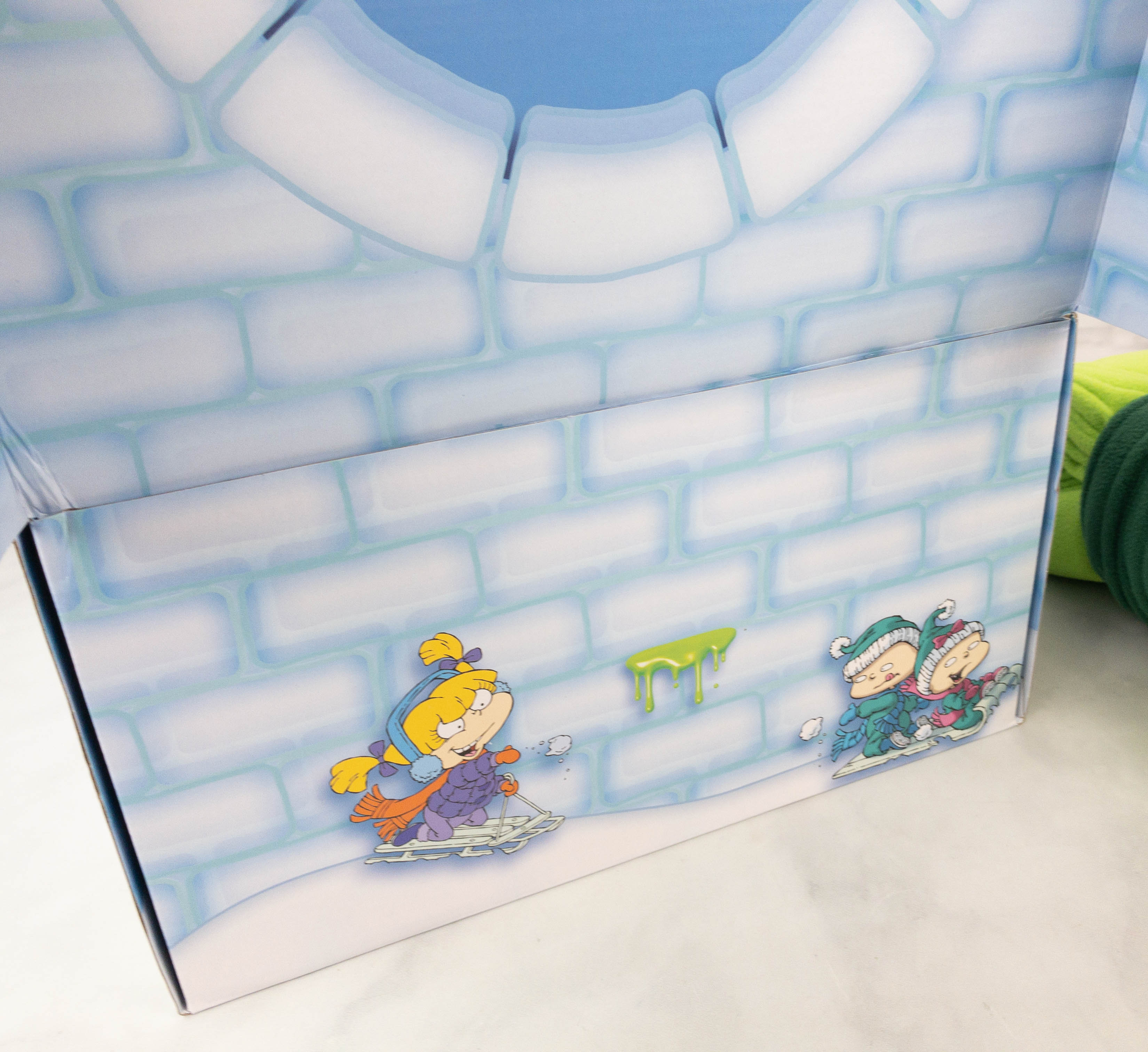 The Nick Box brings back the most memorable 90's Nickelodeon characters through a quarterly subscription box for $49.99 per box plus $7 shipping. Each box is filled with nostalgic goodies like plush, apparel, toys, and other unique items from famous Nickelodeon shows like Hey Arnold!, Rugrats, Catdog, and a lot more.
Did you like the Summer 2021 Nick Box box?