The Aliens from Strange Planet has a unique way of describing winter: DECREASE TEMPERATURE!
Strange Planet Box Winter 2021 features licensed Strange Planet merchandise that you can use and enjoy this season when temperatures are decreasing, from fabric tubes (a.k.a. socks) to fabric torso covering (a.k.a. pullover) and other cute stuff!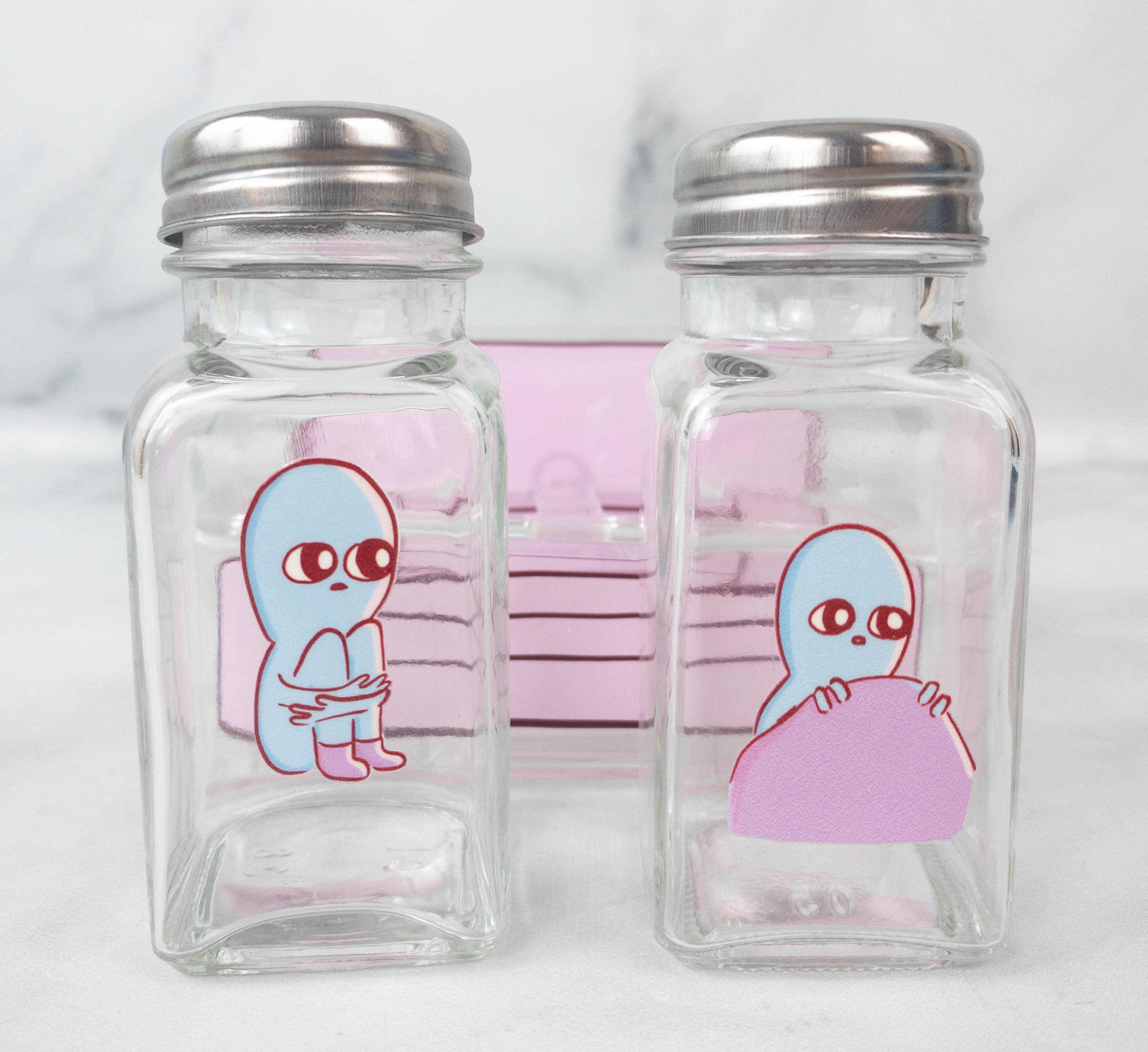 Salt and pepper shakers? Yes, but they're also Flavor Enhancer Dispensers! The shakers have a clear body, with cute Alien designs printed on each one. This makes a fun and out-of-this-world addition to any kitchen! I didn't get the reference on this set, I don't know exactly which strip it's referring to. Any help on this one? We just chose one for salt and one for pepper randomly.
Here's something to display on your desk or on a shelf, a Three Dimensional Representation, a.k.a. vinyl figure! It features an Alien in its winter attire, holding a snowball which they call a "crystalized orb." The figure stands on a purple base as well. This will also look great side by side with other Strange Planet figures from the past boxes.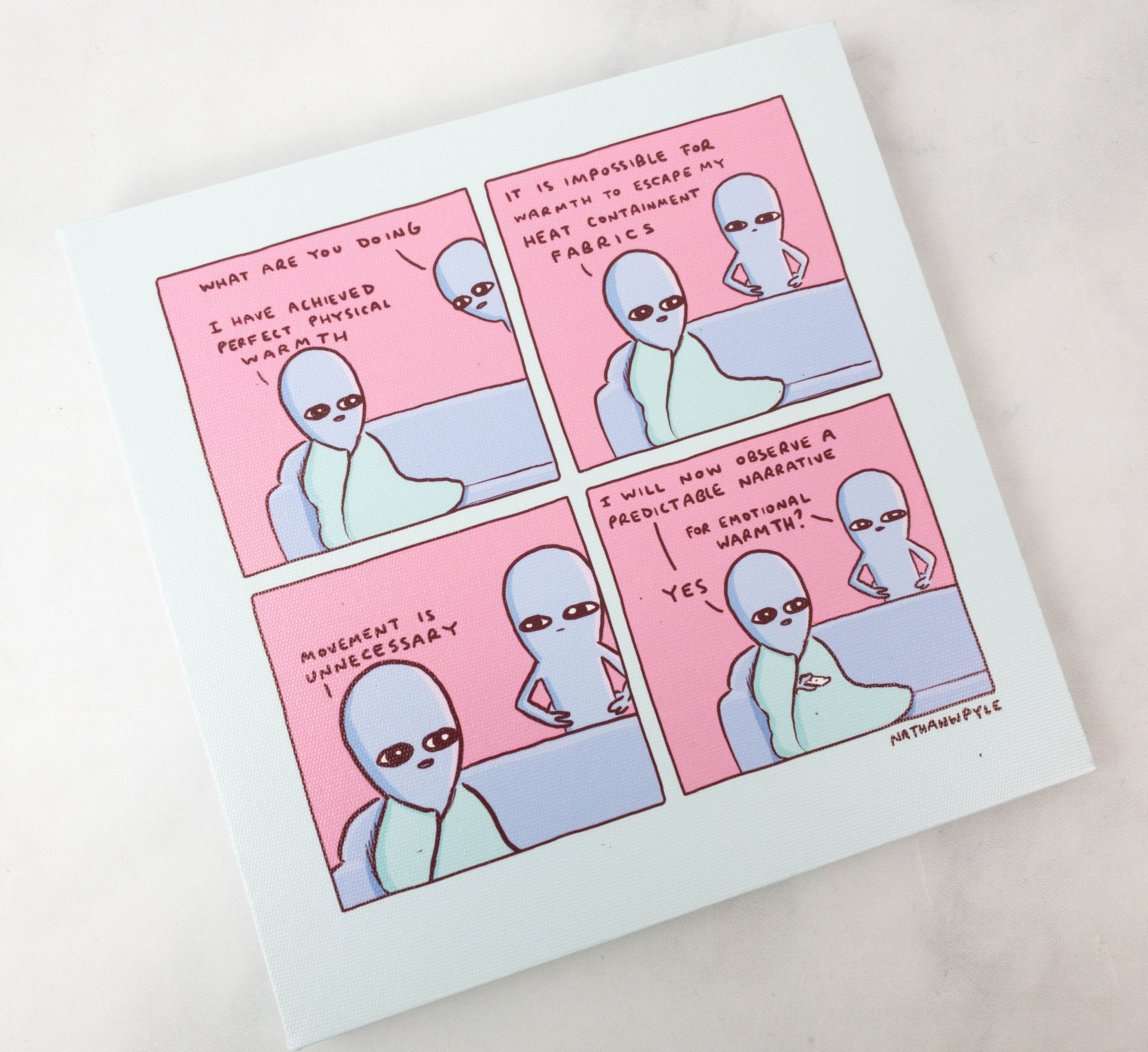 Every box includes a Strange Planet canvas print! It features a comic strip where one of the Aliens is cuddling up with a blanket and honestly, it's so relatable.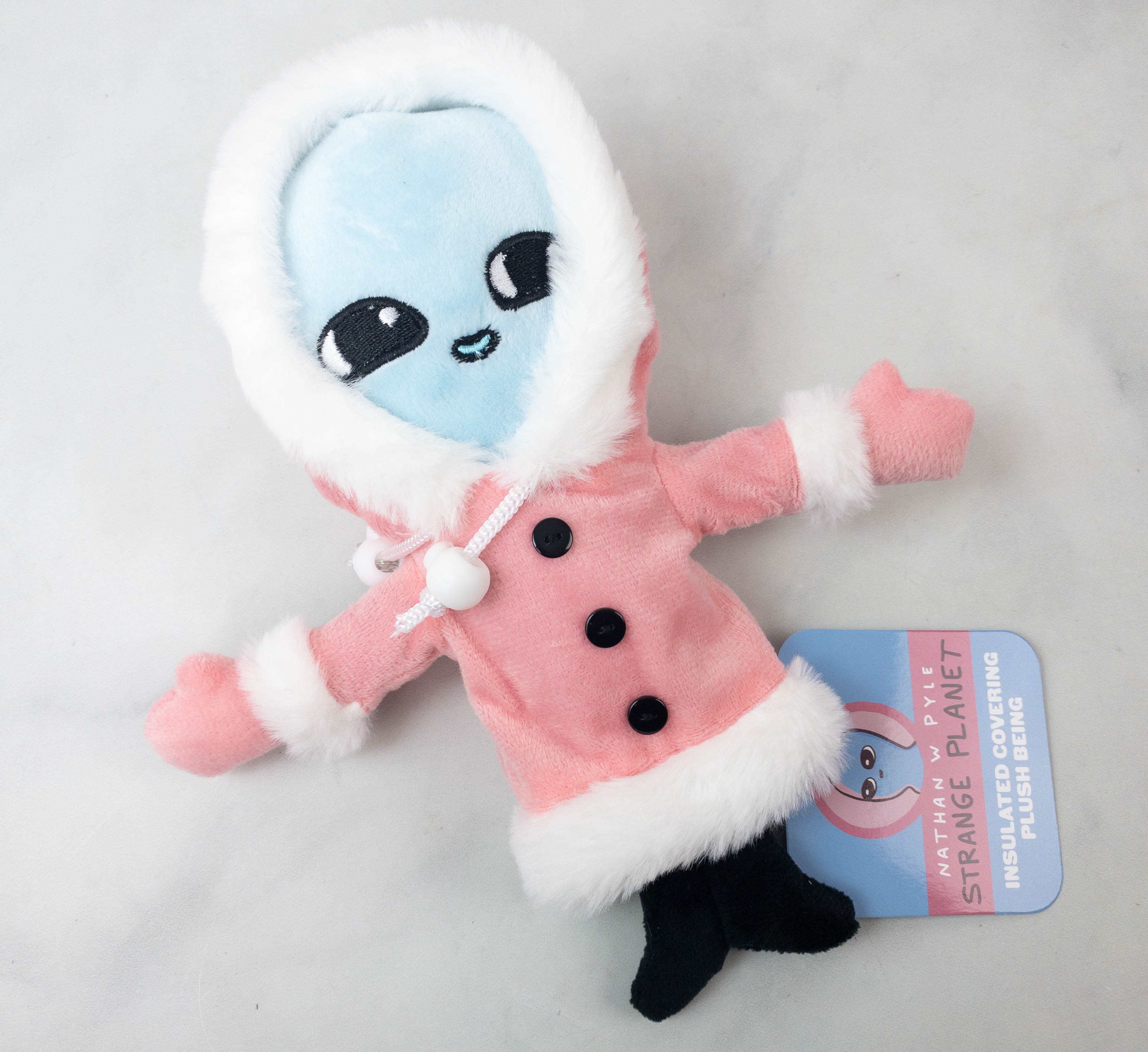 Cuddling with this Insulated Covering Plush Being on a cold winter day is also a great idea. The adorable plushie wears a pink winter jacket and black boots. It even has a fuzzy lining that adds to the cozy vibes.
Another staple item in this box is the Decorative Metal Fastener, a.k.a. pin. It was attached to a cardboard packaging that features a comic strip where the design is based from. The pin itself is a "snow alien" and it's high-quality!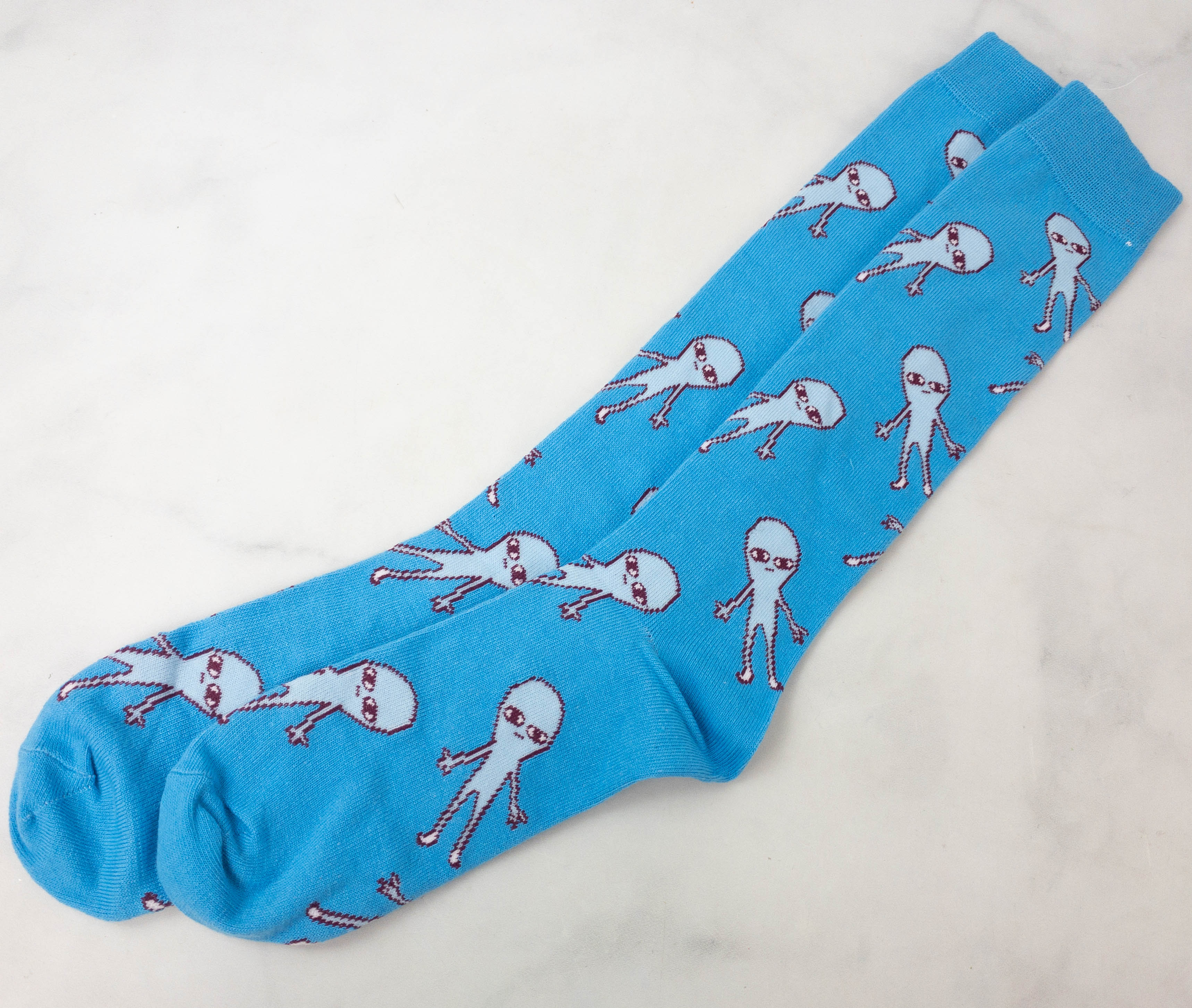 To keep the feet warm, here's a pair of Strange Planet socks! They are also known as Foot Fabric Tubes and they have a blue base color and Alien images all over. The socks are long and they are comfortable to wear, whether with boots or even when you're just relaxing at home.
Coming in the same color scheme as the socks, here's a Fabric Torso Covering! It's a long-sleeved top and it's not so thick, but you can layer it with other clothing pieces to keep you warm this winter. The sleeves feature Strange Planet branding as well!
I'm ready to lounge around and keep myself cozy with all these goodies from Strange Planet Box! The pullover and the socks make a great pair, they can help keep me warm despite the decrease in temperature. I love the cute Alien plushie as well! If you're a Strange Planet fan or even if you simply like collecting unique alien merchandise, this subscription is for you. All the Strange Planet merchandise they send is licensed – which is really a plus for collectors!
They included an info card and it features a collection of Alien figures and plushies that subscribers can collect!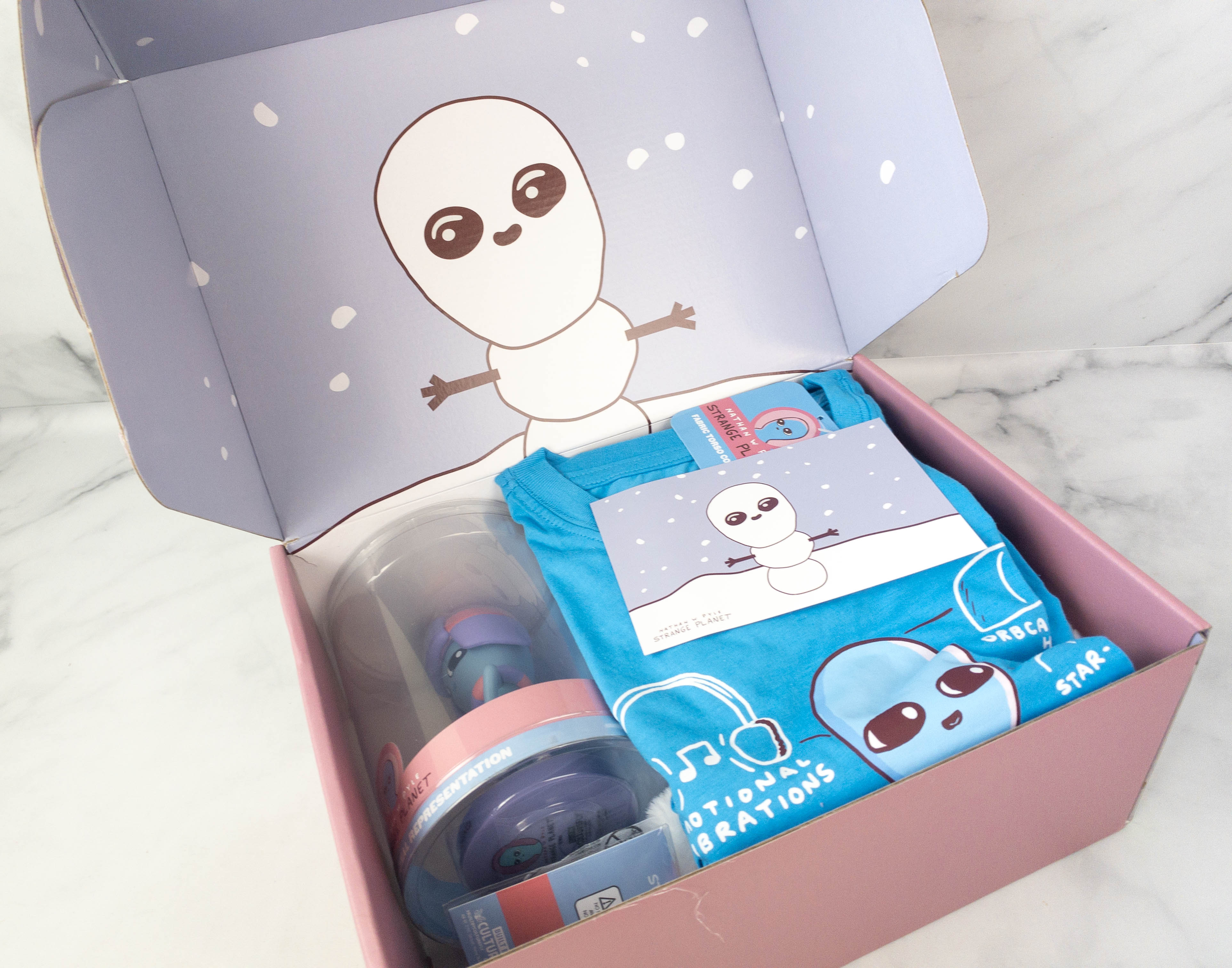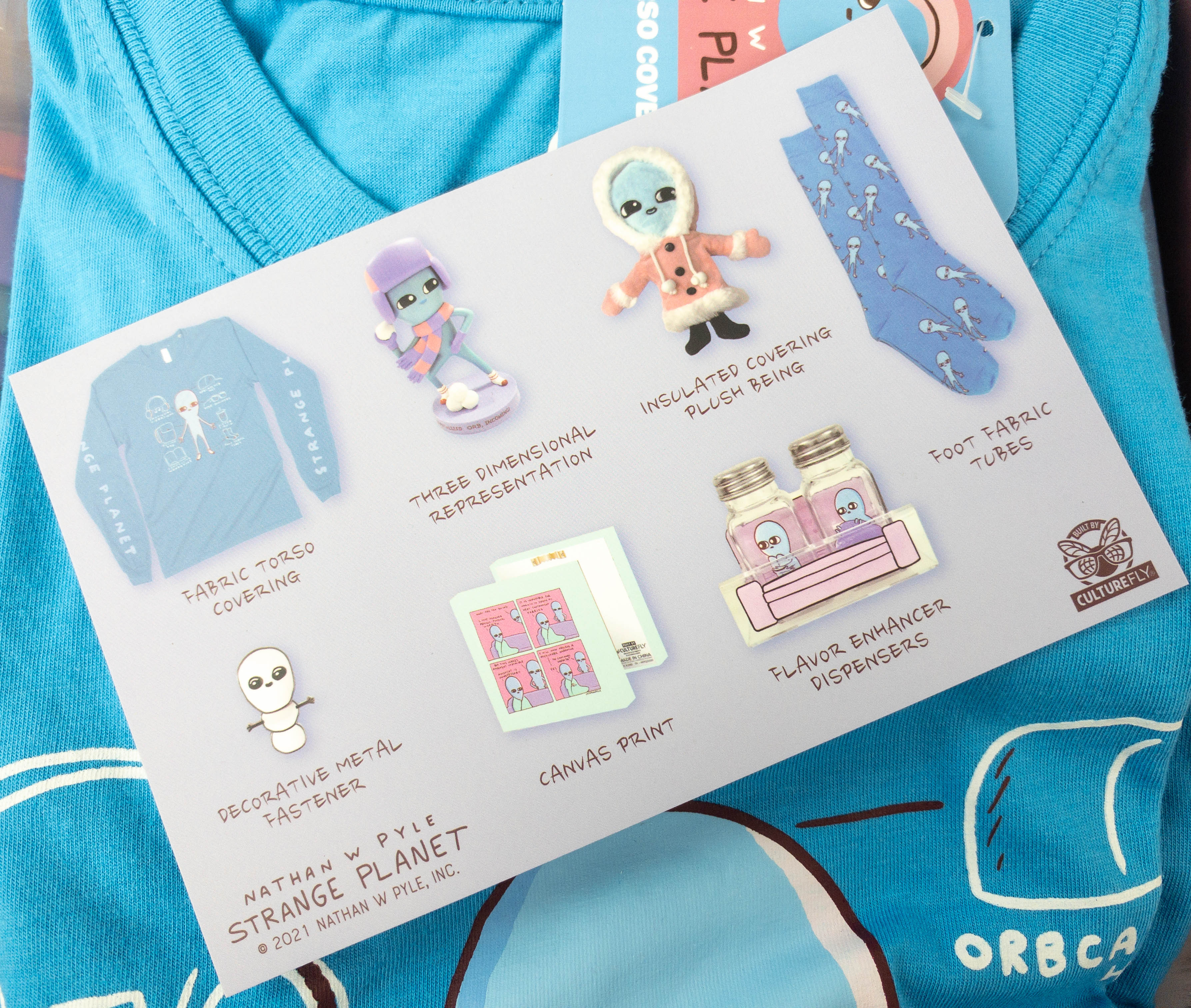 Strange Planet Box is a quarterly subscription box that delivers cool stuff for fans of Strange Planet by Nathan W. Pyle! The box cost starts at $39.99. Each quarter, you will receive out-of-this-world collectibles, apparel, accessories, stationery, homeware, decors, or even exclusive comics. Unfortunately, we've been told this was the last box in this subscription. Bummer, because we're such fans. See more of the Culturefly boxes in the directory!
What do you think of the Strange Planet Box?