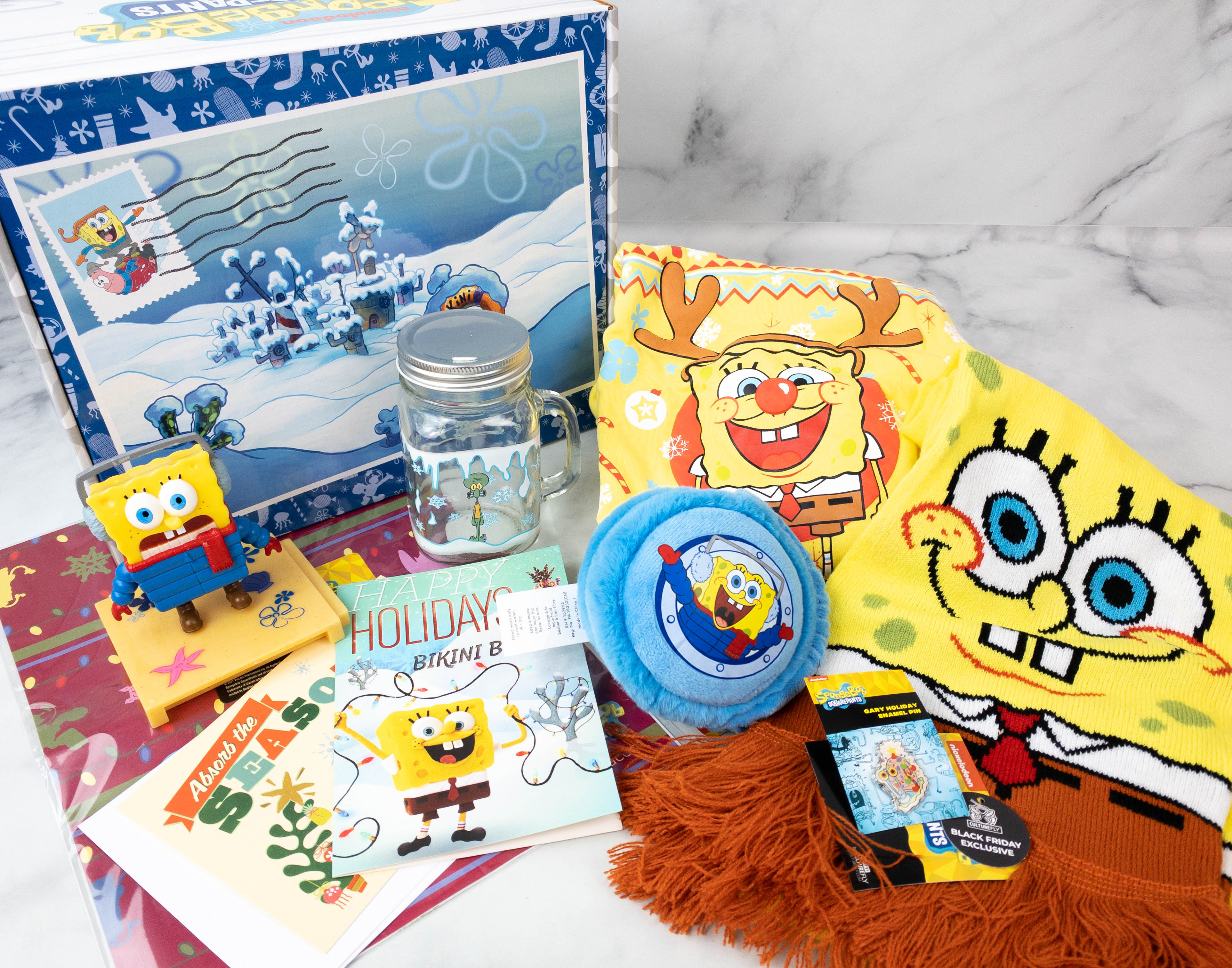 SpongeBob Squarepants Bikini Bottom Box Winter 2021 box was brimming with fun winter merch, all inspired by the holiday season! It also snows in Bikini Bottom, and SpongeBob feels cold too, you know!
It was indeed a HAPPY HOLIDAYS with all these cute Spongebob Squarepants goodies!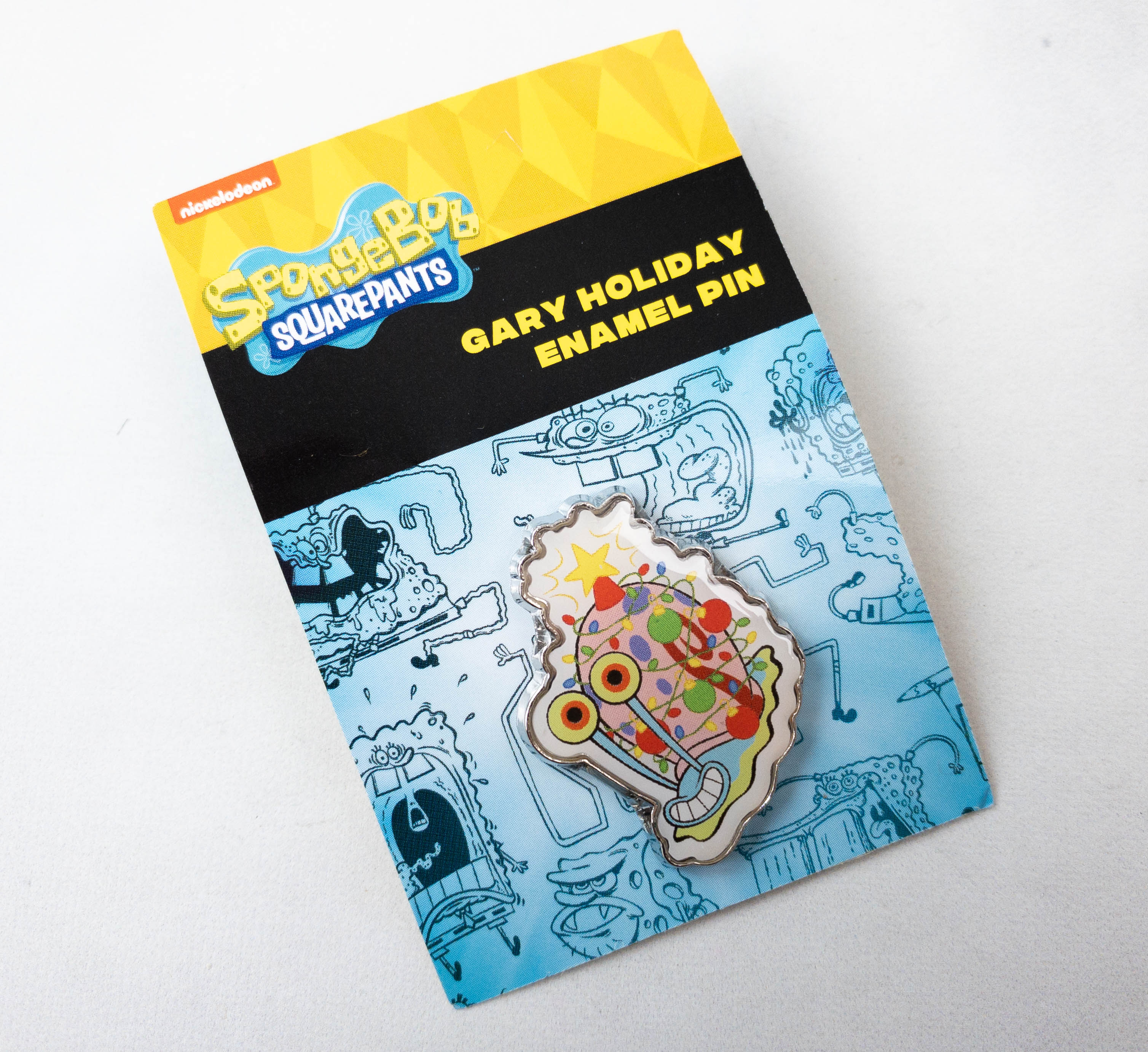 First up is a Gary Holiday Enamel Pin. Spongebob's pet snail is adorned with Christmas lights and ornaments, with a grin that shows how excited he is. You can put this on a tote, a jacket, or even on a guitar strap!
The box included two holiday greeting cards as well, and I just can't get enough of them. One card features Patrick, Gary, and Spongebob, while the second card features Spongebob with Bikini Bottom on the background. Both cards come with envelopes!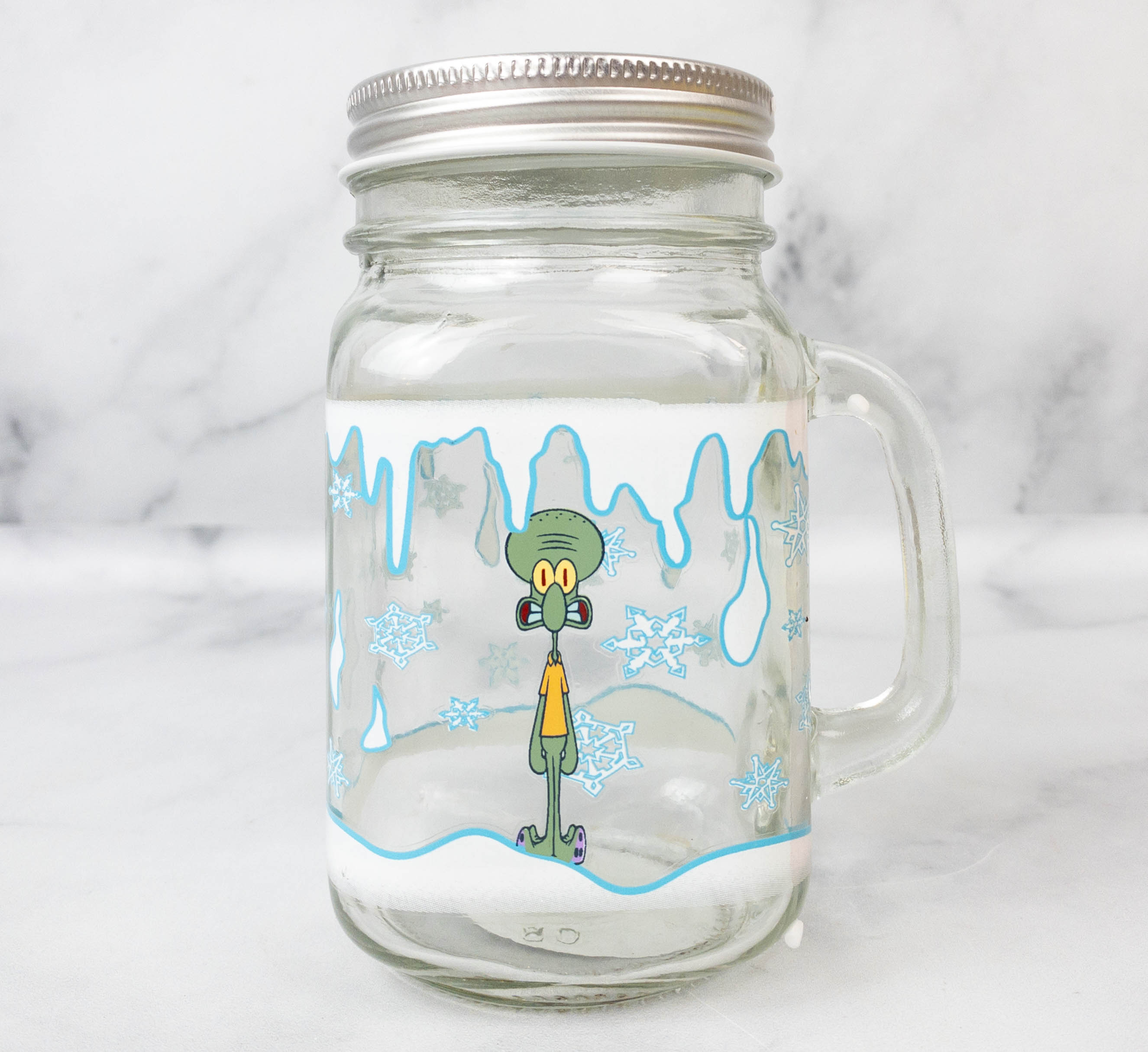 This Frozen Squidward jar mug is inspired by the Frozen Face-off special episode! The print features poor Squidward standing frozen by the snow. It also comes with a lid to secure the drink inside, as well as a handle for easier carrying and drinking.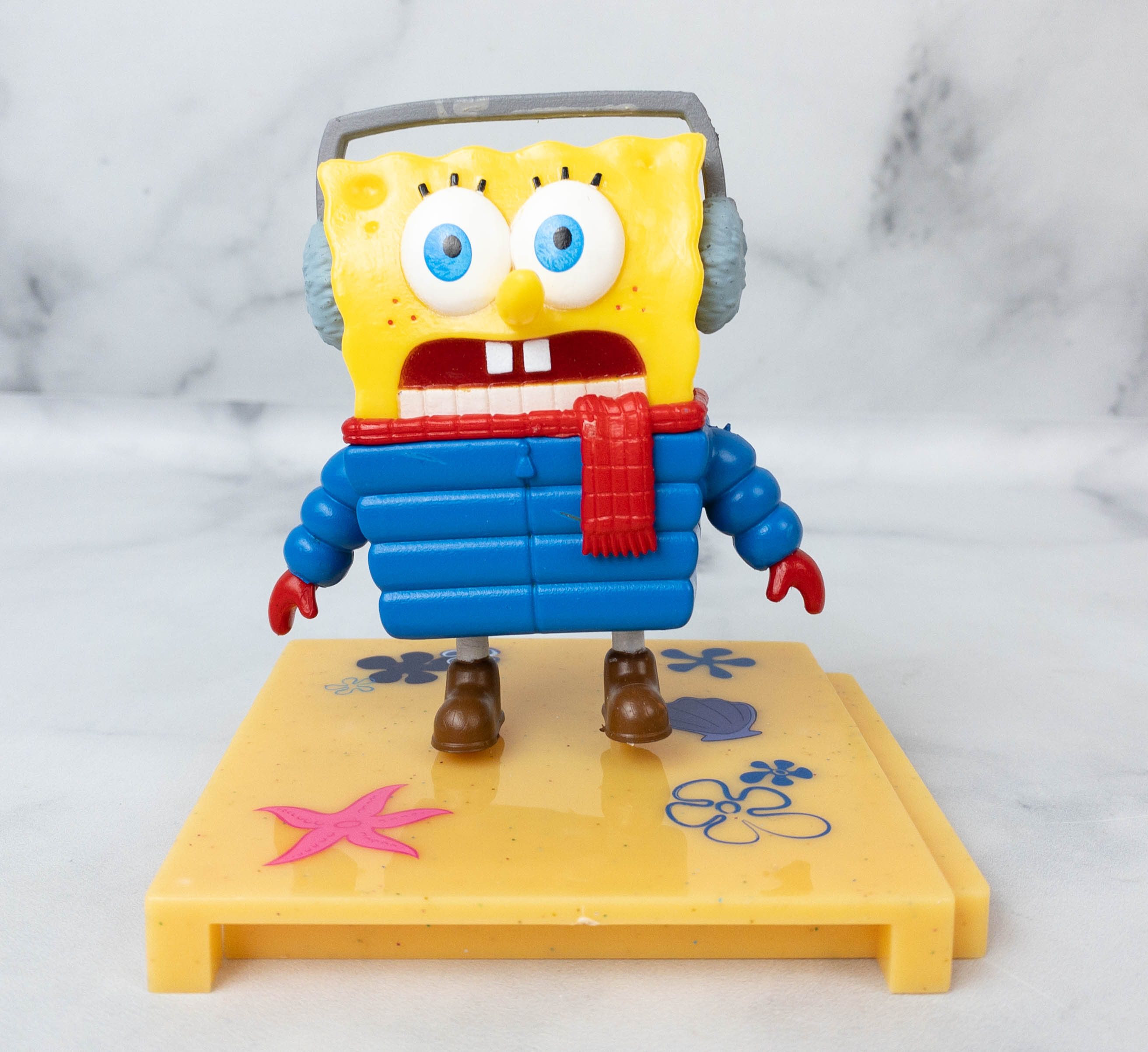 Each box includes a collectible vinyl figure! For Winter, it's a Spongebob vinyl figure, showing the main character in full winter attire. He's wearing a blue puff jacket, red gloves and scarf, earmuffs, and boots. He looks so cold, I can imagine his teeth chattering! It also comes with a base inspired by the sandy seafloor.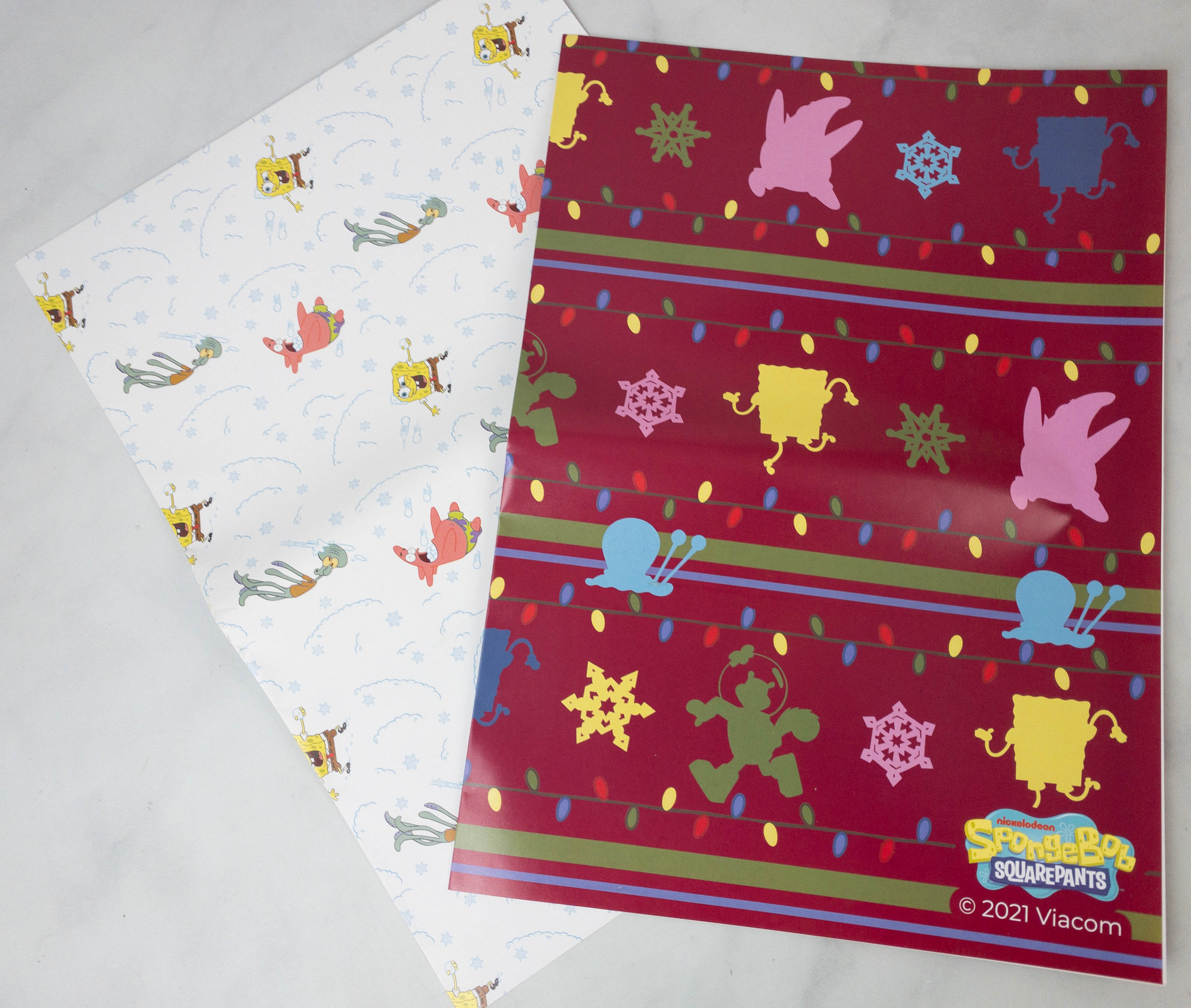 The box also has a set of holiday wrapping papers! There are two designs, and they look really festive. The first one has a red base color with just the silhouettes, while the second design has a white base with a snowball fight scene. The wrapping papers feature the characters from the animated TV series, including SpongeBob, Patrick, Squidward, Sandy, and Gary.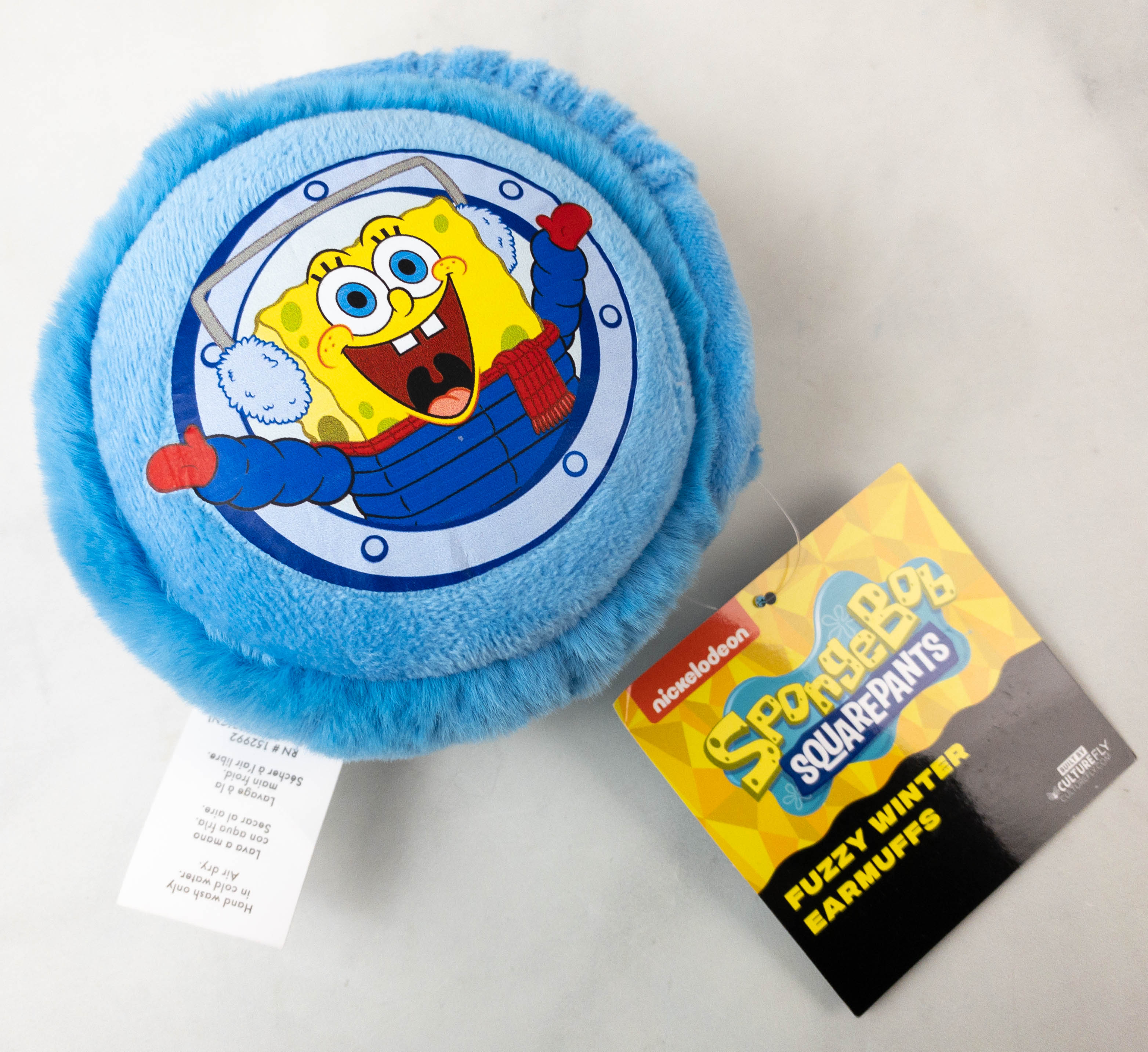 Next up is a pair of fuzzy winter earmuffs! This item looks like the one Spongebob wears in the vinyl figure. It's a great accessory to use for keeping your ears warm even as you play outside on a cold winter day.
It feels so soft, and I love the color as well! Each side is also designed with an image of Spongebob, same as the vinyl figure but cheerfully peeking out his home's porthole. The headband is also bendable/foldable, making it convenient to pack and use.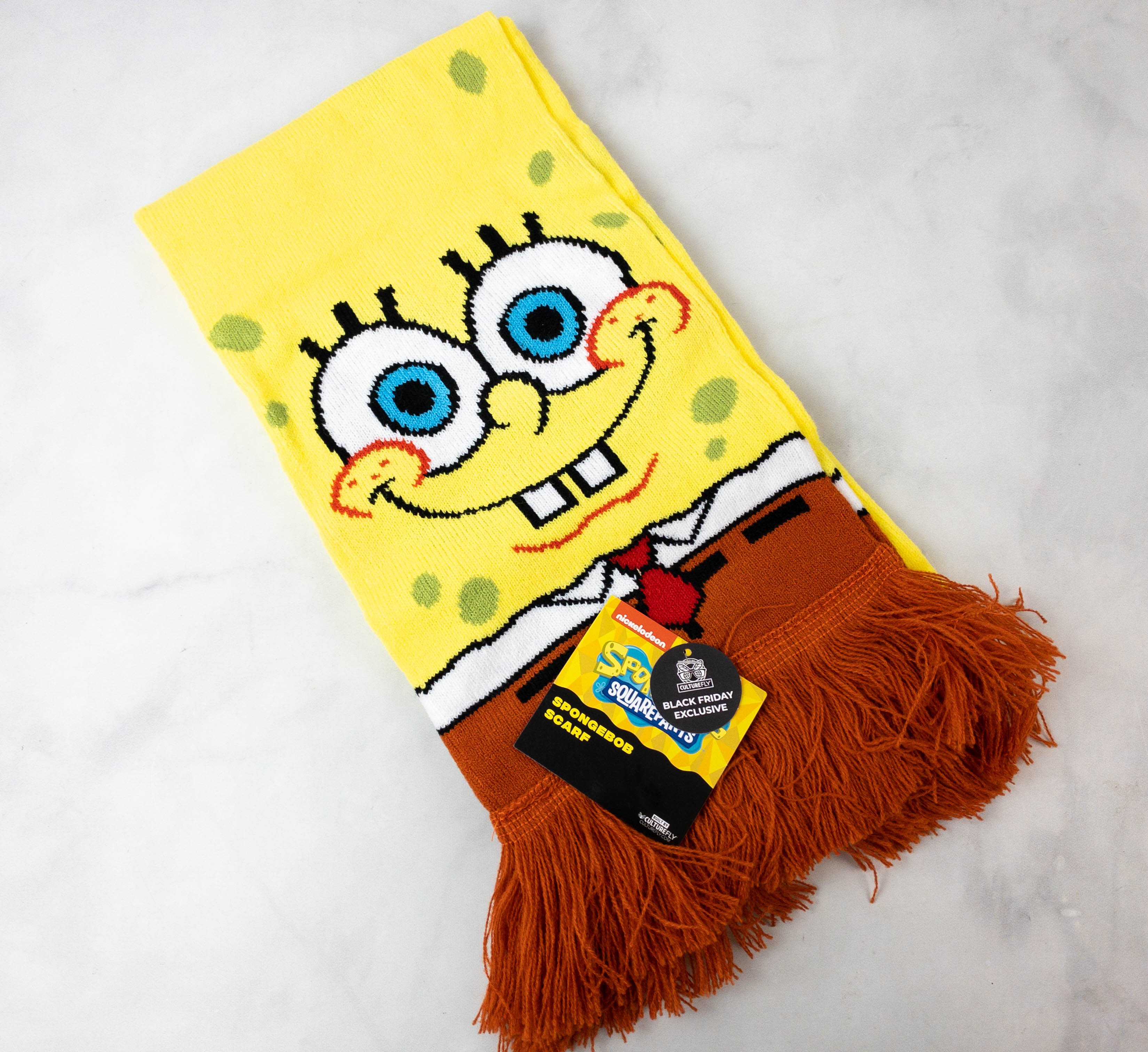 Another fun and useful winter accessory is this Spongebob scarf! The fabric used is high quality, it's soft to the feel and provides just the perfect warmth. It also has a big Spongebob face on both ends, and it's so adorable!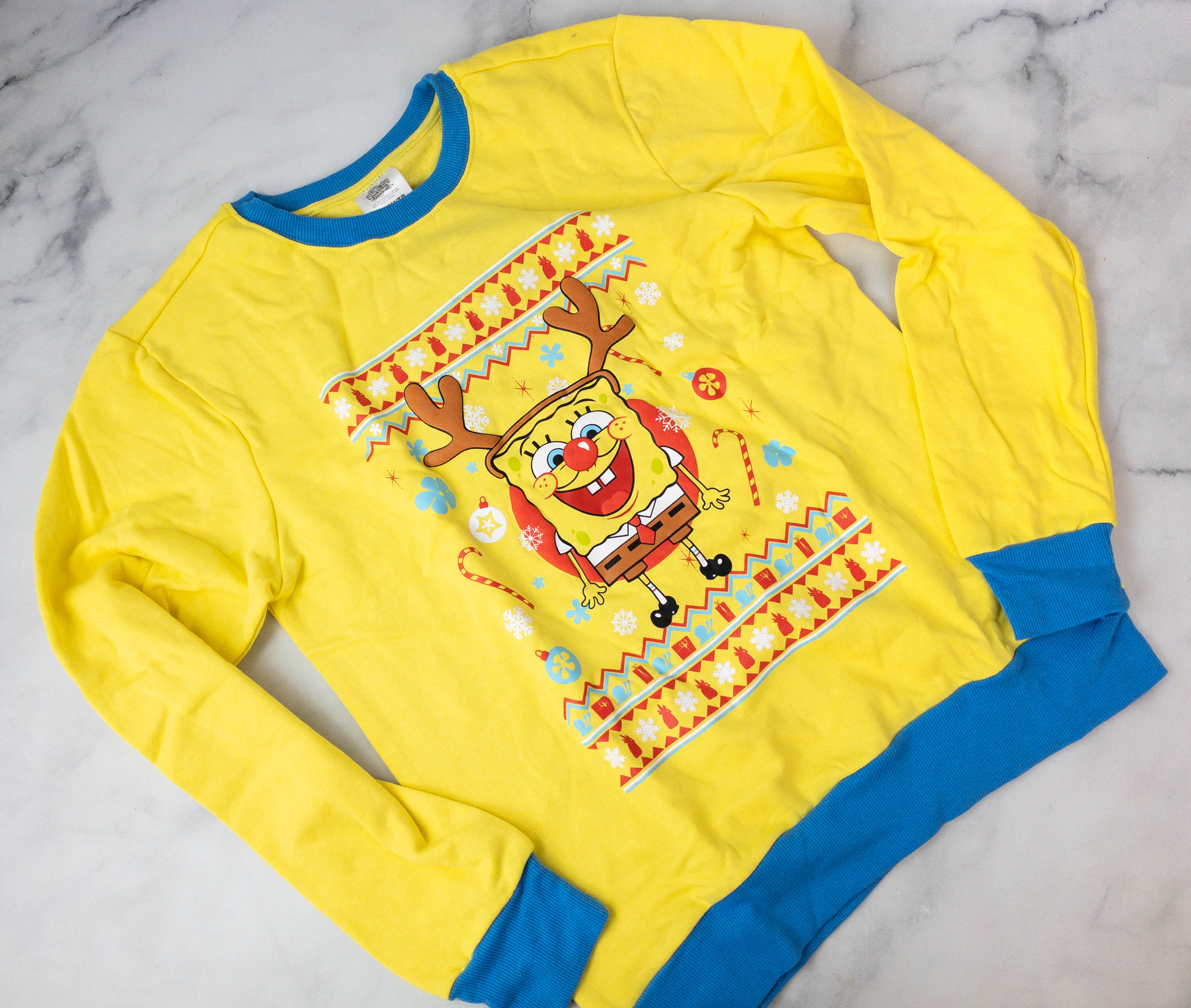 To complete the winter look, here's an ugly holiday sweater featuring a jolly SpongeBob Squarepants! It has a blue-collar line, cuff, and hem.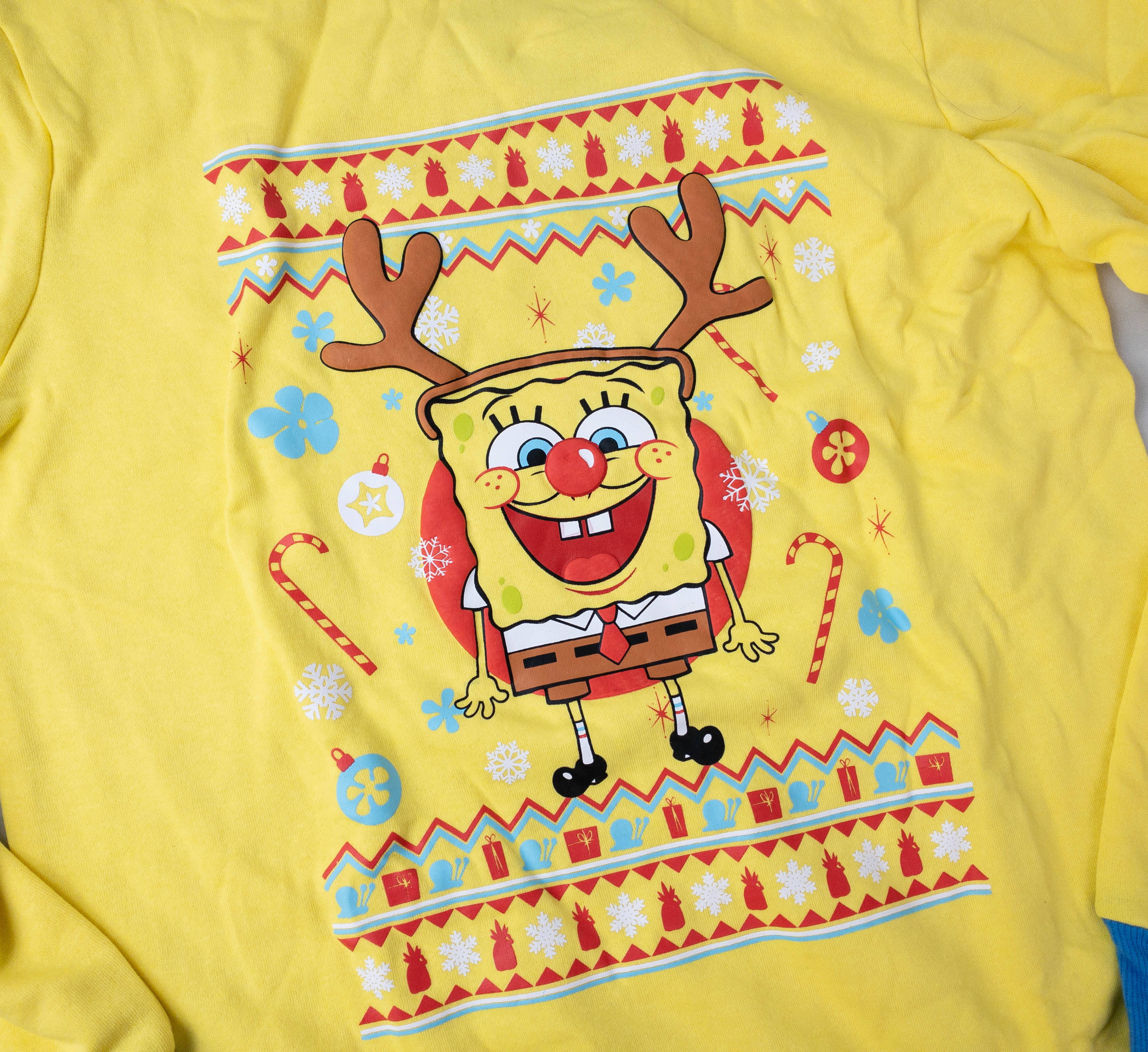 The print features SpongeBob wearing a reindeer antler headband and a red nose. The sweater looks so festive with all the candy canes, ball ornaments, and snowflakes!
The Winter 2021 Bikini Bottom Box is really fun! It's stuffed with exclusive SpongeBob merch to warm the cold winter days. The sweater, scarf, and earmuffs can all be worn together for the ultimate Spongebob-inspired winter ensemble! I also like the mug, which I can use when I want to enjoy my favorite winter drinks. All in all, this box makes the perfect seasonal box for SpongeBob fans and collectors of all ages!
The box itself and information cards are also designed in accordance with the theme. See them below: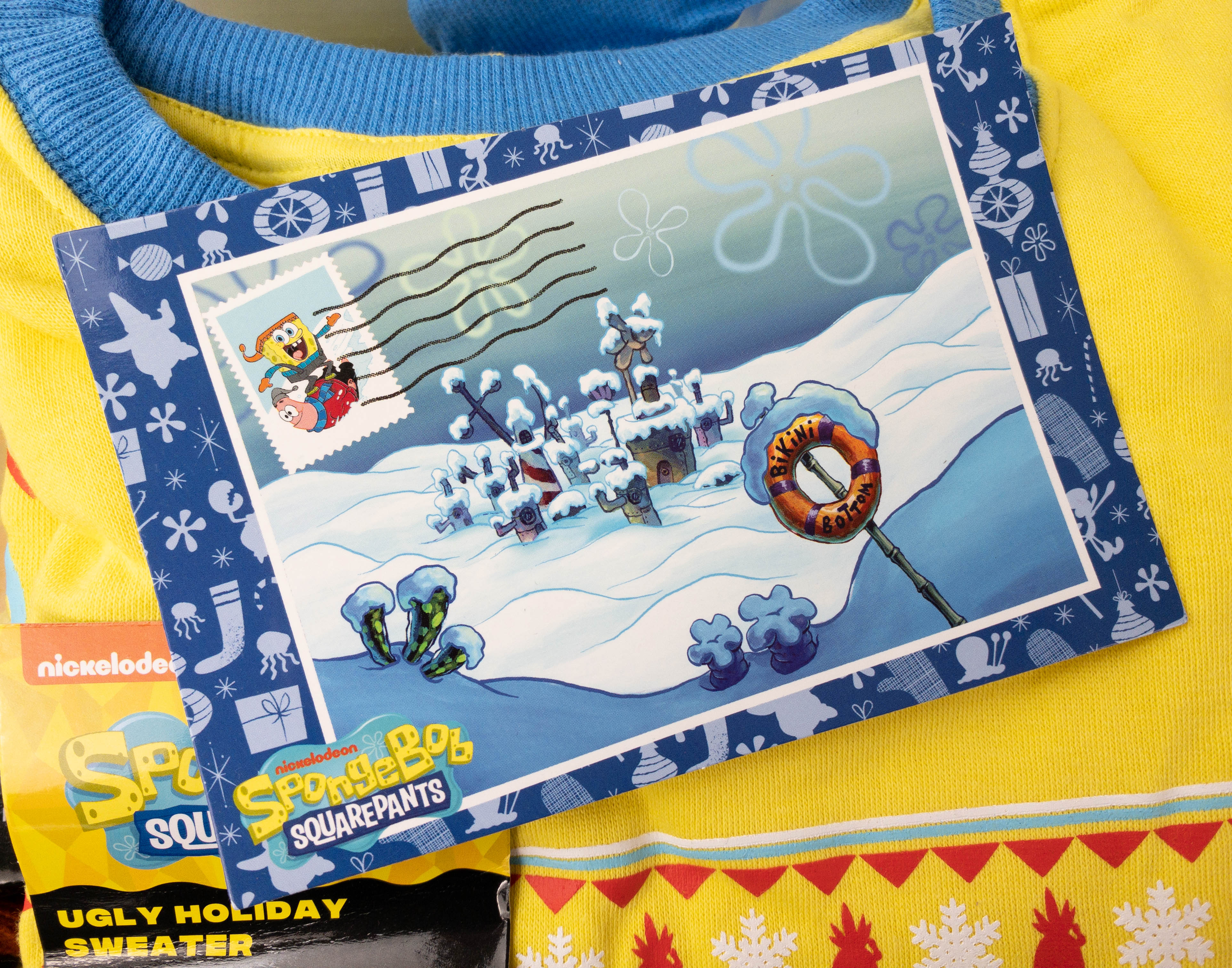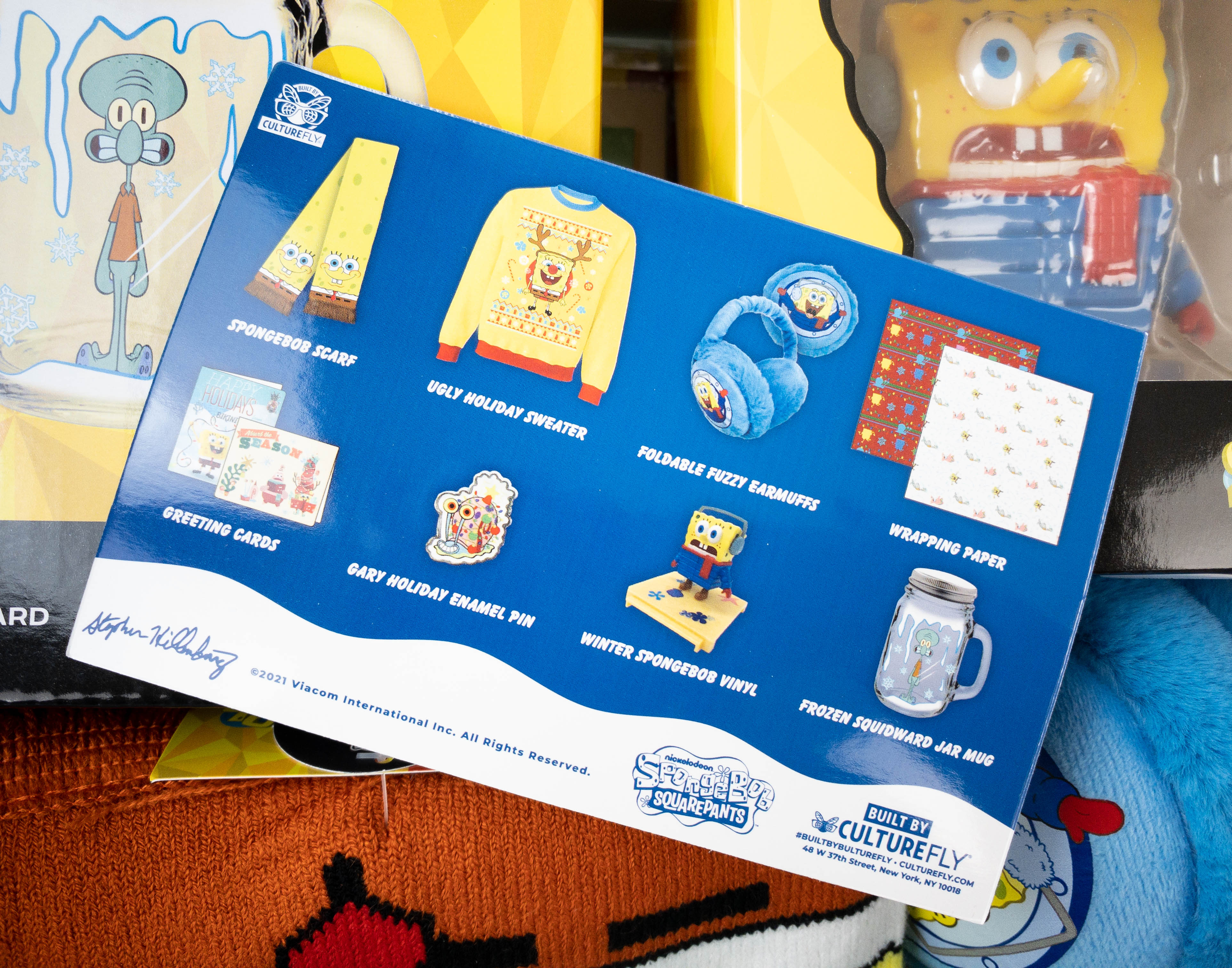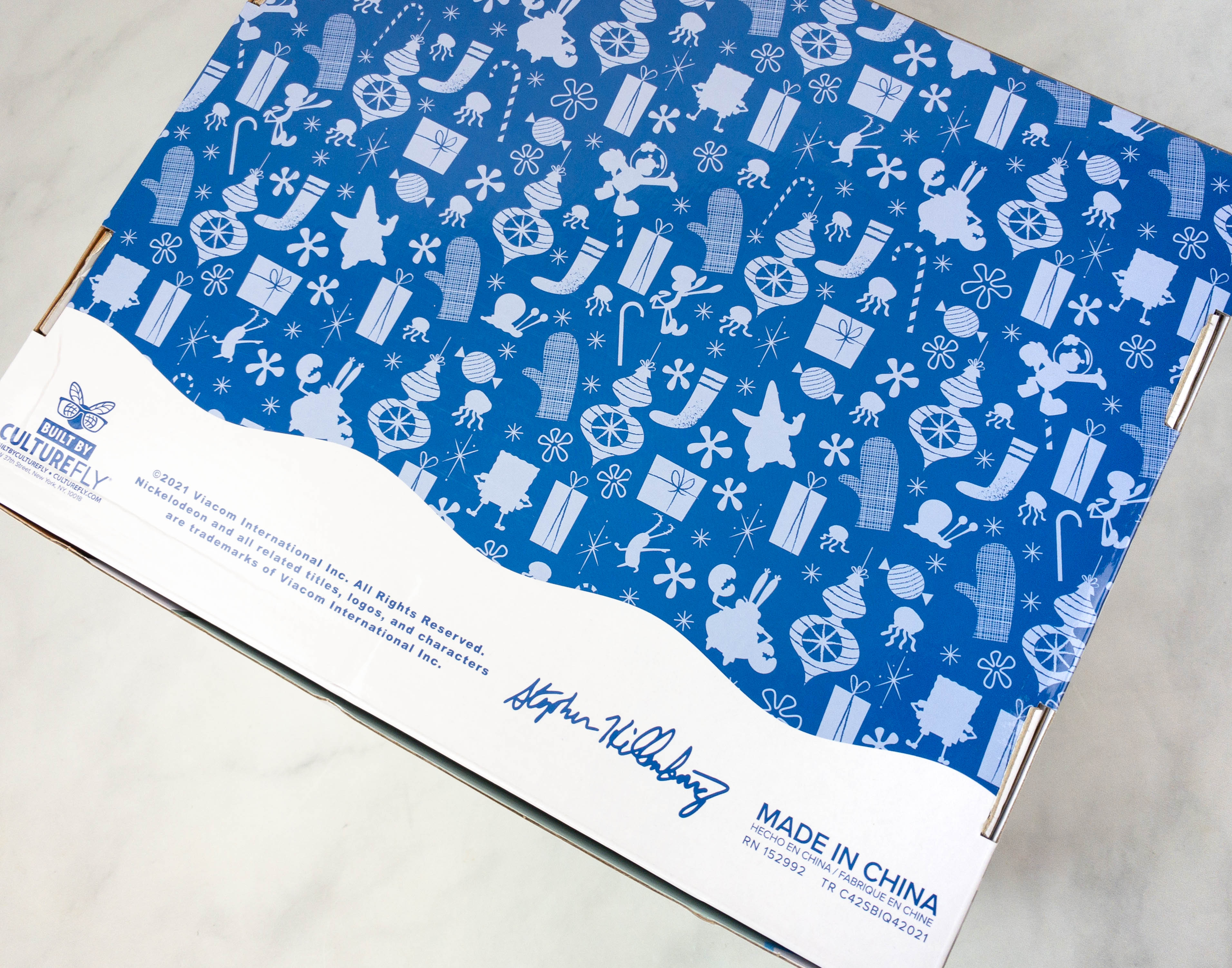 Bikini Bottom Box is a quarterly subscription of exclusive SpongeBob SquarePants merchandise, delivered to your door straight from Bikini Bottom. Each box contains 6-8 high-quality items that may include accessories, apparel, figurine, and other collectibles based on the SpongeBob SquarePants show. A quarterly plan is $39.99 per plus shipping. You can also subscribe to a pre-paid annual plan for $34.99 per box plus shipping. With the annual plan, you'll save $5 per box or $20 a year!
Are you getting Bikini Bottom Box?