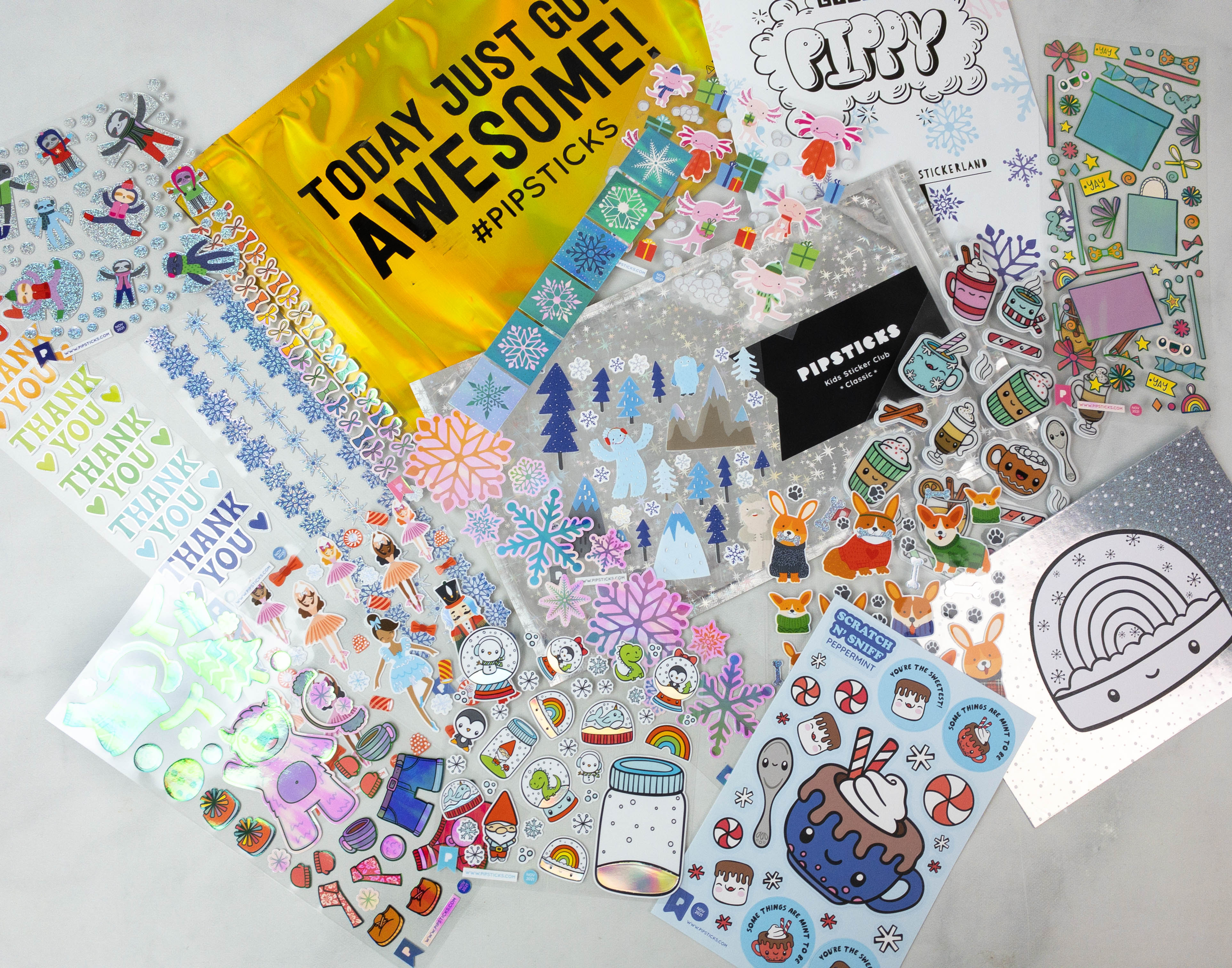 The fun of peeling and sticking stickers can't be matched! The November 2021 collection from Pipsticks Kids includes lots of cute and holiday-themed stickers that deliver Christmassy vibes to kids' notebooks, scrapbooks, or craft projects!
DEAL: Save $5 on your subscription! Use this link to subscribe and coupon code FRIENDSROCK.
This month's postcard has a holographic silver base color. It features a cute snowglobe with a rainbow in it. Also included in the package is the Little Pippy Zine. There are various activities in it, as well as ample space for kids to put some of the stickers.
The first sticker sheet features different snow globes and mason jar snow scenes. There is also an adorable sticker sheet of corgis wearing sweaters with paw prints and bones. How adorable! Another addition is a sticker sheet of abominable snowmen or yeti with snow mountains and pine trees. The last sheet features Axolotls, cute dragon-like aquatic salamander pets, with gifts and snowballs. Some of the stickers had foil accents, which my daughter likes!
The pack also includes a sticker sheet with sloths making snow angels, as well as stickers with beautiful and graceful ballerinas and nutcracker soldiers. Giving us more winter and holiday vibes are the snowflake stickers with a glittery finish, snowflake stickers with a fancy overlay, and colored ribbons!
It's another batch of cute and colorful stickers, including "Thank You" stickers which are best to add on cards or gifts. There's even a puffy sticker sheet with cocoa and cider mugs, a reminder to keep warm with delicious drinks during the coldest months. My daughter loves the scratch and sniff stickers as well. They're matte, and they do smell peppermint when rubbed! So much for the holiday vibes!
We're not yeti done! There's a yeti sticker with a glossy overlay material that allows it to change color when you move it, plus a sticker sheet of random celebration stuff, and more snowflakes. All these stickers look so cute and festive!
Here's a closer look at the stickers. These are all perfect for the winter months!
Pipsticks Kids November 2021 pack is all about winter and holidays, and my kids are so happy about them! From the yeti to the corgis to the ballerinas and nutcracker soldiers, everything looks so cute and lovely. Most of the sticker sheets have a holographic design, which makes a shiny and sparkly addition to diary pages or even to gadgets they want to decorate. Aside from the kids' pack, Pipsticks also offer a subscription for adults. It's a magical surprise for sticker lovers!
Curious about the Little Pippy Zine? Here's a closer look: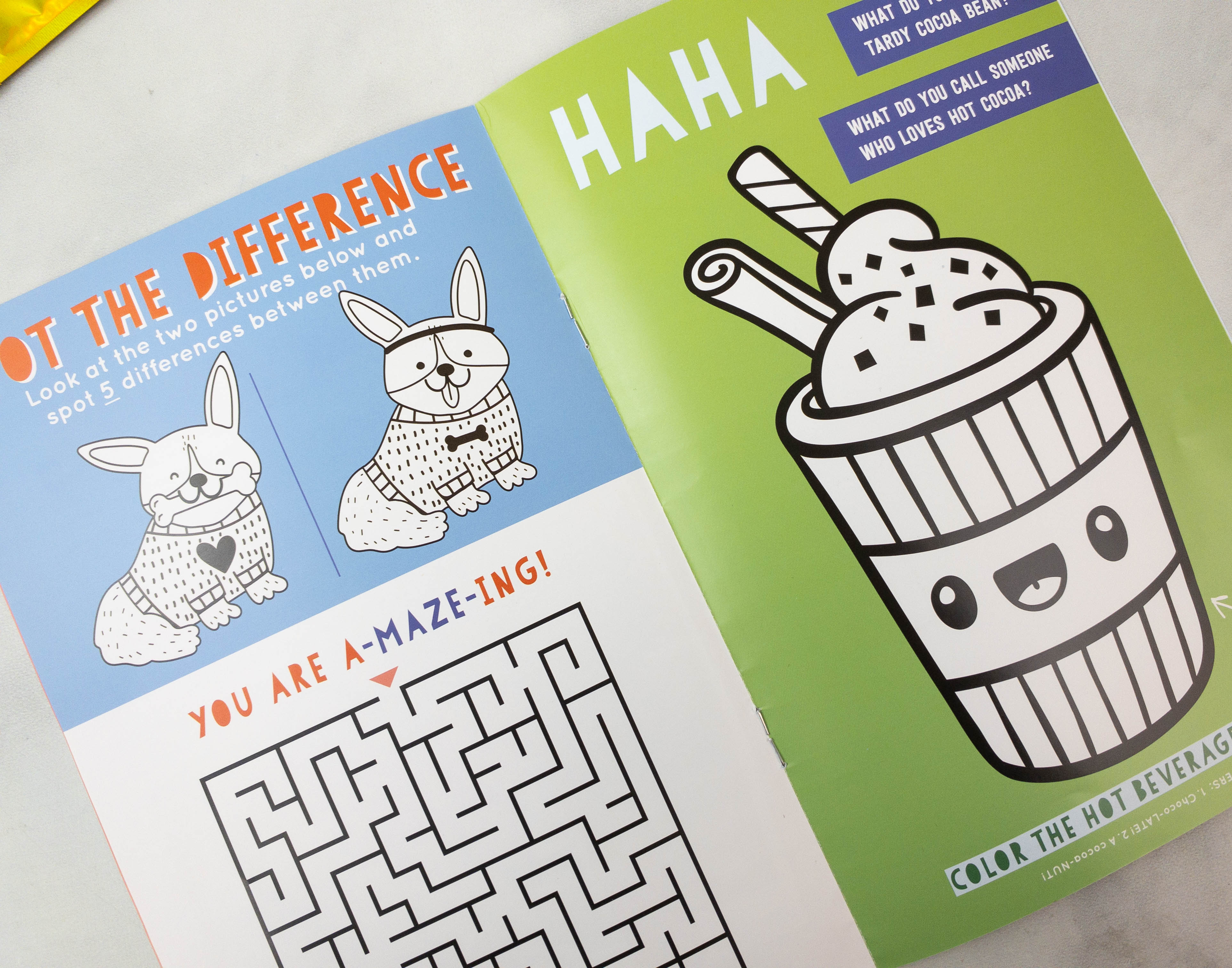 Pipsticks is a monthly sticker subscription that sends new designs from their collection in a super shiny holographic pack every month! The stickers come in a reusable sparkly pouch and include sticker sheets, paper products, and Little Pippy, an exclusive sticker magazine. You also get 5% savings in the online store and more. You can choose to get stickers for adults (Pro Club) or kids (Kids Club). Both clubs come in Classic (15 sheets for $17.95 a month) or Petite (7 sheets for $11.95 a month). Shipping is free to the U.S., and Pipsticks can even be shipped worldwide for a fee.
NOTE: You should be able to find the items in this month's pack in the Pipsticks online shop around mid-month. They usually have previous packs available too.
Are you getting any of Pipsticks subscriptions?