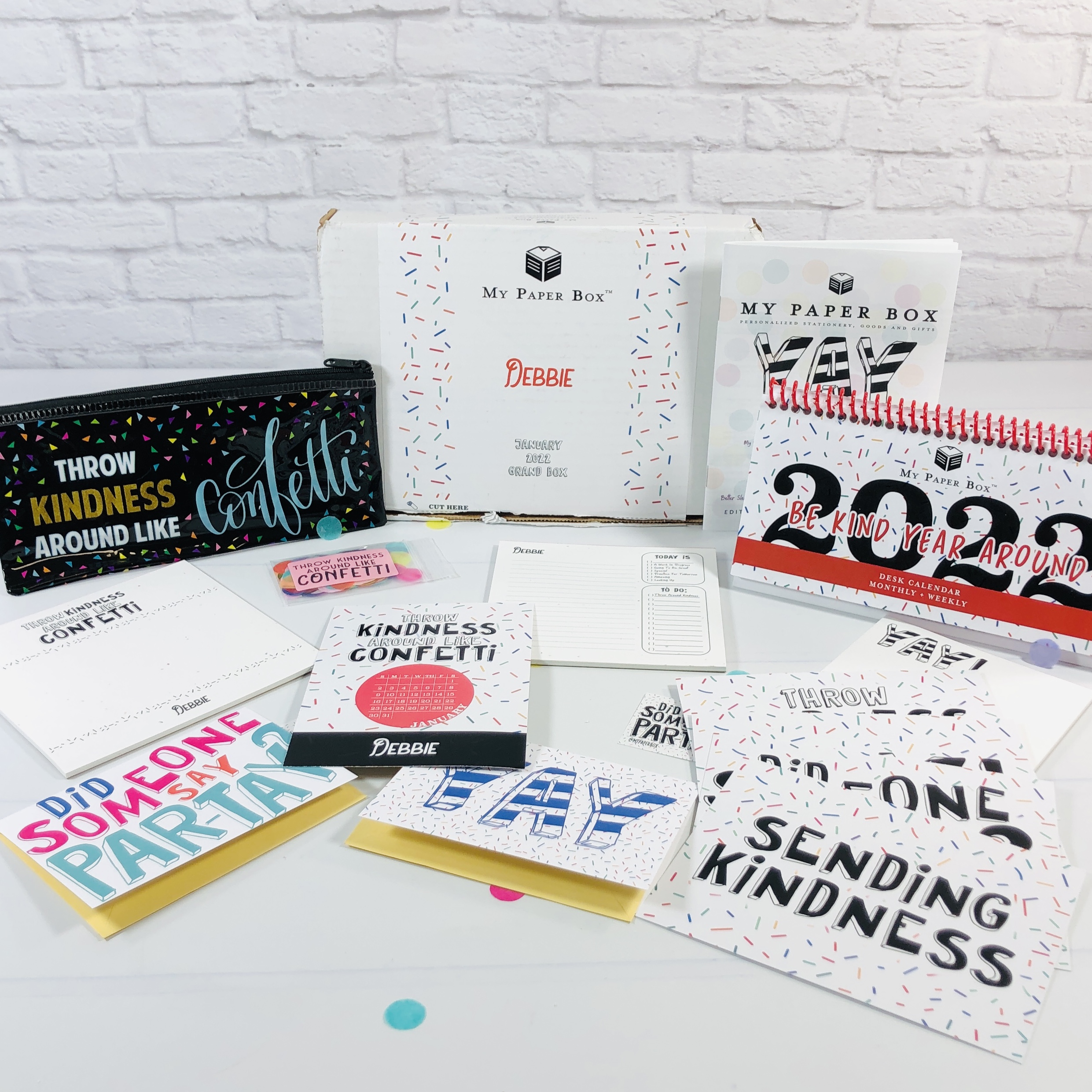 I'm starting the New Year with kindness on my mind thanks to the January 2022 My Paper Box! They send the cutest personalized stationery items and just wait until you see their notepads, I have them all over my house! They have a couple of different subscription options and this is a review of The Grand Subscription, which is $28 a month.
DEAL: Get $5 off your first box. Use the coupon code 5OFFMYBOX.
The presentation was cool, with the items wrapped in tissue paper that was sealed with a sticker. I even found confetti sprinkled about and you may see it in my pictures below, I had no plans to remove it because it added even more fun to my opening experience! The tissue paper is pretty cool looking and the sticker had my name. I am reviewing the Grand Subscription Box. You can personalize the boxes however you choose, and I prefer my first name alone, but maybe you want Ms. Smith or Mama April on the items instead, it's up to you.
The booklet is very informative and has lots of unusual holidays inside.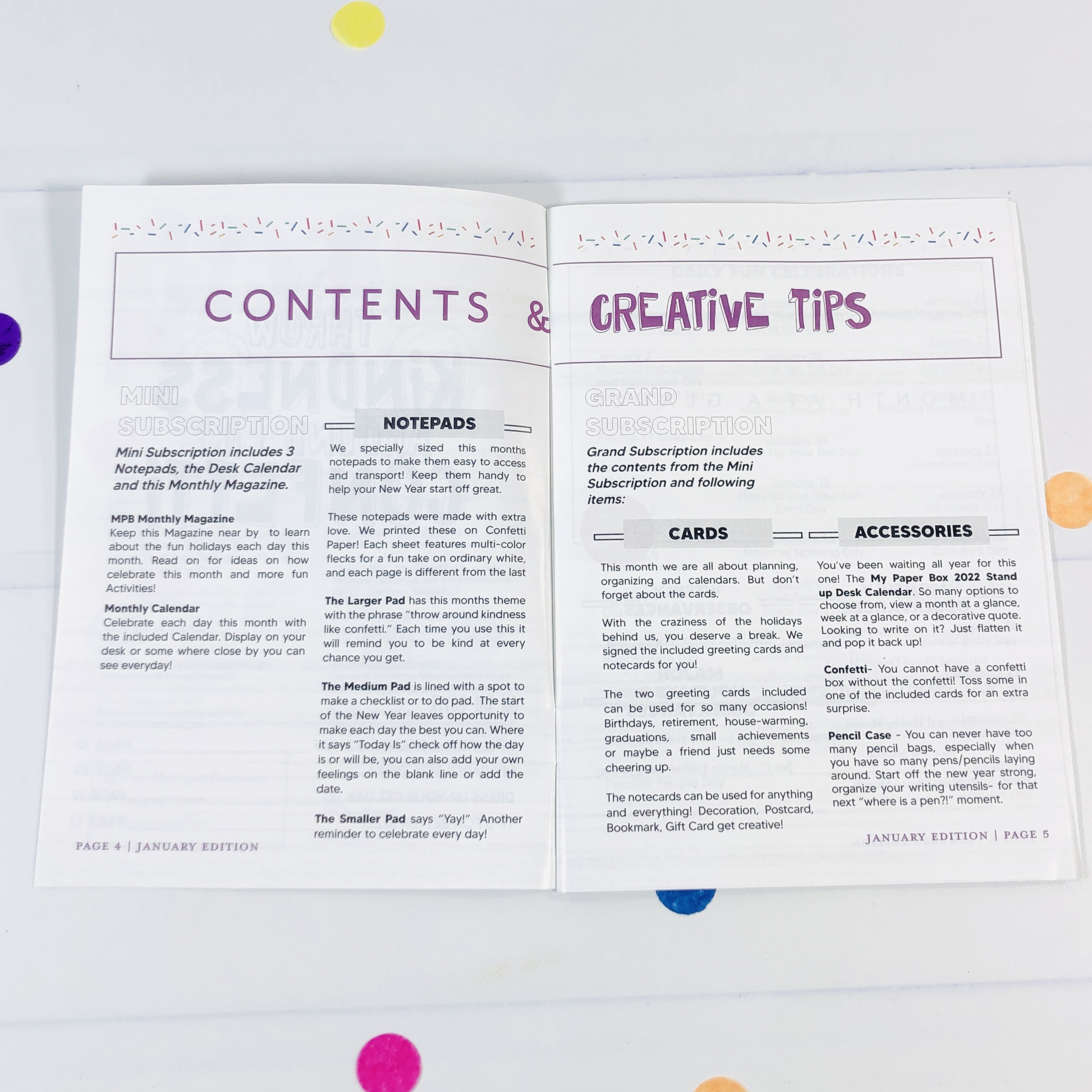 The inside described what I received in my box. It is broken down into what comes in the Mini Subscription listed on the left, and then the right page also includes what you will find in the Grand Subscription.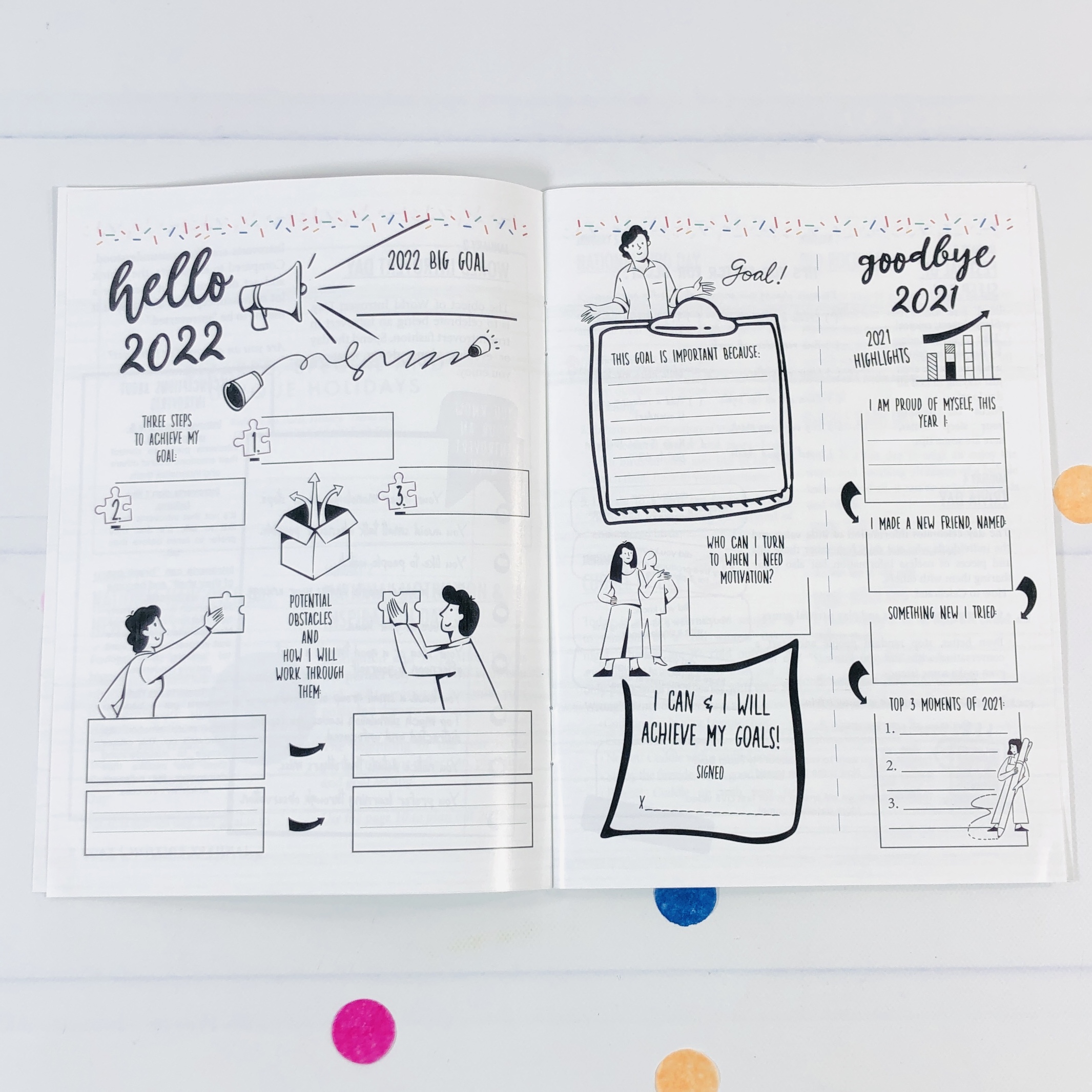 One of the spreads has a place to note goals for the year ahead!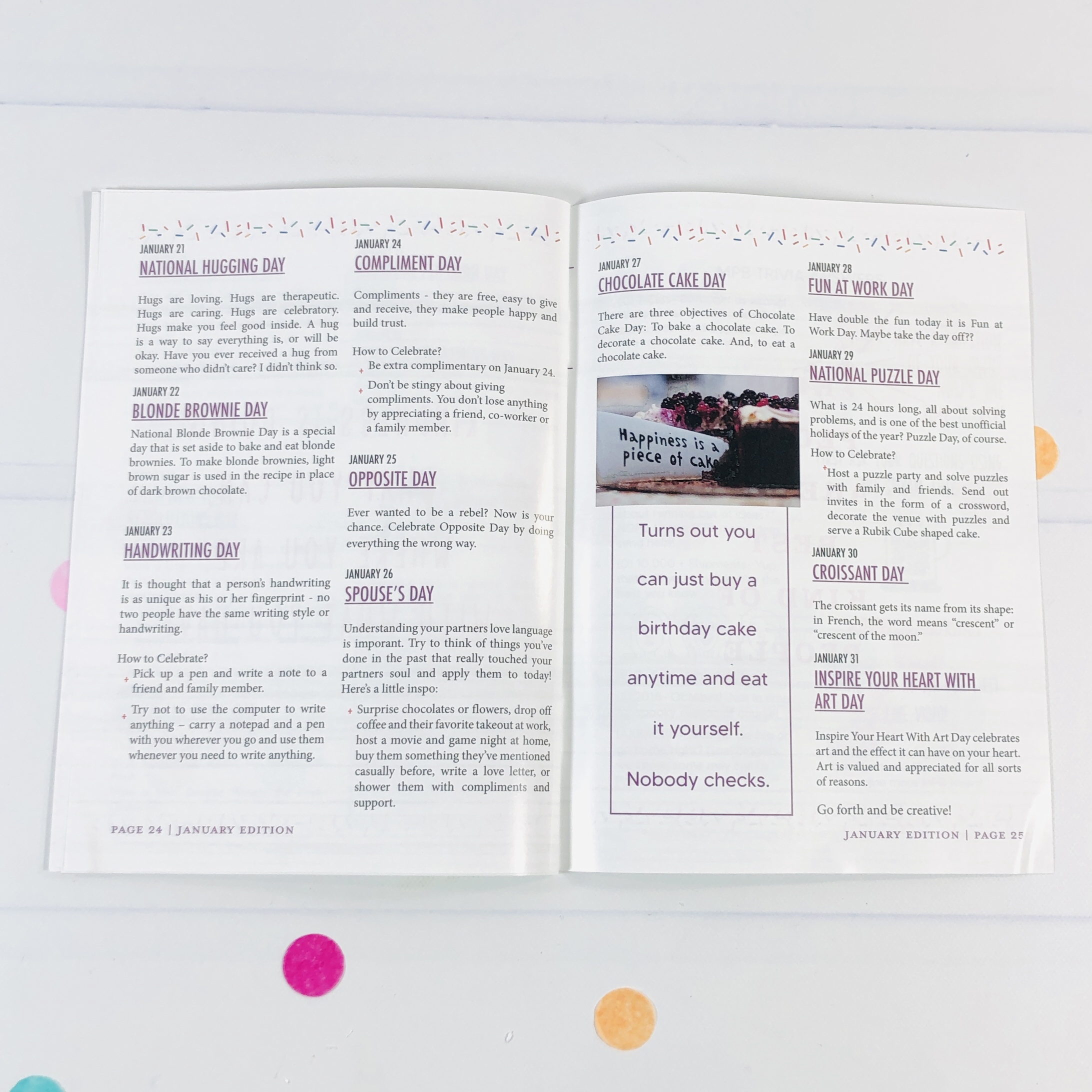 There are so many random holidays, you could celebrate one a week or even one a day if you wanted to. There are 27 pages in all in this booklet.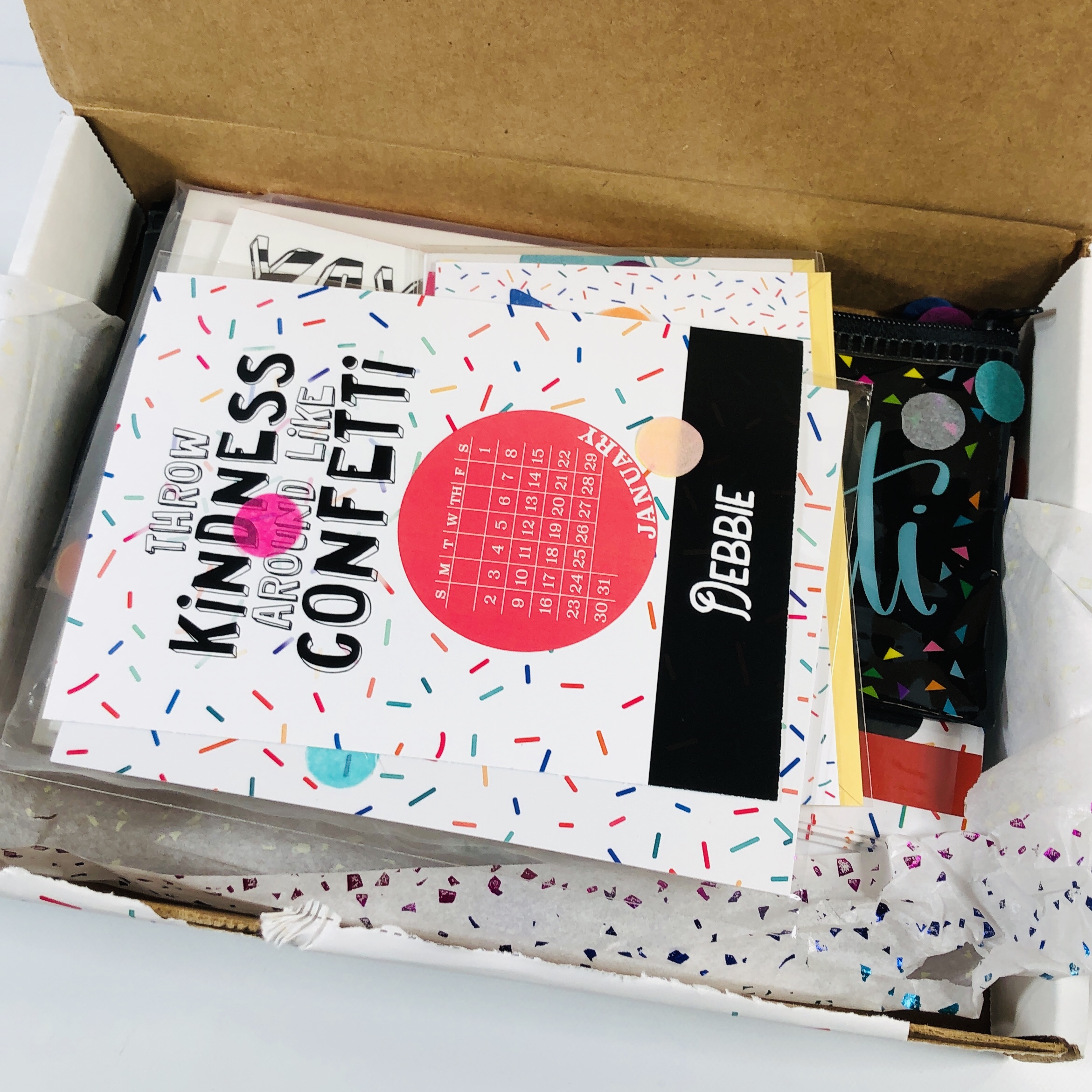 Most items are wrapped in plastic for protection.
Monthly Calendar I believe the very first box comes with a holder for the monthly calendar, and occasionally we receive a themed stand too. This sits on my desk so I can see the month easily every time I need it.
The back has some of those cool and different holidays. I'm looking forward to January 12th, National Hot Tea Day (which for me happens 365 days a year) and may have to celebrate a few more of these days.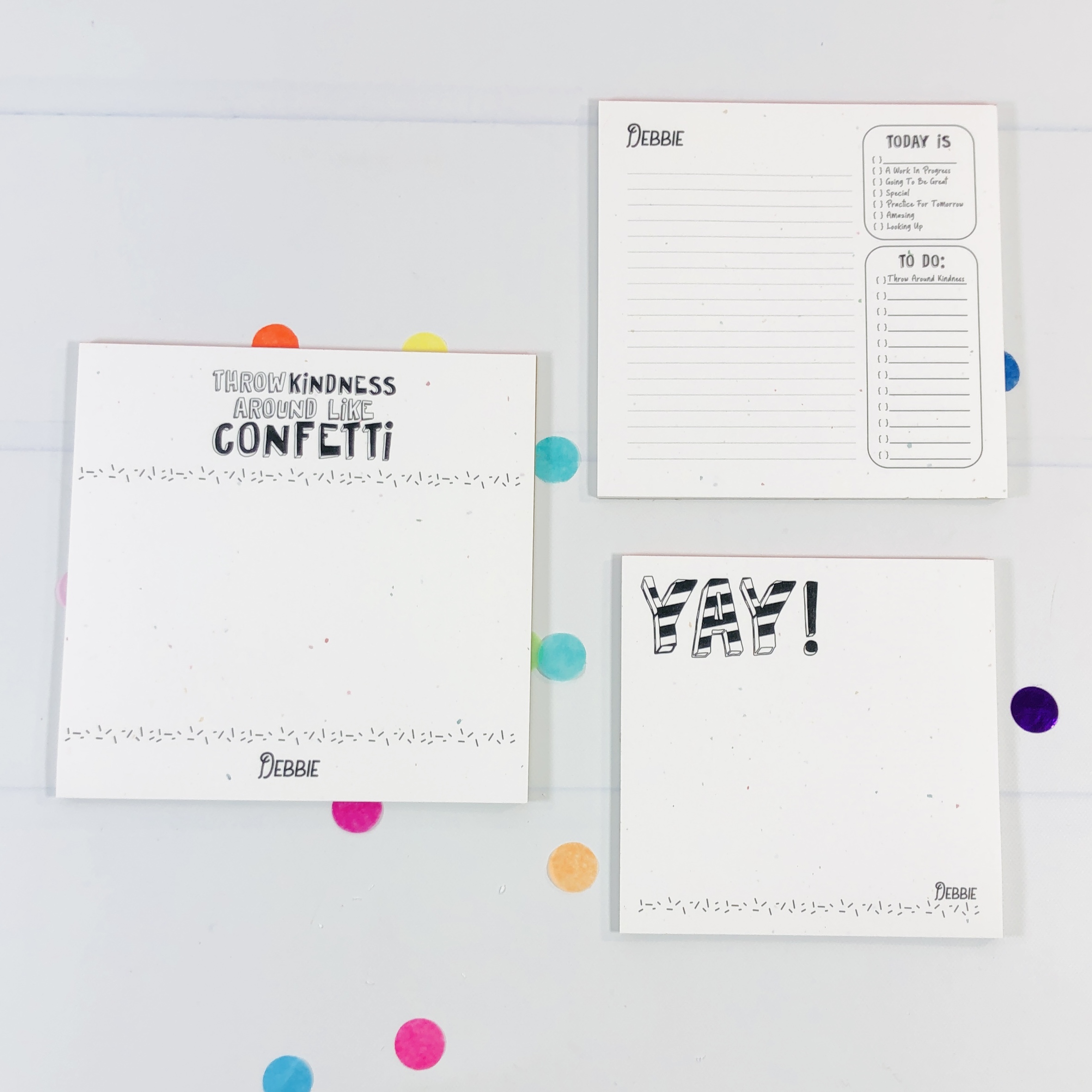 Notepads My Paper Box has some of the best notepads out there, you can subscribe to get just the pads if you like, they are that good! The Larger Pad (5.5″ x 5.5″) on the left features the theme at the top; the Medium Pad (5″ x 5″) has a checklist on the side and I know I will get a lot of use out of this one this month; the Smaller Pad (4.5″ x 4.5″) has lots of space for notes. I think these have 25 pages each and the paper has colorful "confetti" specks throughout that add a touch of whimsy but won't obscure your writing.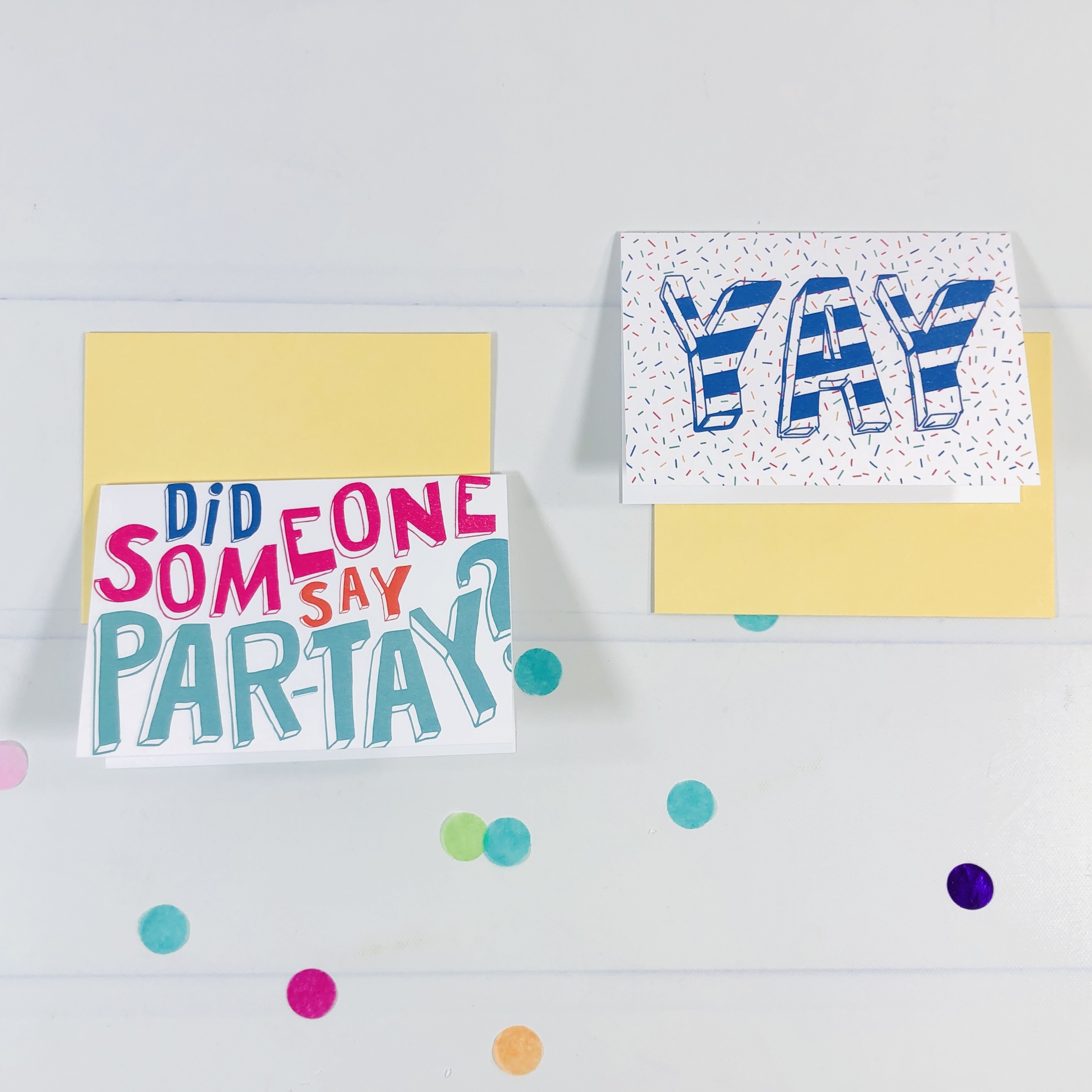 All Occasion Cards We received both greeting cards and notecards this month. These two cards (each with a matching envelope) have sentiments on the inside along with my name. The card on the left reads "LET'S PAR-TAY!" while the card on the right says "HOPE YOU'RE AS EXCITED AS I AM ABOUT TODAY!".
Here are the 4 notecards!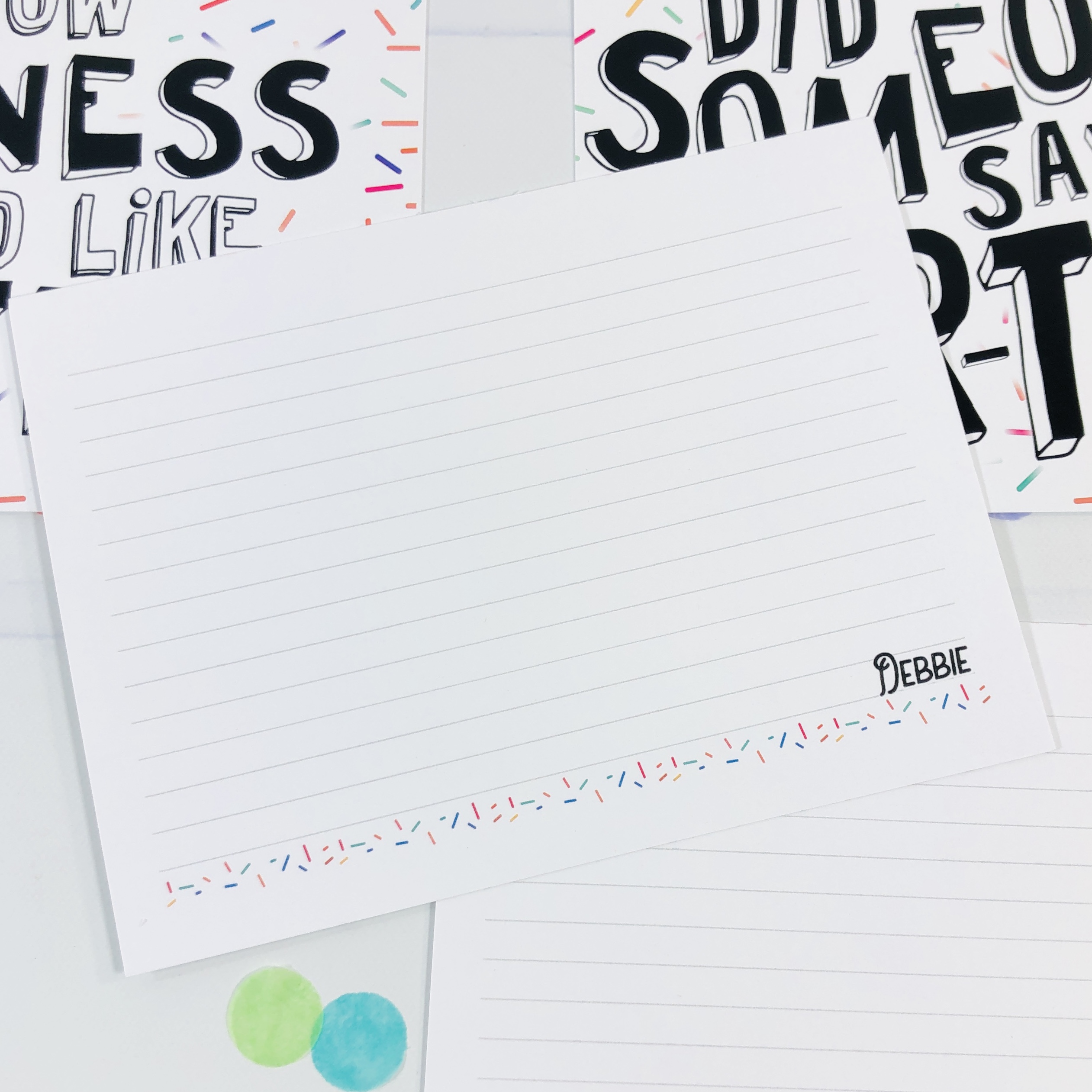 The backside has my name and lots of lines for writing a note to a friend. I'm sure they can be addressed and sent as postcards too.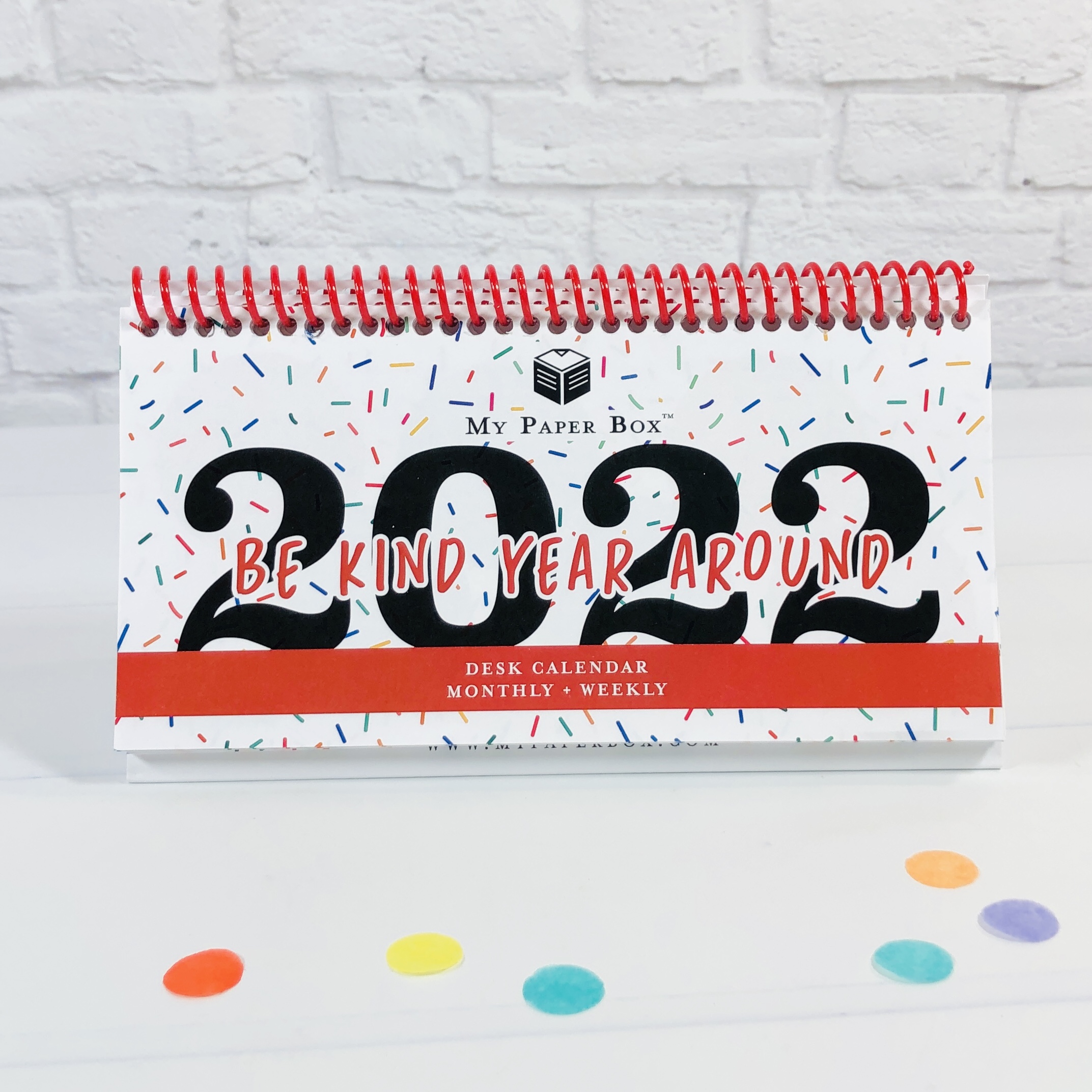 2022 Desk Calendar A stand up desk calendar adds some color to my desk, and of course you can prop it on a table or wherever.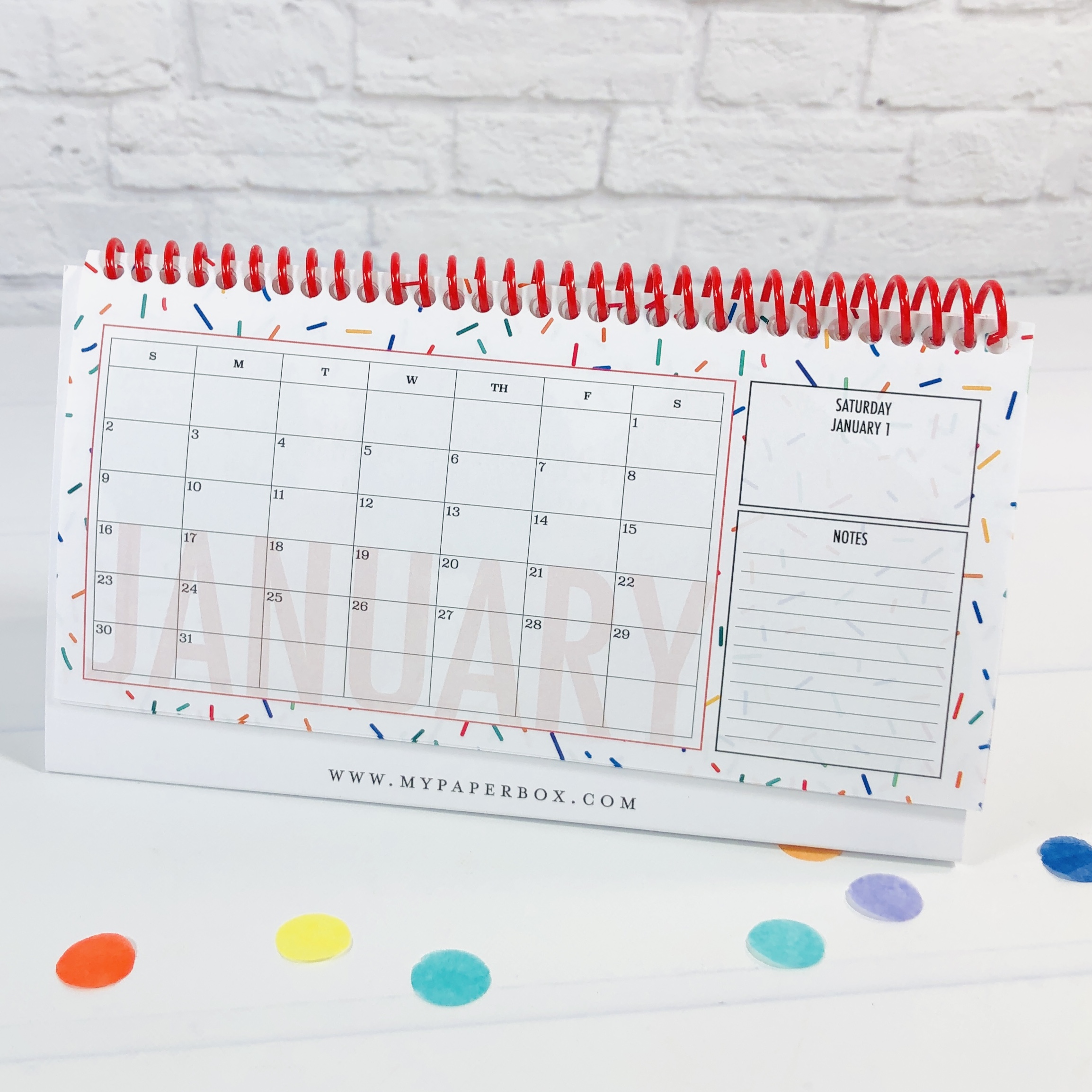 The calendar is double sided. One side shows the whole month at a glance.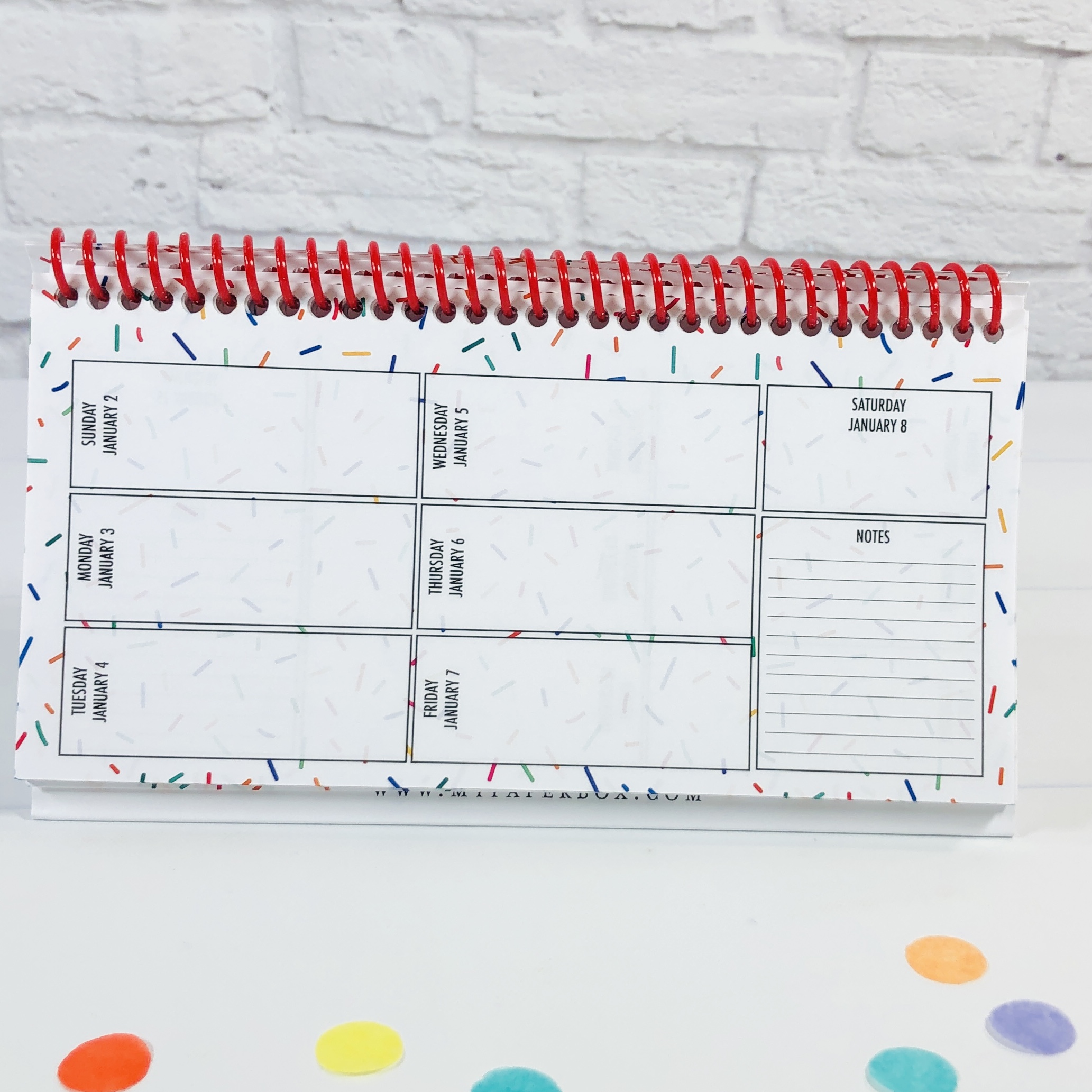 Flip it around and you will see a week at a time. This is really helpful for me. I can put the important appointments on this calendar and see it every morning when I start my day at the computer with my cup of tea. I generally don't look at my planner until later in the morning so this is going to help me stay on top of things. The calendar lasts until the end of the year. Such a great idea!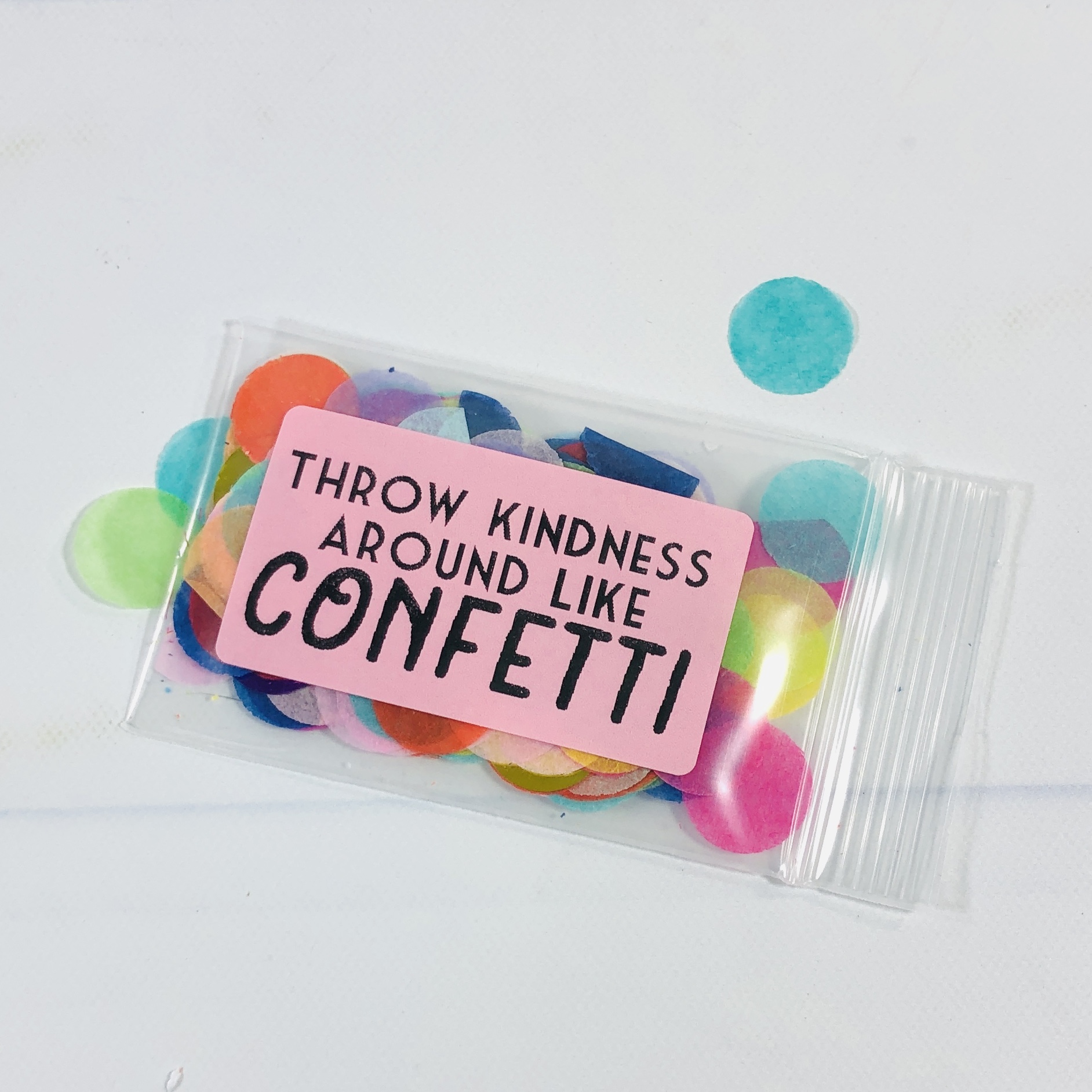 Confetti Confetti has been worked into each of the items so far, but here's a bag full of real confetti! This is the big kind so hopefully it's easier to clean up than those tiny pieces, and it's made of tissue paper.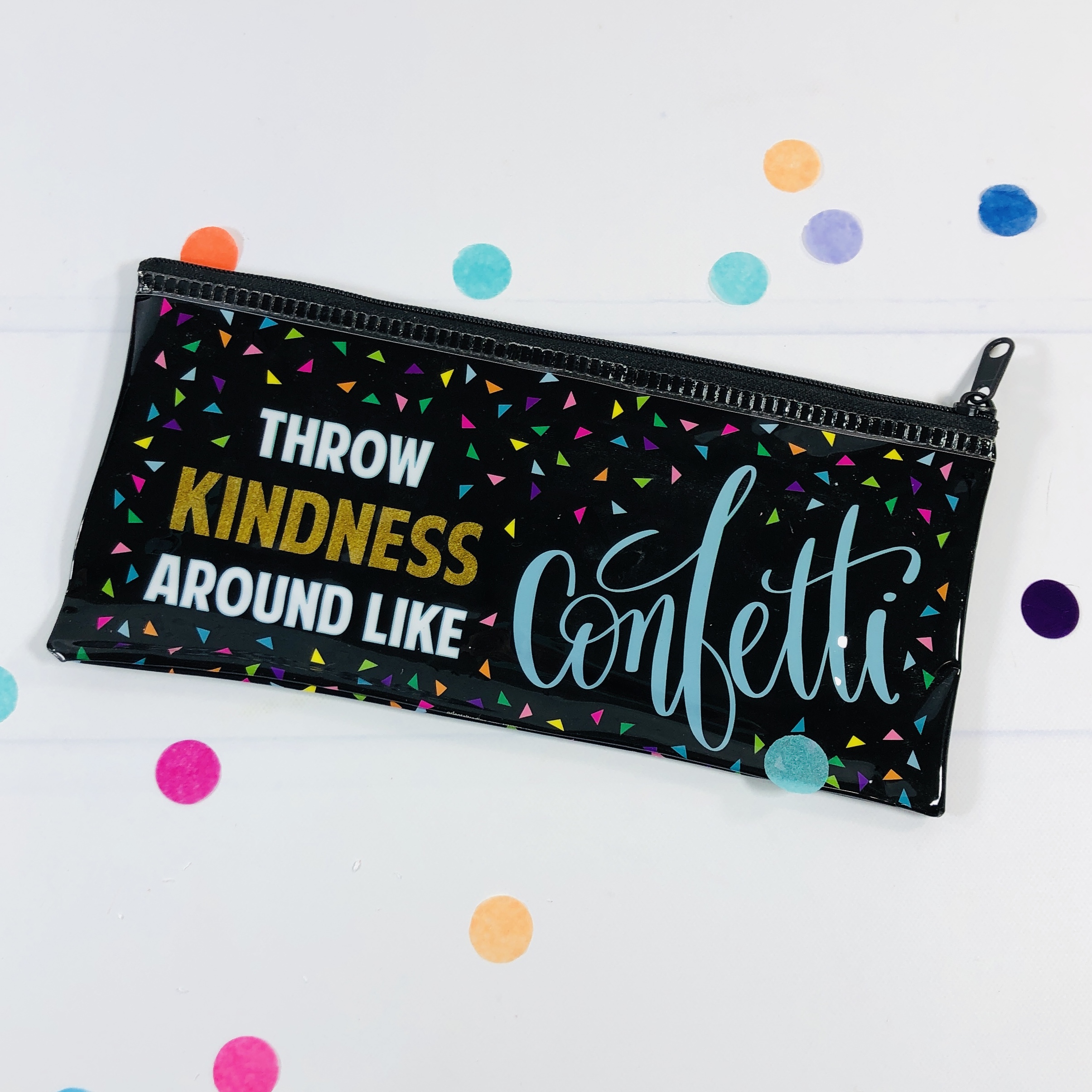 Pencil Case A pencil case with the theme ties it all together. You can find this bag at Oriental Trading if you are interested in purchasing more, and it can hold change, makeup brushes, etc. The design is exactly the same on the other side.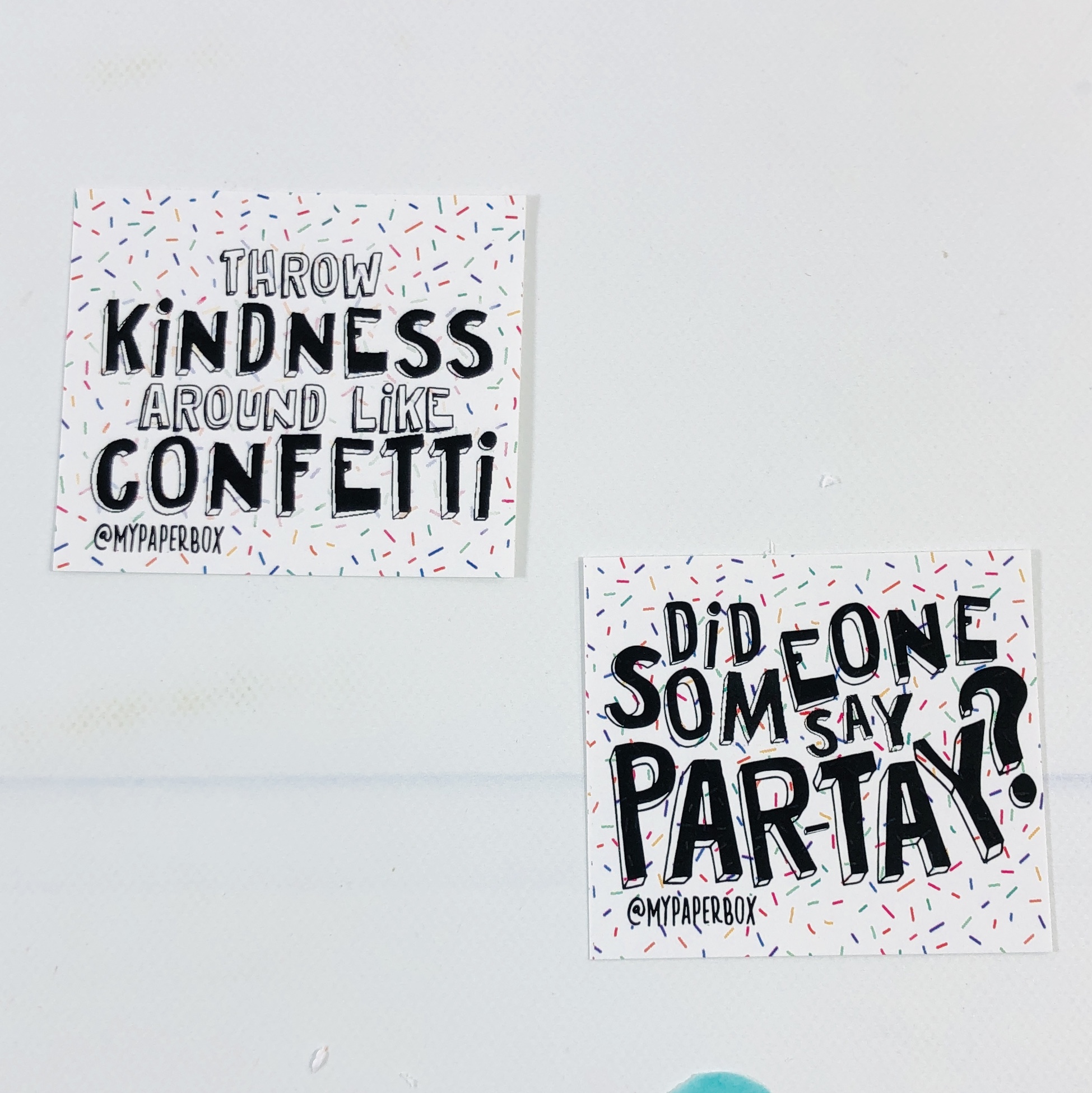 Two Vinyl Stickers were the final items in my box and I may have to share these with my daughter, she loves stickers too. The January My Paper Box was filled with coordinating stationery items and I was thrilled with the colors, the confetti worked into each piece, and really everything else! The notepads are seriously some of the best out there, and I don't know how Sam comes up with such adorable themes each month but they are always cute and perfectly coordinated! My Paper Box is a monthly personalized subscription box filled with personalized stationery! Imagine my surprise when I saw this cute, cheery box in the mail and it had my name on it! Each box will be curated to a theme and you can choose from two different levels and price points. The Mini Subscription is a collection of 3 personalized notepads and is $10 a month; The Grand Subscription comes with a Personalized Paper Box and a selection of items such as personalized notepads, cards, planners, and more and is $28 a month. Each month there will be a new theme and you receive the order for the Grand Subscription the month before so you will have everything ready to go when the calendar changes. What do you think of this month's box?