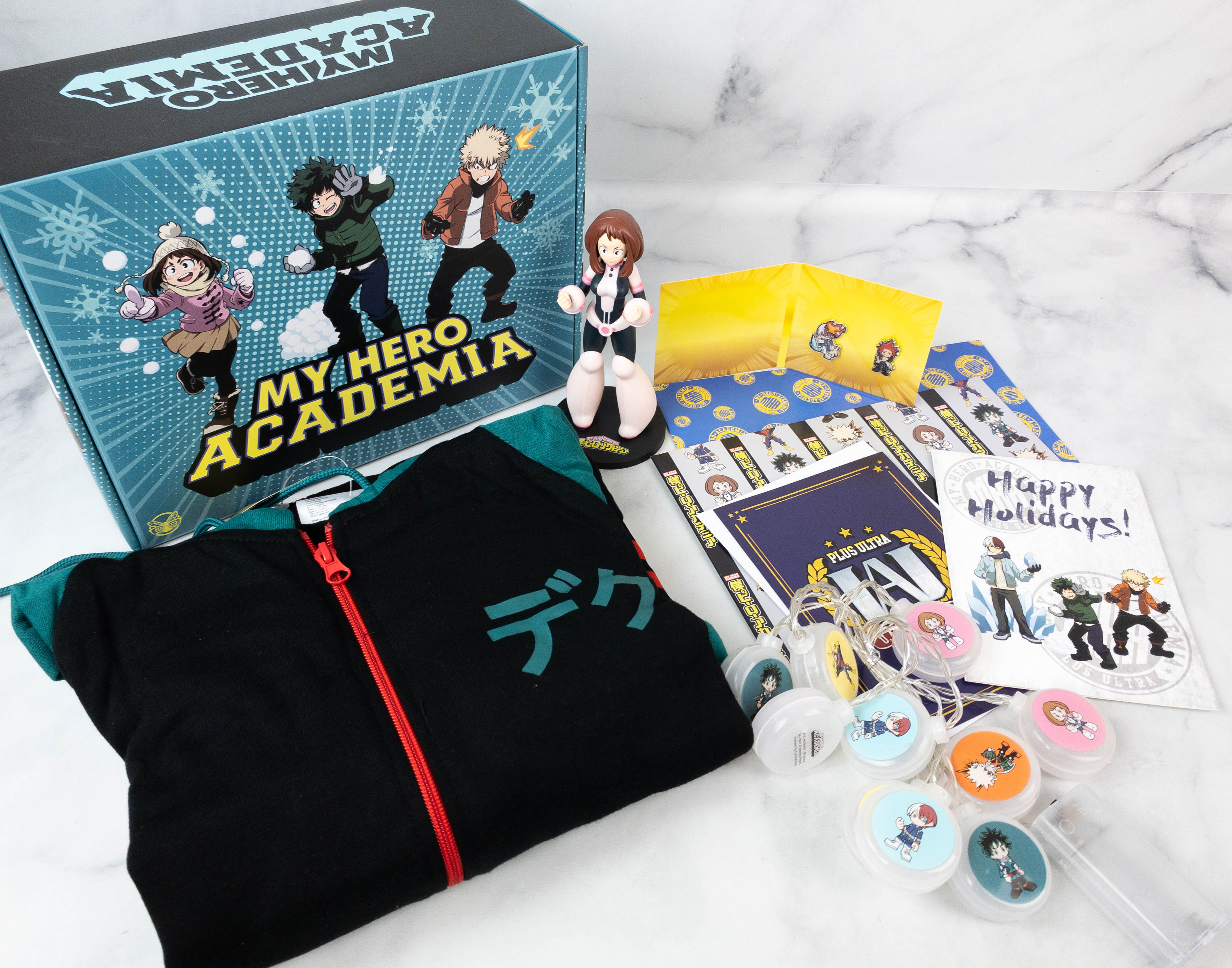 For Winter 2021, My Hero Academia Box showered MHA fans with fun holiday-themed merch! It was themed HOLIDAY HEROES, and the box was packed with exclusive geeky items that made our holidays worth remembering, from wearables to decor and more.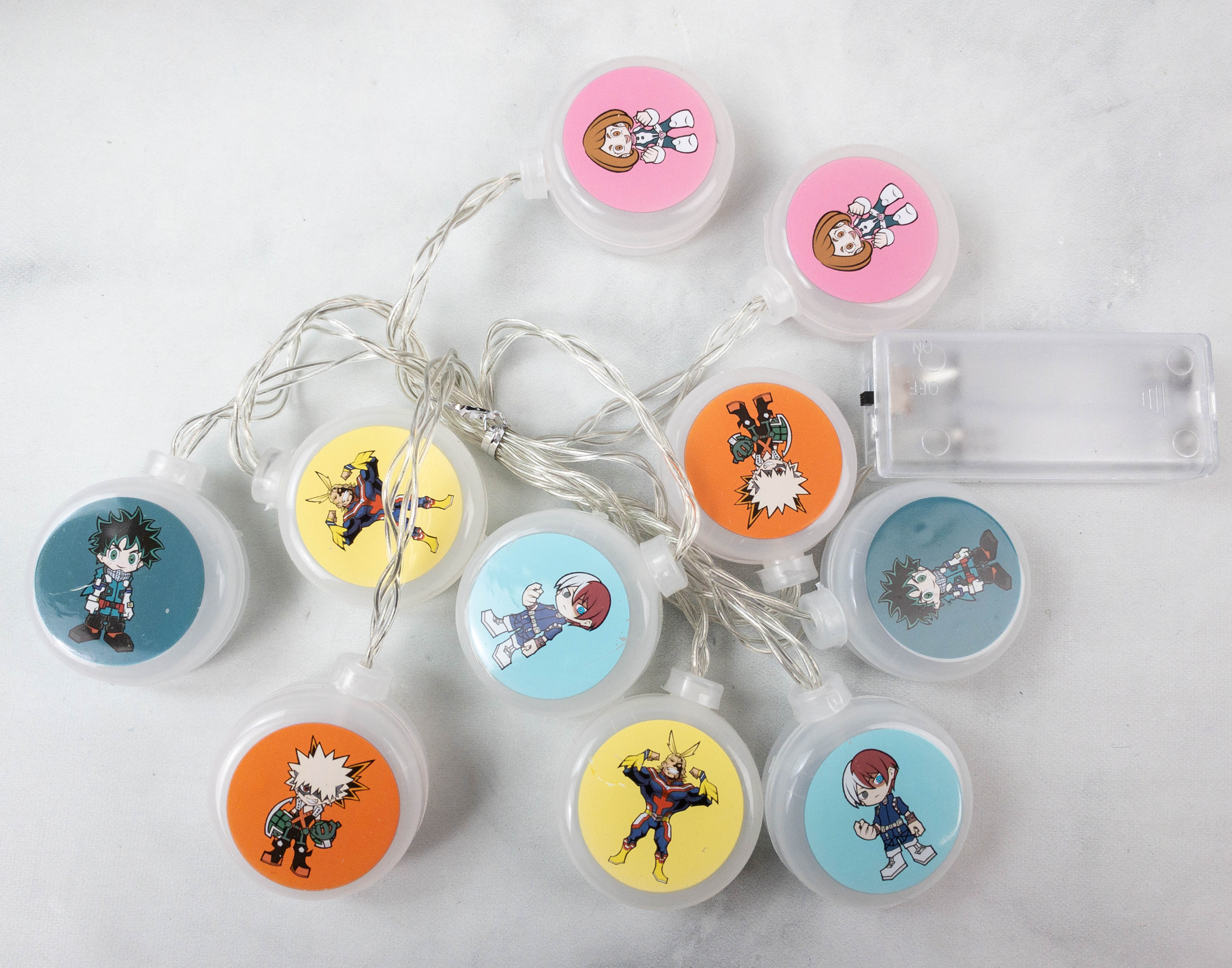 String Lights. These string lights were great as holiday decor, but they also make a nice decor for the room year-round especially for My Hero Academia fans.
Each light features a character from the series. It includes Izuku Midoriya (Deku), Shoto Todoroki, Ochaco Uraraka (Uravity), Toshinori Yagi (All Might), and Katsuki Bakugo!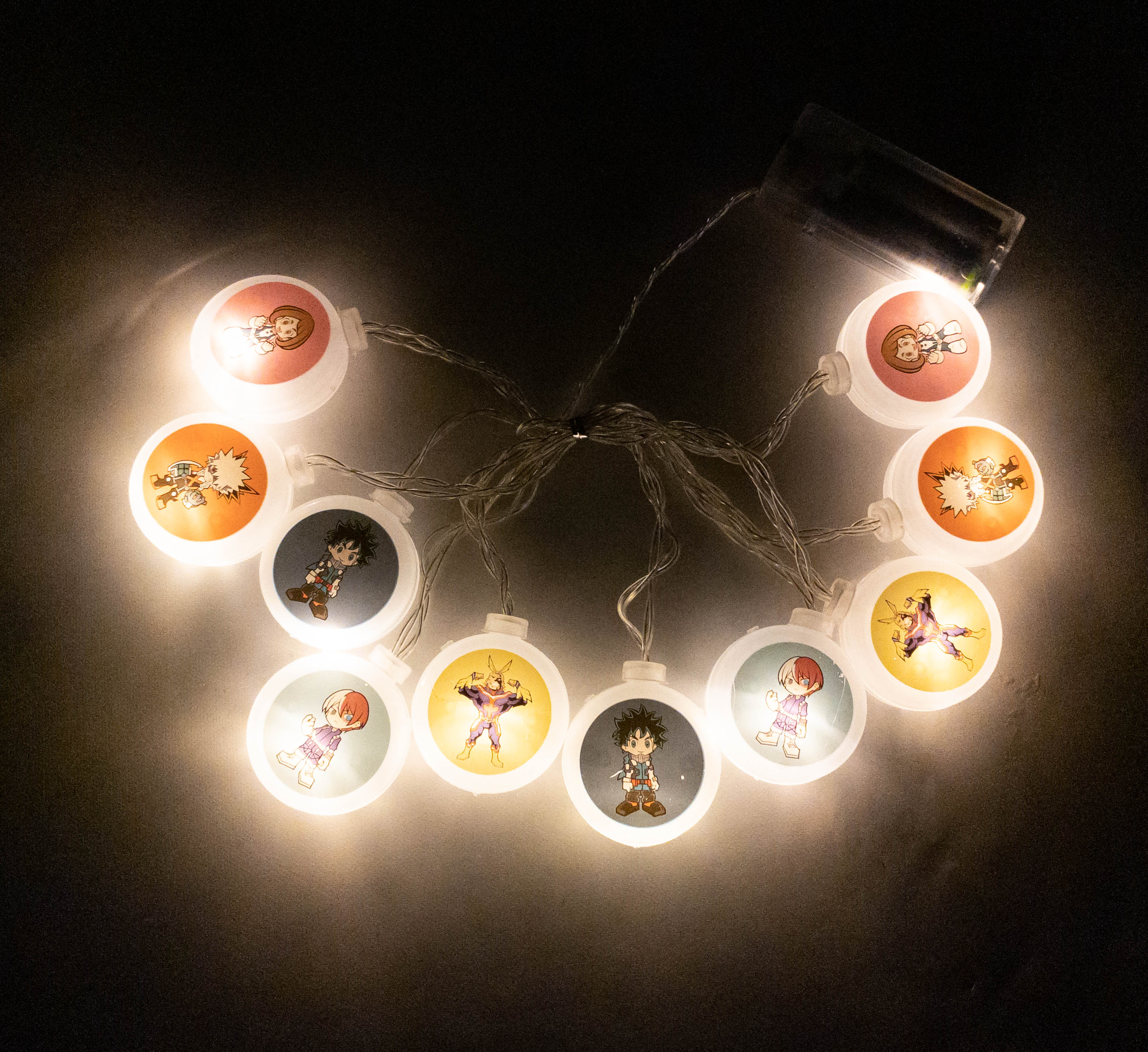 It's powered by two AA batteries, no need to plug in a socket. The lights are quite bright and they look extra pretty when lit up!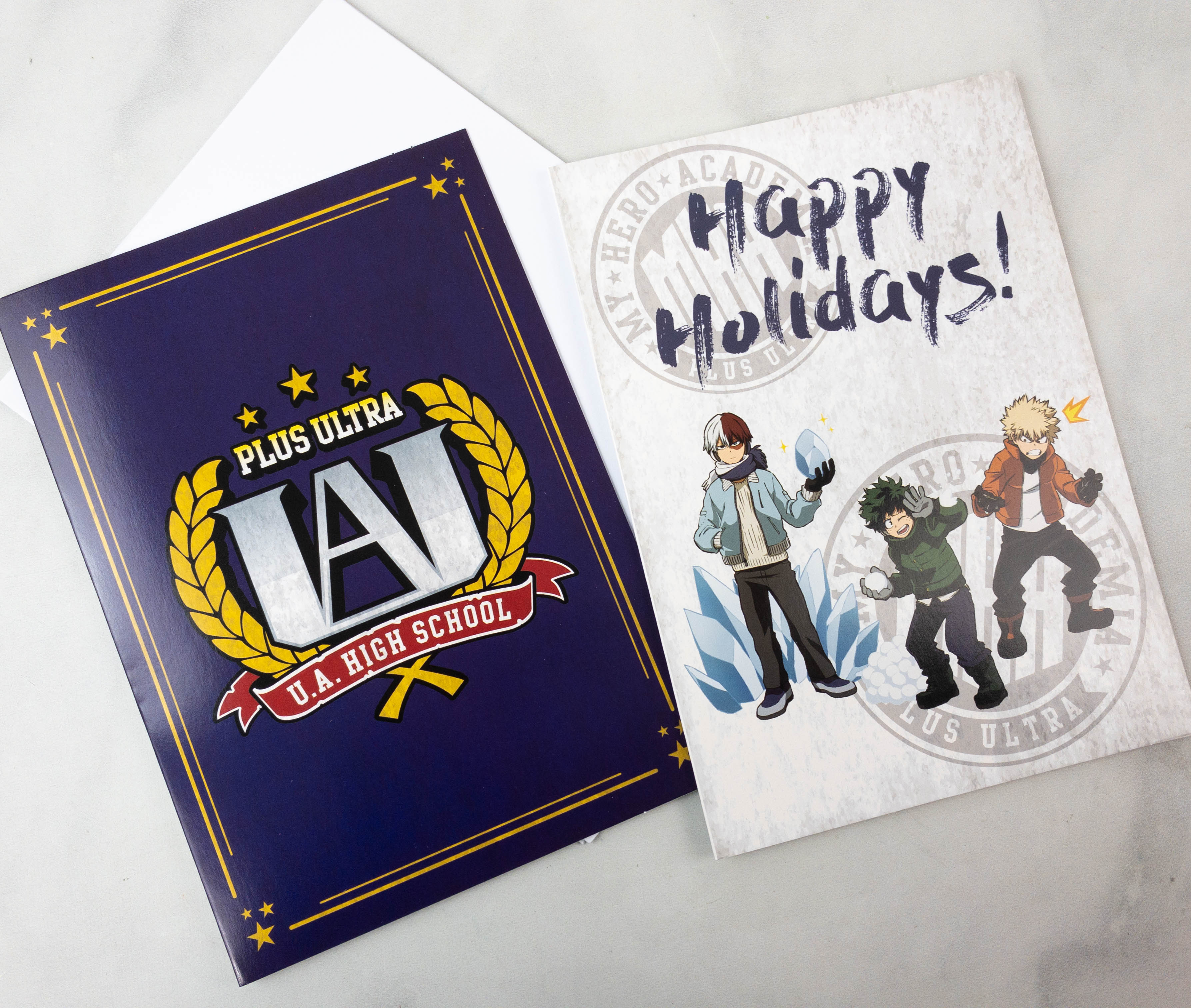 Holiday Cards. For sending greetings to fellow heroes, they included two greeting cards in this season's box! The first one showcases the U.A. High School logo, while the other features Shoto Todoroki, Izuku Midoriya, and Katsuki Bakugo playing in the snow. They come with envelopes as well!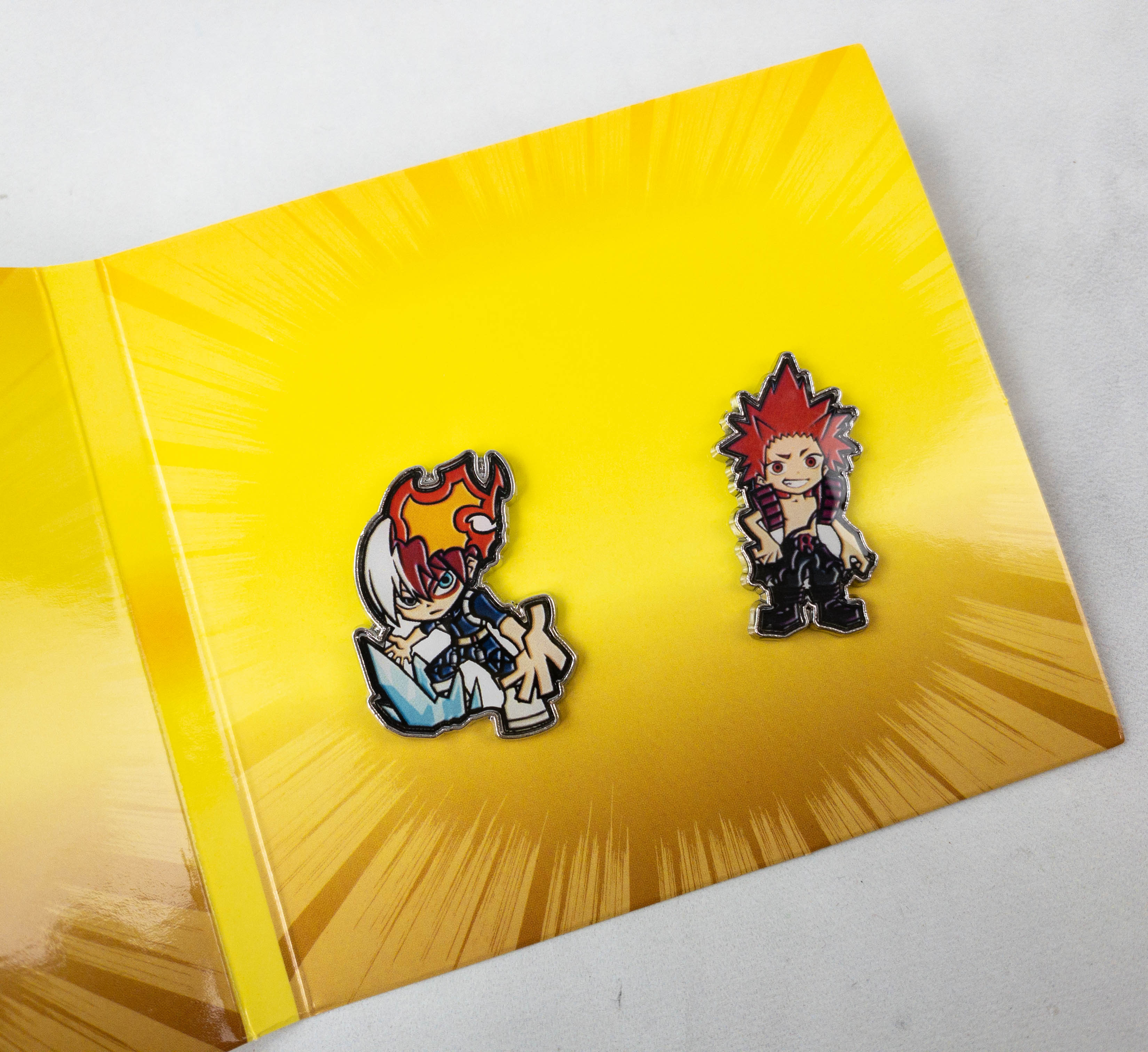 Shoto Todoroki & Eijiro Kirishima Enamel Pins. Another fun surprise in this quarter's box is a set of two enamel pins. The first one is Shoto Todoroki flexing his dual powers, fire and ice (half-cold, half-hot). The second one features Eijiro Kirishima showing his usual outgoing personality. These pins are a fantastic addition to our pin collection!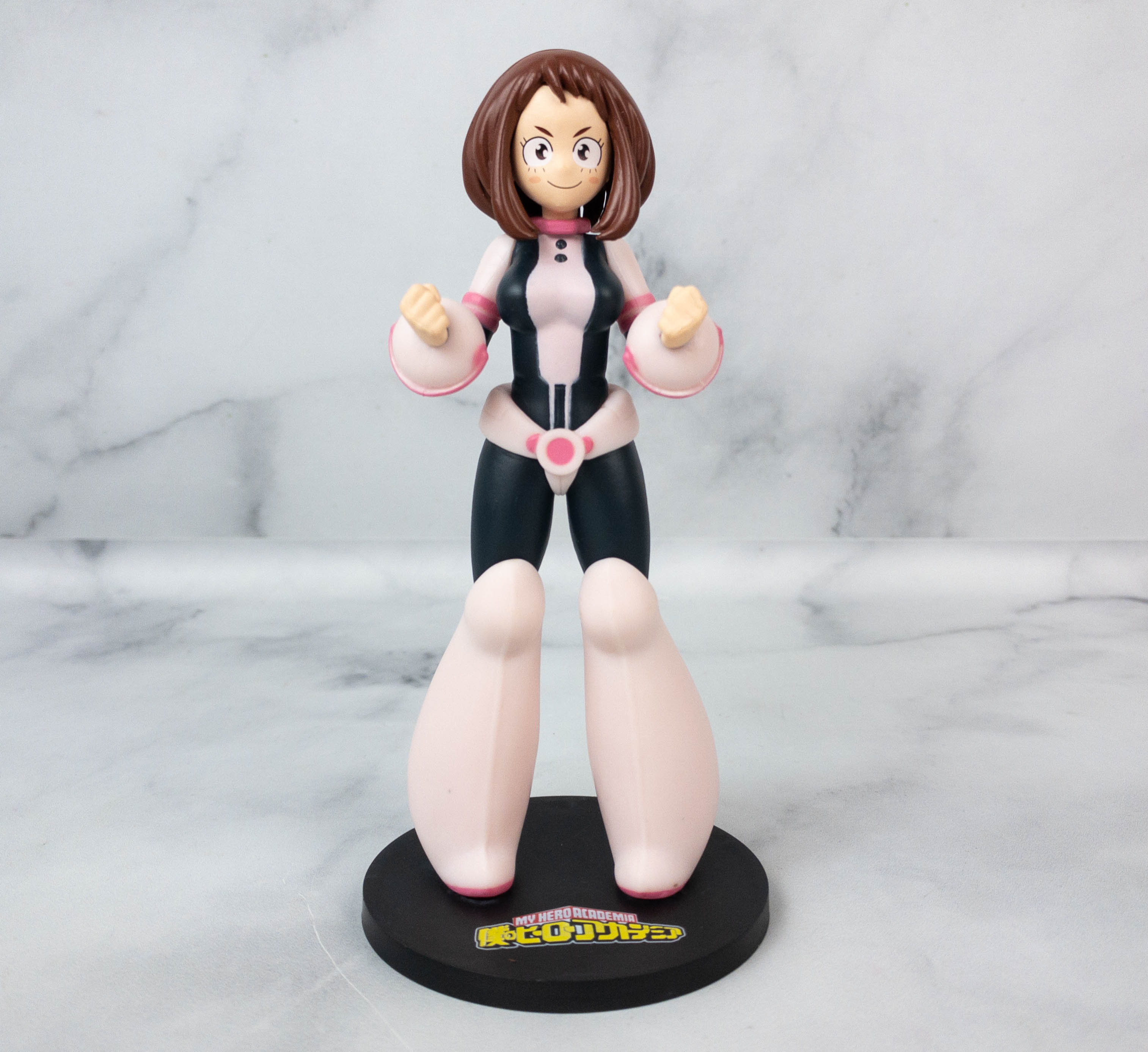 Ochaco Uraraka Vinyl. Every box also includes a collectible vinyl figure. This time, it's one of Midoriya's closest friends, Ochaco Uraraka in her hero suit! Her quirk allows her to manipulate gravity, making the objects float or make herself fly. She looks so cute! Also, this figure comes with a round base for displaying. My daughter opened this box on Ochaco Uraraka's birthday earlier this month and it was cause for celebration!
Wrapping Paper Sheets. For gifting purposes, they've added wrapping papers in the box. There are two glossy sheets, each with a different design. One has the My Hero Academia branding, while the other features the heroes.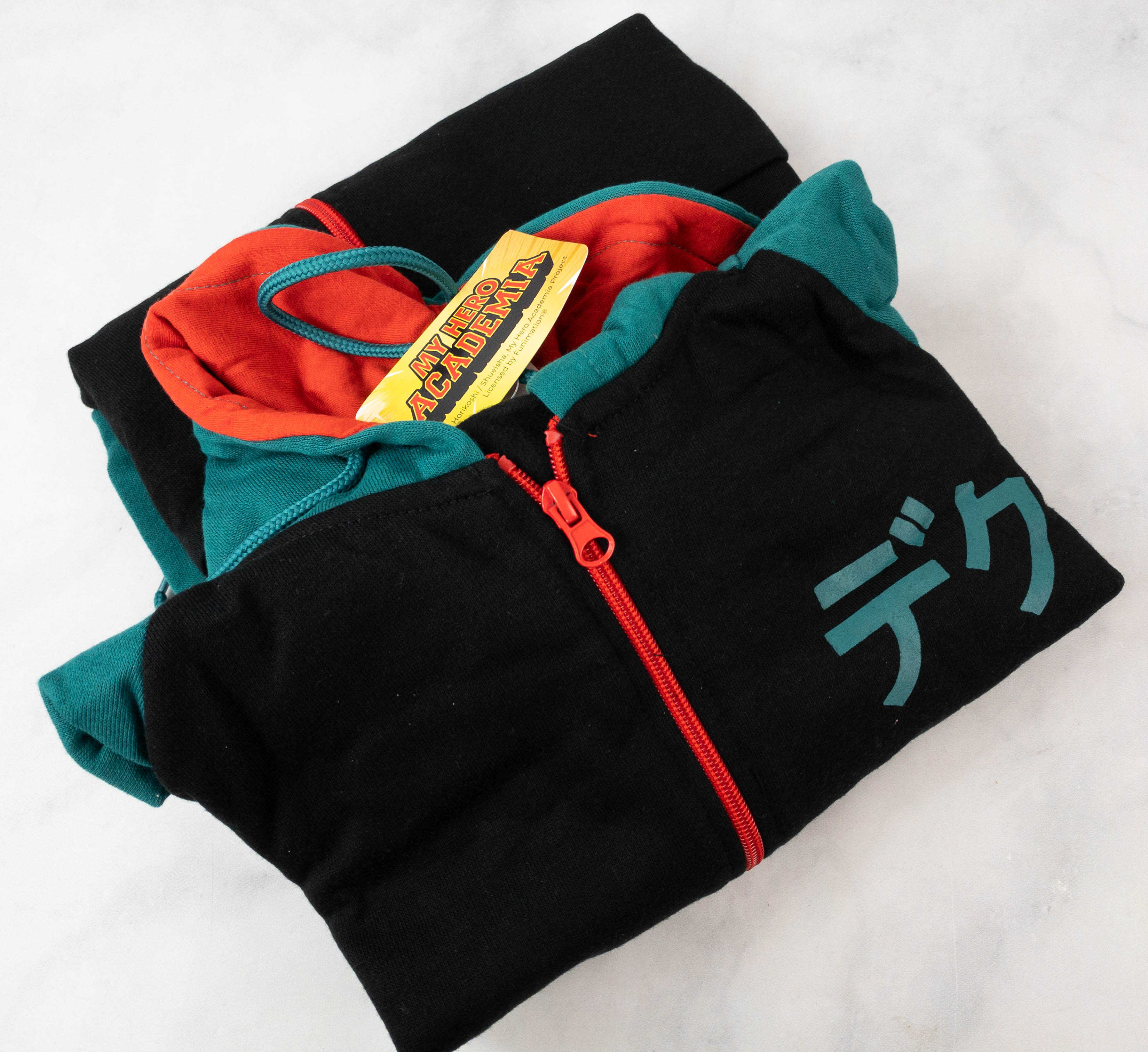 Izuku Midoriya Hoodie. A cozy wearable is a must to protect yourself against the chilly winter breeze. Heroes feel cold too, and this hoodie provides a comforting warmth!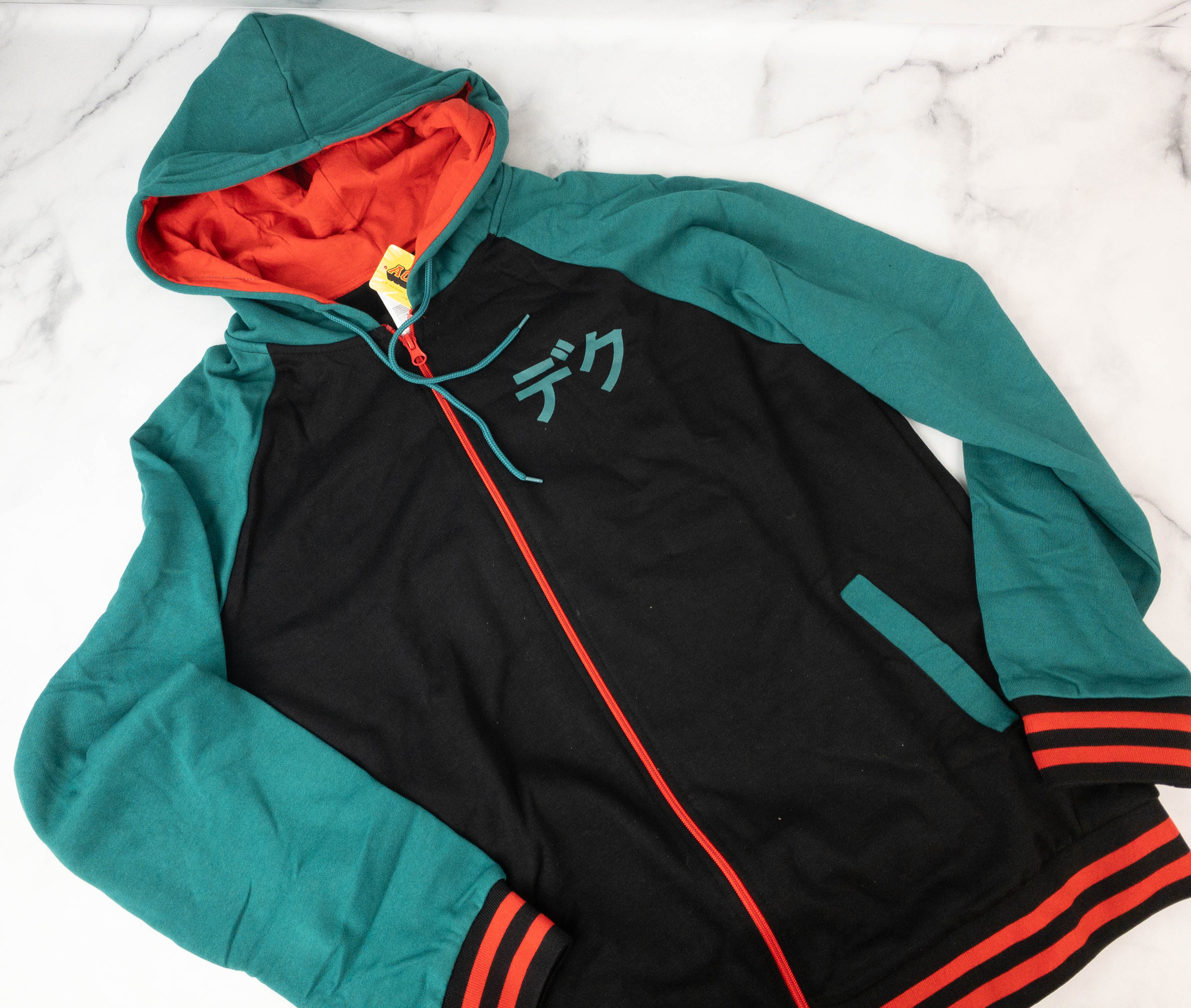 It is a raglan zip-up hoodie, which incorporates the colors of Izuyu Midoriya's hero suit. The body is black, while the sleeves and the hood are green. The zipper goes all the way up to provide a nice, comfortable fit.
The cuffs and the hem have red bands, similar to Midoriya's belt. It also has front pockets where you can tuck your hands in when feeling cold.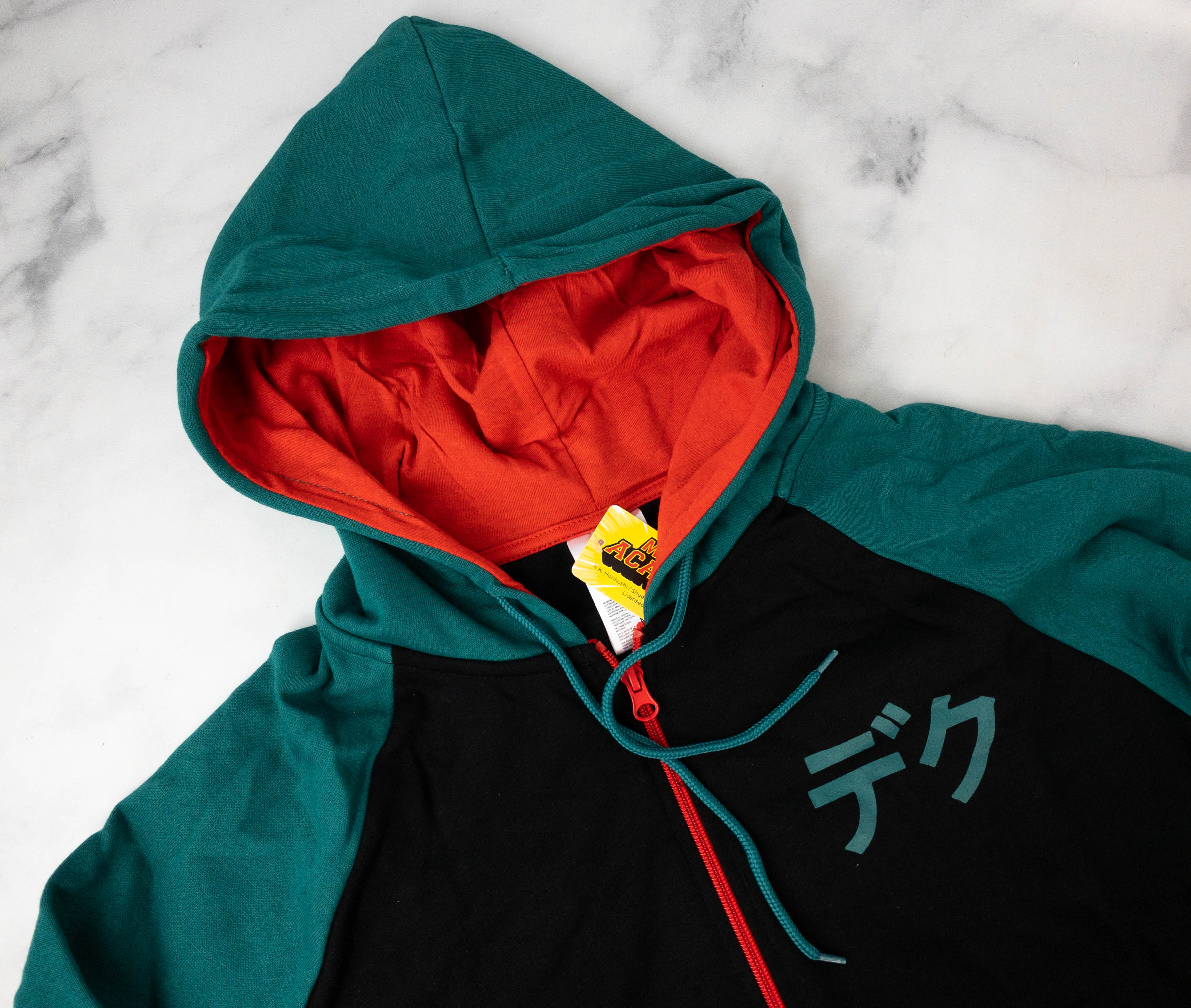 Printed on the left chest part is the hero name of Midoriya, Deku, in Japanese letters. The hoodie feels soft to the touch!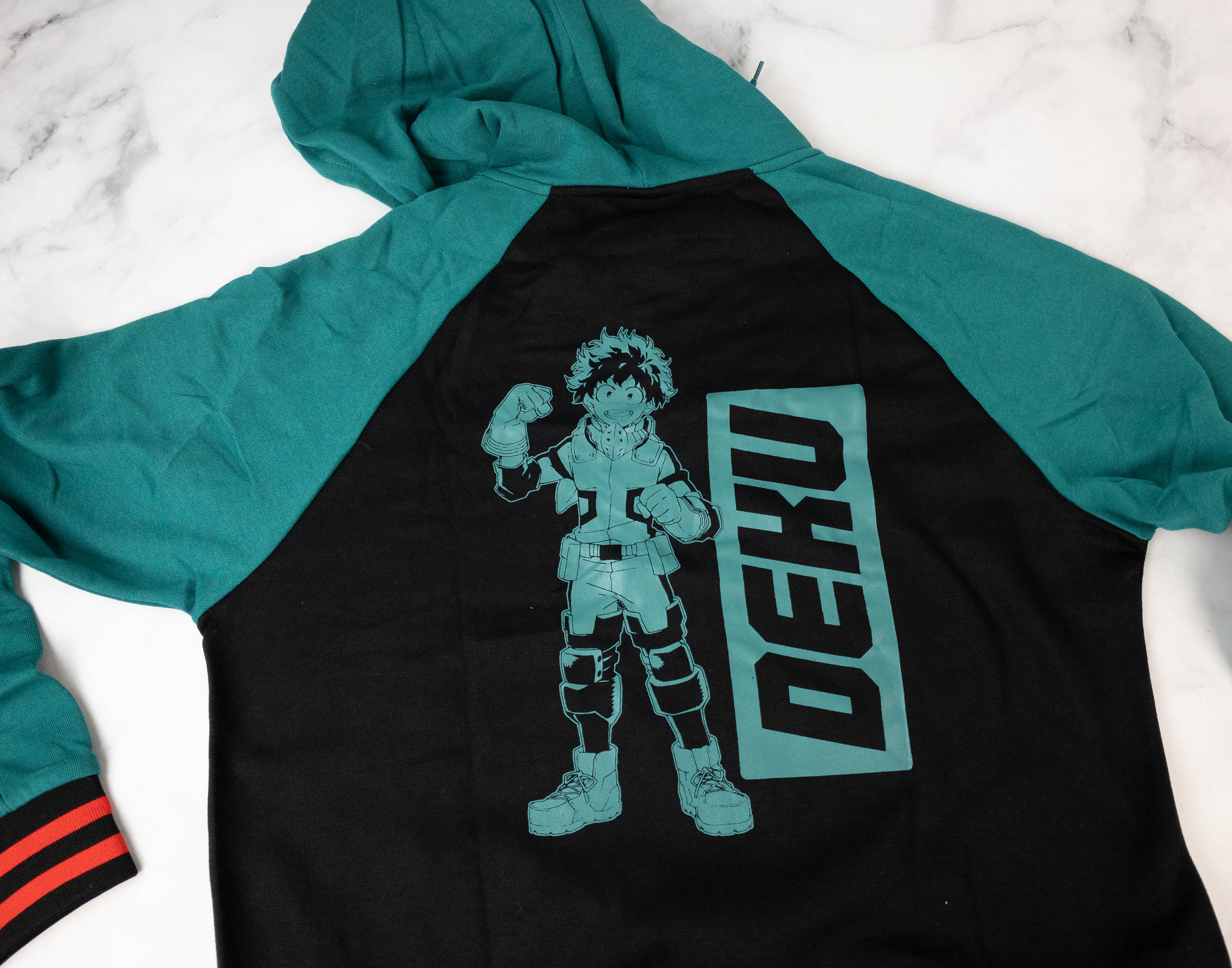 On the back is a large image of Deku, and it looks really cool! Such a hit with my kids, it was claimed immediately!
I loved the whole holiday feel of this box! It's nice to see some of my favorite heroes in this month's merch, including Deku and All Might. If I were to pick a favorite, it would be the vinyl figure and the string lights. I also love the addition of greeting cards and wrapping paper which can be used for sending gifts to fellow MHA fans. Of course, let's not forget the awesome hoodie. Inspired by Deku, it will help keep the wearer warm on cold winter days. This subscription always impresses the manga/anime lover in me and I'm happy!
All boxes come with a card, containing photographs and names of the items included in the box. See it here: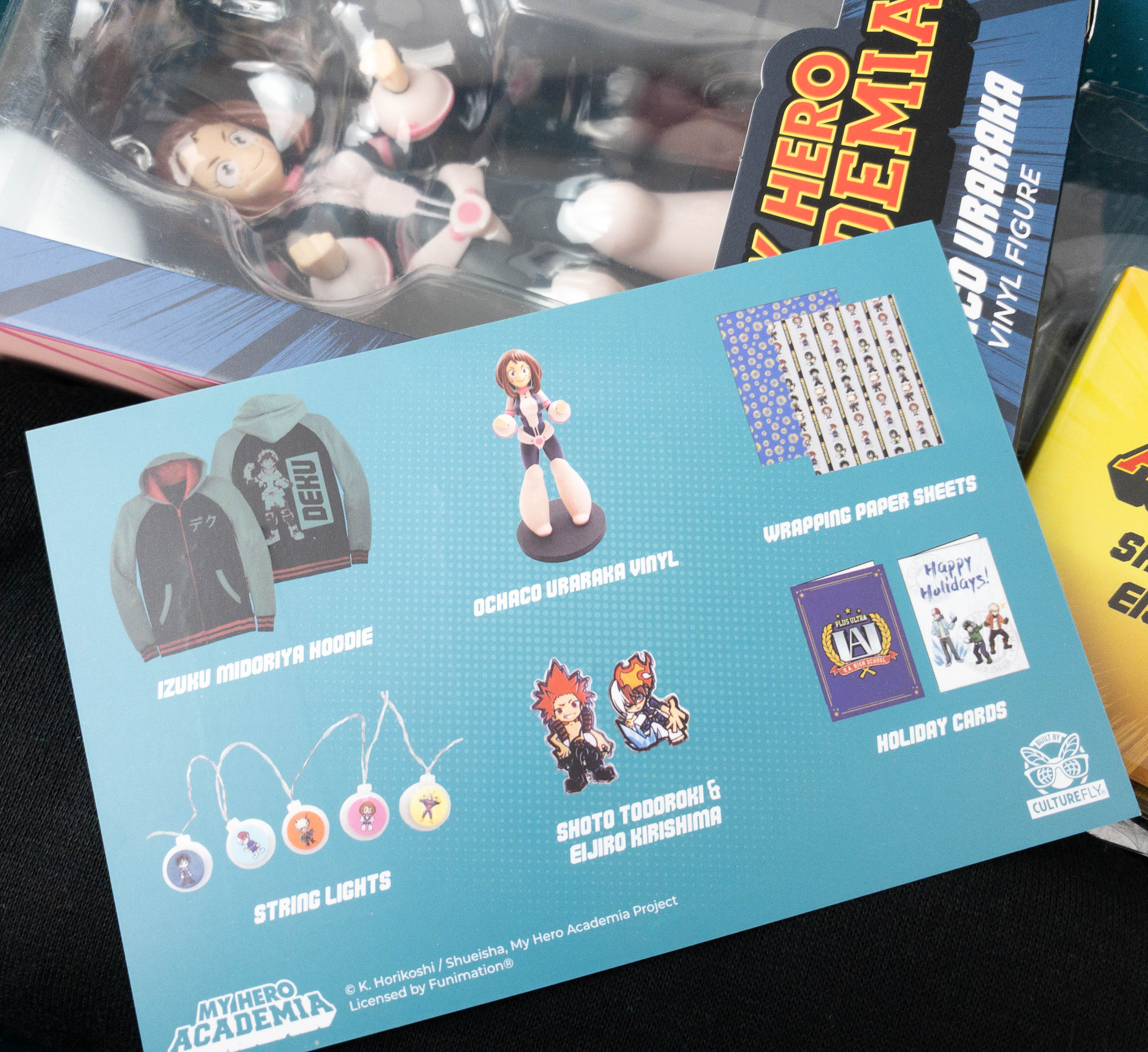 My Hero Academia box is a quarterly subscription that delivers exclusive My Hero Academia merchandise. Each box costs $39.99, or $35.99 a quarter when an annual subscription is purchased in advance. The box contains 7 to 10 limited edition products such as apparel, accessories, collectibles, stationery, homeware, decors, and more! This box is produced by Culturefly and contains items licensed and produced exclusively for this box – you can check out all of Culturefly's other fandom boxes here!
Are you getting My Hero Academia?