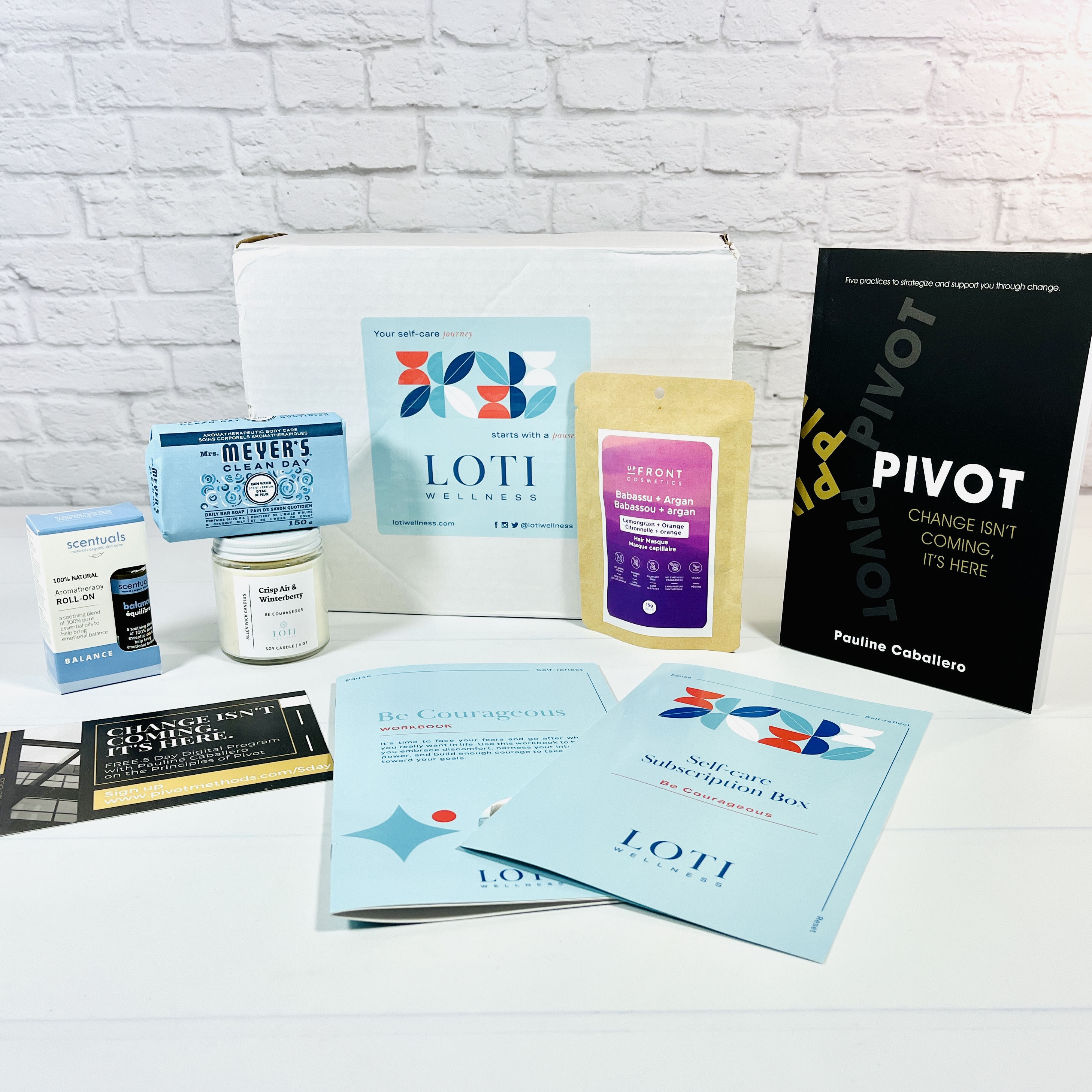 My January Loti Wellness box is here and the theme for this month is Be Courageous! I must admit I've been mostly hiding in my house for the past almost two years so it's time for me personally (your situation may be different, you do you my friends) to be brave and get out there and begin living again so this box came at the perfect time, as getting out there is on my resolution list for this year. Let's see if the items in this month's box can help me do that!
DEAL: Save 10% on your first box! Just use this link and coupon code SUBSCRIBE10.
Loti Activity: Be Courageous Mini Workbook ($10 listed value) Loti always includes a workbook and this month's theme is Be Courageous. There are 10 pages in all and there are snippets on what being courageous means, how to build that sense up, a chart for jotting down an action plan, and more.
Pivot: Change Isn't Coming, It's Here by Pauline Caballero ($19.95 list price, now $14.10) Here's more reading material in the form of an actual book to help me keep going in my quest to put myself out in the world again. I've had several life changes since the COVID pandemic started that now have me feeling isolated so it's time to move on to my next chapter in life, but I'm not sure how to start. I'm hoping this book will be a catalyst to get me out of the house again.
Are you tired of hoping for a new way? Or keeping your fingers crossed that everything is going to stay the same? In this book we are going to play with the ideal and notion that CHANGE ISN'T COMING, IT'S HERE! Over the period of five weeks we will explore the five main distinctions of the PIVOT concept: Perspective, Intuition, Vision, Obstacles, and Tactics. Similar to how we train our muscles through working out, we will train our mind to develop habits that will support us to thrive in our forever changing environments.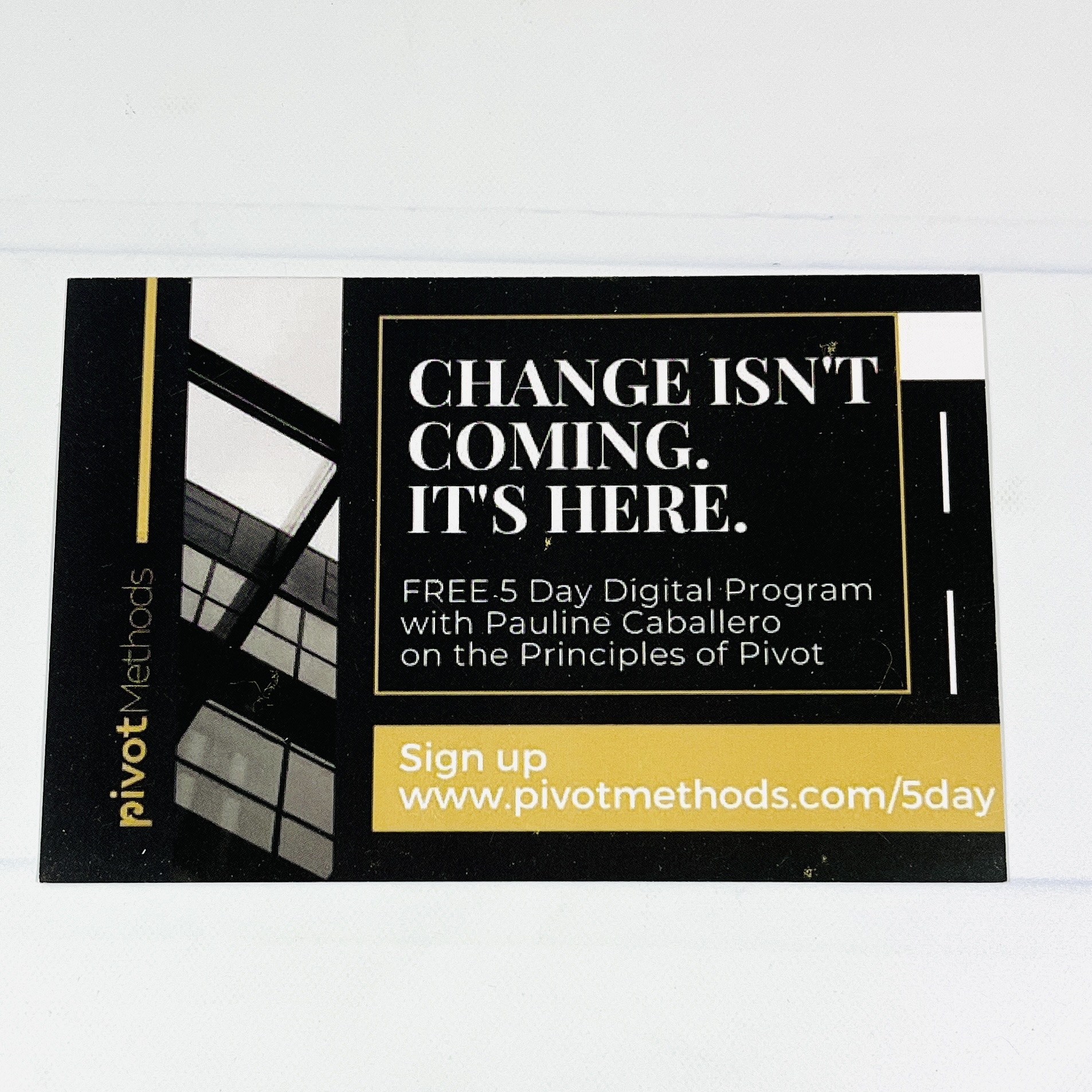 BONUS: 3-Month Free Yoga Membership from Pivot Methods There was a double-sided card with two offers on it: one for a 5-day digital program and the other for a 3 month yoga membership. The listed value says $150+ so make sure to check them out to get the most of your Loti subscription.
Upfront Cosmetics Hair Masque ($14) This was a cool concept in hair masks — you take a cube, melt it in hot water, and then apply to the hair! The mask is made of natural oils such as babassu butter, mango butter, and argan oil and it gets its scent from essential oils like lemongrass and orange. I have a hair appointment soon so I'm going to wait until after my hair is cut to try this but I love this idea, as it seems like an earth-friendly way to ship this beauty product as long as you don't mind reconstituting it yourself. PS it smells like lemongrass!
Allen Wick x Loti Wellness Be Courageous Candle in Crisp Air & Winterberry ($11 CAD, about $8.77 USD) Crisp Air and Winterberry is a wonderful seasonal candle scent, full of fragrance notes such as "iced cranberry, red apple, winterberry, mixed with jasmine petals, crimson plum and hints of vanilla musk". This 4 ounce jar is supposed to burn for 20 hours and is made with soy wax, cotton core wick, phthalate-free fragrance oil, and the jar is reusable. It smells sweet and fruity, with a hint of fruit punch and is really lovely, I adore candles that smell as nice as this one.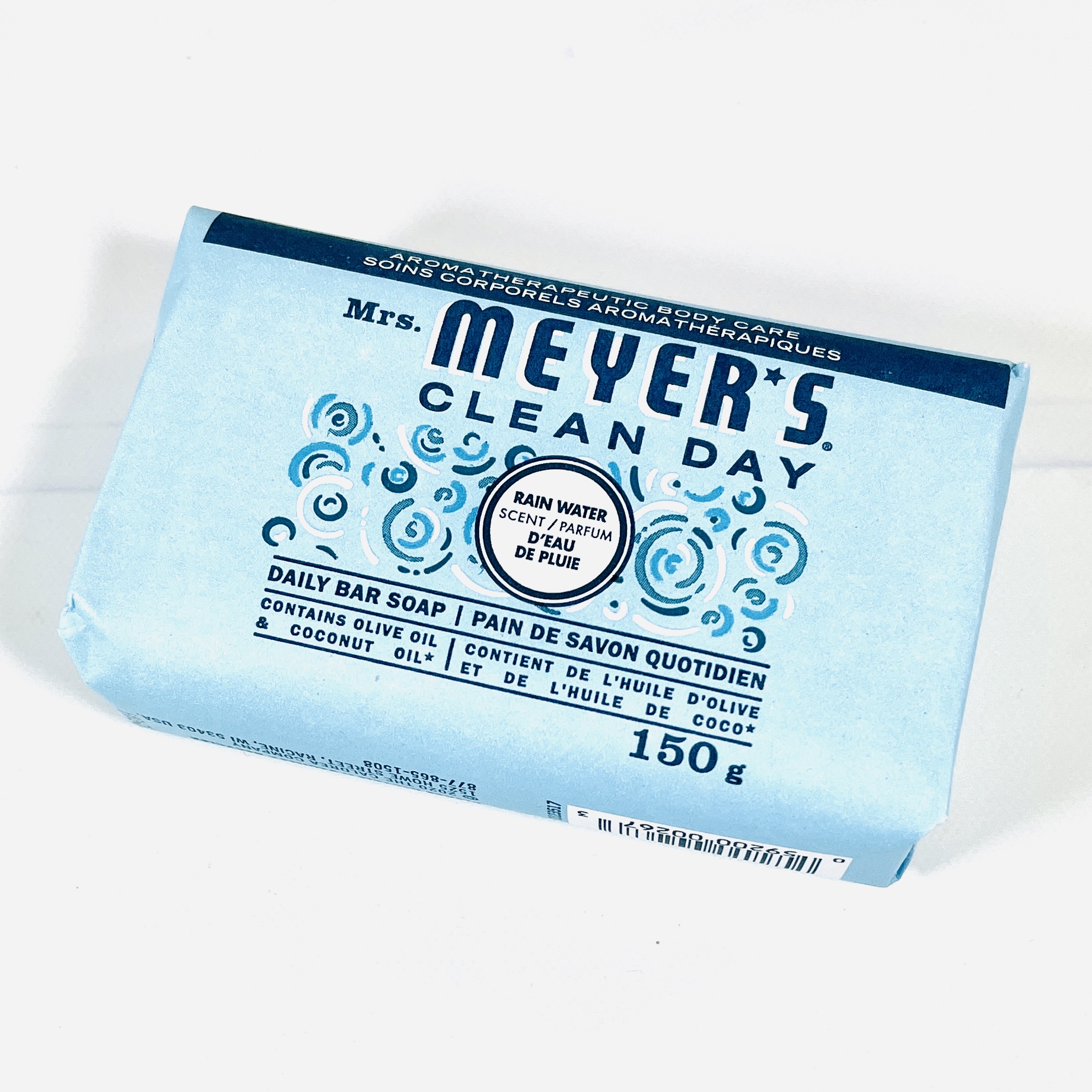 Mrs. Meyer's Clean Day Rain Water Daily Bar Soap ($3.99) According to the Mrs. Meyer's website, this bar has been milled three times and can be used on the body or at the sink. It is artificially fragranced so I can't use it on my body but I am just about ready to replace the bar next to my kitchen sink so this will be ready and waiting when the time comes. It is fragranced with something called lilial, which is supposed to smell like lily of the valley, and it does indeed smell like a white floral scent.
Scentuals Balance Roll-On ($14) Umm, I love a nice smelling rollerball and this one delivers. This blend is supposed to bring the mind, body, and spirit into balance. The carrier oil base is rice bran oil and the essential oil blend contains sweet orange, ylang ylang, and neroli plus a few more to give it a warm floral/citrus aroma. Like most natural products, the scent is fleeting but it sure smells good while it lasts!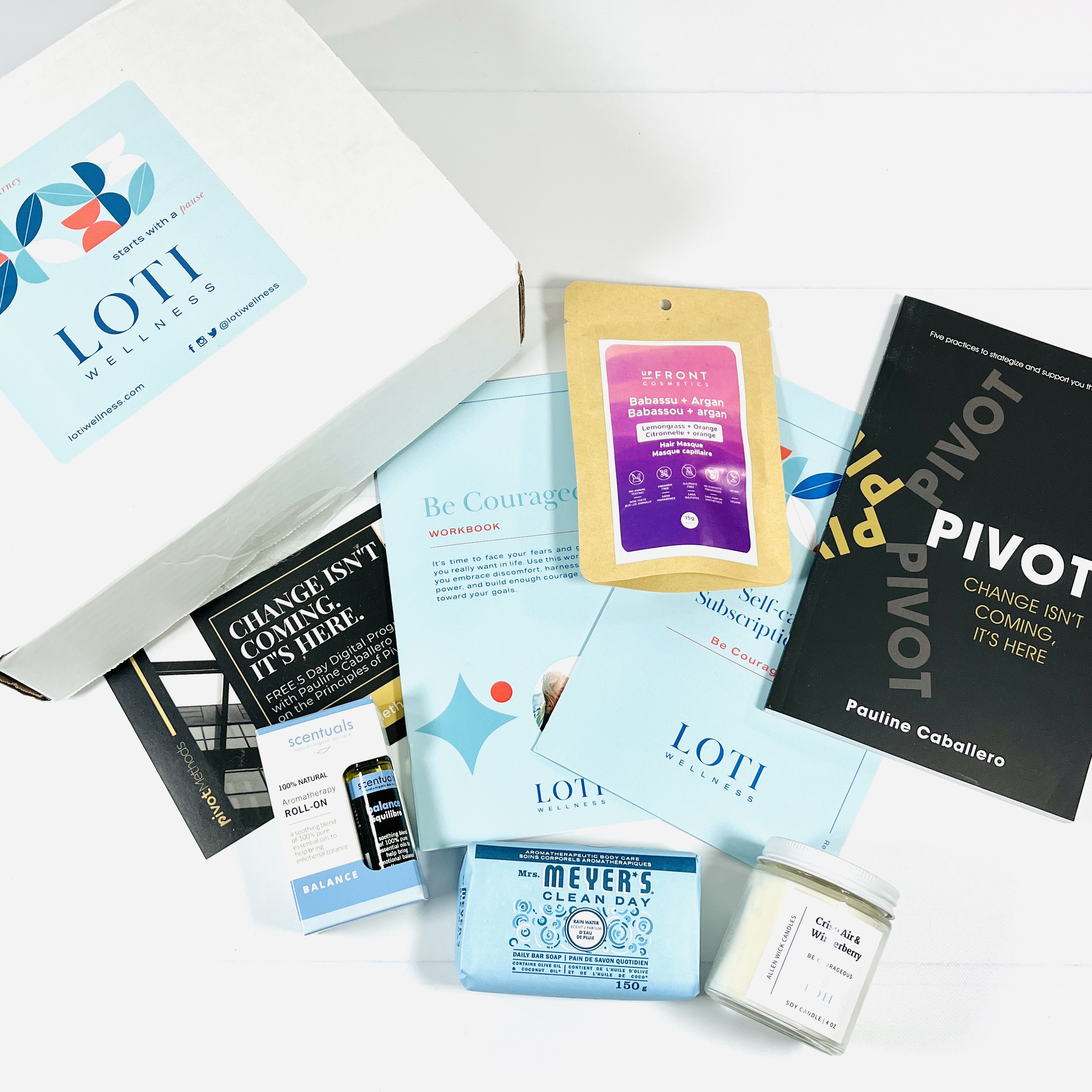 My Loti box came at a time when I needed a push and I am hoping that the workbook and Pivot book help me work on that while the other items will help me calm down after what I am sure may be a stressful time ahead. The candle and rollerball are my favorite products of this box but I am also looking forward to trying the yoga classes!
DEAL: Save 10% on your first box! Just use this link and coupon code SUBSCRIBE10.
Loti Wellness is a subscription box with a focus on self-care. The box has a monthly theme curated by therapists to focus on items and rituals to promote positivity and improving one's self. Loti Wellness works with local brands and small businesses whenever they can, and choose cruelty-free and natural products. The box will have 5-7 products for self-care and wellness. The box is $45.95 USD with lower prices on multi-month subscriptions, and drops to as low as $37.95 USD when you sign up for 12 months. Shipping is $10.95 USD.
What do you think of this self-care subscription?