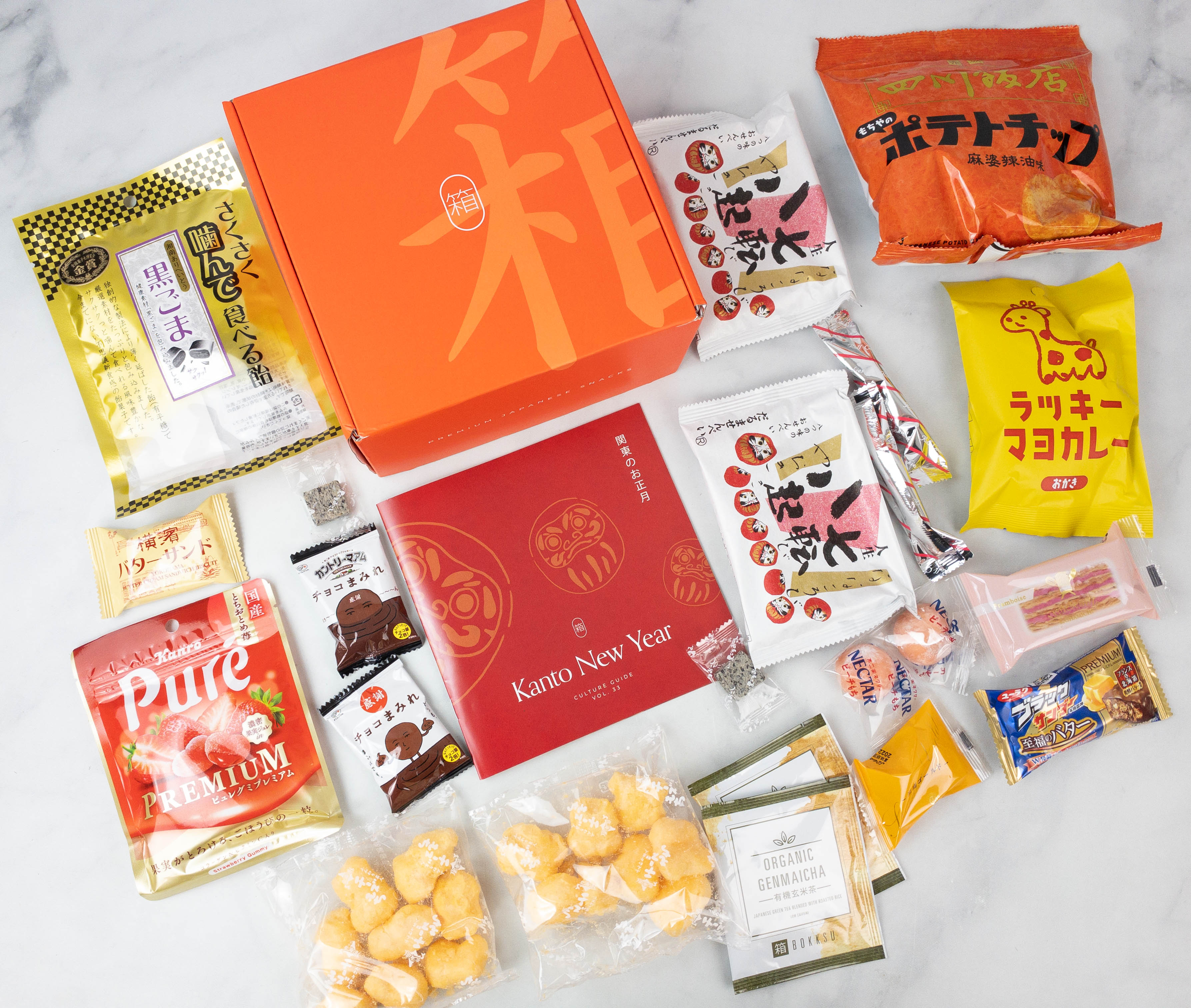 New year, new batch of authentic Japanese snacks to munch on! Bokksu January 2022 is KANTO NEW YEAR themed, inviting snack lovers to experience exciting Japanese traditions through snacks. We received the Classic Bokksu Box and it was such a great way to start the year!
DEAL: Save $5 on your first box with coupon code HELLO.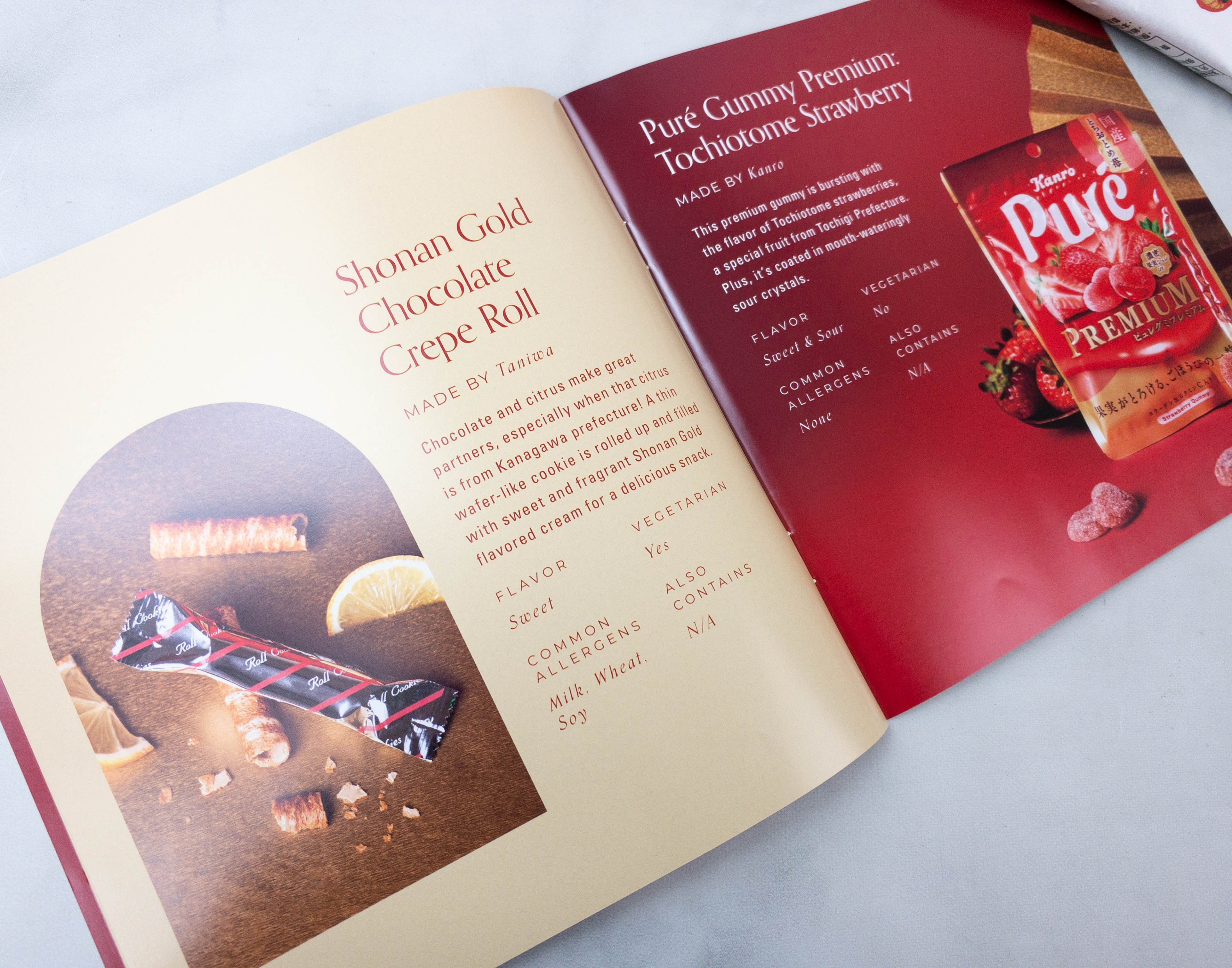 Shonan Gold Chocolate Crepe Roll. Starting the new year with sweetness, these thin wafers are filled with decadent cream. Each piece features a good balance of chocolate and citrusy flavor from Kanagawa prefecture.
 Puré Gummy Premium: Tochiotome Strawberry. For strawberry lovers, here are gummies made with Tochiotome strawberries from Tochigi prefecture. They're heart-shaped, plus they're really soft and bursting with so much flavor. The filling explodes into the mouth, mixing with the sour crystal coating.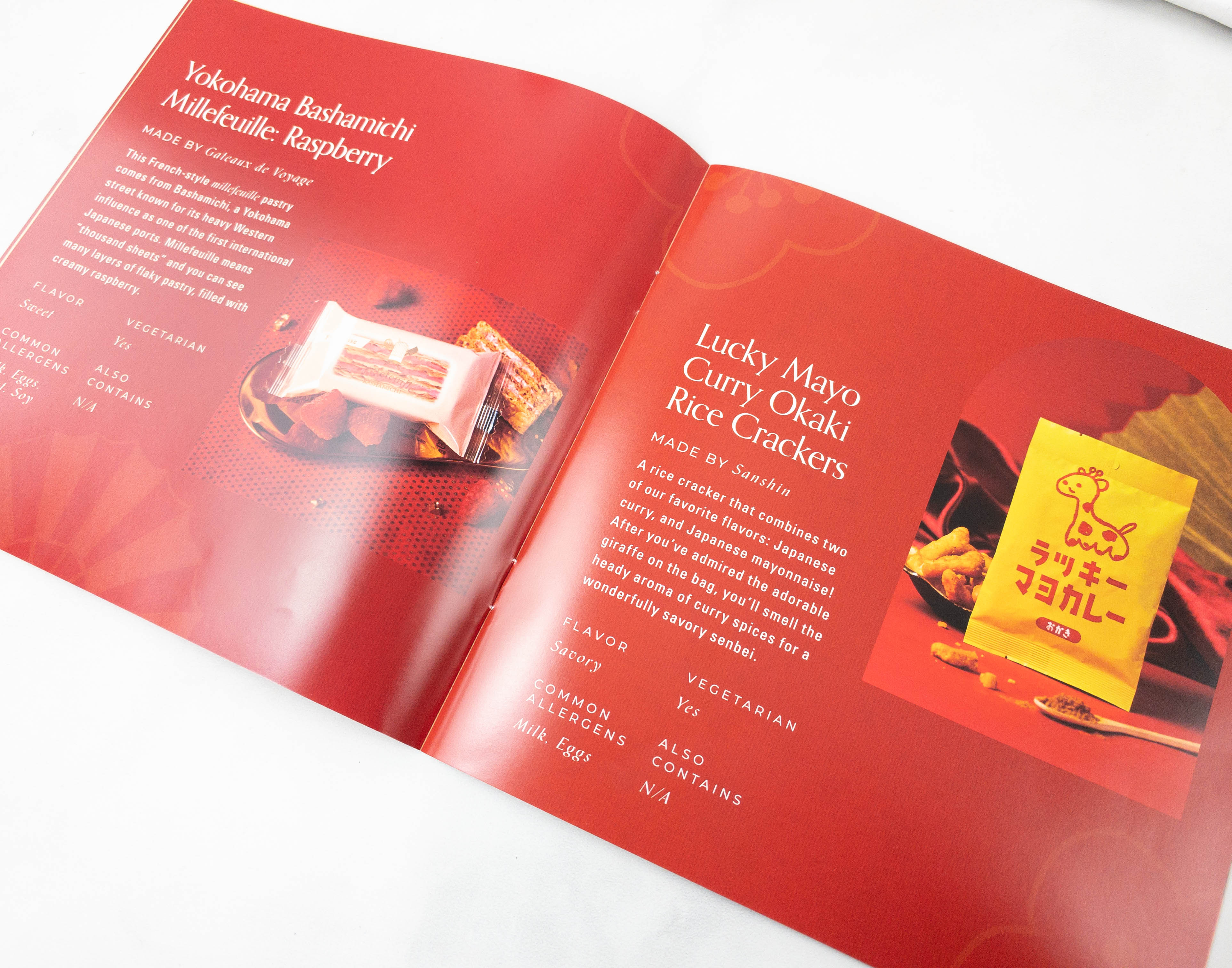 Yokohama Bashamichi MilleFeuille: Raspberry ($2.92) This is a French-inspired snack, with layers of flakey pastry and a light raspberry cream in between! I love the texture, taste, and overall feel of this snack. It's a delightful treat to the taste buds!
Lucky Mayo Curry Okaki Rice Crackers. This snack combines two of the most loved flavors in Japan: curry and mayo! It may seem like an odd combination, but this snack tastes savory and good. It has a Cheeto-like look and texture, and you can smell the aroma of spices used in curry.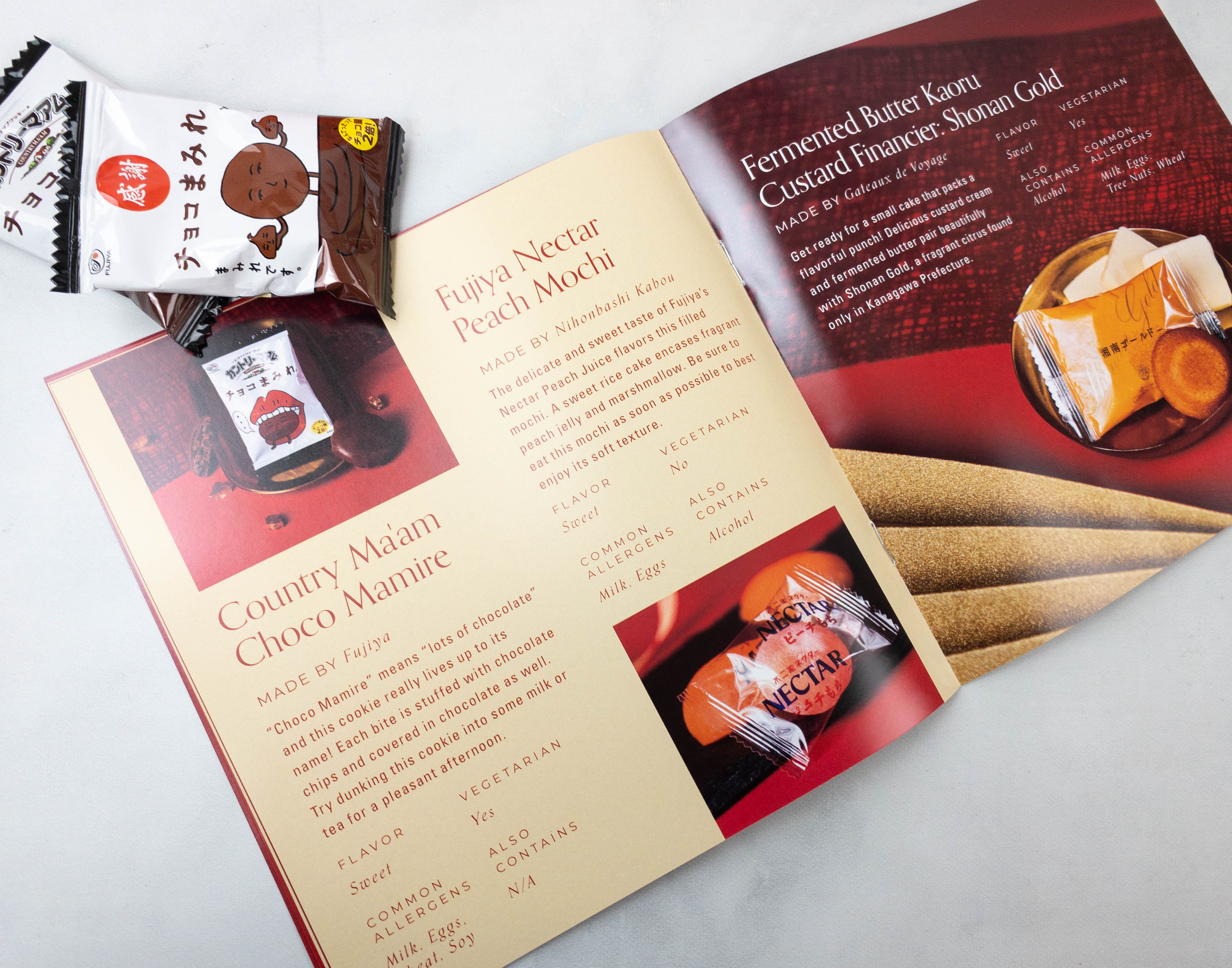 Country Ma'am Choco Mamire. This cookie is a chock-full of chocolate, making it sweet and indulgent. It has the same texture and feel as those choco pies but with more chocolatey flavor.
Fujiya Nectar Peach Mochi ($0.86). This soft mochi delicacy is laced with a sweet, juicy peach flavor! It smells and tastes great, as the flavor is deeply mixed into the mochi. I love its soft and chewy texture as well.
Fermented Butter Kaoru Custard Financier: Shonan Gold. It's a bite-sized custard cake that you can pair with a cup of tea. The flavor has a bit of tang, probably because of Shonan Gold, a fragrant citrus that can only be found in the Kanagawa prefecture. The cake is light and moist as well.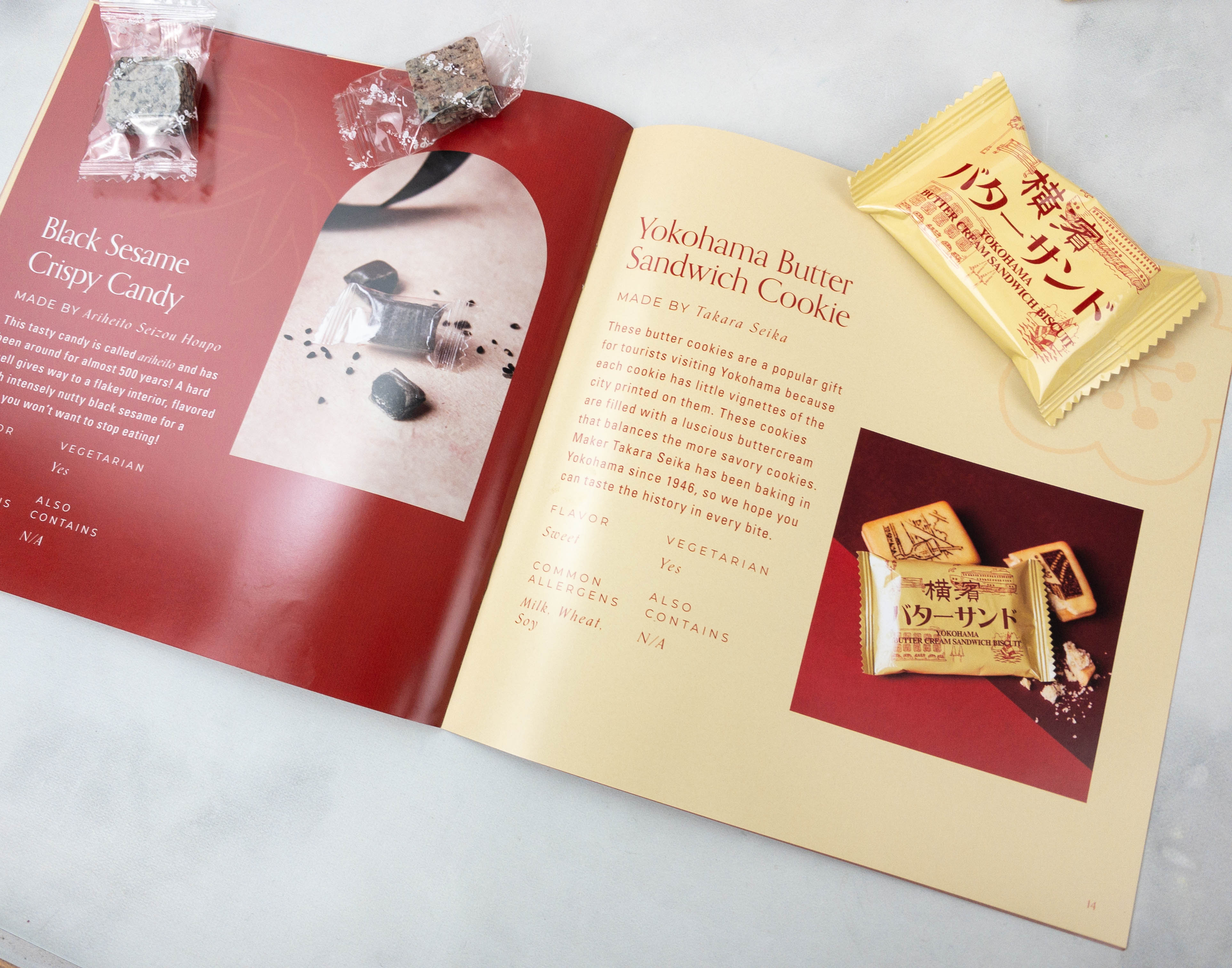 Black Sesame Crispy Candy. This candy tastes nutty! It has the same crispy texture as Chiclets, with a crunch once you bite on it. The crispiness comes from the hard shell that covers the flakey insides. If you fancy black sesame flavor, this candy will earn your approval.
Yokohama Butter Sandwich Cookie ($0.75) Each cookie is printed with vignettes or thumbnails of the city of Yokohama, making it not only a pleasant surprise for your taste buds but also for your eyes. This snack appeals to me because of the sweet buttercream filling sandwiched between two buttery cookies. It has a delicious flavor, and I enjoy the crunchy snap with each bite.
Funwari Meijin Mochi Puffs: Hokkaido Cheese ($18) I received the same snack last month! This time, however, it's cheese flavored. The airy texture of this snack is what makes me hooked to it. I love the cloud-like feel, mixed with the salty and savory flavor of the cheese.
Akasaka Shisen Hanten Mochiya Potato Chips: Mapo Chili Oil. If you are familiar with how Mapo tofu tastes like, this snack is reminiscent of that exact flavor. Makers of this potato chip collaborated with a Chinese restaurant to recreate the same chili taste. It smells and tastes savory, and there's a dash of heat too!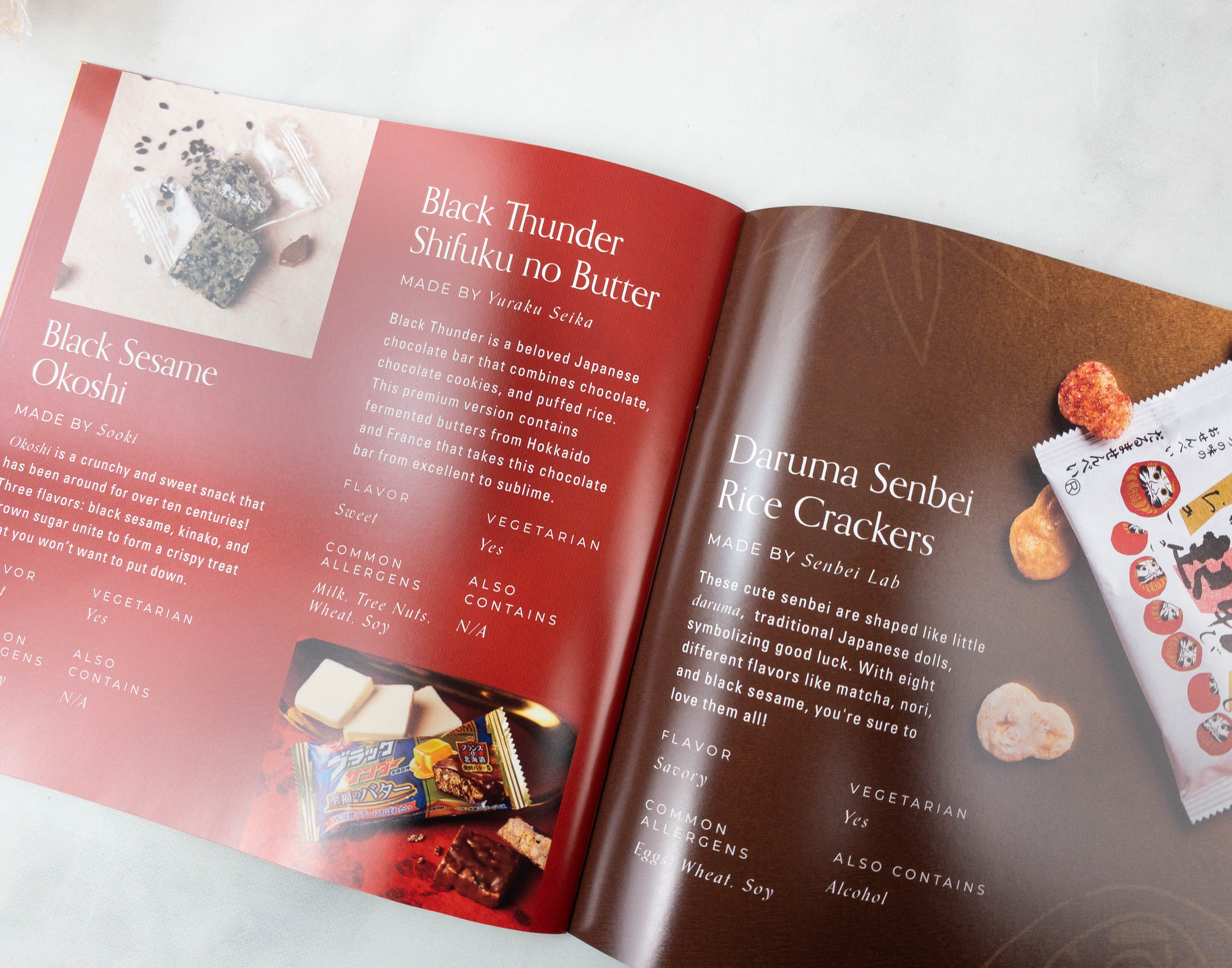 Black Sesame Okoshi. Similar to a rice crispy, this delicious snack is made with Kinako (roasted soybean flour), black sesame, and brown sugar. It tastes nutty and sweet!
Black Thunder Shifuku no Butter. This Japanese snack bar is a local favorite. It has an indulgent chocolate flavor to satisfy sweet tooth cravings, plus rice puffs for a nice texture. It's so good, it'll slam your taste buds like thunder!
Daruma Senbei Rice Crackers ($2) Munching on these crackers are believed to give you lots of good luck! There are eight daruma-shaped crackers inside the package and they come in different flavors, colors, and sizes. There's wasabi, black sesame, ketchup, and nori-flavored crackers. Plus, I love their crunch!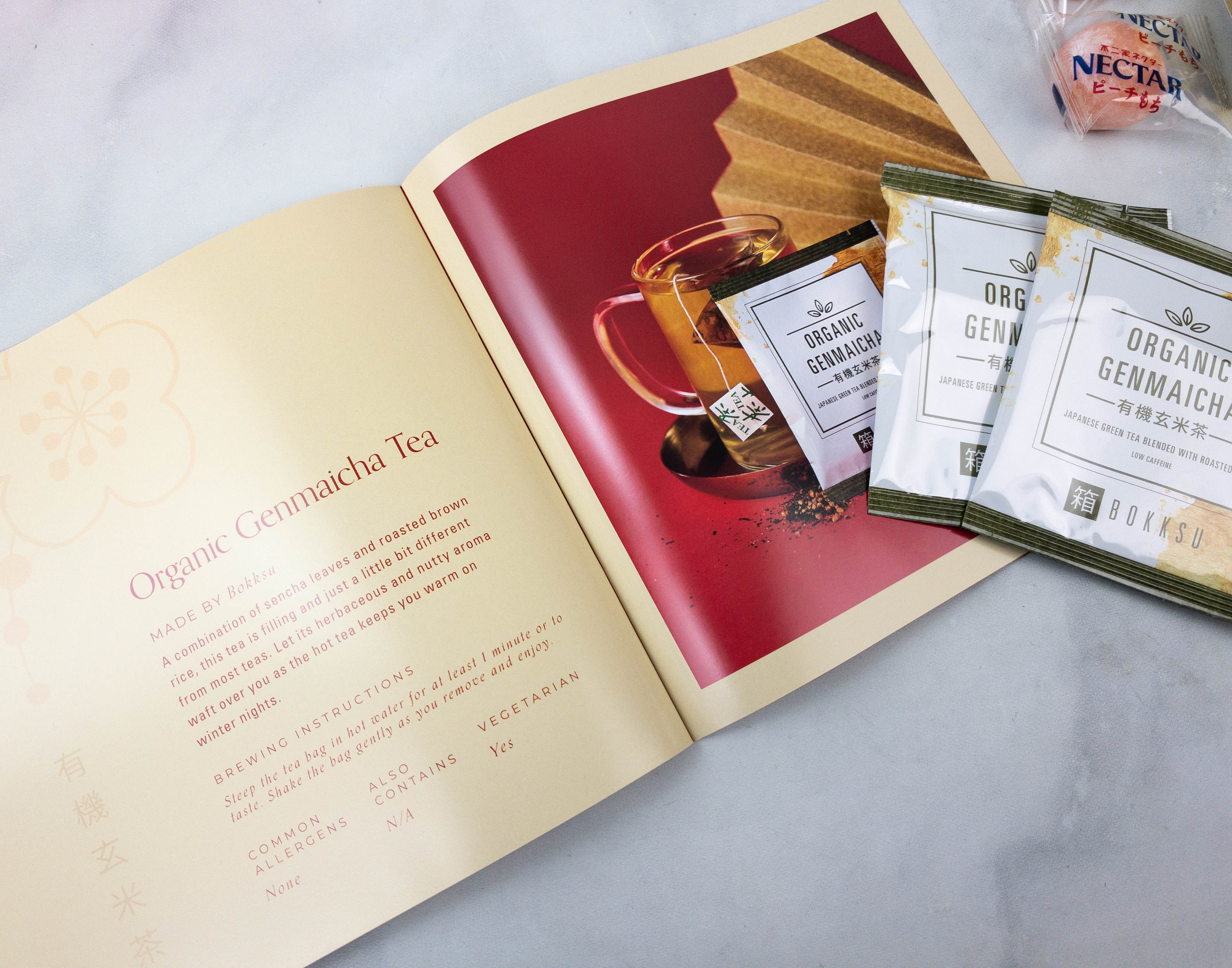 Organic Genmaicha Tea ($4) Of course, each Bokksu box comes with a tea to pair your snacks with. This month, they sent a blend of green tea and roasted brown rice. The rice provides a nutty aroma and flavor, while the green tea gives off a herbaceous taste. It tastes earthy and soothing and gives lots of health benefits as well. All you have to do is steep it and be ready to sip.
Bokksu never fails when it comes to variety of snacks! The January 2022 box includes a mix of sweet and savory snacks, with each one giving us a taste of New Year tradition in the Kanto region of Japan. I enjoyed munching on the snacks, and if I have to choose favorites, that would be the peach mochi and millefeuille. They both taste heavenly! Another great thing about Bokksu is that you can learn about Japan and the specific place where the snacks originated. Whether you decide to keep this box to yourself or share the goodness with others, it would be worth it!
See the cultural guide included for this month: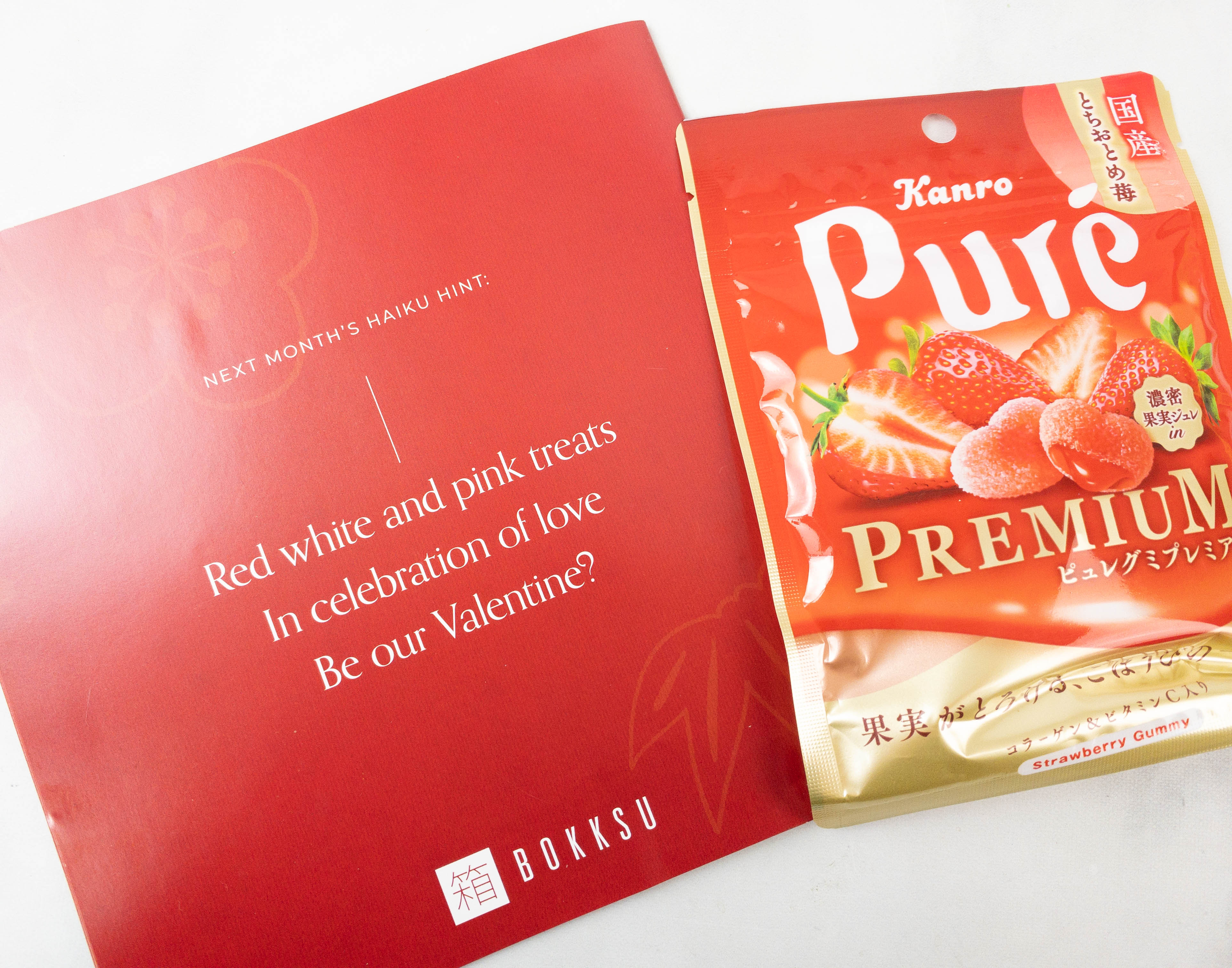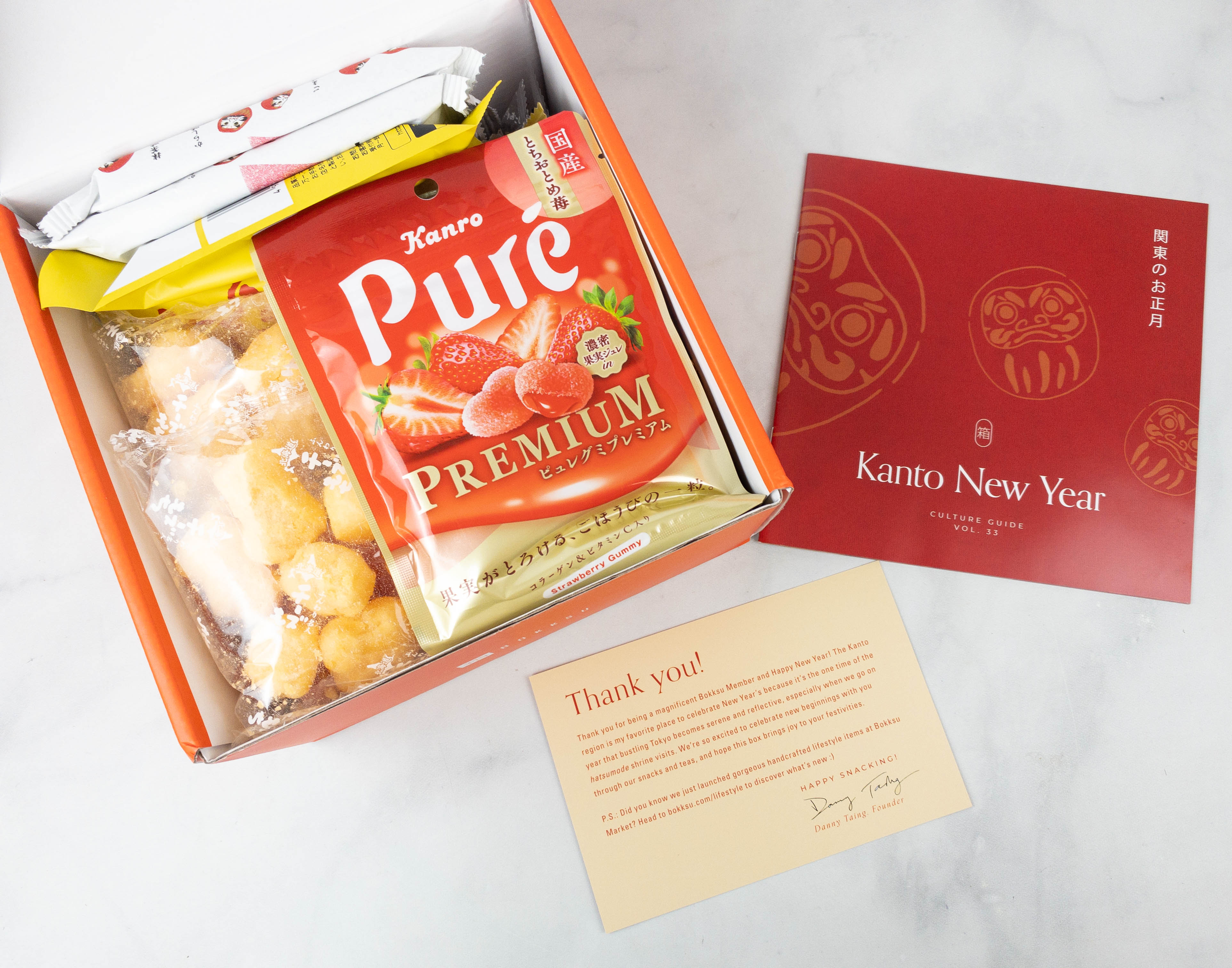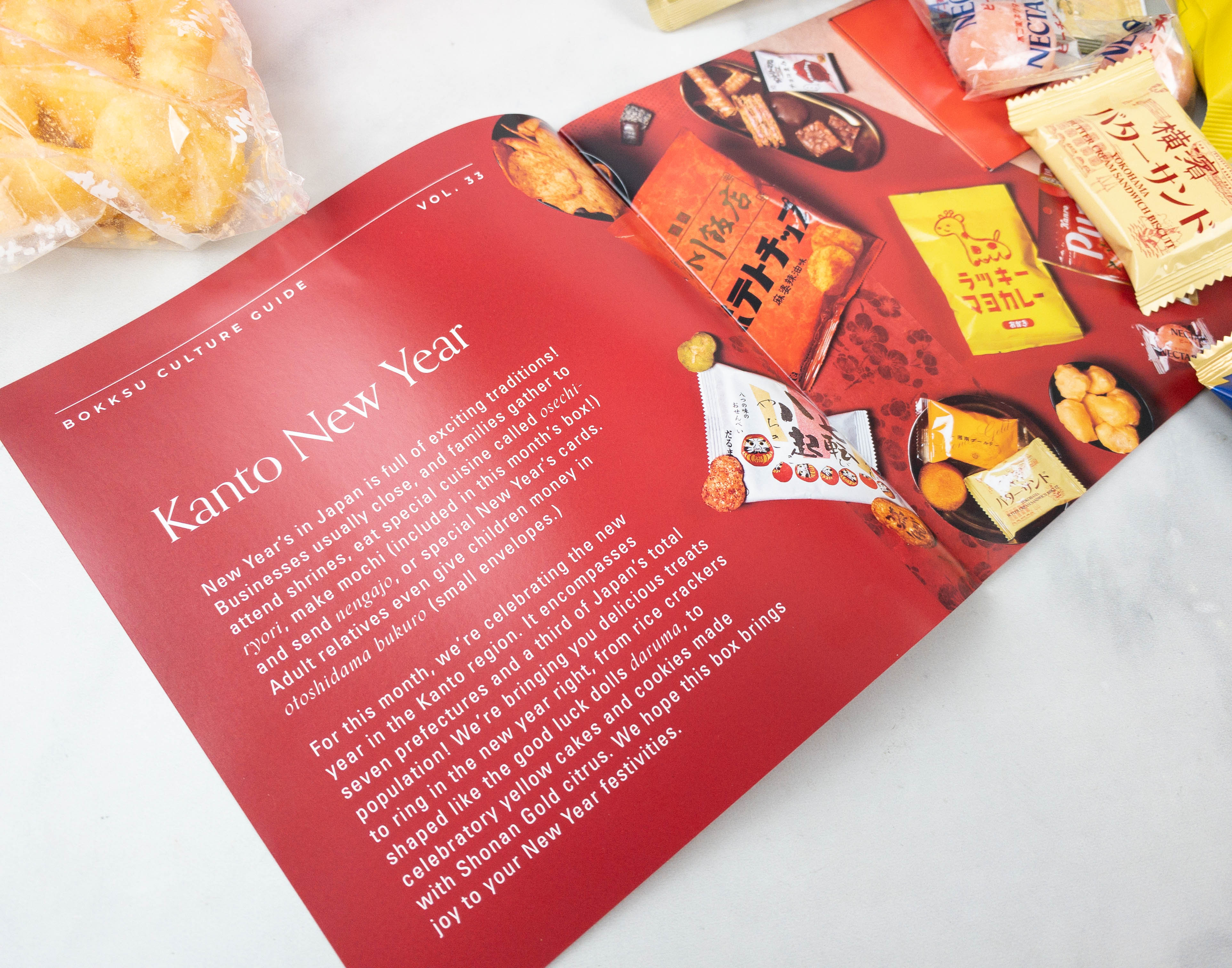 Bokksu is a premium snack box that features authentic Japanese snacks, as well as a tea pairing to go with it. There are two levels to choose from: Classic Bokksu ($44.99 USD) includes an assortment of 20-25 premium Japanese snacks and a tea pairing; Tasting Bokksu ($29.99 USD) includes 10-14 premium Japanese snacks and a tea pairing. Both boxes offer a discount for longer terms. The snacks sent are not easily found outside of Japan and this subscription ships internationally from Japan. Shipping is already included in the price.
Other Japanese snack subscription services use mass-produced mainstream snacks that can be readily found in most Asian markets outside of Japan. Bokksu directly sources its artisanal snacks from local snack makers in Japan (some of whom have been around for over 200 years!). We only curate high quality and gourmet snacks, never filler items. We are also the ONLY service that hand selects a tea pairing for each box to complement that month's flavors.
What's your favorite snack from this month's box?