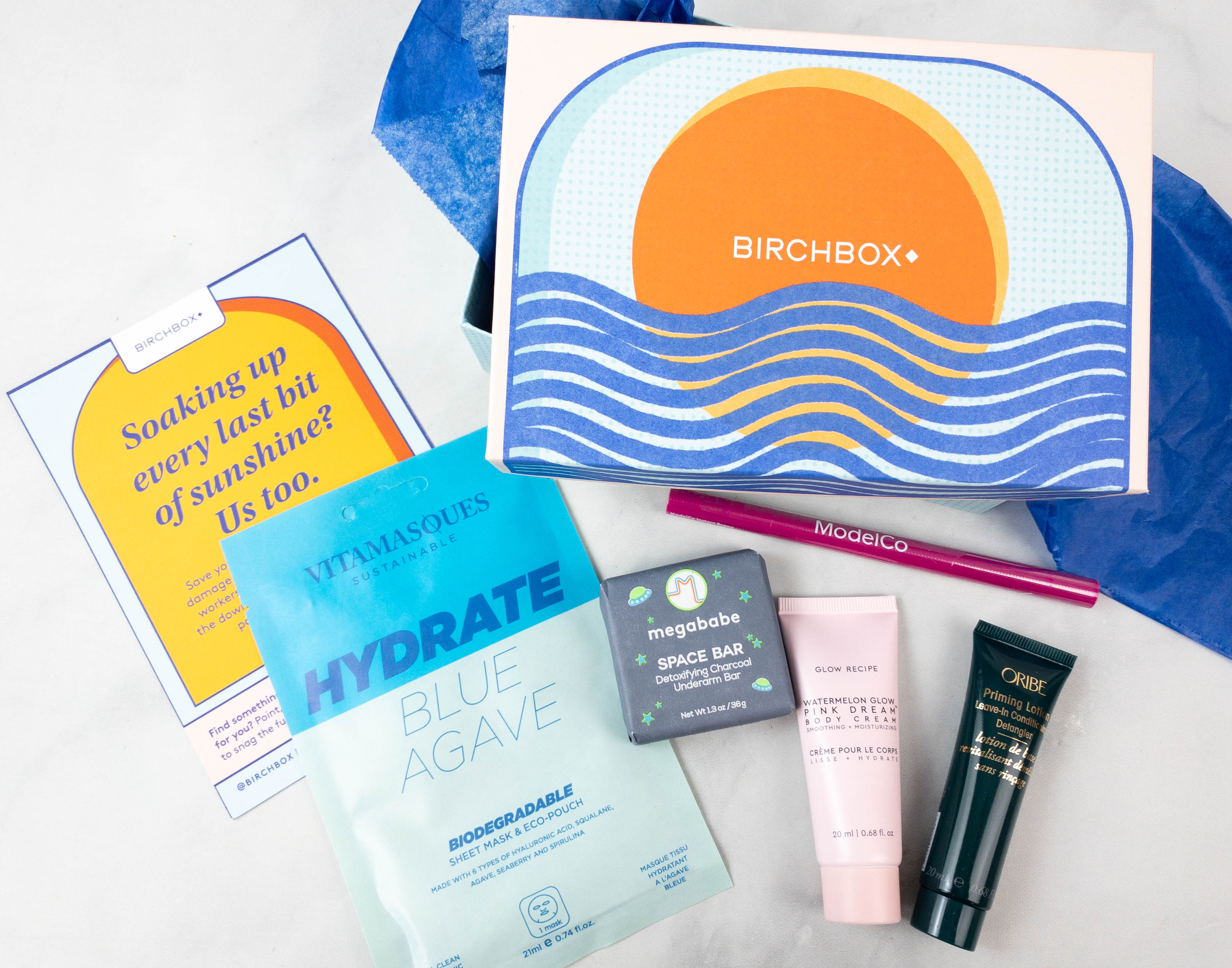 Since news broke that Birchbox has been acquired by FemTec Health, a health and beauty sciences company, many subscribers have been wondering what will happen with the current subscription. Birchbox founder, Katia, sent a message to subscribers saying beauty boxes will continue to be sent out.
Here's a look at Birchbox's November and December 2021, as well as January 2022 boxes which were sent post-buyout!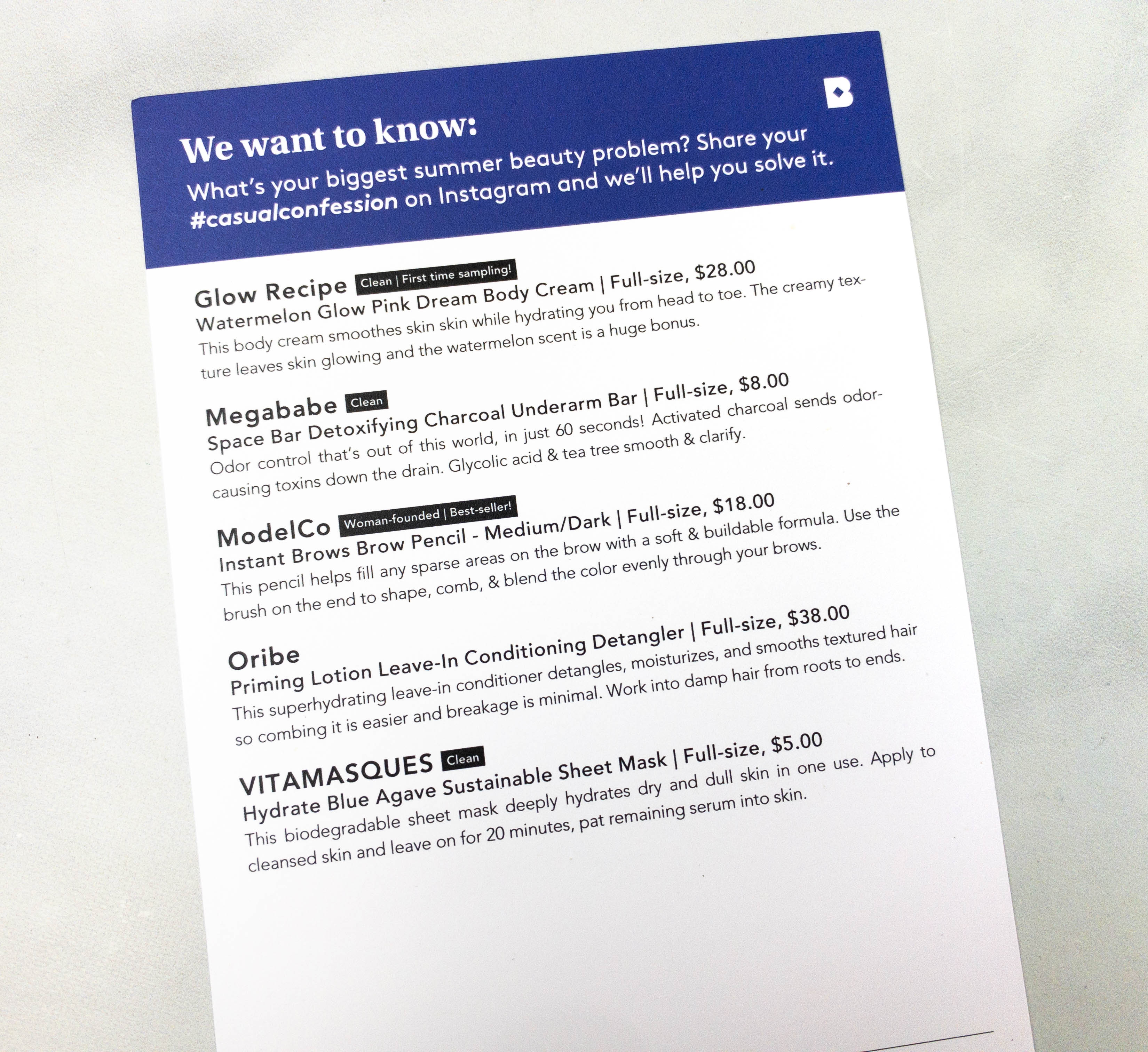 For November 2021, they paused the sample choice selection, and so I received a fully customized box. The moment it reached my doorway, I could tell right away that it is the same outer box as August 2021, which is the recent summer box. Summer has long gone, it's totally out of the way, and I'm not impressed since the card is the same as well. The only difference is the selection of items inside, but one was from my July box. Birchbox has always been great, so I am giving them the benefit of the doubt, but I'm stretched.
Here's everything in my November 2021 box:
Glow Recipe Watermelon Glow Pink Dream Body Full Cream ($2.27)
The total retail value of the box is $31. It would have been better if they replaced the card. The box is fine since I am all for sustainability. Summer and sunshine are written on the box itself and all over these items, which I think is inappropriate since it's chilly during November. I like the body cream and sheet mask as they helped keep my skin hydrated, especially in this cold weather. The instant brow pencil is a good inclusion too. The end tip has a brush that helps shape the eyebrows and evenly blends the colors. At least, the products worked and most are clean beauty.
Next up is the December 2021 HOLIDAY CALM box! Unlike the November box, I got the chance to choose one of the items. However, the outer box is a repeat of the October 2020 box design. They did print a new card though! For the December curated box they just straight up gave the choice of the July curated box.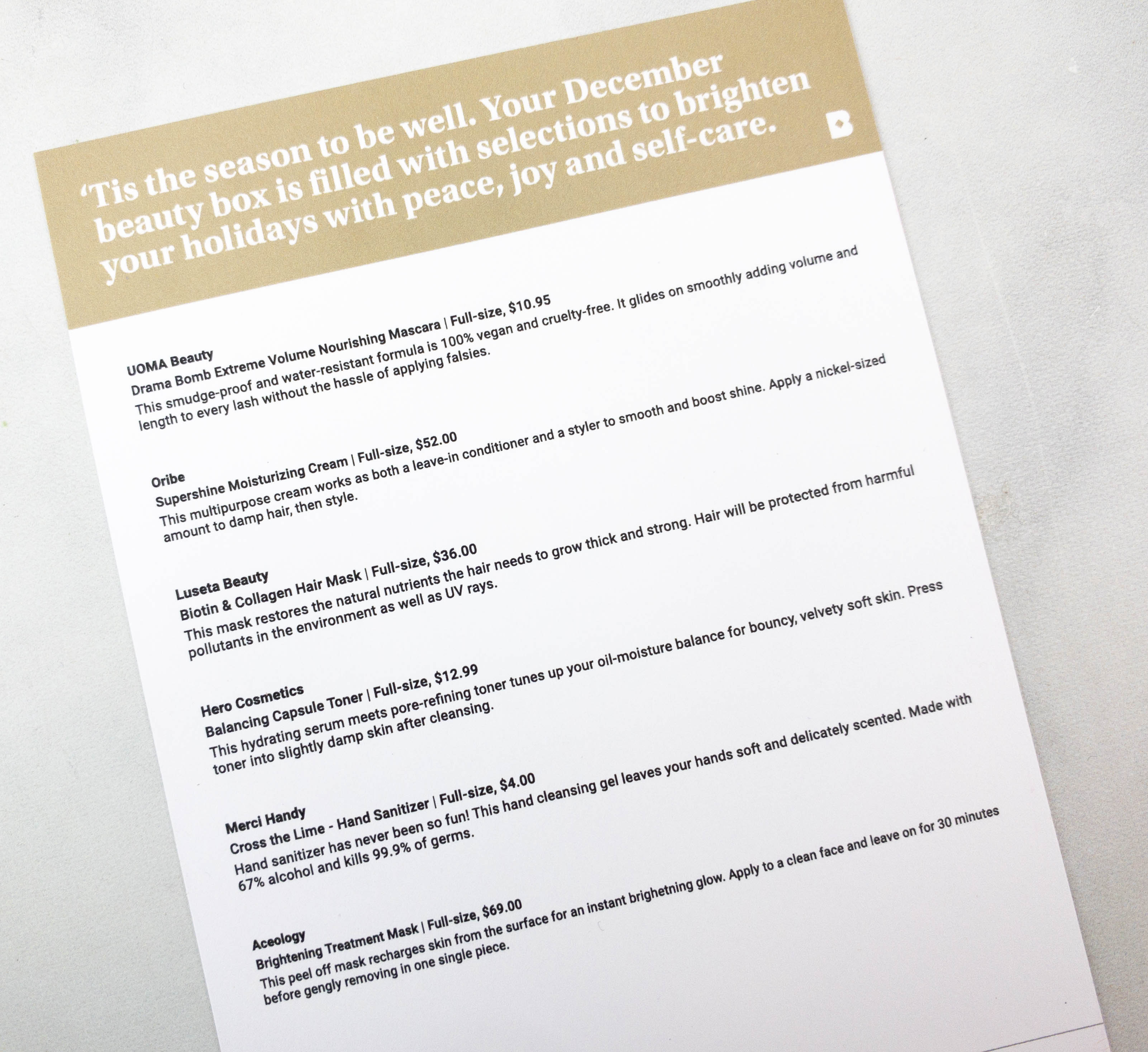 Here's a list of what's in my December 2021 box:
They sent six items instead of five, but still with an old box design and with a repeat item. It's good to know that at least they reduced the footprint through these old boxes (sustainability, yay!). The mascara did some justice to my eyelashes, and I'm happy with it. Also, the hand sanitizer kept my hands feeling soft and scented. The rest are good products too. But here's a downside to the box; I received Aceology Brightening Treatment Mask, which is the same product in my August 2021 box. I liked it since it is formulated to help keep the skin nourished and hydrated this wintery season, but these repeats are losing all the excitement I'm feeling with the subscription. The total retail value is $19.
For January 2022, the box theme is REFRESH, RENEW, RE-YOU. If you're already seeing something familiar, you're right! It's the same box as Birchbox Grooming (already shut down) that they've used for Birchbox Beauty this new year.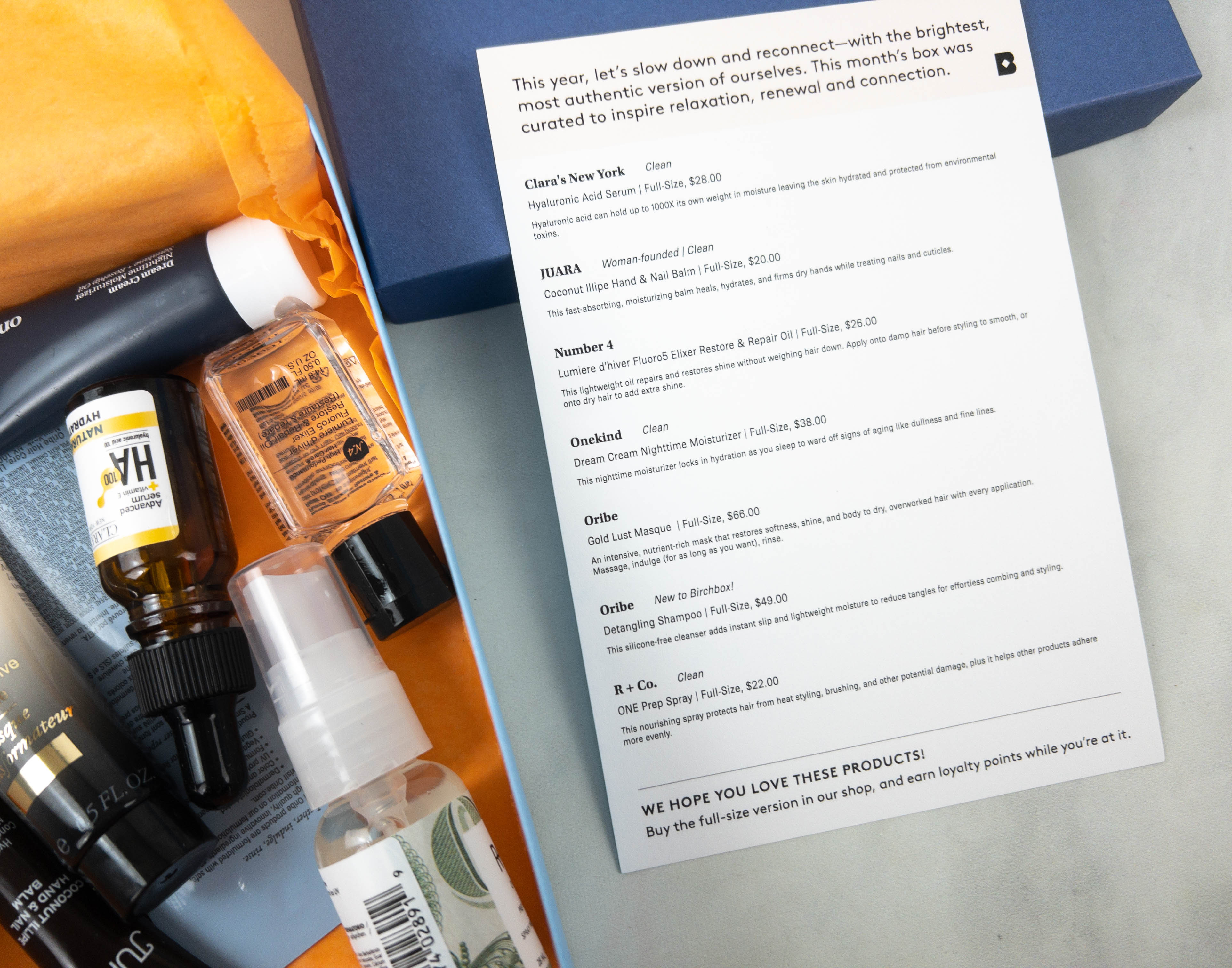 There are seven items listed in the card, with the price for the full-size version and a brief tip on how to properly use each product.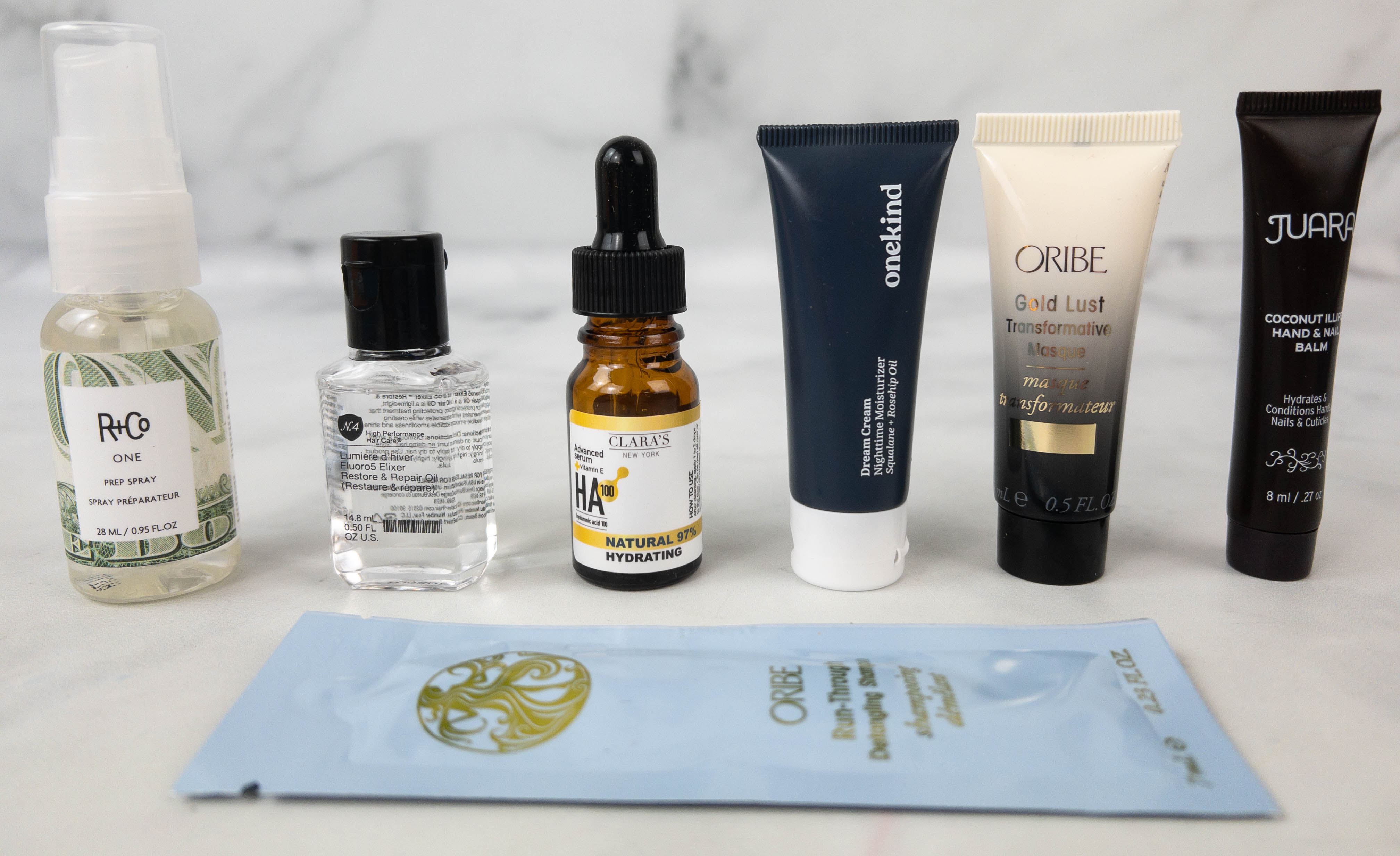 Here's what's in my January 2022 Curated box:
This month, the total retail value is $47, lots higher than the previous month. The beauty samples are great. There's a restore and repair oil, along with Oribe gold lust masque and shampoo, which make the hair vibrant and healthy. Also included is a serum that lightens acne scars, dark spots, and reduces the appearance of visible fine lines. Most of the products are clean beauty. The Onekind nighttime moisturizer is no doubt a fave (I am fairly addicted to this!), but once again a repeat from a past box. Birchbox obviously has a deal with Oribe, but I cannot complain about it and might pick up more of this delicious scent for my February box. They did surprise everyone with 3 curated boxes for next month after having basically nothing available for this month. (see the spoilers for February here).
If not for such changes, I would always feel thrilled when Birchbox comes to my door. They seem to have made adjustments with the new acquisition by consuming all of Birchbox's stocks. These three consecutive boxes were full of repeats, and that's the only explanation I could think of. Some subscribers weren't happy with it, and I was pretty put off, but it's improving. The thing that annoys with these boxes is 1) lots of repeats and 2) lack of communication. I don't seem to get subscription emails anymore, and I've reached out to Birchbox repeatedly on this (I get the emails for non-subscribers, it's all a little weird!). In any event, they're not sending appropriate communications to anyone about what to expect with boxes and the subscription. Until February choice time, I would've bet money that they were going to take the monthly box out of commission, but now I'm not so sure!
Birchbox, a $15 per month beauty sampling subscription service, sends 5 new items each month so you can try them before you buy. You can choose a monthly sample during selection time, let Birchbox decide, or pick a pre-curated box. Birchbox's beauty subscription made the list in our 2021 readers' choices for the best beauty boxes!
What do you think of the post-buyout Birchbox boxes? Has anyone had the same experience with their boxes? Share it with us in the comments!