Our beauty discovery journey continues! Beauty Heroes January 2022 features Ayuna, a clean beauty brand that believes "less is beauty, less is more". Founded by Isabel Ramos and Begoña San Juan, who are seasoned beauty professionals, they are committed to pure, effective, and safe beauty products with a vision for innovation. Like last year, Beauty Heroes dropped this huge value limited edition item from Ayuna, with a huge retail price of $455. Beauty Heroes is the only box that does this, and it's super exciting to be able to try this product.
Ayuna Terra Viva ($455) Terra Viva, which means living earth, is the hero item for this month's box! From the packaging alone, you could tell they're into sustainability.
The core product is secured and encased in a corrugated box, then sealed with branding.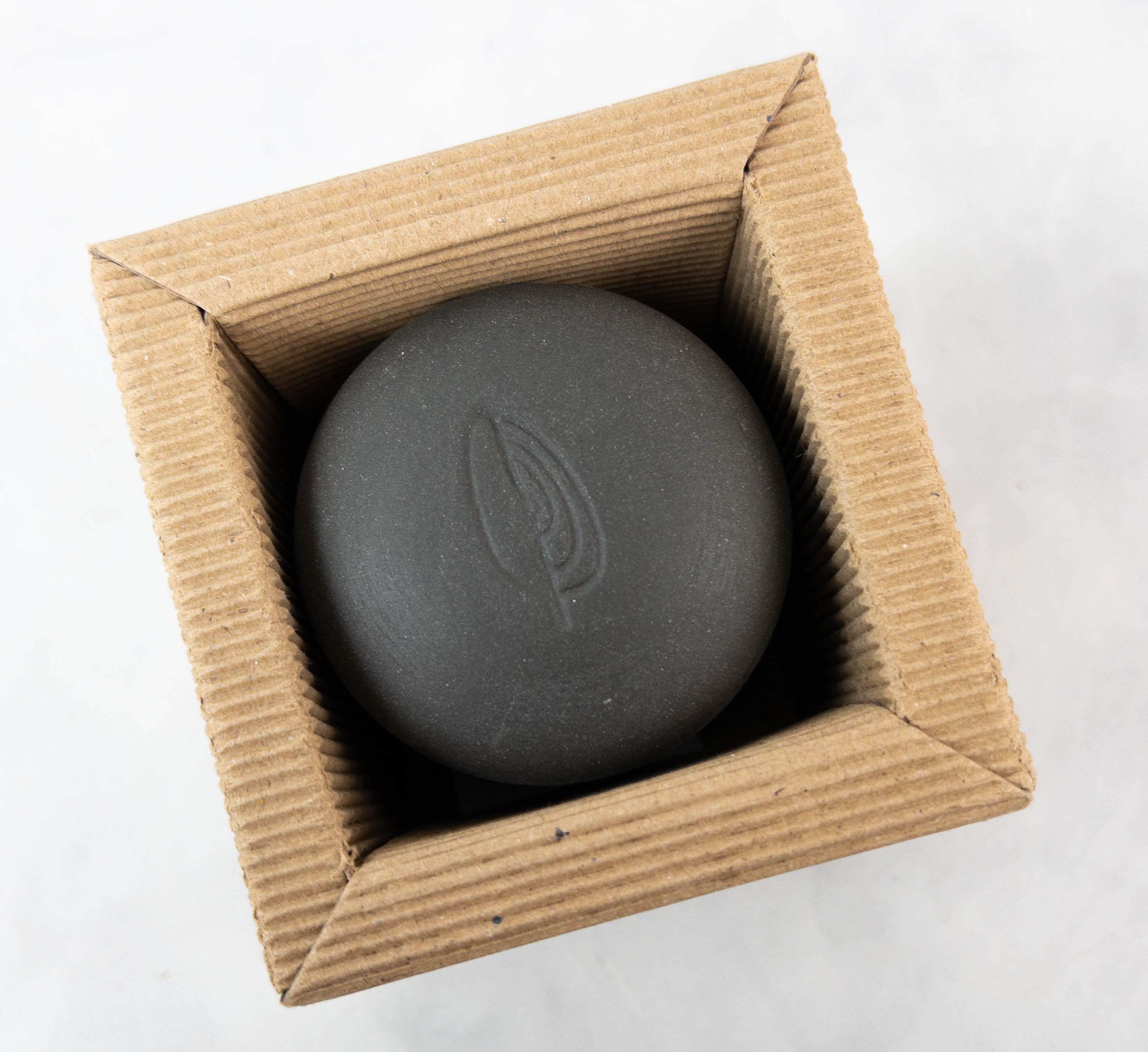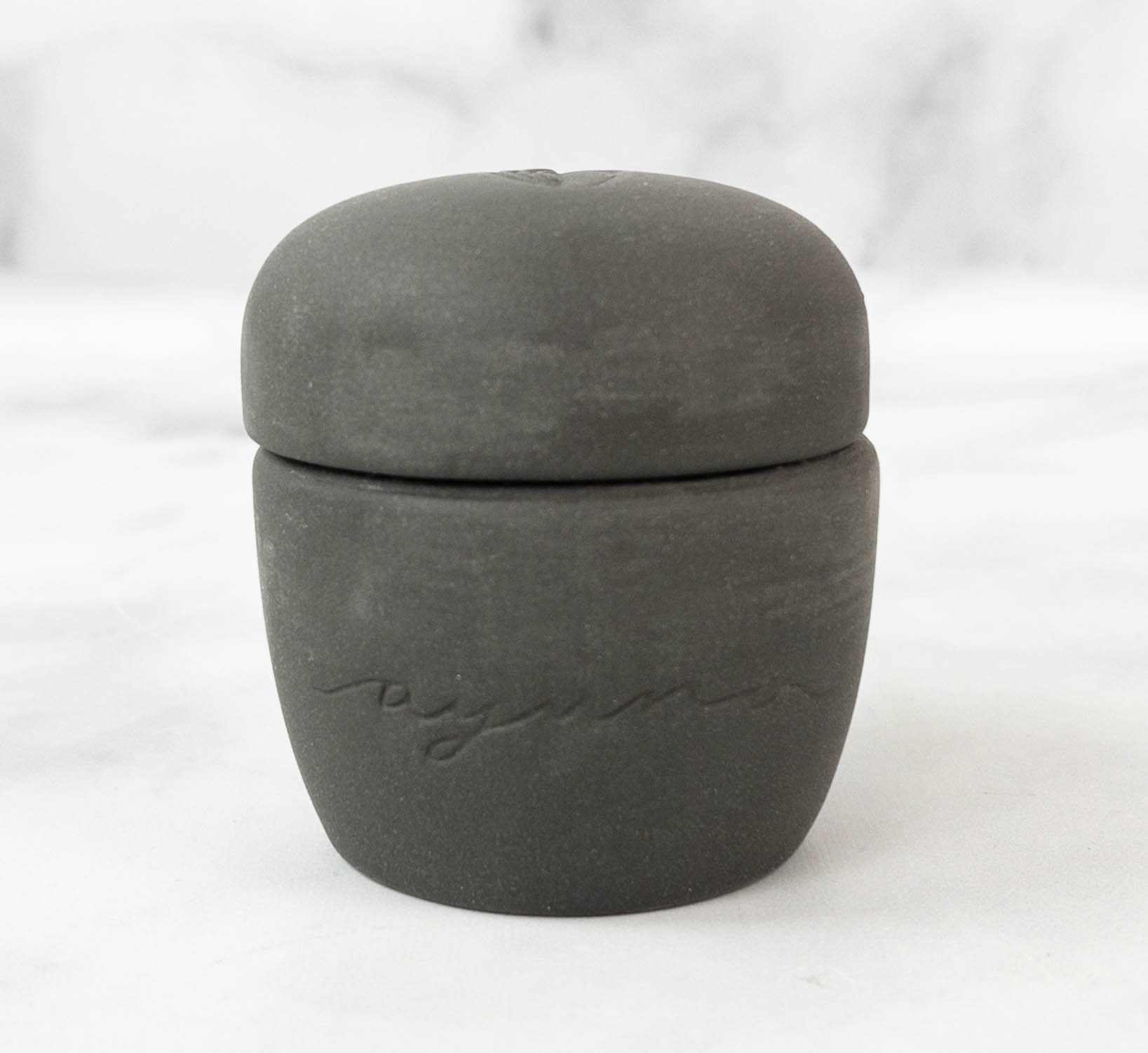 What welcomes you after taking the packaging off is a lovely black pot that houses the formulation. It's a sustainable, fully biodegradable handmade vessel, a zero-waste alternative to regular containers. It's good to note that since these vessels are handmade, there are slight variations on each. It's so pretty!
I got a messy one (the label stuck on), but gladly, nothing spilled out of the jar. It contains 100 ml of cream which is formulated with stem cells from Living Stones (a type of succulent that promotes vitamin D production) and bio-sugars, helping the skin look and feel plump. Another thing to like about this product is the swaying scent that lingers on the smell senses. It has scent notes of citrus like lemon and grapefruits with middle notes of lavender and Davana, along with cardamom and ginger over a woody base. It smells great, and leaves a positive effect on the skin and my mood!
My jaw dropped when I saw the price. The $455 price tag is quite hefty and I'm glad to be able to try it at a fraction of the retail price! The quality of the cream didn't disappoint either. It's in the middle of the texture scale, which means it's not too thick or too light. Ayuna calls it a nectar, which is fairly fitting, although nectar sounds a bit more serum-y to me. You can incorporate this into your daily beauty regimen, and the good thing is that it's easily absorbed by the skin. It helps keep the skin smooth and leaves a youthful glow as well. Also, once you empty it, the container can be repurposed into cute home decor!
The idea behind this is to take feedback and determine if this limited drop will be part of Ayuna's permanent line. I would have enjoyed receiving a survey about this item, but perhaps that's still to come.
The box also includes a mini booklet. It contains more information about the product. See it here: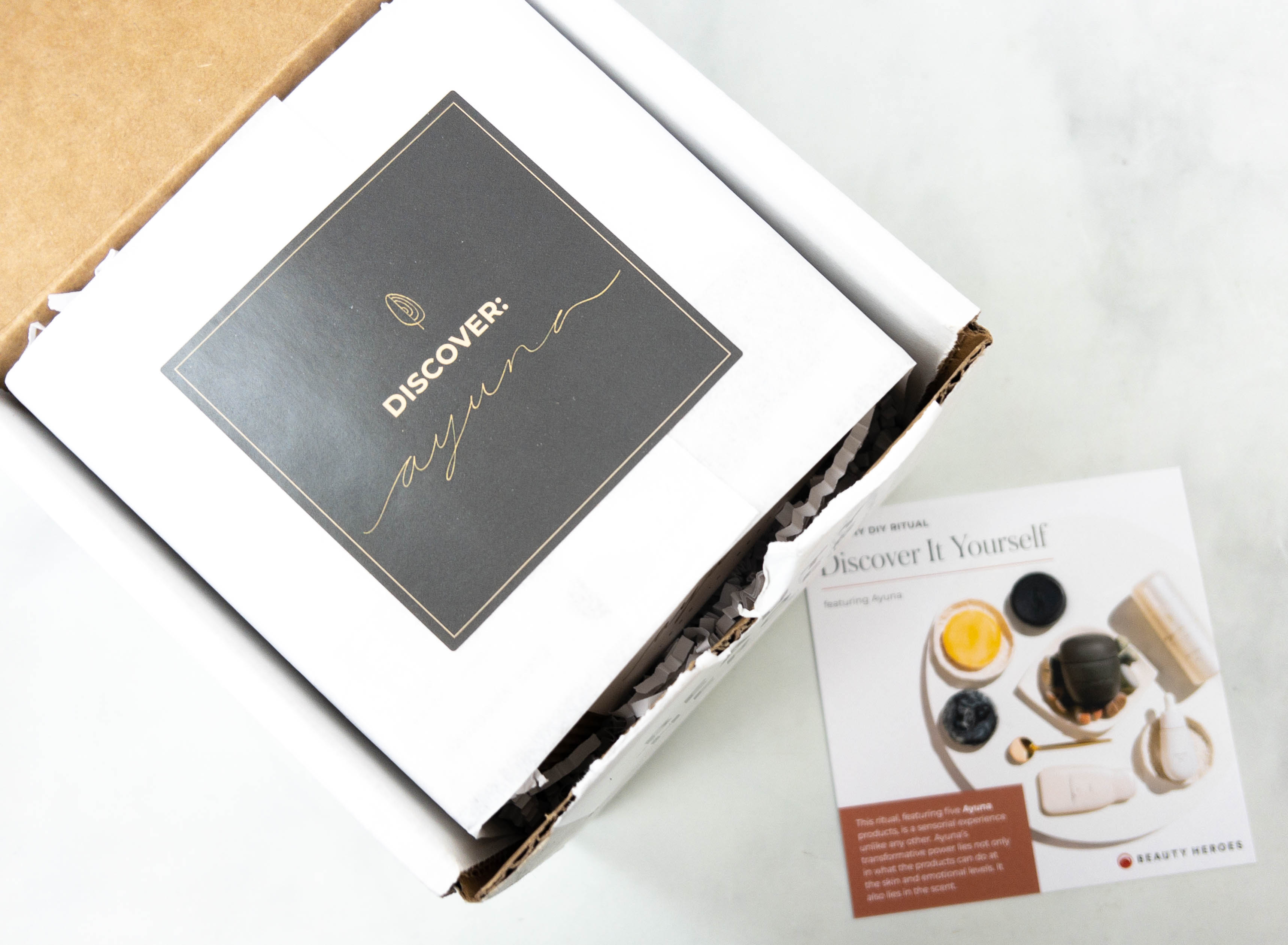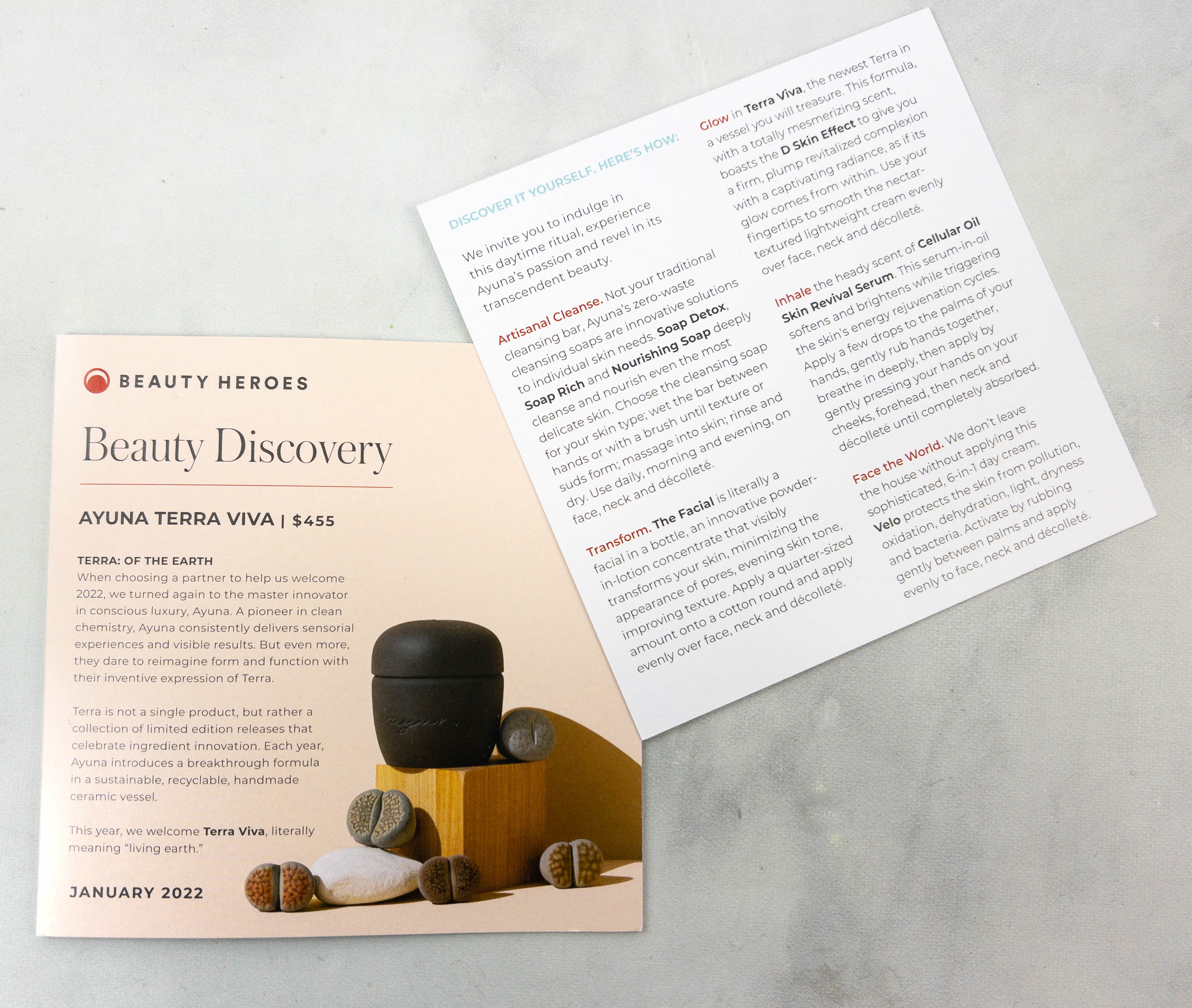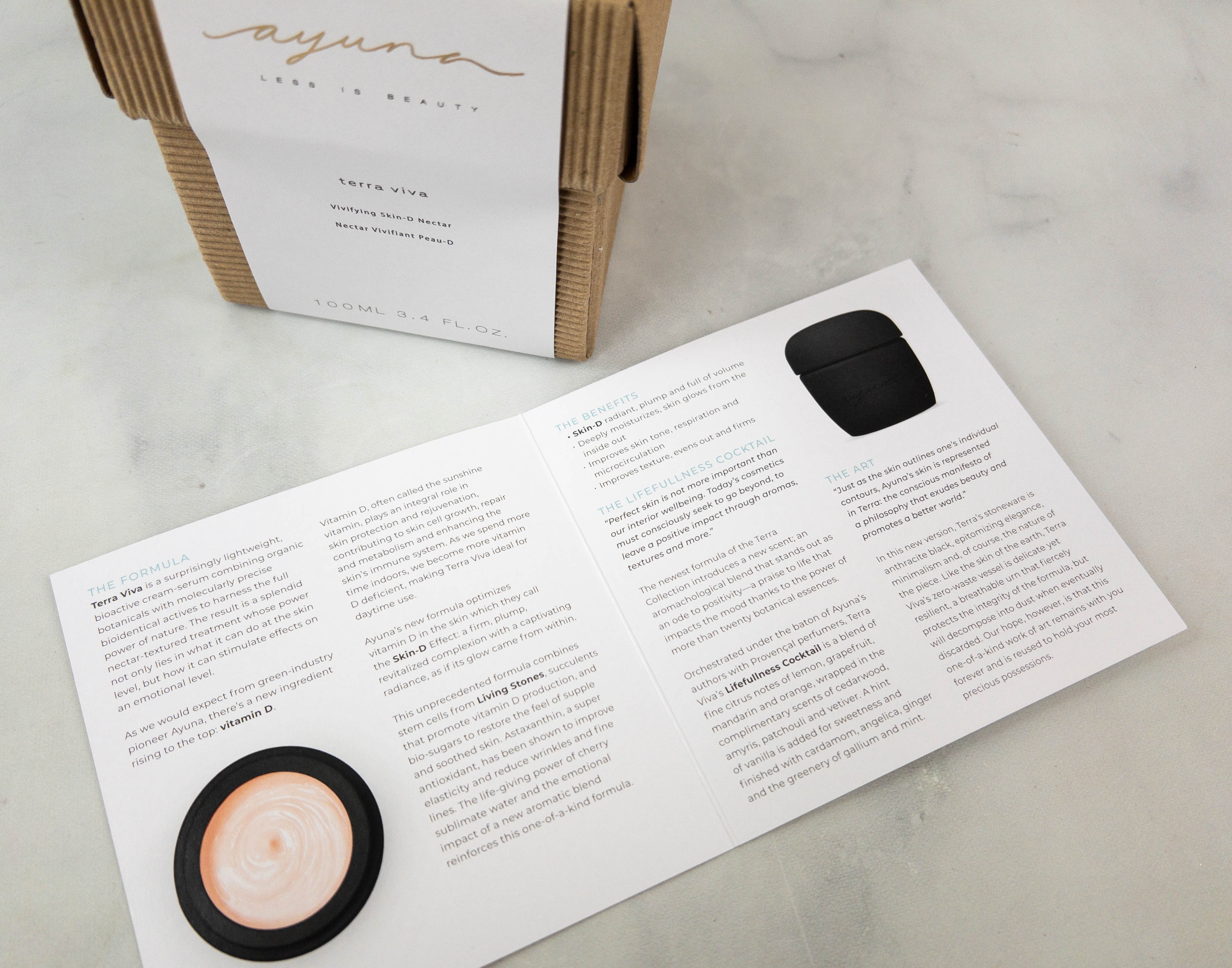 Beauty Heroes is a healthy beauty discovery service featuring one clean beauty brand each month. They send a full-size Hero product in every box, plus a deluxe size Sidekick. Sometimes, they send more than one Hero or Sidekick, depending on the featured brand. Boxes are always $100+ in total value. Beauty Heroes members also receive a 15% discount in the Beauty Heroes Beauty Store, insider exclusives, and early access to new product launches. They currently offer 1-, 3-, 6-, and 12-month membership subscriptions. Here are the prices: 1-month – $58.95 ($58.95/month), 3-months – $137.85 ($45.95/month), 6-months – $251.70 ($41.95/month), 12-months – $479.40 ($39.95/month).
What do you think of this month's Beauty Heroes box?