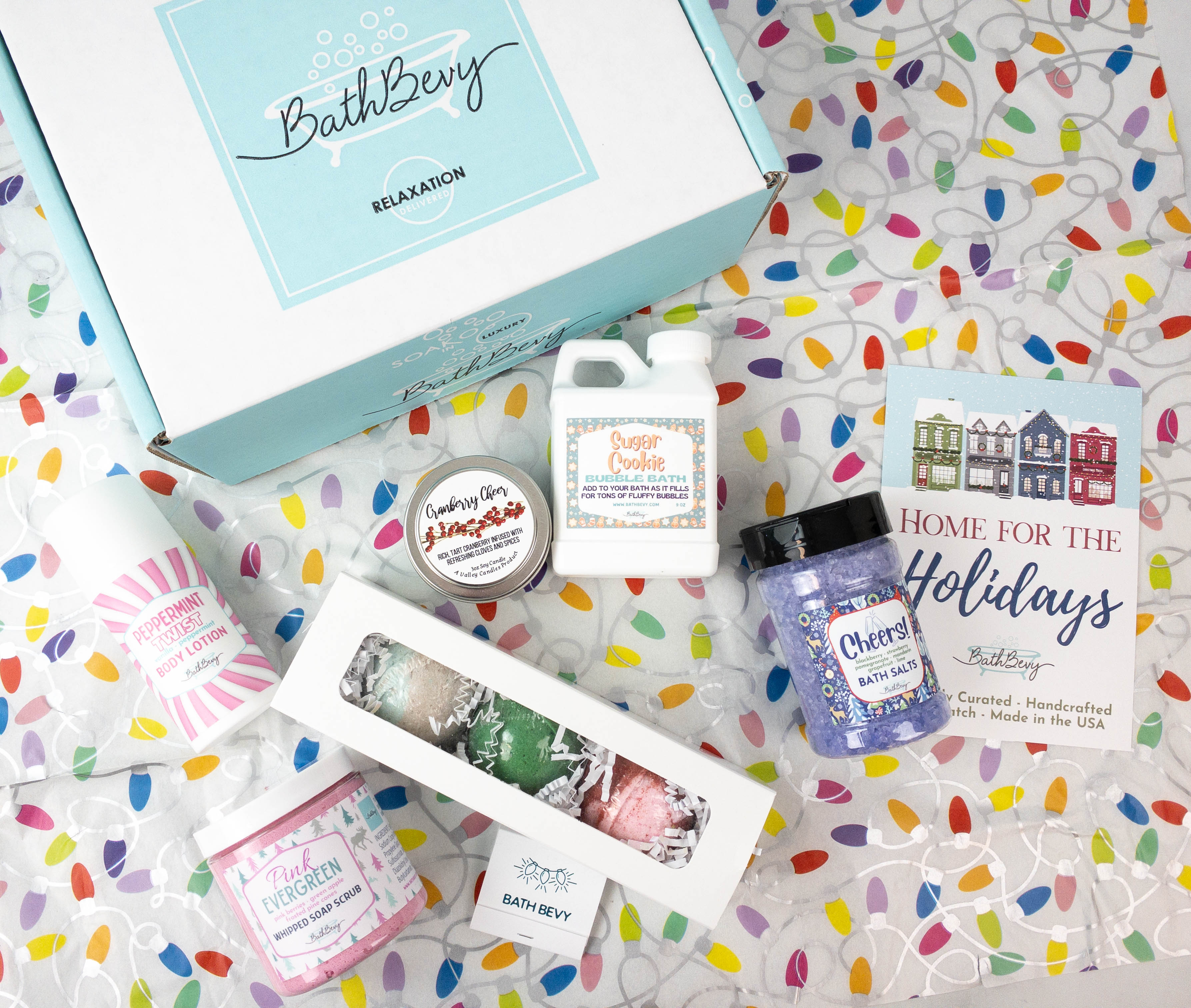 Bath Bevy's December 2021 box is curated to make us feel cozy and at home this holiday season! The theme is HOME FOR THE HOLIDAYS, and it offers the perfect self-reward after a whole year of working and doing your best. It includes different bath products, ranging from bath bombs to bath salts and more. There is always a good time for a soothing bath despite the holiday rush, right?
DEAL: Save $4 on your first box! Use coupon code HELLO10.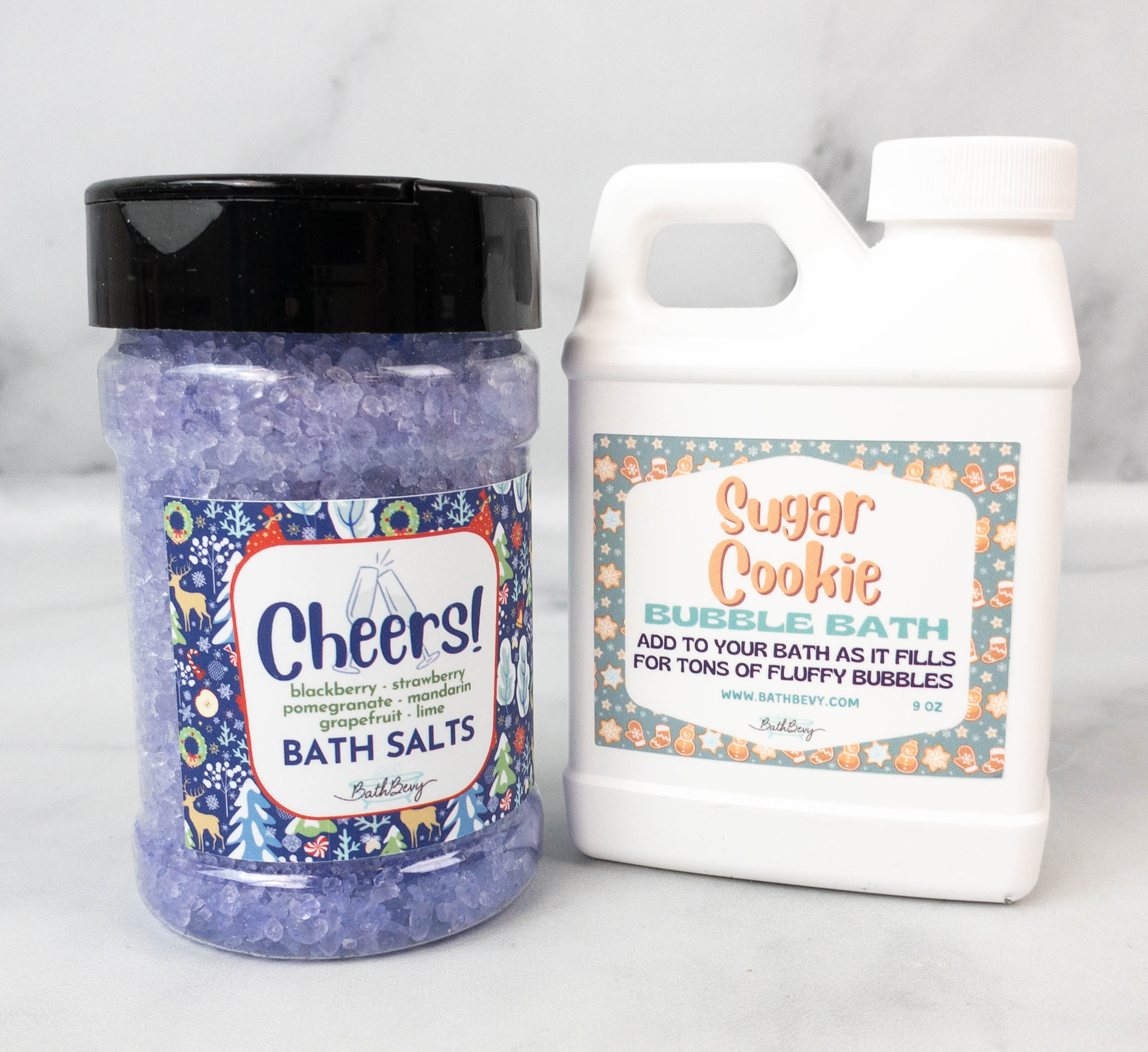 Cheers! Bath Salts. Bath salts easily turn bath time into a relaxing experience! This one is made with Dead Sea salts which include essential minerals like magnesium and zinc. It also smells really good, as it combines scent notes of blackberry, strawberry, pomegranate, mandarin, grapefruit, and lime over a bamboo base. Soaking in a tub filled with bath salts helps chase away tired and sore muscles. It also soothes the skin and leaves it fragrant!
Sugar Cookie Bubble Bath. Bath Bevy has the cutest packaging for their bubble bath formula: a small jug! The four scent possibilities this month include Sugar Cookie, Winter Stroll, Frosted Winter Berry, and Snow Kisses. I received Sugar Cookie, and it instantly spiked up my mood with its sweet vanilla and buttery scent! The 9oz jug can last up to 9 baths.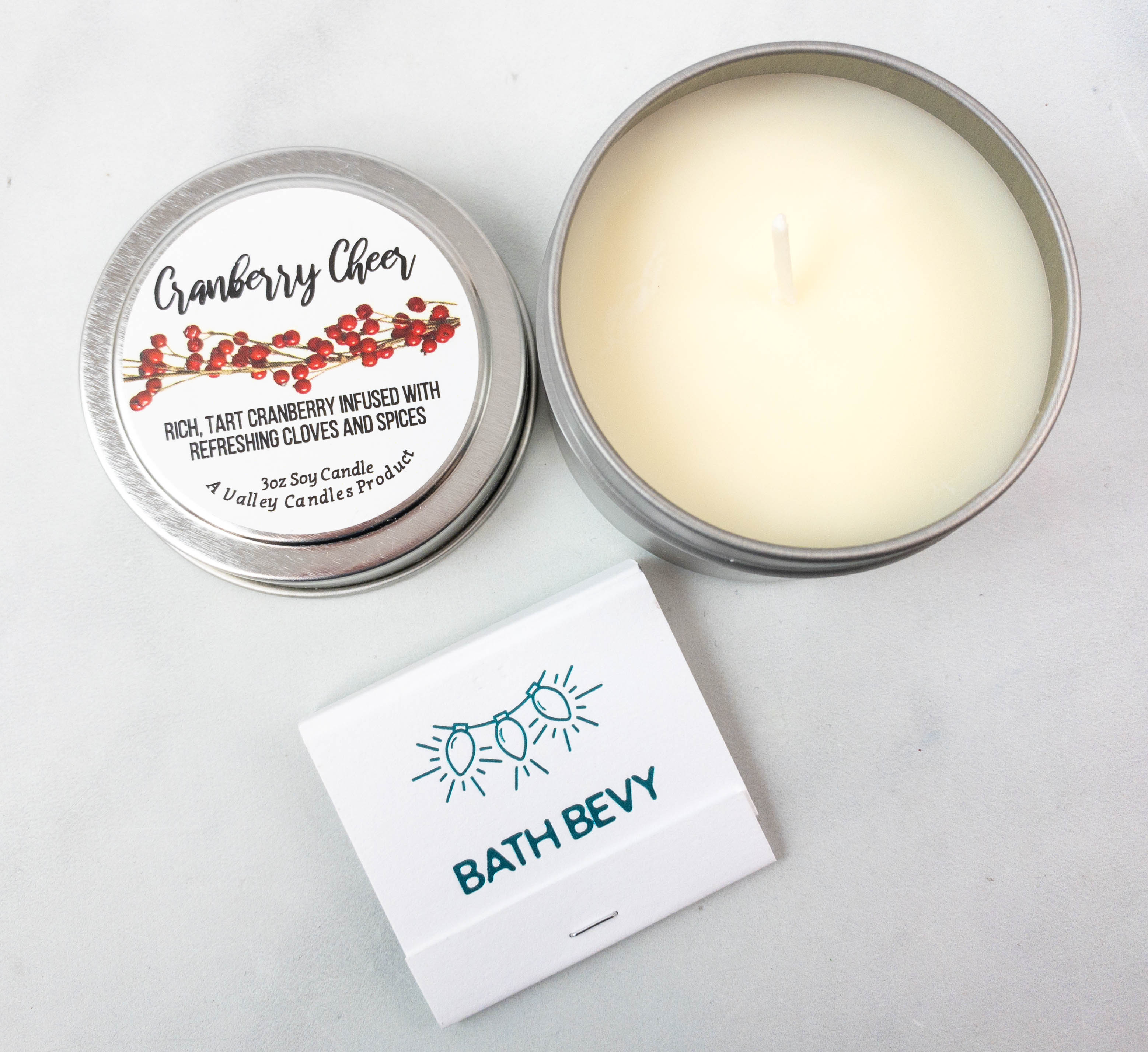 Cranberry Cheer Candle. If you're in the mood for a cozy night in, this tin cranberry-scented candle is for you! It's made in small batches with 100% American soy wax, so it burns cleaner and longer than regular candles. Matchsticks are also included, so you can light the tin candle as soon as you've decided to pamper yourself. Aside from rich cranberry notes, it's also infused with refreshing cloves and spices.
Peppermint Twist Body Lotion. To keep the skin smooth and well-hydrated after a bath, a body lotion is a must! This lotion from Bath Bevy even has a cozy scent composed of mint, white sugar, and a dash of vanilla, which I adore. It applies smoothly and feels light on the skin!
Pink Evergreen Whipped Soap Scrub. It's a whipped soap scrub with a light and fluffy formula that doesn't leave a sticky or greasy feeling. This cleanses the skin and removes dry and dead skin cells. There are four scent possibilities this month: Pink Evergreen, Cozy Vanilla. Hygge Happy, and Forsted Pinecone. I received Pink Evergreen which has scent notes of pink berries, green apple, and frosted pine cones. It's such a pleasant treat to the senses!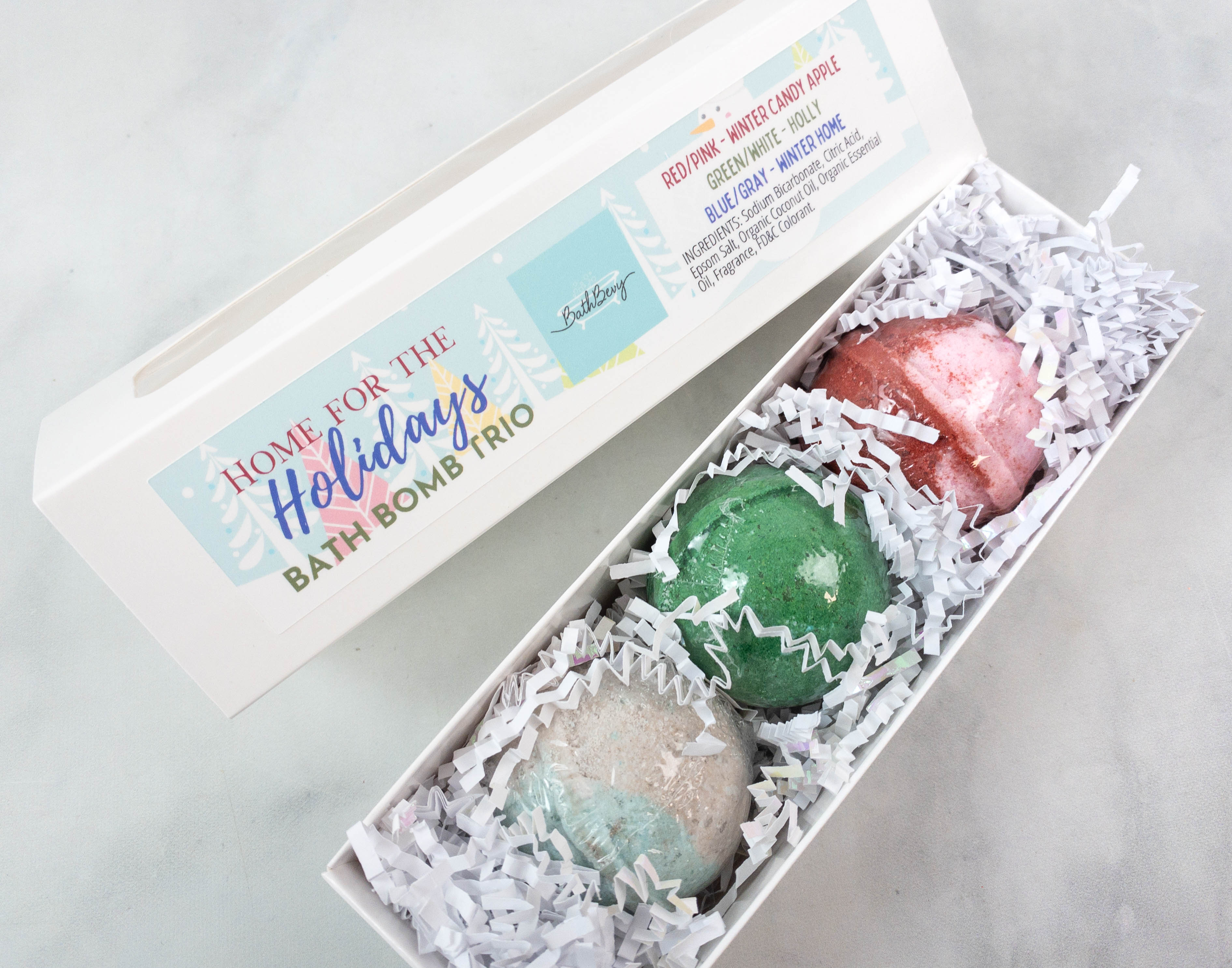 Home for the Holidays Bath Bomb Trio. The trio of pleasant-smelling bath bombs arrived nestled in squiggles to keep them in great condition during shipping. The red/pink bath bomb is Winter Candy Apple, which has scent notes of crispy apples, juicy pineapple, and sweet oranges. Next up is the green/white bath bomb called Holly. It smells a lot like the holidays, with scent notes of evergreen, juicy apple, and hollyberry. The third one is the blue/gray bath bomb called Winter Home. The combination of sparkling citrus and warm spices like clove and cinnamon makes it smell so relaxing. I love all three of them!
Bath Bevy's Home For The Holidays themed box makes me want to stay in the bath for a longer time! The featured scents fit the holiday season well, from the candle to the bath salts and bath bombs. The lotion and soap scrub are amazing additions to the box as well. If you want to experience all the coziness and pampering, this subscription would be worth a try. In case there's no tub at home, worry not because you can still enjoy fragrant bath and body items with the Tubless box.
Bath Bevy's packaging is top-notch! Have a look here: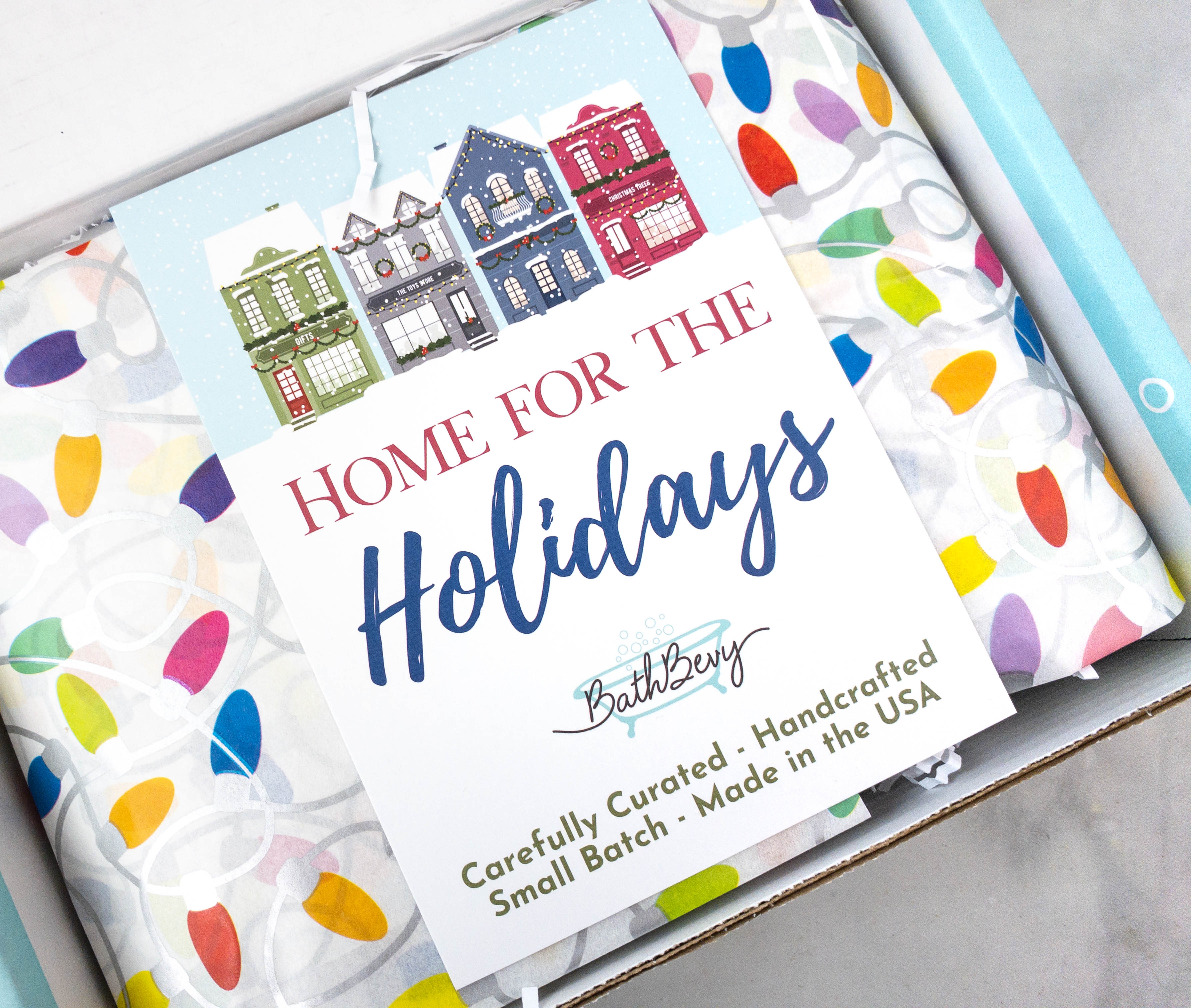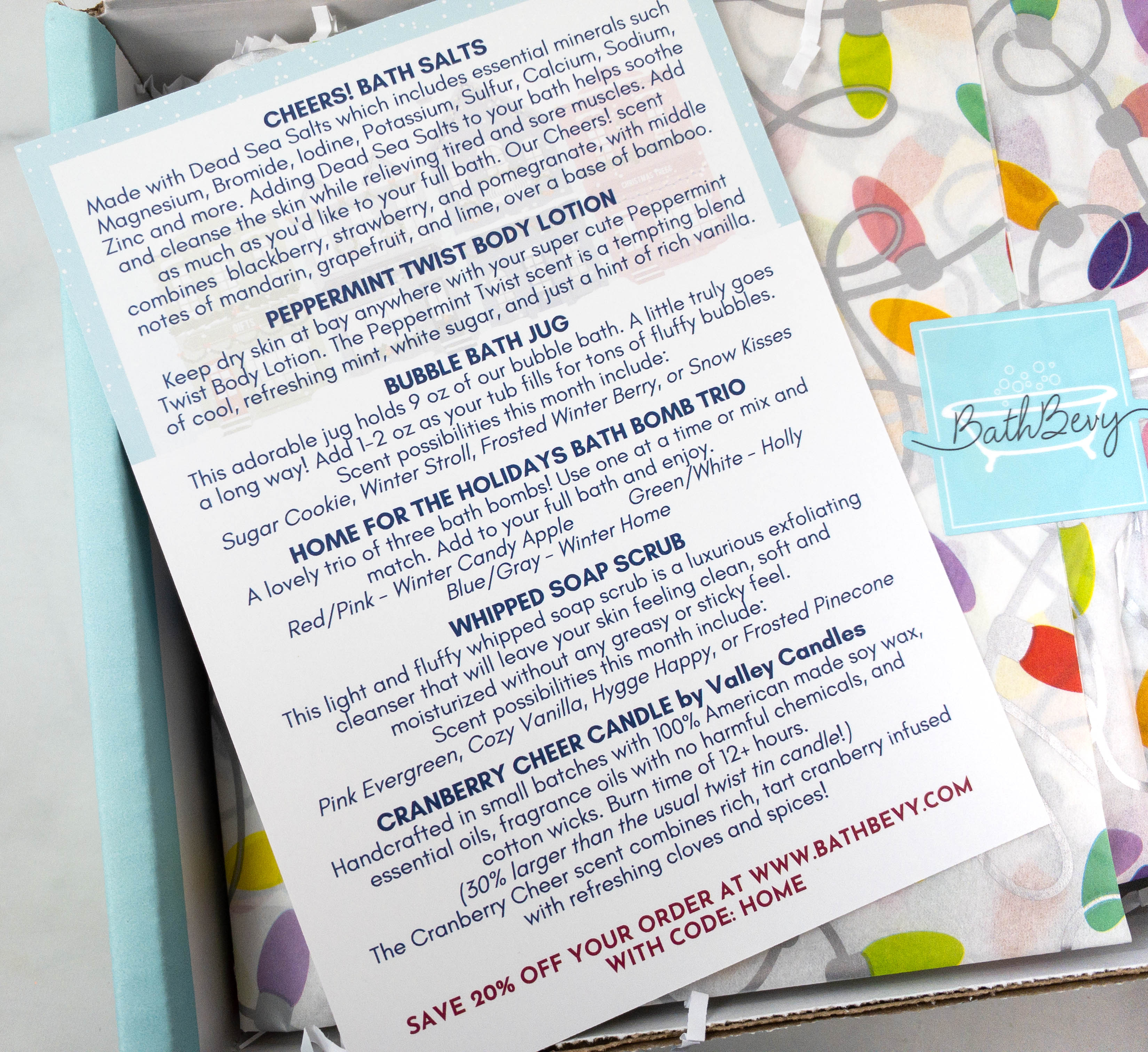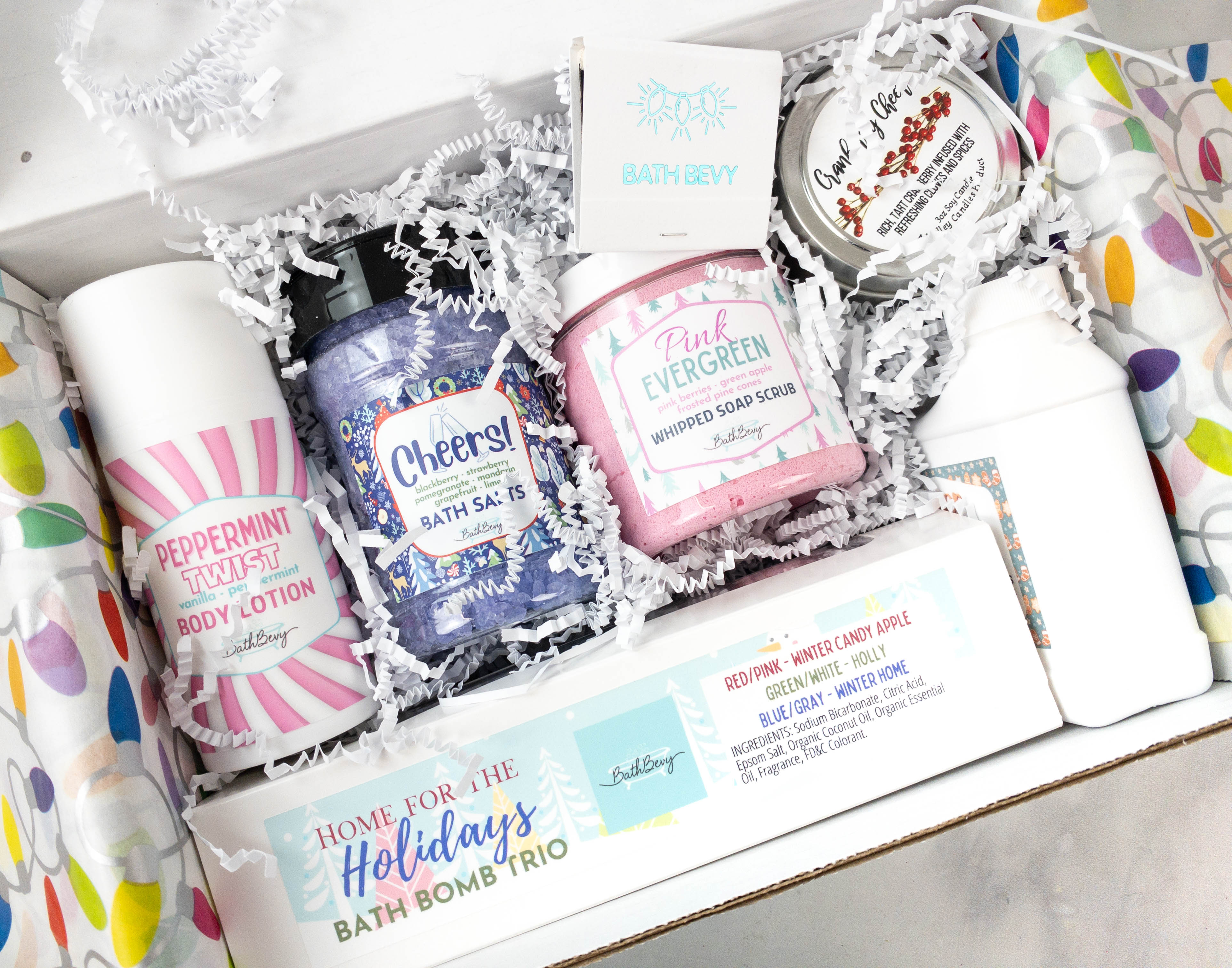 Bath Bevy curates boxes for bath lovers! Each themed box has 6-10 bath items, which may include bath bombs, bubble bars, bath salts, body scrubs, handmade soaps, and more! Most of these items are from indie bath and body brands. A monthly subscription is $34.95 per box and a quarterly subscription is $36.95 per box. A new option is the Tubless subscription which sends bath and body products but no items for the bathtub like bath bombs and bath soaks. It's $37.50 per month. Some of the items you can expect from this option are body washes, whipped soaps, sugar scrubs, lotions, and shower steamers.
Bath Bevy's bath subscription box topped the list in our 2021 readers' choice picks of best bath subscription boxes!
What do you think of this month's Bath Bevy box?