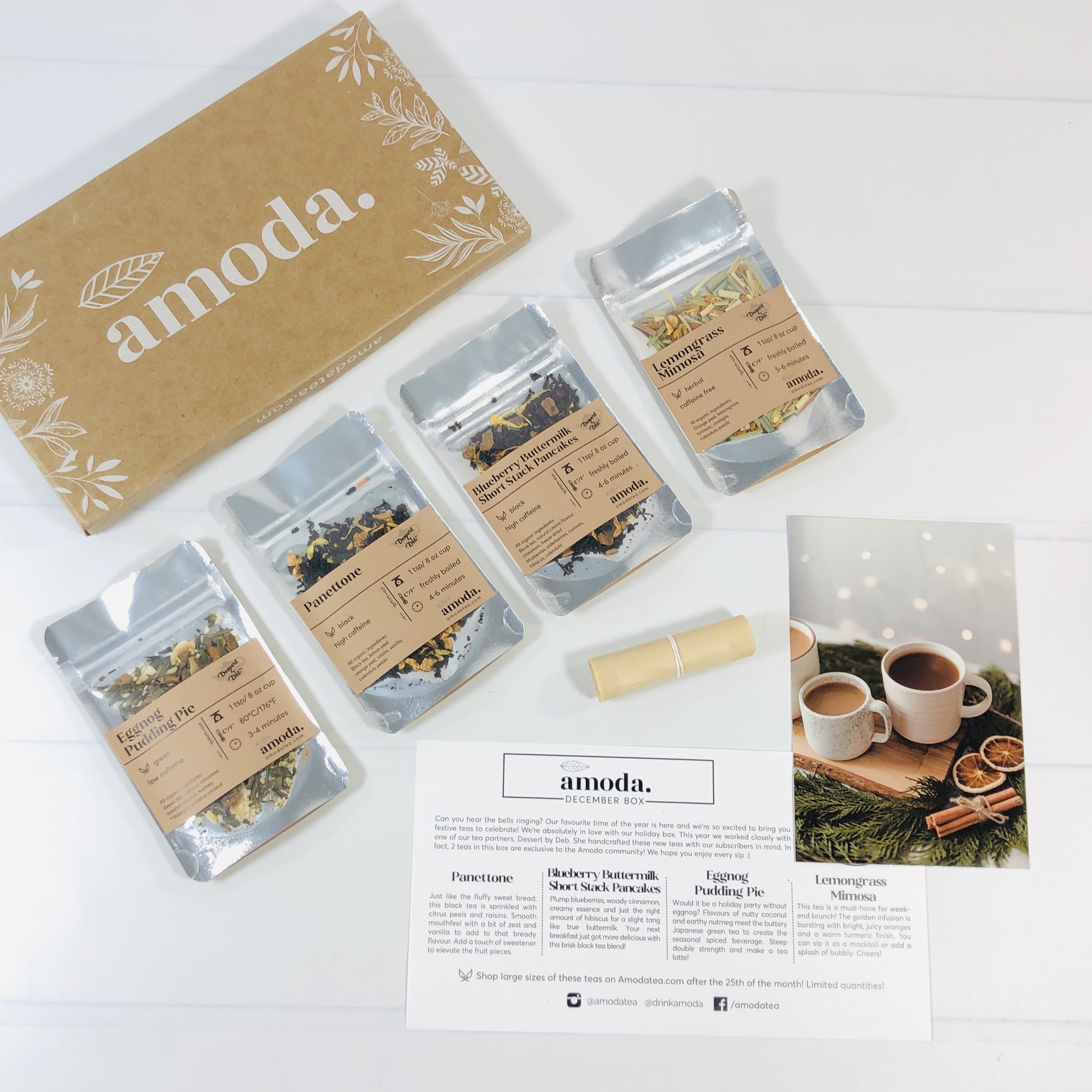 Amoda sends four loose leaf teas in samples big enough for at least 3 cups each from different tea makers so you can discover brands and flavors that you might want to order again and again. Choose from the Original Box or Low Caff and prepare to be amazed because they send flavors curated to the season! This month was all about cozy and celebratory tea blends that are sure to jingle your bells!
This is a review of the Original box.
DEAL: Get 40% off of your first month! Use coupon code HELLO40.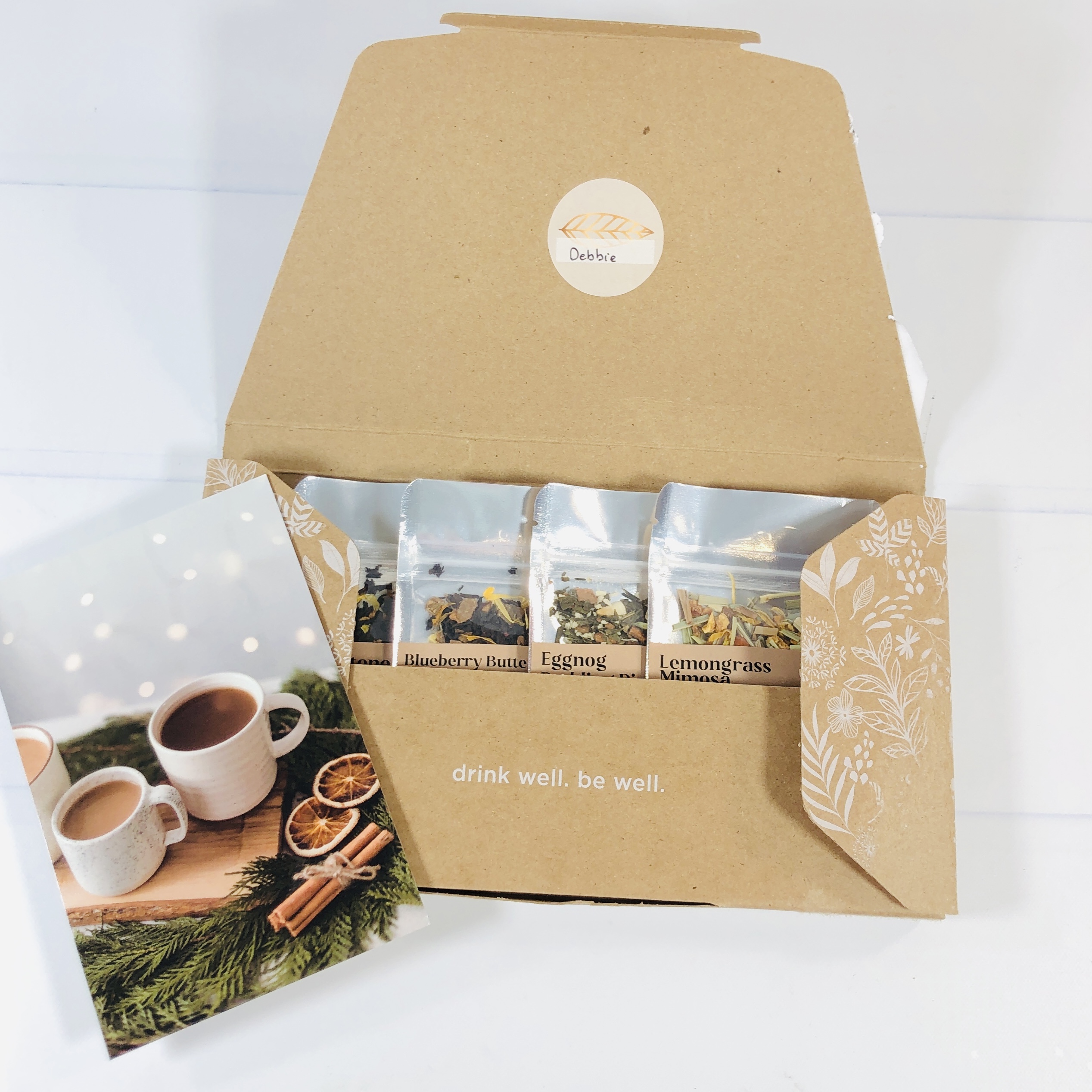 Looking good!
I received some Tea Bags. Just fill with your desired amount of tea, set in a cup, and pour water over to steep. Toss in the compost or re-steep if you prefer. You can also use a French press, tea steeping system, strainer, or tea ball/infuser.
I always receive a tea postcard which can be sent to a friend, although I sometimes prop them up on my desk like a mini work of art.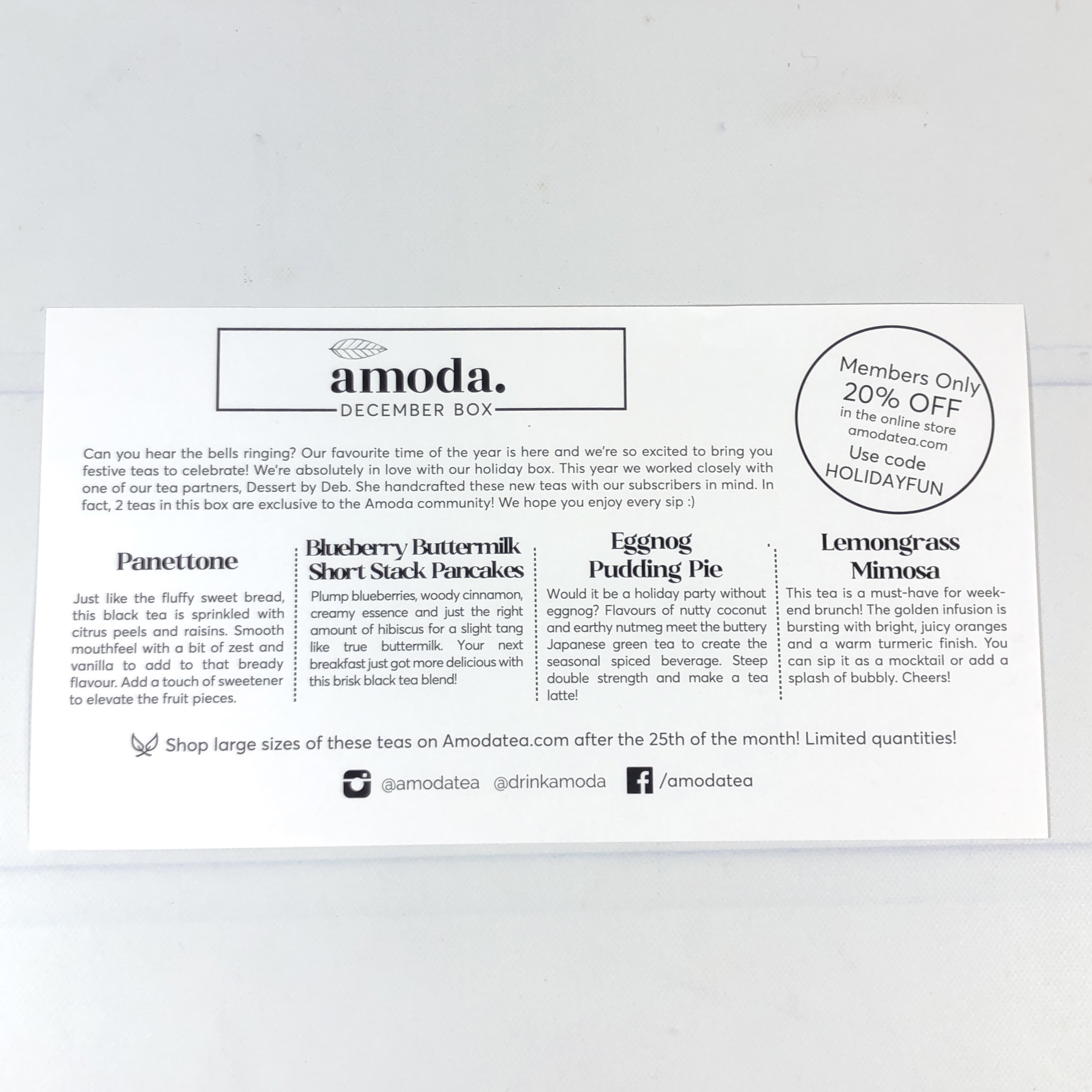 I found a sheet with info on this month's teas. For December they sent teas from one provider, Dessert by Deb (no relation). Two of the flavors are exclusive to Amoda and all four sound perfect for December. They included a coupon code for any purchase in the online shop.
Amoda Tea Blueberry Buttermilk Short Stack Pancakes Well this was a surprise in my cup — it's like a stack of blueberry pancakes that you can drink! It had a lovely berry flavor that tasted authentic and there was a hint of cinnamon. Hmm, I've never considered using maple syrup as a tea sweetener but might just go for it next time I steep this bold cup.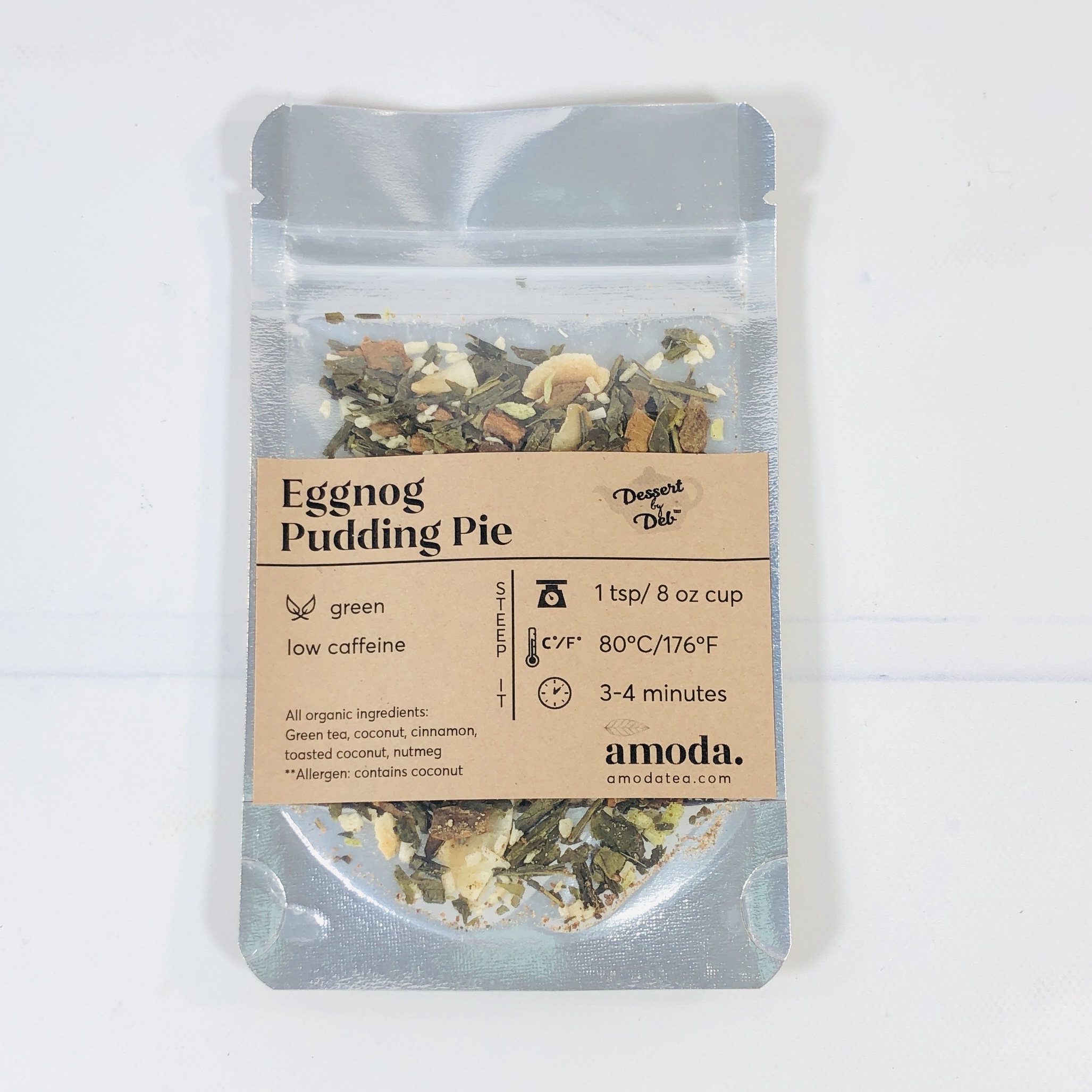 Amoda Tea Eggnog Pudding Pie has a green tea base plus coconut and spices like cinnamon and nutmeg. I thought the spices took the lead while the green tea was a background player and I only tasted coconut near the end.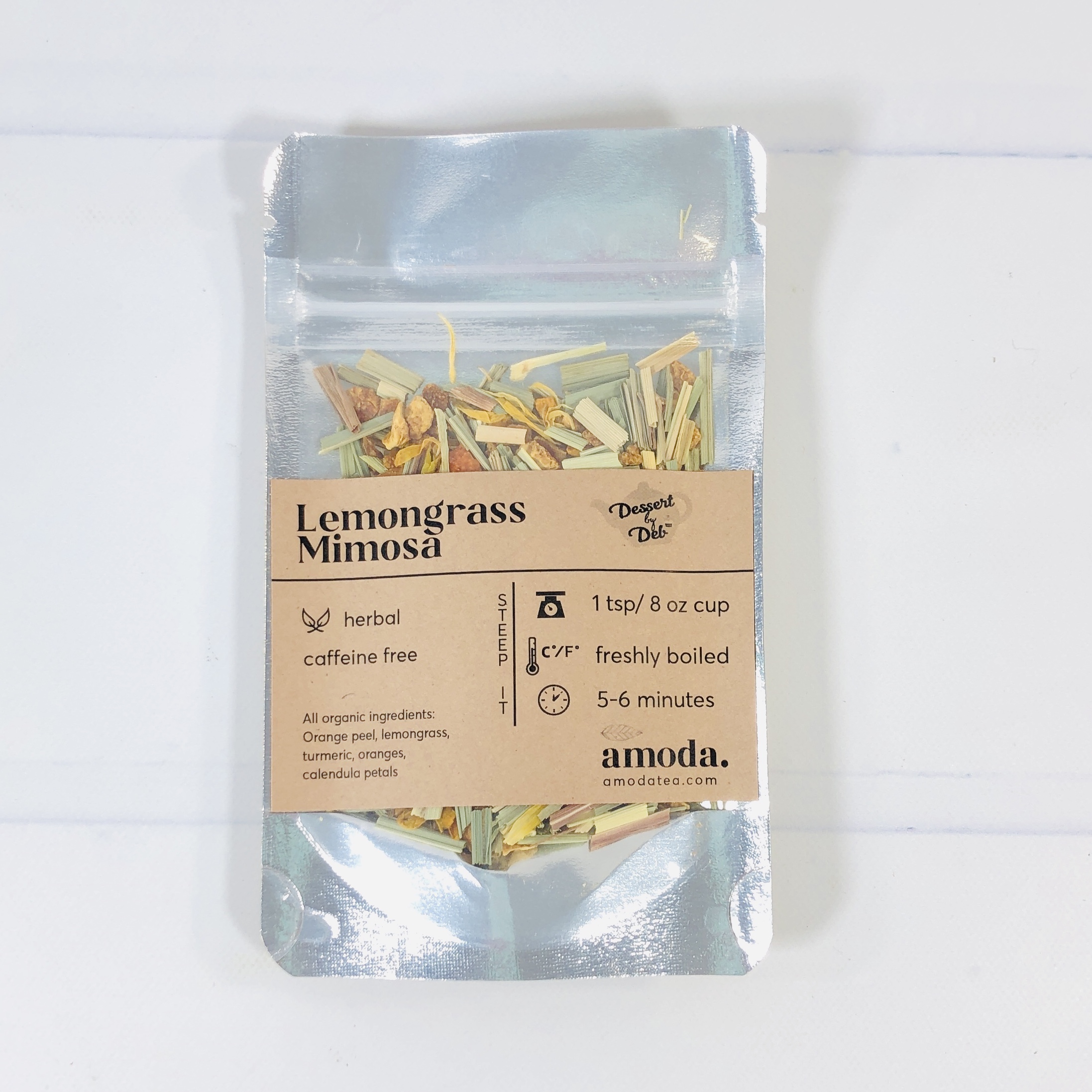 Amoda Tea Lemongrass Mimosa I sip herbals such as this one in the evening, when caffeine isn't necessary and I can relax before bed. This blend includes orange peel, lemongrass, and turmeric and it has a bit of a grassy note combined with the citrus flavors. It's not too bold but it does have amazing flavor, and no sugar was needed.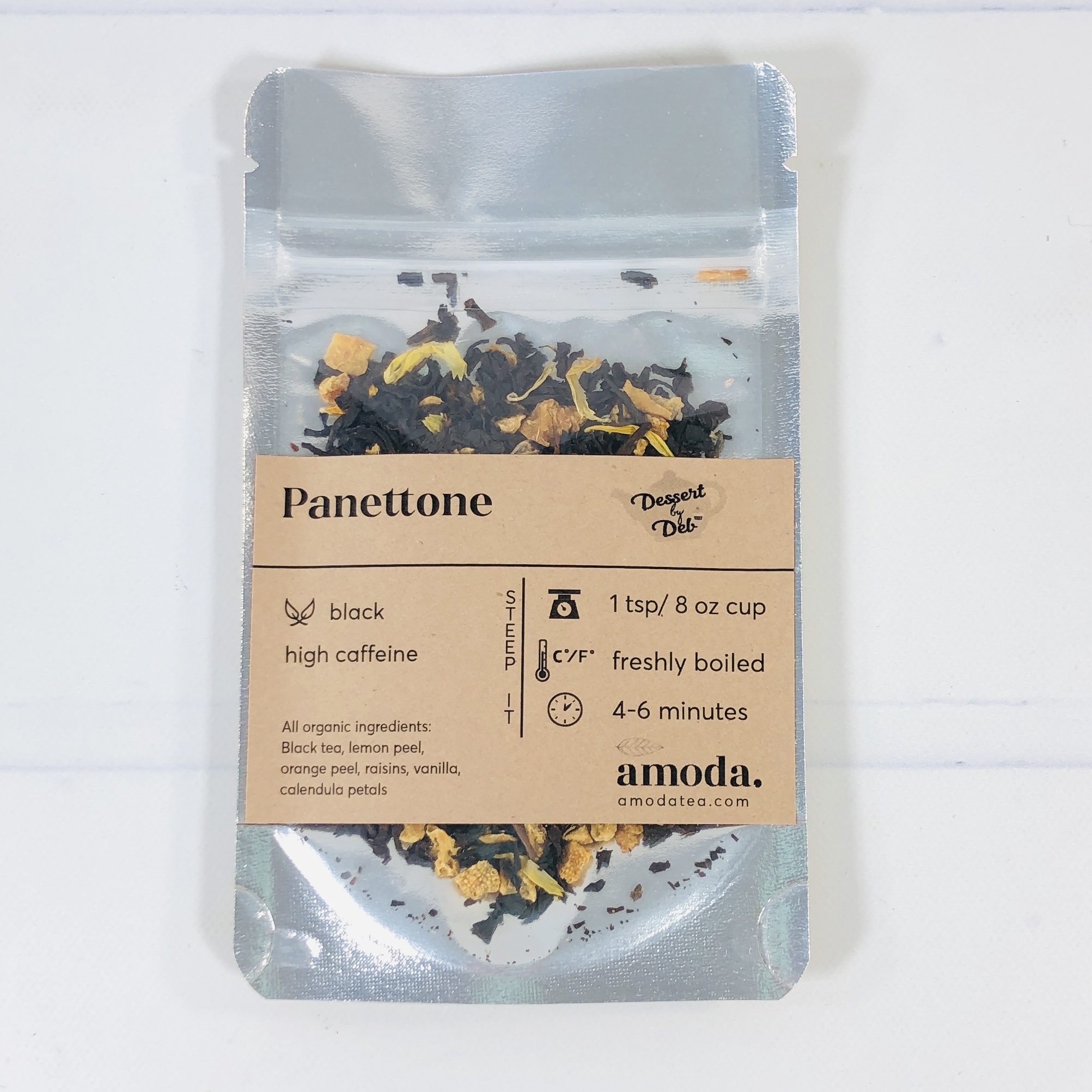 Amoda Tea Panettone I've never tried Panettone before, I think it's a holiday bread or dessert maybe? This tea has those flavors that are to be expected in the treat, mainly candied fruits and raisins. It has a black tea base and I enjoyed the touch of citrus that was in here, kind of a lighter take on Earl Grey.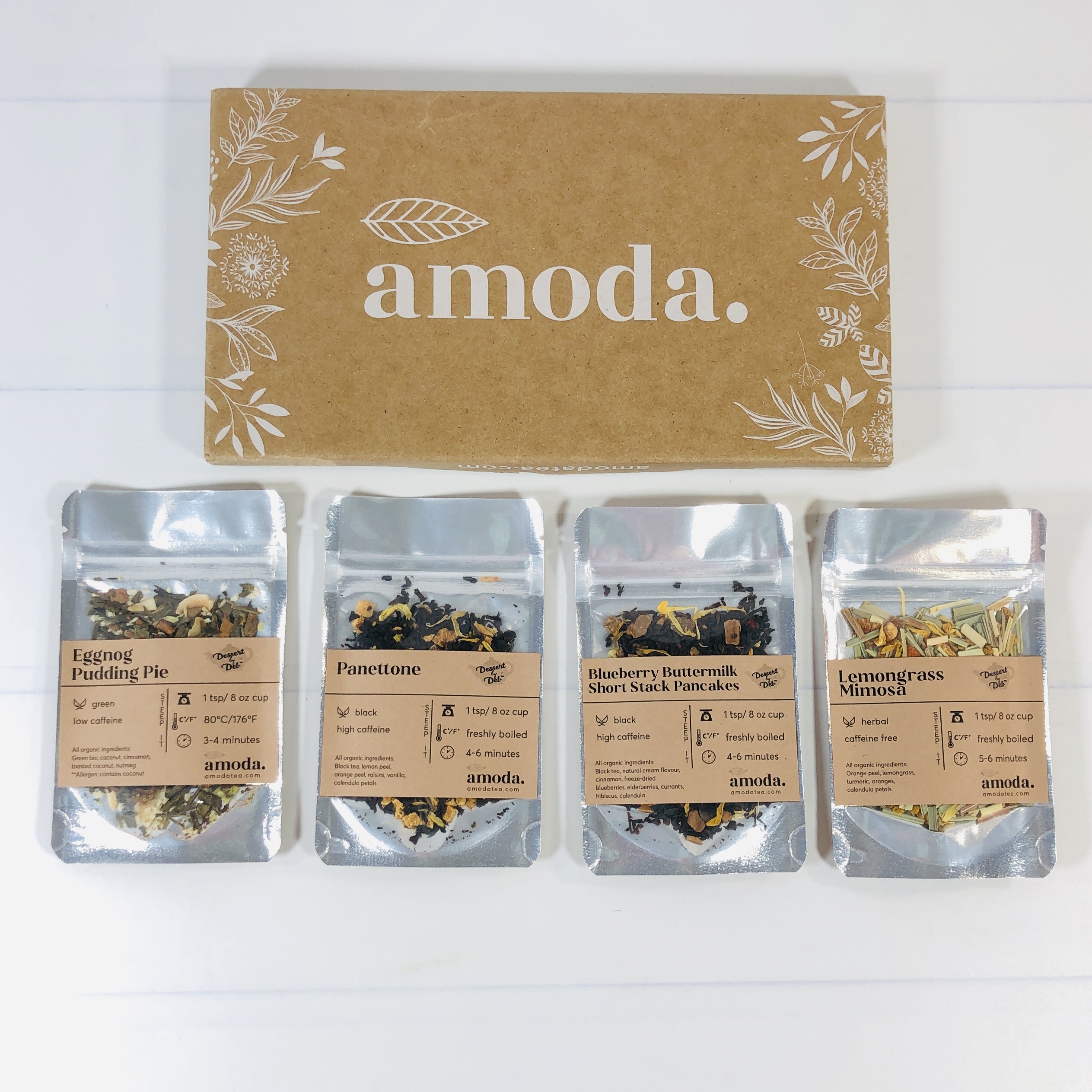 Amoda Tea is a premium tea subscription that sends hand-selected teas sourced from small, independent tea companies. There are two choices of box available — the Original Monthly Tea Box and The Low Caff. Both cost $20, have free shipping to Canada/US (no international shipping yet), and you can also add on some extra bonuses like a perfect teaspoon or extra tea bags. They also have a tasty tea guarantee — if you don't like a tea in your box, they'll replace it in your next box!
We scour the shelves of independent tea companies across North America to find unique teas, delicious blends and fun flavours. We offer a way to discover the hidden gems of the tea world, support the up-and-coming tea companies and taste the very best they have to offer.
DEAL: Get 40% off of your first month! Use coupon code HELLO40.
Which tea was your favorite? Let me know in the comments!