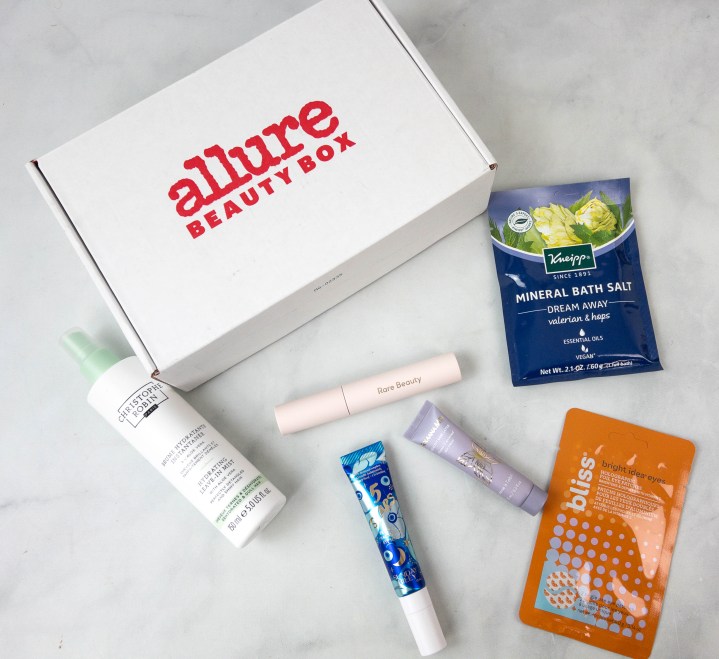 Allure Beauty Box January 2022 was curated to give our personal beauty routines a fresh start. Their picks included mostly skincare, as well as a hair item, a makeup item, and even a pampering item. Three of this month's items are also full-sized!
DEAL: Sign up for Allure Beauty Box and save 40% off your first box when you check out with coupon code BEAUTYBFF. New members will also get a FREE Kaja Beauty Bento Bouncy Eyeshadow Trio in Chocolate Dahlia (full size)! This deal is valid on the monthly plan. Ends 1/31.
FYI – you can see the full spoilers for the January 2022 Allure Beauty Box, in case you want to know all the variations.
Christophe Robin Hydrating Leave-in Mist with Aloe Vera ($39) Dullness and dehydration are two of my hair's biggest enemies in winter. This leave-in mist is quite a promising way to keep them at bay, as it contains aloe vera for hydration and flaxseed that keeps the hair shiny.
The refreshing formula also helps detangle the strands and the best thing about it is that it's easy to use, whether for damp or dry hair. Just mist it from roots to the tip of your hair and you'd be ready to go!
Solaana MD Healthy Base Layer ($6.75) For those who are looking to incorporate vitamin D into their skincare routine, this one's a good option. It's a vitamin D-enriched cream, made with vegan and cruelty-free ingredients. The smooth, non-greasy formulation makes it feel really luxurious when applied.
This vitamin D-rich skincare product promises to promote cell growth and boost skin repair. It can be layered with sunscreen or worn alone. Either way, it provides the benefits of vitamin D minus the harmful UV effects.
Bliss Bright Idea Eyes Holographic Foil Eye Patches ($4) Throwing a couple of eye patches in my morning skincare routine helps me depuff my under eyes and make me look more refreshed. This pack of 2 single-use eye patches is perfect for that! They are infused with vitamin C and collagen that easily revives the under eye area.
The foil-backed eye patches are specially designed to hugs facial contours. Just put it on for at least 15 minutes and you're done. No need to rinse!
Kneipp Dream Away Mineral Bath Salt ($2.39) Squeezing in a relaxing activity before bedtime sounds like a great idea. This pack of mineral bath salts may just be exactly what I need to help me wind down and be ready for a good night's sleep.
It's made with Valerian hops, calming hops, and pure mineral salt. To use, fill the tub with warm water, then sprinkle the contents of the pack. Soaking in it for 15 minutes already works wonders!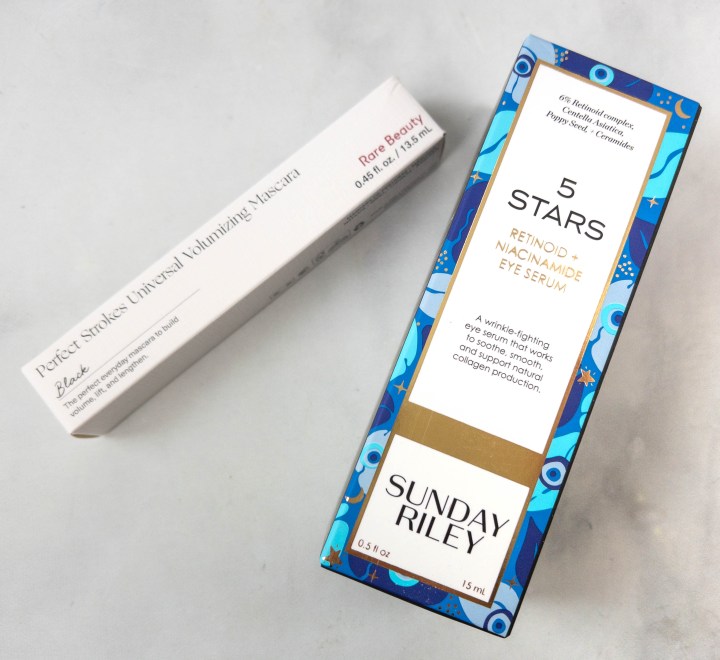 Sunday Riley 5 Stars Retinoid + Niacinamide Eye Serum ($65) Another skincare item for the eye area is this serum from Sunday Riley! It targets signs of aging, with 6% retinoid complex and bioactive centella asiatica. This formula is ideally applied at night, before or after your favorite moisturizer.
Other key ingredients are smoothing poppy seed extract and ceramides, plus hydrating olive oil and shea butter. The tube packaging is specially designed with a cooling ceramic tip applicator so you can apply the serum directly to your skin! So handy!
Rare Beauty Perfect Strokes Universal Volumizing Mascara ($20) Now that we're done with pampering the eyes, it's time to glam up a bit with this volumizing mascara! My lashes love this formula, which is weightless and buildable!
The applicator brush features long bristles which help lengthen and volumize the lashes. Since the mascara itself is water-resistant, it lasts all day and it doesn't smudge either.
It's a great curation of beauty items with $137.14 in overall retail value! The best item in the box for me is the Sunday Riley eye serum, but I liked the vitamin D cream and the mascara as well. There's even a leave-in hair treatment infused with aloe vera, something which may be useful during these cold winter months. The curation is nice overall and it lived up to the theme!
Allure Beauty Box is a monthly beauty subscription service that sends 6 or more beauty products (at least 3 of those will be full-sized) with a value of at least $100+ and is curated by the editors of Allure Magazine, who choose and test the products themselves. Allure Beauty Box is $23 a month or sign-up for a year and the price is closer to $21 a month. There are sometimes sponsored products in the box, plus you'll be eligible for special discounts on Allure editors' favorite luxury products and limited-edition boxes. Allure's beauty subscription box took home first place in our 2021 readers' choice list of best skincare subscription boxes!
If you are a new member then your products may be slightly different, but continuing subscribers should not receive the same product twice.
Have you tried Allure Beauty Box yet? What did you think of this month's box? Let me know in the comments!