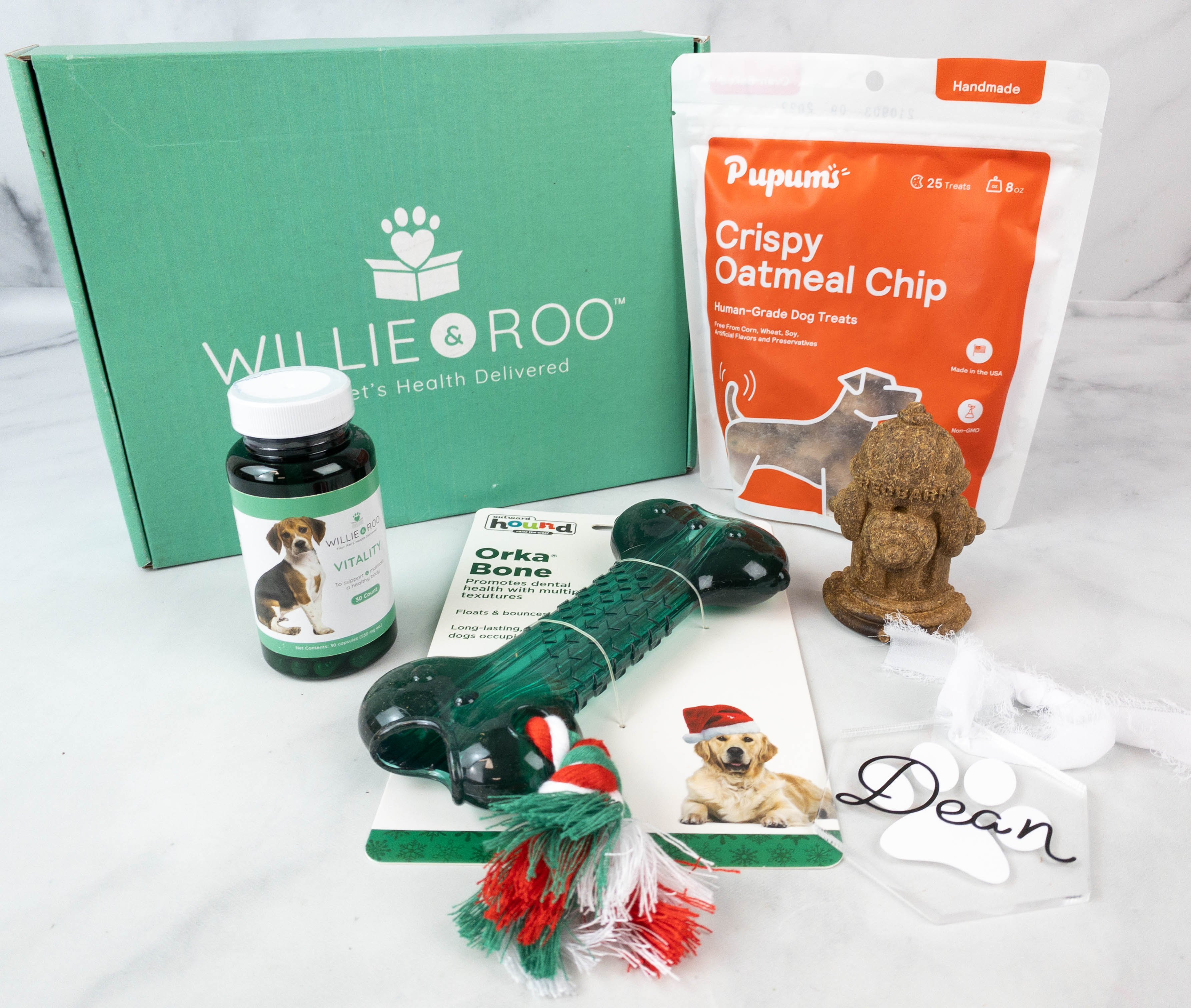 Keeping dogs healthy and happy is a priority for Willie & Roo! The December 2021 box gives pet parents the chance to surprise their dogs with premium items, including a chew toy, wholesome treats, and of course, Willie & Roo's supplement for dogs.
It's not only your dog that will benefit from Willie & Roo because they give back to the community! This subscription has partnered with Daisy Cares, and a percentage of all proceeds help support the organization's efforts.
DEAL: Get 20% off your first 6 months on any dog or cat subscription! Use coupon code HELLOSUB20.
Dog Name Tag. They have a cute gift for fur parents, an acrylic tag! Designed with a paw print and my schnauzer's name in script, this makes a lovely ornament for our Christmas tree at home.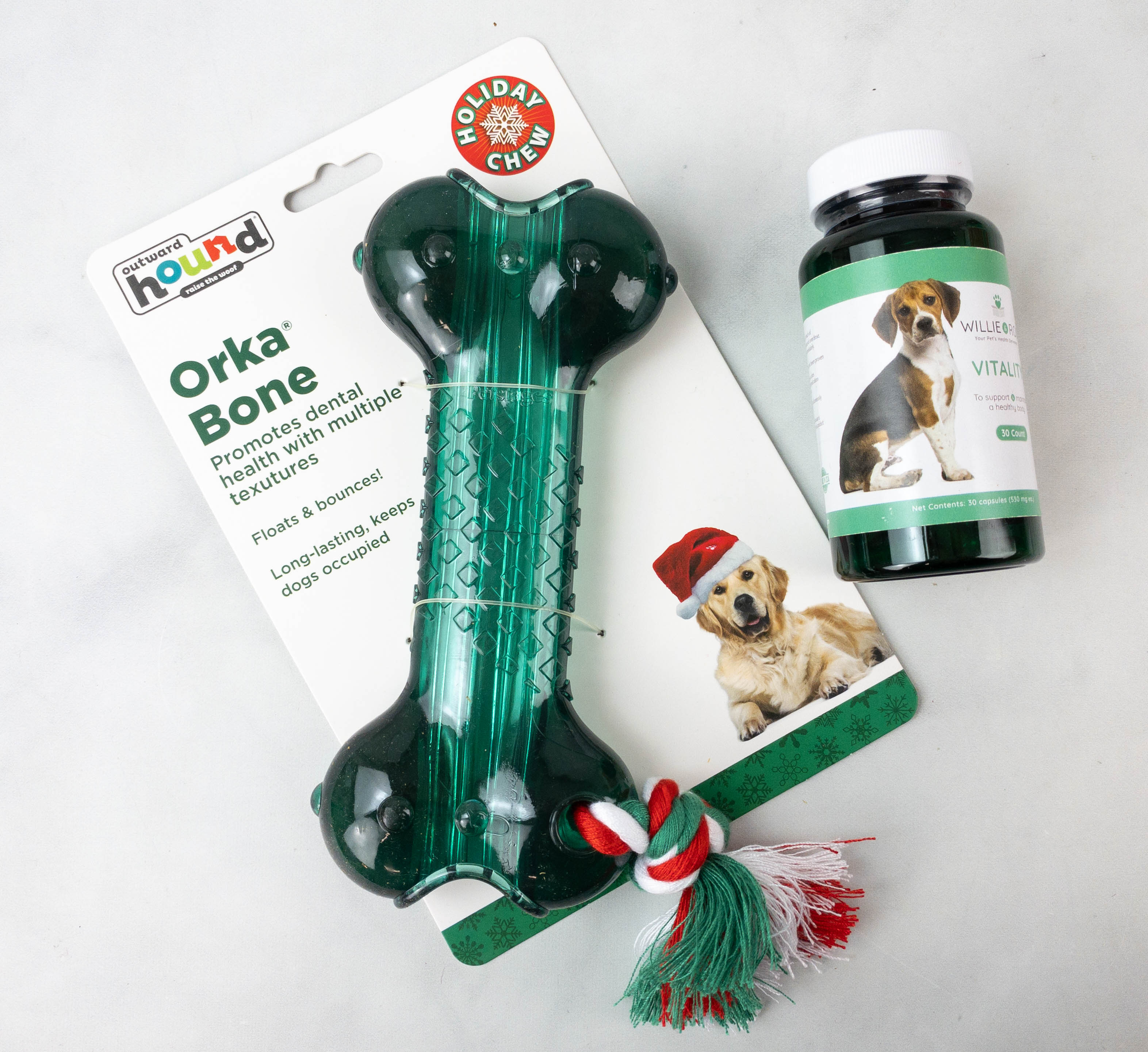 Outward Hound Orka Bone – SIMILAR ($6.99) For dogs who love chewing, here's a bone-shaped chewy toy made from TPE rubber, which is safer and more durable than others. It's also great that it has different textures to help improve a dog's dental and gum health. The toy even promotes jaw muscle exercise. Dean just can't stop gnawing at it, and he enjoyed playing with it since it's bouncy as well!
Vitality Supplement ($19.95) Dean's monthly vitamin supply contains a blend of herbs, including ashwagandha and ginseng that aid in the prevention of thyroid problems and tumors. It also helps to improve his immune system, while regulating blood sugar, respiratory functioning, and stress.
Pupums Crispy Oatmeal Chip Dog Treats ($10.99) Every month, they also include a bag of tasty treats for dogs, in addition to the toy and chew. This time, it's a pack of crispy oatmeal chips! It's made entirely of plant-based ingredients, with no corn, wheat, soy, or anything artificial. Dean's tail wagged with joy when he first tasted this treat!
Dog Chew. This hydrant-shaped dental treat from Redbarn left Dean so satisfied! Made with all-natural ingredients, it's easy to digest and it's also good for dogs' dental health.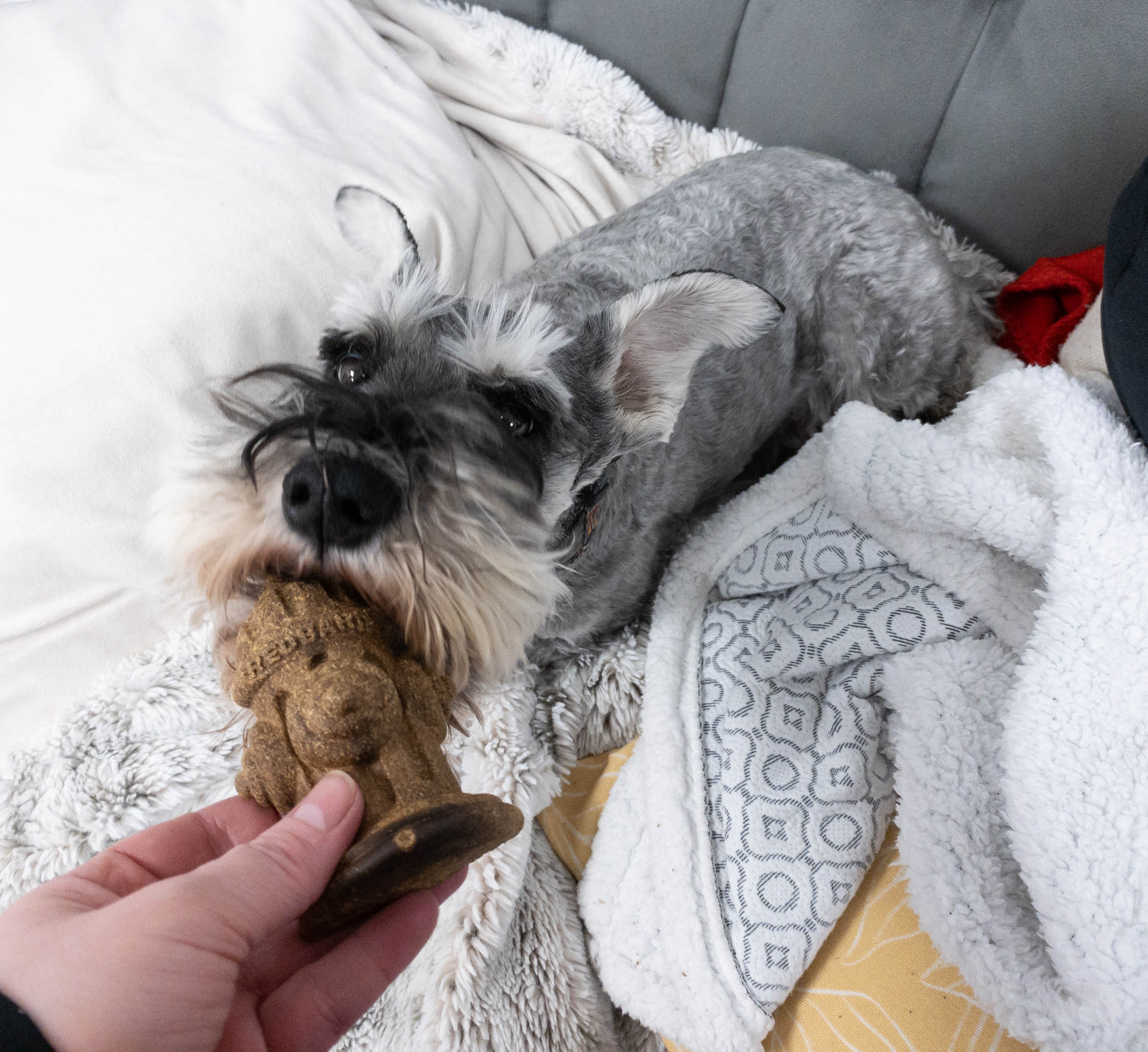 The chew's ridges and grooves are specially designed for the hard-to-reach corners of a dog's teeth and gums. Aside from massaging gums, it also helps control tartar buildup!
Willie & Roo helps ensure the well-being of dogs by replenishing supplements monthly! Dean's vitality supplement helps keep him healthy and prevents diseases as well. Other supplements they offer are allergy relief supplements, joint health supplements, anxiety supplements, and more. Of course, each package also comes with healthy treats and fun toys for dogs. This month, they are focused on improving dogs' oral health and everything was a hit with Dean!
Here's a closer look at the interior of the box and a customized message for Dean as well. It also includes an information card on what to expect in your monthly box.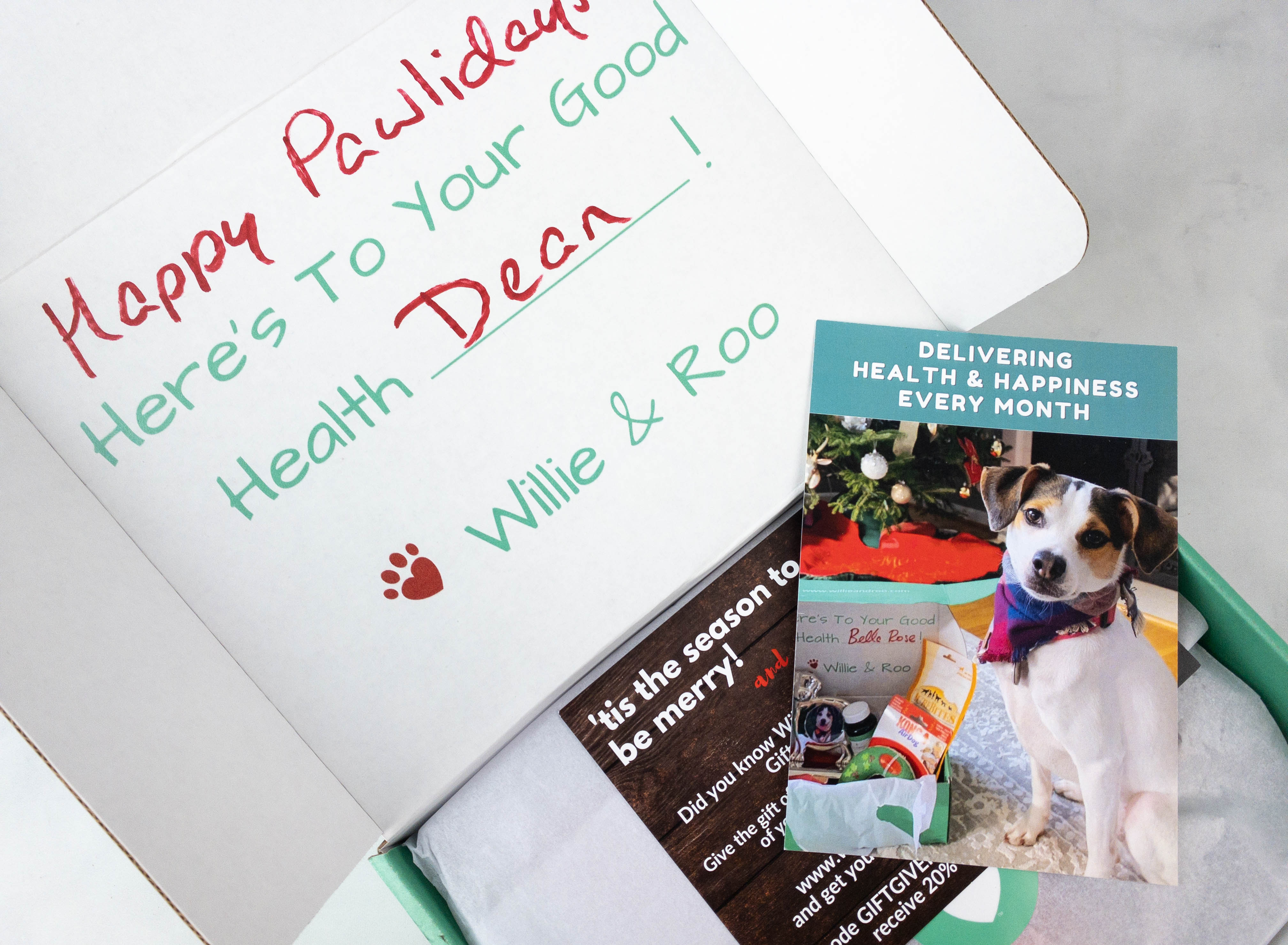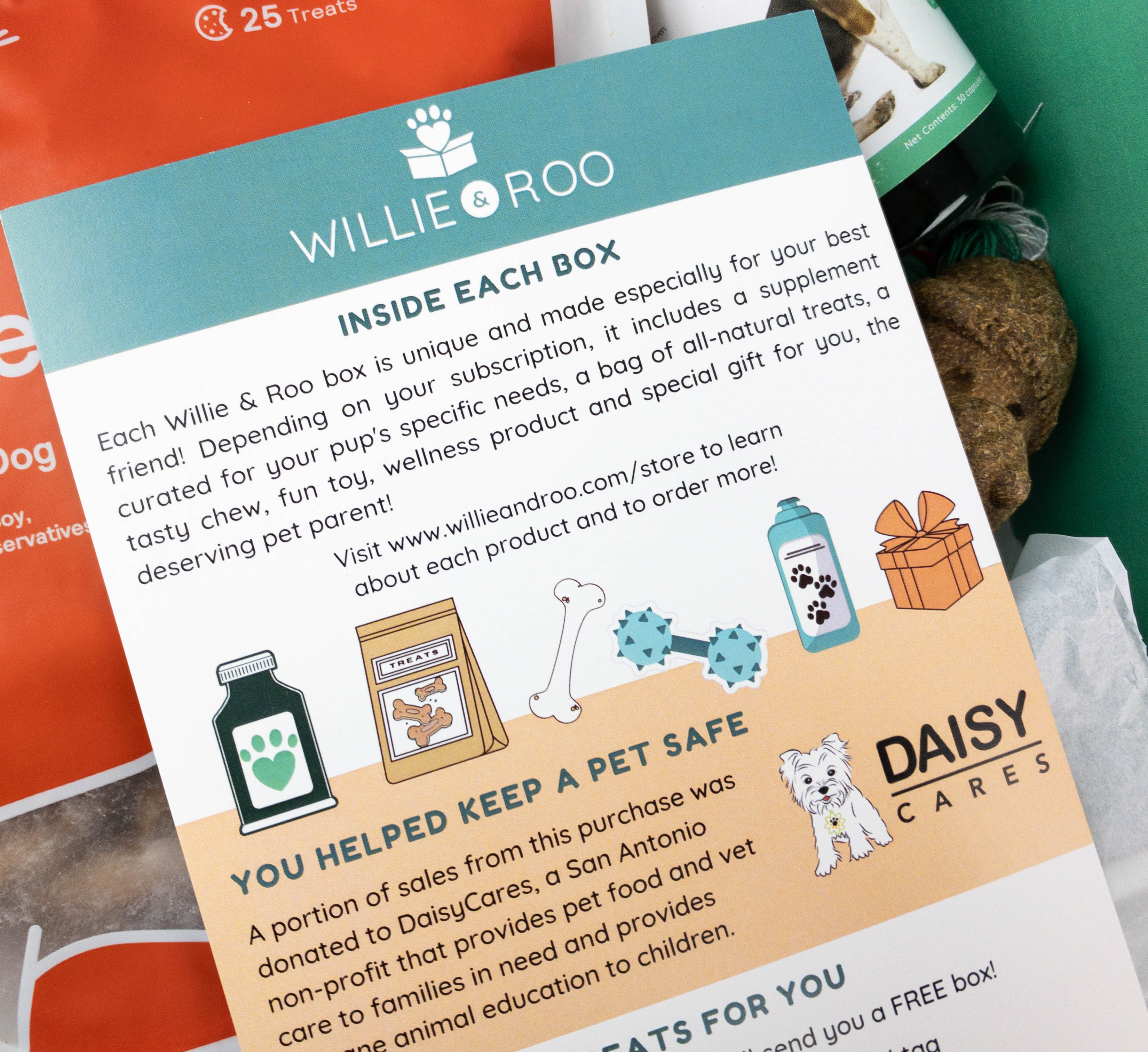 Willie & Roo is a pet wellness subscription that delivers personalized boxes for dogs or cats. Subscribers will be able to choose boxes based on their pet's size, as well as from three different subscription levels: Pampered, Healthy, or Happy.
Happy – wholesome all-natural treats, enriching toy or wellness product, healthy chew, personal web page for your pup (starts at $33.95 monthly)
Healthy – Everything in Happy plus a custom selected health supplement for your pet (starts at $42.95 monthly)
Pampered – Everything in Healthy plus a surprise pet PAWrent gift (starts at 49.95 monthly)
Willie & Roo's dog subscription box made the list in our 2021 readers' choice list of best subscriptions for dogs!
What do you think of the Willie & Roo box?