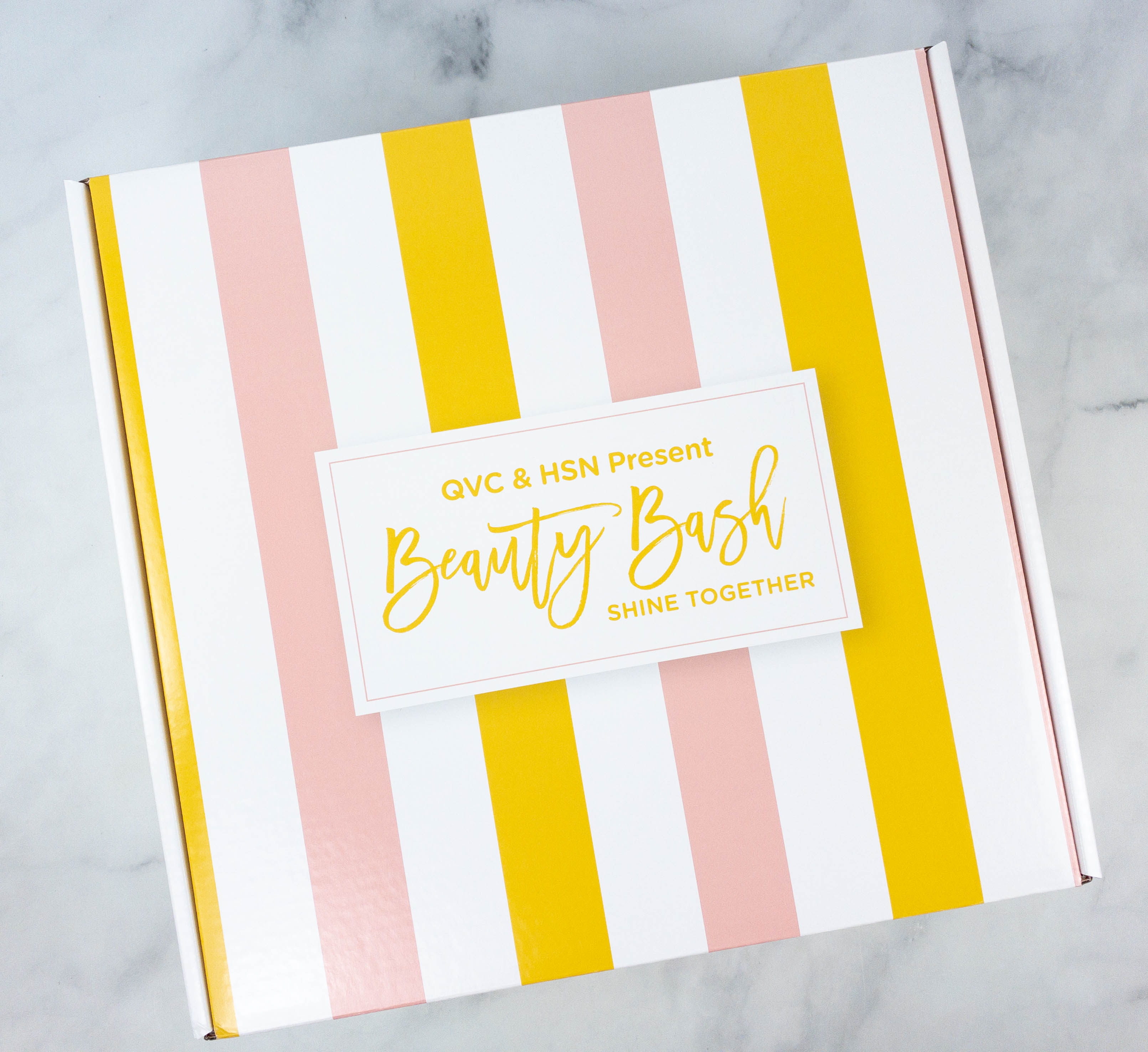 QVC & HSN 2021 Beauty Bash Discovery Box was curated to celebrate Beauty Bash, a virtual gathering of beauty experts, community members, and brands. It includes skincare and makeup items, most of which are in full size. Each box was $59 (plus $5.50 shipping), with an advertised $500+ retail value.
This box is SOLD OUT. It did come back a few weeks ago to purchase, and I myself purchased it off the waitlist after it initially sold out very quickly. If it returns next year, best to just buy ASAP.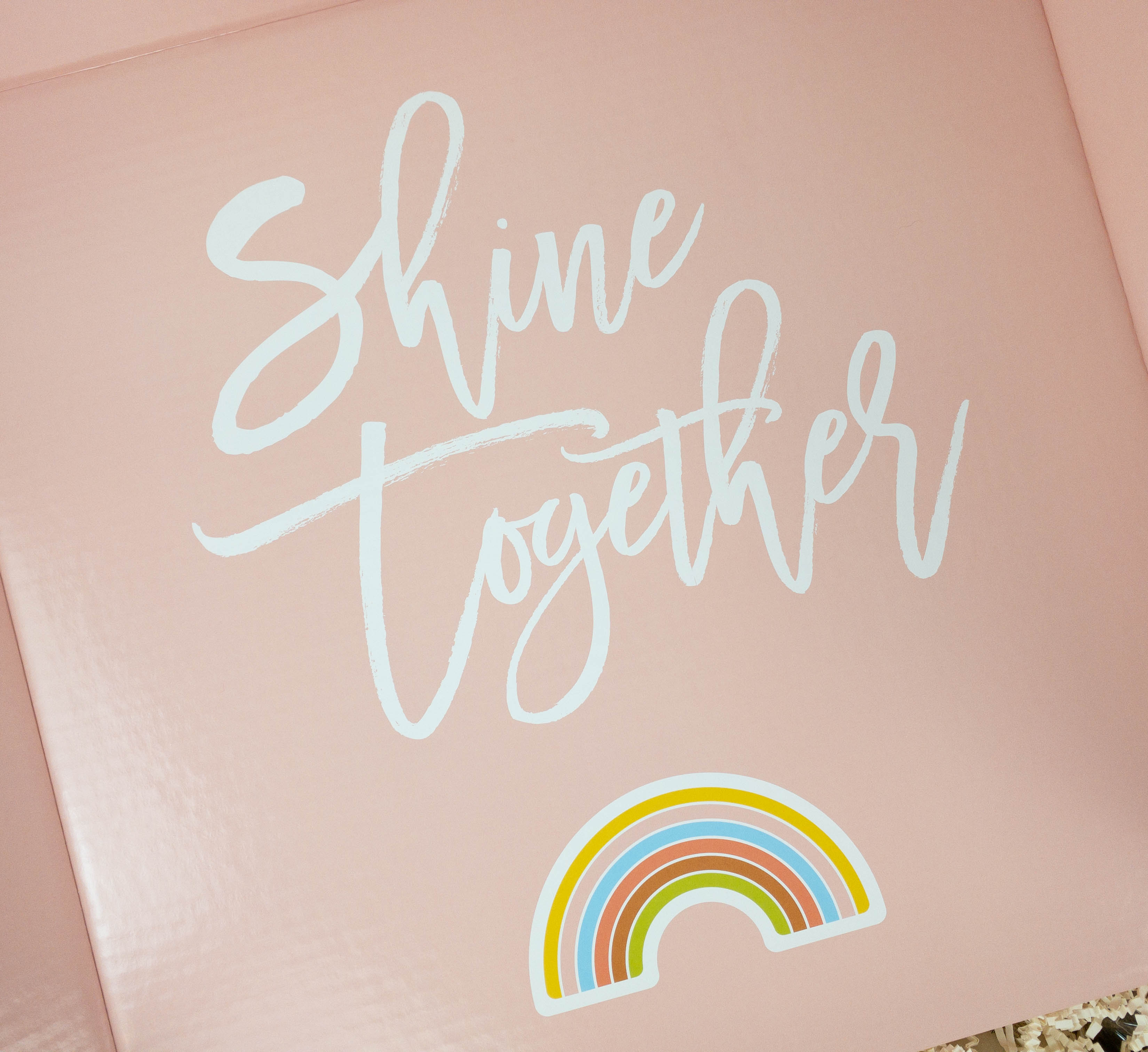 The back of the lid has a message that says "Shine Together" along with a cute little rainbow below it.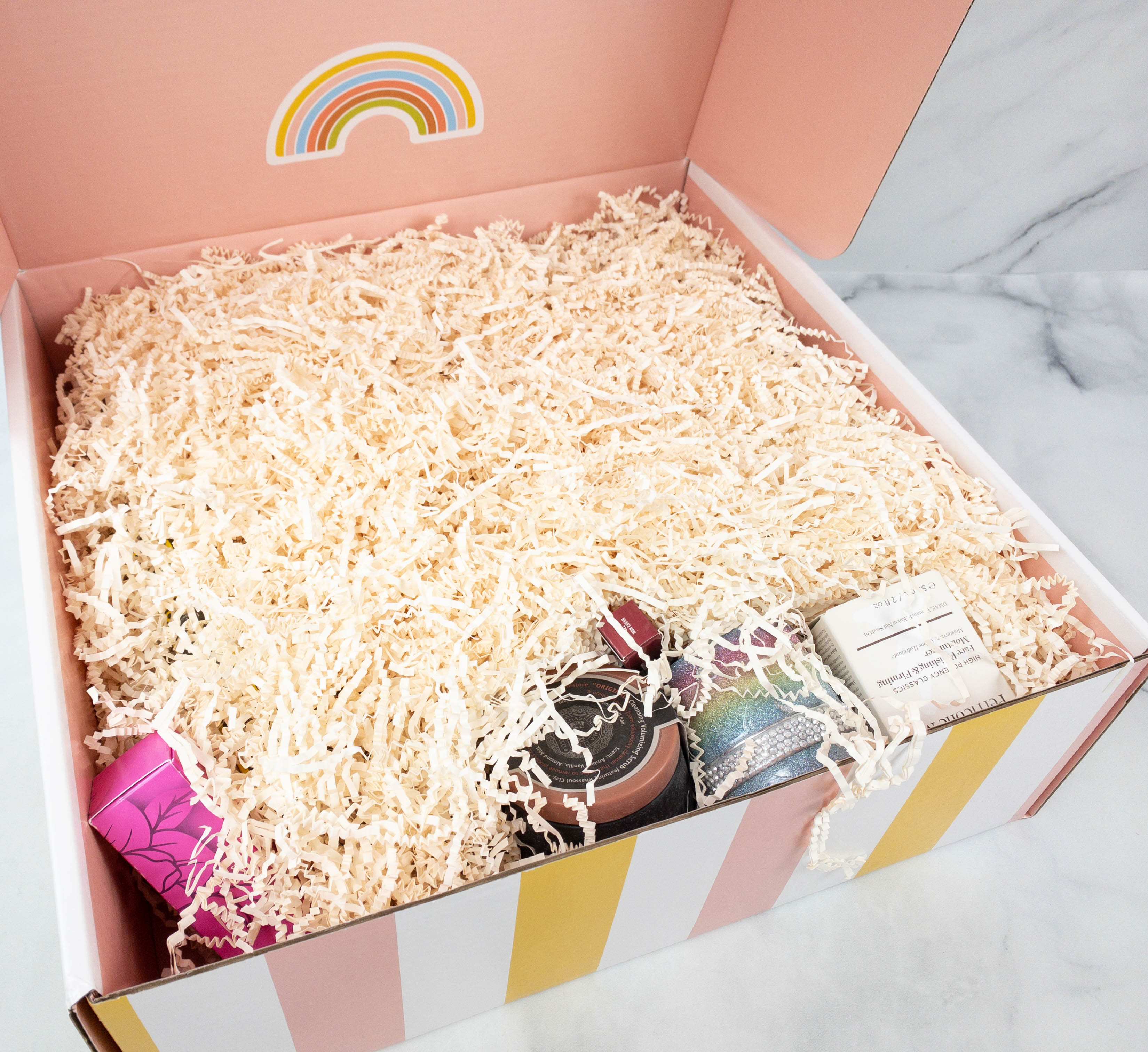 The items were cushioned with squiggles for extra protection.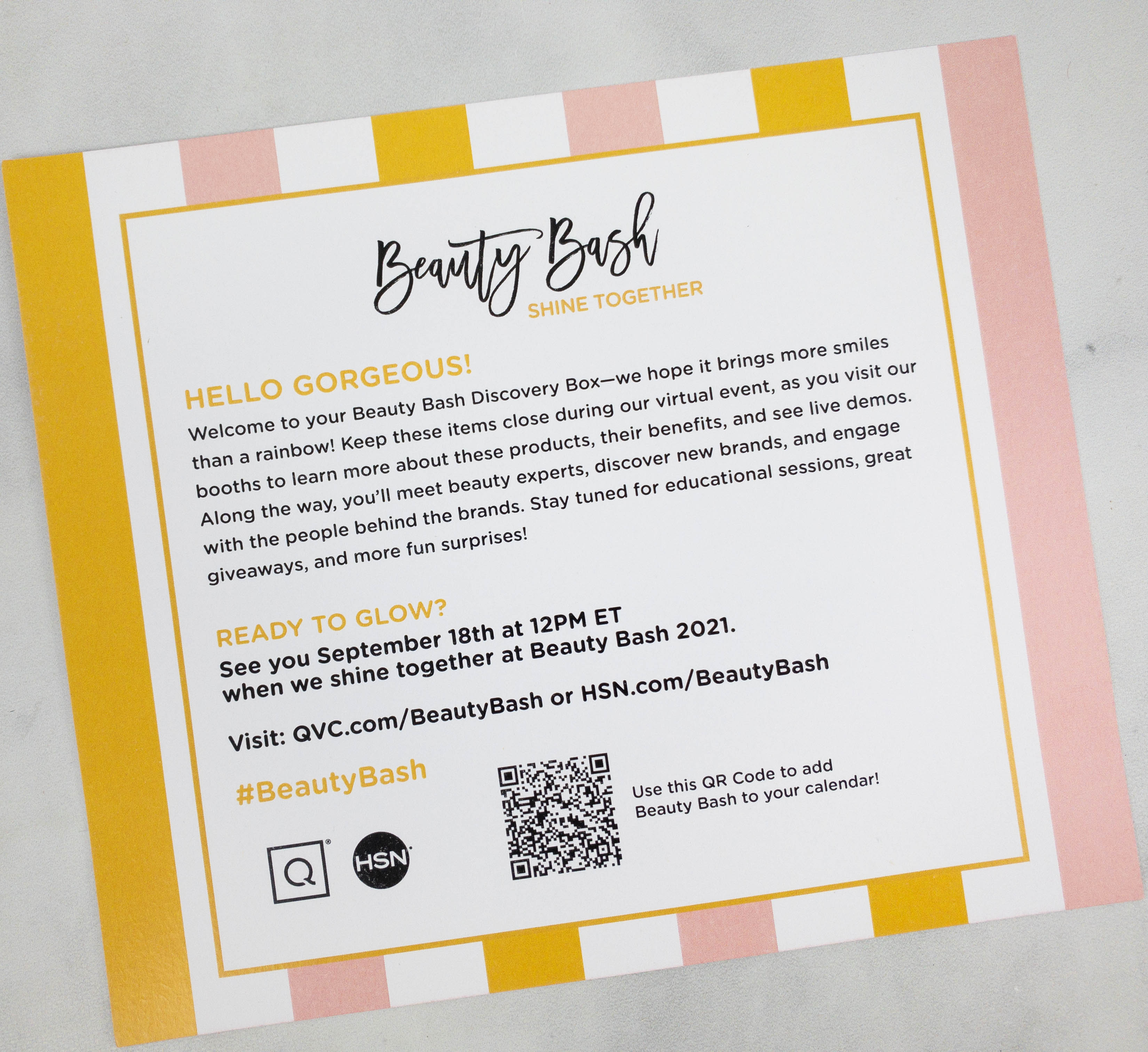 For those who are not familiar, QVC Beauty Bash is an event where top brands are showcased and beauty junkies learn more about products as well as tips and tricks. This was held online last September 18, with some of the biggest names in the industry. All sessions are available for all event attendees, and they remain available for up to 7 days after the event.
At the back of the card, you can see the brands featured in the box.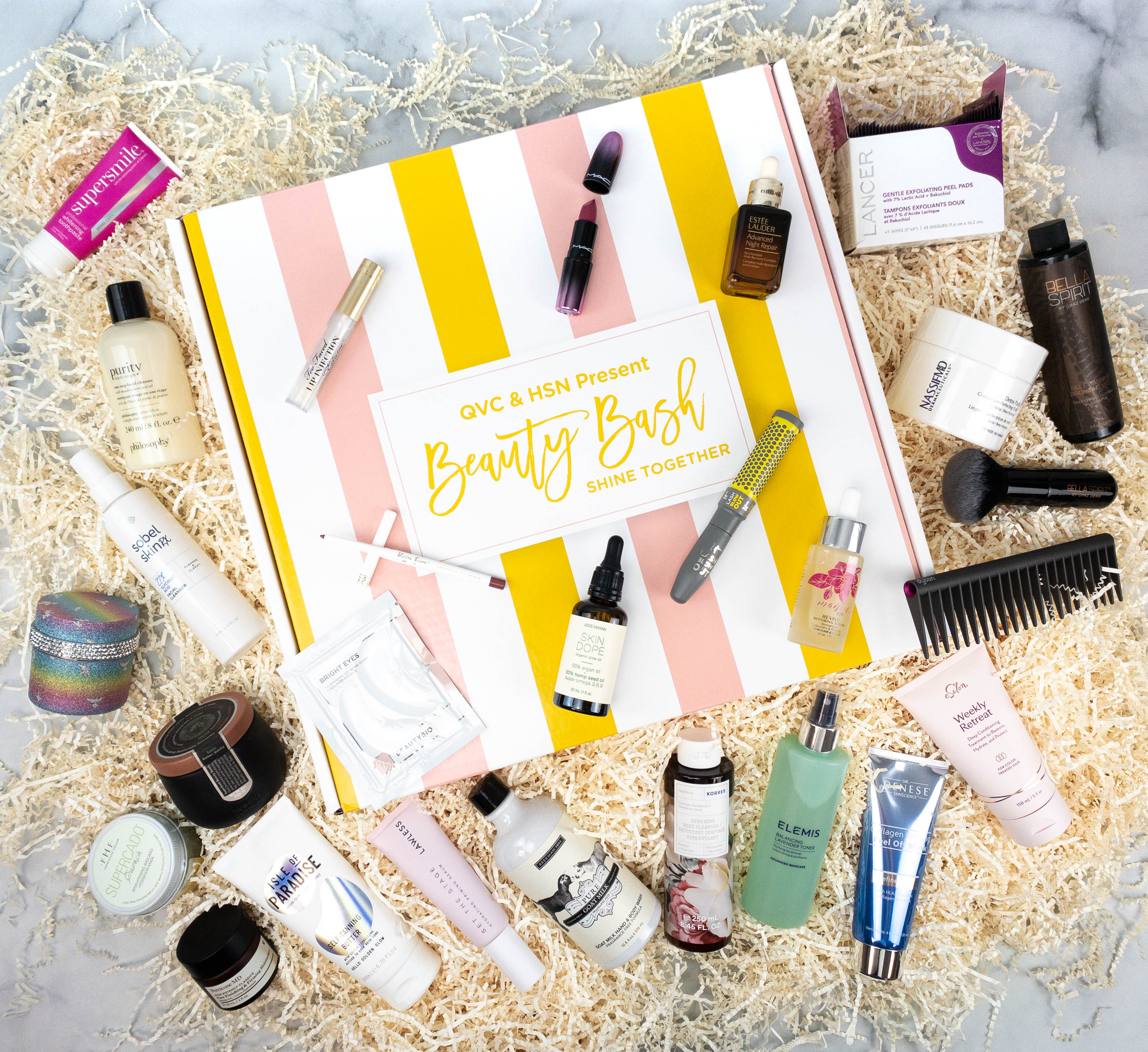 Everything in my box!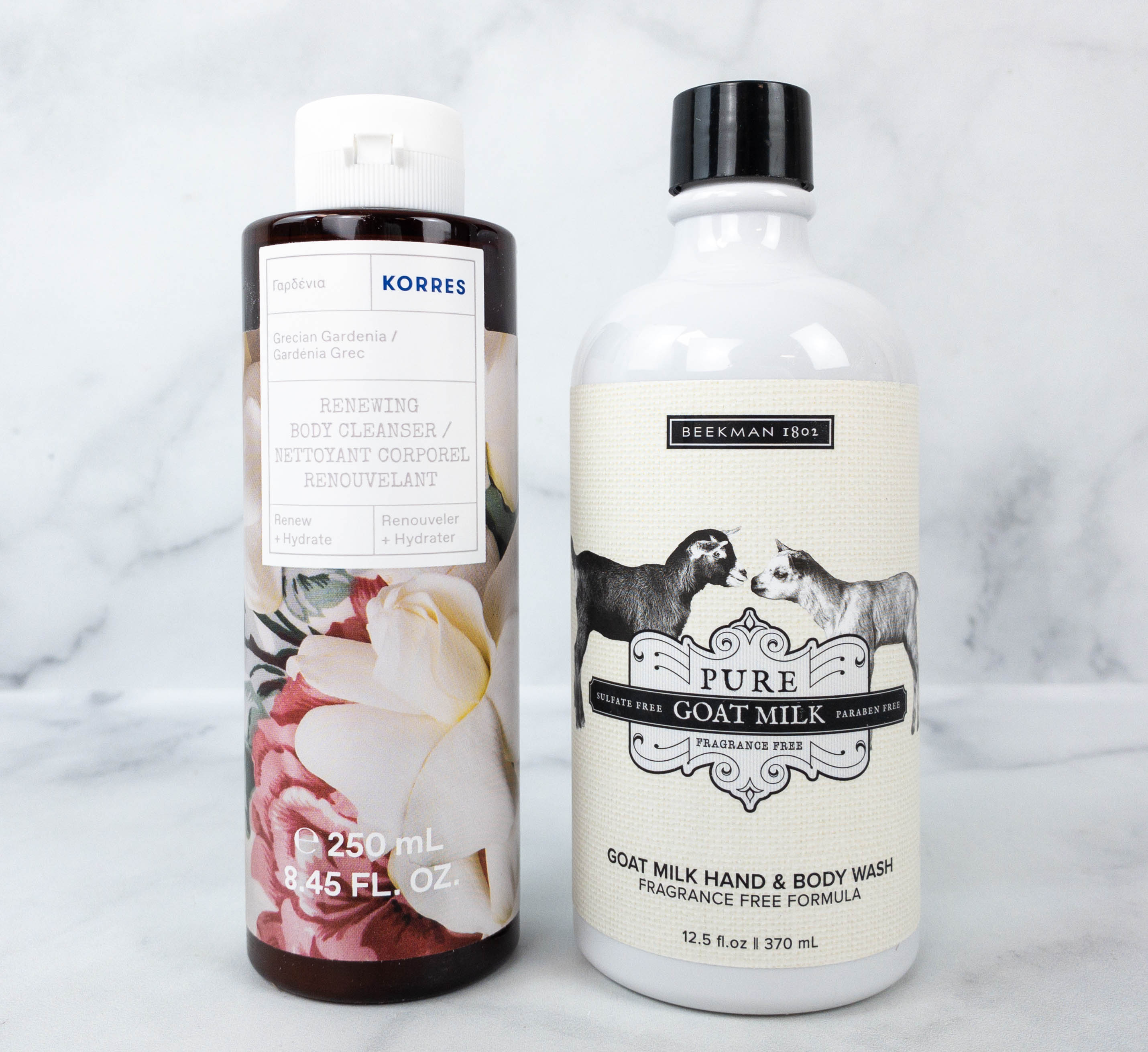 Korres Body Cleanser ($19) This body cleanser foams and lathers nicely, and it even has a great scent with just the right amount of floral notes. Aside from removing impurities, it also provides intense hydration so my skin stays smooth, soft, and nourished! Ingredients include aloe and coconut oil derived cleansers, as well as wheat proteins and althea extract.
Beekman 1802 Goat Milk Hand & Body Wash ($20) Here's an unscented hand and body wash, which contains moisturizing jojoba seed oil and aloe vera leaf juice that helps soothe the skin. It's great for people who don't like body care products with strong scents. The formula is really gentle, as it washes away dirt without leaving the skin dry or irritated!
Isle of Paradise Tanning Butter ($25) This self-tanning butter leaves me with beautiful sun-kissed skin, with an illuminating finish. The formula also helps with color correcting. Ingredients include avocado oil to promote skin elasticity, peppermint oil to hep refresh the skin, and coconut oil for hydration. I like its rich cream consistency! It's not streaky either!
WEN Bella Spirit Bronzing Mist w/Applicator Brush ($59.75) This bronzing mist is great because it's formulated with plant-based ingredients that provide hydration. The pigment is also buildable, so you can go from a nice flush to a completely sun-kissed look, depending on your mood. It also came with a brush applicator!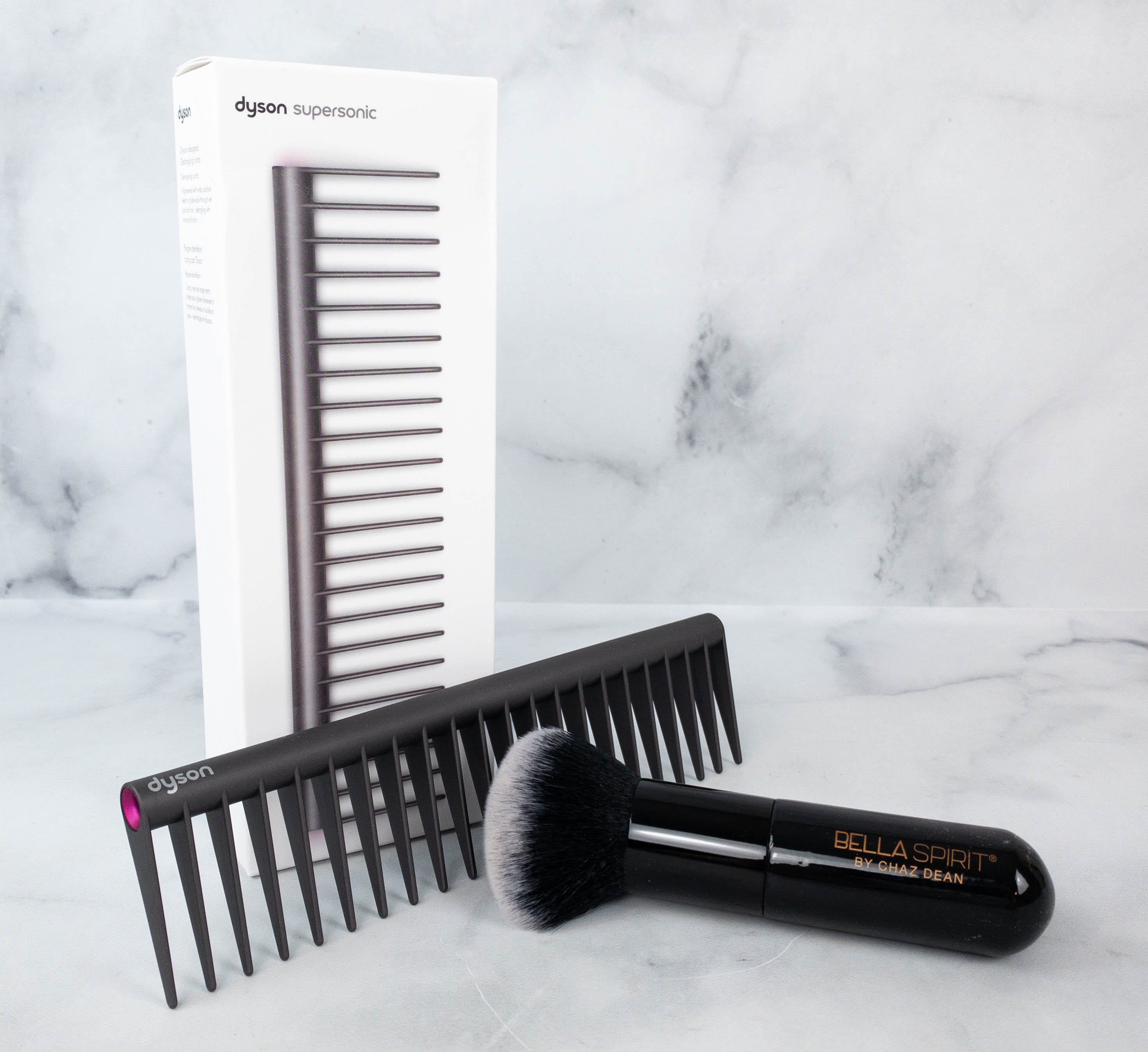 The Bella Spirit Bronzing Mist came with its own brush and it's so soft and fluffy! The bristles are dense so they apply the product evenly.
Dyson Detangling Comb ($24.99) This comb has wide tooth, so you can use it on both wet and dry hair without worries!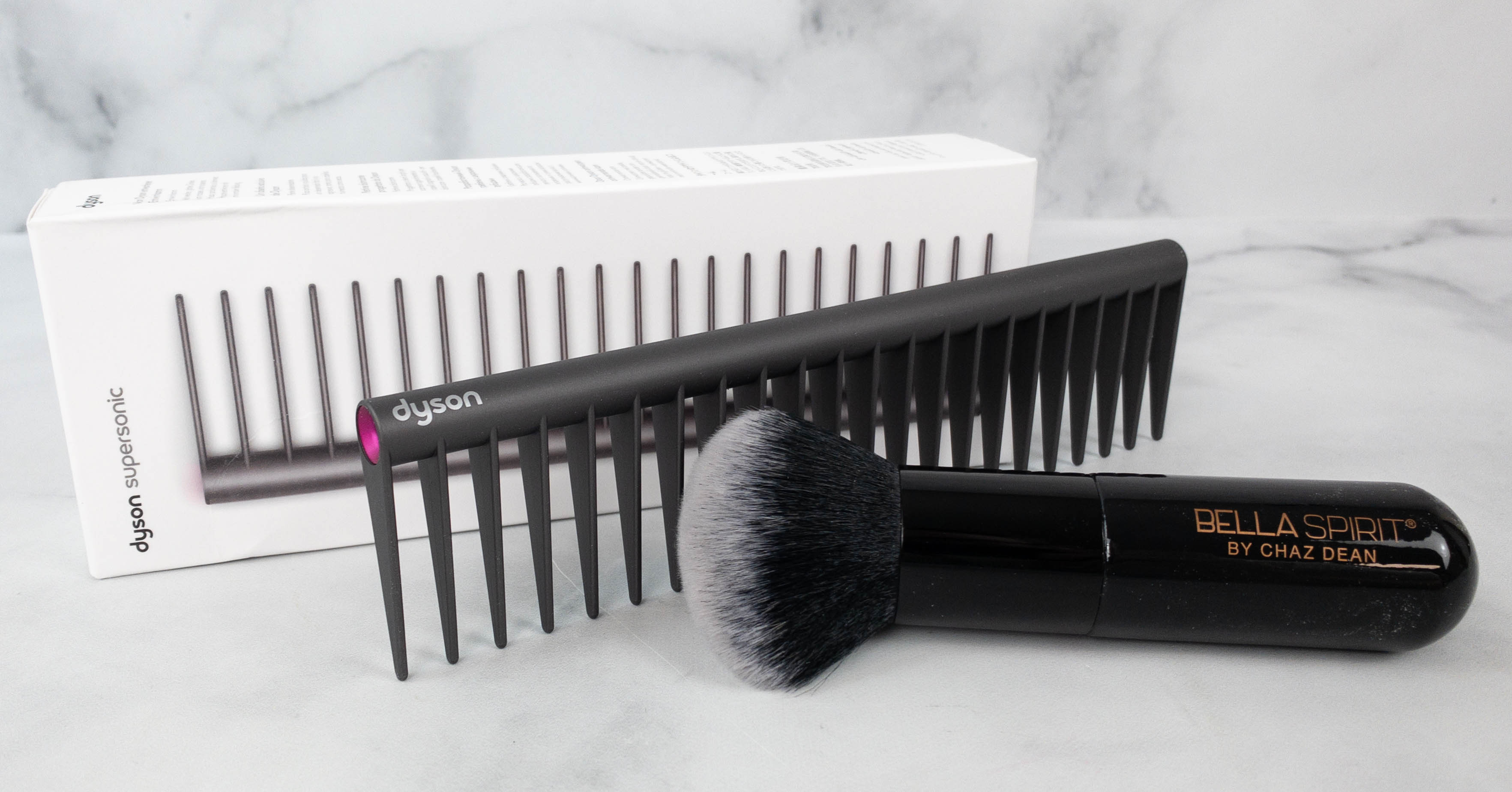 The polished teeth makes it easy to glide on the hair. It does help a lot with detangling! But what I like best about this comb is that it is heat resistant for up to 302F so you don't need to pick up another brush for styling with heating products like a blow dryer or a hair iron!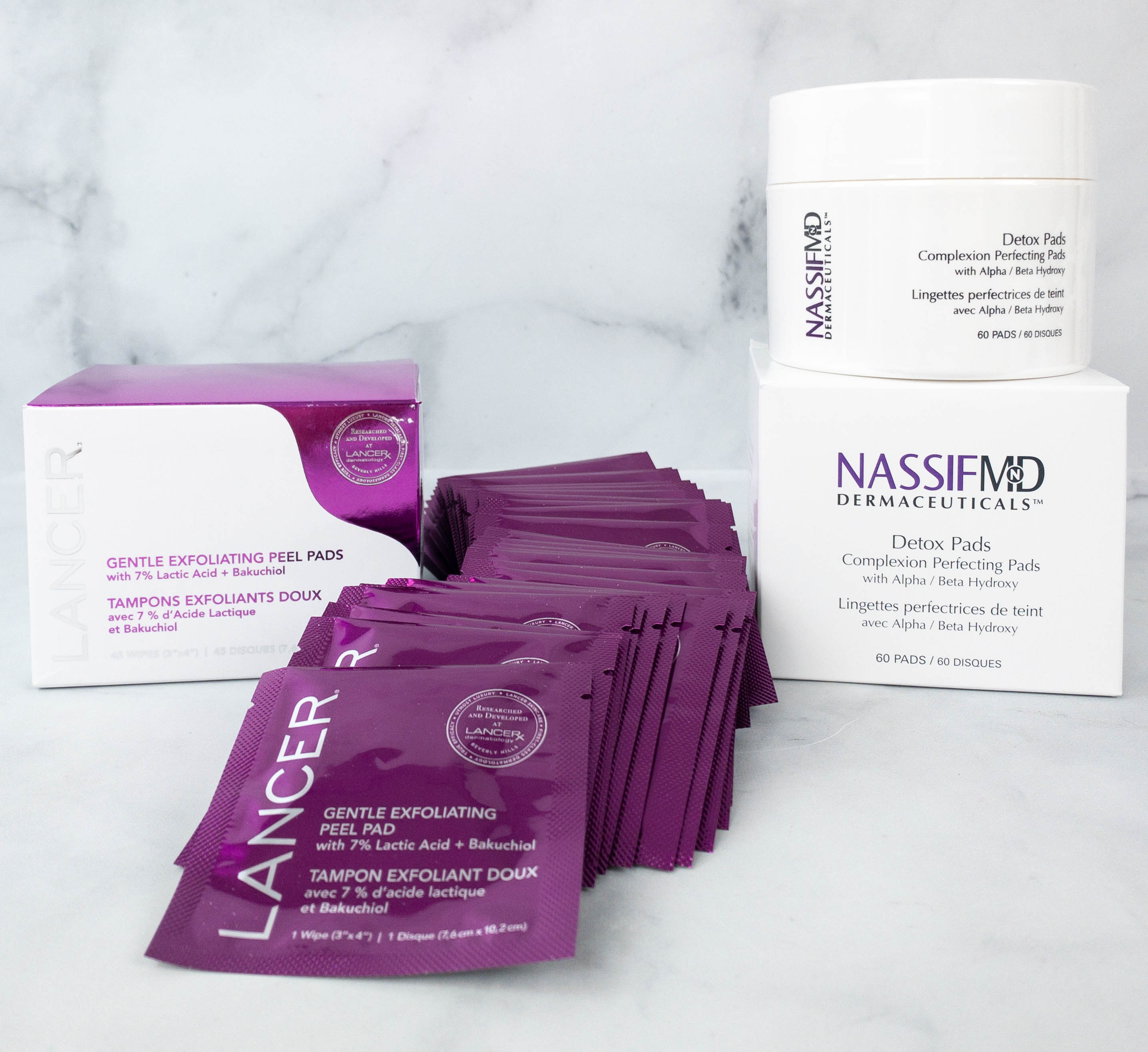 Lancer Gentle Peel Pads ($75) This box of peel pads provide an easy way to exfoliate and resurface the skin. It contains witch hazel to help relieve inflammation and tighten pores. With continued use, these pads also promise to reduce the appearance of fine lines and wrinkles. Each pad is made with biodegradable bamboo so they're eco-friendly. Since they are individually packed, they are easy to bring when traveling as well!
Dr. Nassif Detox Pads ($46) These detox pads came in a tub container. I like them because they help cleanse my skin without stripping it off of its natural moisture. Formulated with salicylic acid, they also help exfoliate the skin by removing dead and dry skin cells. There's a slight tingling sensation but it also goes away immediately.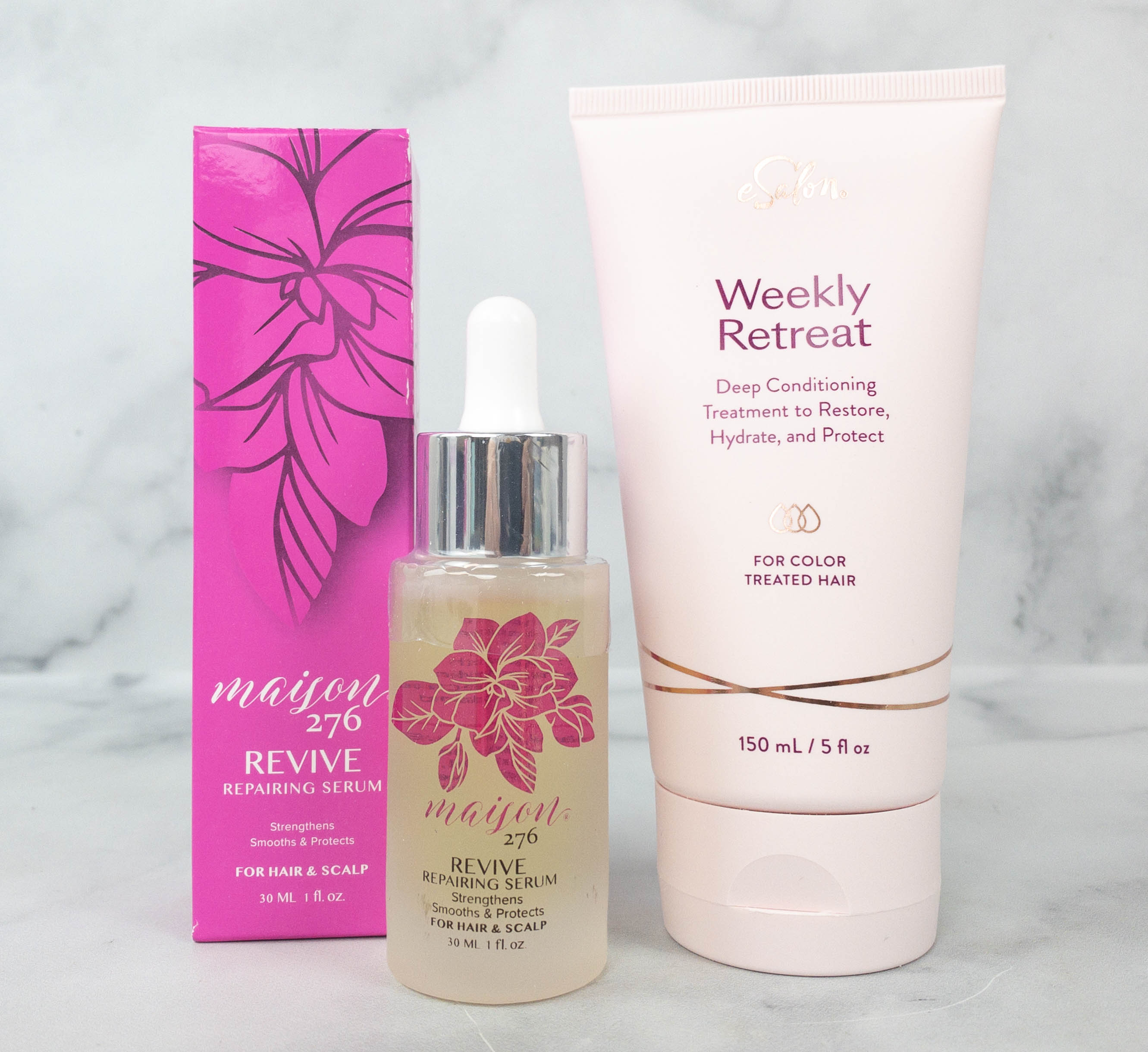 Maison 276 REVIVE Hair & Scalp Serum ($20) Infused with botanical oils, this serum gets easily absorbed by my hair, making it look healthier and shinier from roots to tips. It's so lightweight, I don't even feel like I've applied anything on my hair at all. This serum also helps repair scalp damage and provides moisturization. Plus, it leaves a nice floral scent on my hair that lasts for a long time.
eSalon Weekly Retreat ($15) This is a great hair mask which can be used weekly to recharge dull hair! It softens and hydrates hair to make it look healthier and more nourished. It contains argan oil, which is known to protect the hair with everyday damage. If you have colored hair, this is also great as it protects the color from fading for up to 30 washes. It's also good for heat styling.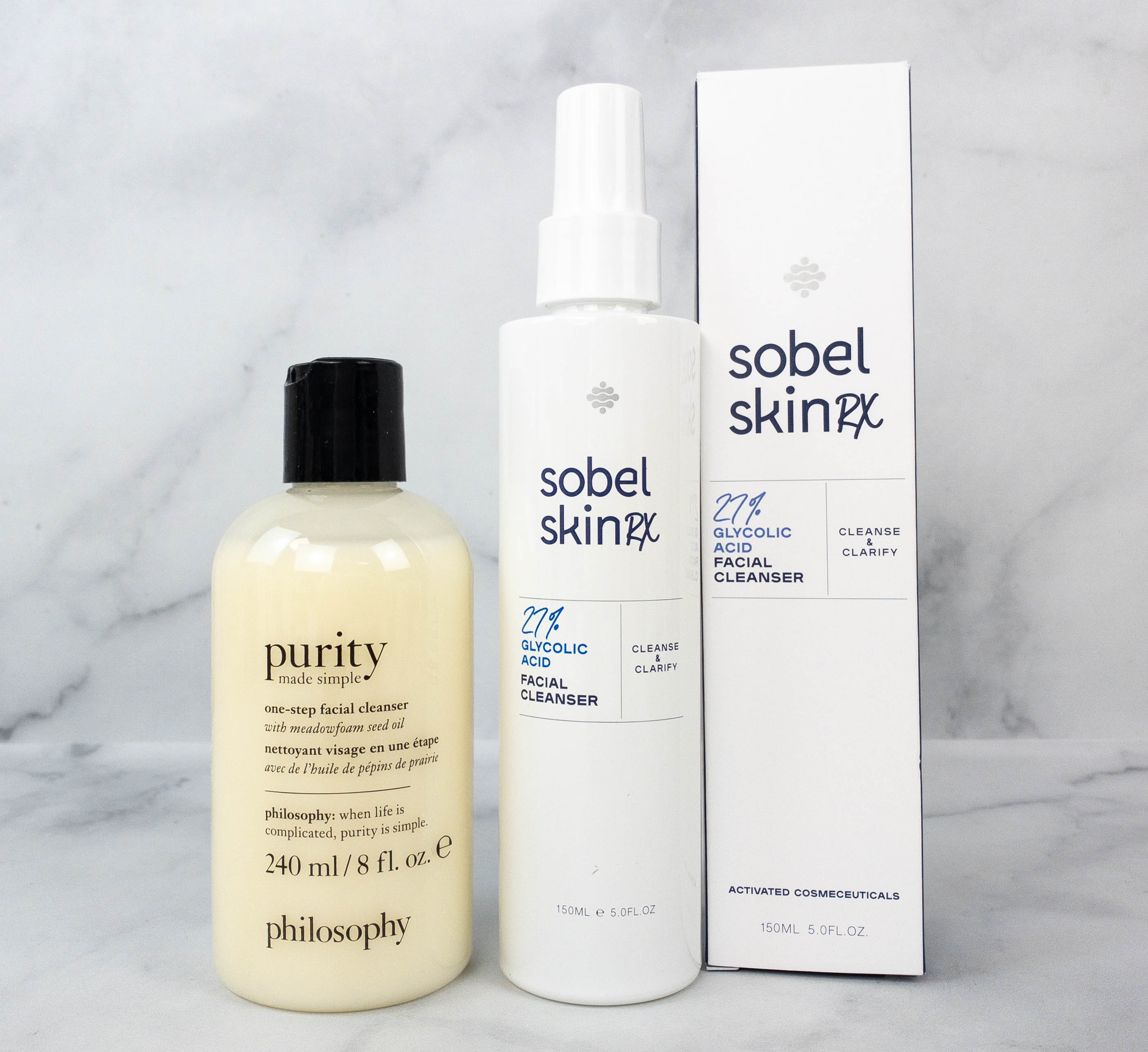 Philosophy Purity Made Simple ($25) This facial cleanser helps tone out the skin while also providing hydration. I like using this after a long day of wearing makeup, as it melts everything away gently. Formulated with meadowfoam seed oil, it conditions the skin so it stays soft even after cleansing. It's great for normal to dry skin types!
Dr. Sobel Facial Cleanser ($42) Here's another facial cleanser and this one contains 27% glycolic Acid which is known to help boost hydration levels of the skin. This removes excess oils and impurities without making the skin feel dry. It helps minimize the appearance of pores so the skin looks smoother and younger! Other key ingredients are allantoin, aloe, and chamomile extracts which help calm the skin.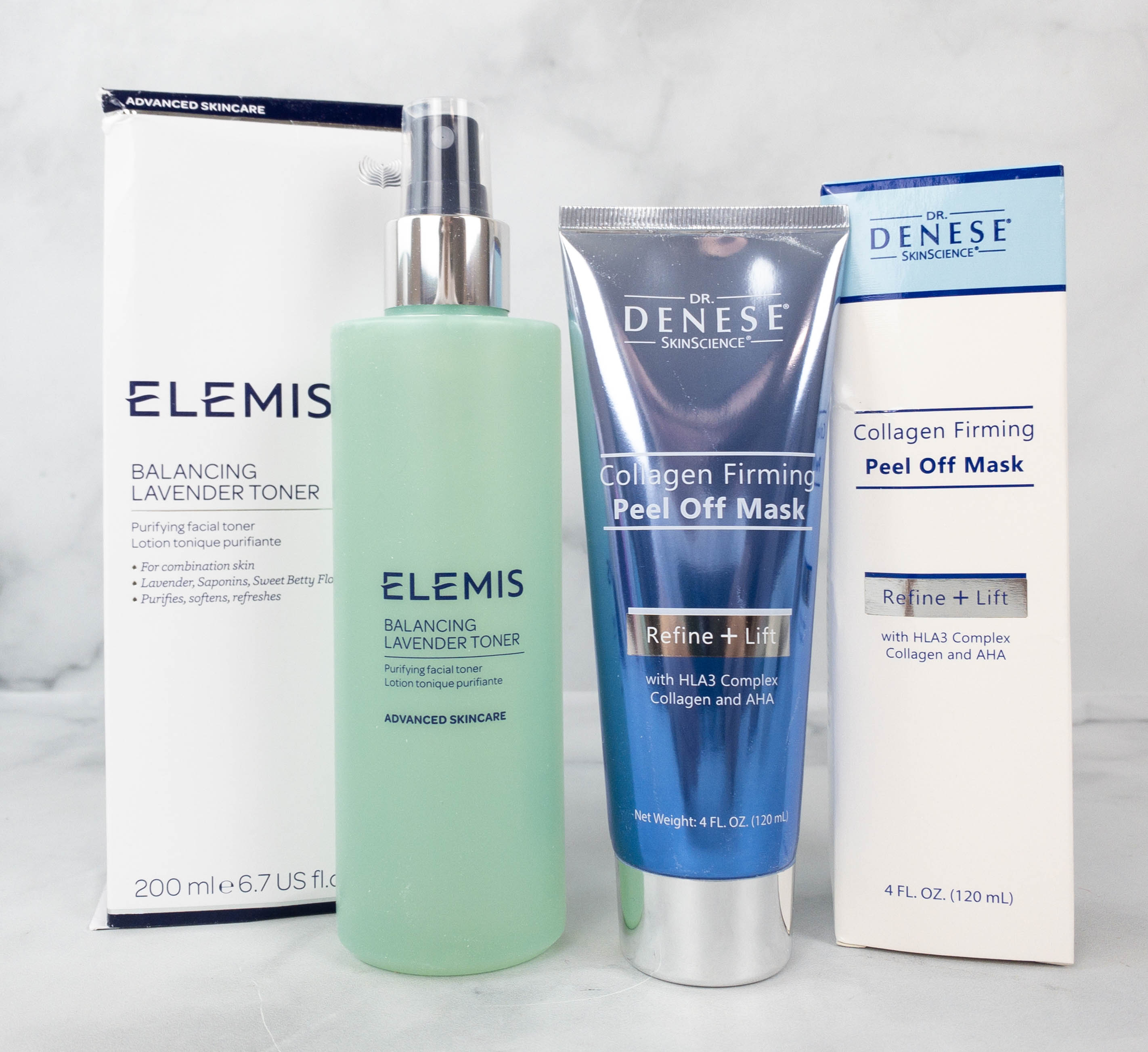 ELEMIS Balancing Lavender Toner ($36) I like this toner because it's alcohol-free! It balances the skin and maintains its natural pH levels with the help of lavender, quillja wood, and sweet betty flower. Ideal for those who have combination skin, this can be layered with a moisturizer or a night cream as well.
Dr. Denese Collagen Firming Peel Off Treatment ($39) It's a peel off mask made with AHA to help keep the skin firm, and soluble collagen and triple layer hyaluronic acid to keep it nourished and hydrated. Since it has a high percentage of glycolic acid and botanical/fruit extract, it promises to provide an exfoliating and brightening effect in less than 25 minutes. This is great for those who have textured and uneven skin tone and enlarged pores, as well as fine lines and wrinkles.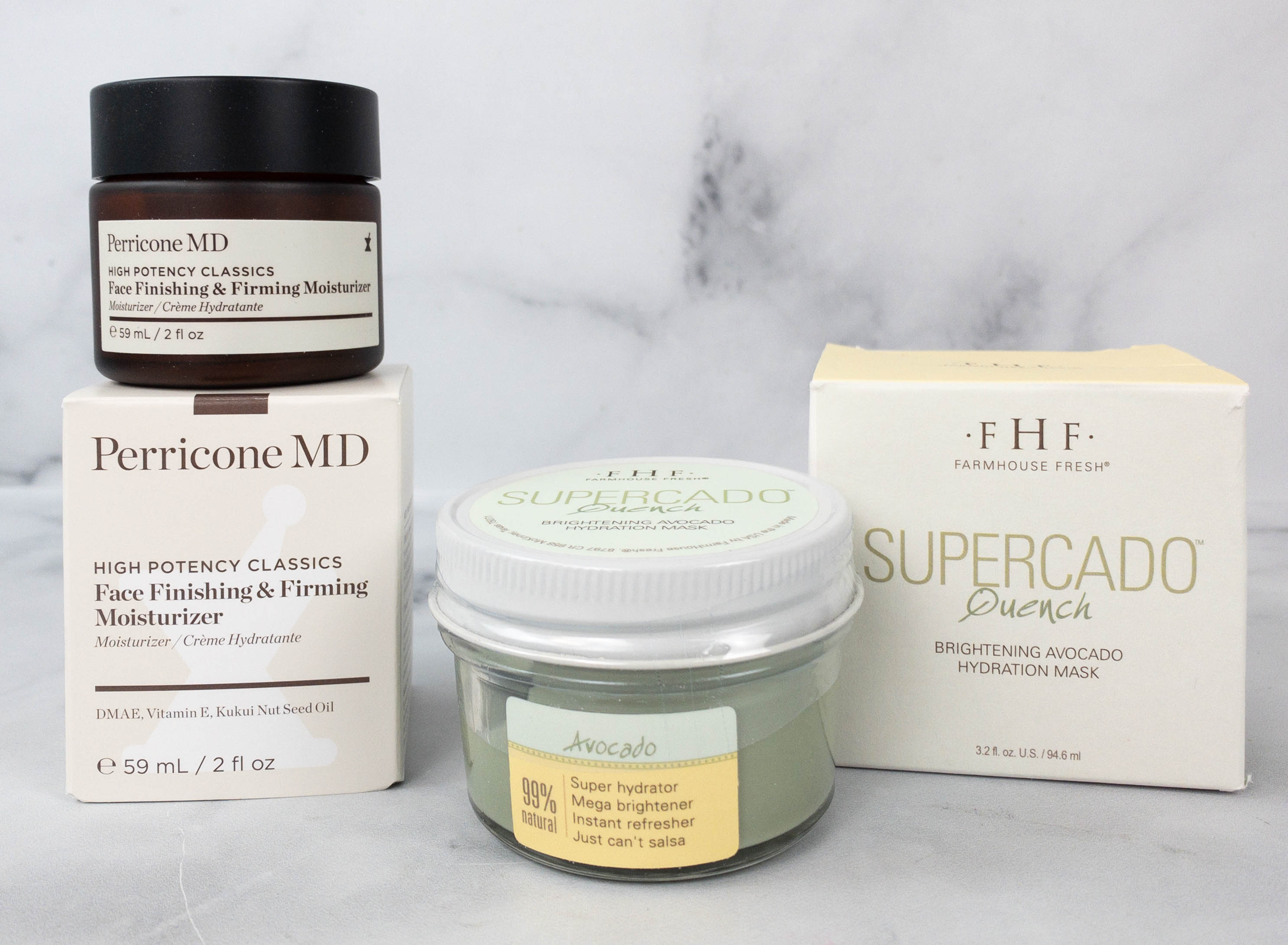 Dr. Perricone Face Finishing & Firming Moisturizer ($69) This moisturizer gives the skin the hydration it needs to help reduce lines and wrinkles. It's also infused with antioxidants to help keep the skin smooth and glowing. The formula is lightweight and it goes on smoothly on my skin. Another thing I like about it is its velvety rose scent!
Farmhouse Fresh Supercado Quench Mask ($26) Rich and creamy, this mask really feels luxurious when applied on the skin. It contains avocado butter and avocado oil that helps smoothen and brighten the skin's appearance. A little goes a long way with this product, so this tub can actually last a long time.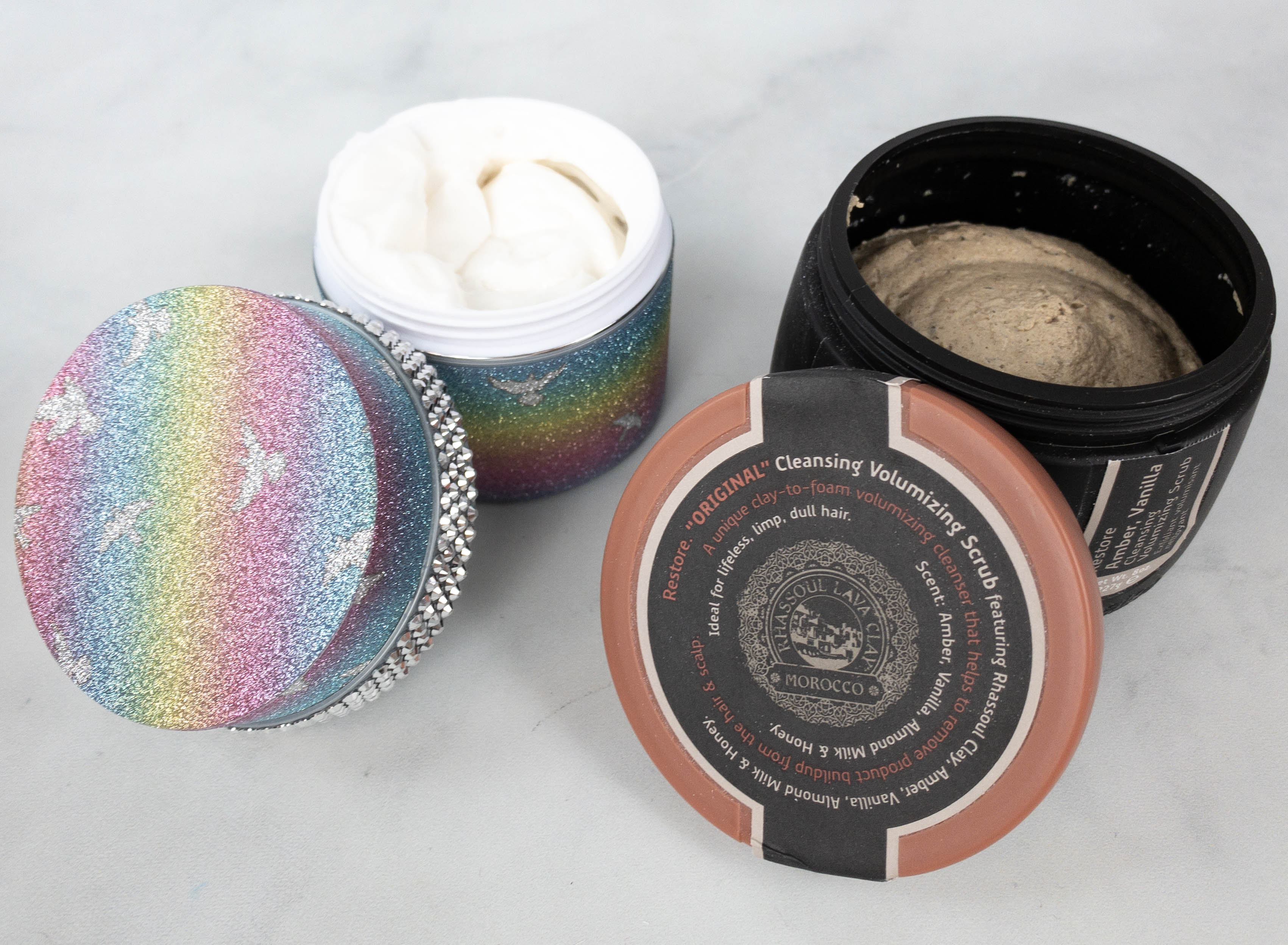 Prai Ageless Throat & Decolletage Creme ($34) This cream is specially formulated for the neck and decolletage! It's formulated with their trademark Sepilift Technology that boosts skin elasticity and collagen production, as well as hyaluronic acid that hydrates the skin and fills in wrinkles. To use, just get a pea-sized amount and apply using upward strokes from cleavage to chin. It's recommended to be used twice a day for best results. The throat and decolletage cream came in this pretty blinged up tub. It has rhinestones lining the bottom and a glittery cover on the body of the tub.I love the container, but also for a product that's clearly for more mature women, it's also a bit odd!
Tweak'd by Nature Hair Volumizing Scrub ($46) This hair product has a unique clay-to-foam formula that helps gently clean the scalp. It removes build up caused by other hair products, as well as oil and dirt. It even helps volumize from the roots to make the hair look fuller. Plus, it can be used on color treated hair! To use, just get a tablespoon of the product and apply to wet hair. For best results, use at least once a week in place of regular shampoo.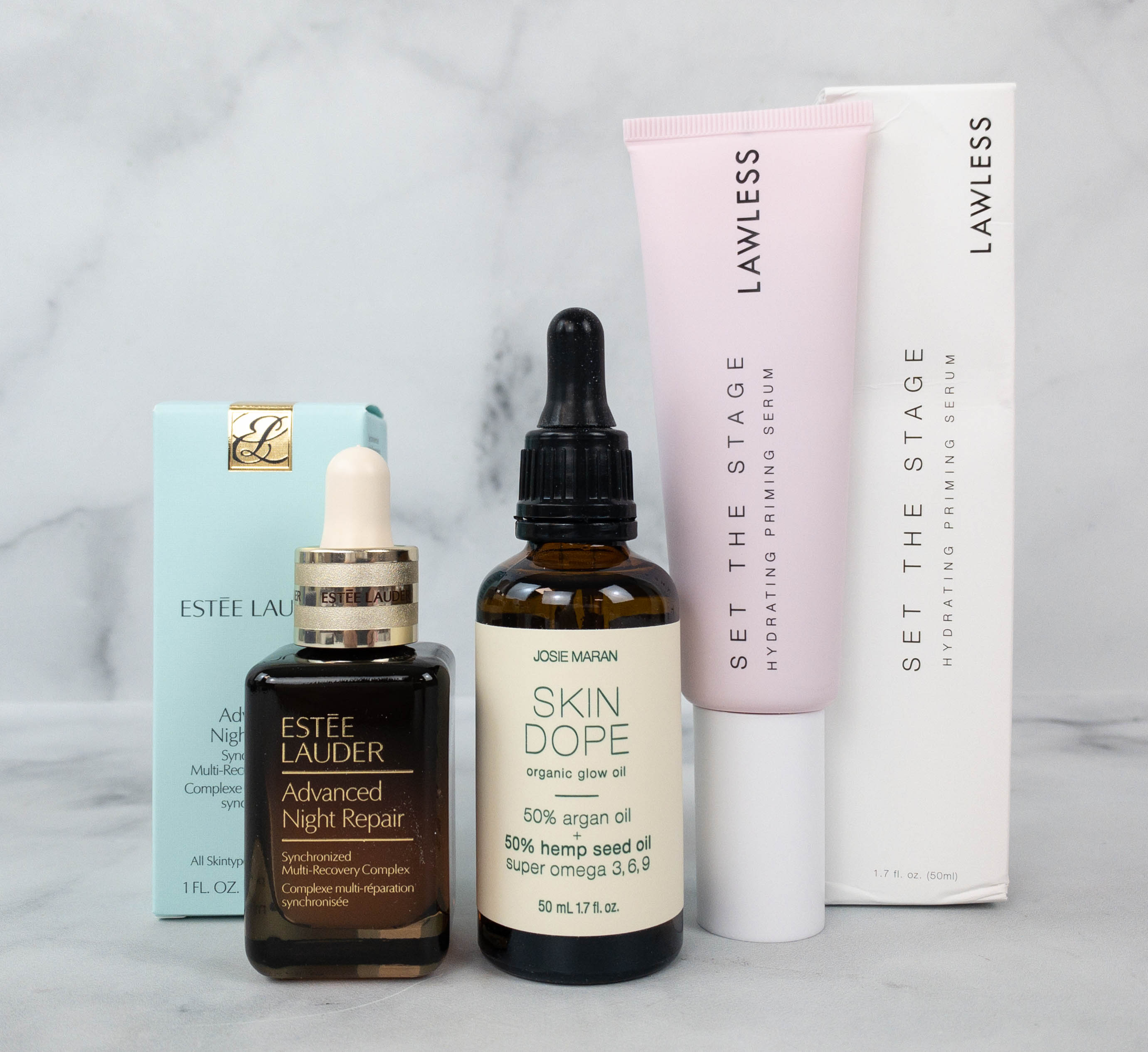 Estee Lauder Advanced Night Repair Serum ($75) A cult-favorite, this repair serum penetrates into the skin to reduce the signs of aging. It contains Tripeptide-32, which "promotes the natural synchronization of skin's natural day/night (circadian) rhythm" and hyaluronic acid for moisture. It can be used both day and night. Just use one dropper and massage gently all over your face and neck. It absorbs really fast so there's no worries if you're applying makeup afterward.
Josie Maran Hemp Seed Glow Oil ($65) This facial oil is great if you have problems with dull skin and uneven texture! It's formulated with argan oil which is known to provide protection from sun damage along with anti-aging effects. It also has hemp seed oil which is a known moisturizer that doesn't clog out the pores. Together, they make the skin softer, smoother, and more nourished. You can also use this under makeup for a dewy glow, or mix a drop or two in your favorite foundation for a naturally radiant finish.
Lawless Set The Stage Priming Serum ($48) It's an antioxidant-rich serum that helps prepare the skin before makeup application. The silicone-free formula provides lightweight hydration and helps sooth the skin as well. One of its main ingredients is Pentapeptide-59 that reduces redness. It also contains rosehip seed oil that promotes skin elasticity and sea buckthorn oil to protect the skin from free radical damage. Aside from being a makeup primer, it can be used alone as well.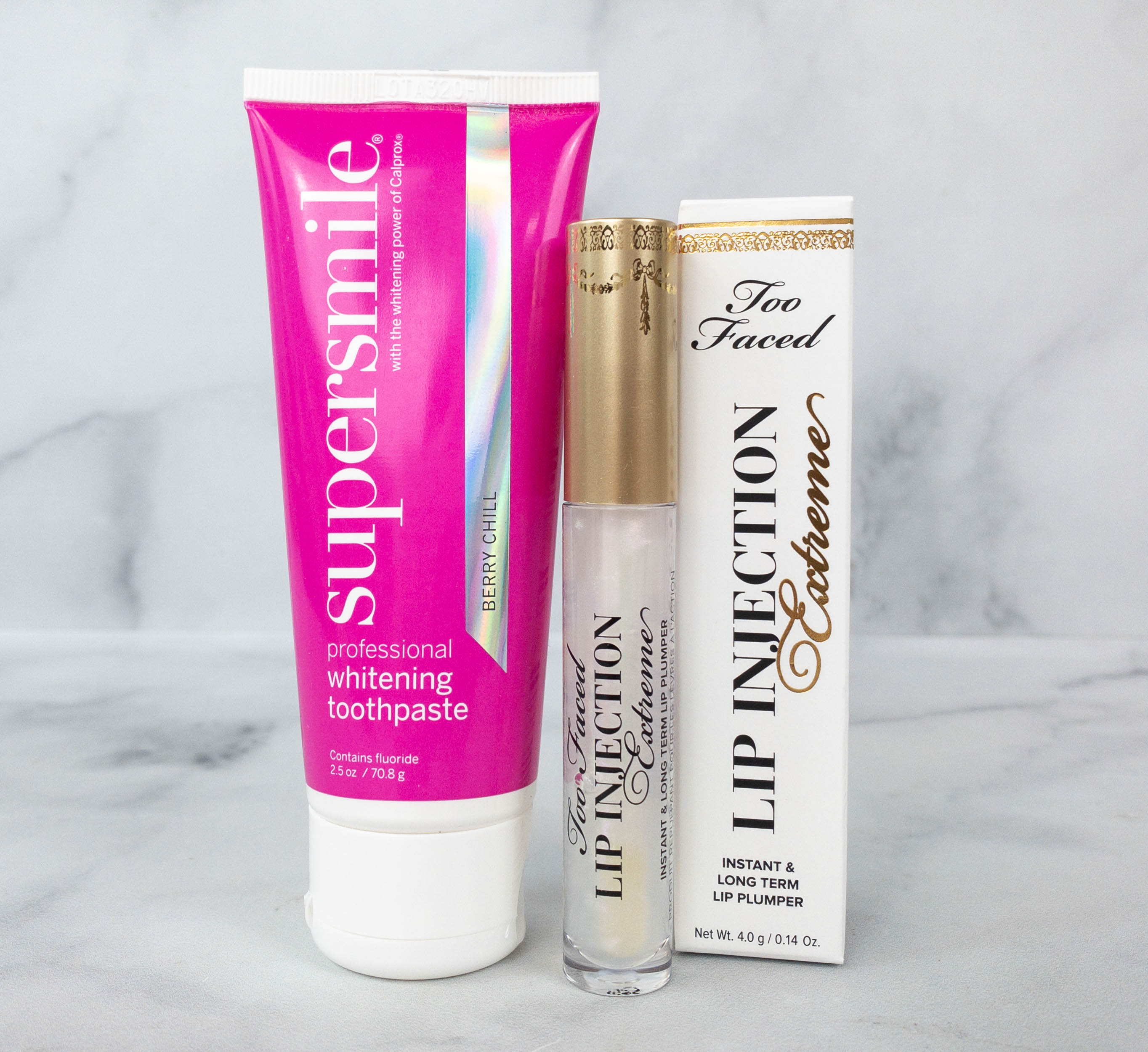 Supersmile Whitening Toothpaste ($20) Here's a whitening toothpaste with a proprietary formula called Calprox. It gently dissolves a sticky bio-film from the teeth where bacteria, stains, and plaque are attached. What's great is that it doesn't make the teeth sensitive. The formula also contains calcium, magnesium, phosphates, and fluoride which are essential for restoring enamel and fighting cavities.
Too Faced Lip Injection Extreme ($29) This lip gloss provides a tingling sensation on the lips and I assume that it's what triggers the lip plumping! It's not as bothersome as you would expect though. It's actually quite tolerable. This is a great item if you want to make your lips look fuller! It can be applied on bare lips, or over your favorite lip liner or lipstick.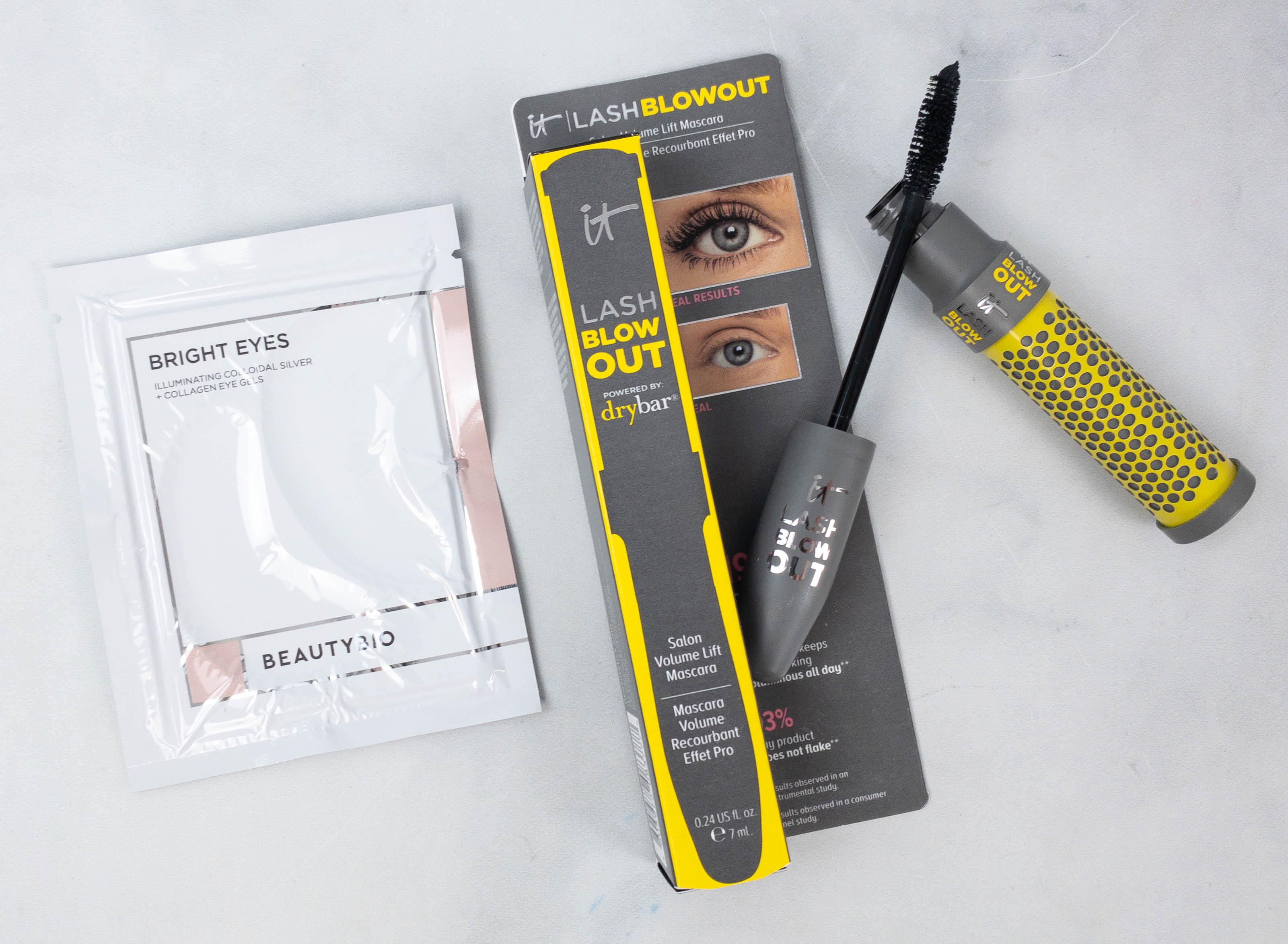 BeautyBio Bright Eyes Gel Patch ($2.67) These gel eye patches are a life saver especially on days when I didn't catch enough sleep. They help de-puff my eyes for a fresher and brighter look. Each patch also contains natural collagen that fill in the appearance of fine lines. You can pop it in the fridge for a few minutes if you want to get an extra cooling effect!
IT Cosmetics Lash Blowout Mascara ($25) Made with biotin, this mascara provides fuller and more dramatic lashes while keeping the lash hairs healthy strong. Just a couple of swipes are enough because the formula is well pigmented. I just wish it was waterproof though so it can last for a longer period of time and I don't need to worry about it smudging.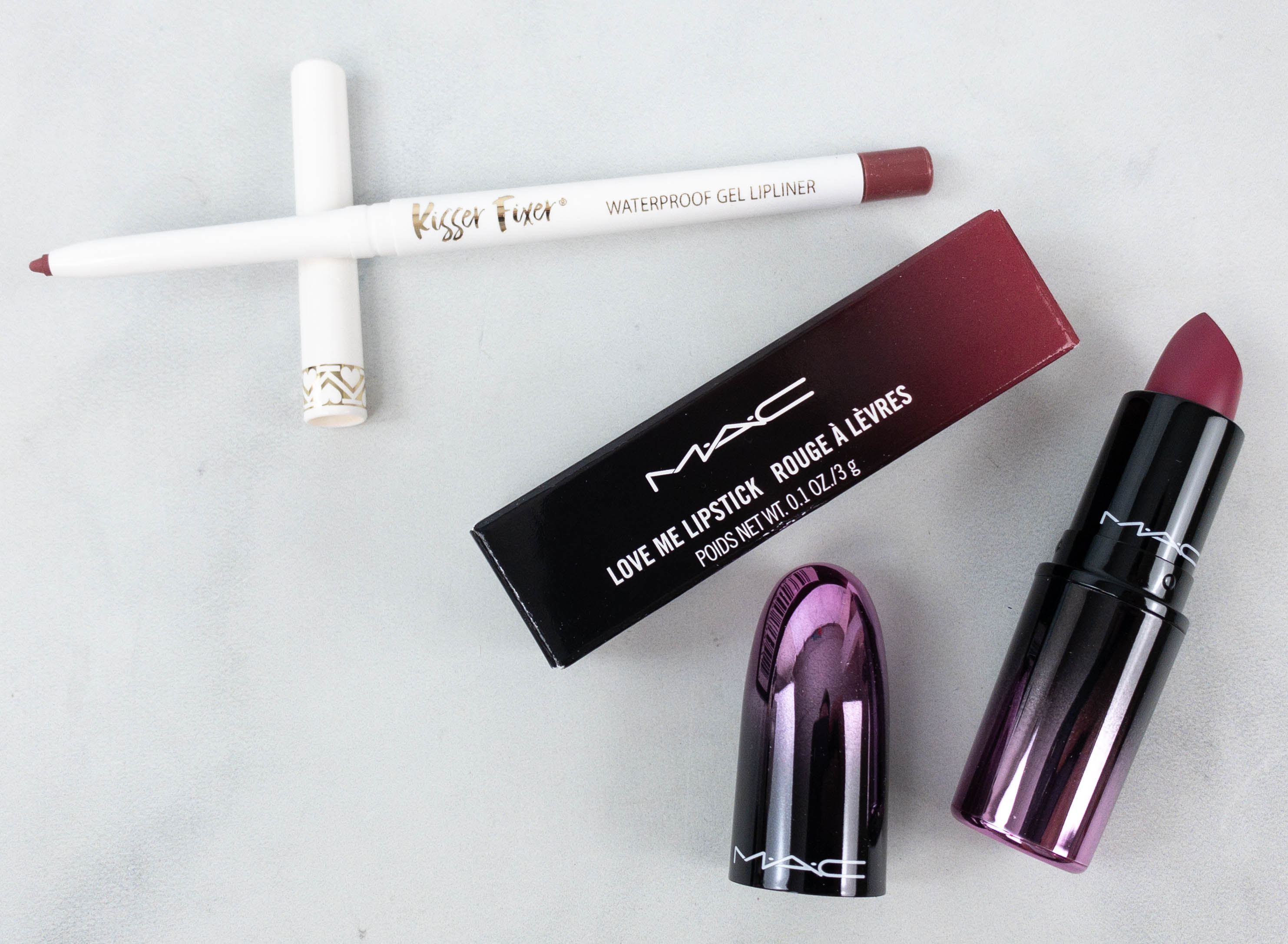 Lastly, here's are some lip products!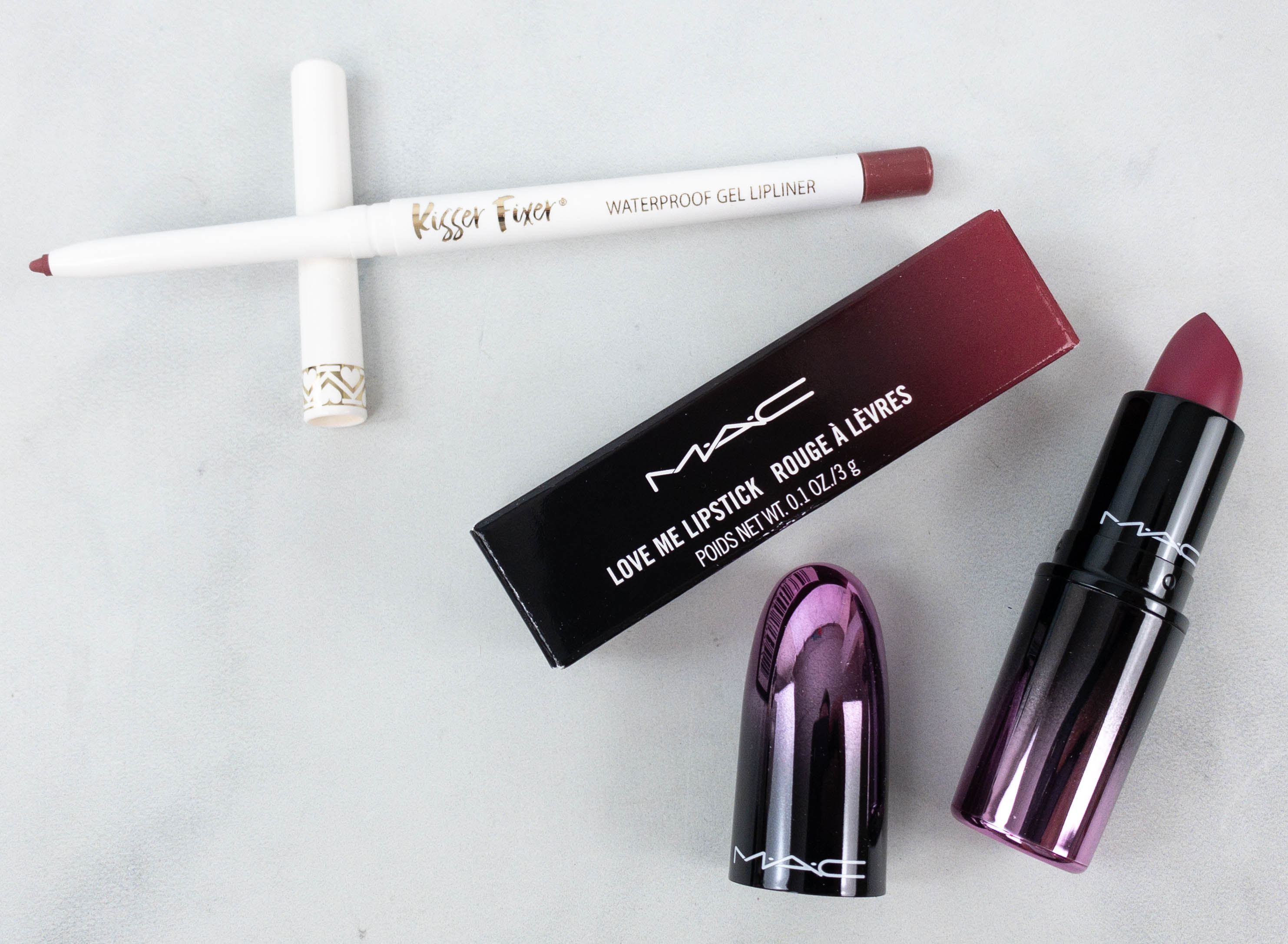 Belle Beauty Kisser Fixer Waterproof Lip Liner ($19) I love the color of this lip liner, it's something I won't mind wearing on a daily basis. It's also smudge-proof and water-proof so it stays on for a long time. Another thing I like about this is just how pigmented it is. One swipe and you already get the full opacity! The color I received is also easy to pair with the lipsticks that I own but I sometimes like wearing this as it is because the color is so pretty!
MAC Cosmetics Sheer Lipstick ($19) The lightweight formula of this lipstick makes it easy to apply! It doesn't tug my lips and it's not drying either. Pigment wise, it doesn't give a full color payoff in one swipe as it is very sheer. It's buildable to a medium though, so I still like it.
I'm really happy with everything included in the box! It's a great assortment of skincare, makeup, and even haircare items. As promised, the items are in full-size, which gives us great value for money. My favorite is the throat and decolletage creme because it's such a unique product that I wouldn't normally get on other beauty boxes! It also stresses the importance of taking care of the neck area. I also like the lip injection because it gives me fuller and plumper lips. With 26 full-sized items, the retail value of the box totaled to $899.42! It's way more than the promised value of the whole box. If this is not an awesome deal, then I don't know what is! Of course, the virtual Beauty Bash sessions also added value to it. It's always nice to learn new things about the products, and discover new routines and other valuable beauty advice from experts. Although this year's event was virtual, they still made it fun with special content such as panel sessions and even games like scavenger hunt!
What do you think of the QVC & HSN 2021 Beauty Bash Discovery Box?