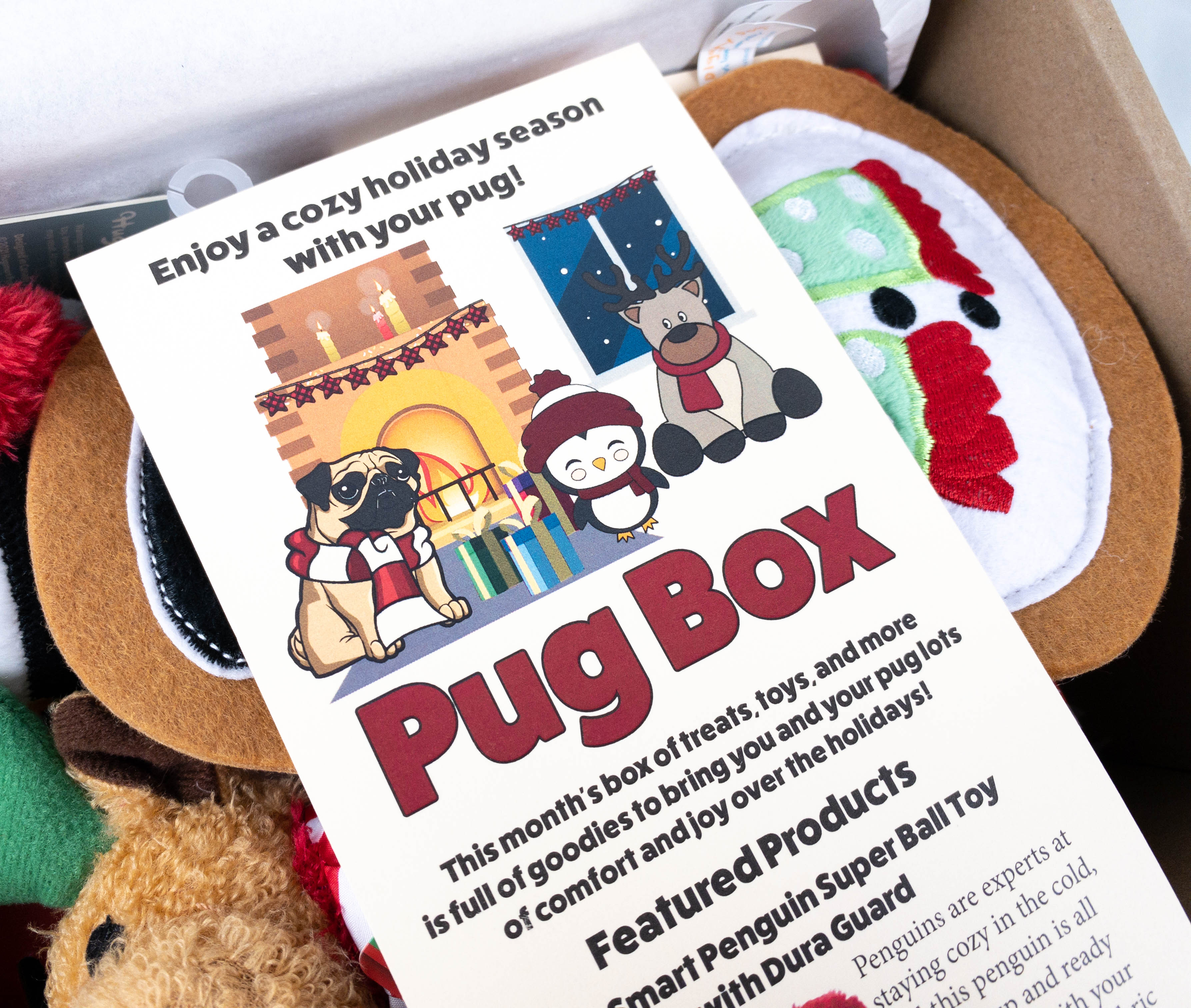 Christmas came early for our pups because of the December 2021 Holiday Pug Box! It's filled with holiday-inspired toys for dogs so they too can enjoy merrymaking, as well as dog treats in holiday flavors for a little dog-friendly holiday feast. This festive box for dogs is jampacked and our pups couldn't be happier. Fur-liz Navidad!
DEAL: Get $5 off on your first box! Use coupon code HELLO5.
Pug Box is shipping the holiday-themed boxes until they sell out!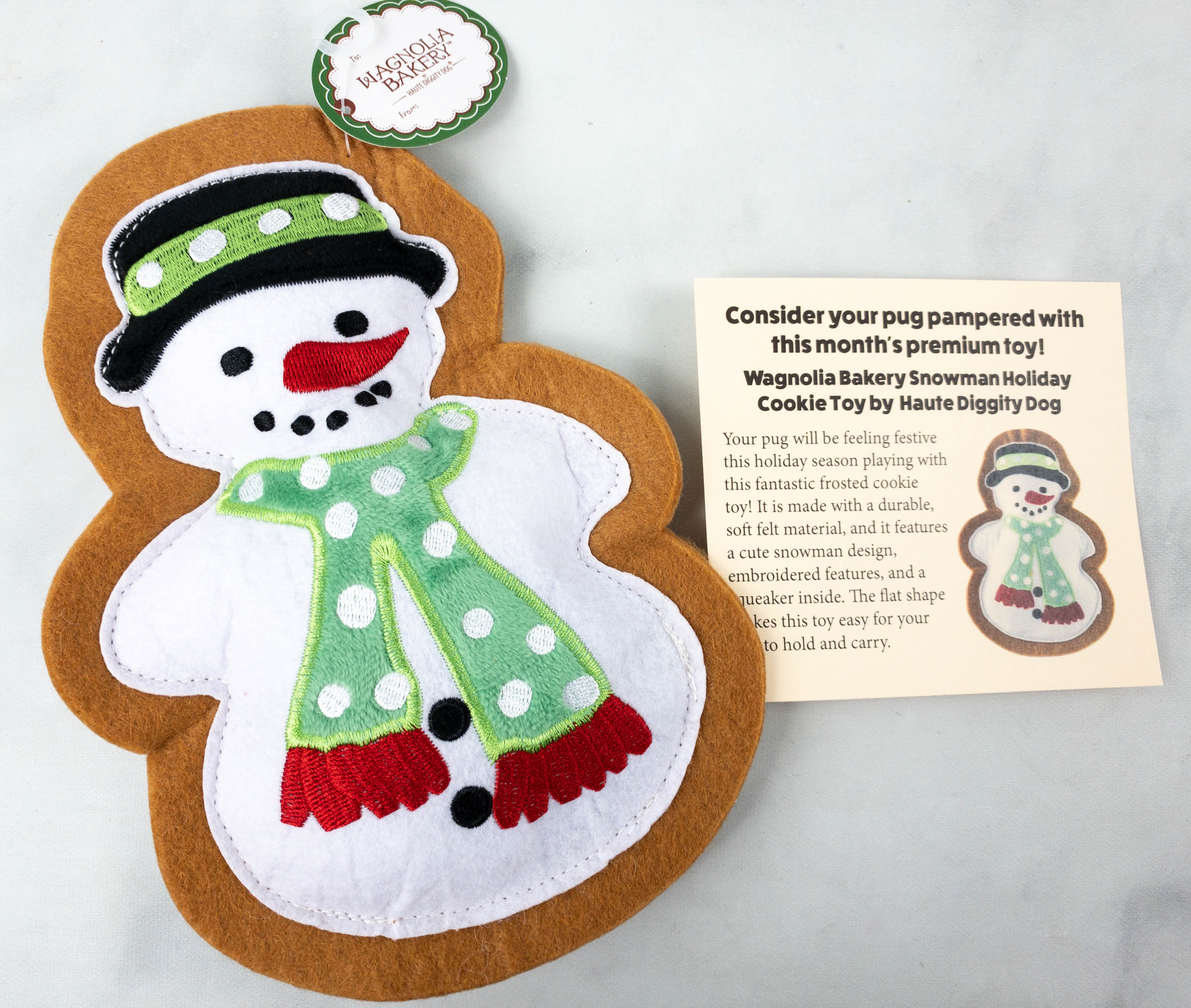 Wagnolia Bakery Snowman Holiday Cookie Toy. This month's premium toy is a plush toy that looks like a frosted holiday cookie! The felt material used is durable and soft, making it great whether for cuddling or for playing fetch. Plus, the features are embroidered so you don't have to worry about them falling off. This toy, which comes with a squeaker inside, is actually flat but my pups don't mind. Its advantage is that it's easy to bring anywhere, like when you're traveling with dogs or you just want to stash it in a bag!
HugSmart Penguin Super Ball Toy. This penguin toy is all bundled up and ready for the festivities and for hours of playtime with your dog! The exterior is made with soft fabric, and inside it is a bouncy ball. In case your pup gets all excited and the fabric tears up, no worries because they can play with the ball inside as well. This is like having a 2-in-1 toy!
The Lazy Dog Cookie Company Vanilla Shortbread Soft Baked Treats. Whether your dog has been naughty or nice this year, here are treats they can definitely enjoy! Made in the USA, the soft-baked treats are all vanilla shortbread flavored, packed in a Christmas sock-inspired packaging. According to the label, these goodies are free from wheat, corn, and soy as well. Hooray for natural dog treats!
Bocce's Bakery Figgy Pudding Dog Treats ($6.50) Peanut butter, apples, bacon, and honey sounds like a combination that my dogs would love! The ingredients were all wrapped up in these small cookies for a classic holiday treat. It's free from wheat, corn, or soy, so you can give them to pups on Christmas (or any day!) guilt-free.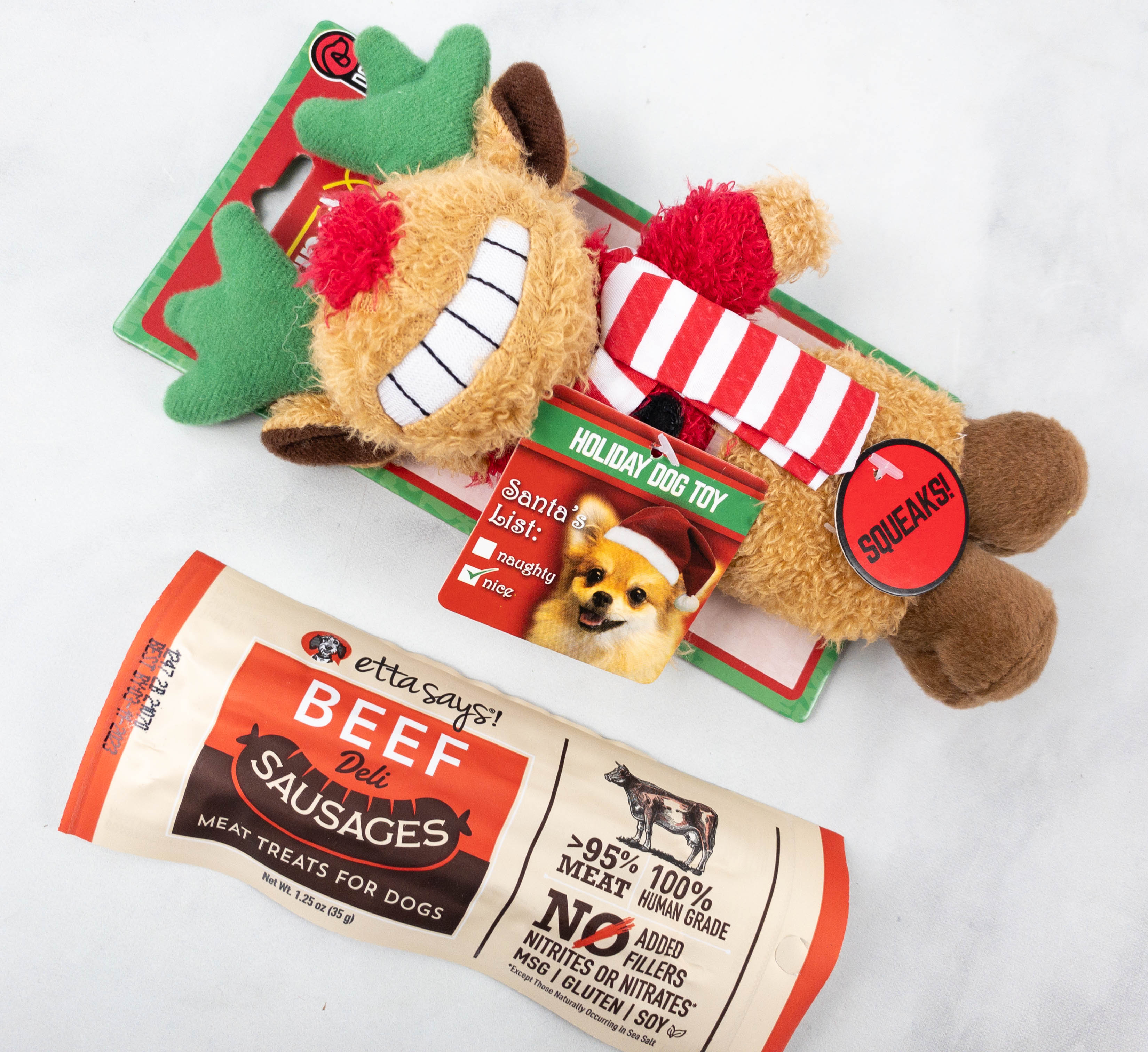 Etta Says! Beef Deli Sausages Dog Treats. Adding to the list of holiday treats for pups are these sausage-inspired chews! They are made up of 95% meat, and zero fillers, hormones, nitrites, or nitrates. No MSG, gluten, or soy either. This is a great alternative to traditional rawhide because it's easy to digest. Plus, it has no weird odor and it doesn't stain our carpet!
Multipet Loofa Reindeer Toy. Santa's reindeer graced this holiday-themed box, and it's oh so cuddly and squeaky. The reindeer is complete with soft antlers and it's even wearing a striped scarf!
Here's a closer look at the red-nosed reindeer toy!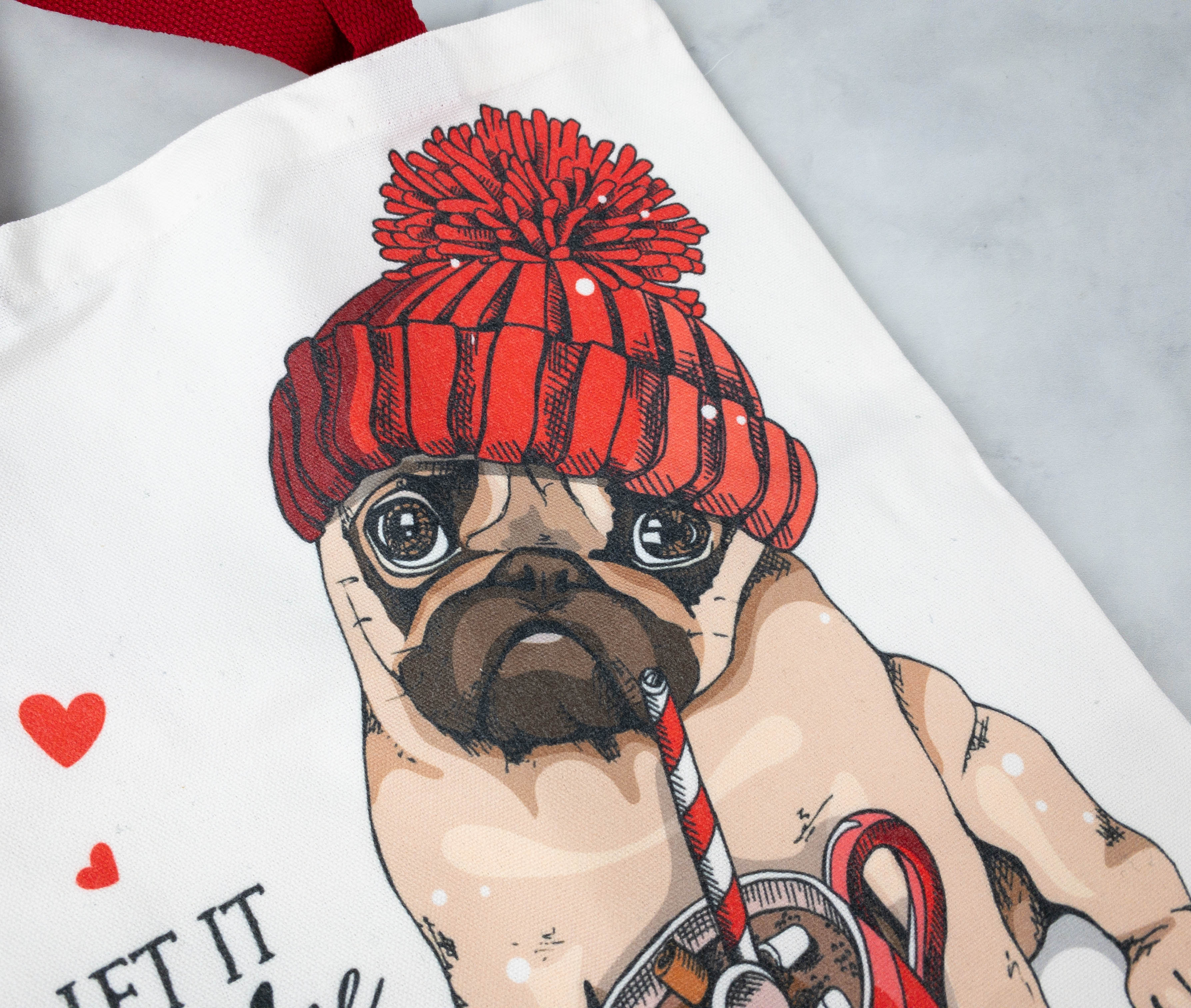 Tote Bag. This is one of the cutest pug illustrations we've seen from this box! I mean, look at the pug wearing a red beanie and being cozy with a cup of hot chocolate! It's printed on a lovely tote bag where you can stash holiday goodies. This is really a nice gift for pug lovers and the print is high-quality.
What a fun-filled box for pets and pet parents! Pug Box really made sure our furbabies are getting some holiday fun, as they included holiday-related toys ideal for playing fetch, tossing, and even cuddling. The selection of treats this month also boasts holiday flavors such as vanilla shortbread and apple and bacon cookies. There are even natural meat chews that make a great alternative for rawhide. All of the snacks for dogs are made with wholesome ingredients, so we really couldn't ask for more. It definitely felt like Christmas morning seeing all these fun and delicious goodies for our dogs. We even have a new pug-tastic tote bag to boot!
Pug Box is a monthly subscription built for adorable pugs and their owners! Each monthly box contains fun toys and delicious treats for the dog, as well as a cool pug-themed item for the human. The regular Pug Box is priced at $27.50 a month and contains 4-6 items, while the Premium Pug Box is $36.50 a month and contains 5-7 items.
What do you think of this month's Pug Box?