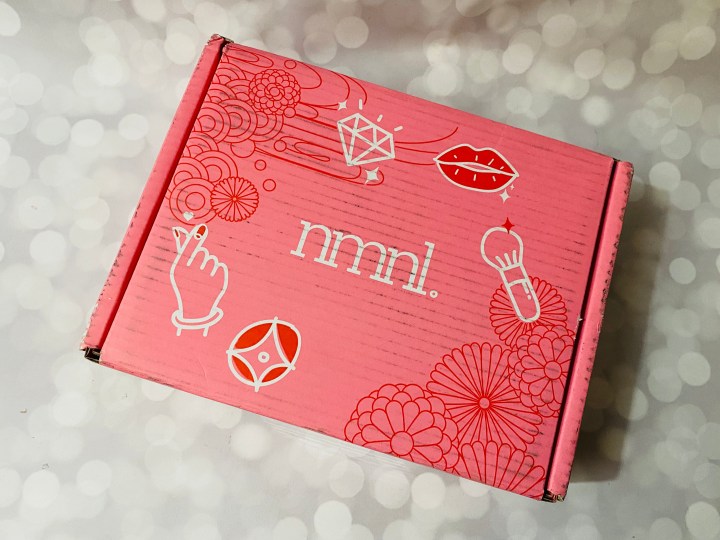 nmnl (nomakenolife) is a monthly beauty subscription box by the brains behind Tokyo Treat and Yume Twins. Each box has 8-9 Japanese and Korean beauty items, which may include skincare, makeup, hair care, bath & body items, and beauty tools. The subscription is $35 per month, but it can go lower if you subscribe to a longer subscription plan. It's $33.5 per month on a 3-month prepaid plan, $32 per month on a 6-month prepaid plan, and $31.5 on a 12-month prepaid plan. Shipping is $12.50 to the US, and is about the same for other countries.
Nomakenolife's subscription box made the list in our 2021 readers' choice picks of best makeup subscription boxes!
DEAL: For a limited time only, use the coupon code AFTER to get FREE After Party Bonus!
Monthly plan: FREE Berrisom HJorror Sheet Mask
3 month plan: FREE Etude House Tear Drop Eyeliner
6 month plan: FREE Etude House Face Shine Highlighter
12 month plan: FREE Etude House Play Color Eyes Palette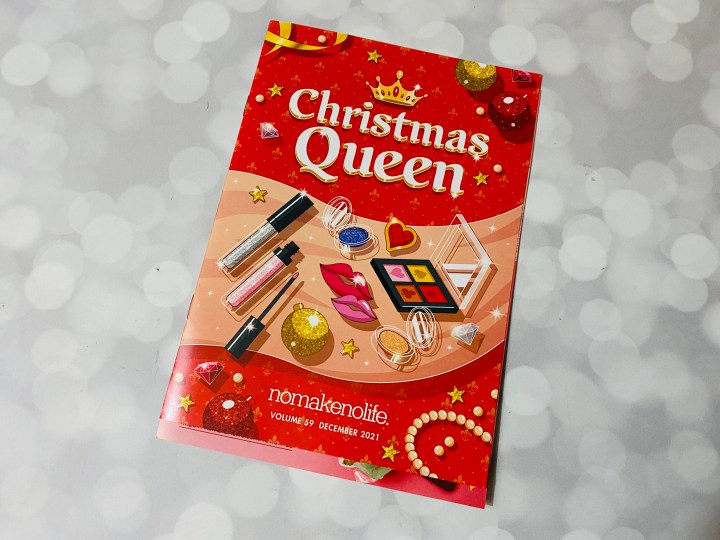 There's a mini-magazine included in the box. This month's theme is CHRISTMAS QUEEN!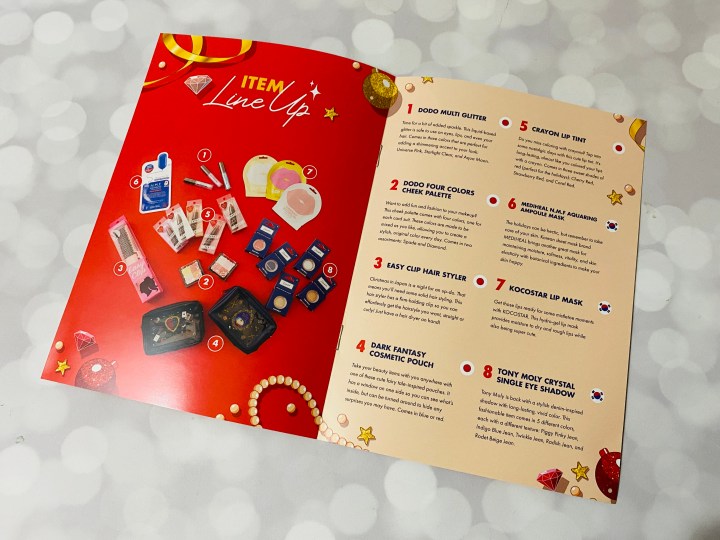 There's a list of items inside the box. They also included a group photo!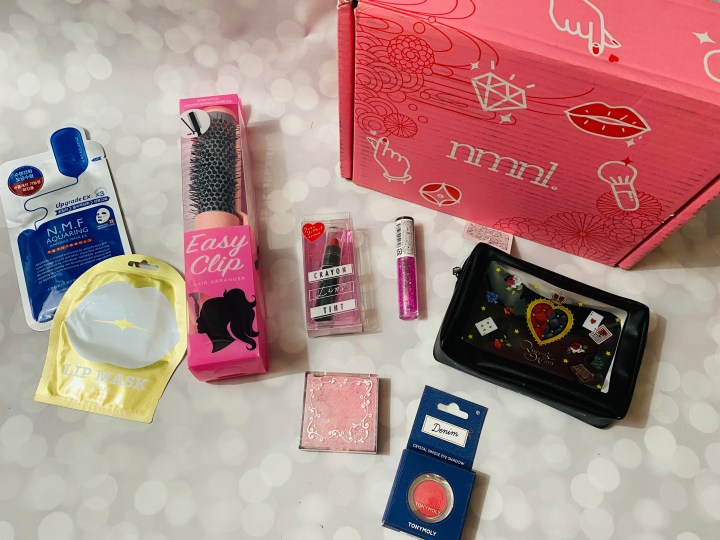 Everything in my box!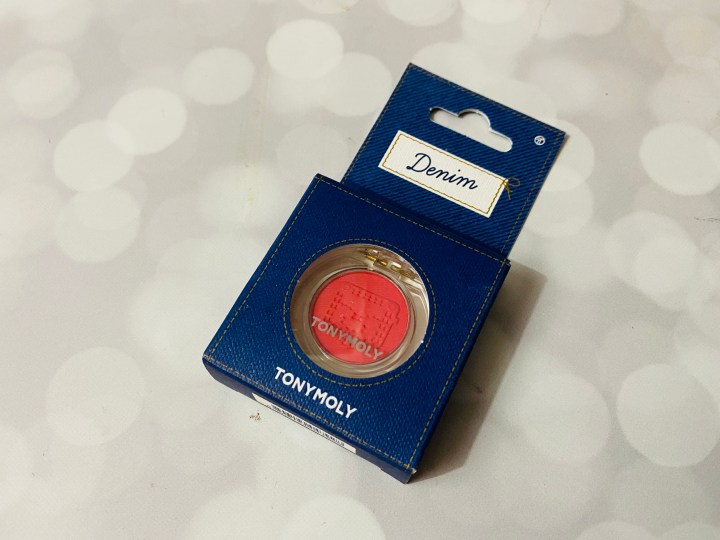 Tony Moly Crystal Denim Eyeshadow. Okay so FABULOUS news – Tonymoly is now cruelty-free! I had always passed their items on due to not being cruelty-free before but they have recently pulled out of China and are now good to go! Their Denim series of eyeshadows are silky smooth and super pigmented. The pink colour is a bit intense and not normally a look I'd go for on my eyes; stay tuned for a swatch!
Dodo Cheek Quad. So… I didn't even try to open this because of the absolute mess it would have caused. Since the items are packed loosely in the box without any bubble wrap, I'm not surprised this happened! We have some spoilers that show the two variations sent.
So I'm a bit bummed they broke, as I really think the colours are so soft and shimmery. I would have liked to see it in person!
Dodo Multi Glitter. I was really surprised by how long-lasting this glitter gel was. Normally glitter flakes off so easily but this stayed put even after vigorous rubbing with a makeup wipe. I really had to struggle to get it off. The pieces of glitter are large so I probably wouldn't wear it right on my eyelids, but you could definitely use it as an accent in the corners or on your cheeks!
Crayon Lip Tint. The beautiful ruby red of this lip crayon is the perfect Christmas Queen item indeed! This was also long-lasting when I swatched it.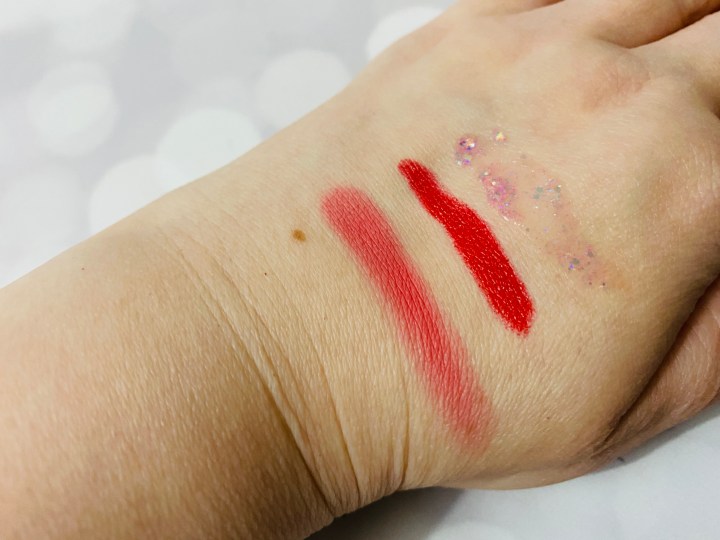 Swatches of the eyeshadow, lip crayon, and glitter.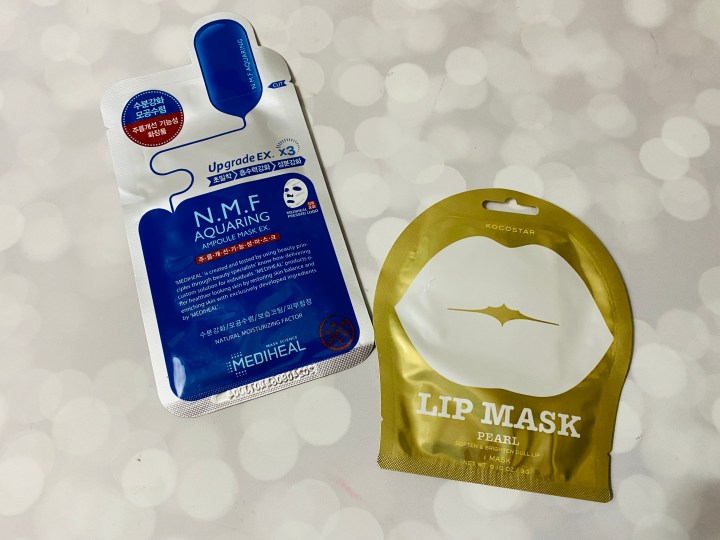 Mediheal Sheet Mask. Mediheal makes some of my fave masks. They're comfortable to wear. The Aquaring Ampoule masks are made for intense hydration.
Kocostar Lip Mask. Kocostar is another brand I've tried before with great results. The Pearl Lip Mask hydrates and softens. Normally my lip masks are pretty basic so I'm excited to try this one.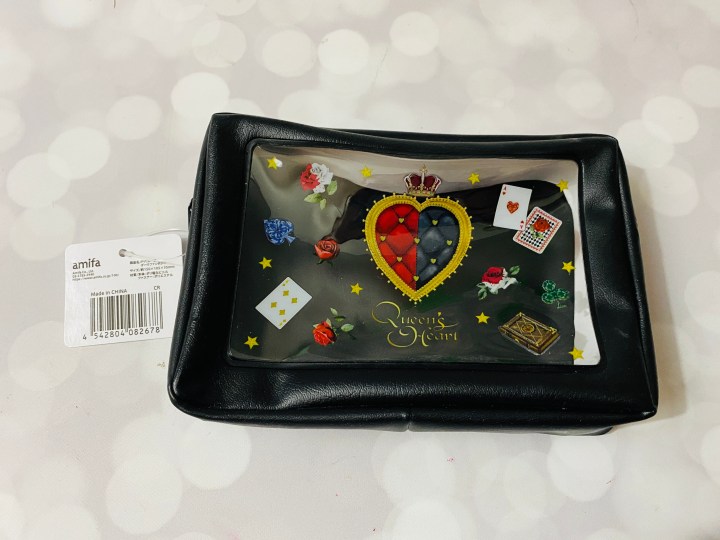 Makeup Bag. This is the first time nmnl has sent a makeup bag in a long time, and I am thrilled with the cute design! It reminds me of Alice in Wonderland!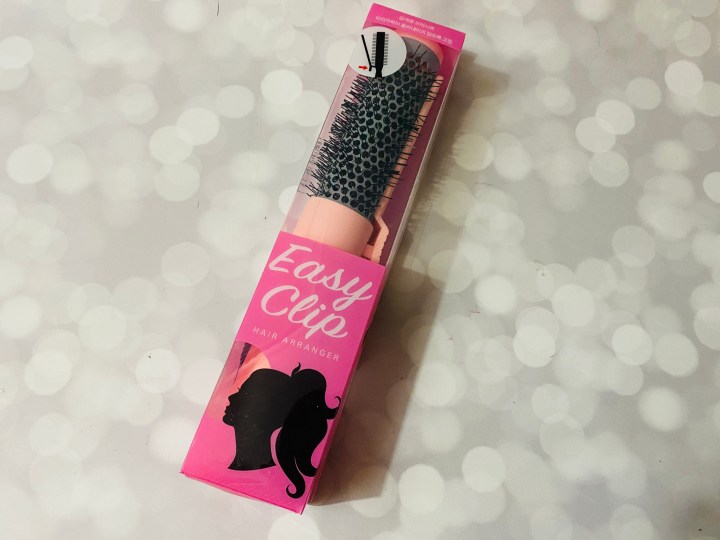 Easy Clip Hair Styler. This hair styler is a barrel brush but it has the added convenience of a clip to hold your hair in place similar to a curling iron. But instead of using direct heat from an iron, you can use your hairdryer to both curl and straighten!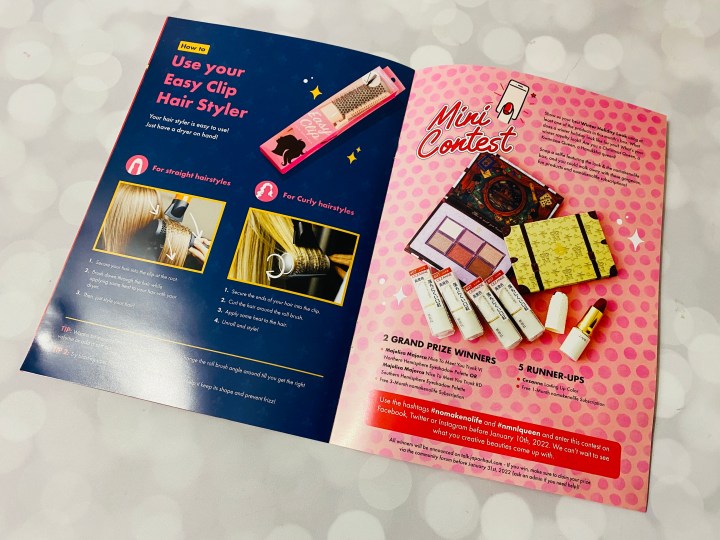 Thankfully the magazine includes a tutorial on how to use it!
The December box was so glamourous and glittering. I think it was a solid box with some great bonus tools. I love the makeup bag, it comes in the perfect size to stash my favorite makeup. The hair styler is also a nice addition. Overall, they really nailed the Christmas Queen theme! Except for the cheek palette, everything in this box is on point!
What did you think about this month's nomakenolife?